Roasted Carrots with Thyme and Nutmeg
Roasted carrots with thyme and nutmeg are so sweet, flavorful, and good for you (but they taste almost like candy).
Recipe Overview
Why you'll love it: This is one of the best ways to cook carrots. It's easy and they taste so fantastic!
How long it takes: 30 minutes
Equipment you'll need: large sheet pan, oven
Servings: 4 (but you can easily make more or less)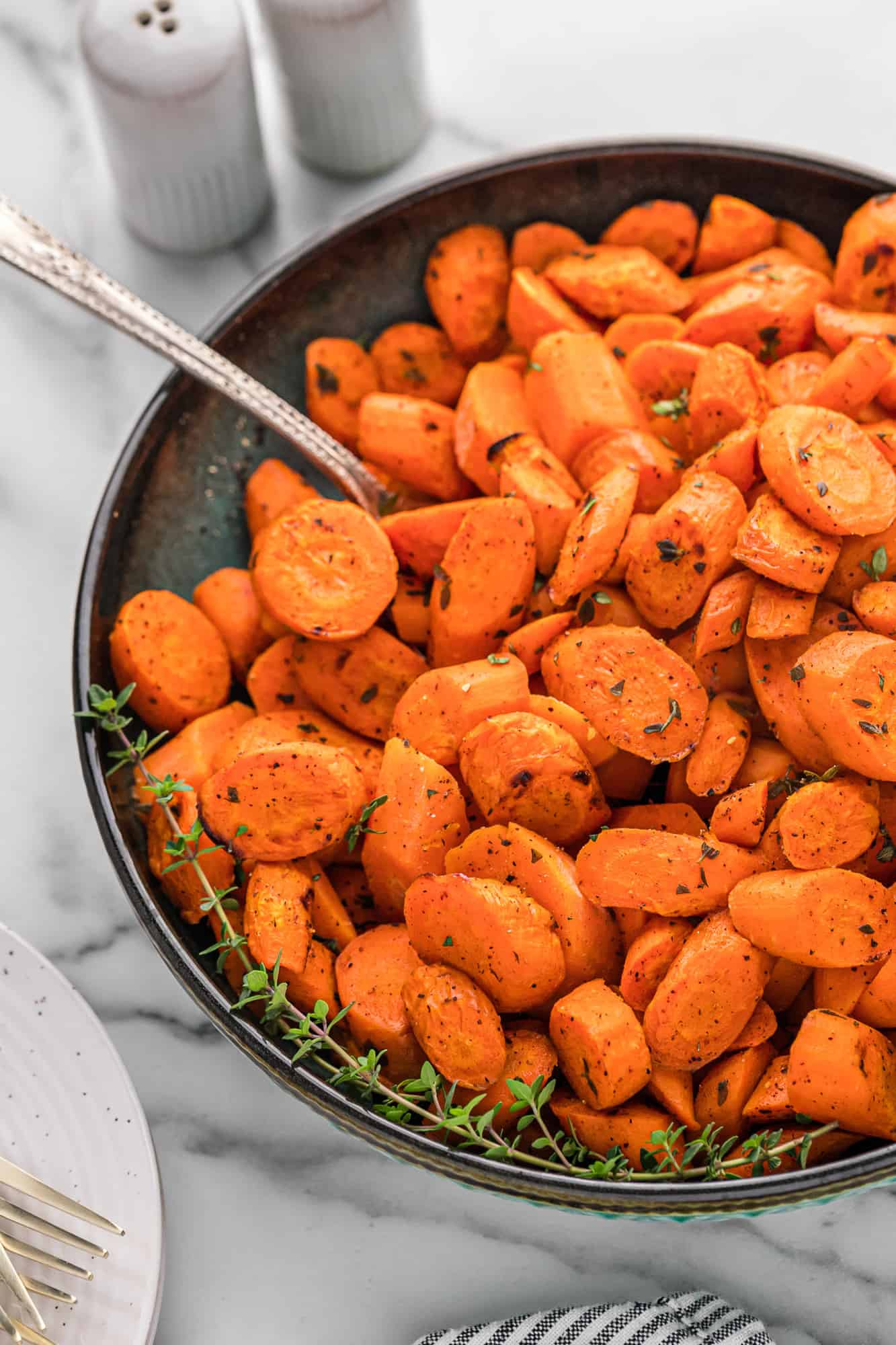 Roasted vegetables are one of my all-time favorite foods and definitely my favorite way to eat vegetables. High heat in the oven caramelizes the natural sugars in most vegetables, bringing out tons of sweetness and wonderful flavor. And the icing on the cake? Roasting is one of the easiest ways to prepare vegetables.
Roasted veggies are perfect with just olive oil, salt and pepper but you can really get creative and add herbs, spices, and vinegars. I also like to combine different types of veggies and roast them together.
Of all the roasted vegetables, carrots are up there as one of my favorites. Mushrooms (try these marsala roasted mushrooms or roasted mushrooms with balsamic) are hands-down at the top of the list. Some other favorites? Squash, broccoli, cauliflower, parsnips. I'm getting hungry just writing about it.
Oh, and don't forget about Brussels sprouts! Even if you think you don't care for Brussels sprouts, I can almost guarantee you'll change your mind after trying them roasted.
I could eat a couple of pounds of these roasted carrots! Raw carrots? Not so much. I'll eat them but I don't love them. You just chew, and chew, and chew.
These roasted carrots with thyme and nutmeg have so much amazing flavor that you'll just keep coming back for more, and more, and more. And guess what? There's only 71 calories per serving, and tons of antioxidants and other goodies.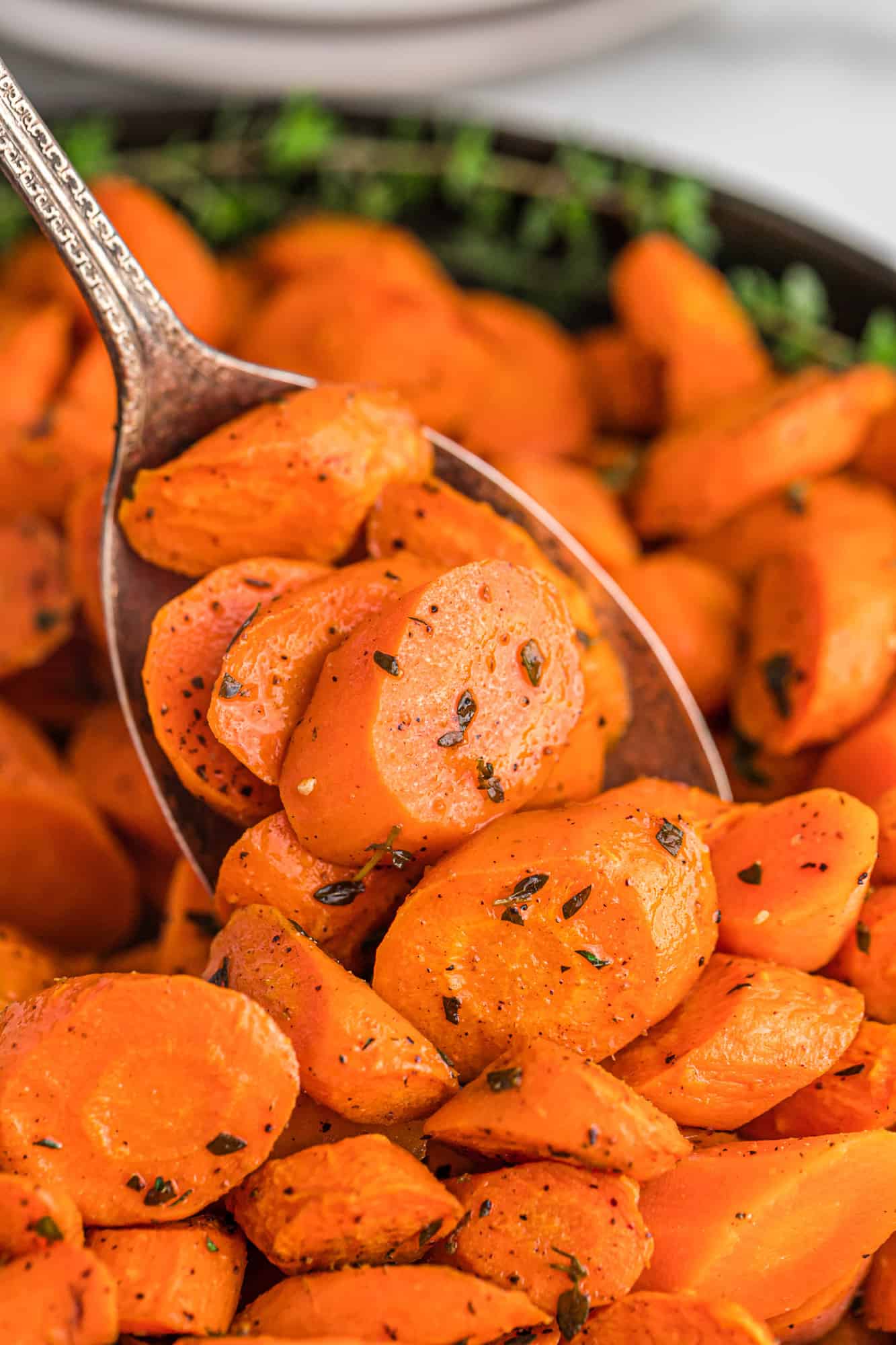 About This Recipe
You can hardly call this a recipe. Once you've made it a few times, you won't need a recipe at all. It's super easy to do, more of a technique than anything, but a technique well worth learning.
You'll find yourself roasting any vegetable you can get your hands on! People will scream, Help, it's the roasting monster lurking in the farm market, grabbing up every carrot, mushroom, broccoli spear she can find, fodder for the her raging hot oven and her voracious appetite for all things roasted.
Okay, I probably got a little carried away there. Just invite those screaming people over for a nice dinner of roasted vegetables and they'll be pacified.
We'll run through the recipe here but scroll on down to the printable recipe card for complete instructions and nutrition information.
What You'll Need
Carrots: Well, duh. Suck it up, buttercup, and buy the big carrots. The baby carrots work but they're not nearly as tasty. You'll need one and a half to two pounds of carrots, and yes, they should be either peeled or scrubbed.
Olive Oil: Any mild-tasting oil is fine, really. You don't really have to measure the amount carefully; just glug a little on the sheet pan.
Fresh Thyme Sprigs: A woody herb with very small leaves, tasting of "sharp grass, wood, and floral notes" according to The Spruce Eats. This shrubby plant is very easy to grow, either in a pot or in the ground. Even I can do it. Unless someone happens to spray it with weed killer (grrr…). If you substitute dried thyme, use about 1/3 less.
Nutmeg: For the best flavor, grate your own. You won't believe the difference in taste. Whole nutmeg looks like a small hard nut, about the size of a hazelnut, and it's easy to grate off what you need.
Salt & Pepper: Simple seasoning, add more or less according to your own taste.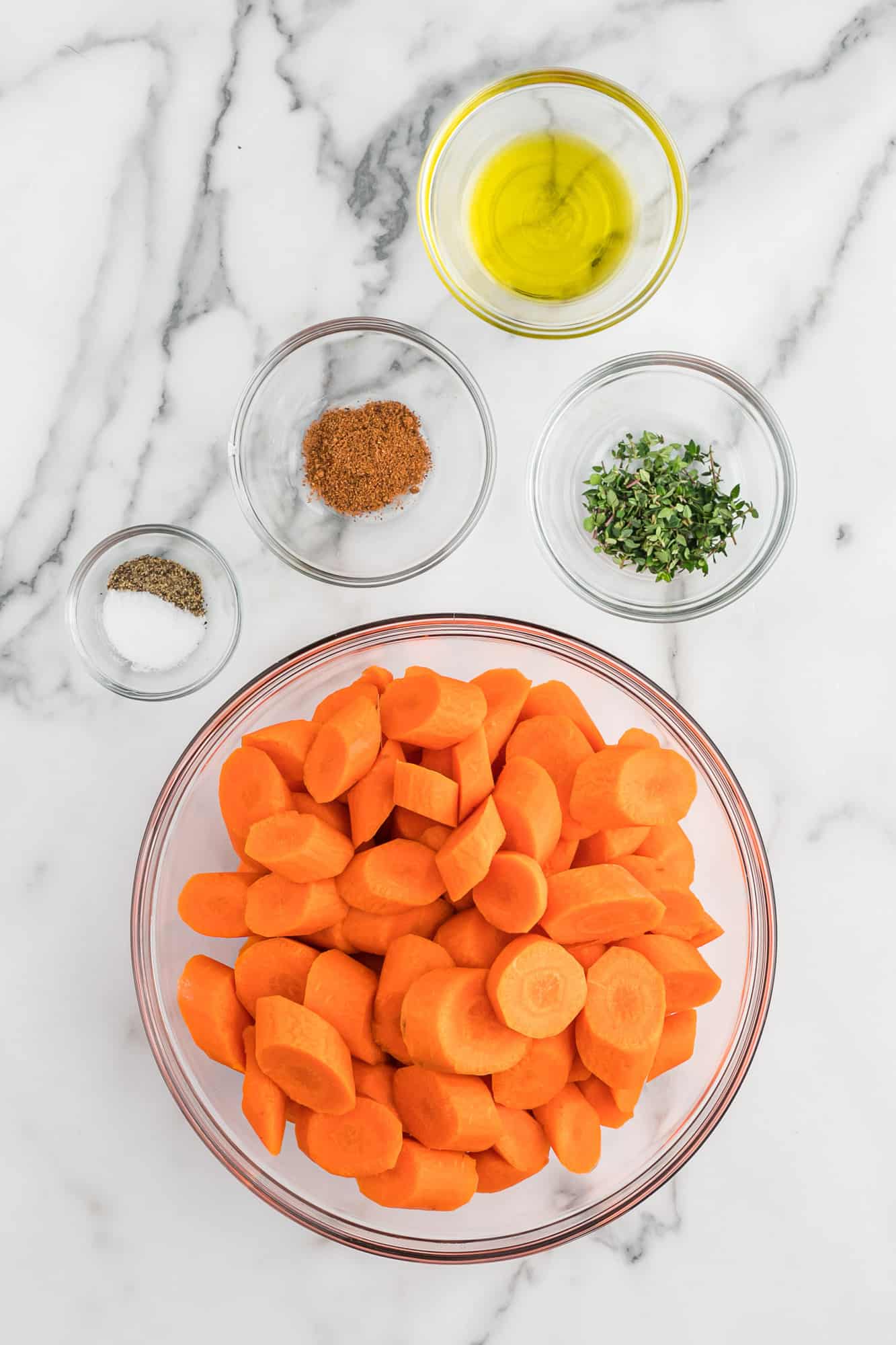 How To Make Roasted Carrots
Preheat the oven to 450°F. The oven needs to be nice and hot before you put in the carrots so get it heating up while you prep the carrots. You'll need a sheet pan, a large shallow rimmed baking pan.
Prep the carrots: peel them (or just scrub them, if you'd rather), and slice them into fairly good-sized pieces, about three-quarters of an inch. You don't have to measure them or anything but try to make them all about the same size so they roast evenly. If you want them to look a little fancy, slice them on the diagonal (not straight across, but on a slant).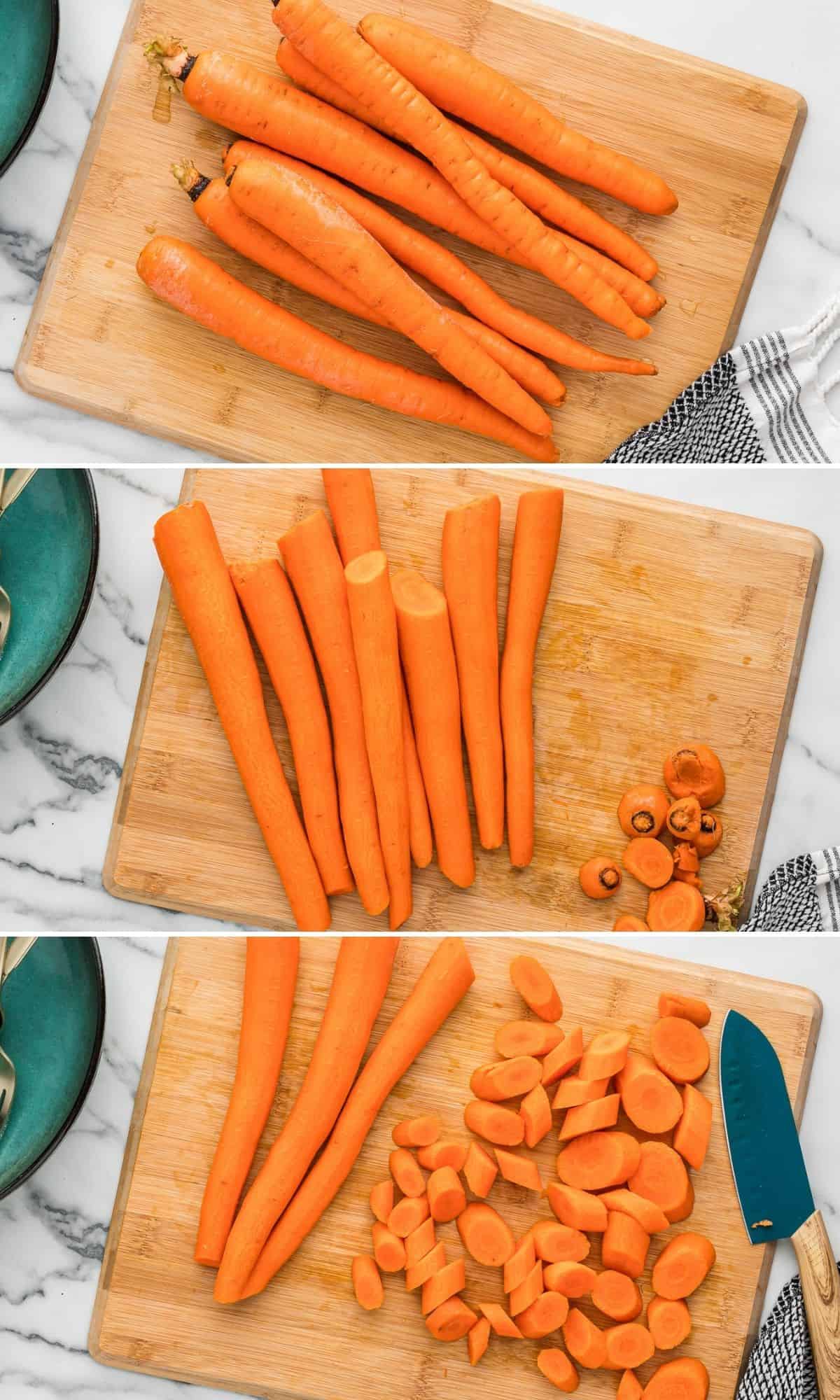 Add the carrots to the sheet pan, along with the oil, thyme leaves, nutmeg, salt and pepper. Use a large spatula or your hands to mix it all up, so that the carrots are pretty evenly coated with oil. (P.S. Olive oil is really nice on your skin. Think of it as a free mani.)
Is your oven good and hot? Go ahead and pop those carrots into the hot oven. Let them roast for 10 minutes or so, stir, and then roast for another 15 to 20 minutes. Check them to see if they're golden brown and fork tender.
Don't worry if you think they got too brown. The browner, the better! More sweetness, more caramelization, more flavor!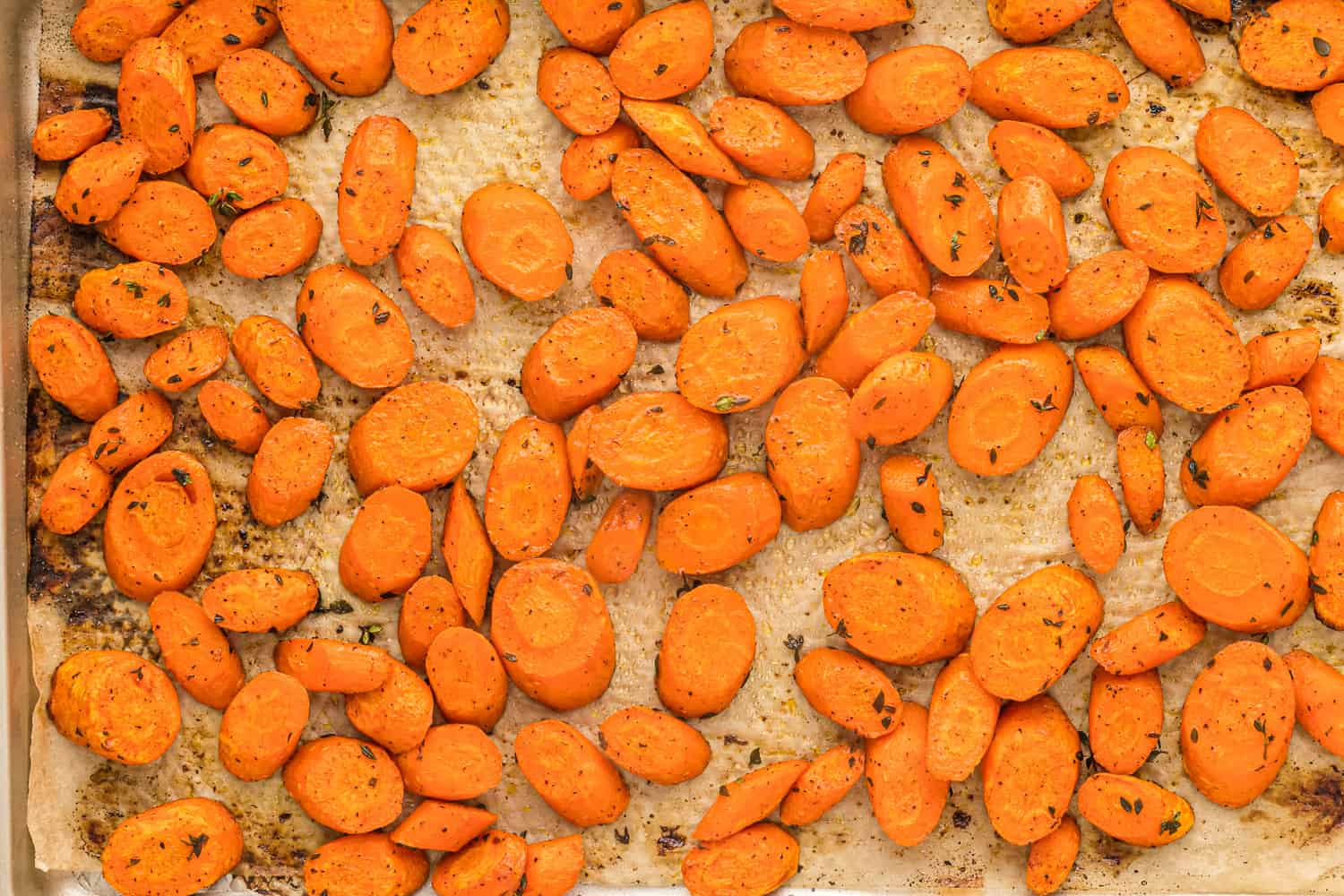 Thyme roasted carrots make a great side dish. They are good with chicken, beef, pork, ham, or salmon. Try roasted carrots with homemade meatloaf or grilled salmon. Try carrots with your air fryer burgers or Instant Pot honey sriracha chicken.
FAQs
Are roasted carrots healthy?
Carrots are an extremely nutritious vegetable, containing high amounts of beta carotene and other antioxidants. Cooking carrots actually helps your body absorb the nutrients and roasting is one of the best ways to preserve the nutrients. Boiling carrots can dilute the nutrients which may be discarded with the water you use to boil them in.
Do you peel carrots before roasting them?
This is a matter of personal preference. If you prefer not to peel carrots, it's perfectly okay to just scrub them really well before roasting them, making sure to get the dirt out of all the crevices. Use a short bristled firm scrub brush.
Can you roast carrots a day in advance?
Sure! To refresh them a bit, put them in the oven again for 5 minutes or so when you reheat the carrots.
Make It Your Own
Like I mentioned, this "recipe" is more of a technique. Use it as a starting point and roast your carrots in whatever creative way you want. Here's a few ideas:
Substitute a different herb. Oregano and rosemary come to mind because both are woody herbs, like thyme.
Add seeds. We love these roasted carrots with cumin seeds!
Glaze the carrots. Maple syrup and honey (try hot honey!) make good glazes. Add the sweet glaze after the carrots are cooked and return the pan to the oven for five minutes or so. Oh, and balsamic reduction (syrup) is a really good idea or pomegranate molasses.
Love garlic? Add sliced garlic cloves or garlic powder.
Rather have carrot soup? Try creamy carrot soup or vegan carrot ginger soup.
Make-Ahead Ideas
The most time-consuming part of the recipe is prepping the carrots (and that's really only about 10 minutes). If you like, peel and slice the carrots up to 3 days in advance. Store them in a resealable bag or container in the fridge.
Storage & Reheating Tips
Roasted carrots can be stored in the fridge for up to 5 days. Put them in a covered bowl or container.
For best results, reheat the carrots in the oven (350°-375°F) or a toaster oven for 10 minutes or so. You can also reheat them in the microwave in 30 second increments until heated through.
Did you make this? Be sure to leave a review below and tag me @rachelcooksblog on Facebook, Instagram, or Pinterest!
Roasted carrots with thyme and nutmeg are so sweet, flavorful, and good for you (but they taste almost like candy).
Ingredients
6-8

large carrots, peeled and cut into uniform slices about ¾ inch thick

(1 ½ to 2 lbs.)

1

tablespoon

olive oil

(or any mild tasting oil)

1 ½

teaspoons

fresh thyme leaves, roughly chopped

(or ½ teaspoon dried thyme)

½

teaspoon

freshly grated nutmeg

¼

teaspoon

kosher salt

⅛

teaspoon

coarse ground black pepper, more to taste
Instructions
Preheat oven to 450°F.

On a rimmed baking sheet, toss all ingredients together.

Bake for 10 minutes, stir, and bake for 15-20 more minutes, or tender and golden brown.
Notes
Storage and Reheating: Store in the refrigerator for up to 5 days. For best results, reheat the carrots in the oven (350°-375°F) or a toaster oven for 10 minutes or so. You can also reheat them in the microwave in 30 second increments until heated through.
If desired, stir in a tablespoon of honey, maple syrup, balsamic reduction, or pomegranate molasses during the last five minutes of roasting for a sweet glaze.
Just look at that vitamin A! 15,322 IU per serving!
Nutrition Information
Calories:
71
kcal
,
Carbohydrates:
9
g
,
Protein:
1
g
,
Fat:
4
g
,
Saturated Fat:
1
g
,
Polyunsaturated Fat:
1
g
,
Monounsaturated Fat:
3
g
,
Sodium:
209
mg
,
Potassium:
299
mg
,
Fiber:
3
g
,
Sugar:
4
g
,
Vitamin A:
15322
IU
,
Vitamin C:
7
mg
,
Calcium:
34
mg
,
Iron:
1
mg
This website provides approximate nutrition information for convenience and as a courtesy only. Nutrition data is gathered primarily from the USDA Food Composition Database, whenever available, or otherwise other online calculators.