Classic Meatloaf Recipe – the best!
Enjoy this classic meatloaf recipe with a tangy tomato glaze! Perfect for sandwiches the next day, too!
Recipe Overview
Why you'll love it: This is a classic meatloaf recipe that is pure comfort food!
How long it takes: 2 hours, but most of it is hands-off.
Equipment you'll need: A loaf pan, a couple bowls, a food processor. An instant-read thermometer is helpful, too.
Servings: 6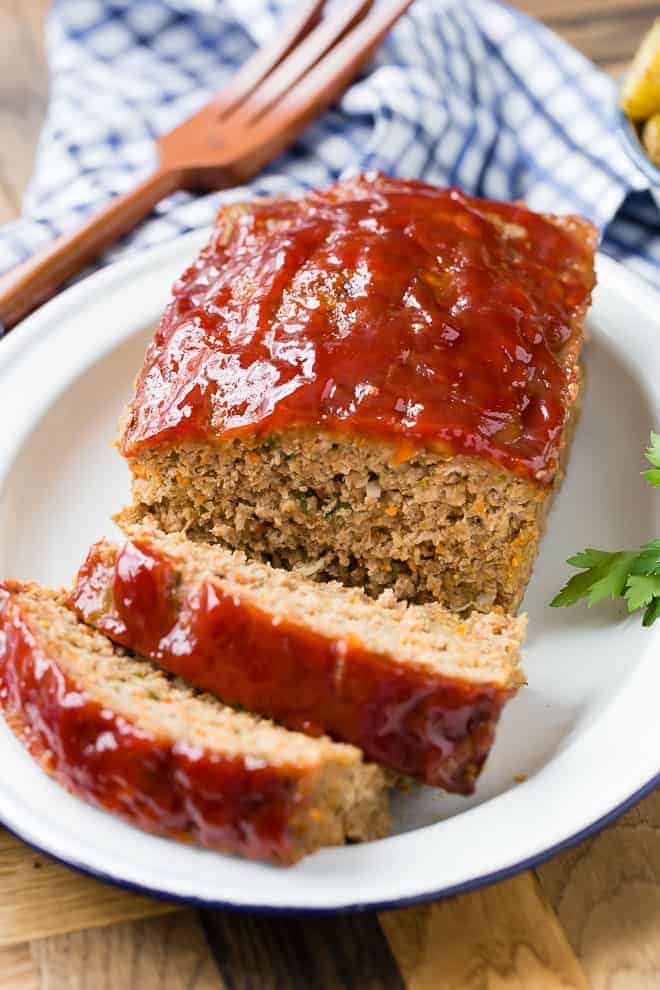 Don't you love all the new exciting foods and dishes that are available now? Fifteen years ago who would have dreamed we'd be ordering jackfruit on our BBQ sandwiches, drinking açai berry juice, making pudding with chia seeds, or shredding jicama on our salads?
Really, I love to try new foods but sometimes I crave a good old fashioned meal, like this traditional meatloaf. While I am not normally a "meat and potatoes" girl, this classic meatloaf, glazed with tangy tomato sauce, served with mashed potatoes and green beans, really hits the mark with me.
My mom still pulls out her trusty Betty Crocker cookbook with the iconic red and white cover (a well-loved wedding gift more than 40 years ago!) when she makes meatloaf. The basic meatloaf recipe is simple: ground meat, bread or cracker crumbs, an egg, milk, and seasonings, mixed and shaped into a loaf and baked in the oven.
According to Wikipedia, meatloaf is a traditional German, Scandinavian, and Belgian dish, and an American favorite since colonial times, when it usually consisted of ground pork mixed with cornmeal and was called scrapple. Hmmm, I think I'll just stick to calling it meatloaf–not sure what Ben would say if I said we were having scrapple for dinner!
I'm sure you'll enjoy this timeless meatloaf recipe! It's versatile and easy to make. Leftover meatloaf makes fantastic hearty sandwiches, too.
P.S. Looking for more "old-fashioned" classics? Try tuna casserole, an iconic dish from the 50's, homemade sloppy Joes, or stuffed pepper casserole with rice and ground turkey. For dessert, Texas sheet cake is a must!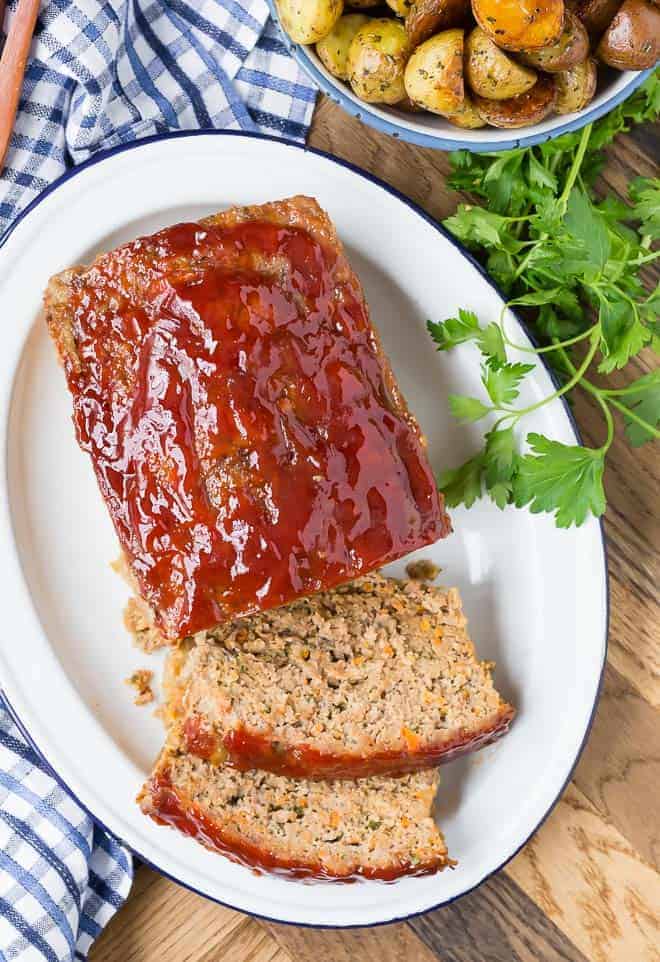 About this meatloaf recipe
Most meatloaf recipes include ground beef or a combination of ground meats. In this recipe, you'll use beef, pork, and turkey. You could also use ground veal or ground chicken. It's smart to use at least one meat that is a little higher in fat because it makes the meatloaf more flavorful. A blend of meat gives a nice well rounded flavor.
You'll also add lots of veggies (of course!): onions, carrots, celery, and garlic. Place the roughly chopped veggies into your food processor and pulse them until they are really finely chopped.
Why the food processor? Two reasons: we don't like big chunks of vegetables in meatloaf, and because the vegetables are so small, they cook right in the meatloaf that way. No need to sauté them before you add them to the meatloaf mix.
Another component of meatloaf is a filler, like breadcrumbs, panko, or oatmeal. For this recipe, you'll use dried unseasoned bread crumbs. My mom always uses oats. Use what you have in your pantry or what you like the best.
Next we need the glue: milk and egg. These two ingredients hold the meatloaf together, providing structure, taste, and texture.
Additional flavor comes in the form of chopped parsley, Worcestershire sauce, ketchup, salt and pepper.
Homemade Breadcrumbs
Did you know that it's very easy to make homemade breadcrumbs? It's a great way to use up day-old bread, and you can use gluten-free bread if you like. Try making your own panko and breadcrumbs!
How To Make Meatloaf
Okay, now you have a big bowl of ground meat, eggs, crumbs, and other stuff. Take off your rings if you're wearing any. No, this isn't a hold-up! You're going to mix that meatloaf with your hands. Sounds kind of gross, but just dig in and squeeze and smoosh, and blend. It's the only way to get everything nice and mixed together.
I know you're having fun with this (kind of reminds you of play dough or something), but don't get carried away. Continue mixing just until the ingredients are nice and blended together. You'll be able to tell when it's "bonded". Don't over mix or compact the mixture too much.
Shape it into a nice loaf, plop it in the pan, and spread on a tangy mixture of ketchup, brown sugar and red wine vinegar. I like to put half the mixture on right away, and then the rest of it towards the end of the baking time.
Let the meatloaf rest 15 minutes or so before you slice it to let all those juices soak back into the meat.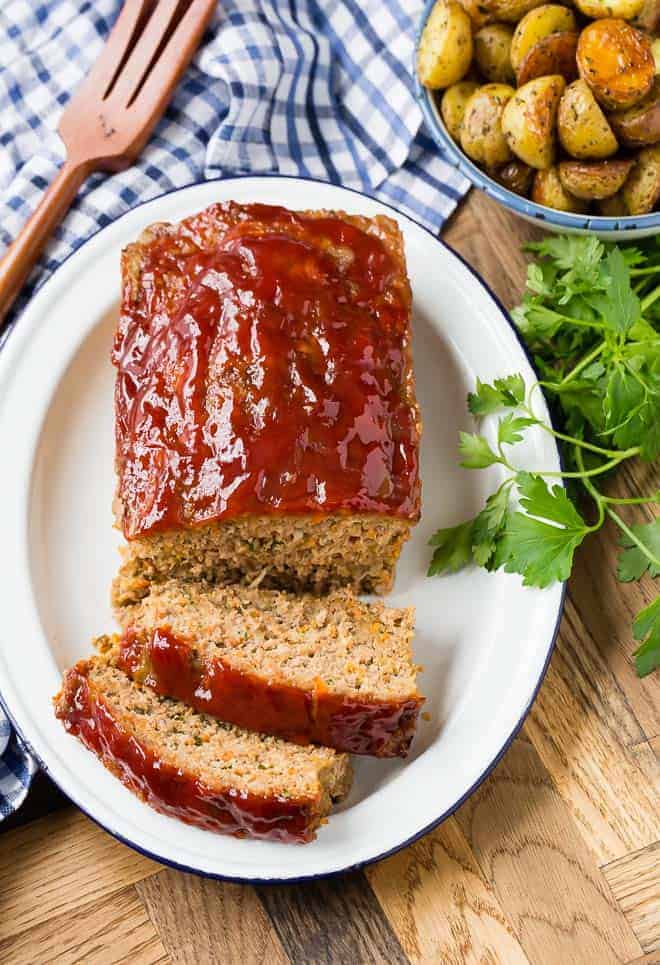 Make It Your Own
If you want to customize your meatloaf recipe, there are lots of variations you can try.
As I mentioned above, you can experiment with different blends of ground meat, or use just one kind.
Veggies or not? If you would rather not have any, leave them out. Or maybe you like the veggies to be a little more noticeable. If so, dice them evenly, and sauté them until soft before adding them to the meatloaf. I would let them cool a bit first, too.
Breadcrumbs, oatmeal, cracker crumbs, crushed tortilla chips–they are all great fillers. My mom makes a great meatloaf with ground turkey, crushed tortilla chips, and southwestern seasoning. Use what's in your pantry!
Seasonings can be varied. Spice it up by adding red pepper flakes or sriracha sauce. Or add up to 1 cup of shredded cheese for added flavor.
Don't like ketchup? Omit the ketchup in the meatloaf mix, and make a different topping, or use barbecue sauce or honey mustard.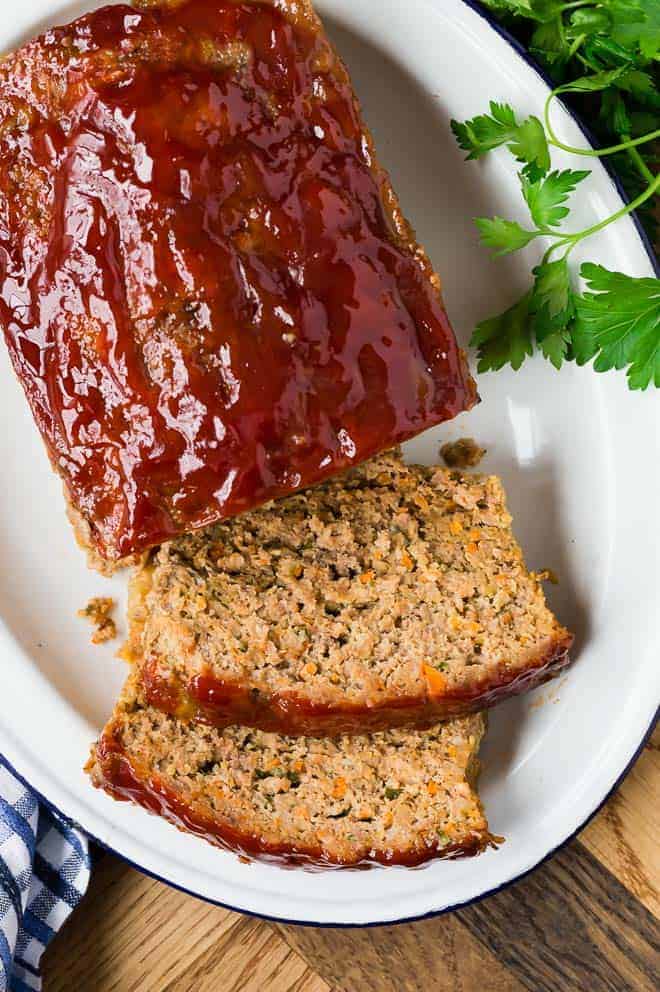 FAQs
Do you cook meatloaf covered or uncovered?
I recommend cooking meatloaf uncovered. This helps the tomato glaze caramelize on top of the meatloaf and ensures the meatloaf browns around the edges. If you find that your meatloaf is getting too brown, you could cover it with aluminum foil for the last 15 minutes or so.
You can also bake meatloaf without a loaf pan. Shape the meat into a loaf, and place it on a foil covered baking sheet. Some of the excess fat drains off when you use this method.
You can also make multiple individual size meatloaves this way. Cooking time is greatly decreased and everyone gets their own perfectly browned little meatloaf. Check out this mini meatloaf sheet pan dinner – a complete meal all on one sheet pan!
How do you keep meatloaf from falling apart?
A couple of things: let the meatloaf cool 15 minutes or so before you slice it and use a very sharp knife! If you continue to have problems with falling apart meatloaf, try compacting the raw mixture a little more firmly before you bake it.

How long does it take to cook meatloaf?
Cooking time will vary somewhat, depending on your oven, the size of your loaf pan, and whether you have other food baking in the oven at the same time as your meatloaf. I set my oven for 350°F and it usually takes about 90 minutes for the internal temperature of the meatloaf to reach 165°F. An instant read thermometer is perfect for determining internal temperature.
Why do you need breadcrumbs in meatloaf?
Adding breadcrumbs, panko, cracker crumbs, oatmeal, or even crushed tortilla chips lightens the texture of meatloaf. Without this filler, meatloaf would be like a hamburger, a rather solid piece of meat. Just wouldn't be meatloaf at all! Quinoa also works! Check out this Italian quinoa meatloaf.
Why do you put milk in meatloaf?
The milk soaks up the dry ingredients (soft or dry bread crumbs, panko, cracker crumbs, oatmeal), binding the meatloaf together, and making it more tender. Some meatloaf recipes instruct you to soak the crumbs in milk before adding it to the meatloaf mixture. Go ahead and do that if you like but I can't really say there's any difference and why make extra work for yourself, right?
Is egg necessary in meatloaf?
The egg acts like a binder, holding all the ingredients together. It also adds moisture, improves the texture, and makes it more flavorful. If you would rather not use egg, try increasing the milk (2-3 tablespoons).
How can you tell if meatloaf is done?
Meatloaf is fully cooked when the internal temperature reaches 165°F. Again, an instant read thermometer is the most accurate way to determine internal temperature.
Don't have a thermometer? Take a look at the meatloaf. Is the meatloaf pulling away from the edges of the pan? That's good, the meatloaf shrinks a bit as it bakes. Is it nicely browned on top? Poke a little hole in the middle. Is the meatloaf firm? Are the juices clear, and not red or cloudy? These are all good indicators that the meatloaf is done.
Storage & Reheating Tips
Lucky you, you have left over meatloaf! It's so good reheated or eaten cold on a sandwich. Just pop a slice in the microwave briefly to reheat.
If wrapped properly, it should last 3-4 days in the fridge. If you want to keep it longer, wrap securely and place in the freezer for up to 3 months. For best results, thaw overnight in the refrigerator.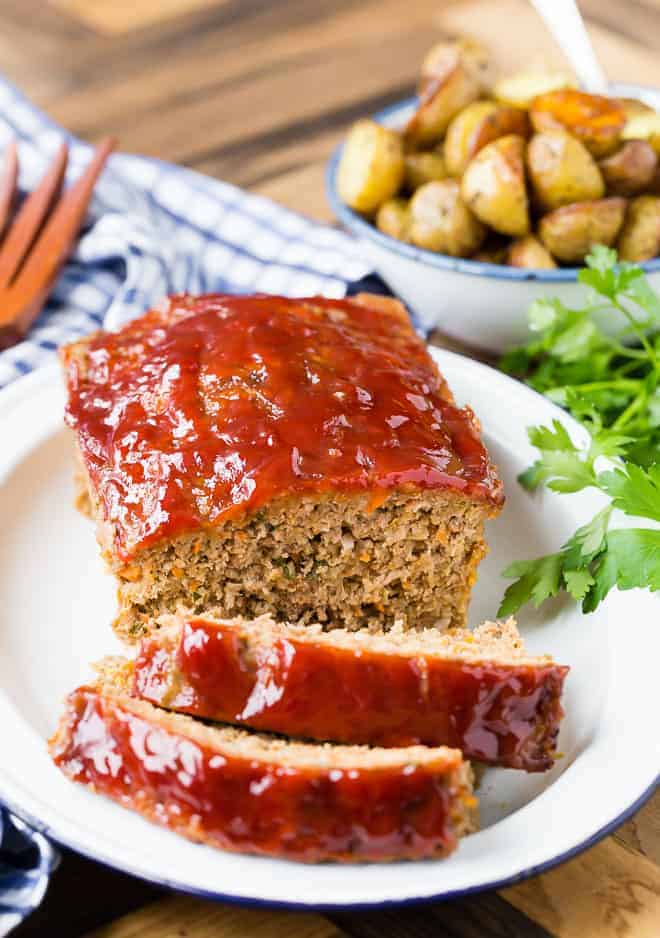 Great sides to serve with meatloaf
Pretty much anything goes well with meatloaf! Try it with:
Did you make this? Be sure to leave a review below and tag me @rachelcooksblog on Facebook, Instagram, or Pinterest!
Enjoy this classic meatloaf recipe, with a tangy tomato glaze! Perfect for sandwiches the next day, too!
Ingredients
Meatloaf
2

large eggs

1

medium yellow onion, cut into quarters

1

medium carrot, peeled and ends cut off, cut into large chunks

1

stalk

celery, cut into large chunks

1

clove

garlic, peeled

1 ½

pounds

ground meat

(preferably a combination of beef, pork, veal, or turkey 93/7)

¾

cup

dried bread crumbs

¼

cup

chopped fresh parsley,

additional for garnish if desired

¼

cup

milk

¼

cup

ketchup

1

tablespoon

Worcestershire sauce

1

teaspoon

kosher salt

½

teaspoon

coarsely ground black pepper
Glaze
¼

cup

ketchup

2

tablespoons

packed brown sugar

1

tablespoon

red wine vinegar
Instructions
Preheat oven to 350ºF. Spray a 9" by 5" loaf pan with nonstick cooking spray.

In a large bowl, lightly beat two eggs.

Place onion, celery, carrot, and garlic in a food processor and pulse until finely chopped. Add to bowl with eggs.

Add ground meat, bread crumbs, parsley, milk, 1/4 cup ketchup, Worcestershire, salt, and pepper. Mix to combine. Go ahead and use your hands. Don't over mix; ingredients should be just combined. Press lightly into prepared pan.

In a small bowl, combine 1/4 cup ketchup, brown sugar, and red wine vinegar. Brush meatloaf with half of ketchup mixture and bake for 35 minutes.

Brush with remaining ketchup mixture; return to the oven and bake for another 55 minutes or until middle of the loaf reaches at least 165ºF when checked with an instant-read thermometer. Internal temperature will continue to rise as the meatloaf rests.

Let meatloaf rest 15 minutes before removing from pan or slicing.
Notes
Meatloaf can be made with any combination of ground meat, or just one kind of ground meat. Nutrition information is calculated using ground beef.
One serving is 2 slices.
Faster cooking alternative: Form the meatloaf mixture into 6 mini loaves. Place on a rimmed baking pan, sides not touching. Bake at 400°F for 25 minutes or until done (165°F internal temp).
Nutrition Information
Serving:
2
slices
,
Calories:
423
kcal
,
Carbohydrates:
23
g
,
Protein:
24
g
,
Fat:
25
g
,
Saturated Fat:
10
g
,
Polyunsaturated Fat:
1
g
,
Monounsaturated Fat:
11
g
,
Trans Fat:
1
g
,
Cholesterol:
136
mg
,
Sodium:
813
mg
,
Potassium:
553
mg
,
Fiber:
2
g
,
Sugar:
11
g
,
Vitamin A:
2141
IU
,
Vitamin C:
7
mg
,
Calcium:
90
mg
,
Iron:
4
mg
This website provides approximate nutrition information for convenience and as a courtesy only. Nutrition data is gathered primarily from the USDA Food Composition Database, whenever available, or otherwise other online calculators.