Stuffed Pepper Casserole (with variations)
Healthy stuffed pepper casserole with ground turkey, brown rice, and cheddar cheese is a go-to meal for weeknights. It's easy to make, hearty, and tastes great!
Recipe Overview
Why you'll love it: All the flavor of stuffed peppers in one easy casserole makes this recipe a winner.
How long it takes: 15 minutes to prep, one and a half hours to bake
Equipment you'll need: large skillet, 9 x 13 inch baking dish, foil or cover for dish
Servings: 4 generous servings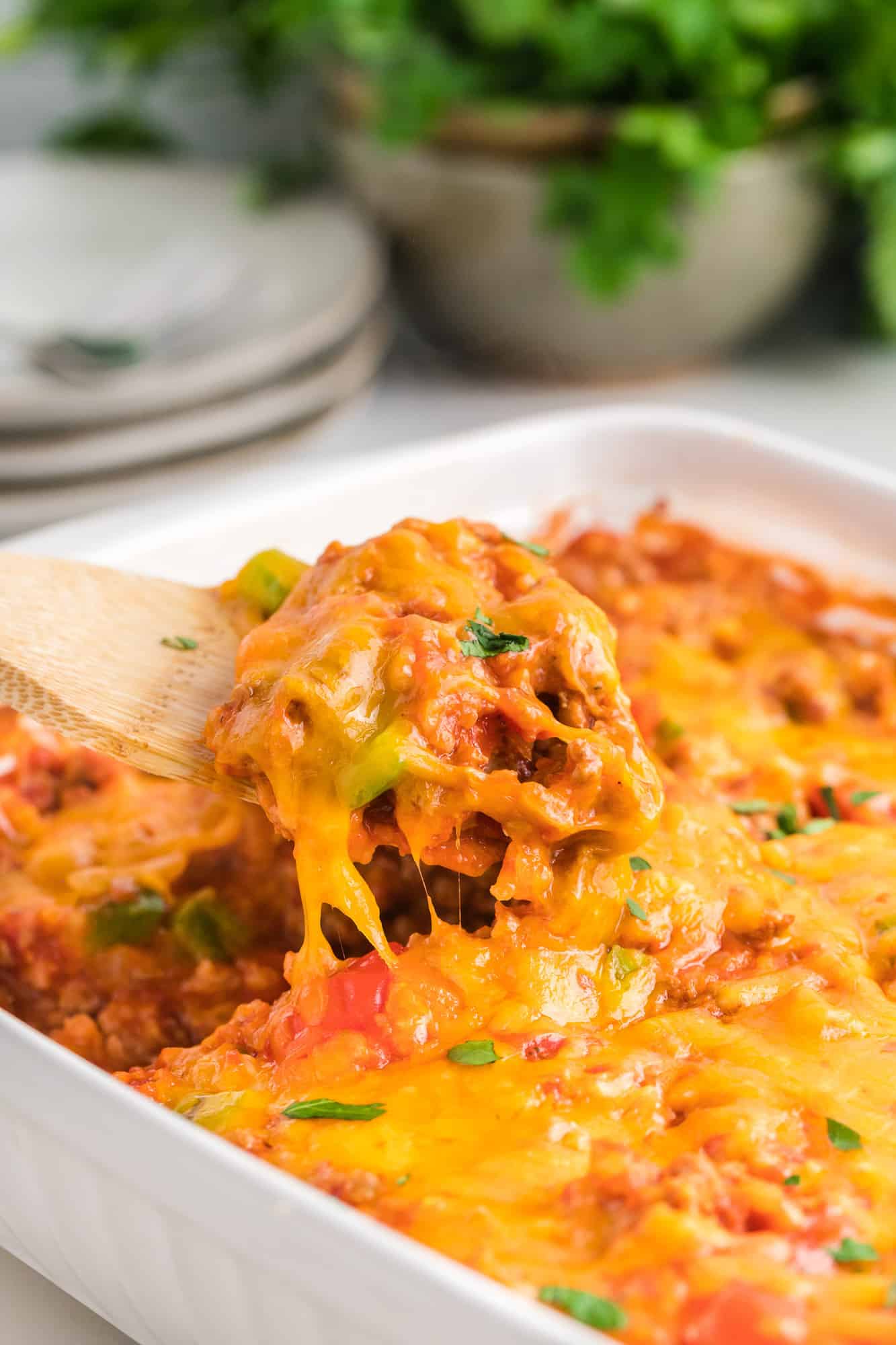 This casserole is one of my go-to recipes. It's a perfect meal: easy, nutritious, and satisfying.
We love stuffed peppers. Okay, actually we like stuffed anything. There's just something kind of cool about stuffing all contained in a neat little package. I kind of go crazy over stuffed butternut squash. It's so good!
But, I'll admit, it can be a little bit of a hassle to stuff stuff (ha, get it?). There's usually a fair amount of prep work involved. For stuffed peppers, you have to blanch the peppers first, drain them, prepare the stuffing, and then carefully put the stuffing into the peppers before you finally "stuff" them in the oven.
That's the beauty of this stuffed pepper casserole. It's a deconstructed stuffed pepper. The only prep work you have to do is brown the meat and onions. You don't even have to cook the rice. Just dump everything in a baking dish, cover it and let it bake.
You'll get all the deliciousness of stuffed peppers hassle-free. And that's why this recipe is one of my weekday go-to recipes. Because hassle-free is good, right?
Hearty, nutritious, low-calorie, gluten-free, and easy to make, stuffed pepper casserole is a winner for sure!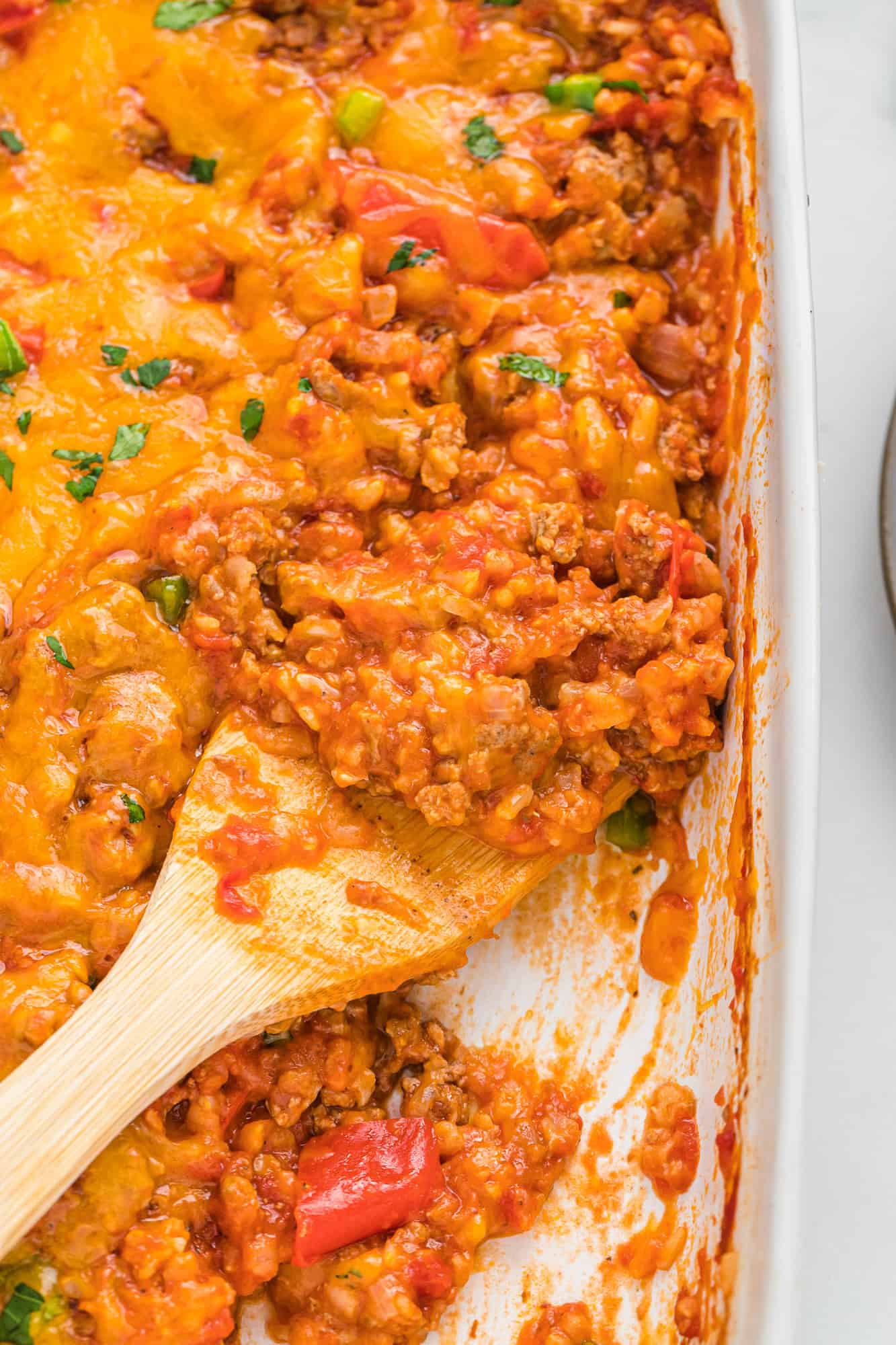 About This Recipe
This casserole can be prepped in about 15 minutes but it needs to bake for at least an hour and a half, mostly hands off.
That might sound like a long baking time but the beauty of it is you can do anything you want while it bakes. Make a side salad. Sit down, relax! Catch up on emails. Play with your kids. Do some yard work. Whatever you want. Dinner will be ready when you are.
You probably should stick around the house since the oven is on but other than that you can do whatever your heart desires.
I'll get you started on the recipe here and talk about some variations you can make.
As always, look for the printable recipe card near the end of the post with complete instructions, measurements, and nutrition information.
What You'll Need
Ground Turkey: I like ground turkey because it's leaner than ground beef. If you prefer a more traditional stuffed pepper flavor, use lean ground beef instead. Bulk sausage (either pork or turkey) can be substituted as well.
Onion: It doesn't really matter what type of onion you choose. For casseroles, a regular yellow cooking onion is just fine.
Bell Peppers: Use any color you like or happen to have. A combination of two or more colors makes a colorful casserole.
Crushed Tomatoes: Look for a large can of crushed tomatoes. The juicy tomatoes provide the liquid needed to cook the rice. If you only have diced tomatoes, use a large can (28 oz.) or two small cans. For best results, chop them in a food processor to break up the chunks. Stir in a couple of tablespoons of tomato paste.
Rice: You'll need a half cup of uncooked rice. While the recipe calls for brown rice which is more nutritious, feel free to substitute white rice. The casserole won't take quite as long to bake.
Dried Oregano: If you happen to have fresh oregano, feel free to substitute that. You'll need to add more, about a tablespoon instead of a teaspoon. Dried Italian seasoning is a good substitute too.
Garlic Powder: Garlic powder (not garlic salt!) adds subtle garlic flavor. If you're a big garlic fan, feel free to increase the amount or use a couple of cloves of minced fresh garlic. Add it to the pan for the last minute or so, when you brown the meat and onions.
Cheese: Sharp cheddar provides plenty of tangy bold flavor which allows you to use less cheese in your casserole (less cheese = less calories). Feel free to use whatever type of cheese you happen to have on hand.
Fresh Parsley, optional: Freshly chopped parsley as a garnish adds fresh herbal flavor and a bright pop of color to the casserole.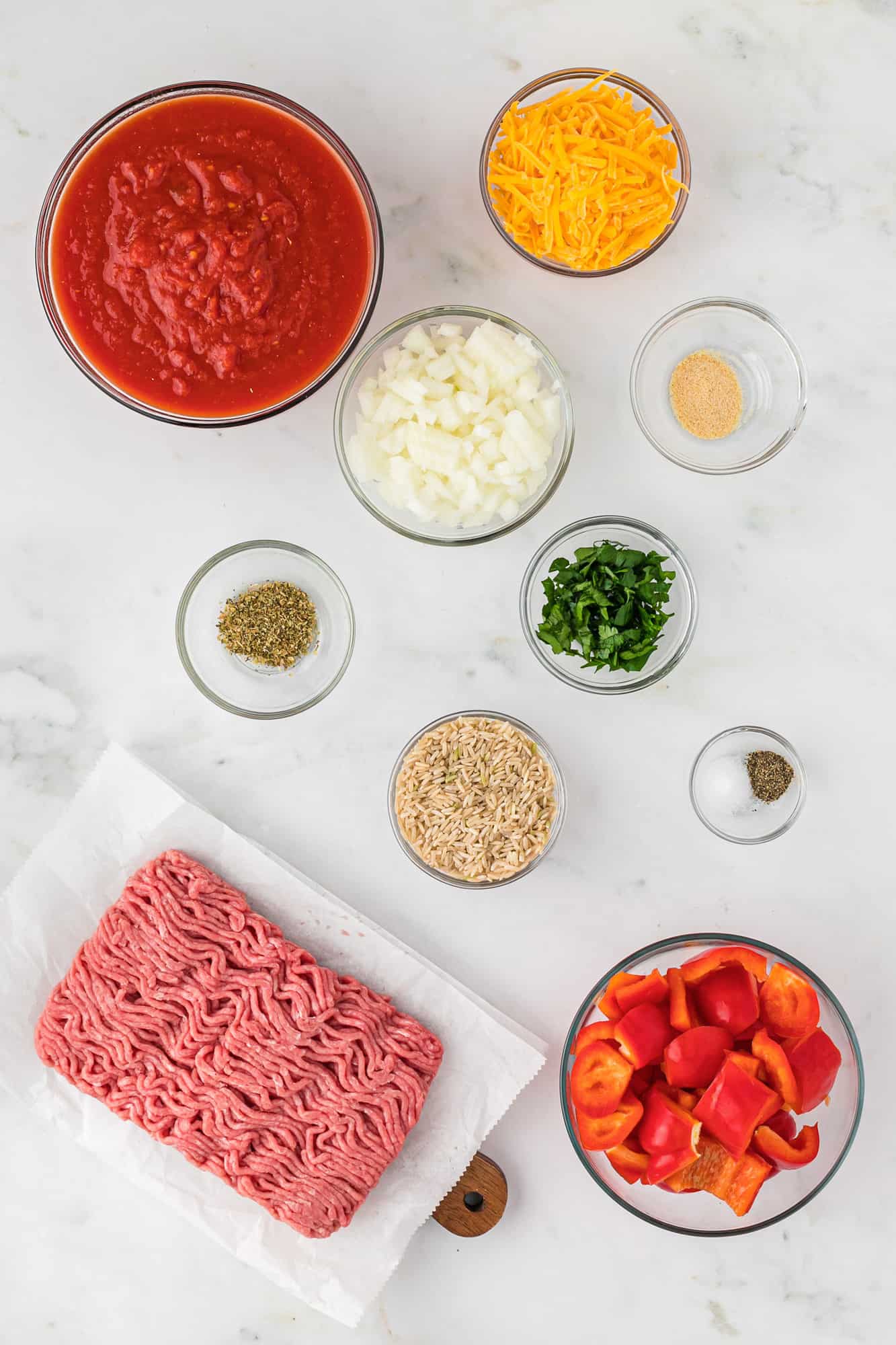 How To Make This Casserole
Let's get started! Turn your oven on to preheat and spray a large baking dish with non-stick spray.
In a large skillet, brown the ground turkey and onions with a little salt and pepper, breaking up the large chunks of meat so it browns evenly. It will take about ten minutes or so.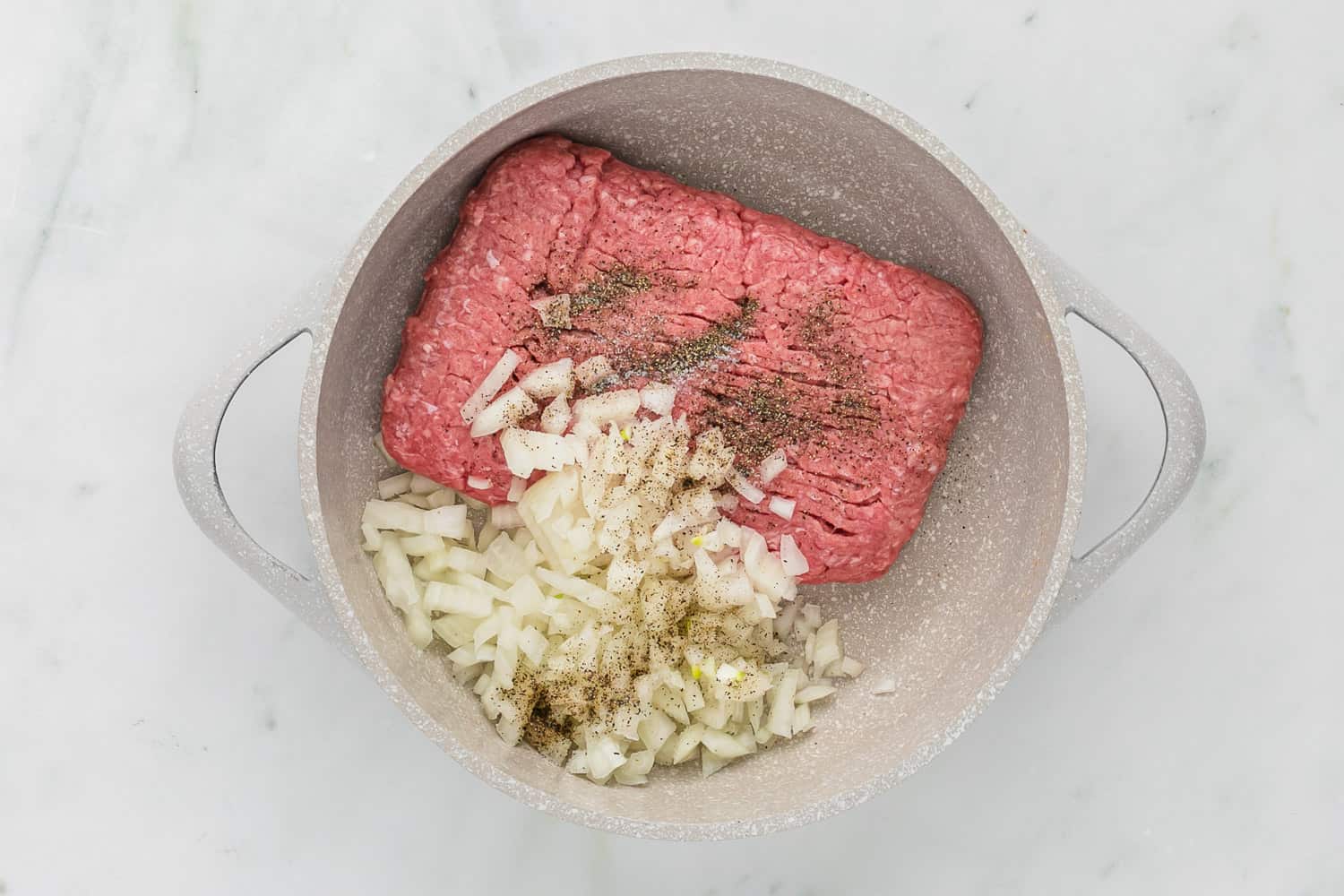 Meanwhile, cut a couple of bell peppers into one inch chunks, more or less. No fancy knife work here, just cut them up into bite-sized pieces, discarding the seeds and stems.
Measure out a half-cup of uncooked rice and open the can of crushed tomatoes. When the meat and onions are ready, put them into the prepared baking dish along with the rice, tomatoes, oregano, and garlic powder.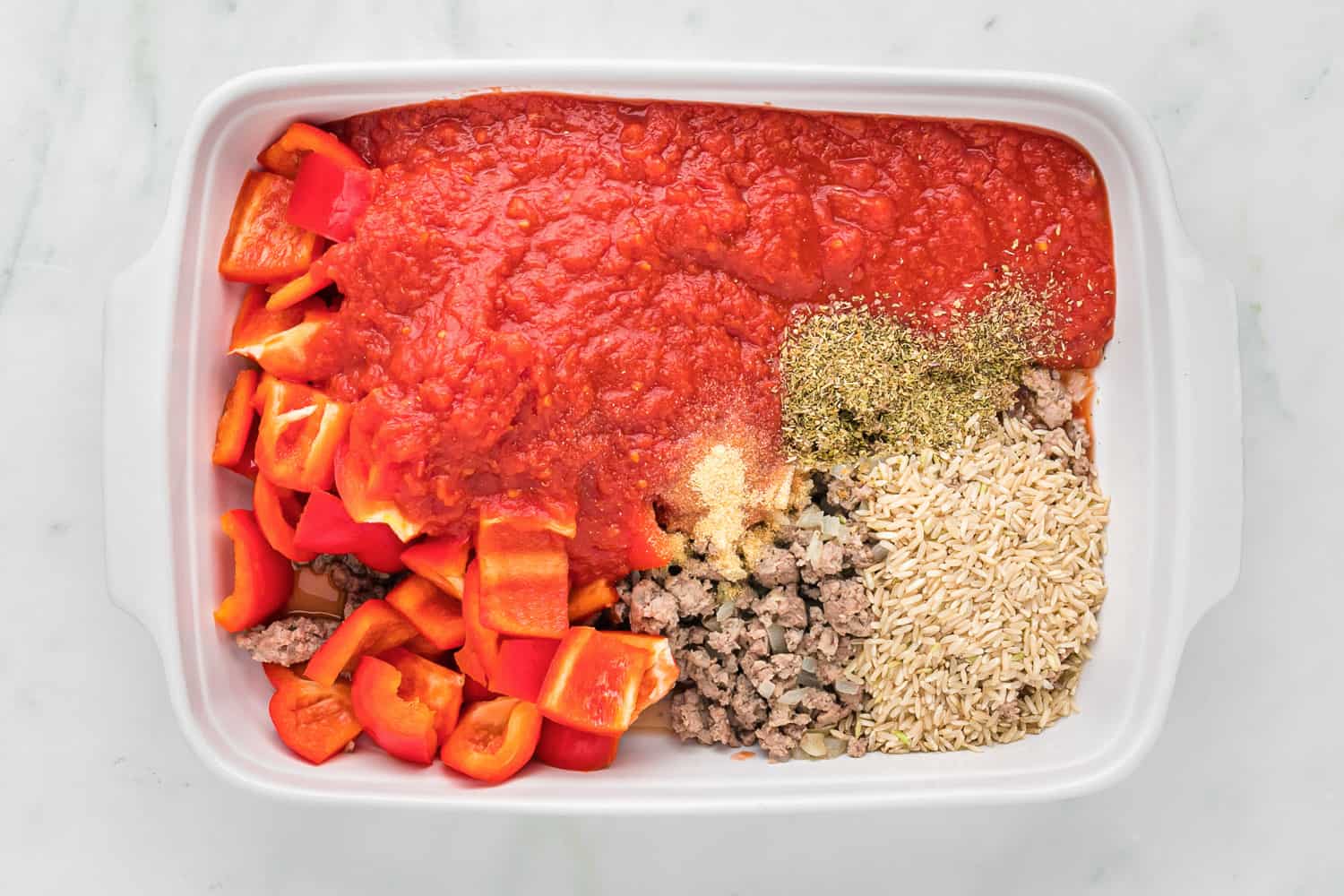 Stir well and cover the dish tightly with foil.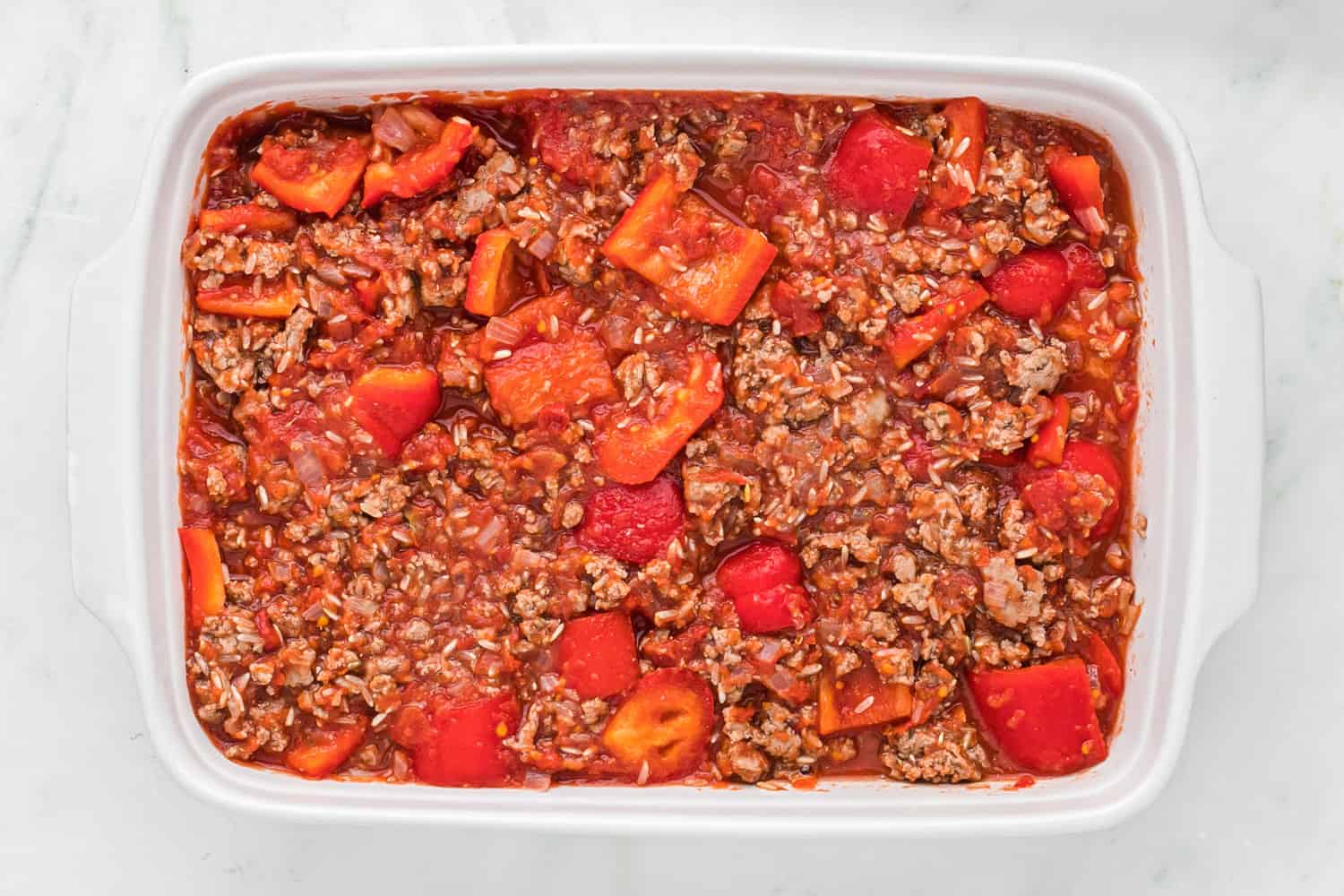 Note: It's important to cover the dish because you want to trap the steam inside so that the rice cooks. It's just like steaming rice on the stovetop in a covered saucepan.
After an hour and fifteen minutes, remove the foil and stir the casserole. Carefully put the foil back on and bake for another fifteen minutes or until the rice is tender. Sometimes it takes a bit longer.
Remove the dish from the oven, uncover it, and sprinkle on the shredded cheese. Put it back in the oven for five minutes or so, or until the cheese melts. Let the casserole set for 10 minutes or so to settle before serving. Garnish it with fresh parsley.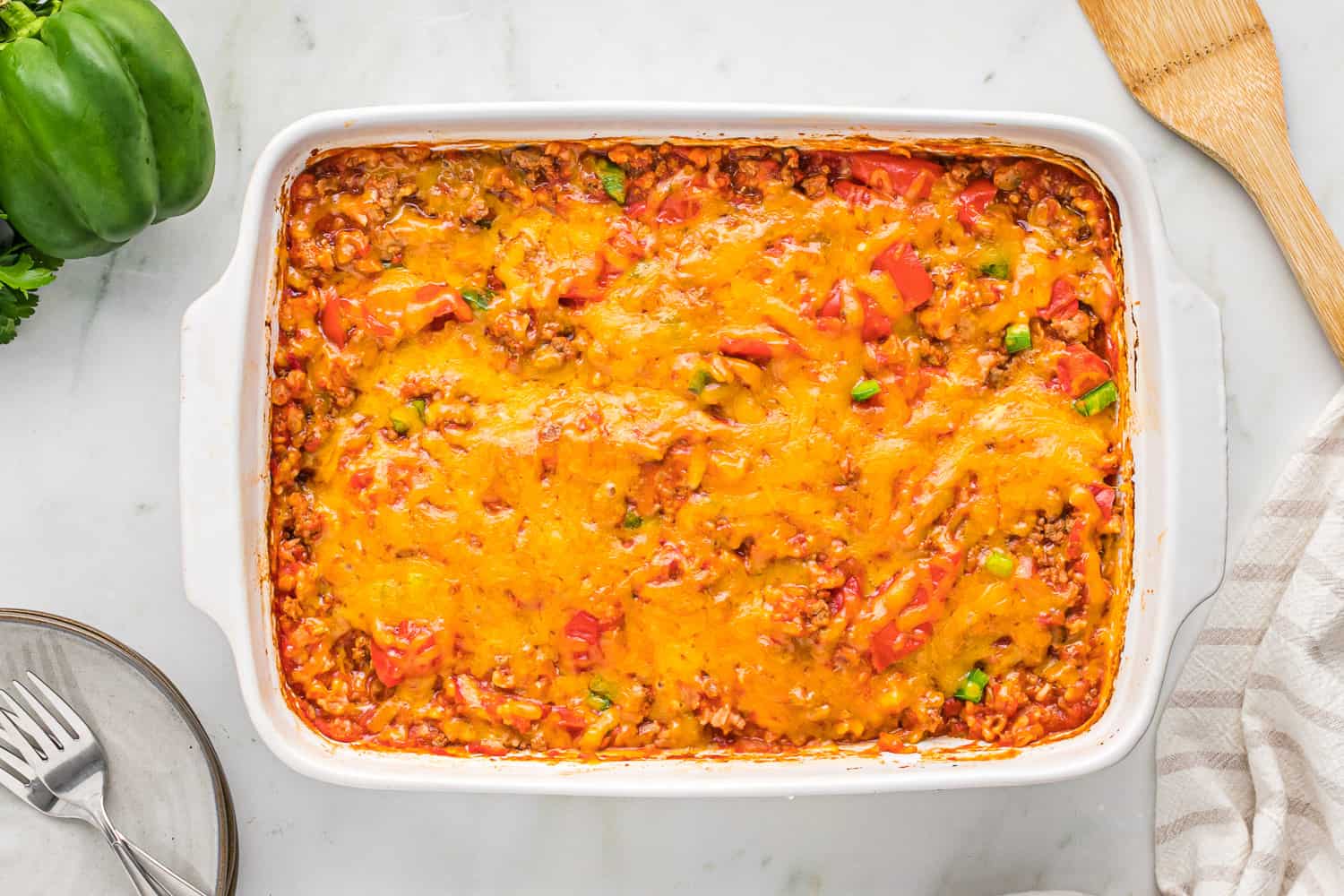 FAQs
Should peppers be blanched before stuffing?
Normally, bell peppers are blanched (immersed briefly in boiling water) before stuffing them so that they are tender enough to cut into easily. The beauty of this stuffed pepper casserole is that the peppers do not need to be blanched. Simply cut the bell peppers into bite-sized pieces and cook them along with everything else. They'll be perfectly tender.
Can you freeze bell peppers?
Yes! If you have an abundance of bell peppers, cut them into bite-sized pieces and freeze them in freezer safe containers for up to four months, to use later in casseroles, soups, stews, or other cooked recipes. This is a perfect idea if you're wondering what to do with lots of peppers!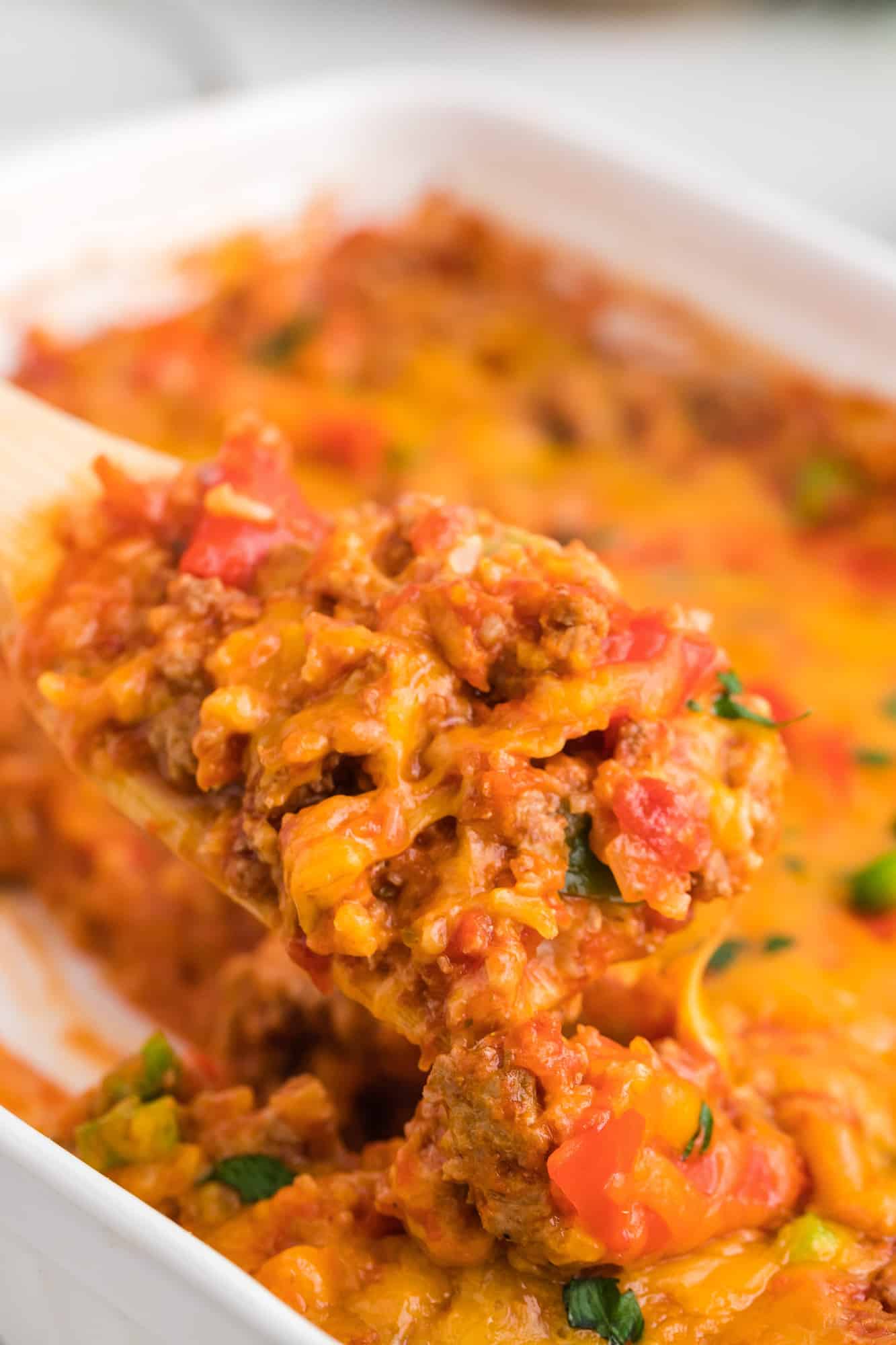 Make It Your Own
There are lots of ways to make this stuffed pepper casserole your very own creation. Use what you like best or what you happen to have in your fridge.
Make-Ahead Ideas
To get a head start on making this casserole, brown the meat and onions up to a day ahead of time. Prep the peppers and shred the cheese. You'll save about 15 minutes prep time.
The casserole can also be baked, cooled, and frozen for up to one month. Cover tightly and thaw overnight in the fridge before reheating. Bake at 350°F for 20-30 minutes or until heated through.
Storage & Reheating Tips
Leftover casserole can be stored in the fridge for up to three days. Reheat in the microwave or oven until heated through.
More Pepper Recipes
Interested in a weekly meal plan (it's free!) that includes this recipe? Take a look at my Meal Plan (#4). You'll find a wholesome recipe for each weekday plus a categorized grocery list. Let me do the planning for you this week!
We'll be adding a new meal plan weekly. If you're interested, browse all of our meal plans.
Did you make this? Be sure to leave a review below and tag me @rachelcooksblog on Facebook, Instagram, or Pinterest!
Healthy stuffed pepper casserole with ground turkey, brown rice, and cheddar cheese is a go-to meal for weeknights. It's easy to make, hearty, and tastes great!
Ingredients
1

package

(

16

oz.) ground turkey

½

cup

diced yellow onion

(about

1

small onion)

½

teaspoon

kosher salt

¼

teaspoon

ground black pepper

2

large bell peppers (any color), chopped into approx. 1-inch pieces

1

can

(28 oz.) crushed tomatoes

½

cup

long grain brown rice

(long grain white rice may be substituted; see note)

1

teaspoon

dried oregano

½

teaspoon

garlic powder

¾

cup

shredded sharp cheddar cheese

(or shredded mozzarella)

Chopped flat leaf parsley for serving, optional
Instructions
Preheat oven to 350°F. Lightly spray a 9×13-inch baking dish.

In a large skillet, brown ground turkey and onions, seasoning with salt and pepper. (I use a non-stick skillet. If you don't, you might want to add a teaspoon or two of olive oil.) Cook, breaking up ground turkey, until turkey is cooked through and onions are softened, about 10 minutes.

Put into baking dish. Add chopped peppers, tomatoes, rice, oregano, and garlic powder. Stir well to combine. Cover tightly with foil.

Bake for 1 hour 15 minutes, remove from oven, uncover and stir. Replace foil, return to oven and bake 15 minutes more or until rice is tender. Remove foil, add cheese, and bake 5 minutes uncovered, or until cheese is melted. Let stand 10 minutes before serving. Garnish with chopped parsley if desired.
Notes
Variations
Substitute long grain white rice: prepare as directed. Bake covered for 45 minutes, stir, recover and bake for an additional 20 minutes. Top with cheese and bake uncovered for another 5 minutes.
Use lean ground beef or bulk sausage (pork or turkey) instead of ground turkey. After browning, drain off excess grease.
Vegetarian: Omit meat and substitute a can (15.5 oz.) of pinto or black beans, rinsed and drained.
Cheese: Use any type of shredded cheese you happen to have. Cheese can be omitted for a non-dairy option.
Spicy: Replace the bell peppers with poblano peppers.
Nutrition Information
Calories:
173
kcal
,
Carbohydrates:
20
g
,
Protein:
8
g
,
Fat:
8
g
,
Saturated Fat:
4
g
,
Polyunsaturated Fat:
1
g
,
Monounsaturated Fat:
2
g
,
Cholesterol:
21
mg
,
Sodium:
570
mg
,
Potassium:
496
mg
,
Fiber:
4
g
,
Sugar:
8
g
,
Vitamin A:
2306
IU
,
Vitamin C:
87
mg
,
Calcium:
205
mg
,
Iron:
2
mg
This website provides approximate nutrition information for convenience and as a courtesy only. Nutrition data is gathered primarily from the USDA Food Composition Database, whenever available, or otherwise other online calculators.
**Disclosure: I am thrilled to be a dairy ambassador for Milk Means More. I have been compensated by Milk Means More for my time to develop this recipe and write this post. All opinions are as always, my own. Find out more about why Milk Means More on Twitter, Facebook, YouTube, Instagram and Pinterest.