Vegetarian Stuffed Portobello Mushrooms
You won't want to miss these vegetarian stuffed portobello mushrooms, overflowing with a creamy blend of three cheeses and crowned with crisp savory breadcrumbs.
Recipe Overview
Why you'll love it: Even though the cheesy filling makes this meal feel like a splurge, one filled mushroom is only 255 calories!
How long it takes: 35 minutes
Equipment you'll need: baking sheet, small skillet, oven
Servings: 4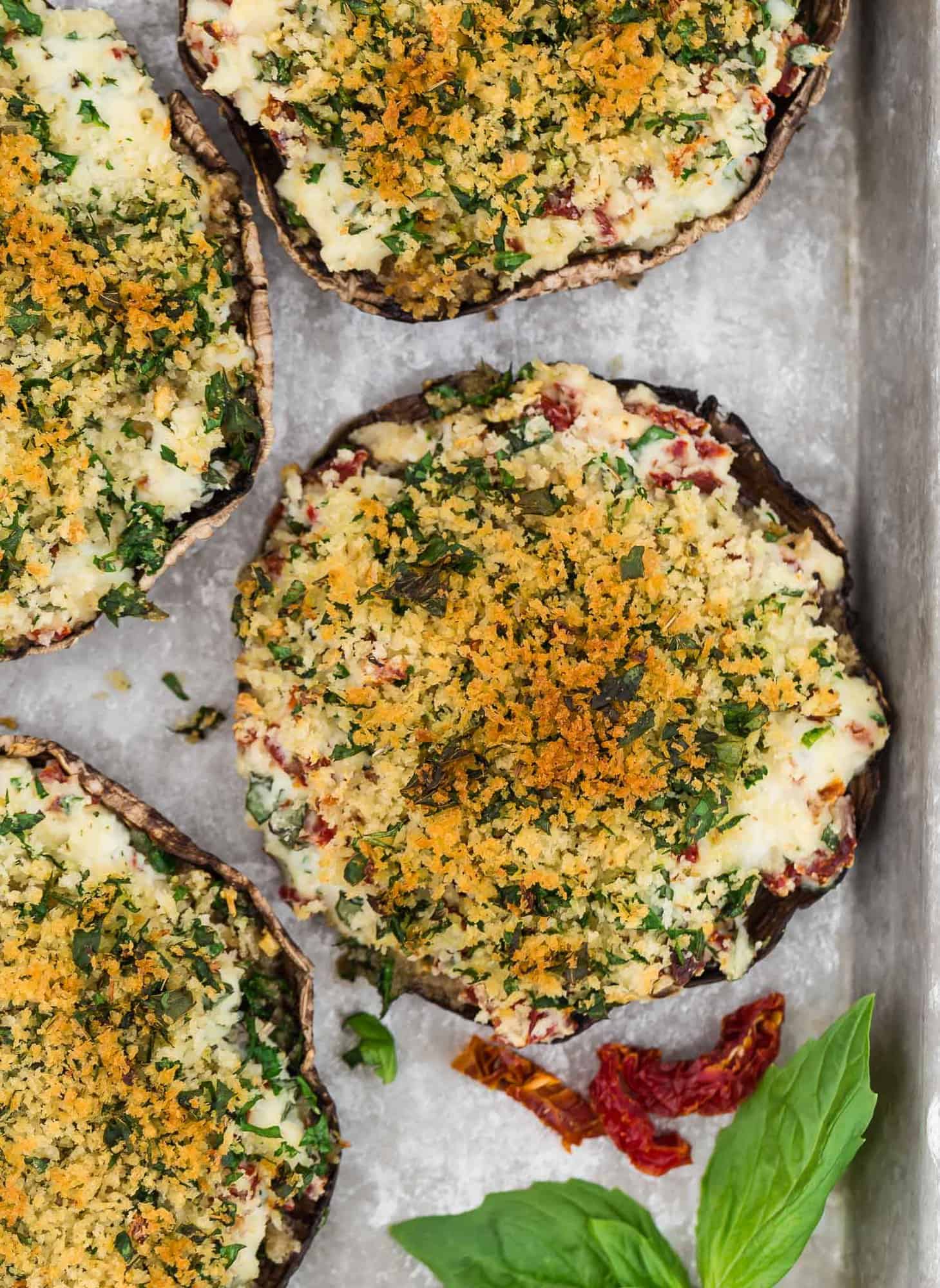 Looking for a wonderful meatless main dish? Look no further. Mushrooms feel meaty so they satisfy the carnivores in your family — just hand them a steak knife and watch them dig in. I have a feeling that no one will be complaining.
(Still feel like you need a little meat? I do have a couple of recipes for meat-stuffed mushrooms. Try Coq Au Vin Stuffed Mushrooms or Chicken Parmesan Stuffed Portobello Mushrooms.)
But today, we have vegetarian stuffed portobellos and boy, are they good! Melty, creamy cheese, with zippy little bites of sun-dried tomatoes mixed in, topped with crisp buttery garlicky bread crumbs — oh, yes, I'll take these any day. You're gonna love them!
About this mushroom recipe
There are three easy steps to this recipe:
Prepping the mushrooms so they're ready to stuff;
Mixing up the creamy filling and spooning it into the mushroom caps;
Making the breadcrumb topping.
Allow yourself about twenty minutes for prep and another fifteen minutes oven time.
I'll get you started here but you'll find the printable recipe card near the end of the post. It has complete instructions, measurements, and nutrition information.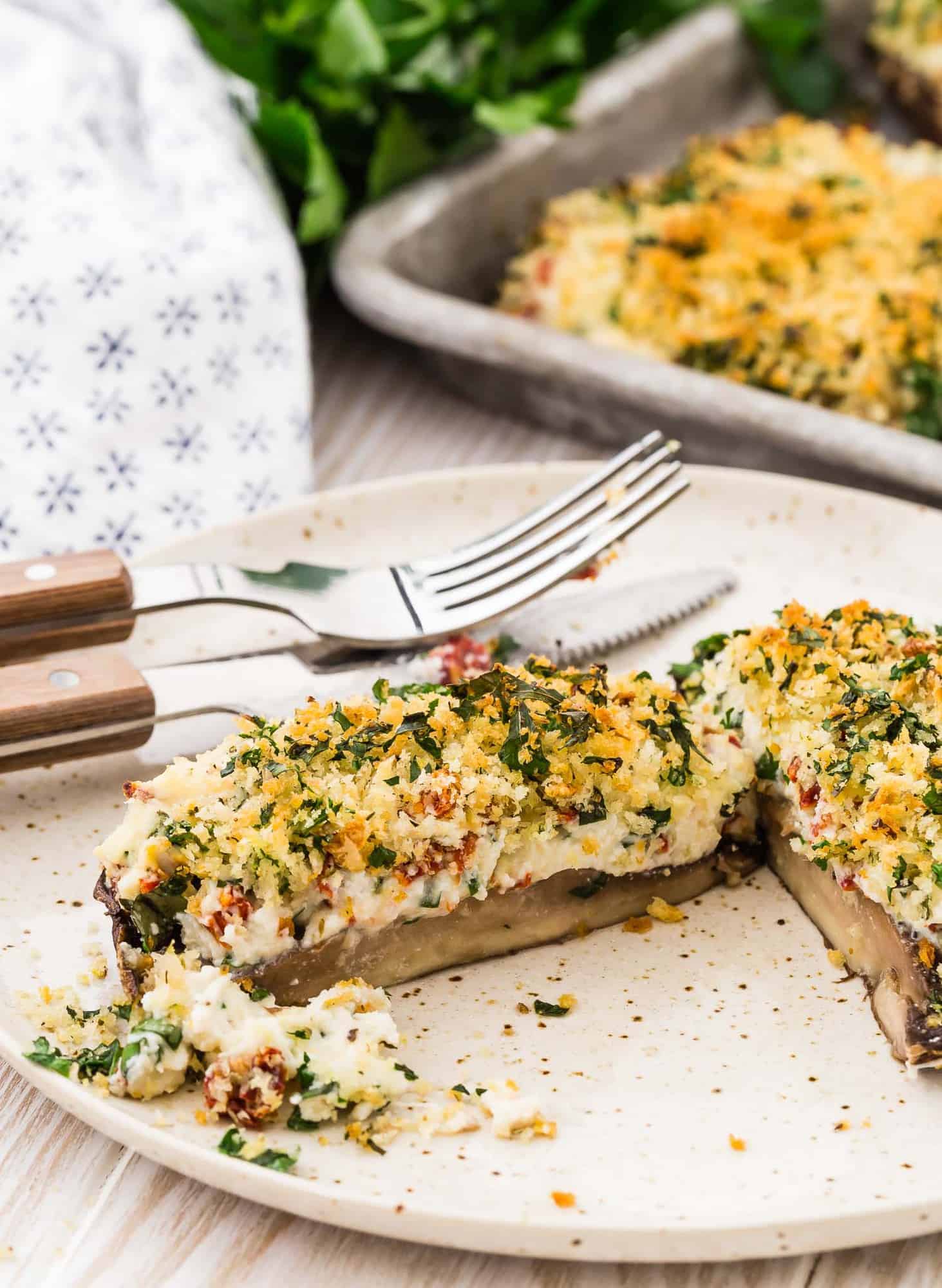 Ingredients you'll need
Portobello Mushrooms: You'll need four mushrooms, large enough to hold lots of the luscious filling. Want to make six servings instead? There's enough filling for six smaller sized mushrooms. Alternatively, you can fill several small mushrooms for a great appetizer.
Olive Oil: A light coating of olive oil keeps the outsides of the mushrooms from drying out. Season with salt and pepper.
Sun-Dried Tomatoes: I like the tomatoes that aren't packed in oil. Chopped finely, they add tangy flavor and little chewy bits which is a nice jazzy contrast to the creamy stuffing.
Lots of Cheese! Creamy ricotta, gooey mozzarella, and flavorful Parmesan — the perfect trio for these stuffed mushrooms.
Fresh Chopped Basil: Don't you just love the sharp aroma of fresh basil?
Bread Crumb Topping: These stuffed mushrooms boast a crispy panko crown, with melted butter, garlic, parsley, and oregano. Regular bread crumbs are okay, too, and gluten-free bread crumbs are also available. Did you know that you can make homemade bread crumbs? It's a great way to use up day old bread and they are very easy to make.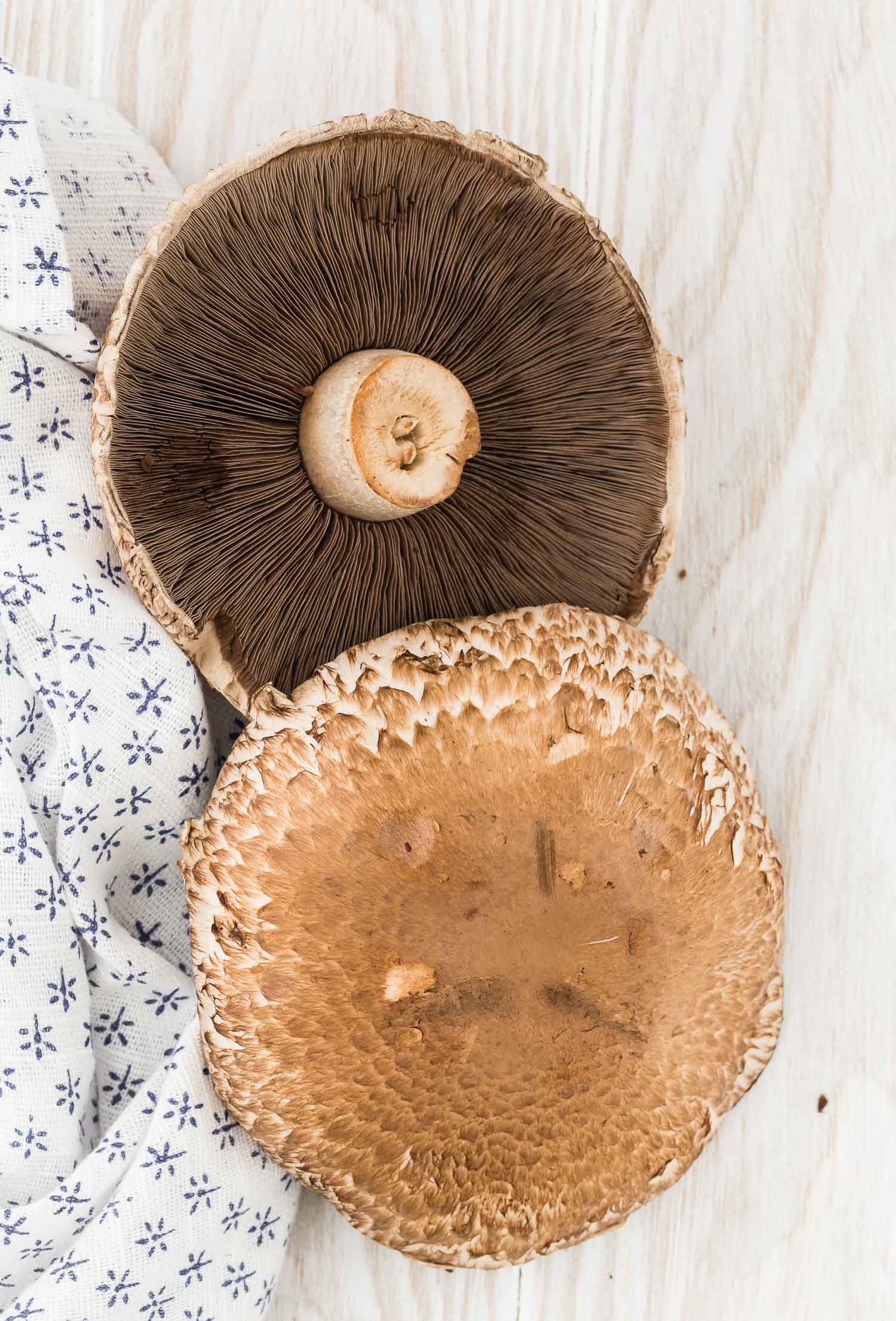 How to make Stuffed Portobellos
First, prepare the mushrooms. Brush them clean, scrape out the gills, and twist off the stem.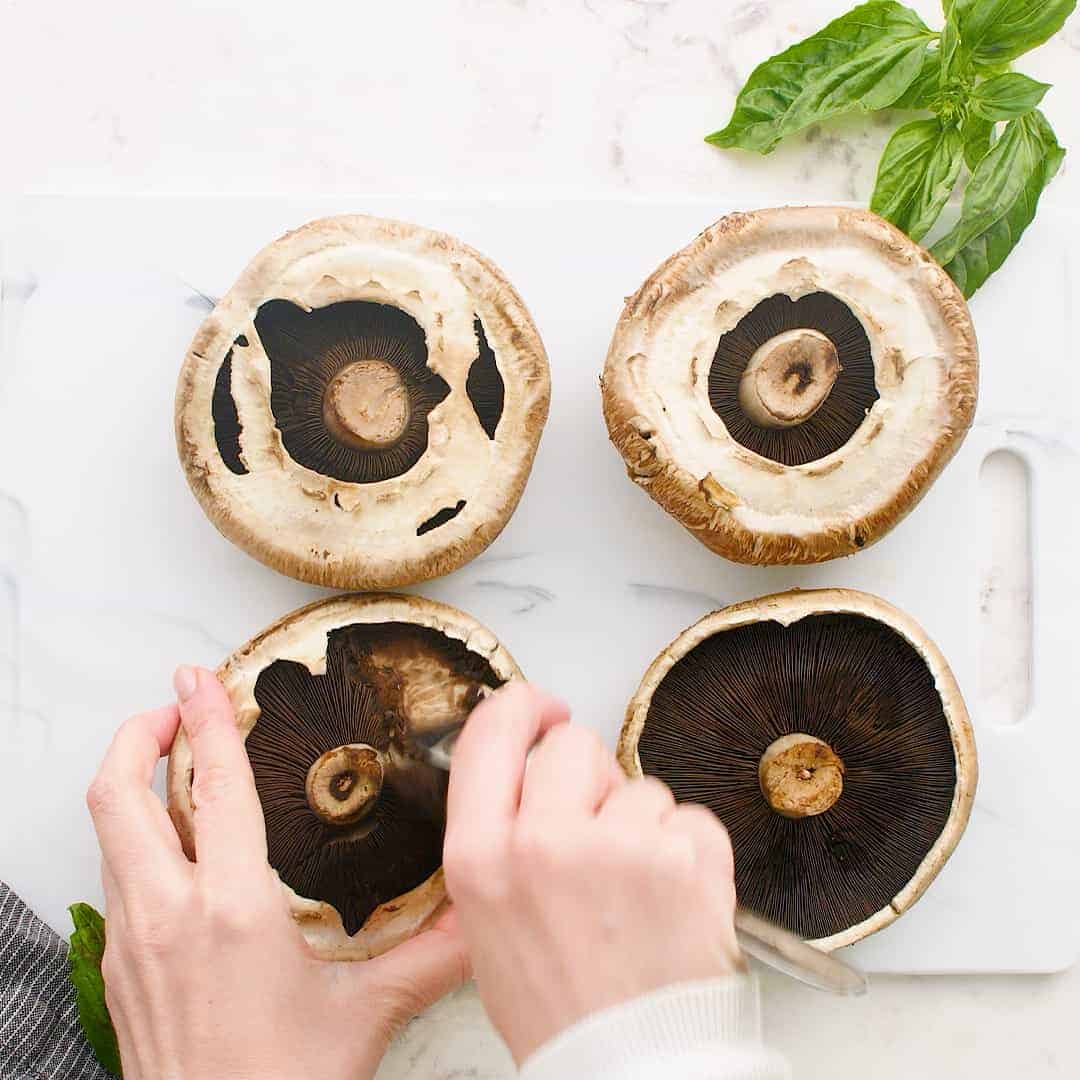 Lightly brush the outsides with olive oil, and season the insides with salt and pepper.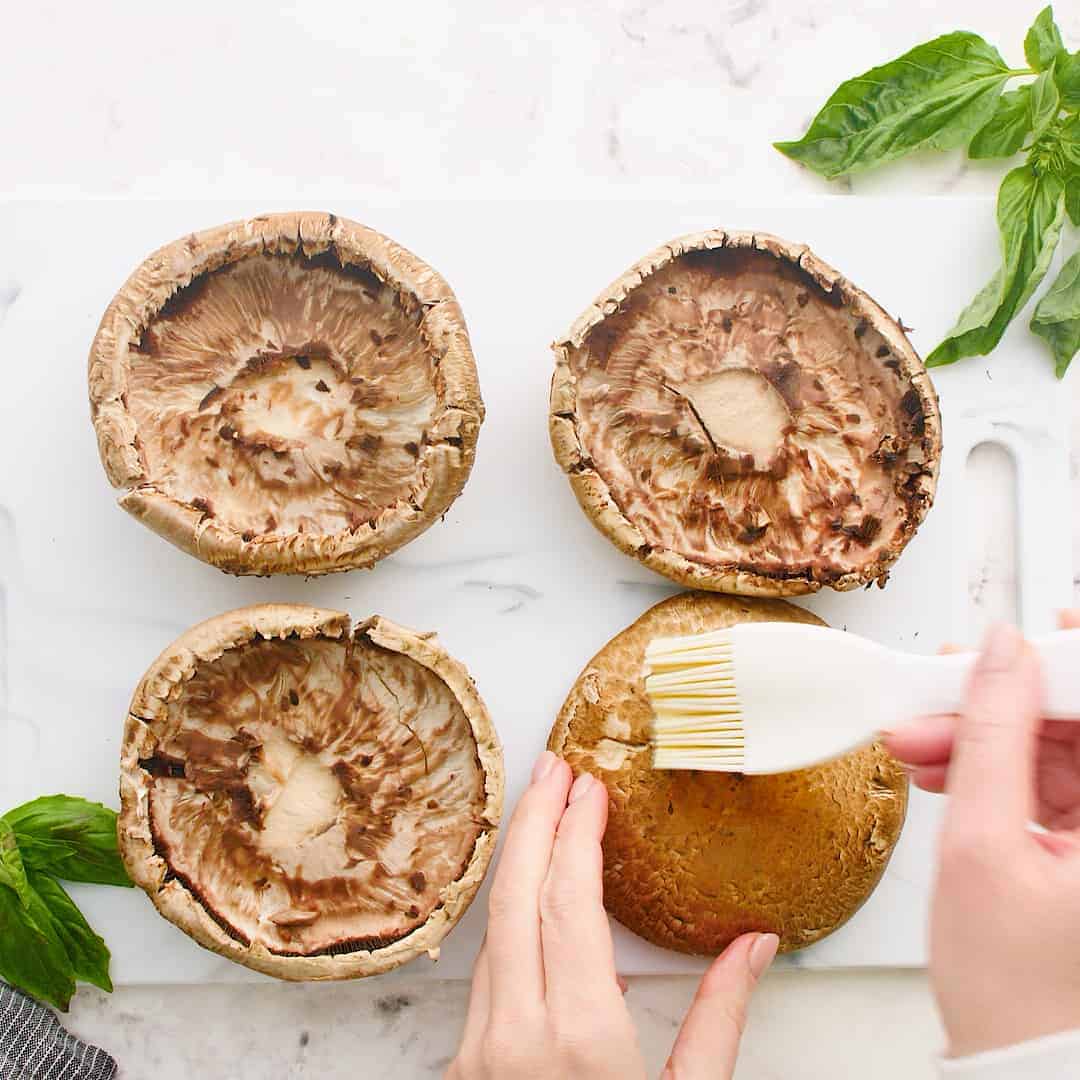 Next, stir together the three cheeses, finely chopped sun-dried tomatoes, and fresh basil.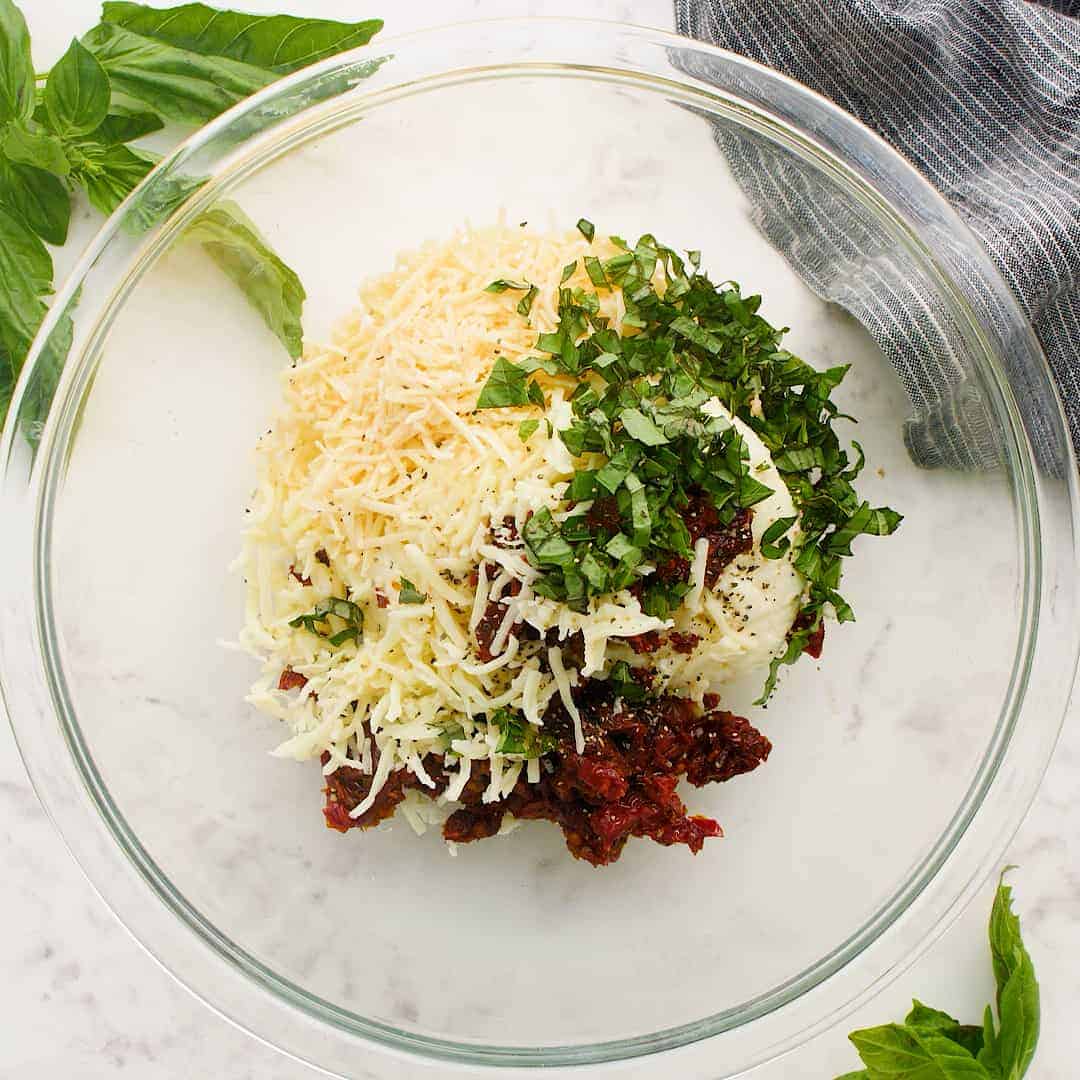 Spoon the filling into the mushroom caps.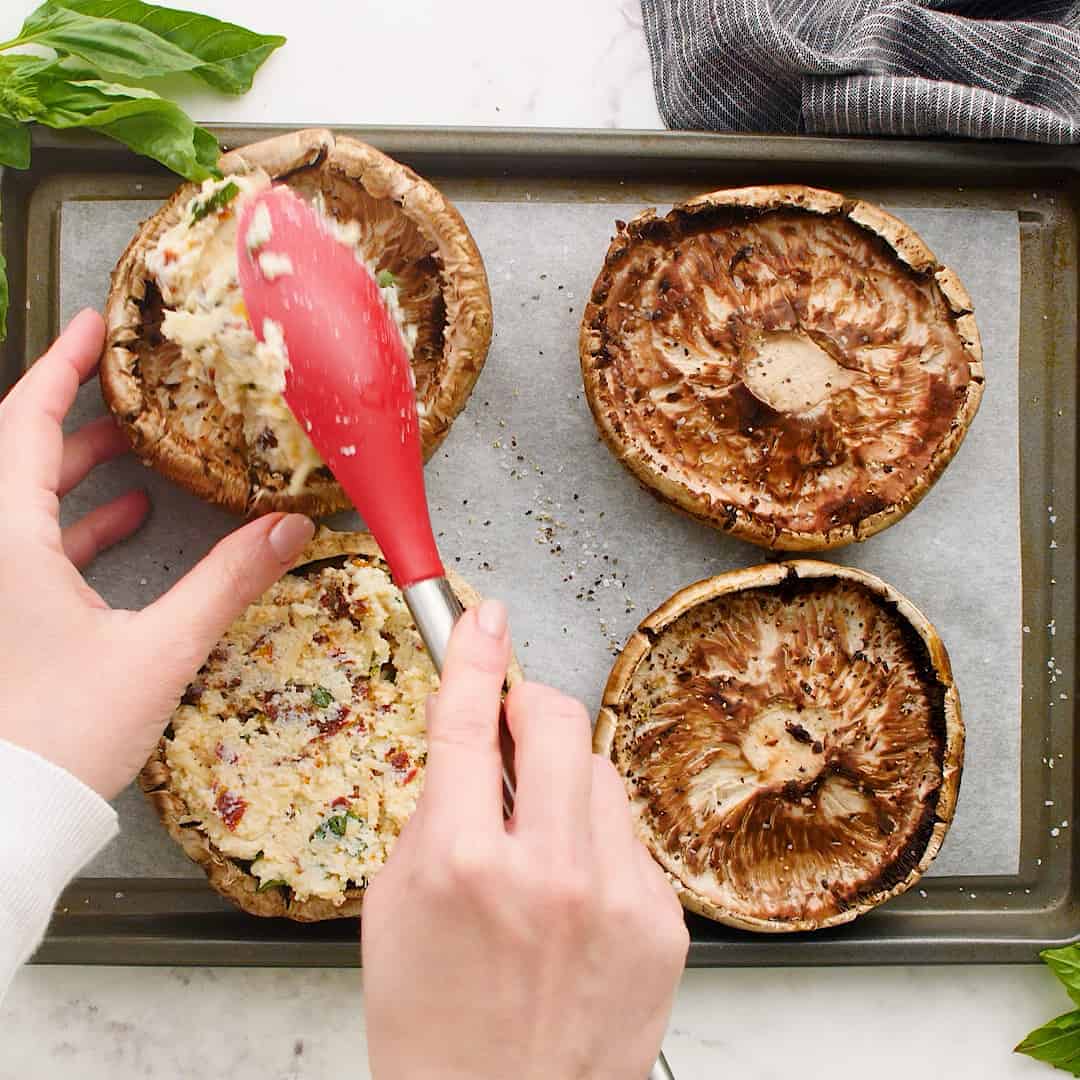 Okay, last step — the topping. In a small skillet, melt butter. Add minced garlic and cook briefly. Add the panko and Italian seasonings. Crown the mushrooms with this savory topping.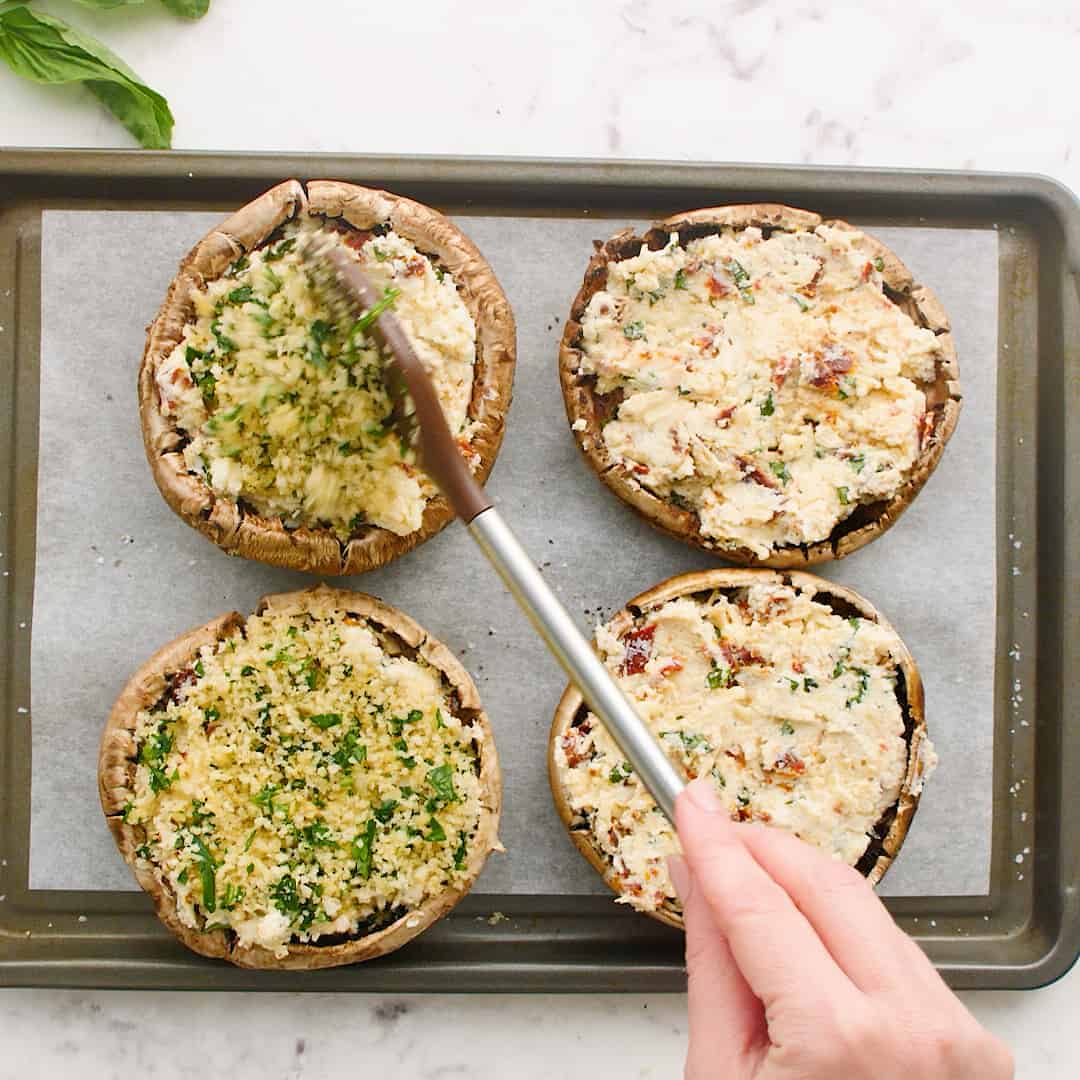 Pop the pan into the oven and bake. It will take about fifteen minutes for the cheese to get melty and the topping to brown. So yummy!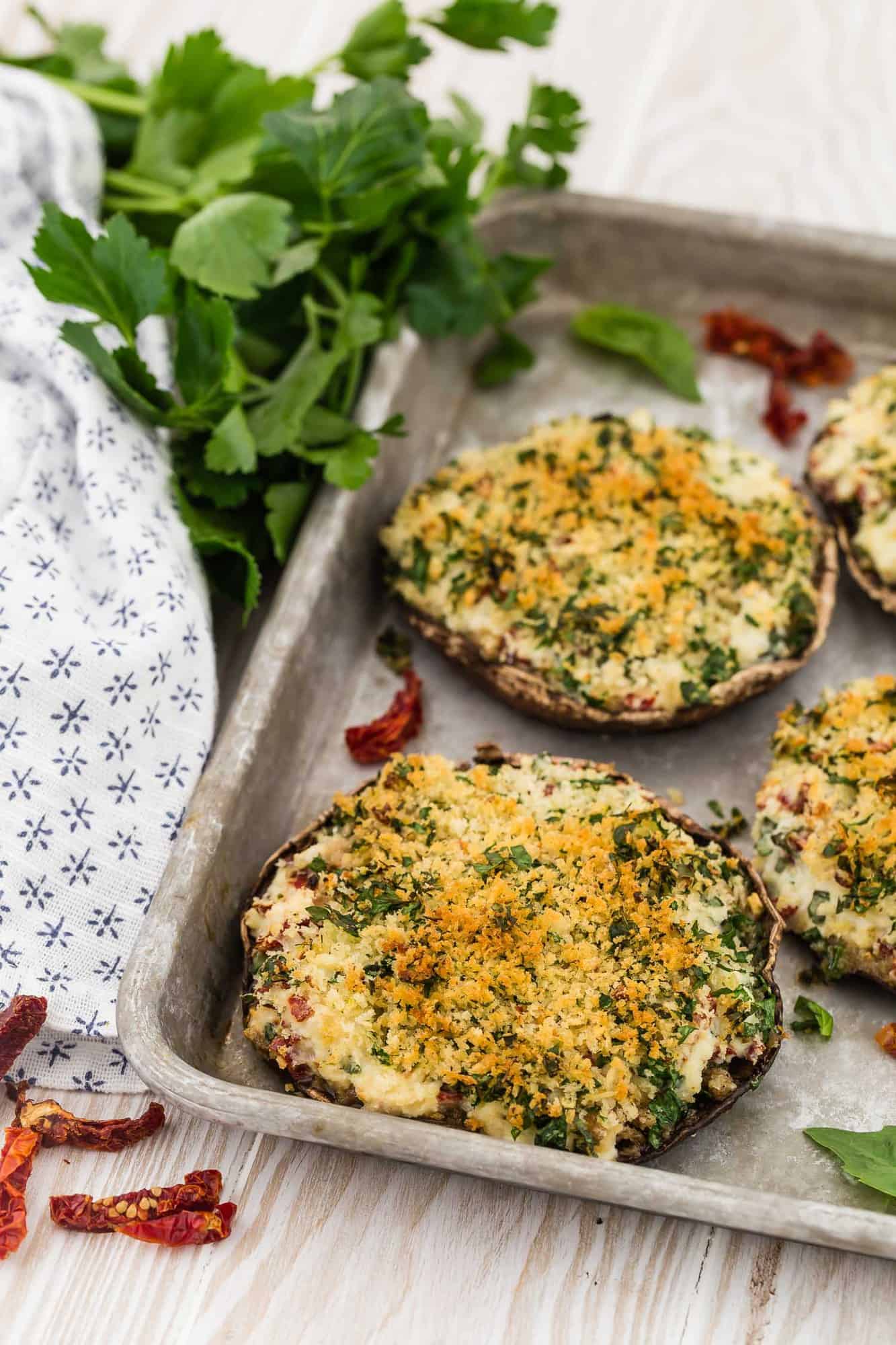 What to serve with stuffed portobello mushrooms
Vegetarian stuffed portobello mushrooms are a healthy meatless main dish. Serve them with a fresh green salad like this classic arugula salad or tomato cucumber salad.
Stuffed mushrooms also are a filling side dish, perfect with air fryer salmon, easy baked salmon with lemon and chives, spice rubbed pork tenderloins, or this bruschetta chicken.
What wine goes well with mushrooms? Stuffed portobello mushrooms have a meaty texture and robust flavor, almost like a steak. Accordingly, choose the same wine you would serve with a steak. Try a fruity Zinfandel or Cabernet Sauvignon. A full-bodied craft beer is good, too, like stout or brown ale.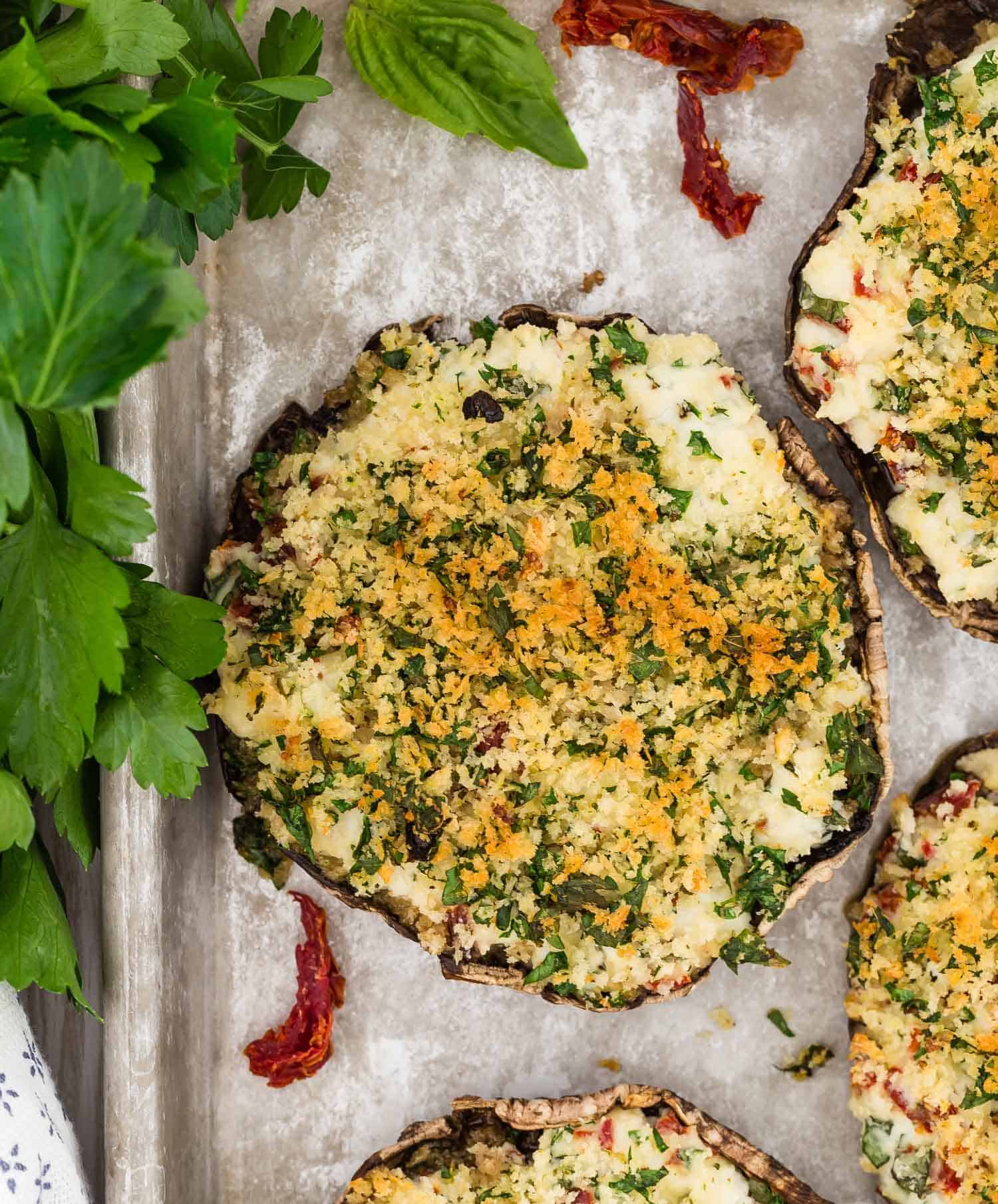 FAQs
Should I clean portobello mushrooms?
Yes, mushrooms can be brushed clean. Use a soft brush or damp paper towel to clean off the remnants of dirt. Alternatively, give the mushrooms a quick rinse in a colander. Once mushrooms are washed, use them immediately.
How do you make portobello mushrooms not soggy?
This relates to cleaning the mushrooms. Never soak mushrooms in water because they are like sponges and will absorb lots of water, making them soggy.
Can you eat the gills of a portobello mushroom?
The gills are totally edible but sort of unsightly, especially in portobello mushrooms. They tend to turn the filling dark and make it more watery. Besides, if you remove them, there's a lot more room for filling which tastes way better than mushroom gills!
How can you tell if a mushroom is bad?
If you're wondering if a mushroom has spoiled, take a look at the outside. If there are lots of dark spots and the surface is sticky or slimy, chances are your mushrooms are too far gone. Throw them in your compost pile.
If you're wondering if a wild mushroom is bad to eat, I would say never go foraging for mushrooms in the woods unless you're with an expert. Don't take a chance!
Make It Your Own
Add spinach and/or onion (finely chopped) to the filling.
Change up the cheese. Instead of mozzarella and Parmesan, try Swiss or Gruyere.
Make it southwestern. Add a little taco seasoning to the filling (omit the basil and oregano), and use a Mexican cheese blend.
Make it into an appetizer! Instead of large portobello mushrooms, fill white button mushrooms (stems removed). Bake as directed.
Grill the mushrooms: Put mushrooms on a preheated grill (medium heat), cover and cook until cheese is melted and mushrooms are cooked, about 10 minutes. Note: The panko topping won't get as crisp. You may want to put them under the broiler for a few minutes. Or, try grilled portobello mushrooms with spinach and cheese.
Looking for sautéed mushrooms instead? Try the best sautéed mushrooms (I have an easy trick!), air fryer mushrooms, or sautéed mushrooms with wine and garlic. Roasted mushrooms are delicious and easy, too.
Not a fan of mushrooms? Try cheese & pesto stuffed zucchini or boursin cheese stuffed zucchini. Caprese couscous stuffed tomatoes are delicious, too, and also pizza stuffed spaghetti squash.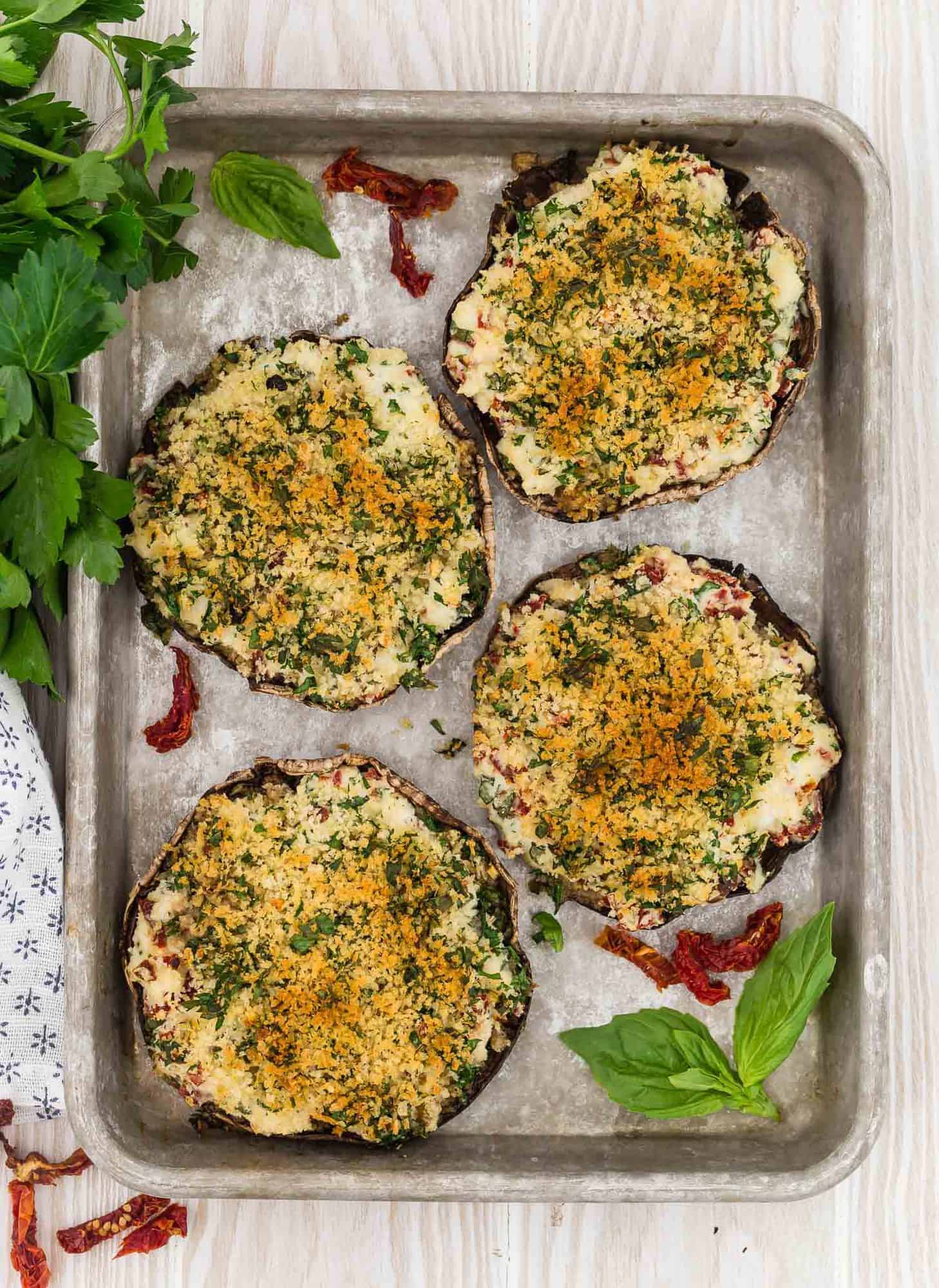 Make-Ahead Ideas
To get a head start on this meal, mix up the filling and prepare the breadcrumb topping the night before. Refrigerate both until you're ready to stuff the mushrooms. You'll need to add a few minutes to the baking time.
Storage & Reheating Tips
Lucky you, leftover mushrooms! Refrigerate up to three days, tightly wrapped. To reheat, put the mushrooms on a baking sheet and into a preheated oven (400°F) for ten minutes or until heated through.
If you love these "fun guys" as much as we do, be sure to try these delicious recipes which feature mushrooms in a starring role!
Interested in a weekly meal plan (it's free!) that includes this stuffed mushroom recipe? Take a look at my Meal Plan #7. You'll find a wholesome recipe for each weekday plus a categorized grocery list. Let me do the planning for you this week!
We'll be adding a new meal plan weekly. If you're interested, browse all of our meal plans.
Did you make this? Be sure to leave a review below and tag me @rachelcooksblog on Facebook, Instagram, or Pinterest!
Vegetarian stuffed portobello mushrooms, overflowing with a creamy blend of three cheeses and crowned with crisp savory breadcrumbs.
Ingredients
Filling
1

cup

part-skim ricotta cheese

½

cup

roughly chopped sun-dried tomatoes

¼

cup

part-skim shredded mozzarella cheese

¼

cup

grated Parmesan cheese

¼

cup

chopped fresh basil

⅛

teaspoon

coarse ground black pepper
Instructions
Preheat oven to 400°F.

Scrape black gills out of mushrooms with a spoon and remove stem.

Brush outsides (tops) of mushroom caps lightly with olive oil. Place mushrooms on a parchment paper lined baking sheet, gill side up; sprinkle with

¼ teaspoon

salt and

¼ teaspoon

pepper.

In a small bowl, mix together ricotta, tomatoes, mozzarella, Parmesan, basil, and

⅛ teaspoon

black pepper. Fill mushroom caps with cheese mixture.

In a small skillet over medium heat, melt butter. Add garlic, stirring constantly for one minute. Remove from heat. Stir in panko, parsley, oregano, and salt until combined.

Spread panko mixture evenly over cheese filling.

Bake mushrooms in the preheated oven until tender and cheese is melted, about 15 to 17 minutes.
Notes
Make-Ahead: Mix up the filling and prepare the breadcrumb topping the night before. Refrigerate both until you're ready to stuff the mushrooms. Plan to add a few minutes to the baking time.
Storage & Reheating Tips: Refrigerate leftovers up to three days, tightly wrapped. To reheat, put the mushrooms on a baking sheet and into a preheated oven (400°F) for ten minutes or until heated through.
If preferred, make an appetizer instead. Stuff white button mushrooms with prepared filling; top with panko and bake as directed.
Nutrition Information
Calories:
255
kcal
,
Carbohydrates:
18
g
,
Protein:
14
g
,
Fat:
15
g
,
Saturated Fat:
7
g
,
Polyunsaturated Fat:
1
g
,
Monounsaturated Fat:
6
g
,
Trans Fat:
0.1
g
,
Cholesterol:
37
mg
,
Sodium:
520
mg
,
Potassium:
618
mg
,
Fiber:
2
g
,
Sugar:
6
g
,
Vitamin A:
932
IU
,
Vitamin C:
11
mg
,
Calcium:
322
mg
,
Iron:
2
mg
This website provides approximate nutrition information for convenience and as a courtesy only. Nutrition data is gathered primarily from the USDA Food Composition Database, whenever available, or otherwise other online calculators.