Pizza Stuffed Spaghetti Squash
Pizza, spaghetti, and squash? Sounds unlikely, but wait for the explosion of flavor when you try this surprisingly easy pizza stuffed spaghetti squash!
Recipe Overview
Why you'll love it: This recipe is so satisfying and delicious. It has a fun presentation, too.
How long it takes: 10 minutes to prep, 45 minutes to bake
Equipment you'll need: sharp knife, small skillet, baking pan or dish
Servings: 2 main dish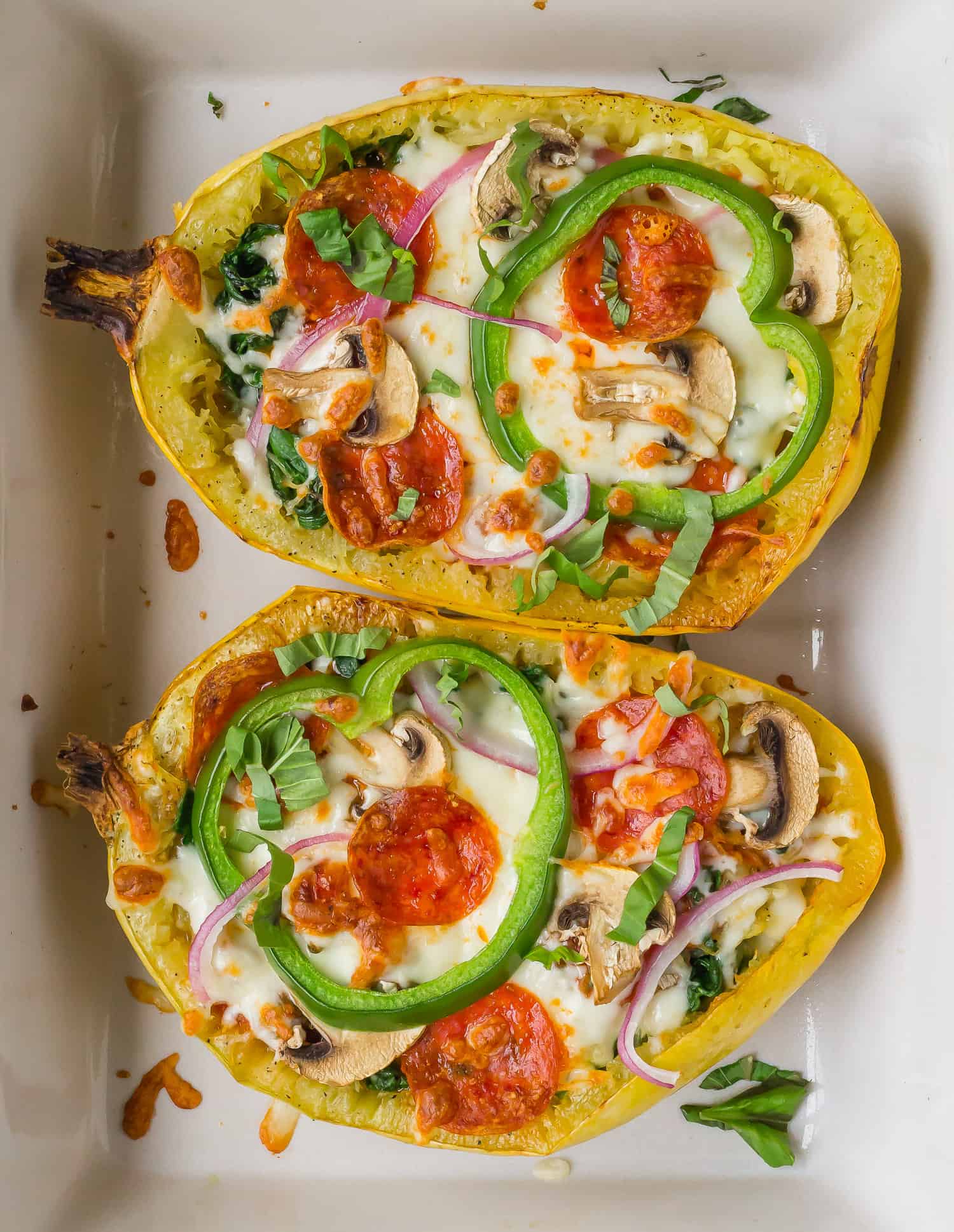 Whenever I see this photo of pizza stuffed spaghetti squash, remembering how tasty it is, I'm immediately craving it. You guys are going to love this easy-to-make recipe!
And it's so good for you: baked squash, spinach and cheese, and saucy red tomato goodness, topped with more veggies (mushrooms, onions, peppers). Think of all those antioxidants, beta carotene, and fiber waiting to energize you!
If you have a busy family with lots of school activities, sporting events, and whatever, it just seems like the time flies. Isn't it difficult to squeeze in time to prepare healthy meals for your family? I know it is for me!
Well, good news! This pizza stuffed spaghetti squash has all the elements needed for a family-friendly meal. Most kids like pizza and/or pasta, right? Even my picky eaters will always eat these favorites. They love pizza quesadillas, homemade pizza hot pockets, and pizza mac and cheese muffins.
But pasta and pizza crust aren't always the most healthy thing to serve. Although they're fine once in a while, why not try something a little more nutritious, like this spaghetti squash?
My mom and I enjoyed this for lunch awhile back. My mom was sort of lukewarm to the idea and said she would probably only eat a small portion. Well, it didn't take long for the entire half on her plate to disappear!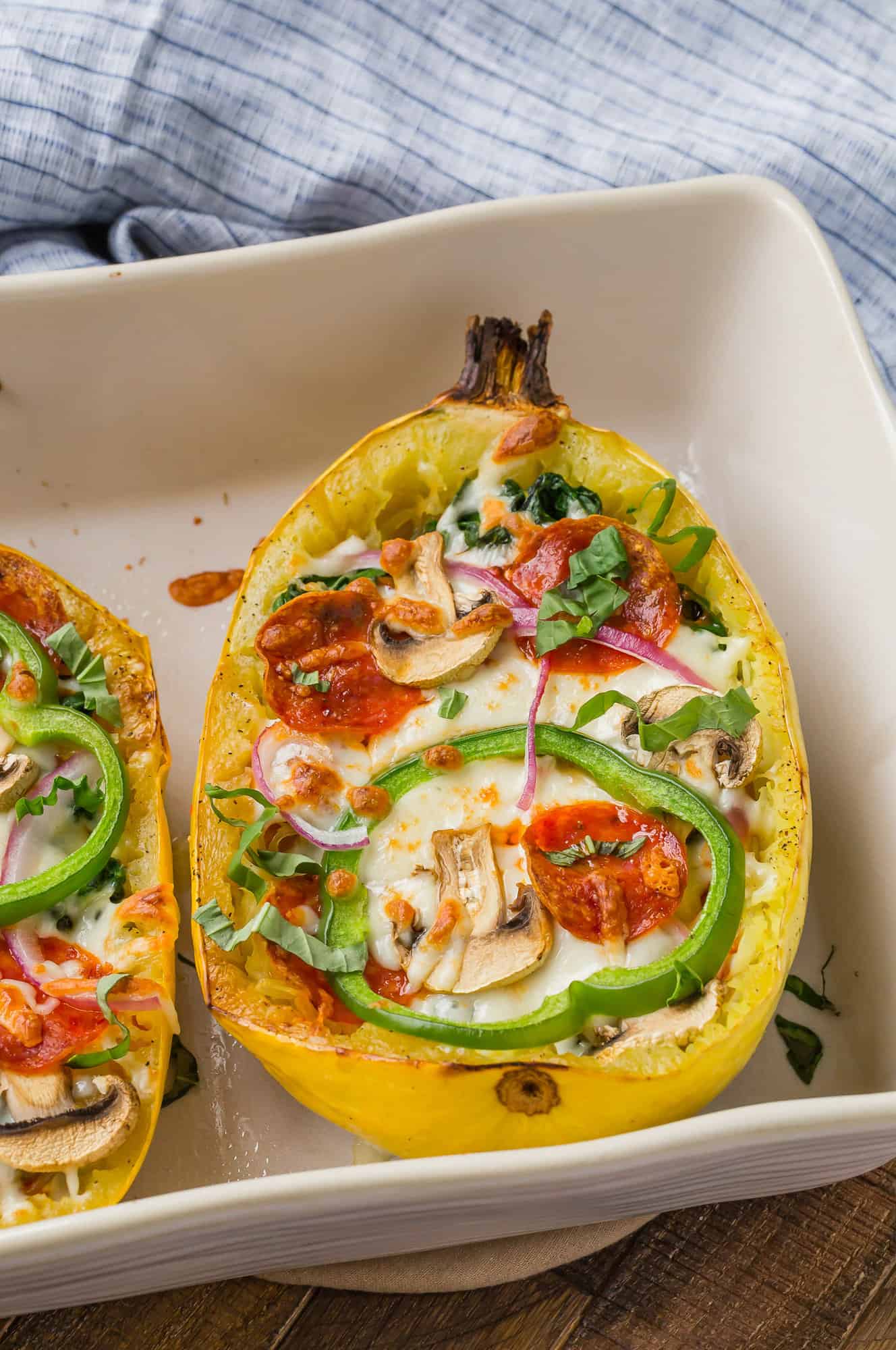 About This Recipe
This recipe is a two step process. The spaghetti squash is halved and baked in the oven. You can even do this in the morning or the day before to save time at meal time.
Once the squash is baked, it's time to top it. Another reason that pizza stuffed spaghetti squash is popular with families is that it can be made to order. Encourage your family to be creative and use the toppings they like best on pizza.
Once everyone has just the "pizza" they like, pop the halves back in the oven for a few minutes to broil until piping hot and dinner is served! It doesn't get better than that!
And you know what else is cool about this recipe? You serve it right in the squash shell!
I'll get you started on making your own pizza squash right here and give you lots of helpful tips. Look for the recipe card near the end of the post. It has complete instructions, measurements, and nutrition information. And it's printable!
What You'll Need
Spaghetti Squash: Look for a medium sized squash without any soft spots or blemishes. Can you eat spaghetti squash skin? This oval yellow squash is a winter squash, meaning that the outside skin is tough and inedible (it makes a dandy bowl, though!).
Olive Oil, Salt & Pepper: The cut sides of the squash are brushed with a bit of oil and seasoned with salt and pepper before baking.
Baby Spinach: Tender baby spinach leaves add so much nutrition but they are very unobtrusive if you have family members who are on the fence with spinach.
Pizza Sauce: Use your favorite brand or make your own homemade pizza sauce.
Mozzarella Cheese: Because this is a pizza squash, of course you'll top it with a couple handfuls of cheese!
Optional Toppings: Top your squash pizzas with the same toppings you love on your pizza: mushrooms, onions, sliced olives, green peppers, pepperoni, etc.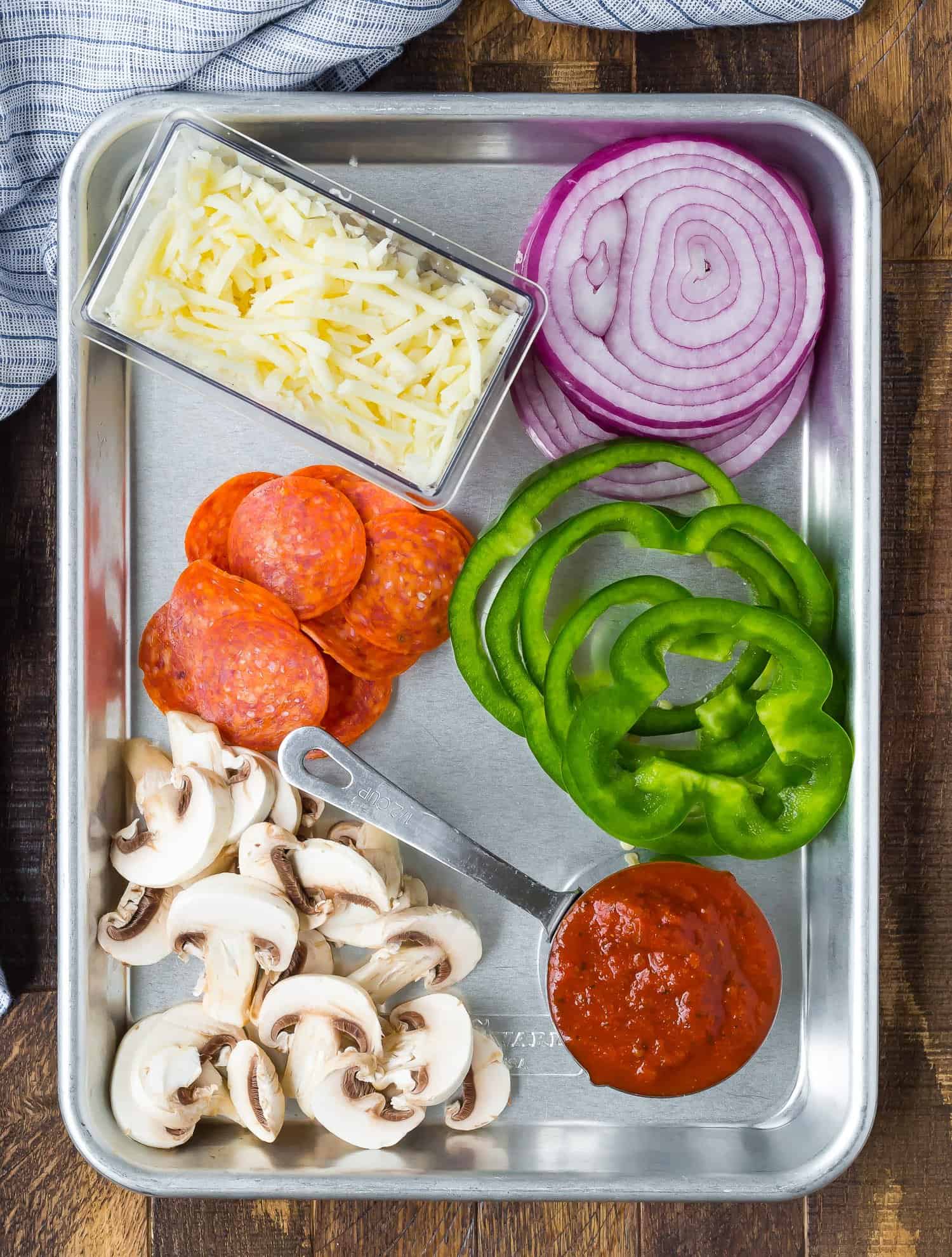 How To Make Stuffed Spaghetti Squash
The first step is to bake the squash halves with a little olive oil, salt, and pepper, placing them cut side down on a baking sheet for 35 to 40 minutes. If you've never cooked this type of squash, we have a post detailing how to make spaghetti squash. In the meantime, enjoy a cup of coffee and snack on a few of these olive oil roasted almonds.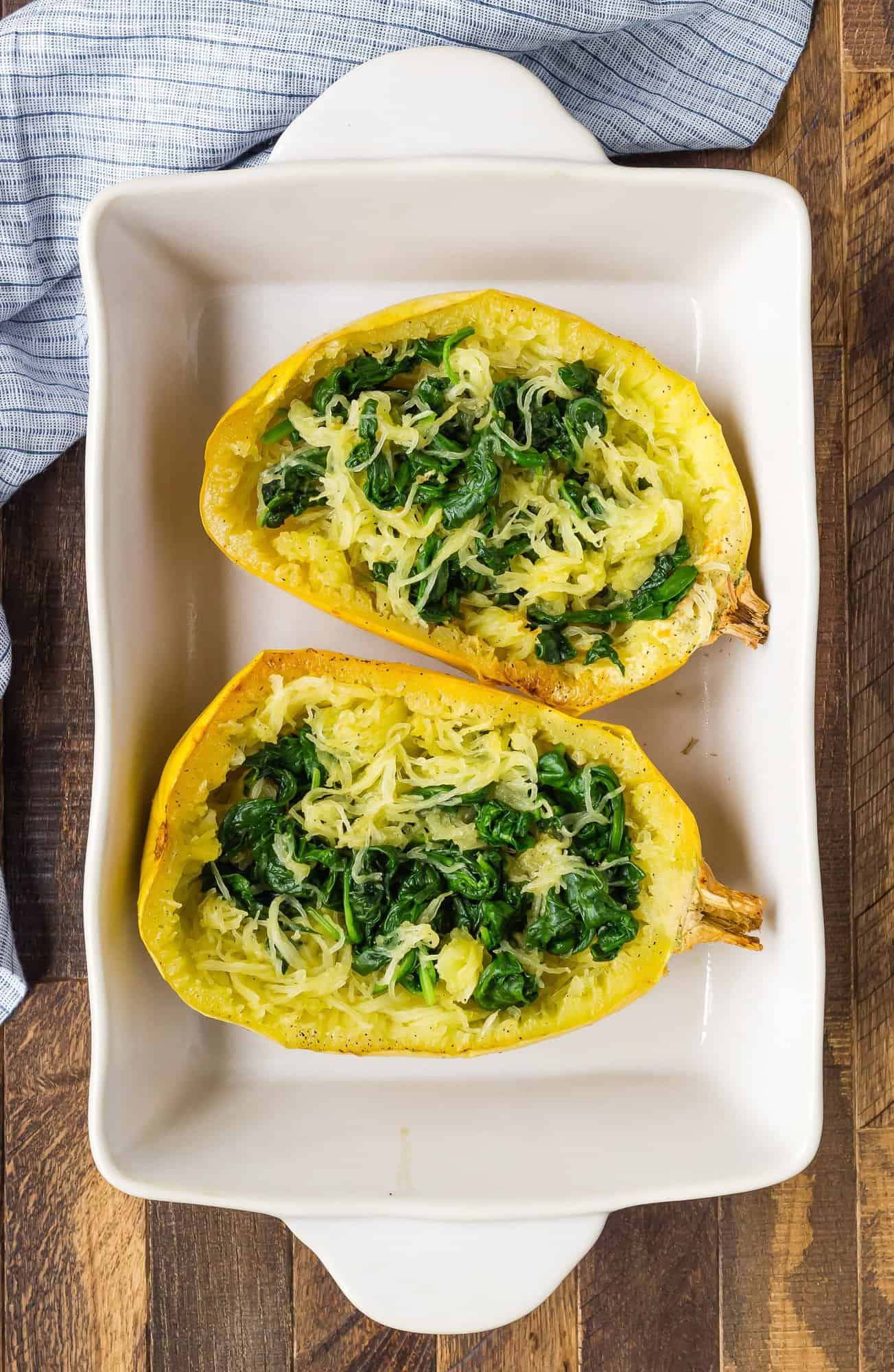 When the spaghetti squash halves are fork tender, take them out of the oven, flip them over, and loosen up the strands with a fork.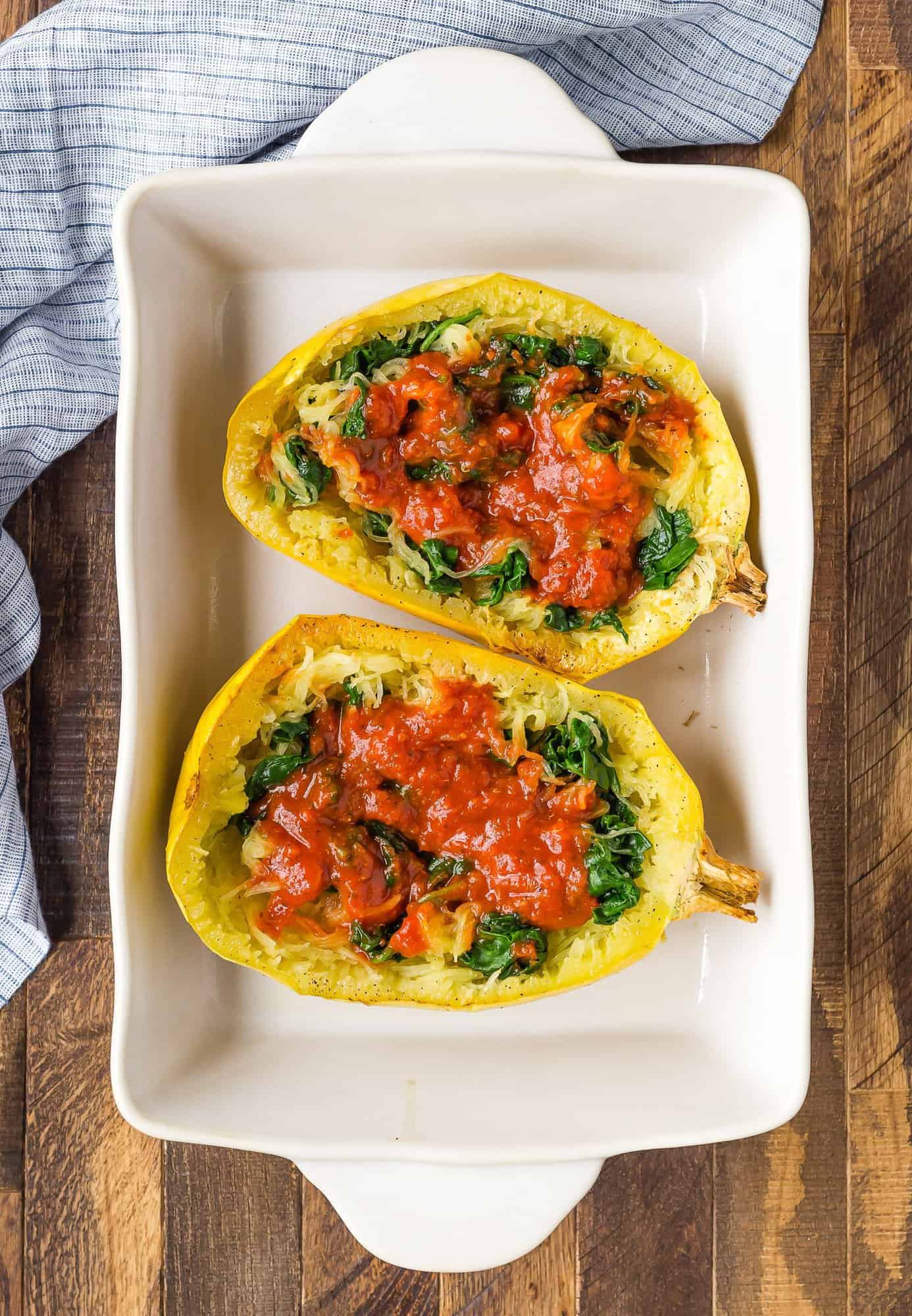 Mix some lightly sautéed spinach leaves with the strands, pizza sauce, a good sprinkling of mozzarella cheese, and top it all with sliced green pepper, mushrooms, and onions.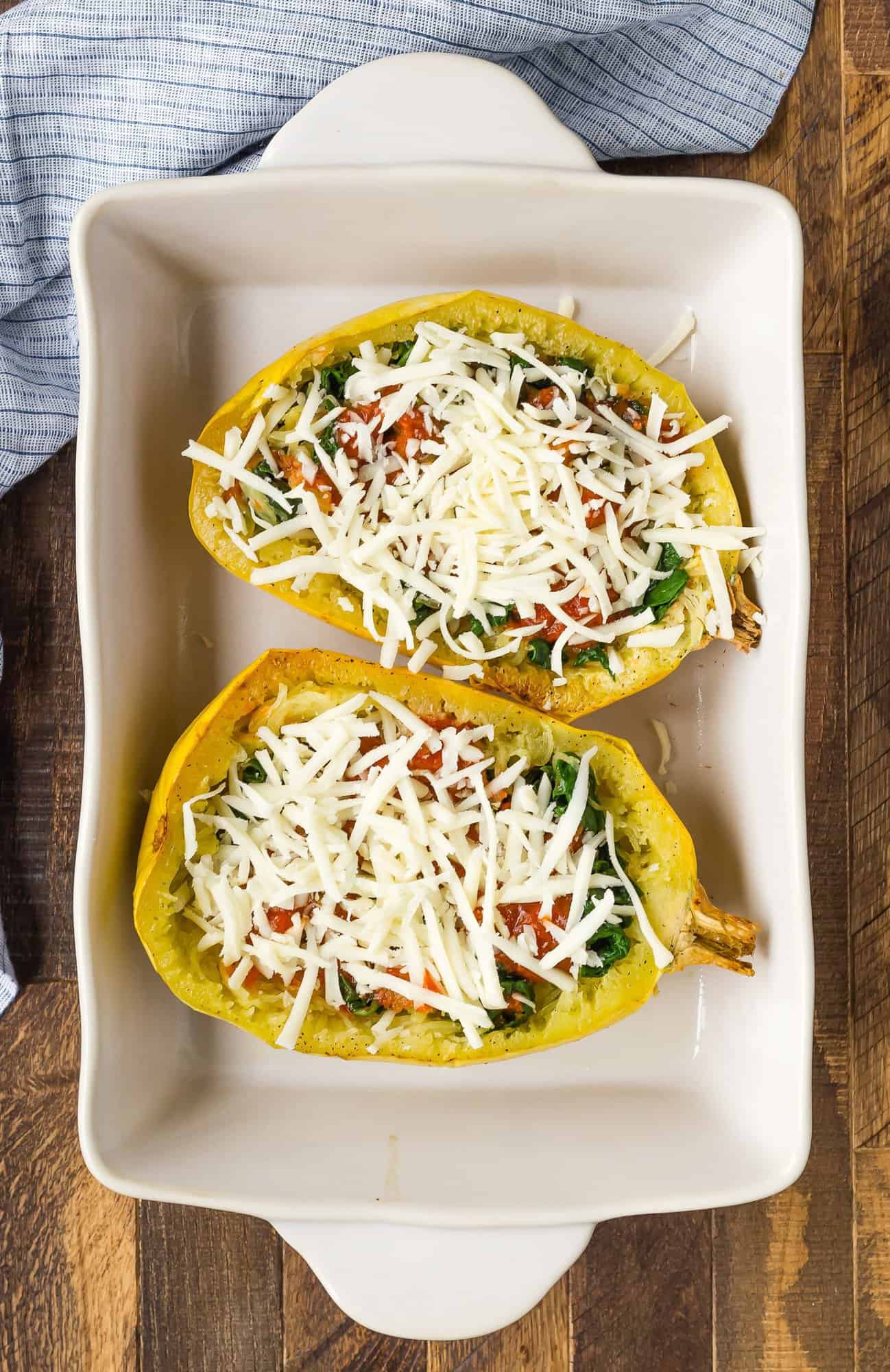 At this point, it could be a vegetarian dish, but I like to place a few pepperoni slices on top. Pop them under the broiler for a few minutes until everything is heated through.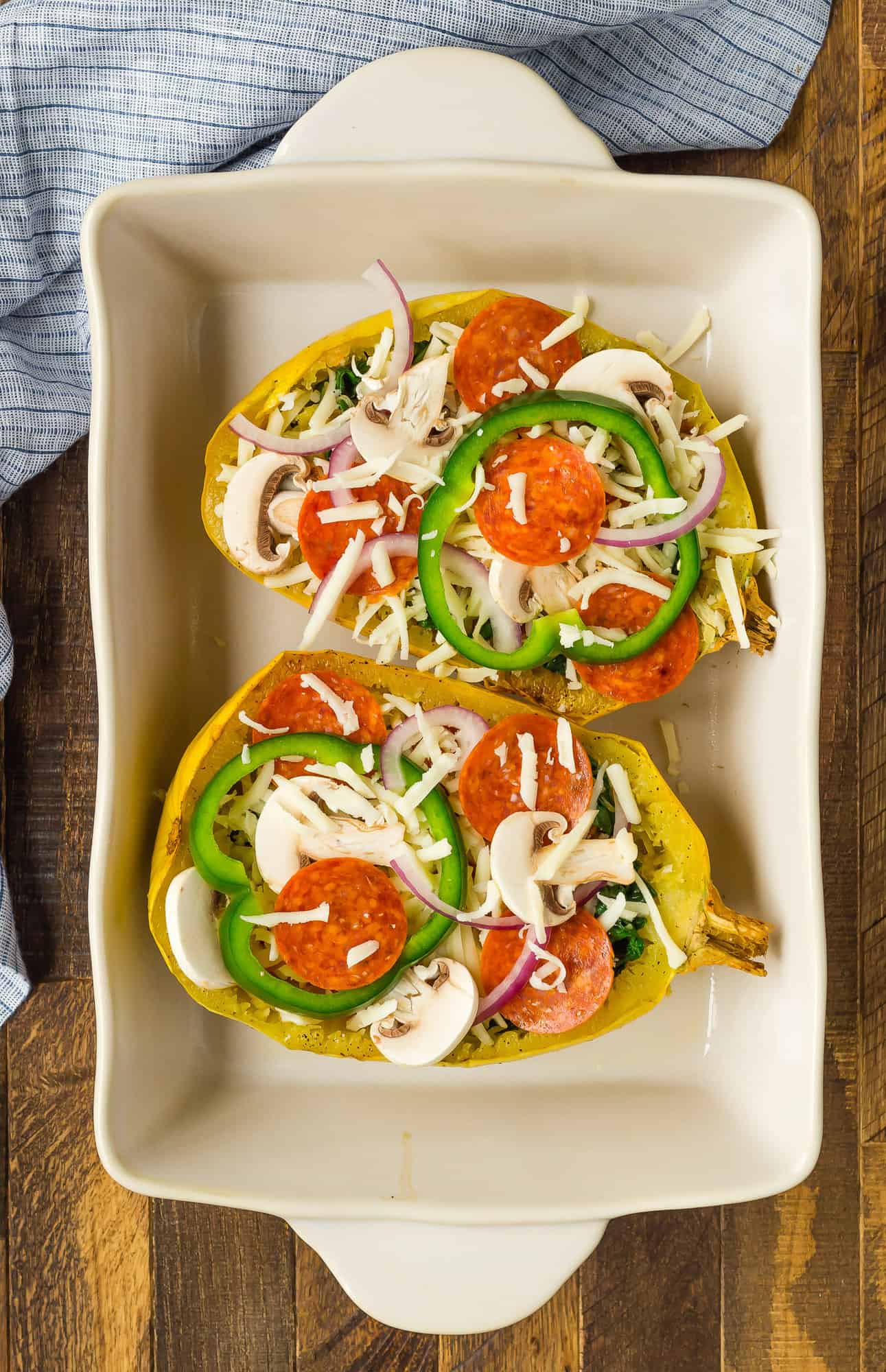 We love them and I'm sure you will too!
FAQs
How do you cook spaghetti squash so it's not crunchy?
It sounds like you may be undercooking your squash. Learn how to make spaghetti squash using a variety of different methods; choose the one that suits you best.
Can you overcook spaghetti squash?
Yes, the goal is to be able to separate the strands so they resemble al dente "spaghetti". If you overcook the squash, the strands will break apart and have a mushier texture. It's still totally edible and some folks may actually prefer it that way.
Make It Your Own
As I mentioned earlier, you can personalize this recipe to make it just the way you like!
Looking for a meatless main dish? Leave off the pepperoni. Or if you love meat, add sausage, ham, bacon, or even chicken.
Use whatever toppings you normally eat on pizza! Think olives, anchovies, red peppers, broccoli, etc. along with the mushrooms, onions, and green peppers. Or change up the cheese, maybe adding Monterey jack or cheddar, or even gorgonzola.
You can vary the sauce. Make a barbecue chicken pizza with barbecue sauce, cooked chicken, bacon, red onions, and cheddar.
On a vegan or paleo diet? Omit the mozzarella and use a cheese substitute made from cashews, almonds, or hemp seeds.
This recipe is also keto friendly if you use a pizza sauce without added sugar.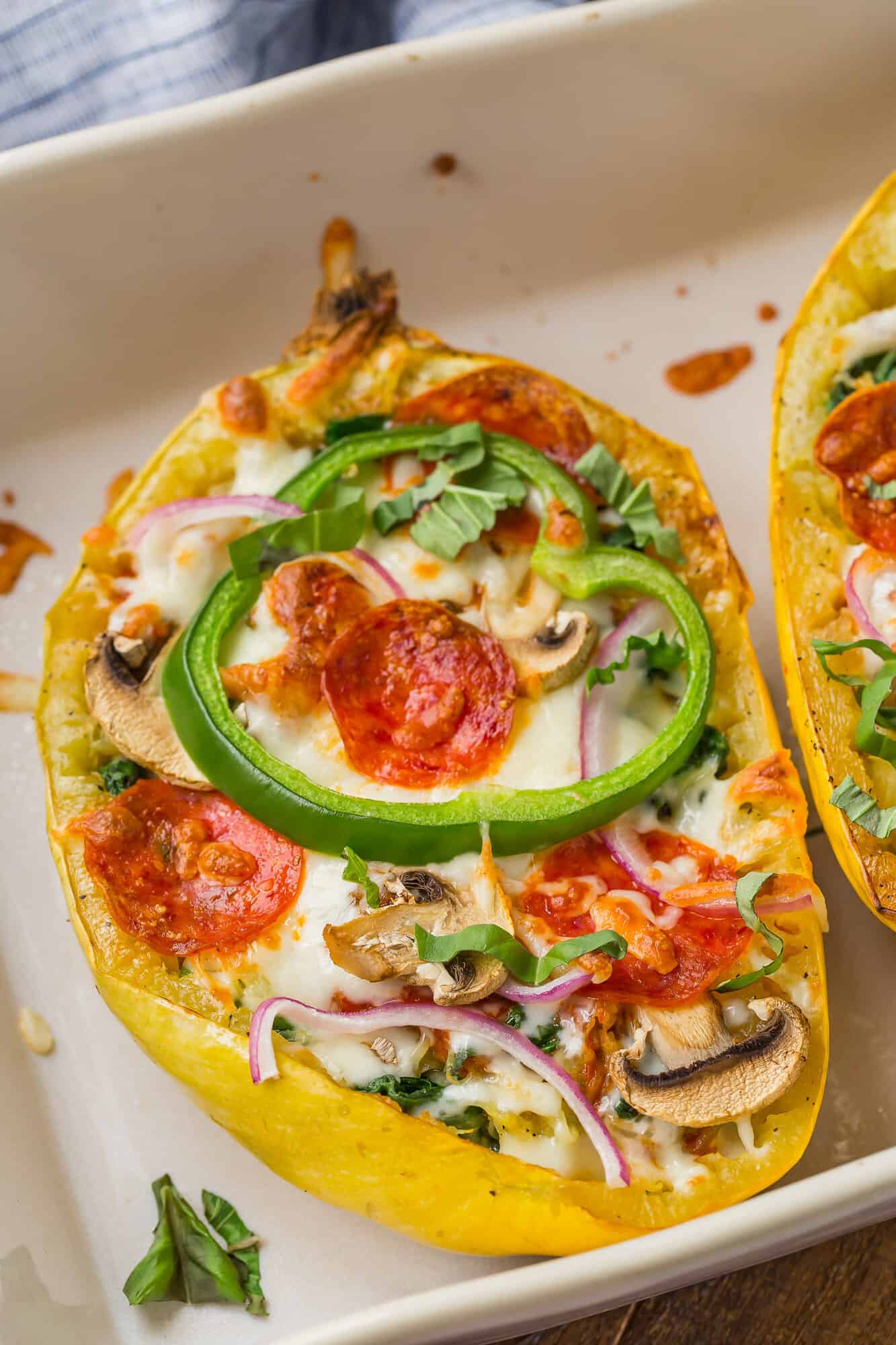 Make-Ahead Ideas
Bake the spaghetti squash halves earlier in the day or even a day ahead. Just refrigerate them until you're ready to use them. When you're ready, take the baked squash out of the fridge, put it right back on the baking sheet, cut sides up, and heat in the oven for 15 minutes or so while you get the toppings ready. Take them back out of the oven, put your toppings on, and broil for another 5 minutes or so, or until bubbling and hot.
Storage & Reheating Tips
Leftover stuffed spaghetti squash can be covered and refrigerated for up to three days. Reheat it in the microwave, toaster oven, or air fryer until warmed through.
If you prefer, scrape everything out of the squash shell (including the strands of squash) and serve the "pizza spaghetti" in a pasta bowl.
Interested in a weekly meal plan (it's free!) that includes this recipe? Take a look at my Meal Plan #10. You'll find a wholesome recipe for each weekday plus a categorized grocery list. Let me do the planning for you this week!
We'll be adding a new meal plan weekly. If you're interested, browse all of our meal plans.
More Squash Recipes
Did you make this? Be sure to leave a review below and tag me @rachelcooksblog on Facebook, Instagram, or Pinterest!
Pizza, spaghetti, and squash? Sounds unlikely, but wait for the explosion of flavor when you try this surprisingly easy pizza stuffed spaghetti squash!
Ingredients
1

spaghetti squash, medium sized, scrubbed

1

tablespoon

olive oil, plus 1 teaspoon, divided

¼

teaspoon

salt

⅛

teaspoon

pepper

4

cups, lightly packed, fresh baby spinach leaves

½

cup

pizza sauce

1

cup

shredded mozzarella cheese

Toppings: sliced mushrooms, chopped red onion, green peppers, pepperoni
Instructions
Preheat oven to 400ºF. Line baking sheet with parchment paper.

Cut spaghetti squash in half lengthwise, from stem to bottom. Scoop out seeds. Rub spaghetti squash halves with olive oil, and sprinkle with salt and pepper. Place cut side down on prepared baking sheet and bake 35-40 minutes, or until fork tender. Turn oven to broil setting.

While squash is baking, prepare spinach. Heat one teaspoon olive oil in large sauté pan. Add spinach leaves and lightly sauté. Remove from heat. Prepare other toppings.

Remove spaghetti squash halves from oven and lightly fluff strands with fork, so that they resemble spaghetti.

Divide and add sautéed spinach to the squash halves, mixing lightly with the squash strands. Spread ¼ cup pizza sauce on each half; sprinkle ½ cup mozzarella cheese on each. Top with desired toppings.

Broil squash halves 4-5 minutes, or until cheese is bubbling and lightly browned.
Notes
To double recipe, use 2 spaghetti squash and double the rest of the ingredients.
Use any of your favorite pizza toppings: black or green olives, sausage, ham, red peppers, etc. Customize with cheese, sauce, meats, etc. Whatever you like on your pizza!
Nutrition information includes squash, spinach, sauce and cheese but does not include added toppings.
Nutrition Information
Serving:
1
half
,
Calories:
395
kcal
,
Carbohydrates:
38
g
,
Protein:
16
g
,
Fat:
22
g
,
Saturated Fat:
9
g
,
Polyunsaturated Fat:
2
g
,
Monounsaturated Fat:
9
g
,
Cholesterol:
44
mg
,
Sodium:
1016
mg
,
Potassium:
759
mg
,
Fiber:
8
g
,
Sugar:
16
g
,
Vitamin A:
1411
IU
,
Vitamin C:
15
mg
,
Calcium:
405
mg
,
Iron:
2
mg
This website provides approximate nutrition information for convenience and as a courtesy only. Nutrition data is gathered primarily from the USDA Food Composition Database, whenever available, or otherwise other online calculators.