Hasselback Sweet Potatoes
Sweet and delicious, roasted Hasselback sweet potatoes make an impressive presentation yet are easy enough to add to your everyday menu. No hassle required!
Recipe Overview
Why you'll love it: The buttery sweetness is baked right into the inside of the potato ensuring that every bite will be delicious.
How long it takes: about an hour and a half
Equipment you'll need: sharp knife, chopsticks or 2 wooden spoons, baking pan
Servings: 8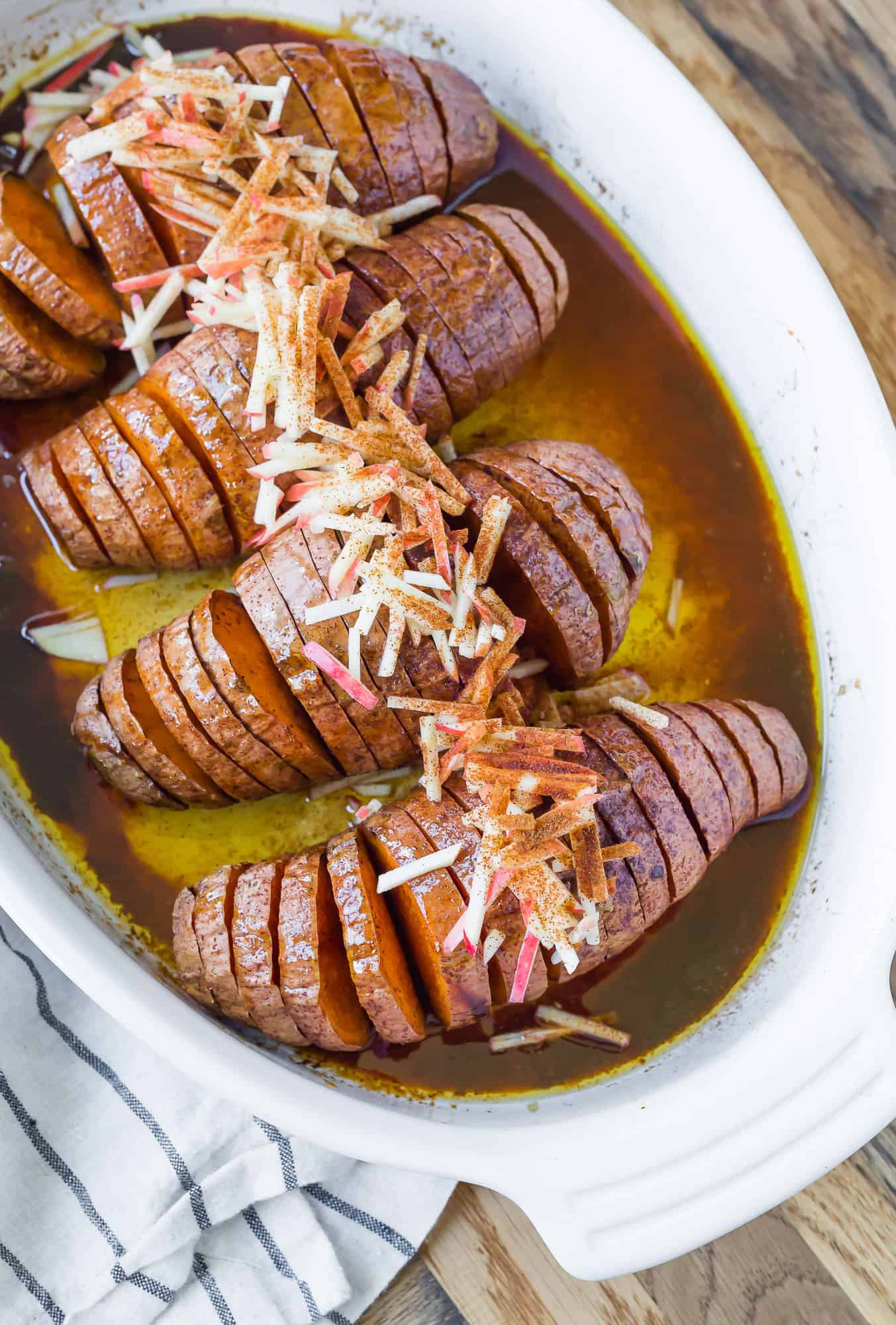 I must have about 20 recipes for sweet potatoes on my site. I make them at least once a week: steamed whole in my Instant Pot, baked in the microwave, oven roasted cubes, mashed, cut into wedges, in casseroles, even made into gluten free crackers.
My eight year old daughter loves sweet potatoes! I'm so glad that she does because sweet potatoes are so good for you! Whenever I roast a batch for meal prep for salads, bowls, and burritos, she will eat most of those yummy sweet potato tidbits before I get them into a recipe.
My mom always checks out my fridge when she visits to see if I have any roasted sweet potatoes hidden away that she can nibble on. Hey, I'm thinking we're kind of a three generation sweet potato fan club.
You're going to love these Hasselback sweet potatoes. A lot of fancier sweet potato recipes include lots of brown sugar, pecans, and (gasp!) marshmallows. You're not going to find marshmallows on these babies.
These Hasselback sweet potatoes are way more sophisticated! They are a cut above other sweet potato recipes (pun intended). And for the record, my daughter loved these, too!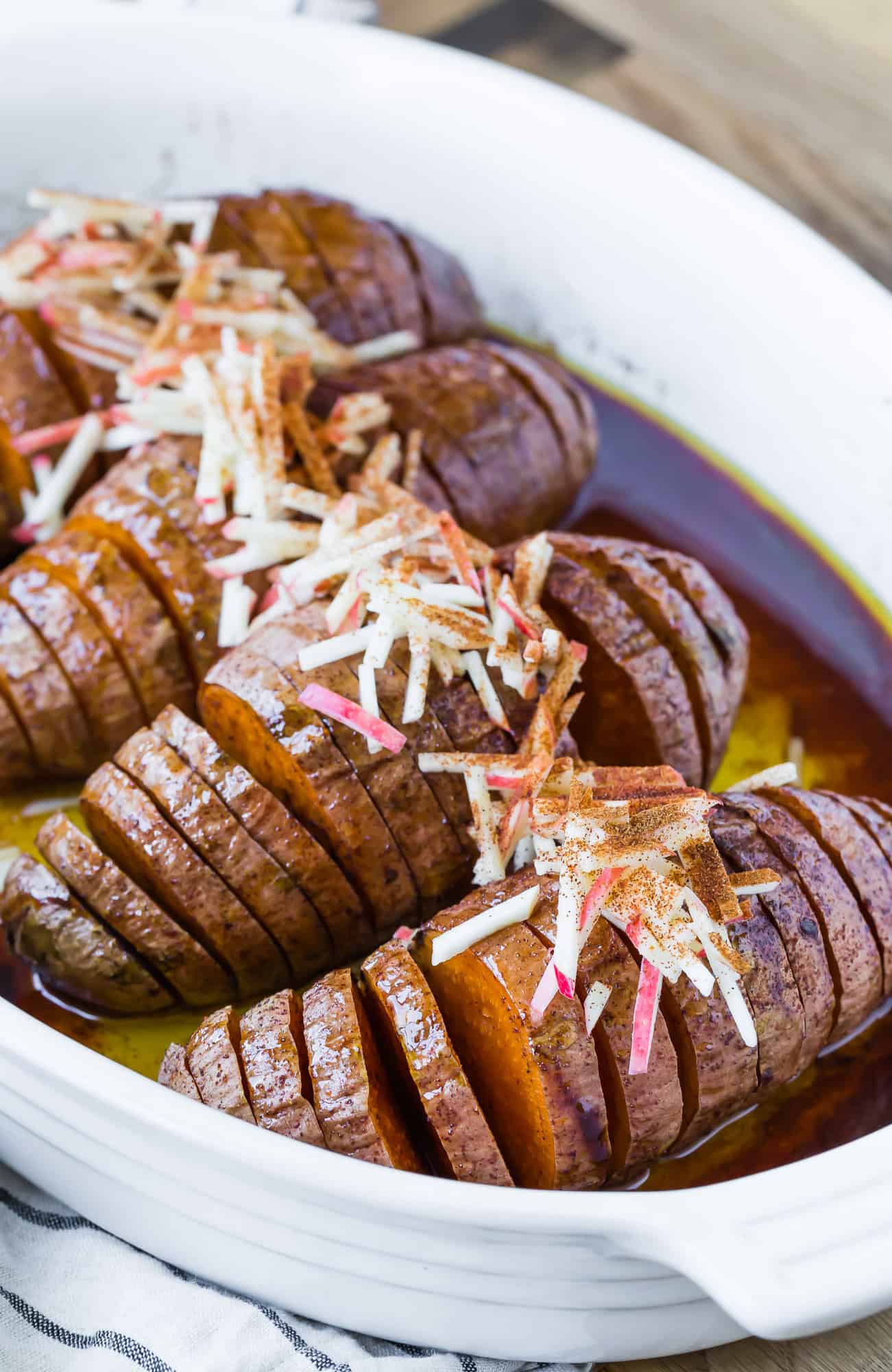 About Hasselback Sweet Potatoes
Are you wondering what "Hasselback" is all about? Initially, I did too! I know what the Hasselback cooking method is, which we'll get to in a minute, but I didn't really know why it was called Hasselback. I looked on Wikipedia which told me that Hasselback is a Swedish method of making roasted potatoes, developed by a chef in Stockholm, in a restaurant called Hasselback. So there you have it, trivia you can use (not really).
What is a Hasselback potato?
To prepare traditional Hasselback potatoes, the potatoes are scrubbed clean and then each potato is carefully sliced into quarter inch slices but not all the way through the potato, so that the potato remains whole but with cuts in it. Melted butter and herbs are then drizzled over the cut potato and it's roasted until golden brown. Sounds yummy, doesn't it? The butter and herbs sink down into the sliced potatoes and the cut edges get kind of browned and crispy.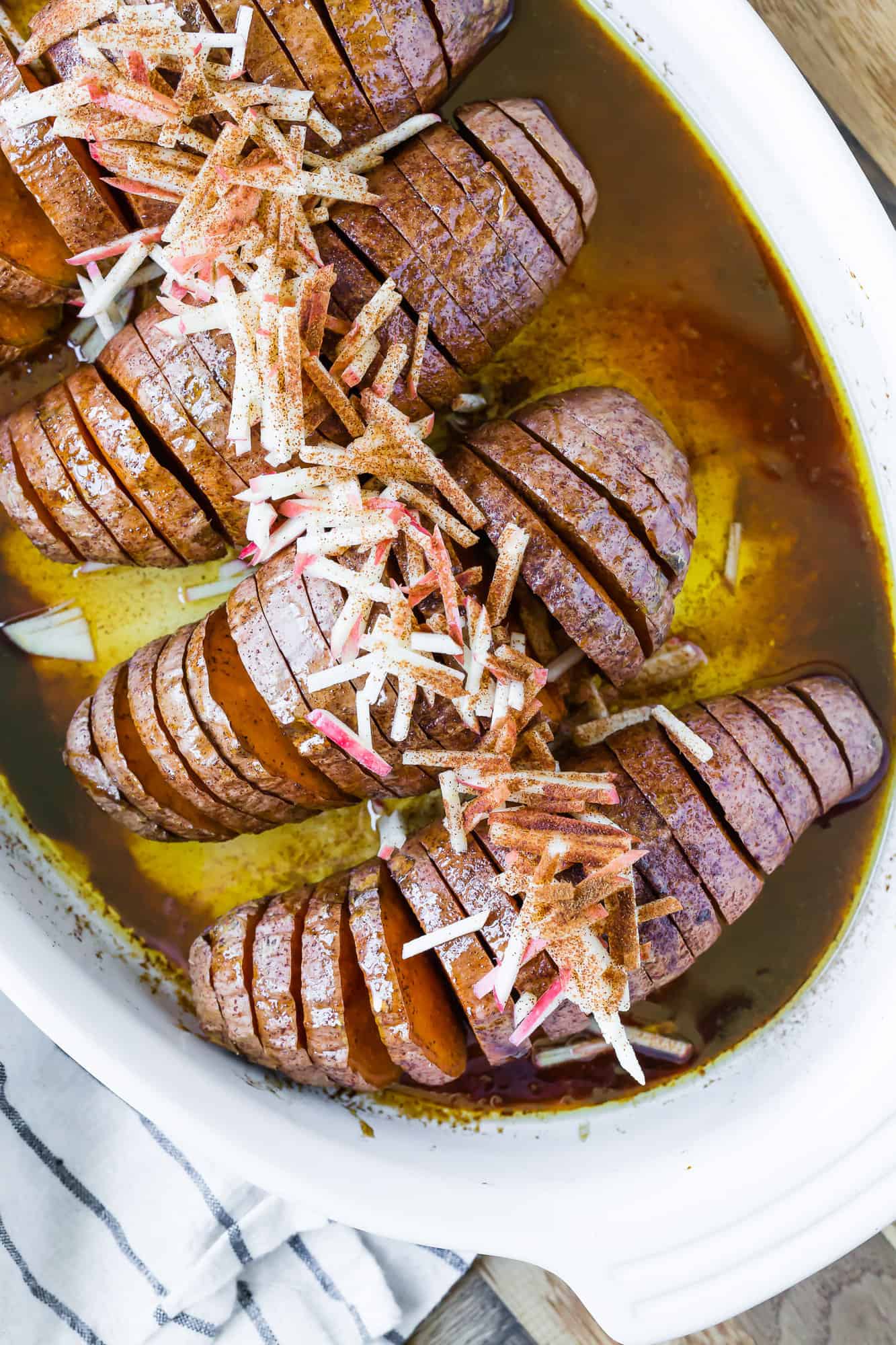 I love this method so much, I created a recipe for Hasselback chicken, stuffed with spinach, artichoke, and three kinds of cheese. So delicious! There's a short video to help you navigate this recipe.
Naturally, since I love sweet potatoes so much, I wondered if this method would work with whole sweet potatoes. Perfection!
The sweet potatoes are carefully sliced, Hasselback style, and a yummy concoction of melted butter, brown sugar, and spices is poured over. Roast them in the oven, baste them a couple of times to make them really glisten, and voila, you have a classy looking, ridiculously delicious side dish to impress your guests. They will ooh and aah over this one!
How to Cut Hasselback Potatoes
To make the slicing easier, set your potato lengthwise between a couple of wooden spoon handles or chopsticks. Make the slices perpendicular to the wooden spoons/chopsticks, which will act as a guard to keep the knife from cutting all the way through.
For a helpful video about how to cut the potatoes, Hasselback style, watch this short YouTube video produced by Cooking Light.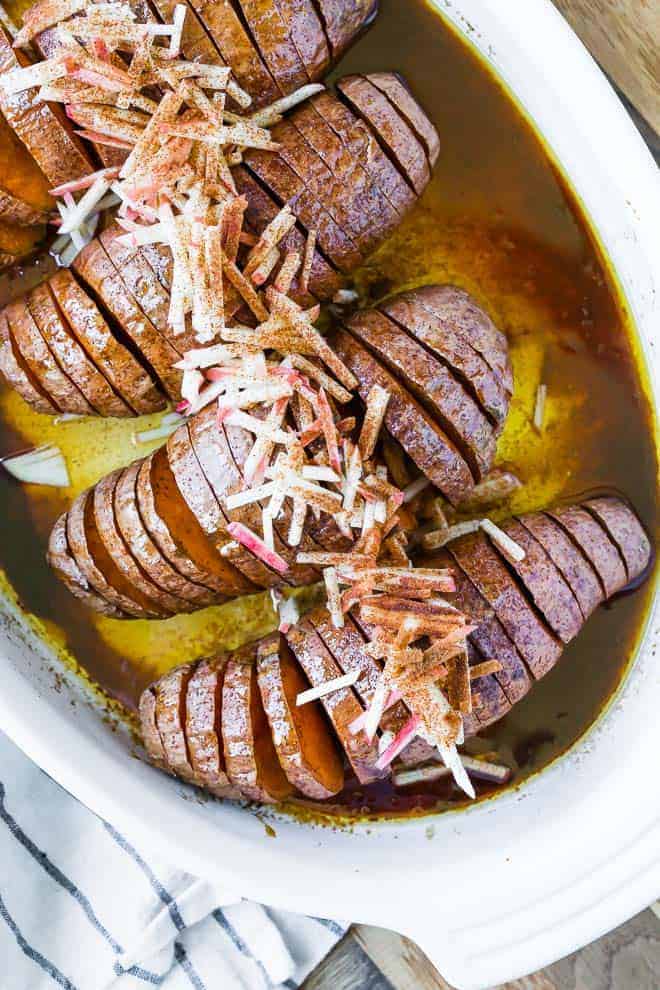 Ways to Change Up This Recipe
Alternatives to butter: I used melted butter for these because well, I love butter! You could also use ghee, or make these vegan by using olive oil. Coconut oil also tastes great with sweet potatoes.
Vary the spices. Instead of vanilla, cinnamon, and nutmeg, try making it savory with minced garlic, red pepper flakes, cayenne, or onion powder. Consider the sweet potato a blank palette ready for your artistry!
Garnish suggestions: I garnished these Hasselback sweet potatoes with julienned apples and a sprinkle of cinnamon. Alternatives could be freshly chopped parsley, fried sage leaves, or maybe some lemon twists.
Pan Choices: I used a large glass baking dish. You could also use a cast iron skillet, or any pan that will accommodate your potatoes. You don't want to crowd them too much. They need a little space to kind of fan out and roast.
Make a casserole instead. If you're not up to making the Hasselback slices, just go ahead and slice the sweet potatoes all the way through. Layer the slices into a cooking dish to bake. I realize this isn't quite as glamorous looking but will be just as tasty! My mom and I were thinking that layering apple slices with the sweet potatoes would be really delicious.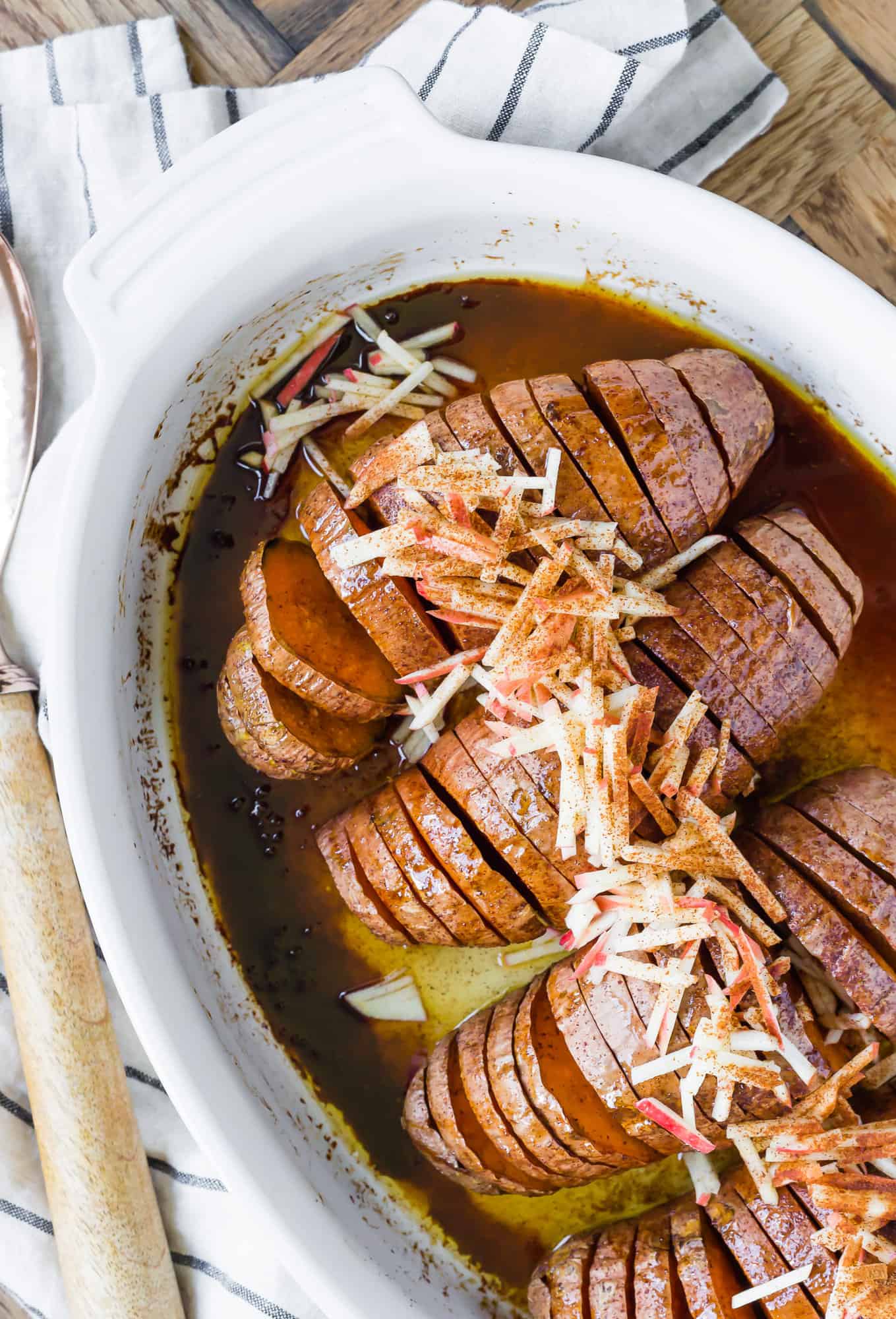 Tips for the best Hasselback Sweet Potatoes
Scrub well and trim the potatoes. I find that cutting off the funny ends of the sweet potatoes looks a little better. That's totally up to you. Just make sure you scrub them well. I love this vegetable brush!
Use a large sharp knife. Use the sharpest knife you have! A good chef's knife, like this one, is perfect. If it sounds difficult, don't worry, it really isn't that hard. My mom tried making these Hasselback potatoes with some trepidation, but found that it was surprisingly easy and actually kind of fun! My mom and I are kind of weird that way.
Take a thin slice off the bottom to stabilize the potato. If you're finding that your sweet potato isn't cooperating with the slicing process, slice a thin slice off the bottom side of the potato. There! That will make your wiggly potato lie still!
Make Ahead Idea
The potatoes can be prepared ahead of time and baked. Let them cool in the pan before covering and refrigerating them for up to 3 days. To reheat, bake them at 350ºF for about 30 minutes, or until they're heated through. Baste them a bit with the butter to make them glisten again.
Did you make this? Be sure to leave a review below and tag me @rachelcooksblog on Facebook, Instagram, or Pinterest!
Sweet and delicious, roasted Hasselback sweet potatoes make an impressive presentation yet are easy enough to add to your everyday menu. No hassle required!
Ingredients
4

large

sweet potatoes, scrubbed

(try to find

4

that are similar in size)

6

tablespoons

unsalted butter, melted

¼

cup

brown sugar, packed

1

teaspoon

pure vanilla extract

(or vanilla bean paste if you have it!)

¾

teaspoon

ground cinnamon

½

teaspoon

kosher salt

¼

teaspoon

ground cayenne pepper, or to taste
Instructions
Preheat oven to 425ºF. Spray baking dish lightly with cooking spray (see note).

Prepare sweet potatoes: Place wooden chopsticks or wooden spoons on either side of one sweet potato. Carefully cut thin slices (about ¼ -inch) into the sweet potato, being careful not to slice all the way through. The chopsticks/wooden spoons will keep your knife from going too far. Place sweet potatoes into prepared baking dish.

In a small bowl, mix the melted butter, brown sugar, vanilla extract, cinnamon, salt, and cayenne. Pour this mixture over the prepared sweet potatoes, slightly separating the slices so that the butter mixture gets inside.

Cover the dish with foil, place in preheated oven for 1 hour, or until nearly tender. .

Take potatoes out of the oven, remove foil, spoon the butter mixture from the bottom of the pan over the potatoes, and return to oven, uncovered, for 10 minutes. Repeat this process once, and bake 10 minutes more. You want to have a nice glaze on the sweet potatoes

Serve with julienned apples sprinkled on top, if desired.
Notes
Choose a baking dish that will accommodate all four whole sweet potatoes, side by side, with a little extra room to allow the potatoes to fan out a bit.
Make Ahead: Prepare and bake the potatoes as directed. Let cool in the dish, cover, and refrigerate for up to 3 days. Reheat uncovered in a

350ºF oven for 20 minutes or until heated through.

If you prefer, use smaller-sized potatoes. They will bake more quickly.
Nutrition Information
Serving:
0.5
potato
,
Calories:
250
kcal
,
Carbohydrates:
41
g
,
Protein:
3
g
,
Fat:
9
g
,
Saturated Fat:
5
g
,
Polyunsaturated Fat:
0.3
g
,
Monounsaturated Fat:
2
g
,
Trans Fat:
0.3
g
,
Cholesterol:
23
mg
,
Sodium:
242
mg
,
Potassium:
587
mg
,
Fiber:
5
g
,
Sugar:
14
g
,
Vitamin A:
24407
IU
,
Vitamin C:
4
mg
,
Calcium:
61
mg
,
Iron:
1
mg
This website provides approximate nutrition information for convenience and as a courtesy only. Nutrition data is gathered primarily from the USDA Food Composition Database, whenever available, or otherwise other online calculators.