Vanilla Bean Mashed Sweet Potatoes
Creamy and sweet, vanilla bean mashed sweet potatoes taste like dessert. They're so easy to make and will quickly become a favorite!
Recipe Overview
Why you'll love it: This creamy sweet potato mash is easy to make and you can prep it ahead if you like.
How long it takes: 10 minutes to prep, 45 minutes to heat (depending on which method you choose).
Equipment you'll need: mixing bowl, large baking dish
Servings: 8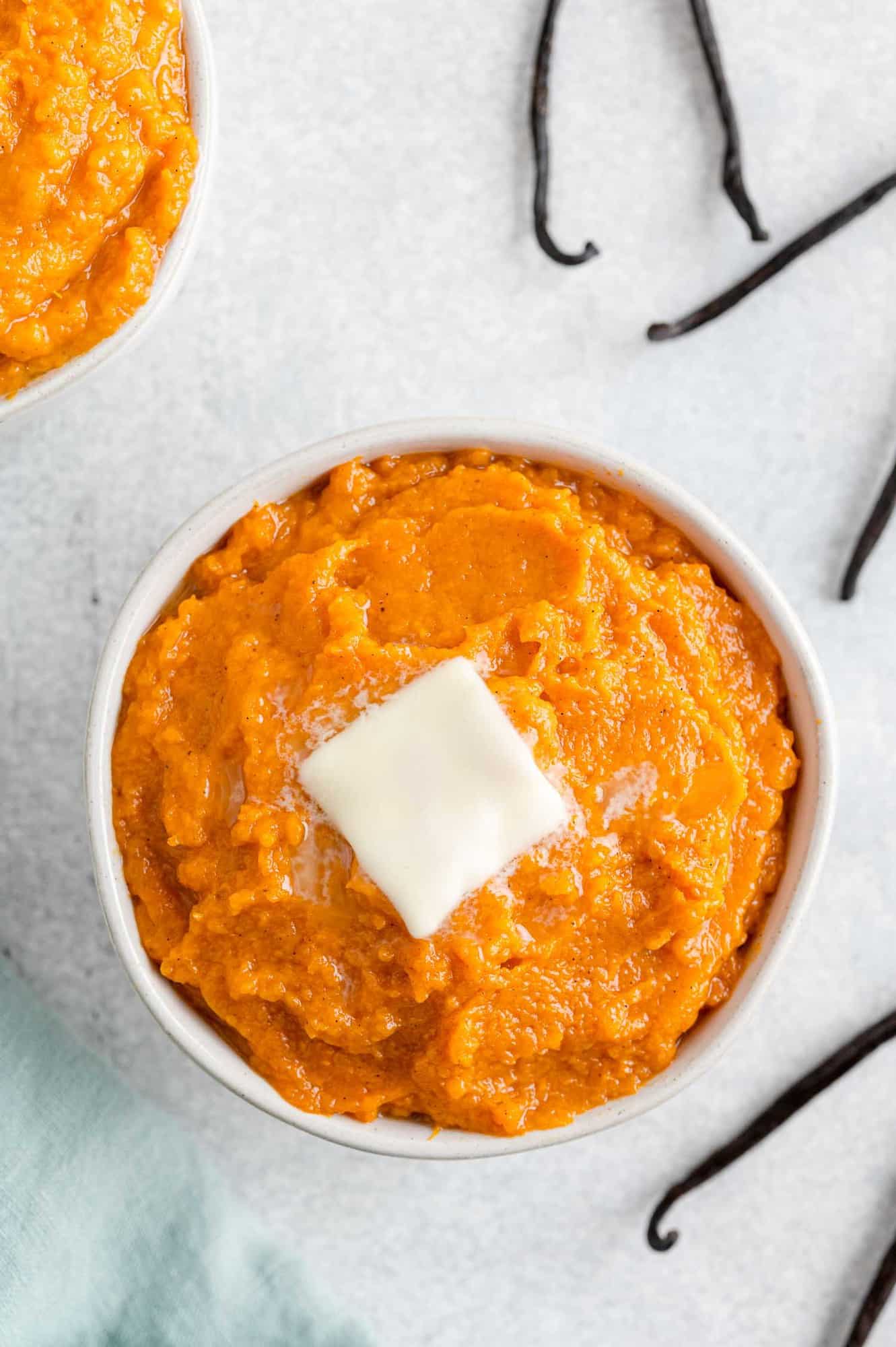 If you're looking for an amazing sweet potato recipe, this is it! Ben RAVED about it and he's typically not a sweet potato fan (nor is he typically a "raver"). After one bite of these mashed sweet potatoes, he couldn't stop talking about them. He said they tasted like cake.
Thanks, vanilla beans! They are responsible for the beautiful sweetness of these mashed sweet potatoes. Well, vanilla bean paste, that is, plus a little brown sugar.
If you're not familiar with vanilla bean paste, it's similar in consistency to maple syrup. It's made with vanilla extract, pulp from vanilla beans, and cane syrup. I love it because not only does it have intense vanilla flavor, there's all those little brown flecks of vanilla beans which add so much visual appeal.
This mashed sweet potato casserole is absolutely perfect when you want to spruce up your every day sweet potato game. It may sway those sweet potato "haters" into sweet potato fans (it worked for my hubby!).
This sweet potato casserole is perfect for your Thanksgiving table plus you can make it ahead. Hey, you're not alone if you're not into the usual marshmallow situation with syrupy canned sweet potatoes. This casserole is a welcome alternative.
About This Recipe
This is a very easy and versatile recipe. Use it as a starting point. If you want to make a smaller batch, cut the recipe in half; a larger batch can be just as easily achieved. It's easy to make it non-dairy or vegan. Make it as sweet or not sweet as you want. I'll give you more suggestions in the Make It Your Own section below.
To start this casserole, you'll need sweet potatoes that are already cooked (cooking sweet potatoes in your Instant Pot works great for this recipe). You can do this a day or two ahead of time if you like. Refrigerate the cooked potatoes until you're ready to make the casserole.
If you can make mashed potatoes, you can make this casserole! And by the way, sweet potatoes are very nutritious. They are loaded with antioxidants and vitamins, and provide both soluble and insoluble fiber, which promotes a healthy gut (Healthline).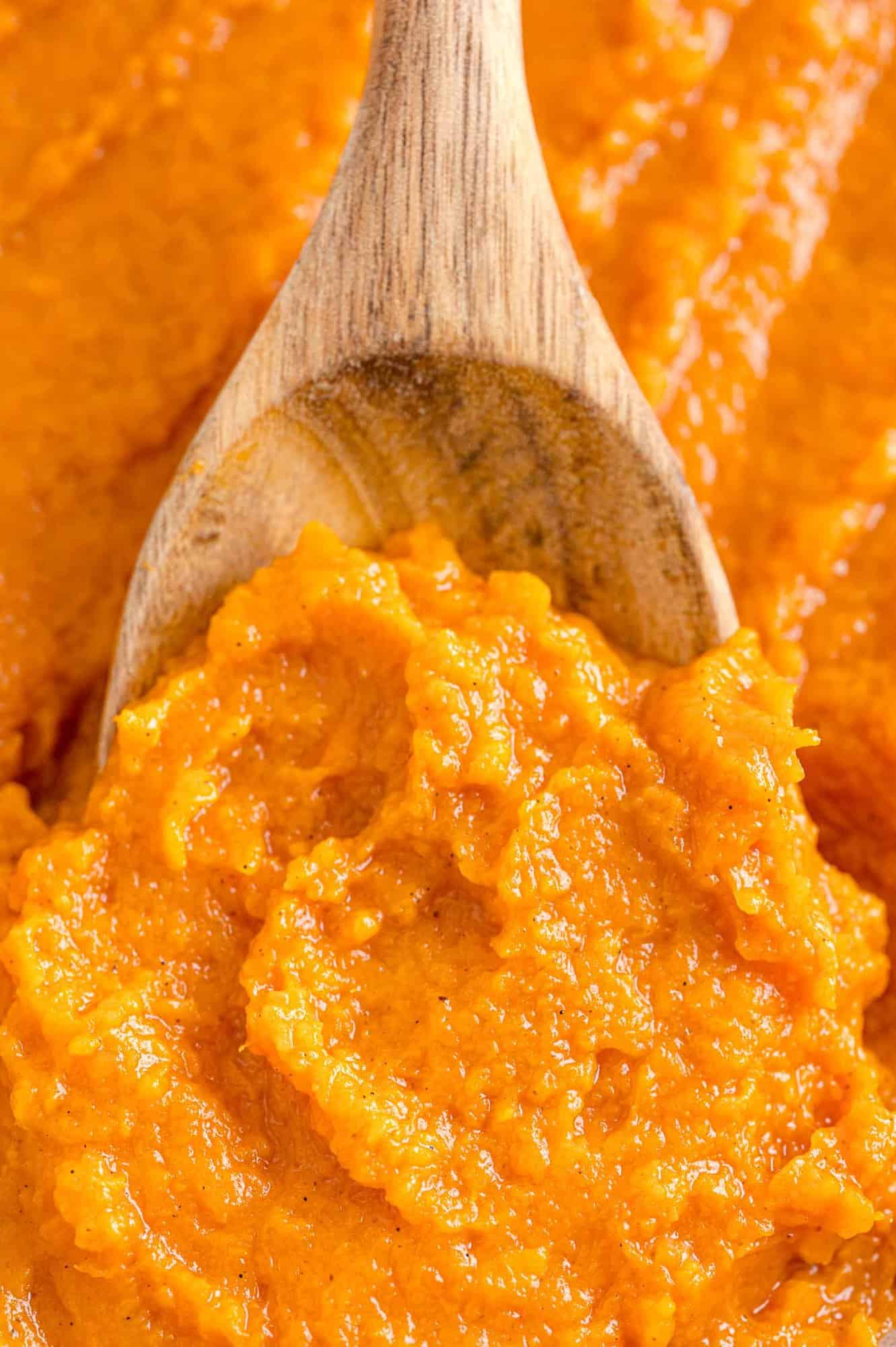 I'll run through the recipe and give you lots of helpful tips. Look for specific instructions, measurements, and nutrition information on the recipe card below.
What You'll Need
Cooked Sweet Potatoes: You'll need four good-sized sweet potatoes. I didn't put a specific weight down because it's really up to you and this recipe is very forgiving. If you use a smaller amount, the casserole will be a little sweeter and richer. There are a few easy ways to cook the sweet potatoes and I'll run through those methods in the next section.
Butter: Use real butter, not a butter spread or margarine. If you choose salted butter, you may want to omit the added salt in the recipe. Again, the amount is up to you. If you are cutting back on fat calories, use less.
Brown Sugar: Just one-third cup of brown sugar is plenty to sweeten the potatoes; they are pretty sweet naturally. You can use less if you want, or sub in maple syrup.
Milk: You'll need just a splash of milk (any type) when you mash the potatoes for a creamy texture.
Vanilla Bean Paste: I talked a bit about vanilla bean paste in the preceding paragraphs. Vanilla extract, vanilla beans, or vanilla powder can be substituted although not 1:1.
Salt: Just a small amount of salt keeps the dish from tasting flat. You may add more to taste.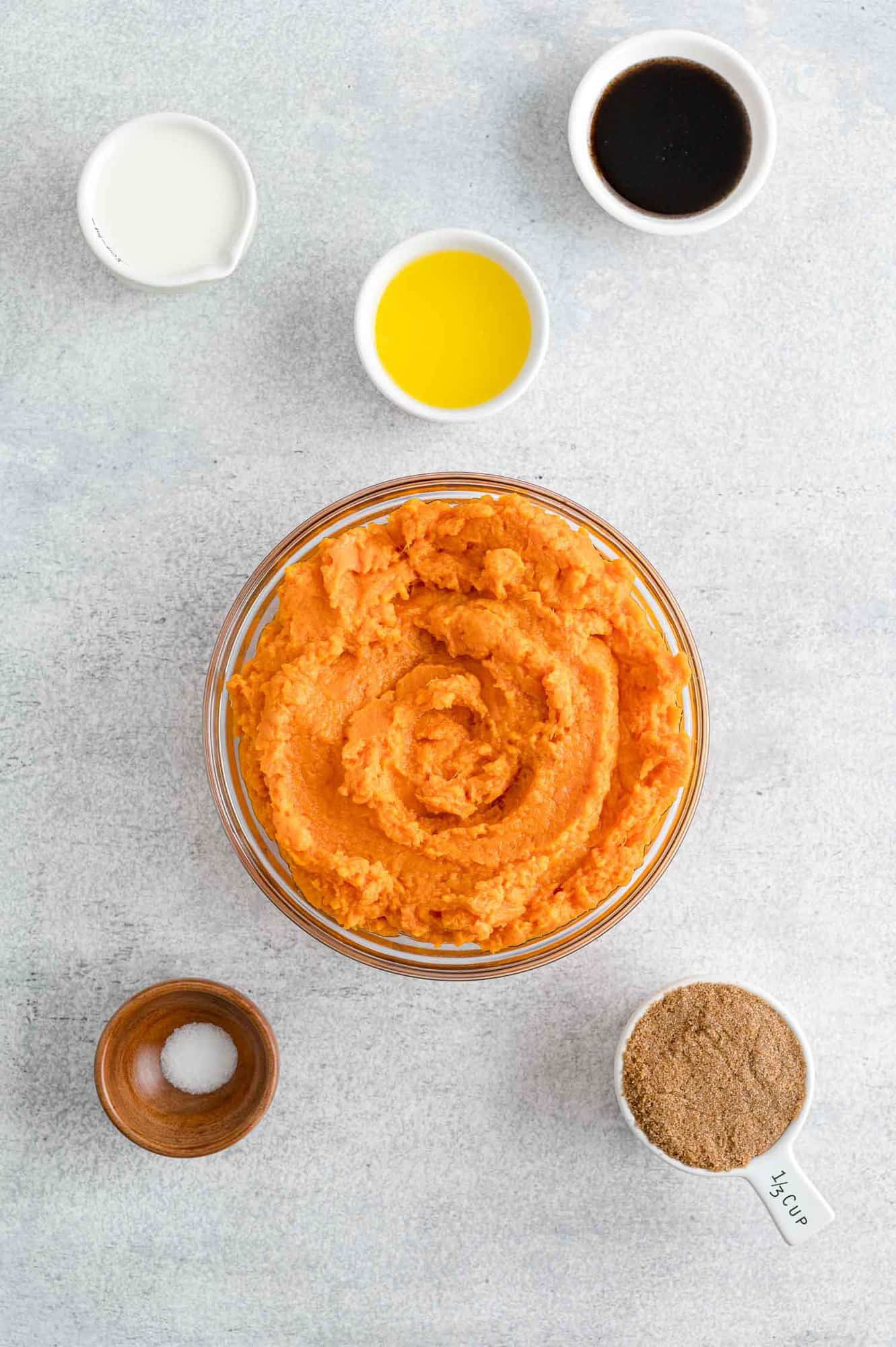 How To Make It
There are a few different ways to cook sweet potatoes and they are all pretty easy. Be sure to cook the sweet potatoes thoroughly so you don't have crunchy hard bits in your casserole.
Instant Pot pressure cooker: This is my preferred method. See Instant Pot sweet potatoes for step-by-step instructions.
Microwave: Poke the potatoes a few times with a fork, wrap them in a damp paper towel, microwave on high, and they're ready in about 5 minutes. Test them to make sure they are soft all the way to the center.
Oven: Preheat the oven to 375°F. Scrub sweet potatoes and prick a few times with a fork. Wrap them in foil and bake for 1 hour, or until tender when pierced by a fork.
Stovetop: Cook the sweet potatoes in a large pan like regular potatoes. Peel and cut them into chunks, cover with water, and boil until tender. Drain well. I like to return the drained potatoes to the pan, with medium heat, tossing occasionally, and let any remaining moisture evaporate.
Okay, now you have cooked sweet potatoes. You're ready to go!
The casserole is very easy to assemble. Put the cooked potatoes in a large bowl. Mash them with a potato masher. Add the butter (melt it first), sugar, milk, vanilla bean paste, and salt.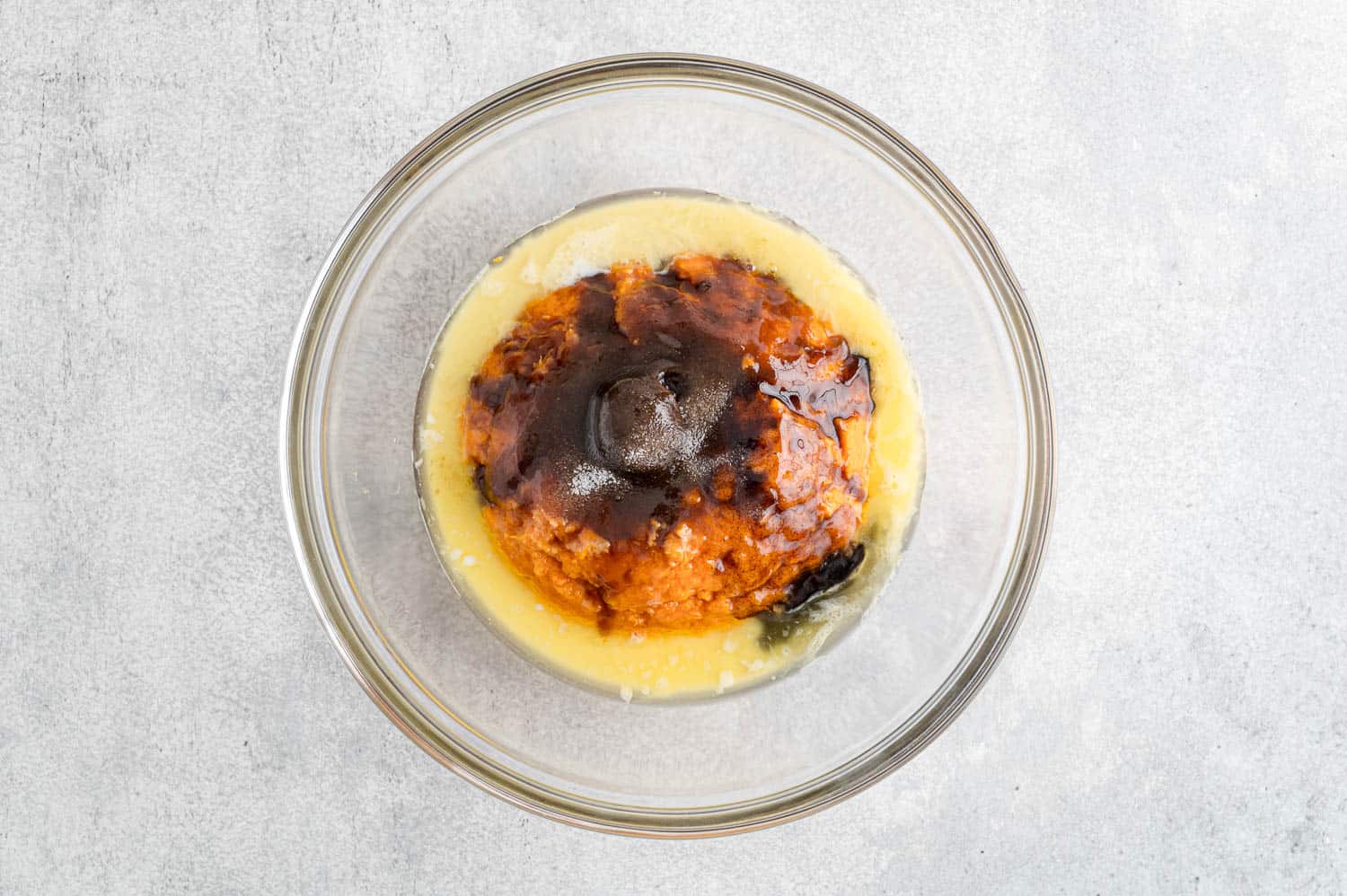 Mash it all together.
For a really creamy and smooth texture, use a hand mixer. The process is very similar to making regular mashed potatoes.
Scrape the sweet potato mixture into a baking dish and heat it until it's piping hot.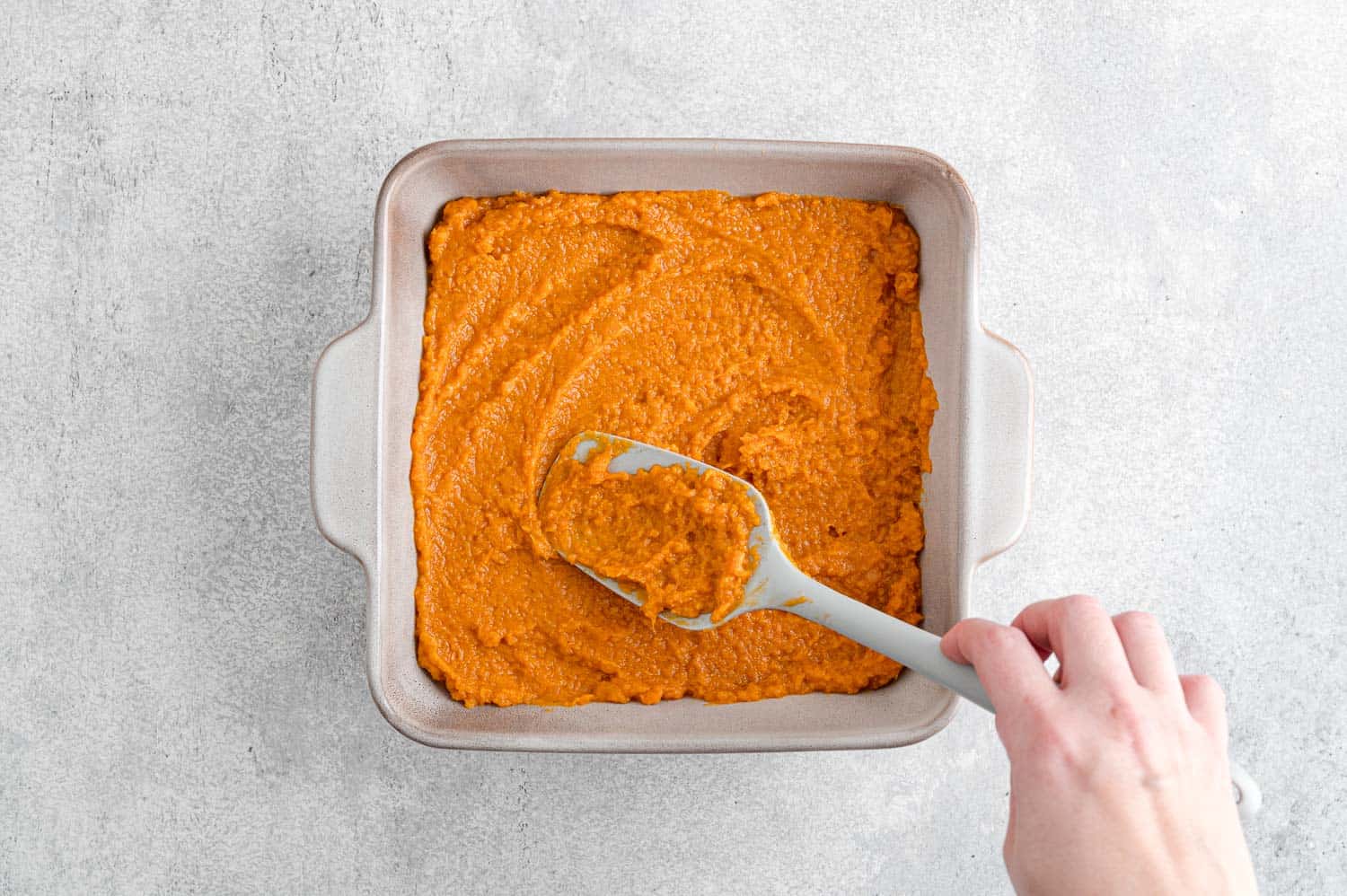 Use your oven, microwave, or even your slow cooker. The recipe card below has details for each method. That's all there is to it!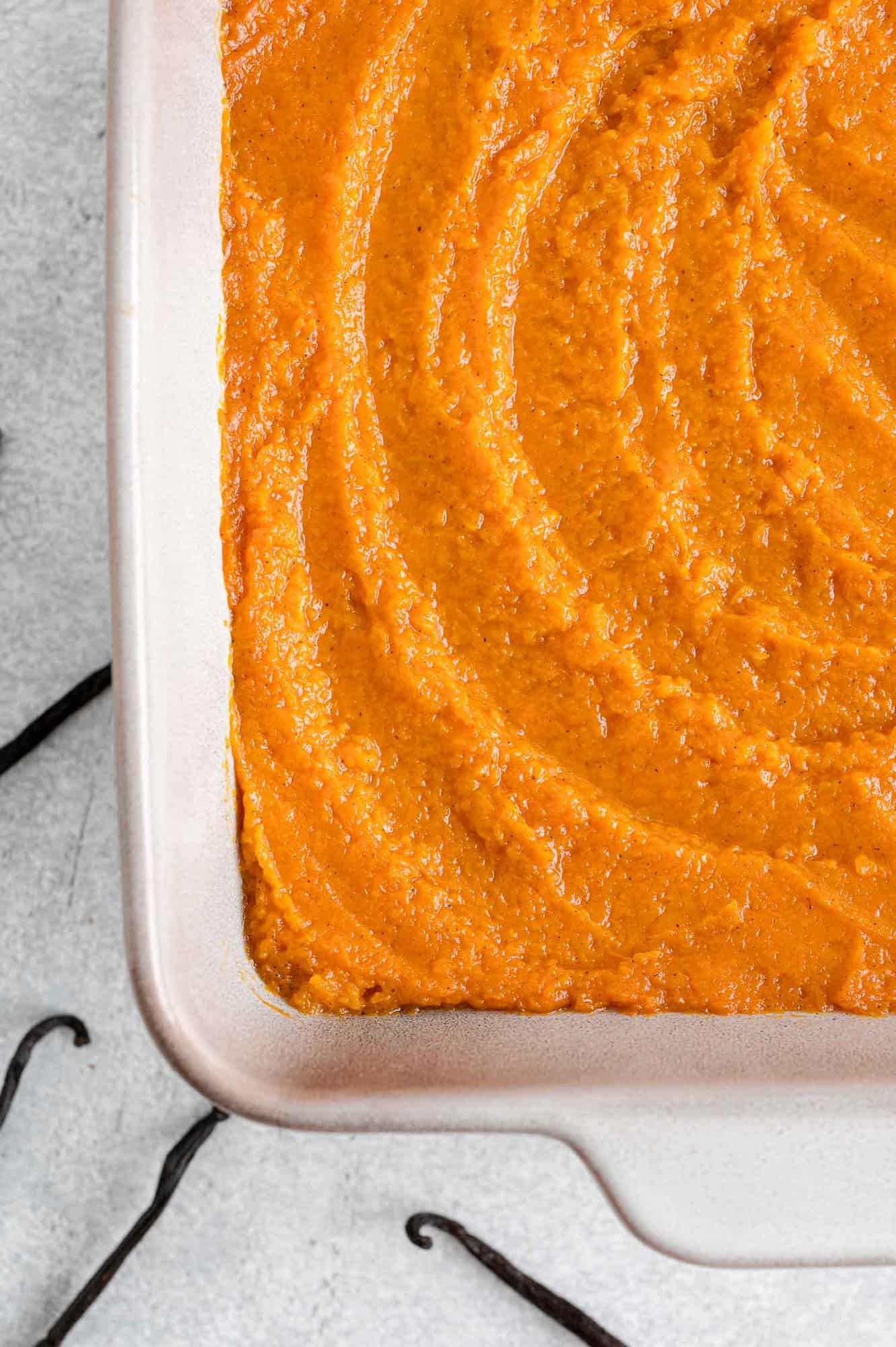 A Few more Vegetable Casseroles
If sweet potatoes aren't your thing or if you're looking for another hot dish to round out your Thanksgiving menu, here's a few more ideas:
FAQs
Why is my sweet potato mash watery?
If you boiled your sweet potatoes, it could be that you either boiled them too long so that they broke down and absorbed a lot of water, or perhaps you didn't drain them well.
Is it better to boil or bake sweet potatoes?
Apparently, cooking sweet potatoes quickly better preserves the nutrients, so boiling would win out over baking. However, since sweet potatoes are so nutritious, it doesn't matter a whole lot how you prepare them. It's more important to just eat them; choose the method that tastes best to you and then you'll probably eat them more often!
Make It Your Own
Enhance the flavor: Try adding nutmeg, cinnamon, or orange zest – see recipe card for details!
Add a crunchy topping: buttered bread crumbs, crumbled bacon, toasted nuts or seeds, streusel, crushed potato chips or crackers, whatever you like.
Make it vegan/dairy-free: Replace the butter with a couple tablespoons of coconut oil; use a dairy-free milk such as unflavored almond milk.
Rather have a savory casserole instead of sweet? Omit the brown sugar and vanilla bean paste. Season with your choice of chili powder, garlic powder, paprika, smoked paprika, thyme, sage, rosemary. If you like, add sautéed bacon, garlic, shallots, or onions.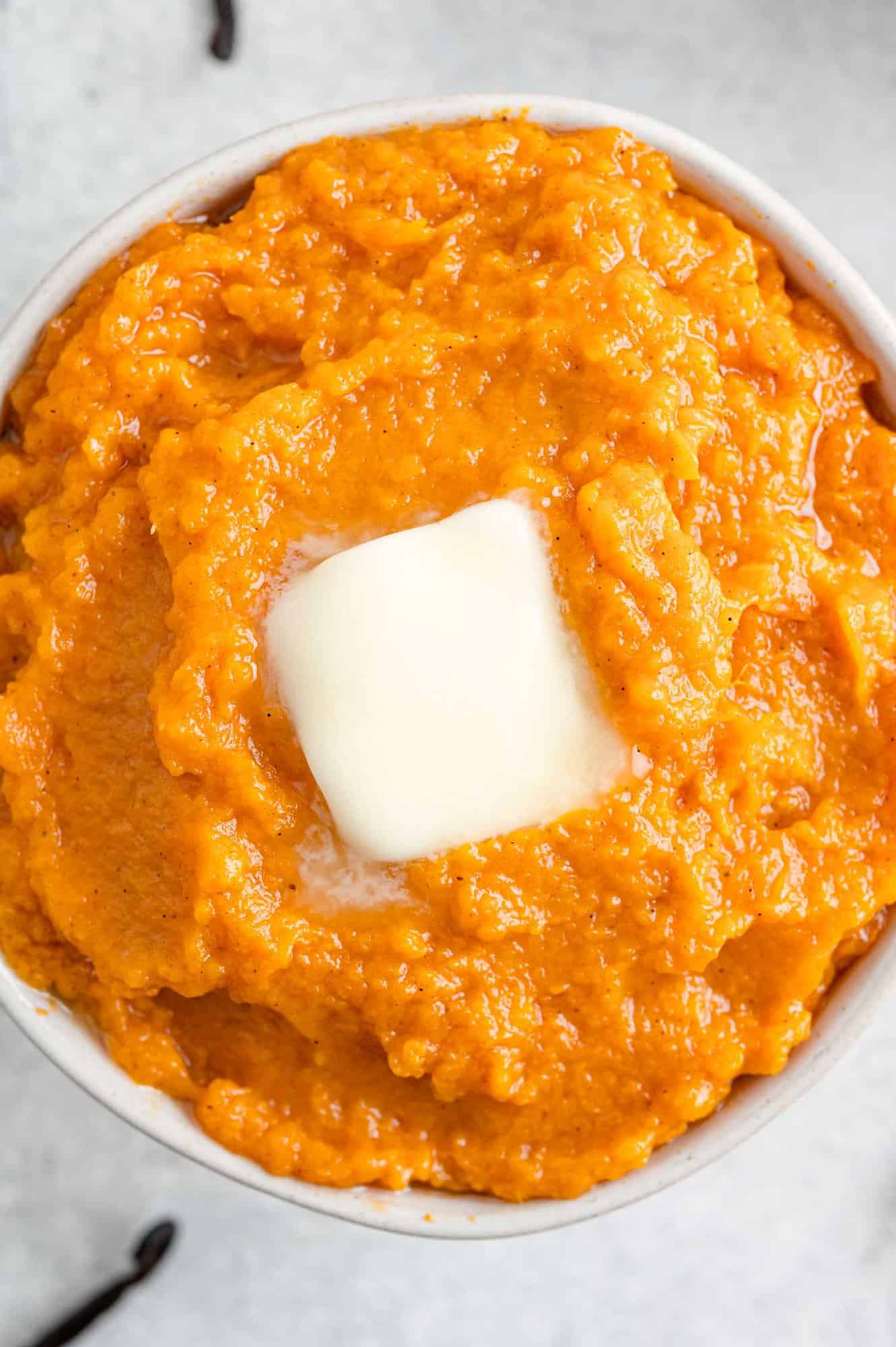 Make-Ahead Ideas
There are a few ways to get a head start which is especially helpful if you're making this dish for Thanksgiving.
Prep your sweet potatoes a day in advance. Cook the potatoes using your preferred method and pop them in the fridge. When you're ready, proceed with the recipe as directed.
You can also completely prepare this dish a day or two in advance; refrigerate it, and then heat it using one of the 3 methods: slow cooker, microwave, or oven.
If you prefer, make the potatoes a month or more in advance and freeze them. Thaw overnight in the fridge and heat as directed.
Storage & Reheating Tips
Leftover sweet potato casserole will keep about five days if promptly refrigerated. Cool to room temperature and store in a covered container.
Creamy sweet potato mash can be frozen for up to 6 months. Spoon it into a resealable freezer bag, seal and flatten the bag slightly, and freeze. There's no need to thaw the potatoes before reheating.
Leftover Love
Have a lot of sweet potato casserole left over? Repurpose the sweet mash into pancakes. Try this recipe for sweet potato pancakes from Pancake Recipes.
Did you make this? Be sure to leave a review below and tag me @rachelcooksblog on Facebook, Instagram, or Pinterest!
Creamy and sweet, vanilla bean mashed sweet potatoes taste like dessert. They're so easy to make and will quickly become a favorite!
Ingredients
4

cups

mashed cooked sweet potatoes

(about

4

large potatoes)

4

tablespoons

unsalted butter, melted

⅓

cup

packed brown sugar

¼

cup

milk

2

tablespoons

vanilla bean paste

¼

teaspoon

kosher salt, more to taste
Instructions
Combine sweet potatoes, melted butter, sugar, milk, vanilla bean paste, and salt in a large bowl. Mash together thoroughly. If desired, use a hand mixer to achieve a smoother texture.

Check seasoning, adding more salt if necessary. Scrape into prepared baking dish (or slow cooker) and heat as directed below.
Heat one of three ways:
Slow cooker: Spray the inside of a slow cooker with nonstick cooking spray and add the sweet potatoes. Heat on low for 2 to 3 hours or until heated through.

Microwave: Heat in microwave for 3 to 4 minutes, stirring 2 to 3 times, until heated through.

Bake: Heat in a covered glass baking dish in the oven at 325°F for 45 minutes, or until heated through.
Notes
Instead of vanilla bean paste, you may substitute 1 tablespoon of pure vanilla extract and the pulp (seeds) of two vanilla beans. Vanilla powder is more concentrated so use less, about 1

½ teaspoons.

Try cooking the sweet potatoes in your pressure cooker: Instant Pot sweet potatoes. See the post above for other cooking methods.
Possible add-ins:

½ teaspoon

freshly grated nutmeg, 1 teaspoon cinnamon, or 1 teaspoon finely grated orange zest.
Make Ahead: Prepare the casserole as directed, but don't bake. Cover and refrigerate for up to 2 days. Bake as directed (or heat in slow cooker).
Nutrition Information
Serving:
0.5
cup
,
Calories:
161
kcal
,
Carbohydrates:
25
g
,
Protein:
1
g
,
Fat:
6
g
,
Saturated Fat:
4
g
,
Polyunsaturated Fat:
0.2
g
,
Monounsaturated Fat:
2
g
,
Trans Fat:
0.2
g
,
Cholesterol:
16
mg
,
Sodium:
160
mg
,
Potassium:
248
mg
,
Fiber:
2
g
,
Sugar:
14
g
,
Vitamin A:
9617
IU
,
Vitamin C:
2
mg
,
Calcium:
38
mg
,
Iron:
0.5
mg
This website provides approximate nutrition information for convenience and as a courtesy only. Nutrition data is gathered primarily from the USDA Food Composition Database, whenever available, or otherwise other online calculators.