Cheesy, comforting, and filling, zucchini casserole with rice is a favorite homestyle recipe. It's also a good way to use a bountiful harvest of zucchini!
Recipe Overview
Why you'll love it: This delicious casserole is a nutritious side dish or a vegetarian main dish.
How long it takes: 1 hour
Equipment you'll need: large pan with cover, baking dish
Servings: 8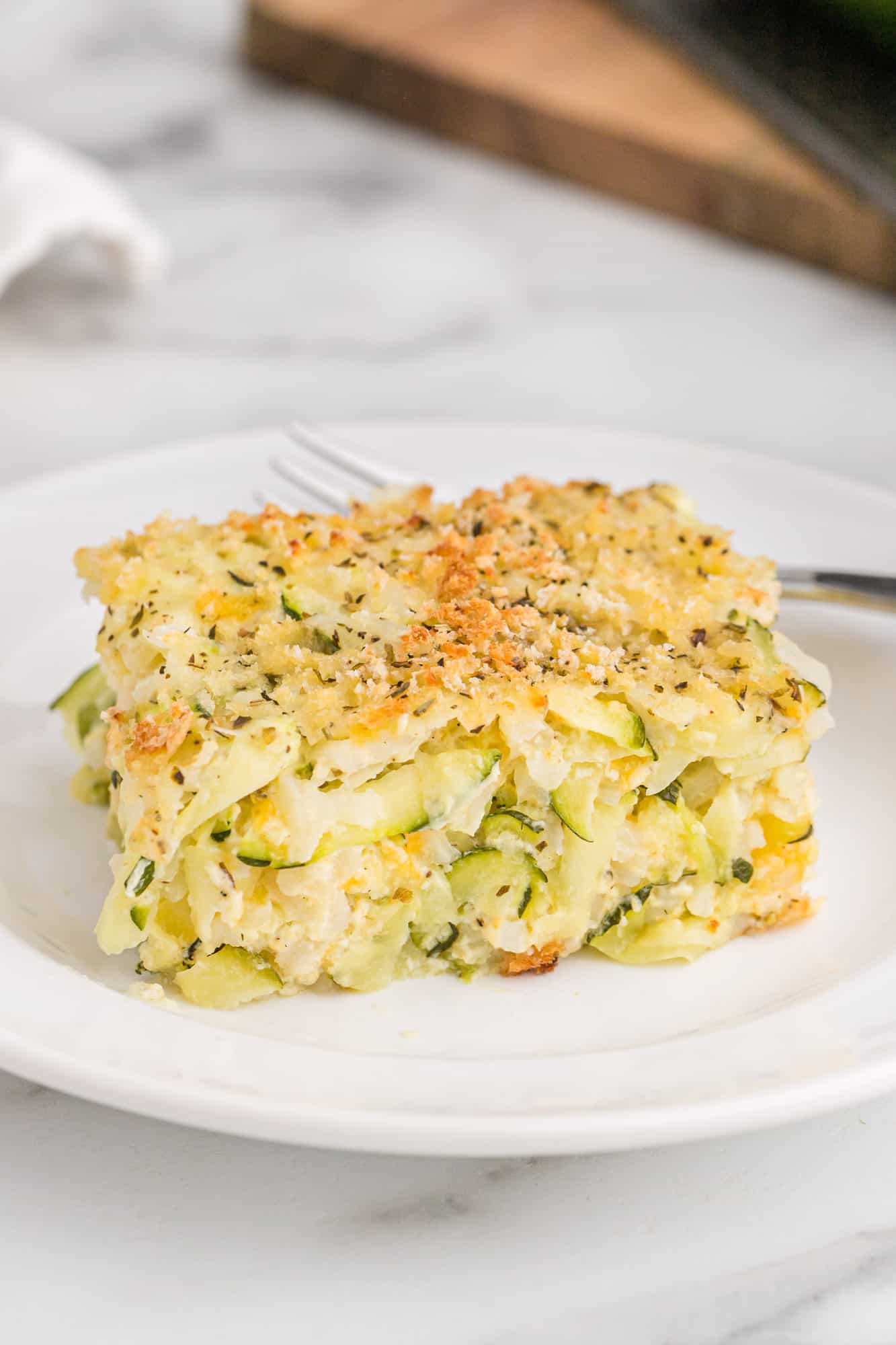 Cozy and comforting, this is one of my go-to side dishes or vegetarian meals. It's hearty, cheesy, and creamy without being overly heavy.
Summer always leads to plentiful zucchini and this is a great way to use it, as is homemade zucchini bread, air fryer zucchini fries or zucchini chips. We also just love this grilled vegetable salad with lots of zucchini and summer squash, topped with tangy goat cheese. Vegetable fritters with grated zucchini, carrots, and bell peppers are a popular option, too.
You know I love my salads as much as the next girl but there's those times when you want food that's more cozy and comforting, like a blanket to wrap around you when you're having one of those days..
The best part of this zucchini rice casserole is that you're still eating nutritious food. You're not drowning those sorrows in a chocolate cake or even a burger and fries. (Although, there are times for those too!)
Zucchini rice casserole is perfect as a side dish for Thanksgiving, too. Try it instead of baked corn or mac and cheese. It's also hearty enough for a meal on "meatless Mondays".
About This Recipe
Do you have an abundance of zucchini in your garden? Try this recipe! You can use those zucchini that may have gotten a bit too large. Since they are shredded, the size doesn't really matter all that much.
This casserole is perfect for those who don't like crisp vegetables. It's similar to cheesy potatoes or a gratin. The zucchini is shredded before combining it with rice, cheese and eggs.
Try brown rice instead of white rice. It has more nutritional value and it's filling, nutty, and flavorful.
A mix of panko bread crumbs (these are the kind I buy) with Italian seasoning and Parmesan cheese gives the casserole a crispy crust that seals the deal and makes this recipe a total winner. If you like casseroles topped with Ritz crackers, that's a good alternative, too. You can also make your own bread crumbs!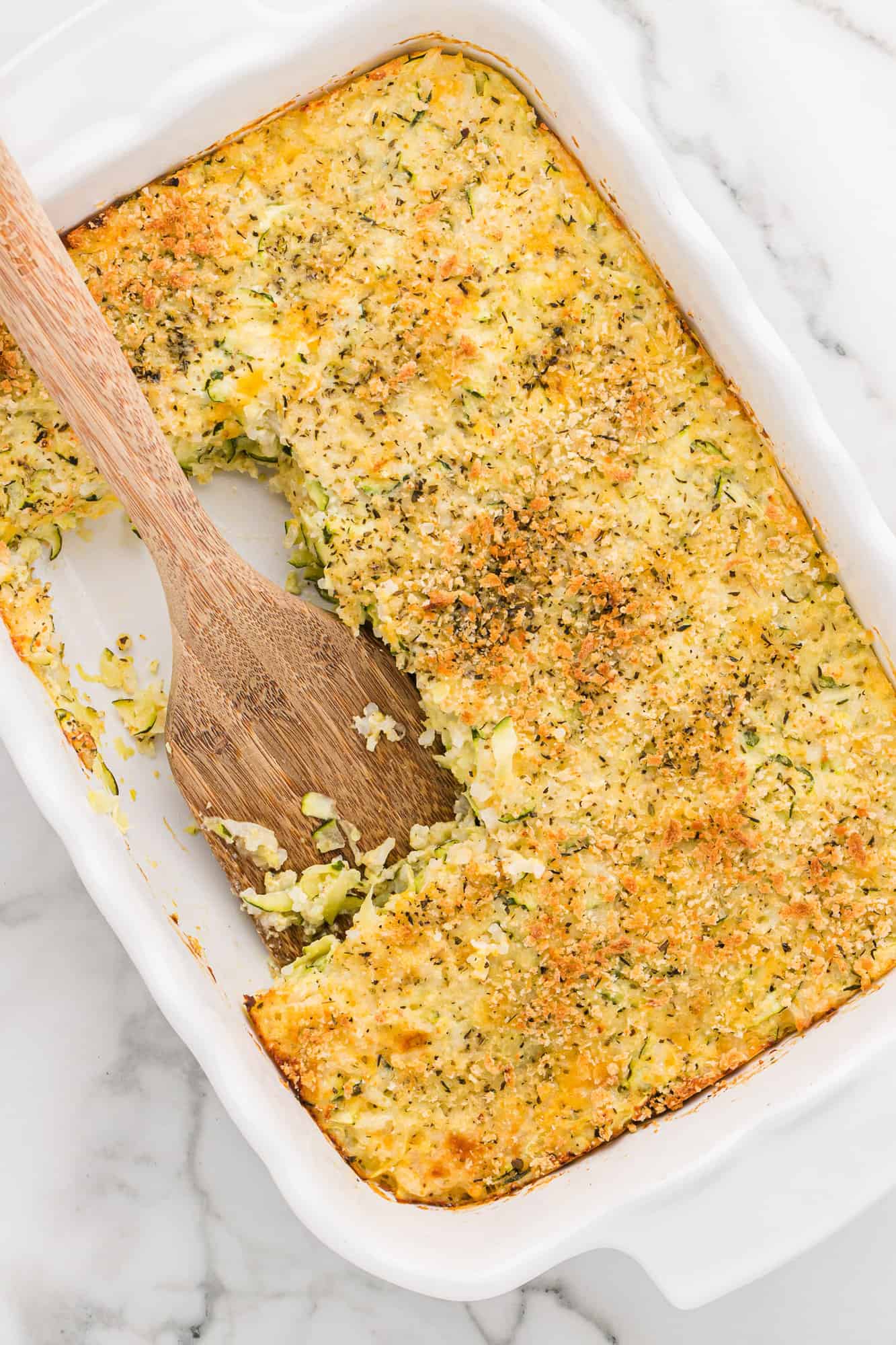 I'll run through the recipe here to get you started. Look for the printable recipe card near the end of the post, with complete instructions, measurements, and nutrition information.
What You'll Need
Zucchini: Big or small, size doesn't really matter in this recipe. You'll need about one and a quarter pounds. Since zucchini varies so much in size, it's best to weigh it to get the correct amount although a little more or less won't affect the recipe much. If it's extremely large and has a lot of seeds, make sure to avoid using those.
Onion: Use whatever type of onion you happen to have on hand. A plain yellow cooking onion is fine.
Rice: You'll need 2 cups of cooked rice. The cooking time of this recipe does not include cooking the rice.
Sour Cream: To keep this casserole a bit healthier, I use reduced fat. Full fat is fine but stay away from fat free sour cream which contains additives
Plain Greek Yogurt: Again, choose whichever type of plain Greek yogurt you prefer. Nonfat yogurt is fine because it does not contain any additives. Full fat or 2% yogurt will make the casserole creamier. Just make sure it's unflavored and unsweetened.
Eggs: A couple of eggs add protein and substance to the casserole, helping it to hold together.
Sharp Cheddar Cheese: The sharper, the better! There's plenty of flavor in sharp cheese which allows you to use less.
Parmesan Cheese: Again, Parmesan cheese has lots of flavor so you don't need to add as much. You'll put some in the casserole and some in the topping. Use grated cheese (the stuff in the green container is fine).
Italian Seasoning: This blend of dried herbs usually contains thyme, oregano, and basil. If you don't have it in your pantry, just substitute plain dried basil or oregano, or even dried parsley flakes.
Garlic Powder: Garlic powder is an easy-to-use form of garlic. It's dehydrated garlic that is ground into a fine powder. Garlic powder and garlic salt are not the same thing.
Salt & Pepper: Simple seasonings but you wouldn't want to leave them out.
Panko Bread Crumbs: I like to use whole wheat panko for the topping but it isn't always available. Regular panko is fine. Panko bread crumbs are coarser and airier than fine bread crumbs, giving the topping more crispness. By the way, it's easy to make homemade bread crumbs and it's a great way to use day-old bread.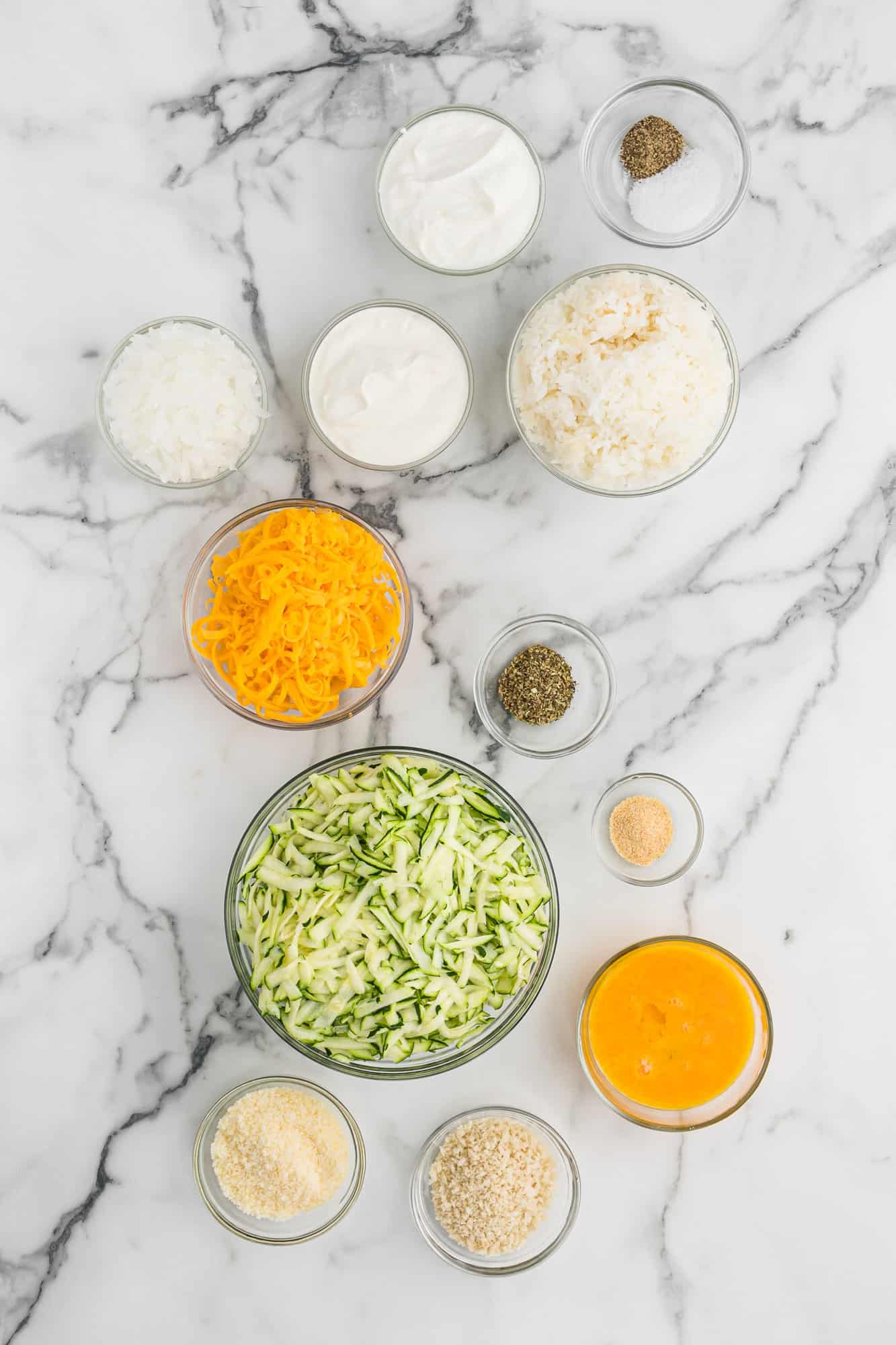 How To Make It
If you don't happen to have cooked rice on hand, you'll want to get that going first. I almost always have cooked rice in the freezer. I make double or triple of what I need and freeze the rest in 2 cup portions. It's super handy to have and thaws quickly.
Shred the cheese in a food processor, remove it, and then coarsely shred the zucchini.
Meanwhile, get the oven preheating and spray a baking dish with nonstick spray. Combine the rice, sour cream, yogurt, cheddar cheese, half the Parmesan cheese, the beaten eggs, and seasonings.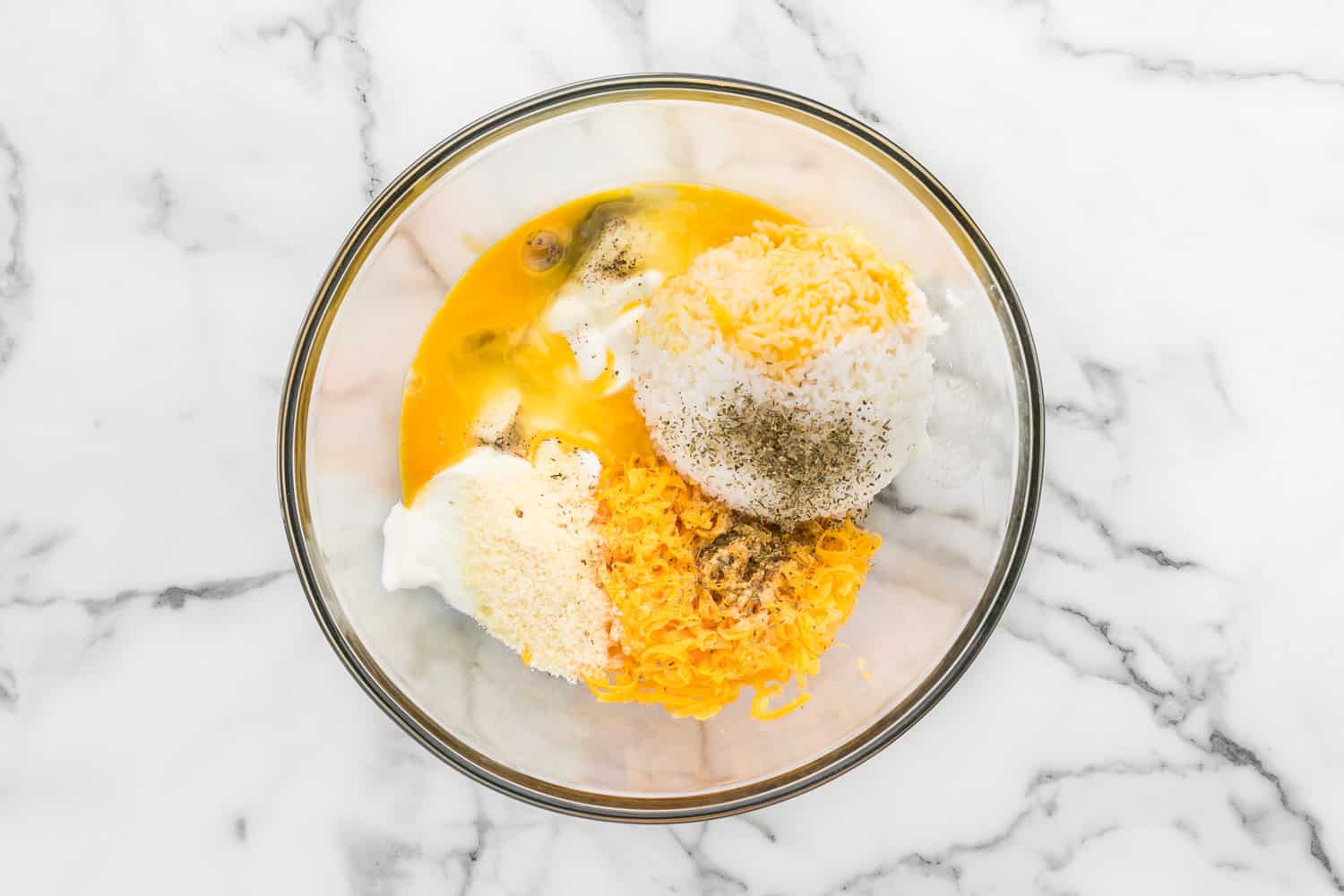 Add in the zucchini.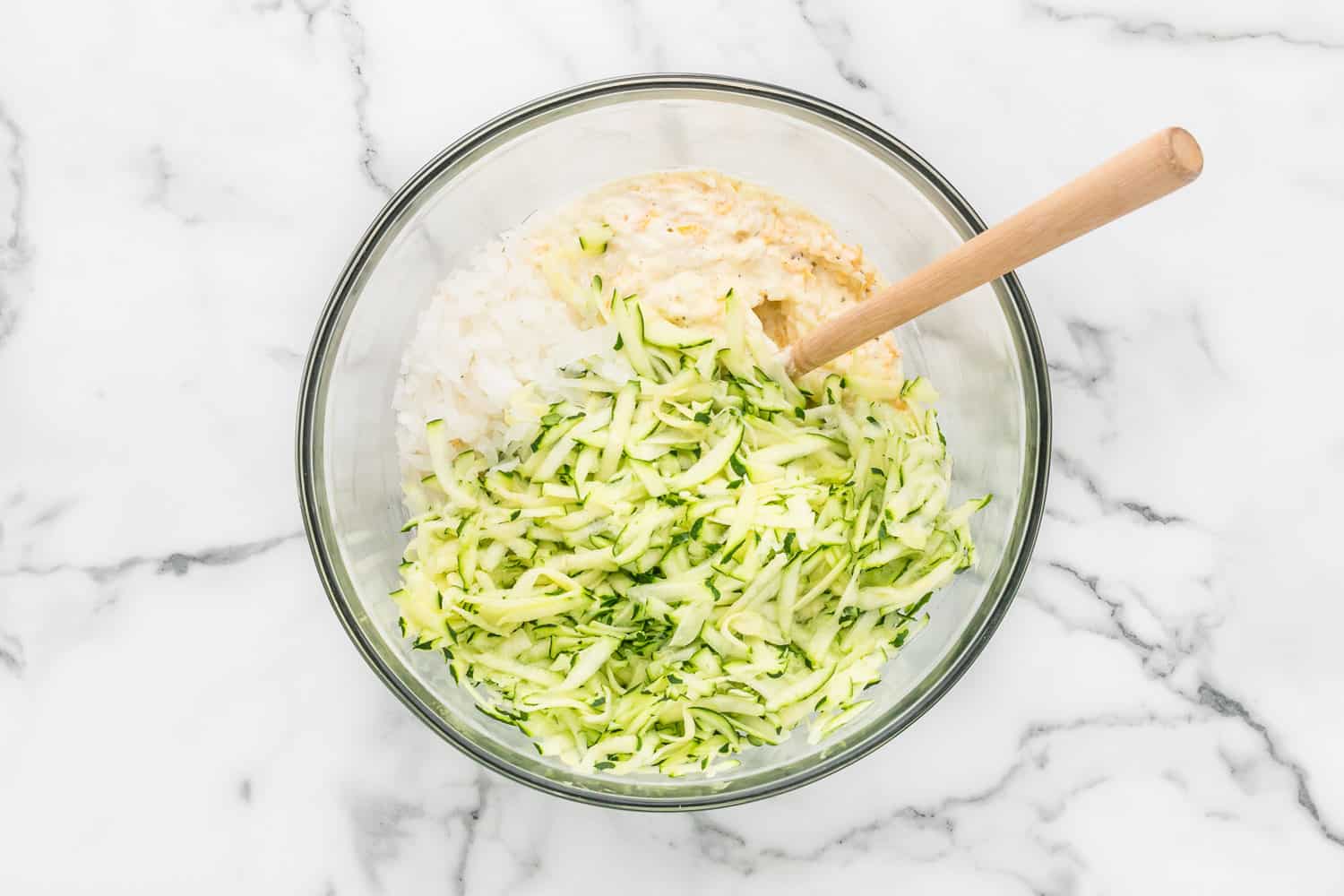 Stir to combine all the ingredients.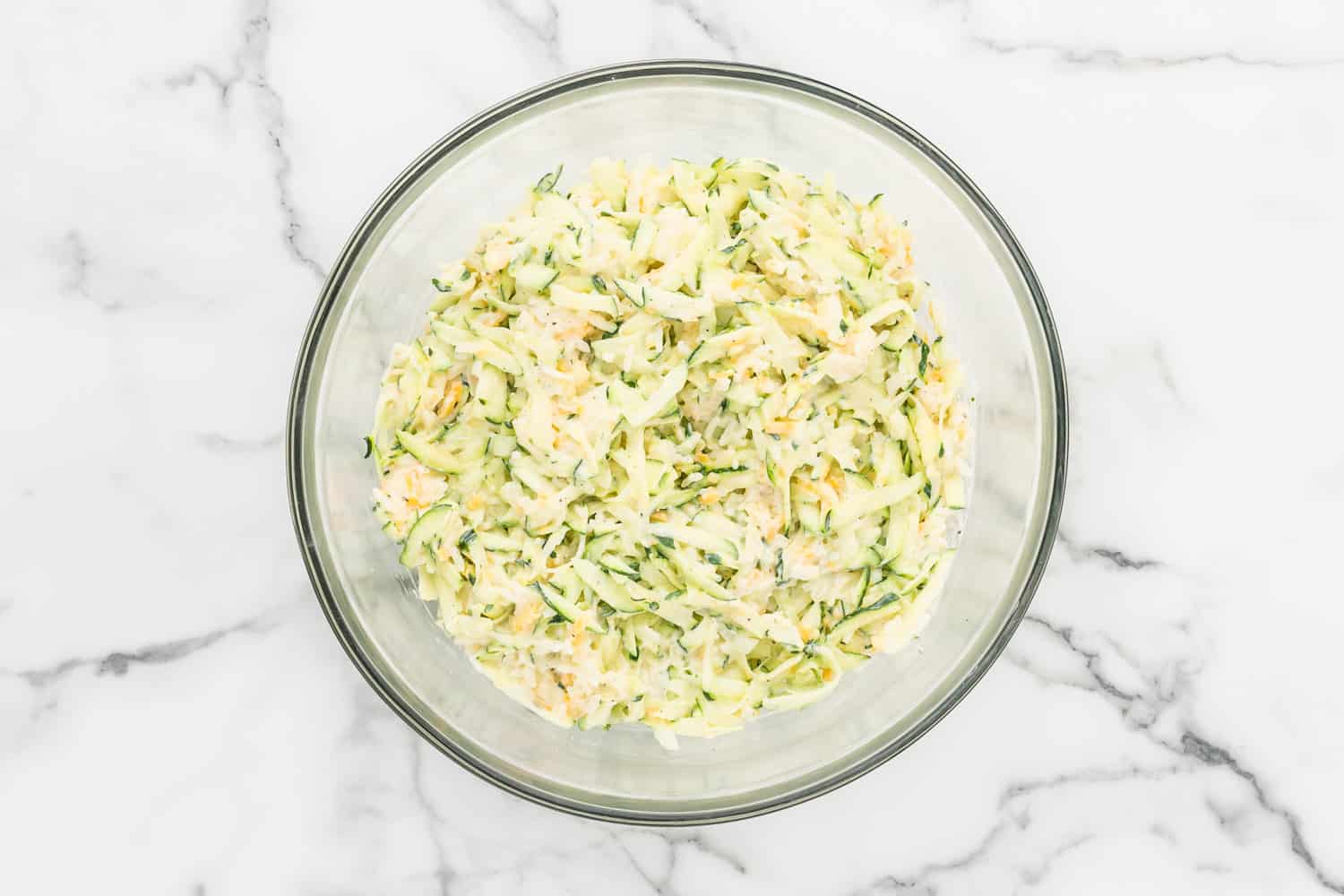 Scrape it all out into the baking dish.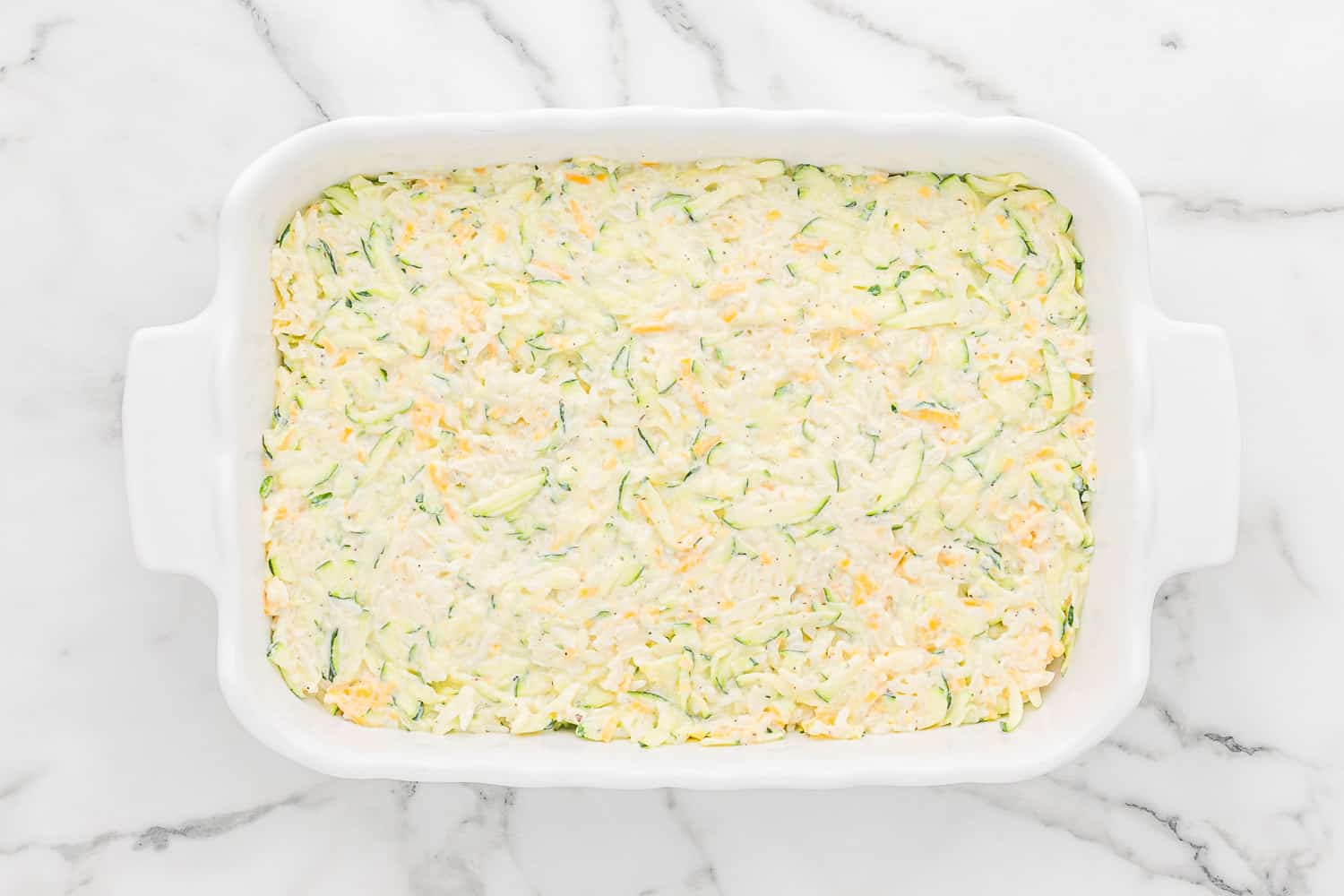 In a small bowl, mix together the panko, the remaining Parmesan cheese, and Italian seasoning.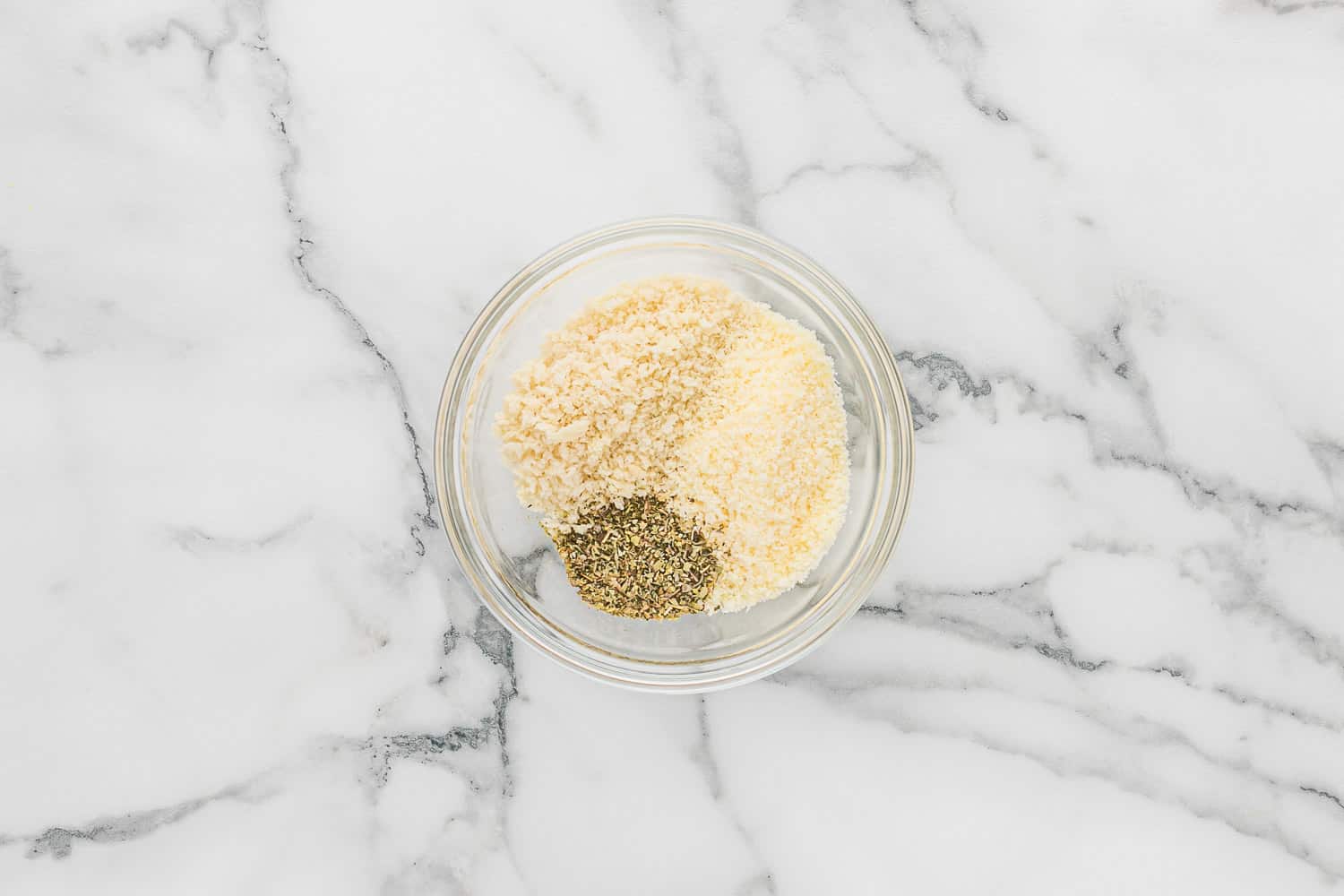 Sprinkle the topping over the casserole and pop it into the oven.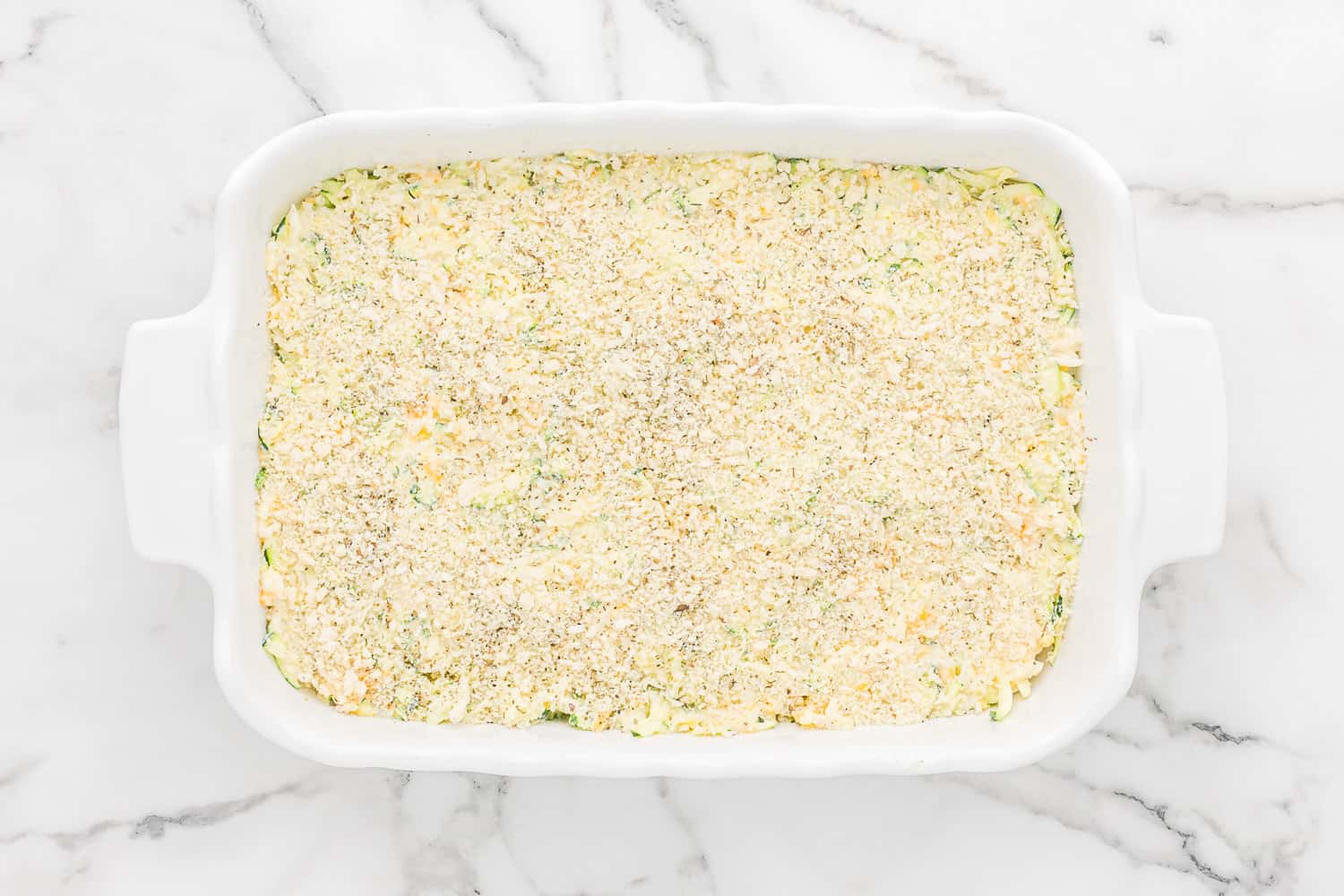 Bake it for an hour. It should be lightly golden and set in the middle (not jiggly or wet).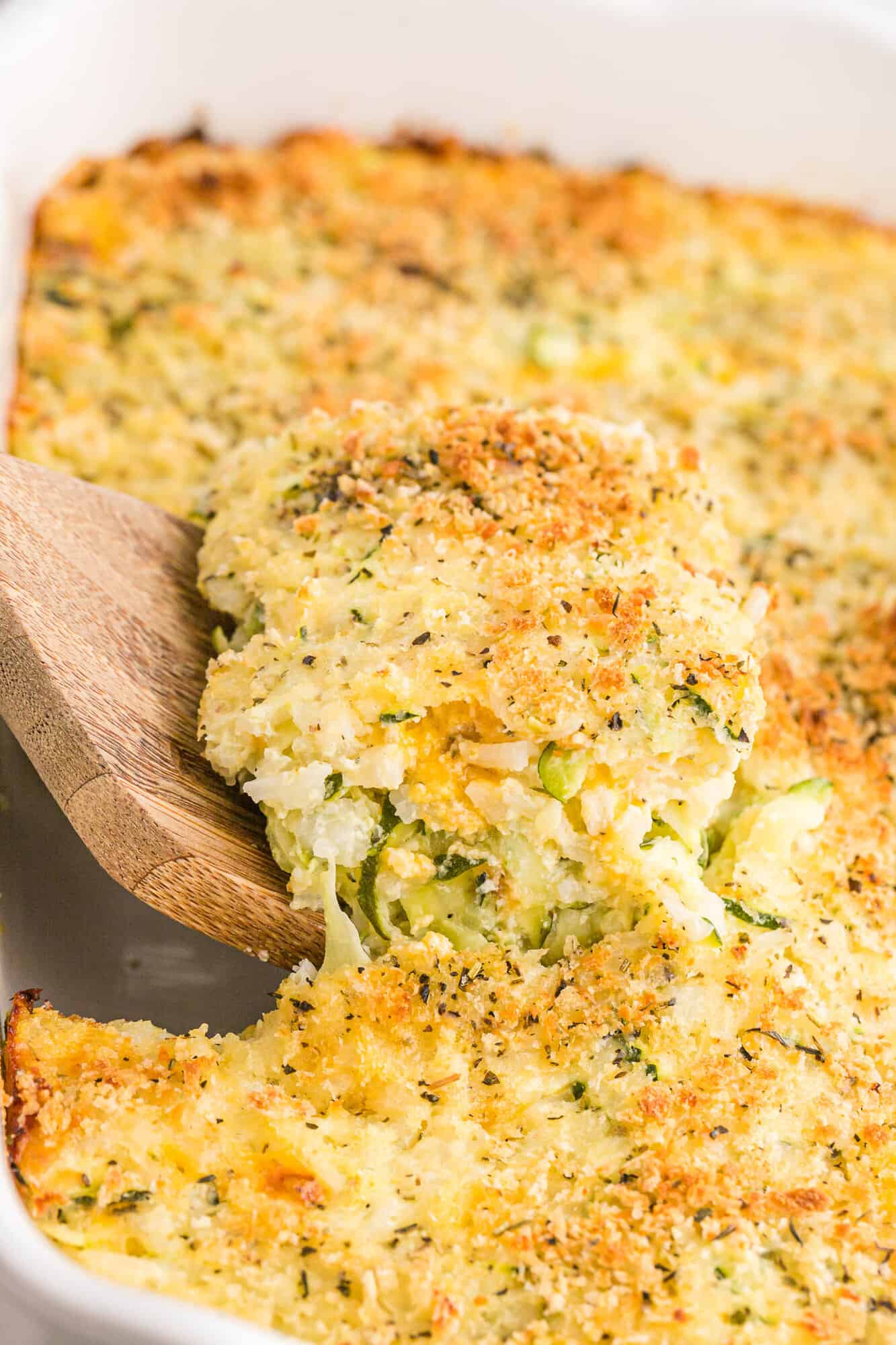 Enjoy!
FAQs
Should zucchini be peeled before baking or cooking?
Zucchini squash is considered a summer squash and has very tender skin. The skin contains many of the nutrients so it's best not to peel it.
On the other hand, winter squash such as butternut or acorn have tough inedible skins and need to be peeled.
How do you keep squash casserole from getting watery?
Zucchini squash contains a lot of water! We tested this recipe several times using a variety of methods. We tried pre-cooking the zucchini and mashing it. We tried slicing the zucchini instead of shredding it. We also tried salting the raw zucchini and squeezing out the excess water. Guess what? We discovered that the easiest way, coarsely shredding the zucchini (no draining necessary) has the best result.
We also found that including rice in the casserole really helps because rice absorbs the excess water. Eggs also are important to bind the casserole together.
Make It Your Own
If you prefer, use brown rice instead of white. Cooked quinoa, farro, or even barley can be substituted.
Don't have any cheddar cheese in the house? Go ahead and use what you happen to have.
Add more veggies (up to a cup). Finely chopped red bell peppers, mushrooms, or broccoli are good additions and can add a lot of flavor.
Zucchini casserole tastes great with a Ritz cracker topping, too. Substitute crushed crackers for the panko topping.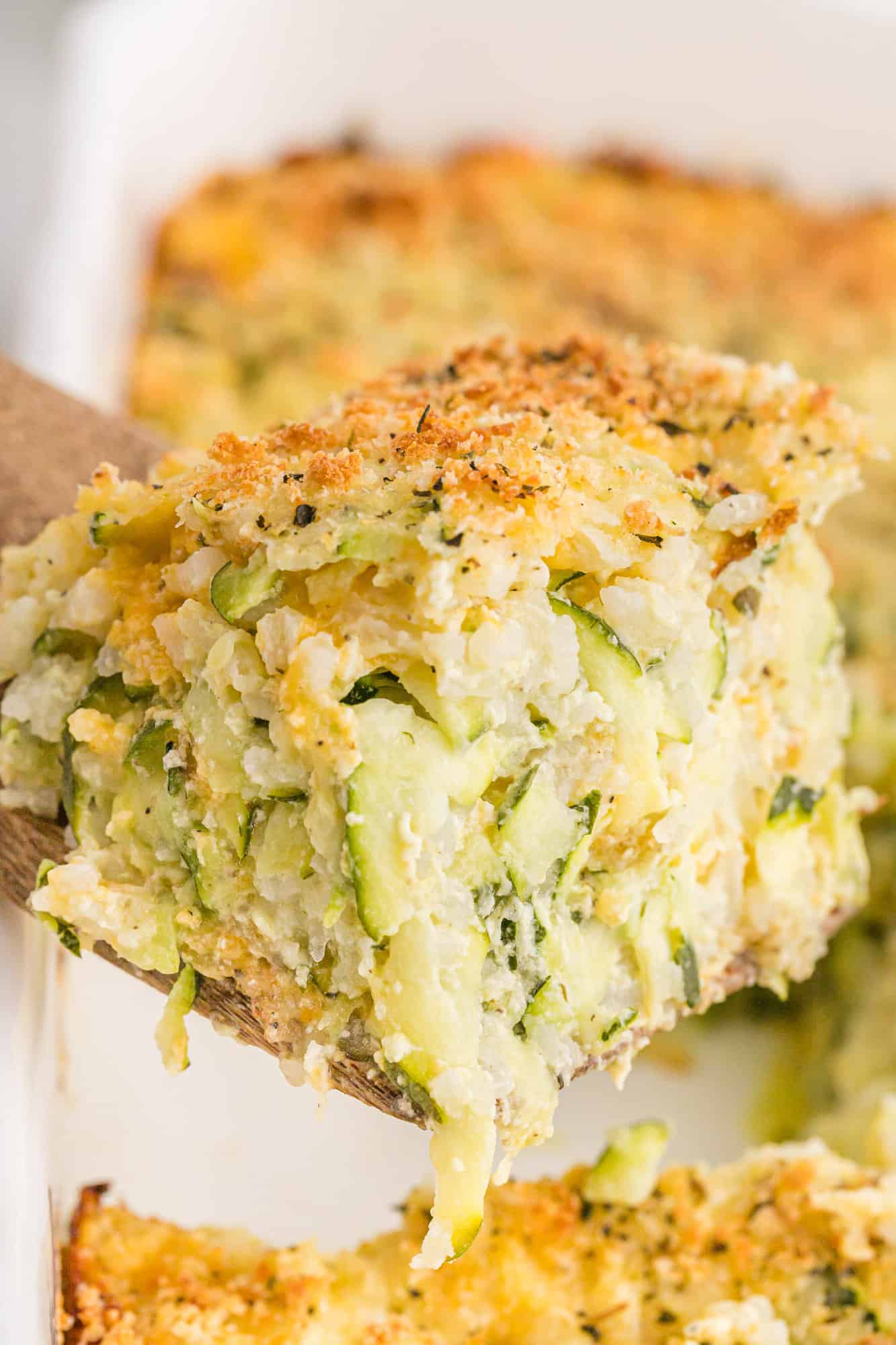 Make-Ahead Ideas
To speed up the cooking time, make a big batch of rice a day ahead, either white or brown, whichever you prefer. Try Instant Pot white rice or Instant Pot brown rice, if you have an Instant Pot. It's a very easy way to prep rice.
Cooked rice can be refrigerated for up to four days or pop it in the freezer (in reclosable freezer bags) for up to two months. It's so handy for salads, fried rice, or side dishes.
Storage & Reheating Tips
Store leftovers in the refrigerator for up to 4 days. This zucchini casserole doesn't freeze well.
Reheat single servings gently in the microwave. Larger quantities can be reheated in the oven. Heat at 350°F for 20 to 30 minutes or until heated through.
More Veggie Casseroles
You all know I'm a girl that loves roasted vegetables, but every once in awhile I get down with a casserole like this zucchini rice casserole. Try these recipes:
Did you make this? Be sure to leave a review below and tag me @rachelcooksblog on Facebook, Instagram, or Pinterest!
Cheesy, comforting, and filling, zucchini casserole with rice is a favorite homestyle recipe. It's also a good way to use a bountiful harvest of zucchini!
Ingredients
4

cups

coarsely grated zucchini, lightly packed

(about 1 ¼ pounds)

½

cup

minced onion

2

cups

cooked white rice

(brown rice is good, too)

2

large eggs, lightly beaten

½

cup

sour cream

½

cup

2% plain Greek yogurt

1

cup

(4 oz.) shredded sharp cheddar cheese

(see hint below)

¼

cup

grated Parmesan cheese, divided

1

teaspoon

kosher salt

½

teaspoon

ground black pepper

½

teaspoon

garlic powder

1

teaspoon

Italian seasoning, divided

¼

cup

panko bread crumbs
Instructions
Preheat oven to 350°F. Lightly spray a 8×11 inch baking dish with nonstick cooking spray.

In a large mixing bowl, combine eggs, sour cream, Greek yogurt, cheddar cheese,

2 tablespoons

Parmesan cheese, salt, black pepper, garlic powder,

½ teaspoon

Italian seasoning. Add shredded zucchini, rice, and onions and stir until ingredients are well mixed. Spread mixture into prepared pan.

In a small bowl, combine breadcrumbs,

½ teaspoon Italian seasoning

, and

2 tablespoons

Parmesan cheese. Sprinkle evenly over zucchini mixture.

Bake for 1 hour or until golden brown and heated through.
Notes
If you are using a food processor, shred the cheddar first and set it aside before shredding the zucchini.
Store leftovers in the refrigerator for up to 4 days. It does not freeze well. Reheat single servings gently in the microwave. Larger quantities can be reheated in the oven. Heat at 350°F for 20 to 30 minutes or until heated through.
If desired, cooked brown rice, quinoa, farro, or barley can be substituted for the white rice.

Other types of cheese can be substituted for the cheddar.

If you like, add cubed ham or cooked bacon to the casserole.

Crushed Ritz crackers can be substituted for the panko topping, if desired.
Nutrition Information
Calories:
201
kcal
,
Carbohydrates:
18
g
,
Protein:
10
g
,
Fat:
10
g
,
Saturated Fat:
5
g
,
Polyunsaturated Fat:
1
g
,
Monounsaturated Fat:
2
g
,
Trans Fat:
1
g
,
Cholesterol:
67
mg
,
Sodium:
483
mg
,
Potassium:
251
mg
,
Fiber:
1
g
,
Sugar:
3
g
,
Vitamin A:
455
IU
,
Vitamin C:
12
mg
,
Calcium:
189
mg
,
Iron:
1
mg
This website provides approximate nutrition information for convenience and as a courtesy only. Nutrition data is gathered primarily from the USDA Food Composition Database, whenever available, or otherwise other online calculators.