Best Chocolate Cake Recipe
This is truly the best chocolate cake recipe you'll ever make. Never dry, super easy to make, and so delicious!
Recipe Overview
Why you'll love it: Because it's the easiest cake you'll ever make from scratch.
How long it takes: less than 40 minutes!
Equipment you'll need: cake pan(s), whisk, mixing bowl, cooling rack
Servings: 12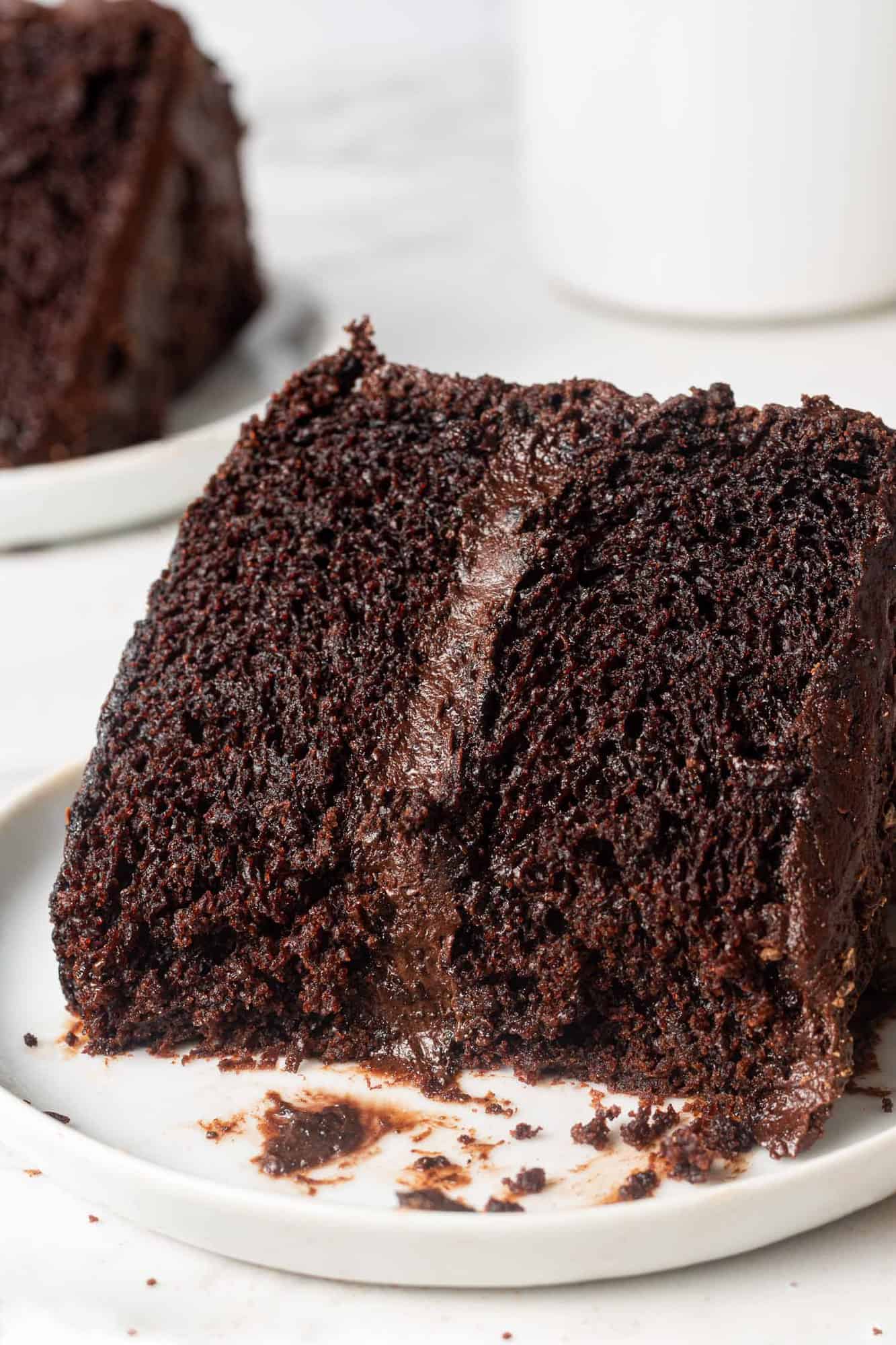 Made from scratch, with simple ingredients you likely have in your pantry, this easy chocolate cake is amazingly good with rich chocolate flavor. It boasts a perfect spongey texture and it's always super moist.
Whether frosted with chocolate buttercream frosting, cream cheese frosting, or simply topped with a generous spoonful of whipped cream or ice cream, chocolate cake is always a hit. In just ten minutes, this chocolate cake can be baking in your oven, filling your home with the delectable aroma of warm chocolate.
Shouldn't you make a cake today? I think you should!
About this easy chocolate cake
This really is an amazing homemade cake. Most cakes use lots of butter and eggs and you have to use an electric mixer to really cream together the butter, sugar, and eggs. Thorough beating is essential to a light, fluffy cake.
Except for this cake! I'm always a little amazed at how easy it is make this chocolate cake and how great it turns out every time! Some people call it a "wacky cake" or a "crazy cake." It is a little crazy!
No mixer, no eggs, no butter! GASP! It has white vinegar in it! Plain ol' white vinegar, in your cake! Weird, huh?
All you need is a big bowl, a whisk, and about 10 minutes. If your pantry is fairly well stocked, I bet you could make this cake right now! You won't even have to open your refrigerator.
Fun Fact
Because this cake is egg-free and dairy-free, it's a vegan cake. The recipe may have been created during World War II when eggs and butter were severely rationed (Wikipedia). Cooks got creative and produced this lovely fudge cake recipe. Wasn't that clever of them?
Some recipes don't even use a bowl. The cake is stirred together right in the baking pan! Even weirder and more magical.
As always, keep reading for the complete printable recipe.
I'll give you a quick run through so you can see just how seriously easy this chocolate cake is. I'm pretty serious about easy, aren't you?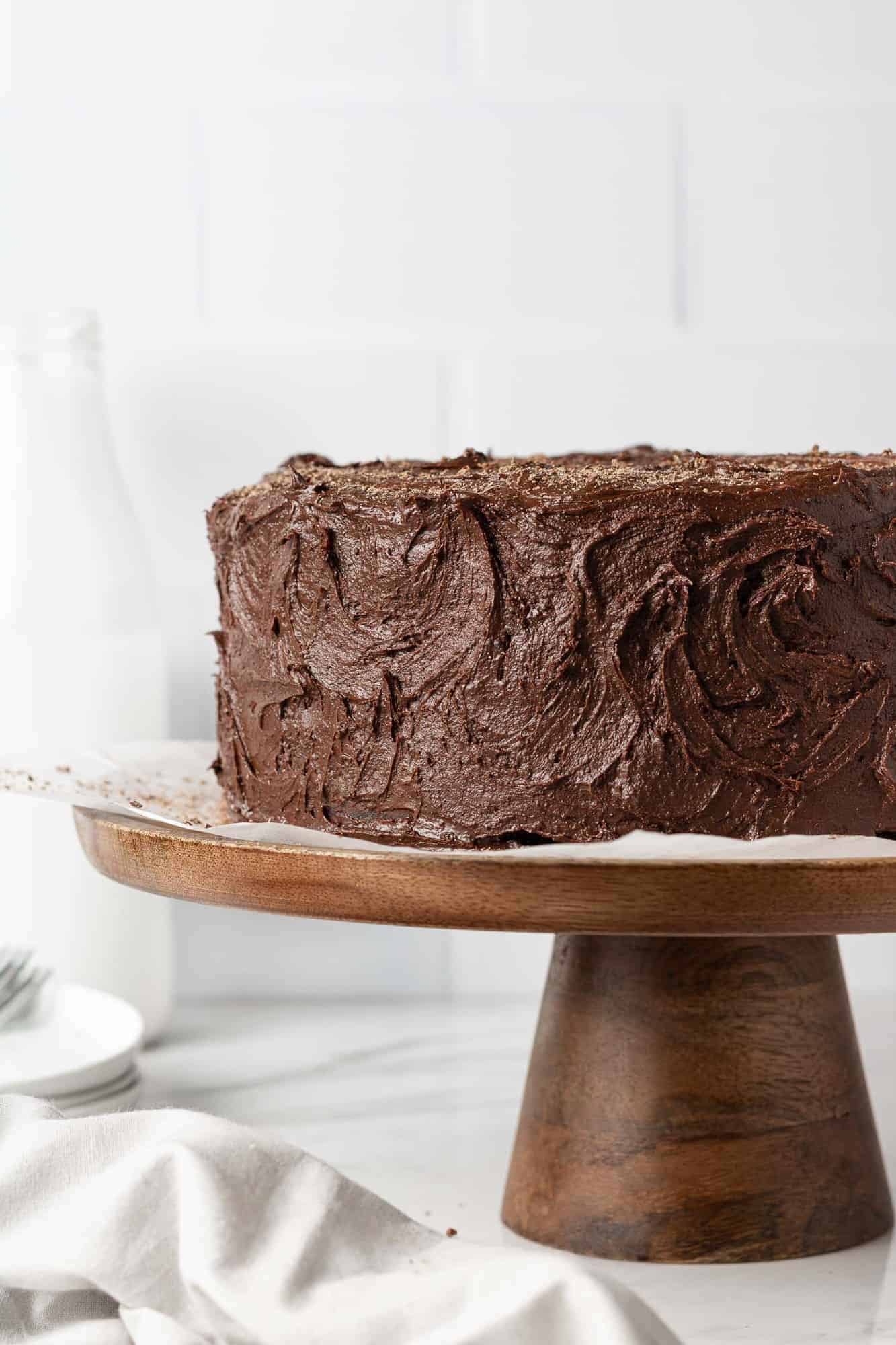 What you need
Flour: Use all-purpose flour for this cake. There's no need to buy special flour to make this cake. We usually buy unbleached flour because fewer chemicals are used in its production (Healthline).
Sugar: Regular granulated white sugar is all you need.
Cocoa Powder: Unsweetened cocoa powder is made from ground cocoa beans and has a surprising amount of nutrients and minerals.
Baking Soda and Distilled White Vinegar: When these two ingredients are combined, a chemical reaction takes place. This reaction is what causes all the tiny air pockets in your cake. In other words, it makes the cake rise. Use plain white vinegar, none of the fancy kinds needed here. In fact, you don't want to use a fancy kind because it will add a flavor to your cake that you're not looking for.
Vegetable Oil: This cake is made with oil instead of butter. We usually use canola oil but other kinds work fine, too.
Hot Water: The water helps make the cake moist. Why hot? It helps the cocoa dissolve.
Pure Vanilla Extract: Enhances the flavor of the chocolate. You can also add espresso powder to the cake, if you like a mocha flavor. Keep reading for more ideas.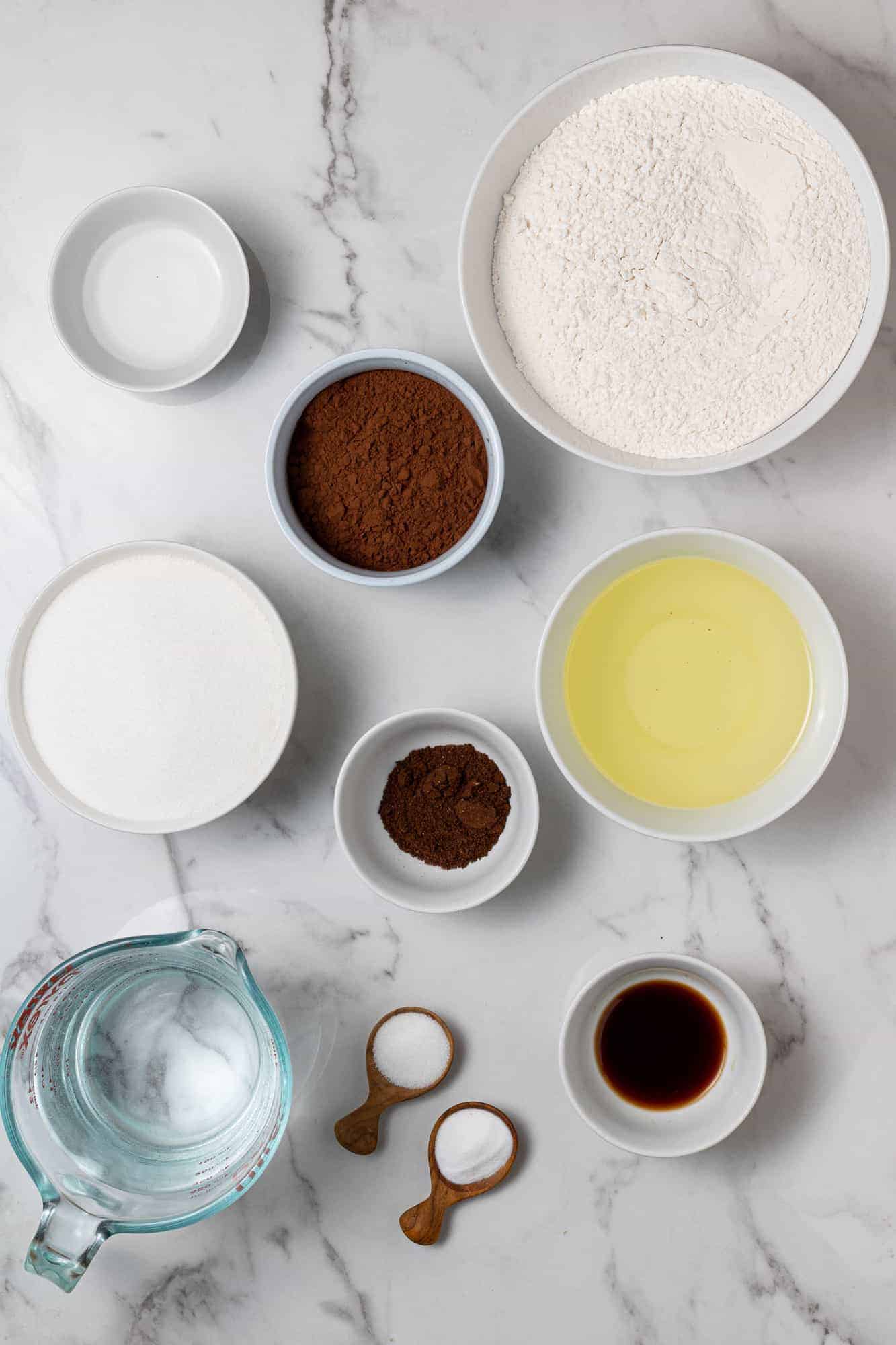 How to make it
Get your oven preheated. It's important to have your oven ready and waiting, nice and hot. Once the cake batter is mixed, you're going to want to get it in the oven ASAP. Time is of the essence here. I'll explain why in a minute.
Measure out your ingredients.
Tip: Always lightly spoon the flour into your measuring cup. If you scoop flour directly out of the bag or canister, the flour is compacted and you'll get more flour than you need. Your cake may turn out dry. It's okay to scoop granulated sugar though.
Spray your pans with nonstick cooking spray. There will be enough batter to make a 9×13-inch pan or two round layer cakes. If you plan on removing the layer cakes from the pan, it's helpful to cut a round of parchment paper to lay on the bottom of the pan.
Using a whisk, mix the dry ingredients (flour, cocoa powder, salt, baking soda, sugar, and espresso powder, if using) in a big mixing bowl.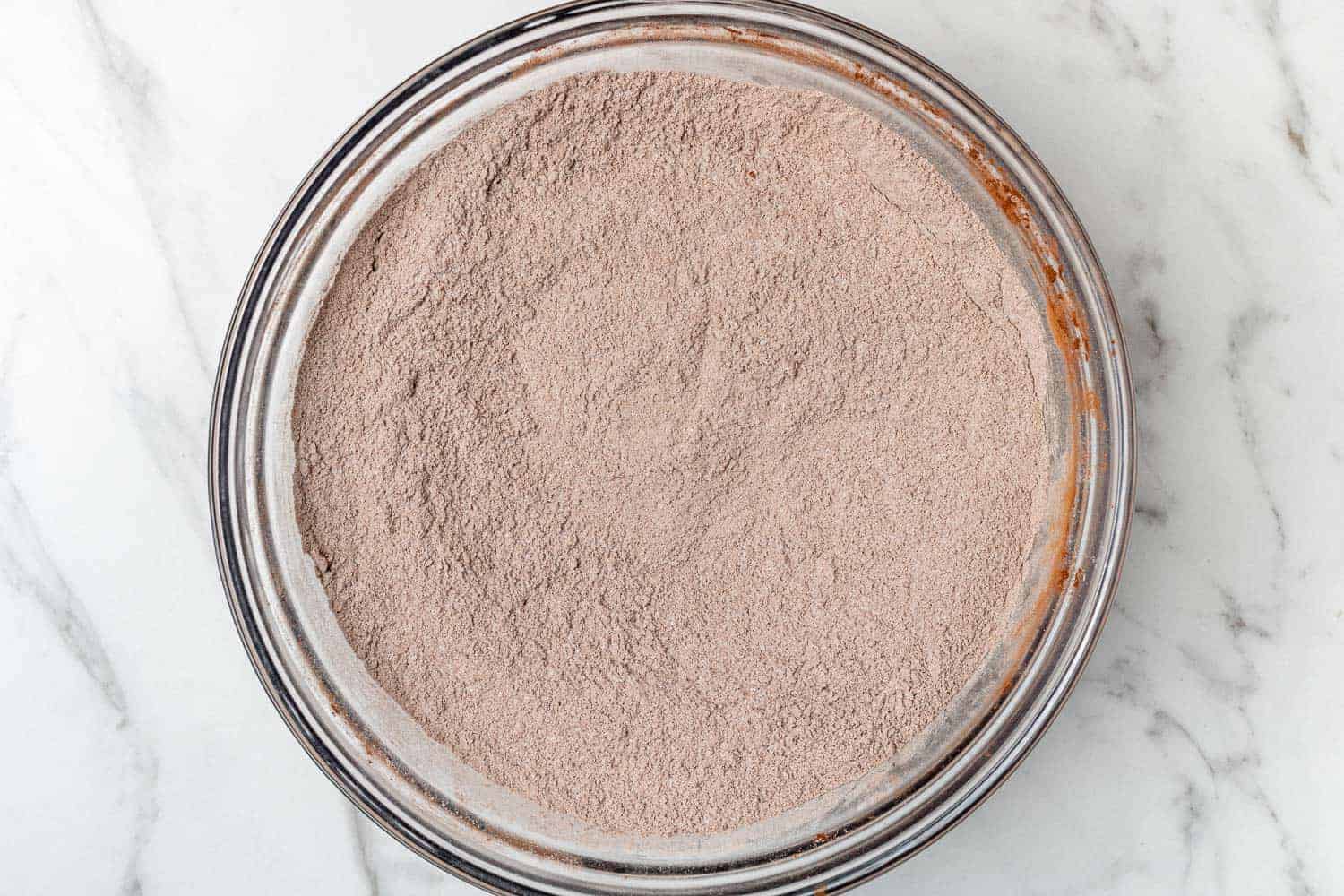 For the hot water, regular tap water is fine so start running the water so it heats up. (For some reason, it takes forever for the hot water to get to my faucet!) You can heat water up in a kettle otherwise.
In a different bowl, combine vinegar, oil, vanilla, and hot water. It doesn't really have to be thoroughly blended, just kind of mixed.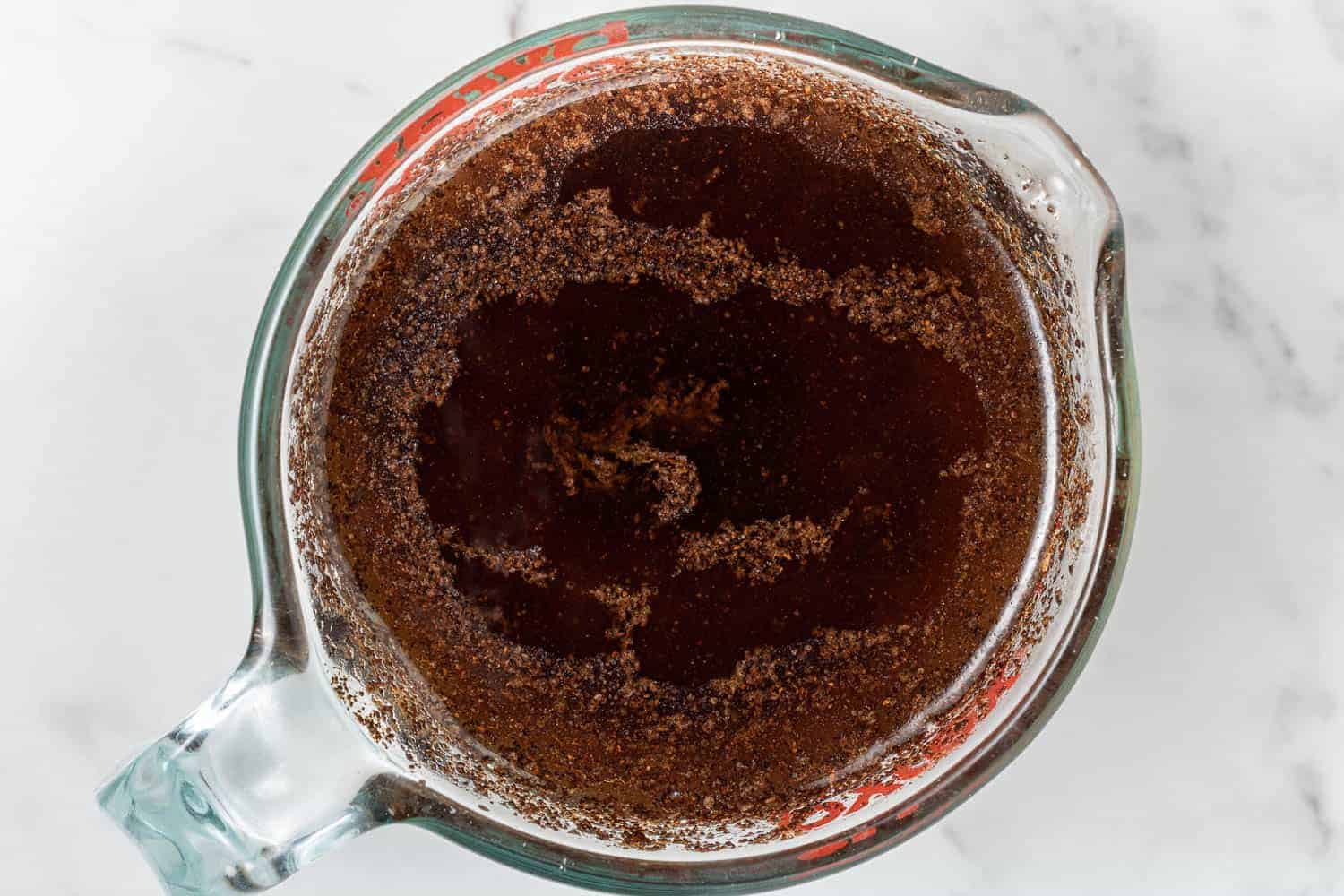 Is your oven preheated? Is your pan ready? Good, because here we go.
Dump the wet ingredients, all at once, into the dry ingredients. Stir lightly with the whisk, making sure all the dry ingredients are getting moistened.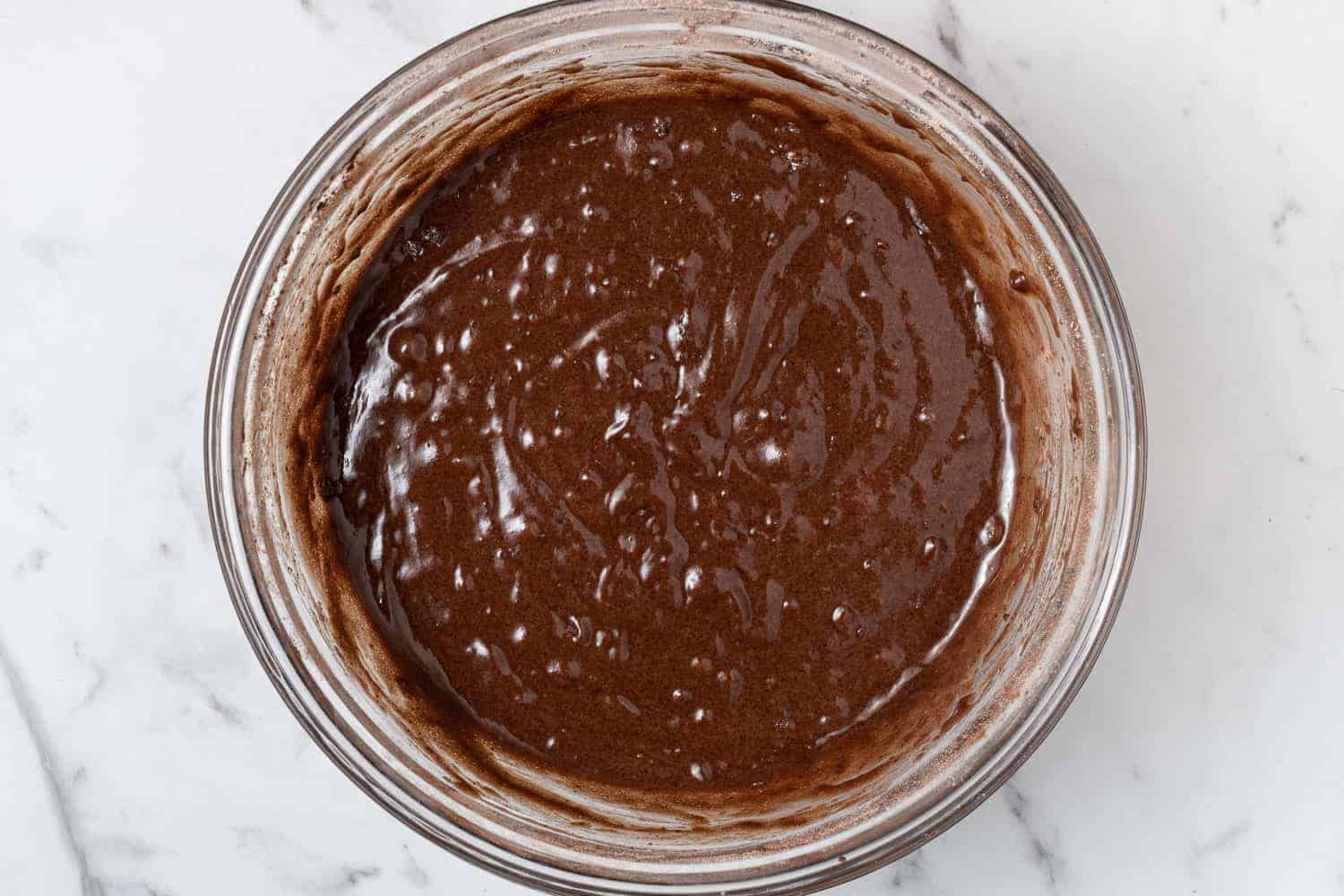 Do you see any action taking place in the bowl? Is the batter bubbling? It should be! Once the vinegar hits the baking soda, it's volcano time. Well, not really, nothing is going to spew out of the bowl, but the bubbles are what give the cake its sponge-like texture.
Immediately pour the batter into the prepared pans. Immediately put the cake into the oven. Set the timer.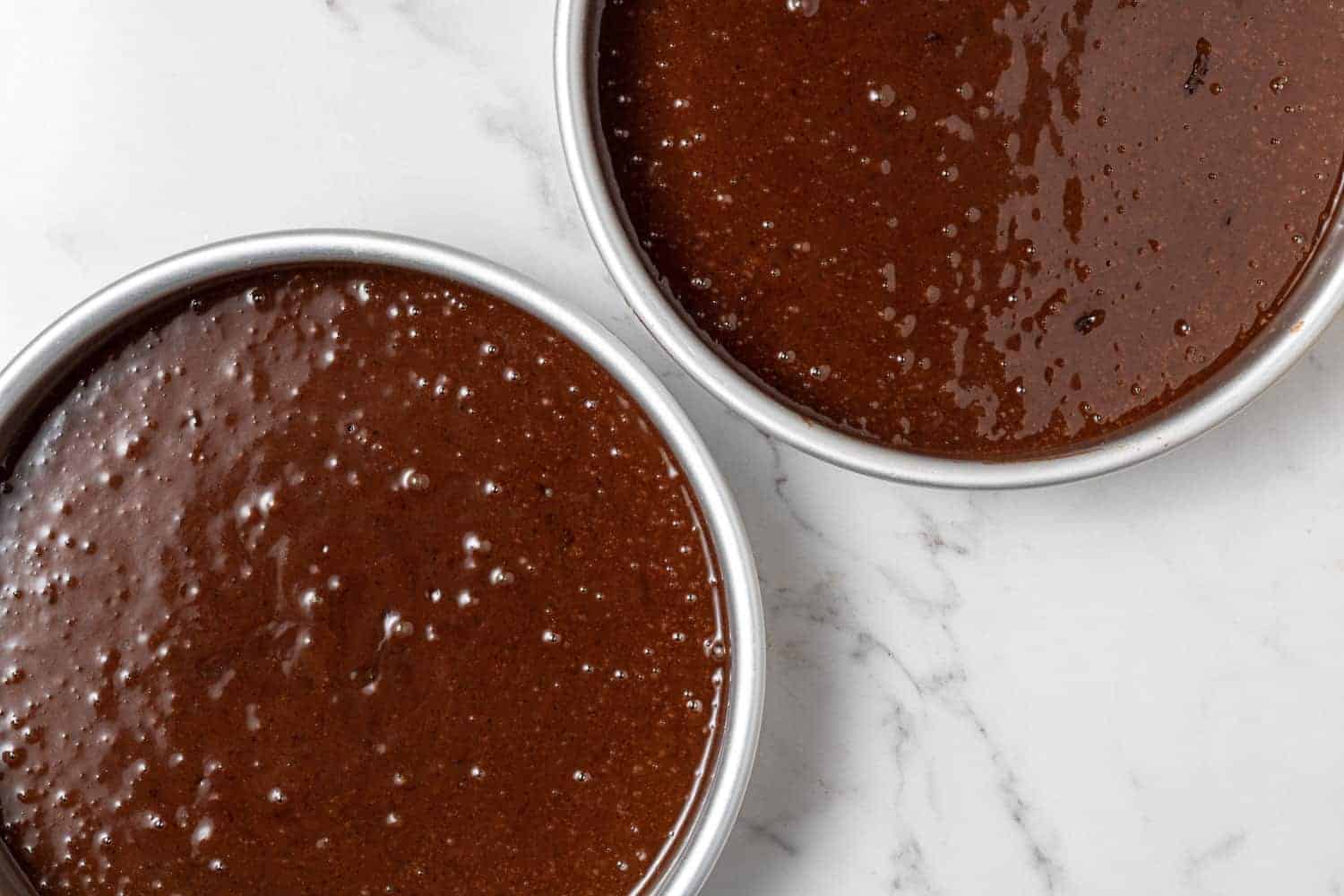 Wasn't that so easy? Hope you didn't get stressed out by the lightning quick speed of your cake making experience. Wait 'til you taste it! It truly is the best chocolate cake, ever!
FAQs
What makes a cake moist and fluffy?
In this recipe, the chemical reaction between baking soda and vinegar makes the cake fluffy. You'll notice the batter bubbling almost immediately after adding the vinegar. Those bubbles are what makes this cake fluffy.
Adding the correct amount of liquid makes a cake moist. In this recipe, the liquid is hot water.
What does adding coffee to chocolate cake do?
Adding coffee enhances the flavor of chocolate cake. Coffee plus chocolate equals mocha, a perfect sum. You can substitute hot coffee for the hot water, or add espresso powder to the flour mixture.
What flavors go with chocolate cake?
Ha! This question should be what flavors don't go with chocolate cake! Here's a few ideas: mint, raspberry, orange, cherry, maple, bourbon, rum, vanilla, coconut, caramel …
How to make this easy chocolate cake recipe your own
See the question above for inspiration. Frosting can add a whole new dimension to your cake. I love Irish Cream Latte Buttercream Frosting on homemade chocolate cake.
Replace the vanilla extract with mint extract or maple extract.
Add finely grated orange zest to the batter.
Instead of frosting, sprinkle the cake batter with chocolate chips and chopped nuts. Sprinkle a few tablespoons of sugar over the whole cake, and bake as directed. No need to frost it!
Serve the cake unfrosted with a scoop of vanilla ice cream or cookies and cream ice cream and a drizzle of Bourbon Caramel Sauce or Hot Fudge Sauce. Tell me that doesn't sound good!
Top the cake with whipped cream and raspberries, or homemade strawberry sauce.
Make Ahead Ideas
If you're looking to get a head start on this cake, mix the dry ingredients in a big mixing bowl, cover, and set it aside until you're ready to bake.
Storage Suggestions
If your kitchen is fairly cool, or if you have a different cool spot (like a garage or unheated room), the cake doesn't have to be refrigerated. Make sure you cover it tightly, out of reach of your pets, and it will keep for a few days. I've noticed that if the weather's really warm, the cake begins to deflate a bit and gets sticky.
If you frosted your cake with cream cheese frosting, it should be refrigerated.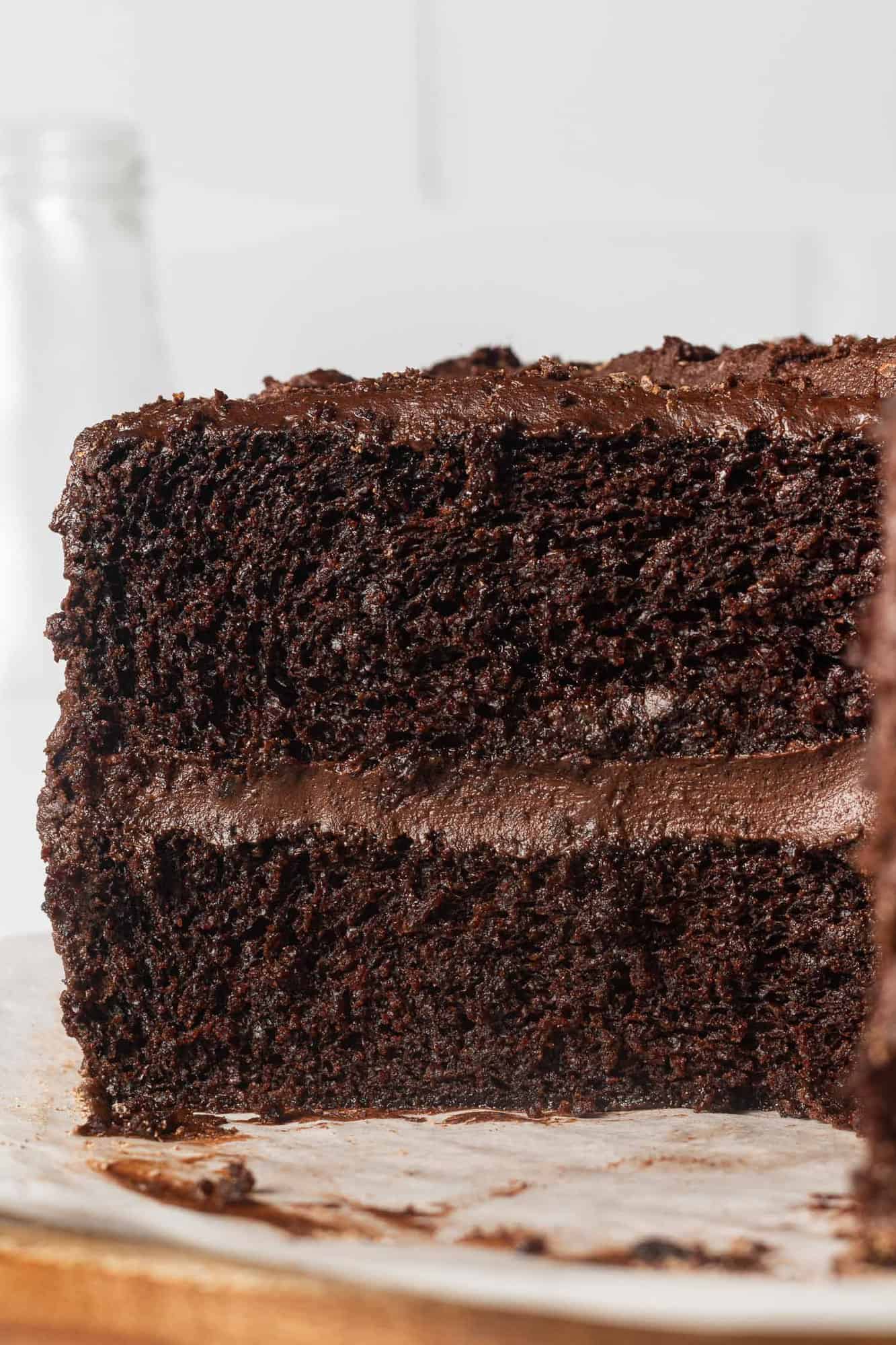 Leftover Love
Hmmmm, what to do with leftover cake? EAT IT! Who has leftover cake, anyways?!! Is that a trick question? But if you wanted to switch things up a little, you could crumble it in small parfait bowls and layer with pudding or whipped cream for a fun and easy trifle!
More easy dessert recipes
This chocolate cake isn't the only easy dessert recipe I have up my sleeve. Try:
Did you make this? Be sure to leave a review below and tag me @rachelcooksblog on Facebook, Instagram, or Pinterest!
This is truly the best chocolate cake recipe you'll ever make. Never dry, super easy to make, and so delicious!
Ingredients
3

cups

all-purpose flour

2

cups

sugar

½

cup

unsweetened cocoa powder

2

teaspoons

baking soda

1

teaspoon

salt

2

cups

hot water

¾

cup

vegetable oil

2

tablespoons

distilled white vinegar

1

tablespoon

pure vanilla extract

1

tablespoon

espresso powder, optional
Instructions
Preheat oven to 350°F (see note). For round pans, spray pans with nonstick cooking spray, then line bottoms with parchment paper. Spray 9 x 13-inch pan with nonstick cooking spray.

Whisk together flour, sugar, cocoa, baking soda, and salt in a large mixing bowl.

Combine water, oil, vinegar, vanilla, and espresso powder (if using) in a large measuring cup.

Add to the dry ingredients and whisk just until combined — a few lumps are okay.

Divide batter between prepared round pans, or pour batter into 9 x13 pan.

Bake until a toothpick inserted in the center comes out clean, 28 minutes for round pans, or 32-35 minutes for 9 x 13 pan.

Cool on wire rack. When completely cooled, frost.

For layer cake: Cool cakes on a wire rack for 15 minutes, then invert onto the rack, removing pans. Leave cakes upside down (this flattens domed cakes) to cool completely.
Notes
It's really important to get the cake into a preheated oven as quickly as possible once the dry ingredients are mixed with the wet ingredients. You'll see the batter begin to bubble immediately as the vinegar and baking soda react. This is what leavens the cake.
Nutrition Information
Serving:
1
piece
,
Calories:
381
kcal
,
Carbohydrates:
59
g
,
Protein:
4
g
,
Fat:
14
g
,
Saturated Fat:
1
g
,
Polyunsaturated Fat:
12
g
,
Sodium:
389
mg
,
Fiber:
2
g
,
Sugar:
33
g
This website provides approximate nutrition information for convenience and as a courtesy only. Nutrition data is gathered primarily from the USDA Food Composition Database, whenever available, or otherwise other online calculators.