Homemade Cookies and Cream Ice Cream
Cookies and Cream Ice Cream – easy to make at home and a favorite of many! This ice cream is PACKED with Oreo cookies. Use mini Oreos for quick and easy preparation.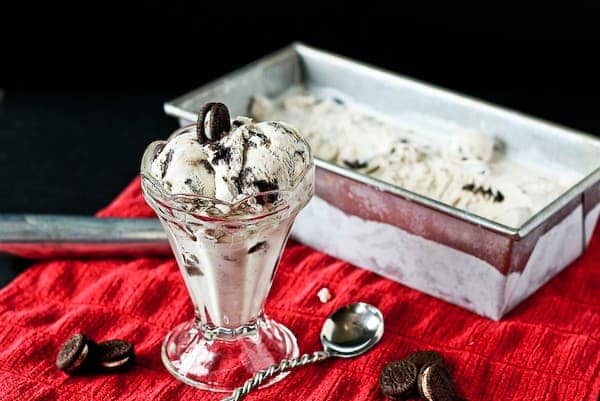 So, it's September. My daughter, E, goes to preschool for the first time today. HOLY COW. I'm writing this the night before and E is crazy excited to start school. Me? I'll get back to you tomorrow on that one. I have too many feelings to even describe…excited, happy, nervous, sad….etc. etc. etc.
I really think she's going to do great though. We've decided to send her to a private school because we want her to have a God-centered education, so we had the choice to put her in the 3-year-old or the 4-year-old preschool. She'll turn 4 in the middle of September. We went back and forth on this decision nearly a million times but we ultimately decided to put her with the 3-year-olds. Not so much because of right now but more so because of her future — middle school and high school especially. We would rather her be slightly ahead (and maybe even risk her being bored!) than have her always being the youngest and possibly struggling to keep up academically. We think she'll do great but if she's advanced in high school there are always AP classes or extracurricular activities.
What would you have done? Did you have a similar situation when you were young or with your kids? I'd love to hear your experiences.
One thing E loves is ice cream. What kid doesn't love ice cream? And I know it's September and I knowwww everyone is posting their pumpkin and apple recipes but I got a little behind with all the house craziness and besides, who doesn't love ice cream? ALL YEAR LONG.
Oh, and Oreos. Those are pretty dang good any time of the year as well, right? As in…I never ever keep them in the house unless I buy them for a blog recipe. Because I'll easily eat faaaaar too many of them.
I use the mini Oreos in this cookies and cream ice cream. You can just throw them in whole. You're guaranteed big bites of cookie goodness but you don't have to bother with the whole plastic bag/rolling pin situation. Way easier. And if they don't all fit into your ice cream maker, no worries. I'm sure you can think of something else to do with them.
Still craving more ice cream? Try:
Homemade Cookies and Cream Ice Cream
Yield: 10 servings
Prep Time: 5 minutes
Additional Time: 4 hours 25 minutes
Total Time: 4 hours 30 minutes
Cookies and Cream Ice Cream – easy to make at home and a favorite of many! This ice cream is PACKED with Oreo cookies.
Ingredients
1 cup whole milk
3/4 cup granulated sugar
2 cups heavy cream
1 teaspoon pure vanilla extract
2 cups mini Oreos
Instructions
In a large mixing bowl, combine milk and sugar. Whisk until sugar is dissolved — this should take 2-3 minutes. Add cream, vanilla extract, and whisk until combined.
Follow ice cream machine's directions and add mini Oreos in the last 5 minutes of churning (if you have the same model as I do, I churn for 25 minutes, add the Oreos and continue to churn for 5 more minutes).
Pour into a shallow container (I use a loaf pan). Freeze until solid, or 3-4 hours.
Nutrition Information:
Yield: 10
Serving Size: 1 of 10
Amount Per Serving:
Calories: 446
Total Fat: 27g
Saturated Fat: 14g
Trans Fat: 1g
Unsaturated Fat: 11g
Cholesterol: 56mg
Sodium: 200mg
Carbohydrates: 50g
Fiber: 1g
Sugar: 36g
Protein: 4g
RachelCooks.com sometimes provides nutritional information, but these figures should be considered estimates, as they are not calculated by a registered dietitian. Please consult a medical professional for any specific nutrition, diet, or allergy advice.
Verdict:
You really can't go wrong with classic cookies and cream ice cream and this version is kicked up a notch because of the amount of Oreos. What's not to love?
Husband's take:
Oh yeah, he's totally on board with this one.
Changes I would make:
NONE!
Difficulty:
Easy!