14 Delicious Frozen Desserts
Instead of standing in line at the ice cream shop, cool off with easy make-your-own frozen desserts right at home: milkshakes, yogurt popsicles, no-churn ice cream, and ice cream pies.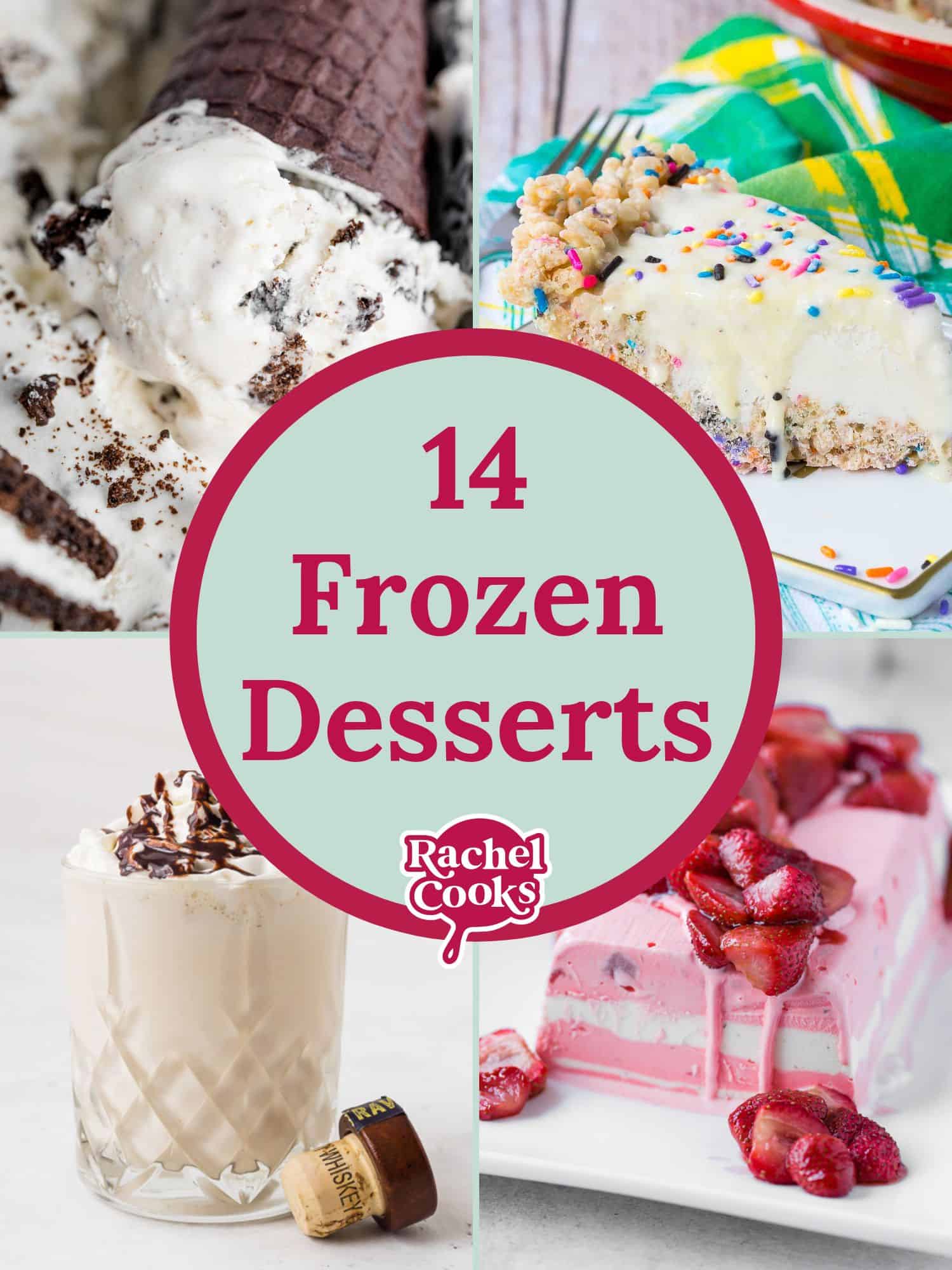 With over 14 recipes to choose from, you'll have a tough time deciding which of these fabulous frozen delights to try first!
You'll love these frozen treats and let me assure you, none of them are difficult to make. Most of the recipes have a short ingredient list, some as few as three! Why not make your own fabulous frozen treat for a fraction of the cost?
About these frozen desserts
Like popsicles? With the purchase of a set of reusable popsicle molds, you can make pudding pops, yogurt pops, and fruit based popsicles. So refreshing! And e-a-s-y! Keep a good supply in your freezer — they'll last for up to 3 months — for whenever the urge strikes you.
Or maybe you prefer milkshakes! If you have a blender, you can make a milkshake. Hand blenders work great, too!
Did you know you can make your own ice cream? You don't even need a fancy ice cream maker! Make your own signature flavor by stirring in bits of candy bar, chocolate chips, extracts, or even bacon bits!
If you're looking for an alternative to ice cream, try one of these less indulgent (but still delicious!) treats: strawberry sorbet or berry mint granita. These non-dairy frozen deserts are packed with fruit flavor, and are lower in calories, too.
The weather is swelteringly hot and you're just wilting from the heat, so open your freezer and treat yourself to a homemade frozen treat. Find a nice spot in the shade, queue up your favorite summertime music, and enjoy a little taste of heaven! You'll be so glad you did!
Ice Cream toppings
Try classic hot fudge sauce, or a variation: mocha hot fudge, peanut butter hot fudge, or cherry hot fudge. If you're not a chocolate lover, try bourbon caramel sauce, or maybe both for a fancy turtle sundae!
Crazy about dipped cones? Try orange creamsicle magic shell with only 4 easy ingredients (no creepy artificial ingredients). Perfect drizzled over vanilla ice cream.
Top your sundaes with a homemade crunchy oat topping. It's the perfect nut-free topping for sundaes and costs hardly anything to make, with only three ingredients! If you love nut toppings, try these spiced pecans or vanilla bean candied walnuts on ice cream.
Frozen Dessert Recipes
Maple Whiskey Milkshake
Take your day up a notch by making whiskey milkshakes! The flavors of whiskey, maple, vanilla, and espresso come together in a dreamy way.
Check out this recipe
Homemade Chocolate Ice Cream (No Churn)
Creamy and smooth no-churn chocolate ice cream is easy to make without an ice cream maker. Add chocolate chips for double the chocolate!
Check out this recipe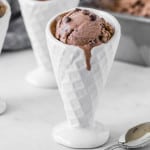 Sprinkle Ice Cream Pie Recipe with Rice Krispie Crust
This whimsical ice cream pie recipe is perfect for any summer party – kids will love the sprinkles and adults will love the vanilla beans and white chocolate ganache.
Check out this recipe
Grilled Pineapple with Ice Cream
This grilled pineapple recipe is the perfect summer treat! Grill pineapple slices, top them with cool and creamy caramel toffee crunch ice cream, and dig in.
Check out this recipe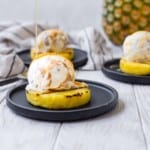 Nerds Milkshake
A new use for your favorite childhood candy, Nerds milkshakes are fruity, sweet, and so much fun.
Check out this recipe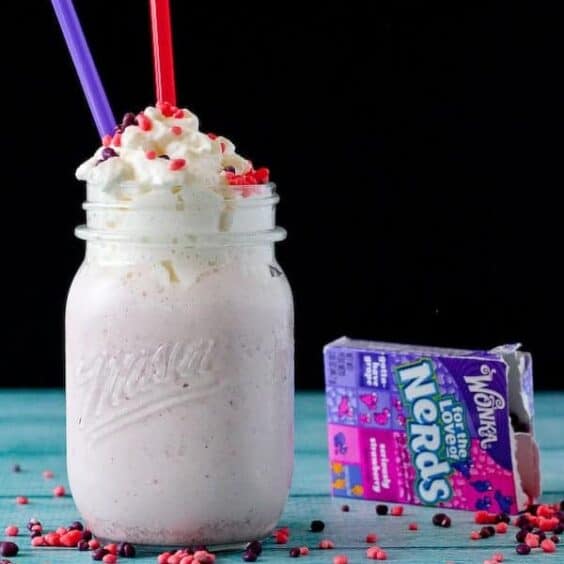 Irish Coffee Ice Cream Pie with Whiskey Ganache
A crunchy chocolate crust paired with creamy coffee ice cream and rich whiskey ganache makes this Irish Coffee Ice Cream Pie an irresistible treat. Perfect for St. Patrick's Day – or any day!
Check out this recipe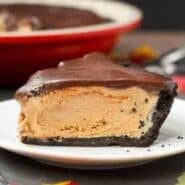 Oreo Ice Cream
Make your own no-churn Oreo ice cream right in your own kitchen. If you love cookies and cream ice cream, try this easy homemade recipe made with only 4 ingredients (no ice cream maker required!).
Check out this recipe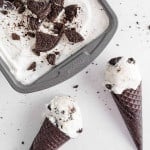 Berry Mint Granita with Rum
Berry mint granita with rum is refreshing and flavorful — perfect for those summer barbecues, but you'll want to make it all year round!
Check out this recipe
Homemade Vanilla Ice Cream (No Churn)
This no-churn vanilla ice cream is quick and easy to make, with only 3 ingredients! This is the best vanilla ice cream recipe that's rich, creamy, and flavored with real vanilla bean.
Check out this recipe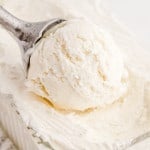 Ice Cream Terrine with Roasted Strawberries
An ice cream terrine is beautiful and ridiculously easy to make. Everyone will be so impressed! Top with roasted strawberries, fresh strawberries, or hot fudge!
Check out this recipe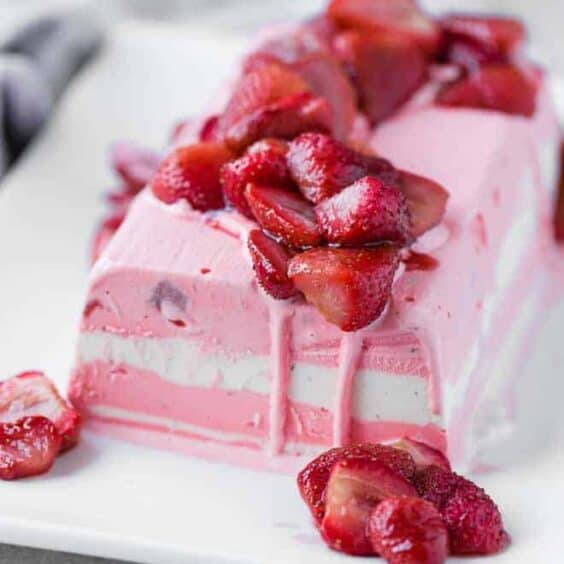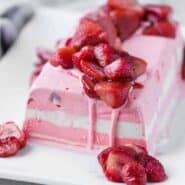 Mojito Milkshake
A mash-up of a vanilla milkshake and a mojito, this mojito milkshake is absolute summer perfection! You'll love the flavors of a mojito in a decadent summer treat.
Check out this recipe
Fudge Swirl Ice Cream
Make your own homemade fudge swirl ice cream with just 4 ingredients and no ice cream maker! This is an easy no-churn vanilla ice cream recipe swirled with decadent ribbons of chocolate fudge.
Check out this recipe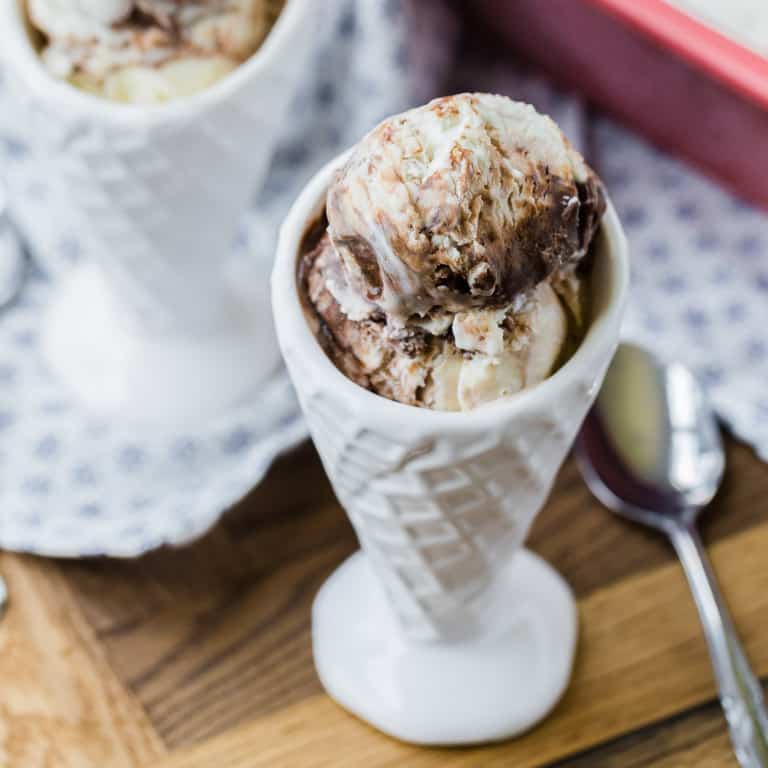 Coconut Hot Fudge Ice Cream Recipe
This homemade coconut hot fudge ice cream recipe will please everyone — the coconut lovers and the chocolate lovers.
Check out this recipe
Root Beer Float Popsicle
A root beer float popsicle has all the great flavor of a root beer float but in a portable form – perfect for summer snacking!
Check out this recipe