3 Ingredient Crunchy Oat Topping – Great on Sundaes!
This crunchy oat topping only takes 3 ingredients and 15 minutes to make! It's perfect on top of ice cream.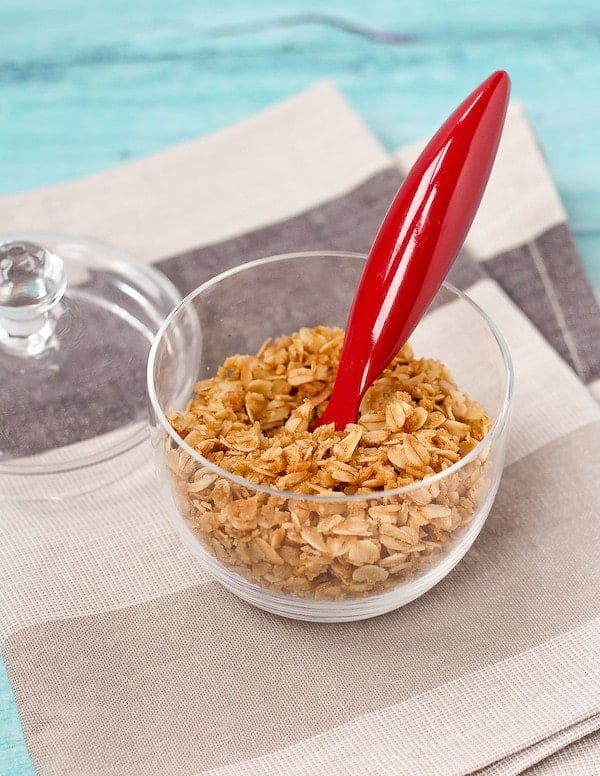 Crunchy oat topping – kind of random, right?
It will all be clear on Monday when I post the perrrrrfect thing to throw these crunchy oats on. (Update: It's live now! Check out this delicious yogurt tart!) But in them meantime, I highly, highly, highly suggest putting them on a big bowl of ice cream. Or a yogurt parfait if you want to eat them for breakfast. I was going to say "If you don't want to eat ice cream," but that sentence made me sad so I deleted it.
This crunchy oat topping sort of reminds me of granola except it's not nearly as good for you, ha! It's super simple to make – oats, butter and brown sugar. Bake this mixture for a bit, just like you would with granola – on a sheet pan, tossing about halfway through the cooking time. Let cool completely before storing in an airtight container.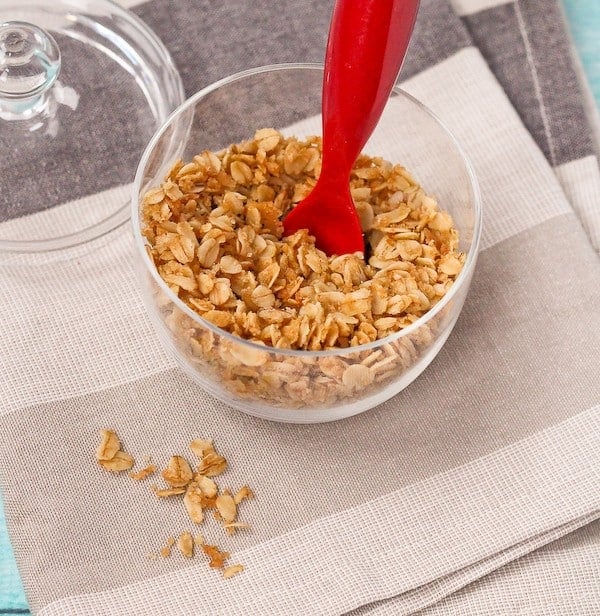 I was kind of joking earlier about the ice cream vs. yogurt thing but it is really fun and great for yogurt parfaits if you don't have the time or ingredients to make granola. This would be really fun if you were having a brunch or a morning birthday party and you wanted to have a yogurt parfait bar. This is not only easier to make than granola but it's also way cheaper — AND it's nut-free. Parents who have kiddos with allergies will thank you. I never knew birthday parties, potlucks, etc. could be so stressful. When you have a kid with an allergy, these events are stress-filled nightmares. I know that sounds completely dramatic but it's true.
Nut-free, 3 ingredients, and under 15 minutes to make it? Seems like a win-win-win to me. Plus…ice cream.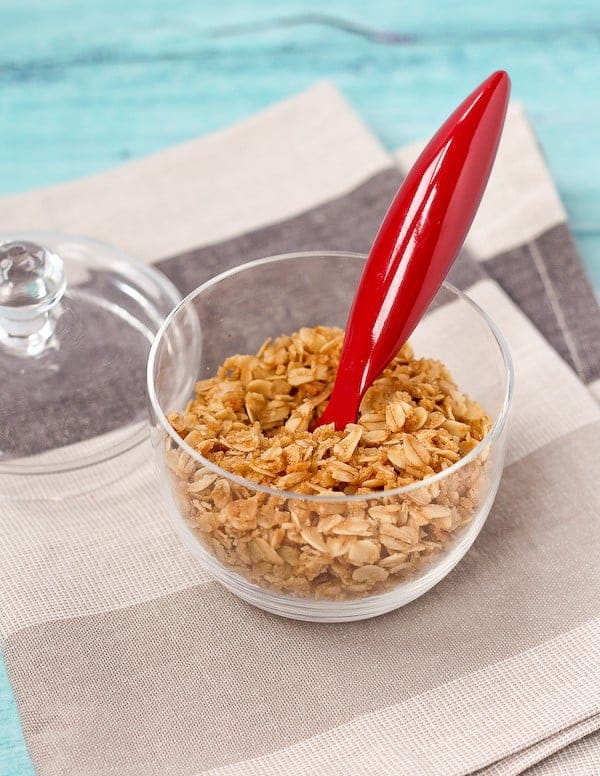 Crunchy Oat Topping
Yield: 1 cup
Prep Time: 5 minutes
Cook Time: 10 minutes
Total Time: 15 minutes
This crunchy oat topping only takes 3 ingredients and 15 minutes to make! It's perfect on top of ice cream.
Ingredients
1 cup quick or any uncooked oatmeal
1/4 cup brown sugar
3 tablespoons butter, melted
Instructions
Preheat oven to 350°F.
Mix all together until well combined. Place in baking pan loosely. Bake for about 10 minutes, stirring halfway through cooking time. Stir lightly and let cool completely.
Notes
Note: This makes a fairly small batch but can easily be multiplied for bigger batches. If you multiply, make sure you can still spread it in a fairly thin layer on your baking sheet.
Nutrition Information:
Yield: 8
Serving Size: 2 tablespoons
Amount Per Serving:
Calories: 134
Total Fat: 6g
Saturated Fat: 3g
Trans Fat: 0g
Cholesterol: 11mg
Sodium: 33mg
Carbohydrates: 19g
Fiber: 2g
Sugar: 7g
Protein: 3g
Verdict:
Loved how this turned out. I'll definitely be turning to this recipe many times in the future.
Husband's take: He loved these on the yogurt tart with oat crust and might have snuck a few bites of this crunchy oat topping all on its own.
Changes I would make: None are necessary but a touch of vanilla beans or cinnamon would be wonderful!
Difficulty: Easy.