Super Bowl Recipes – 21 of the Best Ideas for Game Day!
21 of the best Super Bowl Recipes for the perfect game day – or for just any ol' Sunday night. Every night deserves good food!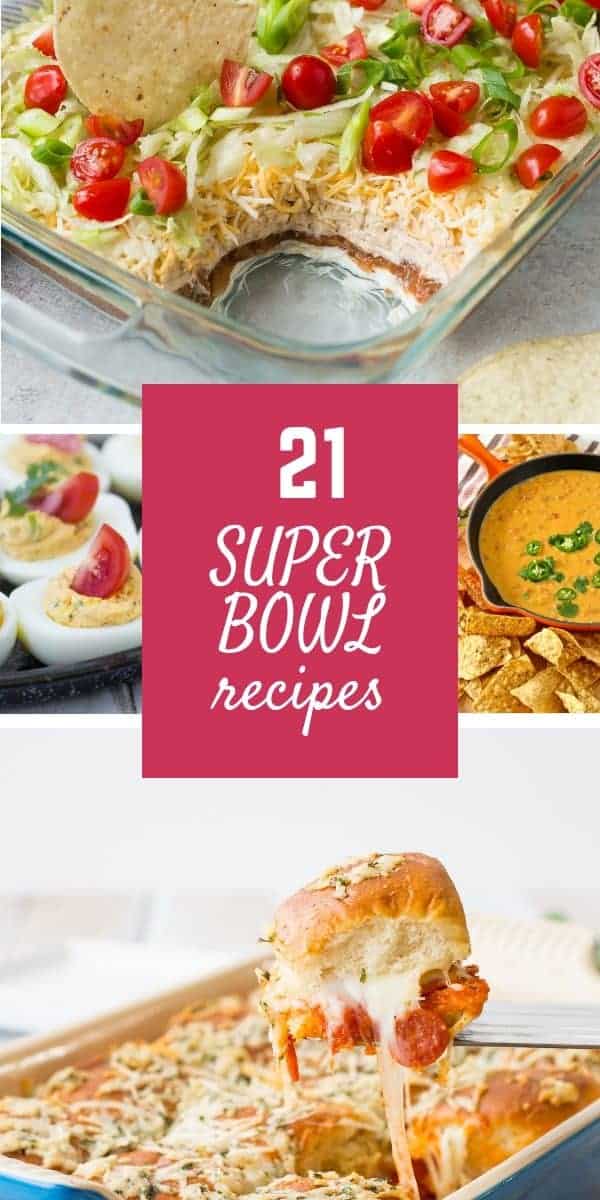 Someone recently asked if I was going to have people over for the Super Bowl. Answer: Nope, not this year.
I was then asked if I was going to watch the Super Bowl, and the truth of the matter is that I probably won't. Maybe I'll watch the first hour of the football game, but a girl needs her sleep, you know? They replay all the best commercials on social media anyways, so I'm not missing anything.
Howevvvvvver, I did make you guys a list of 21 of the best Super Bowl recipes. And whether you watch the big game or not, these Super Bowl appetizers are sure to make your Sunday night quite a bit more delicious.
I have a wide variety for you on this list. Many are of the indulgent variety, but there are a few lighter and healthy bites on the list as well. Something for everyone! We have dip recipes, finger food ideas, recipes with BACON, crockpot recipes, recipes with guacamole (of course), some recipes that are a little heartier and more filling, and some that you'll be able to munch on all evening long.
My favorites include the 7 layer dip (my videographer, who is mainly a vegan but made an exception for this recipe, said it was the best 7 layer dip that she has ever had). So clearly, you should be trying that one. I also loooove the bacon wrapped dates, which are a newer recipe and the homemade french onion dip is another favorite — and a lighter choice! I mean…if you disregard the chips you're dipping in it, that is. Minor details, you know?
I'm excited to hear about your plans for the Super Bowl — are you hosting a party or laying low and going to bed early? If you make one of these recipes, make sure to tag it on social media with #RachelCooks so I can see it and reshare it!
Looking for the perfect game day appetizer? Here are all the ideas you'll need. There are healthy recipes, and more indulgent recipes. Something for everyone