Turkey Sloppy Joes
A traditional favorite, these easy turkey sloppy Joes are made with ground turkey, and include lots of veggies to make your sandwiches a bit healthier.
Do you ever substitute ground turkey for ground beef? Don't get me wrong, as I mentioned before, I have no beef with beef. Love a thick juicy steak! I just try to cut down on fat and calories whenever possible, and using ground turkey instead of beef is an easy way to accomplish that.
This recipe for turkey sloppy Joes definitely fits into the "go-to" category in my house. I make this recipe a lot. It's easy, and I almost always have all the ingredients in my pantry and fridge.
On weeks when I am slacking on my meal planning (this happens often), you'll find me picking up a package of ground turkey at the store. It usually ends up in spaghetti with meat sauce, these sloppy joes, or tacos. If you're looking for a really, really easy sloppy Joe, check out this recipe with only 5 ingredients.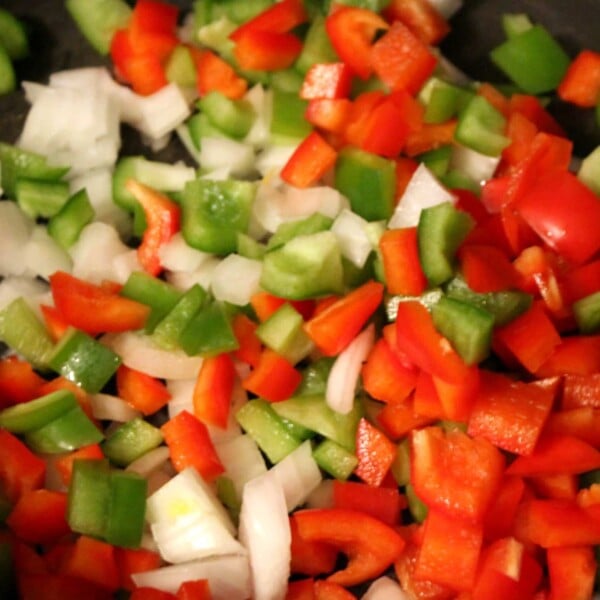 I like to make this mix heavy on the vegetables, but if that isn't your cup of tea, start with 1/4 cup of green peppers and 1/4 cup of onions. I put in over a cup of mixed bell peppers, and a heaping half cup of onions. Sometimes I add diced tomatoes as well.
The sauce is pretty basic, easy to make with ingredients that you have on hand. If you like a little spice, throw in some red pepper flakes or cayenne. I was tempted this time, but refrained for hubby's sake. But the sauce beats Manwich by a long shot! Much more flavorful, more economical, and lots better for you!
Turkey sloppy Joes are perfect for make ahead meals. Prepare a double or triple batch of this sloppy Joe mix and freeze it in serving size containers. It will keep for a few months. Or if you want, make a big batch in the morning and let it simmer in the slow cooker until you're ready to serve.
Great for get-togethers or tail-gate parties! Just have lots of sliced buns and maybe some toppings for make-your-own sandwiches. Serve with a salad or chips and dip. These air fryer French fries would be a super good side!
More great hot sandwich ideas
Turkey Sloppy Joes
Yield: 6 sandwiches
Prep Time: 10 minutes
Cook Time: 40 minutes
Total Time: 50 minutes
A traditional favorite, these easy turkey sloppy Joes are made with ground turkey, and include lots of veggies to make your sandwiches a bit healthier.
Ingredients
1 pound ground turkey
1/2 cup chopped yellow onion
1/2 cup chopped green pepper
1/2 cup chopped red pepper
1/2 teaspoon garlic powder
1 1/2 teaspoons yellow mustard
1 cup ketchup
3 teaspoons dark brown sugar (you can use light brown sugar if it is all you have)
salt and pepper to taste
Instructions
In a medium skillet over medium-high heat, brown the ground turkey, onion, and bell peppers. Season with salt and pepper. Drain off any liquids that accumulate.
Stir in the garlic powder, mustard, ketchup, brown sugar, and salt and pepper. Mix throughly. Reduce heat to low and simmer for 30 minutes. I have been known to not let it simmer that long. If you're hungry, go ahead and eat it sooner, it will still be good. This is the type of thing that only gets better the longer it hangs out in the pan.
Notes
Increase or decrease the amount of peppers and onions according to taste.
Substitute ground beef for the ground turkey, if preferred.
You can easily double or triple the recipe for large crowds, or to freeze for later.
Nutrition Information:
Yield: 6
Serving Size: 1 sandwich
Amount Per Serving:
Calories: 259
Total Fat: 13g
Saturated Fat: 3g
Trans Fat: 0g
Unsaturated Fat: 8g
Cholesterol: 80mg
Sodium: 492mg
Carbohydrates: 16g
Fiber: 1g
Sugar: 12g
Protein: 20g
RachelCooks.com sometimes provides nutritional information, but these figures should be considered estimates, as they are not calculated by a registered dietitian. Please consult a medical professional for any specific nutrition, diet, or allergy advice.
Verdict:
I love this sandwich. I make these often, as I mentioned earlier. The sloppier, the better! This meal often includes the use of a fork and knife. Or just plenty of napkins!
Husband's take:
He also loves sloppy Joe nights! He likes to serenade me with
this
.
Changes I would make:
None!
Difficulty:
Easy, really easy!