The Best Meatball Subs – with garlic bun!
A hearty sandwich with homemade meatballs bathed in marinara, nestled into a garlicky toasted bun, and topped with melted cheese, is perfect for dinner or game day.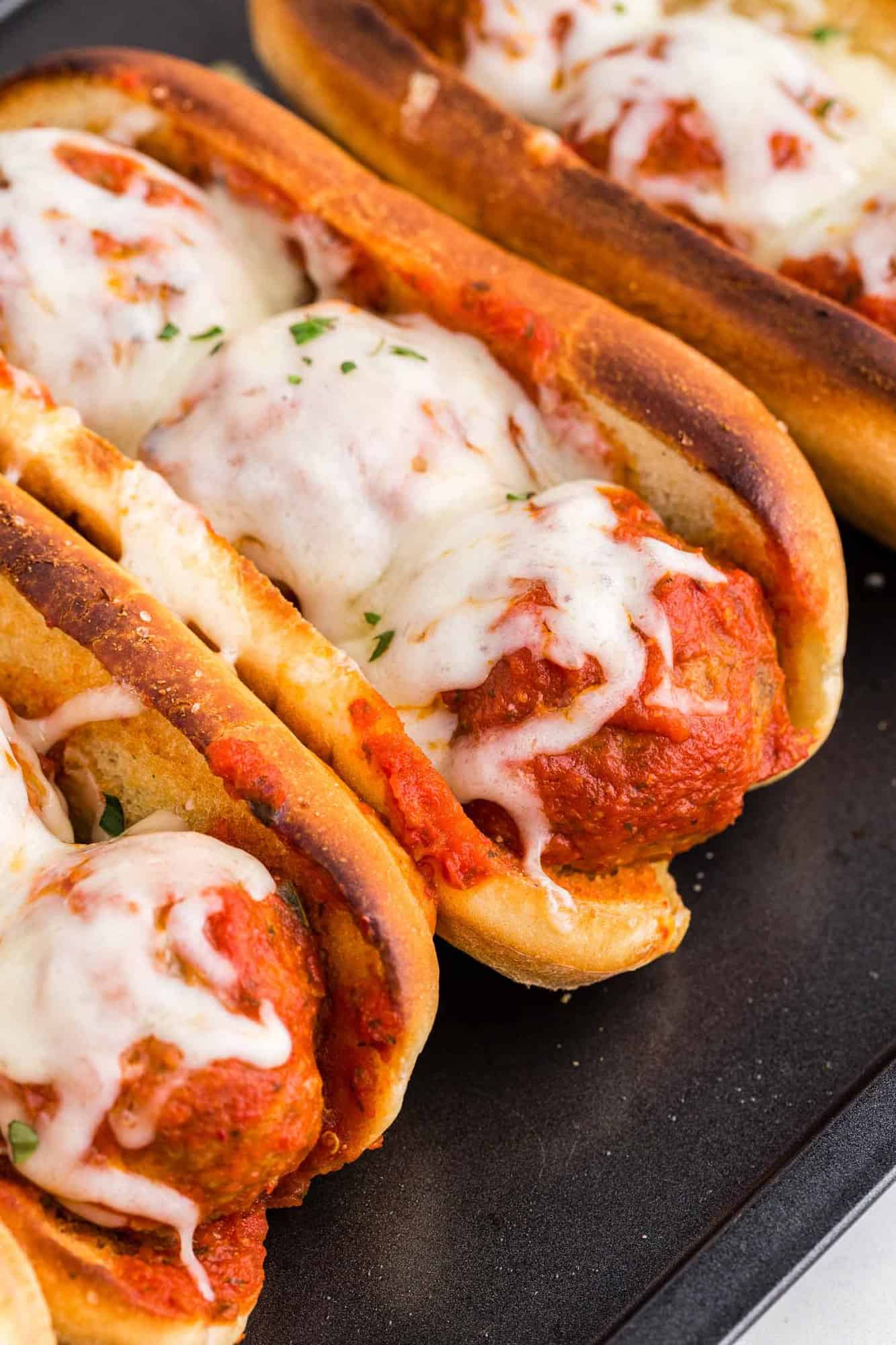 There's nothing quite like a meatball sub. It's kind of like pizza in a bun. A pizza with meatballs, that is.
I know you all love pizza! And you know I love pizza too. Just a quick search of my site will reveal that. Pizza pasta, pizza chicken, BBQ chicken pizza, pizza sliders, pepperoni pizza dip, pizza mac and cheese muffins (combining two of my favorites!), and grilled pizza, and that's just a sampling.
So, meatball subs it is! Make them for dinner tonight. They're a big hit on game day, too. A meatball sub satisfies even the most hungry appetite.
About these sandwiches
I like to use homemade baked turkey meatballs. Made with ground turkey, they are a little leaner than beef meatballs, have great flavor, and are easy to make. I almost always have some in the freezer which simplifies making this sandwich by a long shot. Any of your favorite meatballs will work for this recipe, homemade or store-bought are both great!
What you need
Sub buns: You need a hefty bun for a meatball sandwich. Submarine sandwich buns are perfect.
Meatballs: Your choice, turkey, beef, homemade, frozen, whatever.
Marinara: Buy a jar (spaghetti sauce works too), or use your homemade pizza sauce.
Cheese: Top your sandwich with lots of shredded cheese. Use a mixture of provolone and mozzarella for ultimate gooey goodness.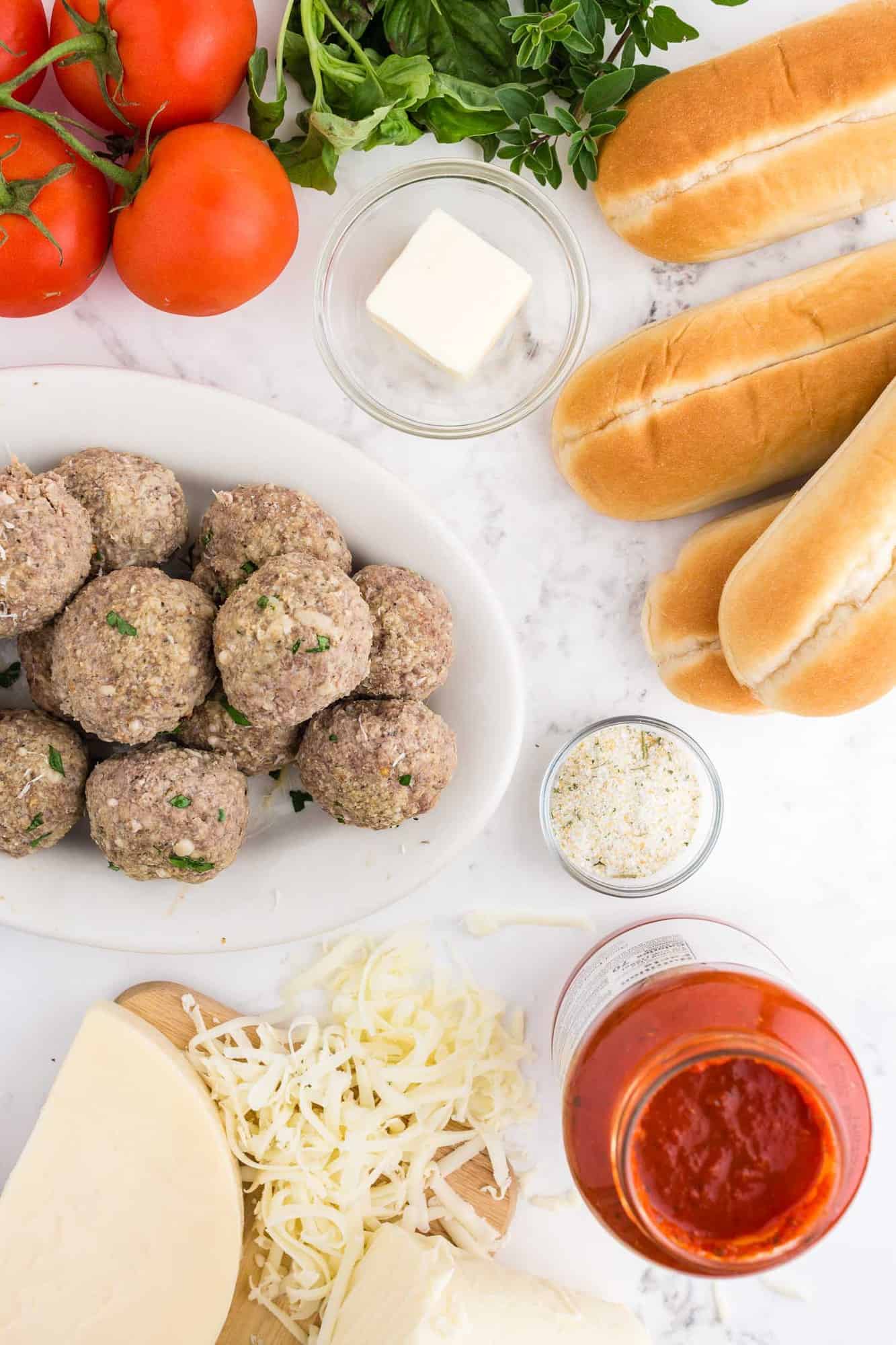 How to make meatball subs
Begin by warming the meatballs up in marinara sauce. Frozen meatballs will take a little longer to warm.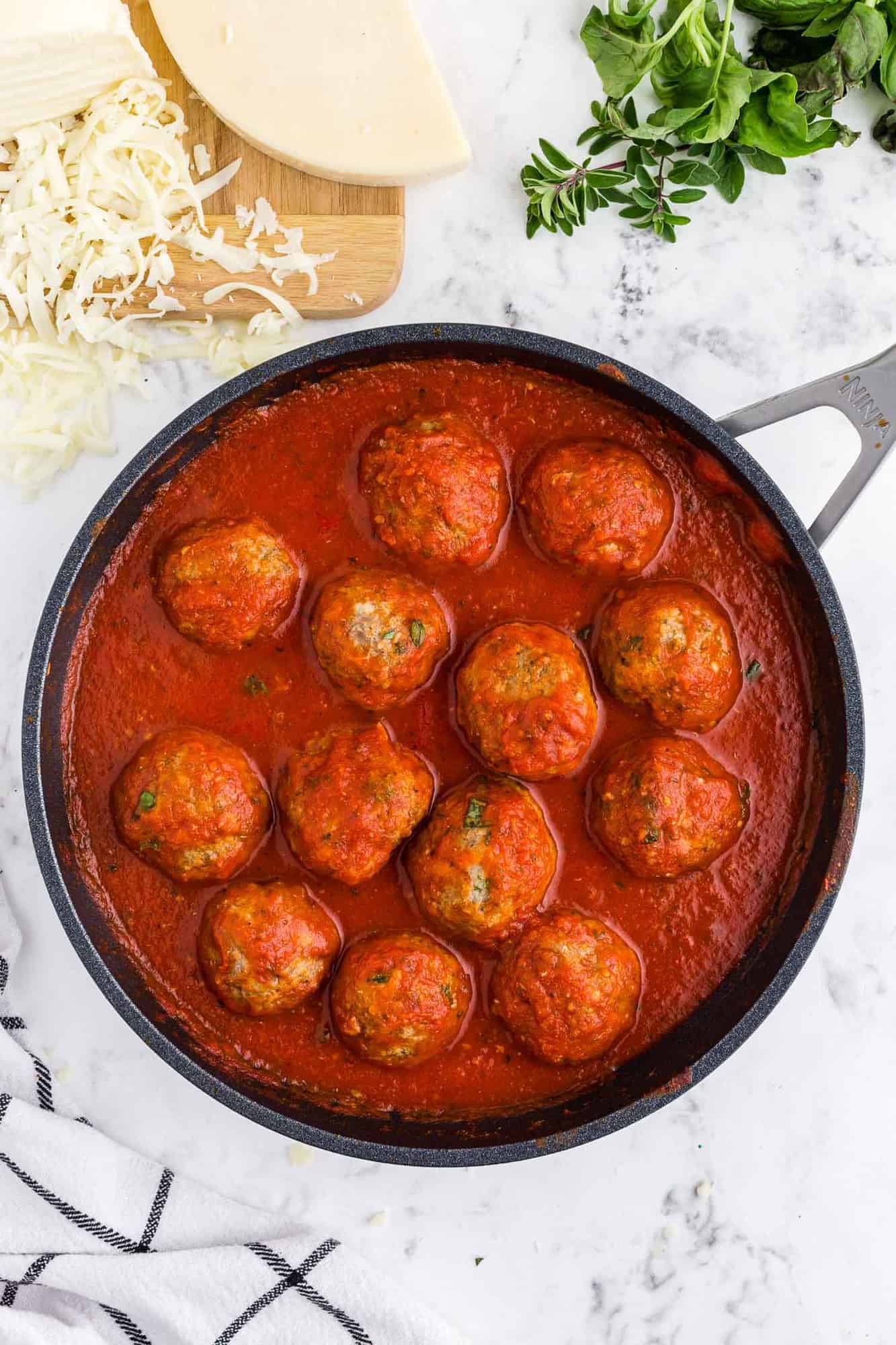 If you like, hollow out the bottom half of the bun just a bit so the meatballs fit right in there, snug as a bug. For utmost flavor, spread garlic butter on the buns and toast them under the broiler for a few minutes before filling. This easy step adds so much to your sandwiches.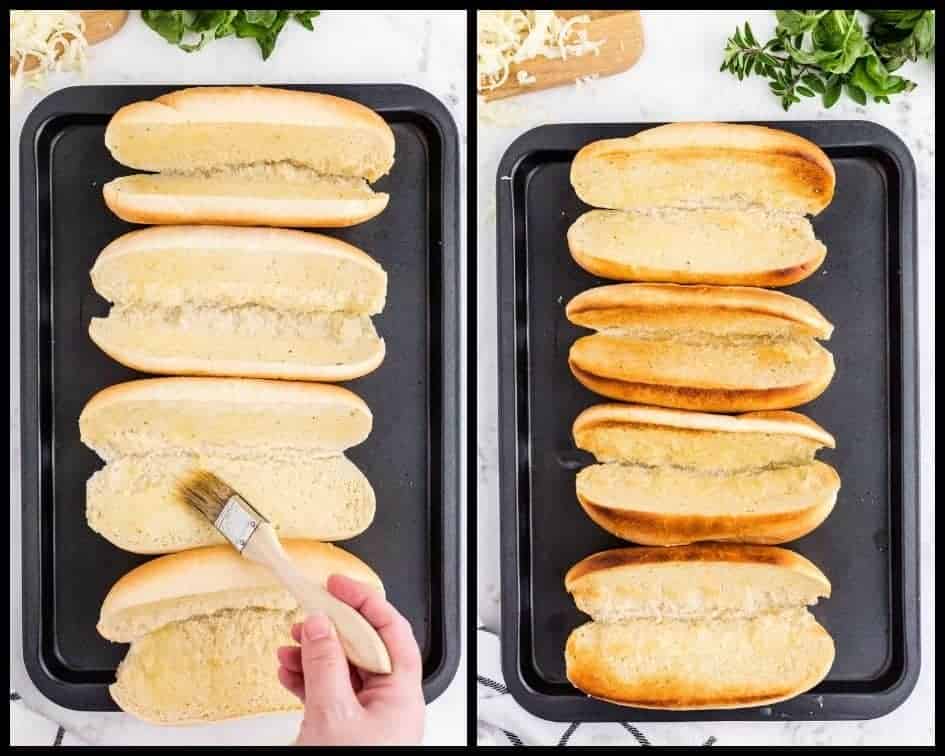 Place the meatballs with some sauce in the bun, cover with lots of shredded cheese.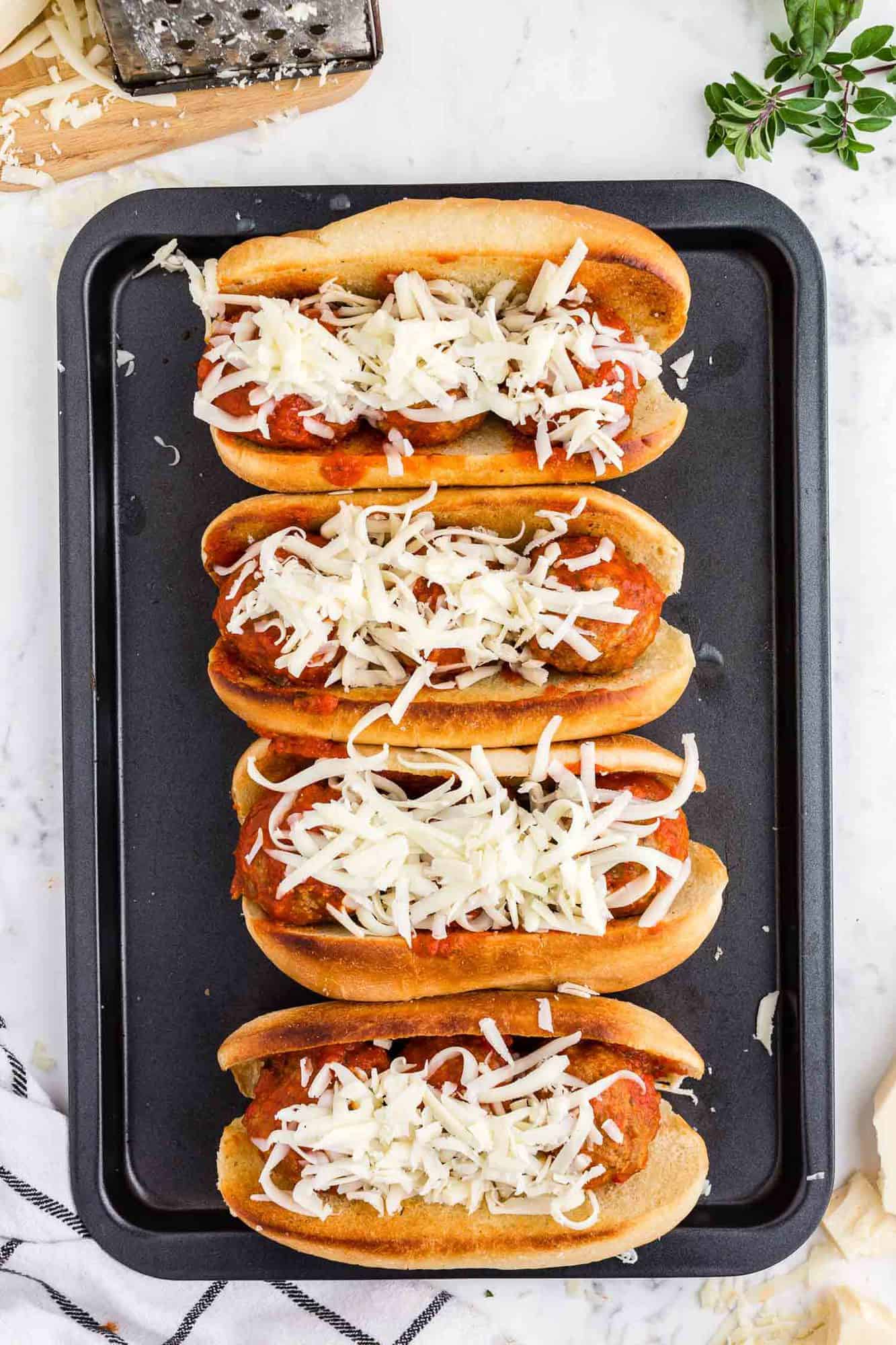 Broil a few minutes until the cheese is melted and bubbly.
Sprinkle with freshly chopped parsley if you'd like a garnish. Enjoy!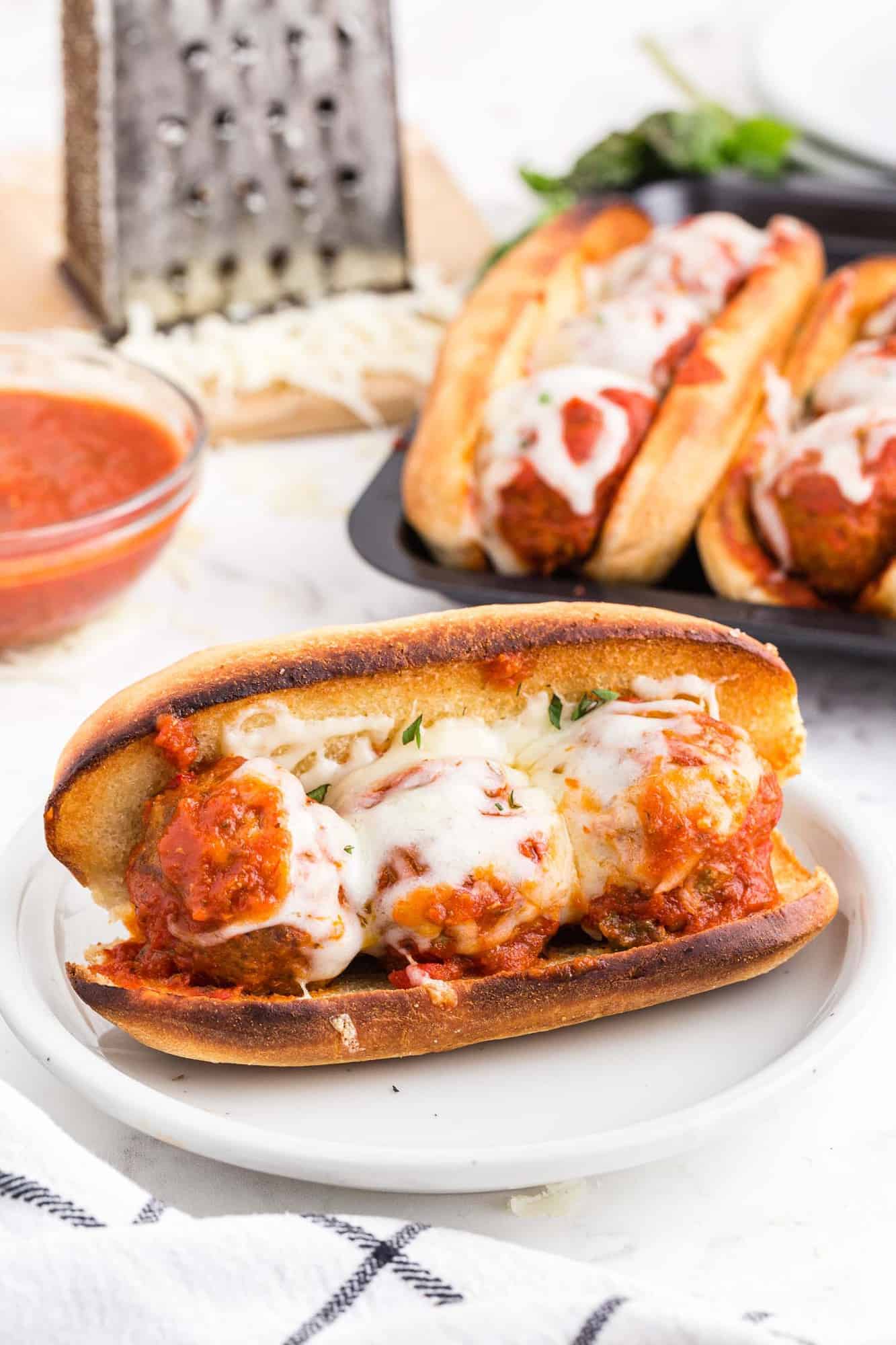 Make it your own
Sauté sliced bell peppers, onions, or mushrooms, and add them to the sandwich on top of the meatballs, then top with cheese.
Add a few slices of pepperoni to the sandwich for more pizza flavor.
Storage and reheating
Meatball subs really are best eaten immediately. If you do happen to have leftovers, wrap and refrigerate for up to one day.
To reheat, wrap in foil, and reheat in oven for 20 minutes at 350°F or until heated through.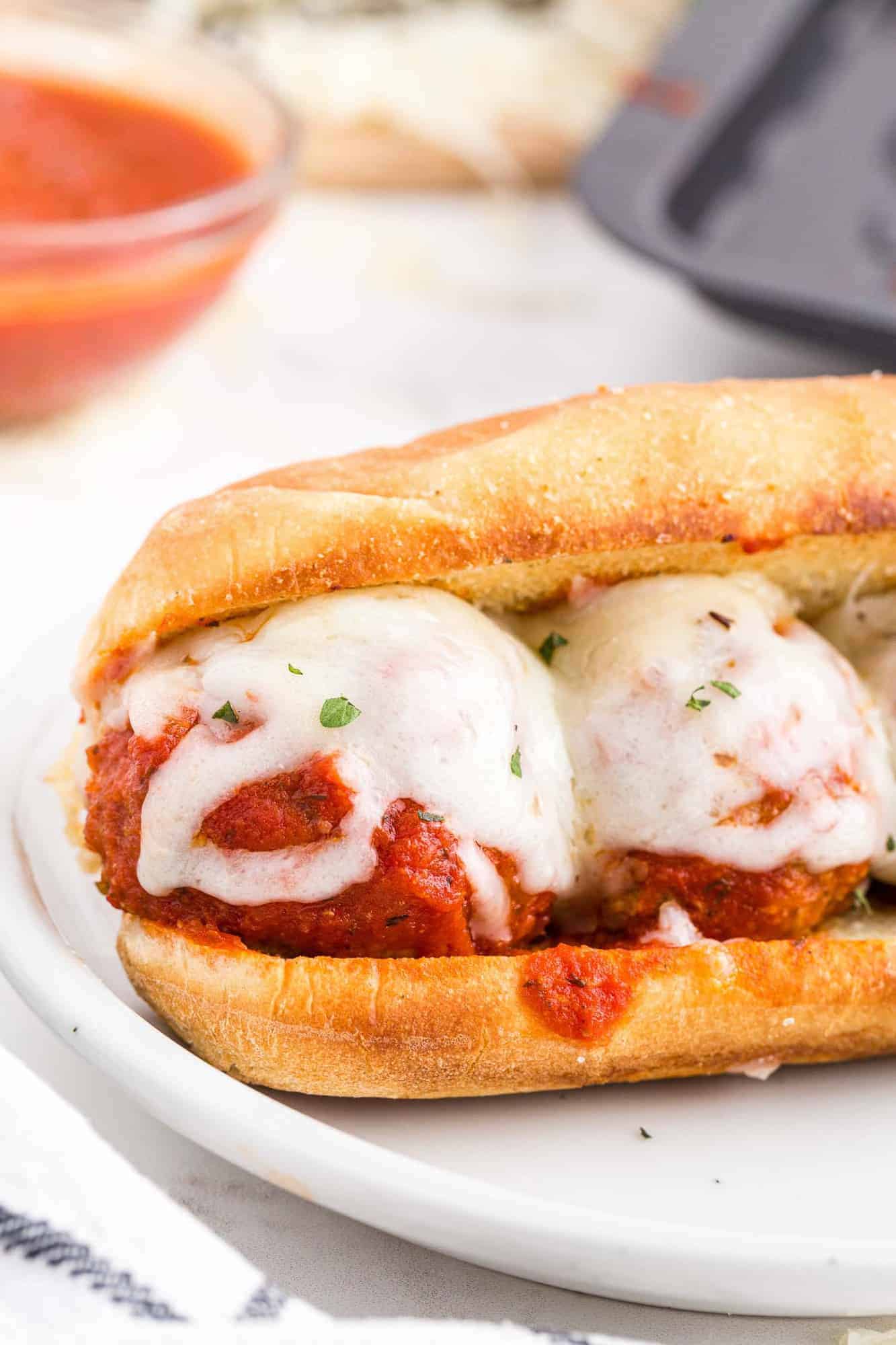 More great big sandwich ideas
Don't you just love a big sub sandwich, sloppy Joe, pulled pork sandwich, or burger with all the fixings? I sure do! Here's a few more recipes for you: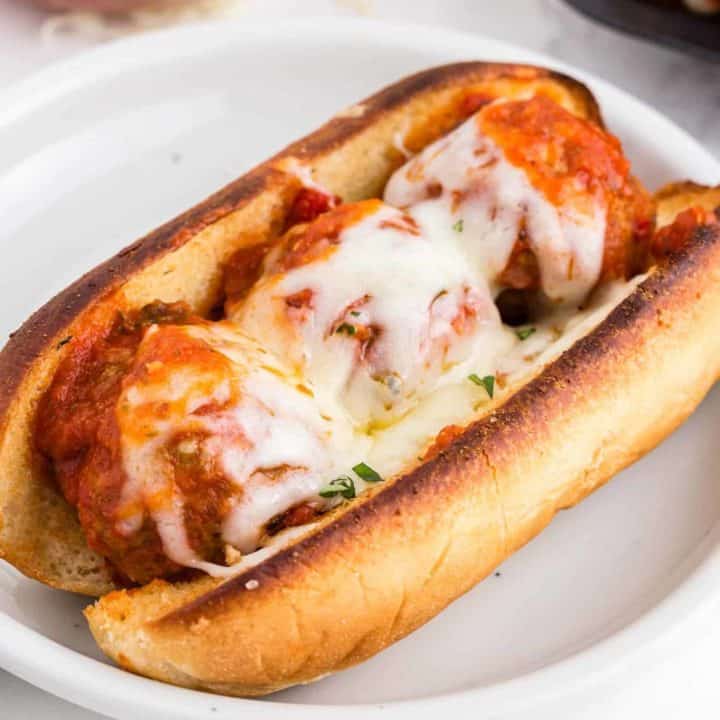 Meatball Subs
Yield: 4 sandwiches
Prep Time: 5 minutes
Cook Time: 15 minutes
Total Time: 20 minutes
A hearty sandwich with homemade meatballs bathed in marinara, nestled into a garlicky toasted bun, and topped with melted cheese, is perfect for dinner or game day.
Ingredients
12 pre-cooked or frozen large meatballs
4 Hoagie or French Roll sandwich buns
24 oz. jar marinara or pasta sauce, or 3 cups homemade sauce
¼ cup salted butter, melted
1 teaspoon garlic powder
1 cup freshly grated mozzarella
1 cup freshly grated provolone (see note)
Fresh Italian parsley for garnish
Instructions
Preheat oven broiler to high.
Place meatballs in a large saucepan and add a full jar (or 3 cups) of marinara sauce. Bring to a simmer over low heat until meatballs and sauce are heated through. (This will take a bit longer if using frozen meatballs, but they don't need to be defrosted first.)
Meanwhile, combine melted butter and garlic salt in a small bowl. Slice buns along the side and gently open, being careful that the bun stays intact. Place buns on a cookie sheet. Brush open face of the buns with the butter mixture. Coat well (you may not use all of the butter). Place in the oven and broil for 2-3 minutes or just until bread begins to brown. (Please note that the edges of the buns will brown further during the next steps. Remove buns from oven.
Fill each bun with three warmed meatballs, spooning a bit of the sauce over the top.
Top each sub with ¼-½ cup cheese. You can use all mozzarella or a combination of mozzarella and provolone. Place the cookie sheet back under the broiler for 2-3 additional minutes. Watch closely, and remove the subs from the oven as soon as the cheese is melted.
Serve meatball subs hot, sprinkled with a bit of freshly chopped parsley, and with extra sauce on the side.
Notes
Omit provolone and use all mozzarella if desired.
Nutrition Information:
Yield: 4
Serving Size: 1 sandwich
Amount Per Serving:
Calories: 782
Total Fat: 50g
Saturated Fat: 24g
Trans Fat: 1g
Unsaturated Fat: 5.5g
Cholesterol: 134mg
Sodium: 2266mg
Carbohydrates: 50g
Fiber: 7.3g
Sugar: 13g
Protein: 34g
RachelCooks.com sometimes provides nutritional information, but these figures should be considered estimates, as they are not calculated by a registered dietitian. Please consult a medical professional for any specific nutrition, diet, or allergy advice.