Chipotle Honey Glazed Meatballs
Spicy and sweet, chipotle honey glazed meatballs are a taste sensation, perfect as an appetizer or weeknight dinner. If you love hot honey, you'll love these meatballs!
Recipe Overview
Why you'll love it: The sweet hot glaze is so outstanding, it tastes like the trendy hot honey.
How long it takes: 40 minutes, start to finish
Equipment you'll need: oven-safe skillet, mixing bowl
Servings: 4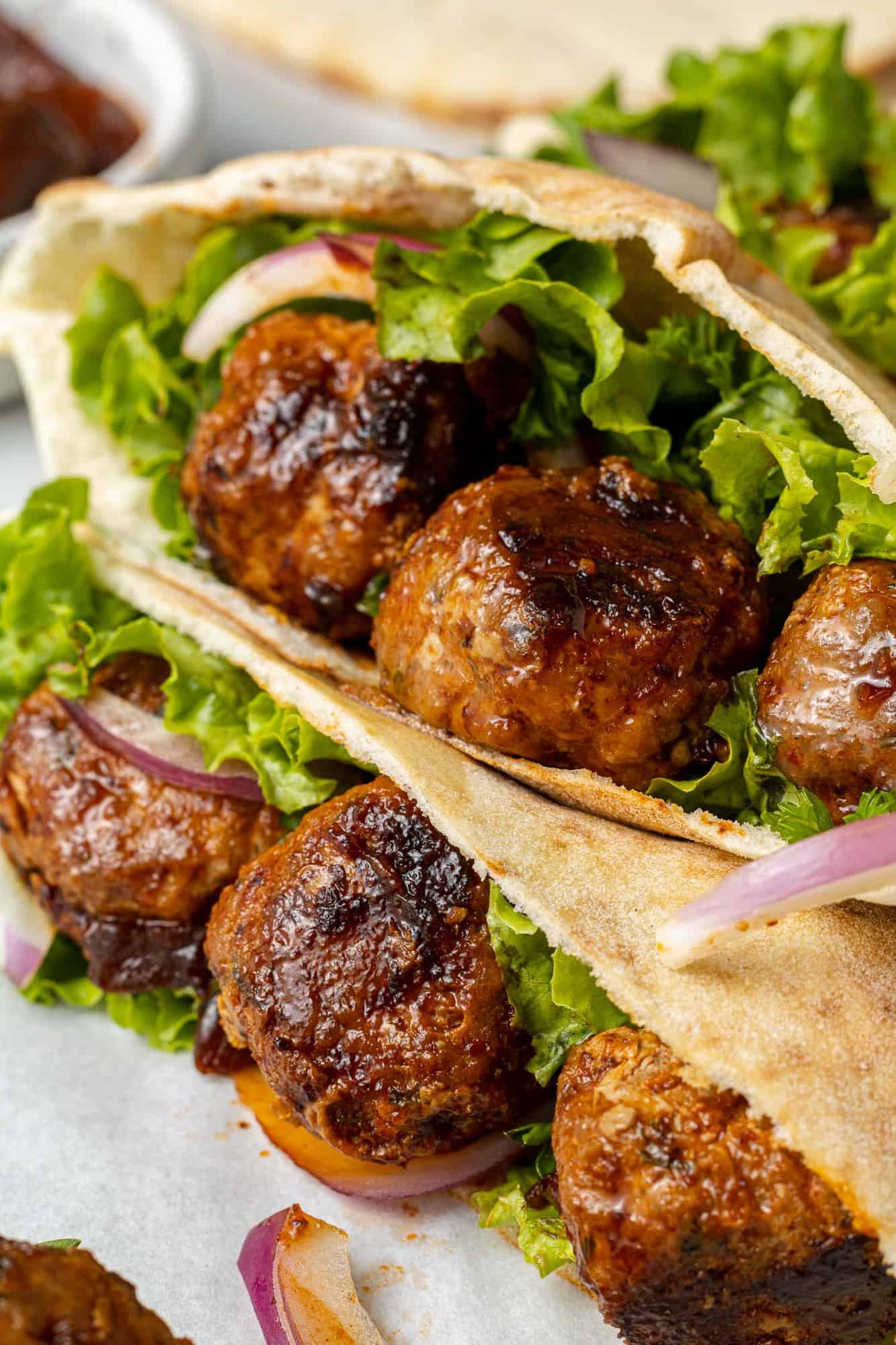 Chipotle Honey Meatballs
Wondering what to make for dinner tonight? Let me recommend these chipotle honey glazed meatballs. Tender turkey meatballs with a sticky hot honey glaze are delicious and healthy, only 233 calories per serving and 27 grams of lean protein .
They are gluten-free, dairy-free, and even keto-friendly (if you don't include the sauce). Unlike many meatball recipes, these meatballs don't contain eggs, bread crumbs, or milk. Grated onion and chipotle chiles add all the moisture needed to make tender and flavorful meatballs.
The meatballs are versatile. Serve them in a sandwich, on top of pasta or rice, or as an appetizer.
Sandwich: Serve them on pita bread with leaf lettuce and thinly sliced onions for an amazing sandwich and maybe throw in sliced avocado and fresh cilantro, too. You can forgo the bread and serve the meatballs on a lettuce wrap, similar to chicken lettuce wraps.
Main Course: Serve the meatballs with steamed rice and roasted broccoli. I love crispy air fryer French fries or better yet, sweet potato fries to accompany these glazed meatballs. A simple green side salad with healthy ranch dressing is always welcome, too, and the cool ranch dressing is a nice balance for the spicy meatballs.
Appetizer: Having a party? These tasty glazed meatballs make a memorable appetizer with a fancy little toothpick inserted into each one. You'll love that they aren't drowning in sauce, making them easy to pick up.
(Don't you think all appetizers should be compact and neat? I hate messy appetizers. It's hard not to spill when you're juggling a plate, glass, and napkin, and trying to eat while standing up. Maybe it's just me.)
More Meatballs… If you're looking for a different type of meatball, try my traditional Italian-seasoned homemade meatballs made with a blend of beef and pork. They are perfect in homemade (simmered for hours) spaghetti sauce.
A lot of folks really love these Greek meatballs, another gluten-free recipe. Creamy Swedish meatballs are always a hit. I even have a meatball recipe for vegetarians! I know, that doesn't really make sense, meatballs for people who don't eat meat. Try these eggplant meatballs and see what you think!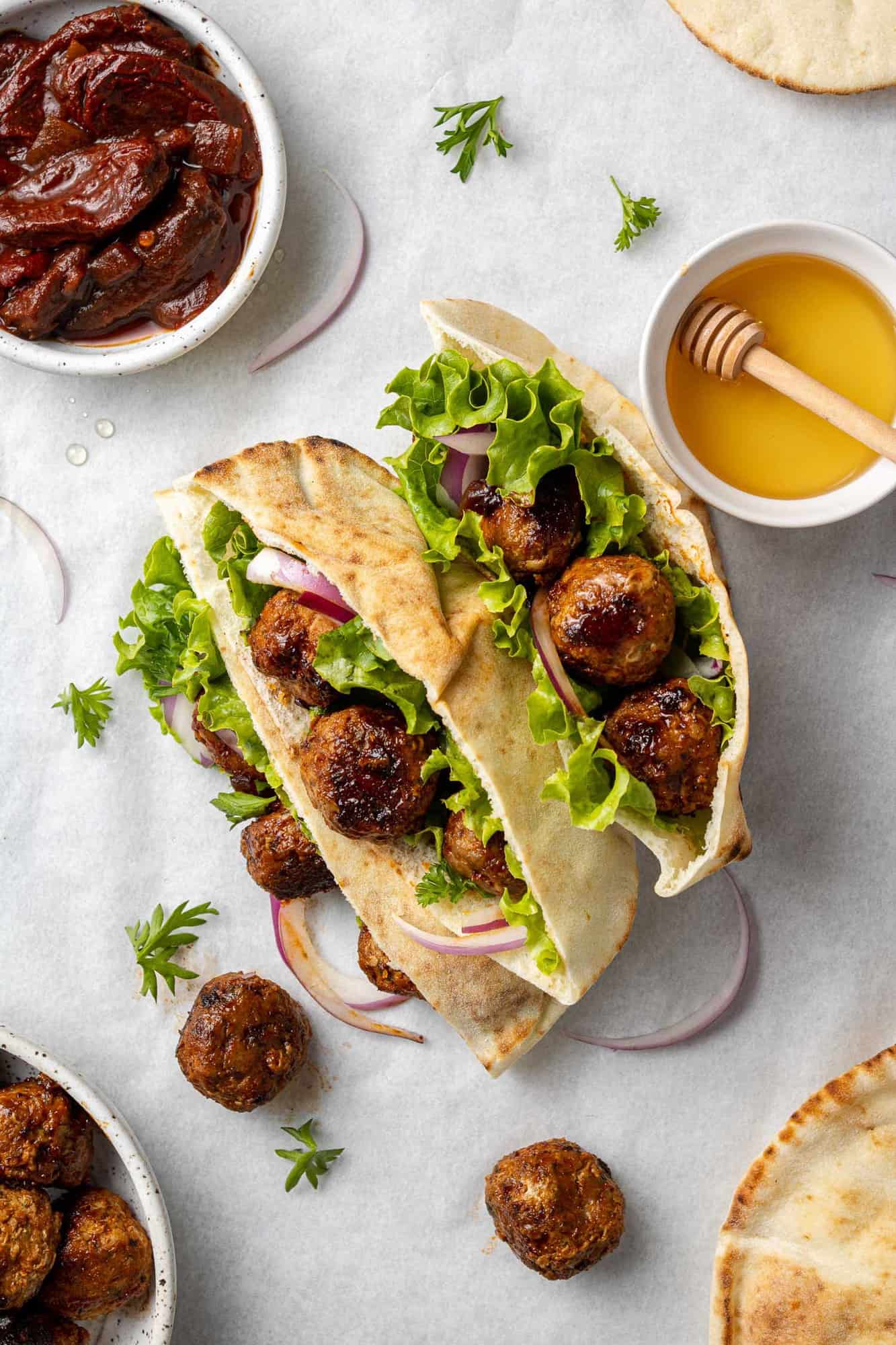 I'll get you started on the recipe here and give you lots of extra helpful tips.
Keep reading for the printable recipe card located near the end of this post. It has complete instructions and nutrition information, too.
What You'll Need
Ground Turkey: Lean ground turkey (93/7) makes these meatballs a healthy choice. Lean ground beef (85/15) or chicken are good substitutes.
Onion: A plain yellow cooking onion is fine for this recipe. If you have another type of onion, that will work.
Chipotle Chile: Chipotle chiles come in a small can with adobo sauce. You'll need one chile for the meatballs and some of the adobo for the sauce. Portion out the remaining chiles and sauce in small containers and freeze for later use.
Garlic: Just one clove of fresh garlic, very finely minced or pressed with a garlic press. Unless you really love garlic. Then add two, or three.
Fresh Parsley: Either flat-leaf (Italian) parsley or curly parsley is okay. Finely chopped, it adds nice little green flecks of color to the meatballs.
Salt and Pepper: Basic seasonings for the meatballs.
Olive Oil: A tablespoon of oil is used to brown the meatballs. Other types of oil are fine, too.
Honey: For the sweet sticky part of the sauce.
Adobo Sauce: Adds a bit of spicy heat. It's right in the can of chiles, so no need to buy an extra ingredient!
Ketchup: Tangy tomato ketchup is the backbone of the sauce.
Apple Cider Vinegar: Adds tart tangy woo-hoo!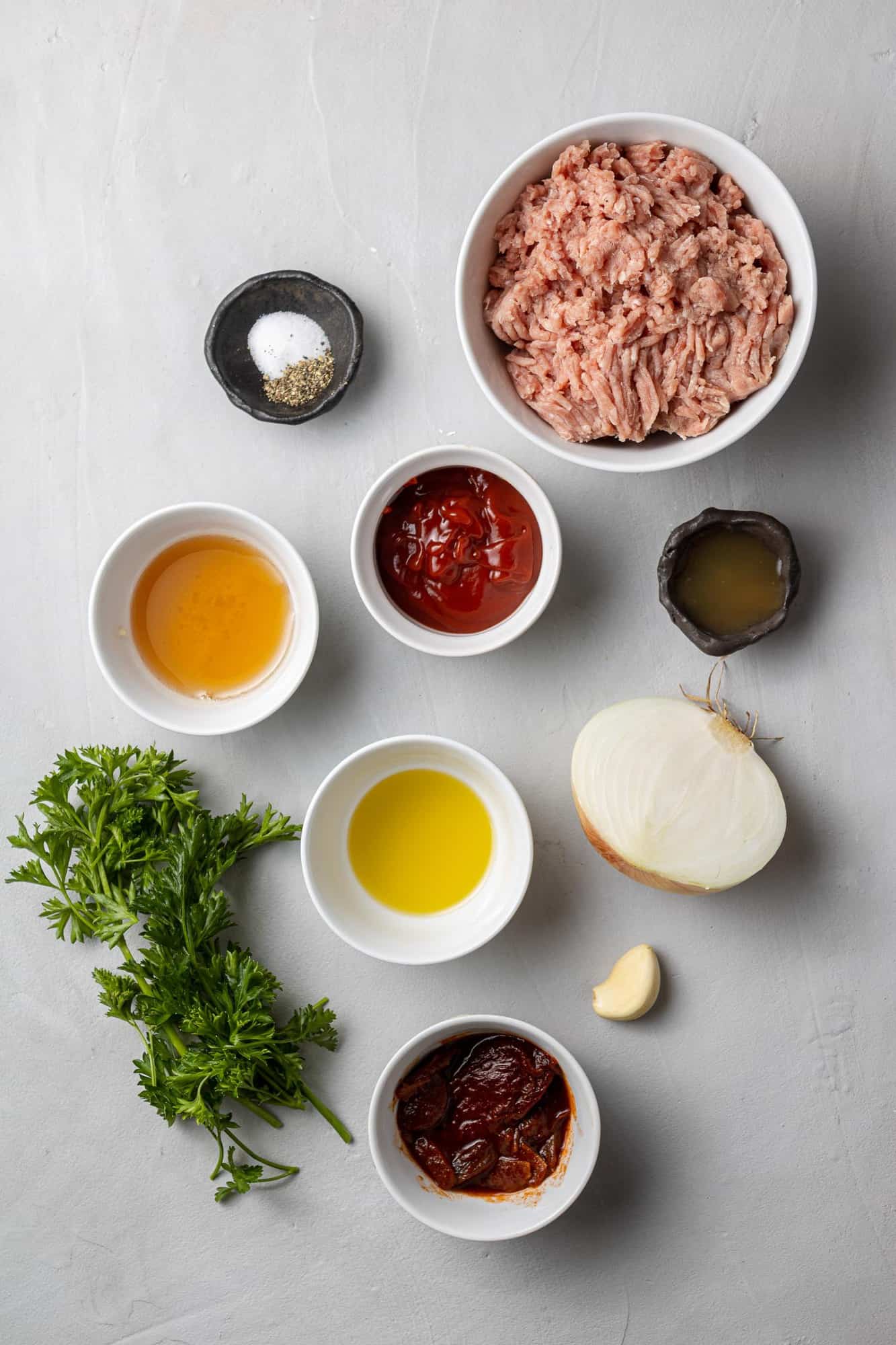 How To Make This Recipe
One of the things you'll love about this recipe is that it's all made in one pan: an oven-safe skillet. I like to use a non-stick skillet so the meatballs don't even think about sticking. Don't you just hate it when meatballs stick to the pan when you're trying to brown them? It's the worst!
Get your oven preheating while you make the meatballs. These meatballs are skillet browned and oven-baked. Yes, both! You'll see why.
In a large mixing bowl, grate the onion half. Let all the juice and grated onion just drip right down into the bowl. You can mince the onion really finely if you'd rather. The idea is to not have big onion chunks in the meatballs. Same with the garlic.
Add the ground meat, chopped chipotle pepper, parsley, salt and pepper. Squish it all together with your hands, just lightly until everything is mixed together.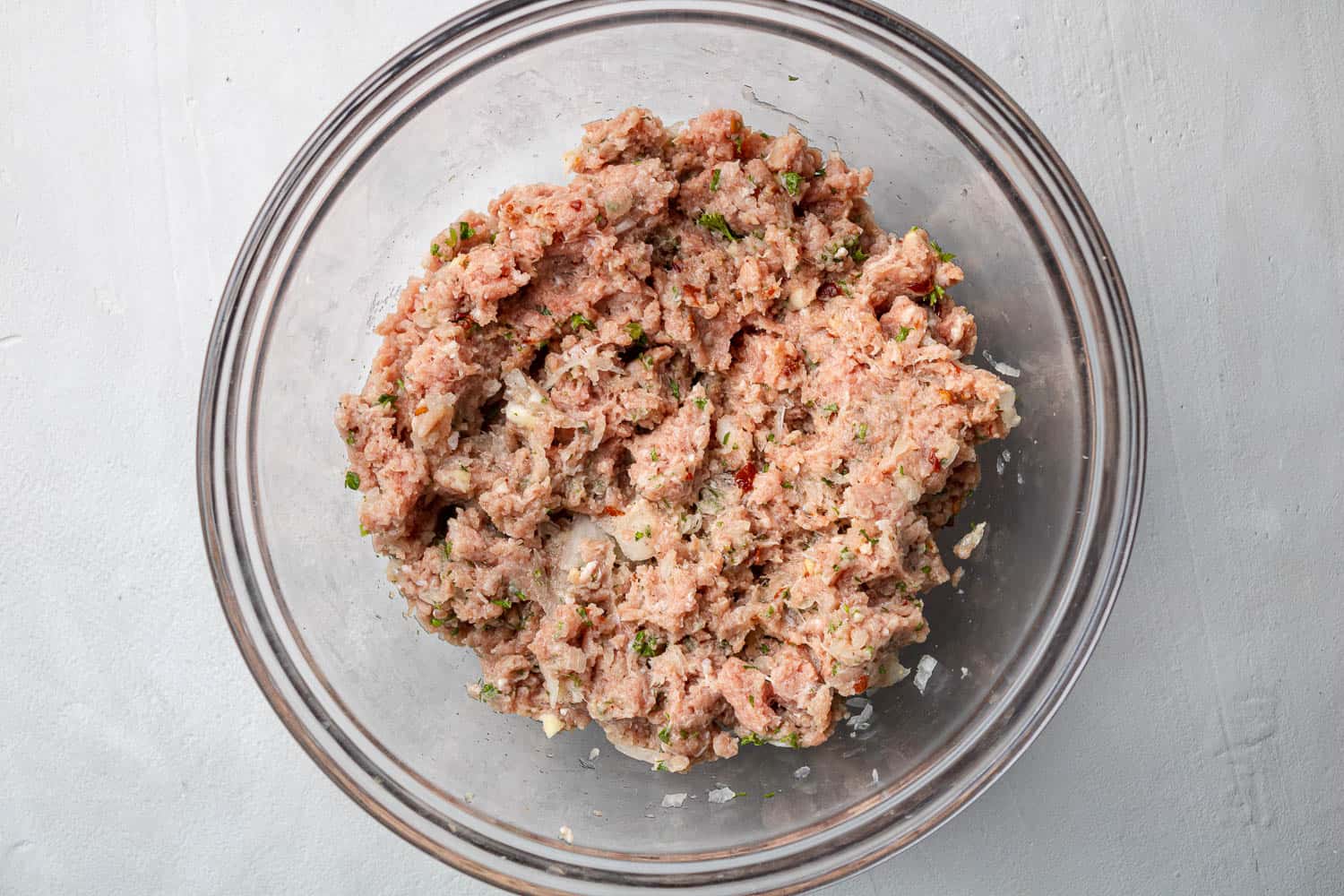 Rinse off your hands and make the meatballs. If you have a small scoop, use that to form the meatballs. If you're using your hands, dip them occasionally as needed in a small bowl of water to keep the mixture from sticking to your fingers.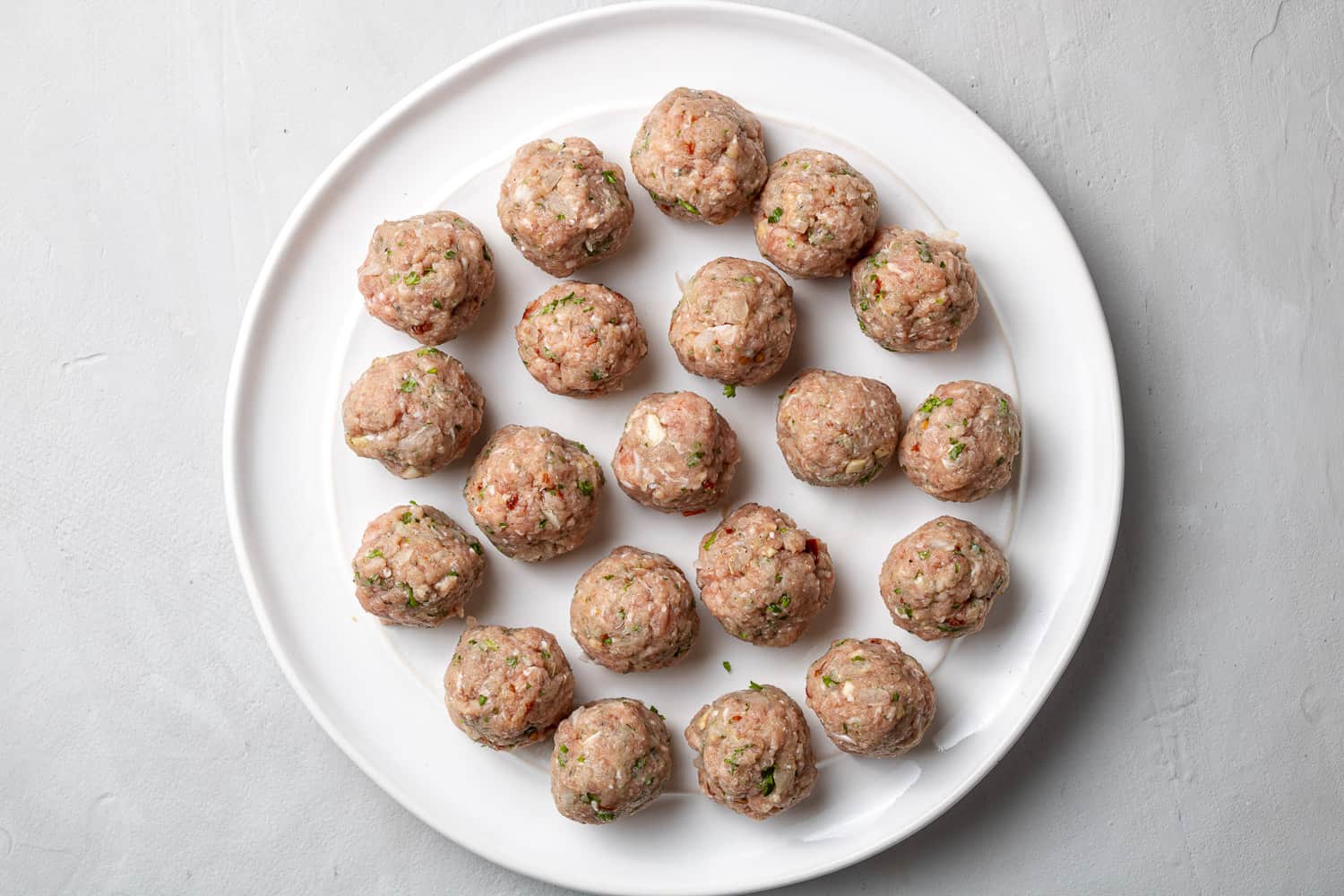 Heat a tablespoon of oil in the skillet and add the meatballs. Brown them, turning them frequently until they look pretty good on all sides, about 10 minutes. Put the skillet into your preheated oven and bake the meatballs five minutes.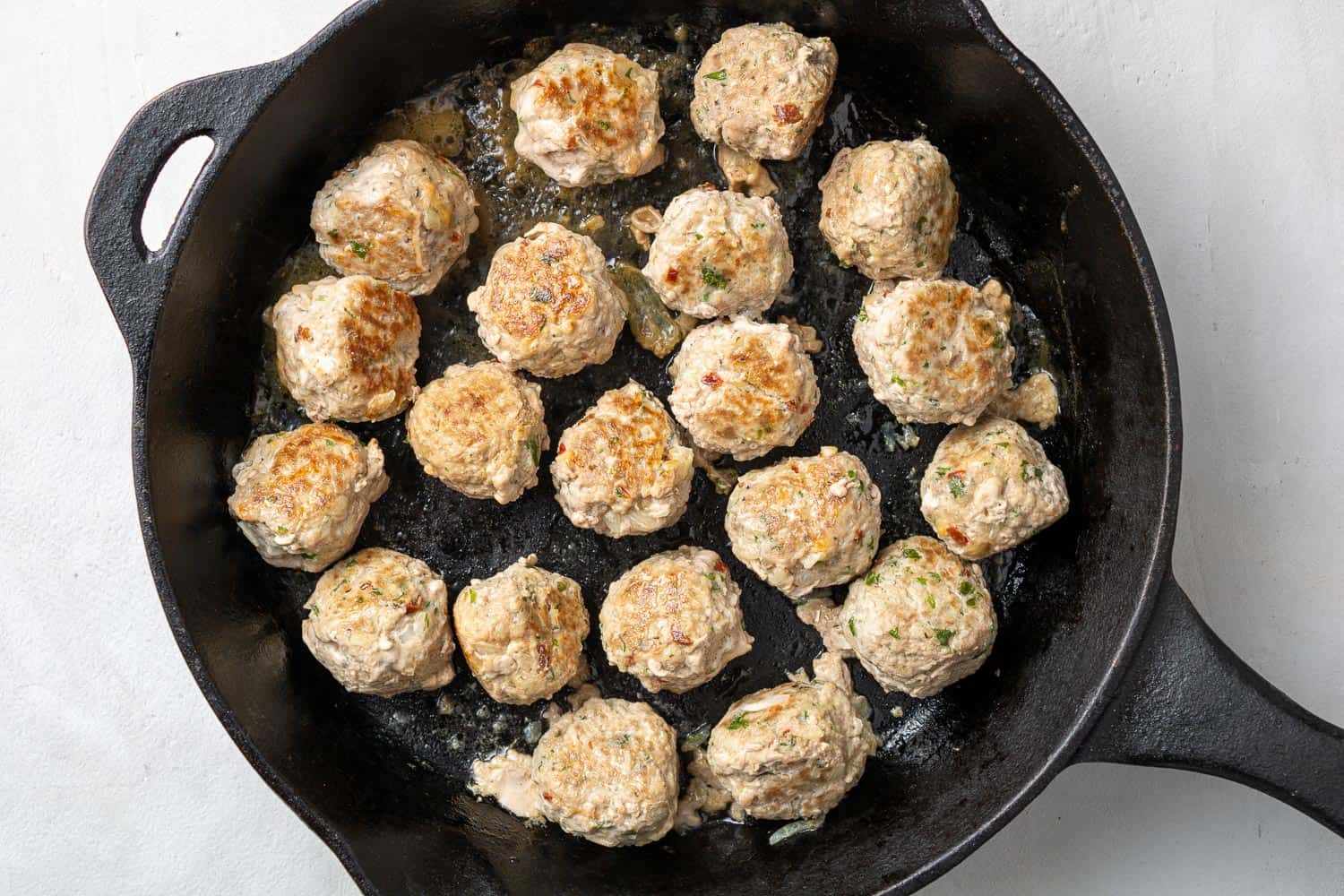 Meanwhile, quickly stir up the sauce ingredients (honey, adobo sauce, ketchup, and cider vinegar) in a small bowl. You'll love the measurements: 2 tablespoons of each, except the cider vinegar, which is 2 teaspoons. Just one glance and you can commit it to memory. 2-2-2-2!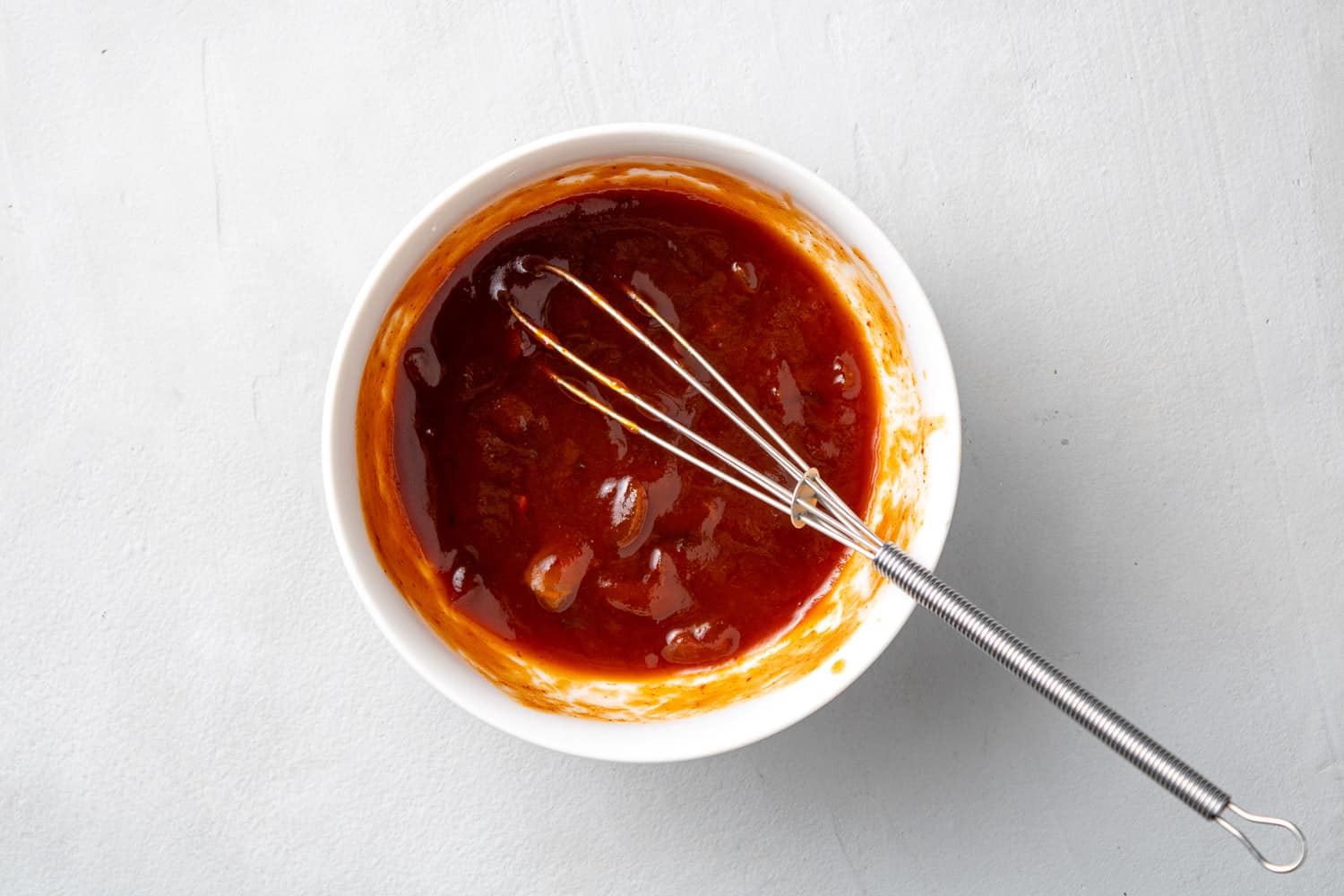 Take the meatballs out of the oven and remember to use an oven mitt! I know it seems obvious but it's so easy to forget and grab the handle of the skillet with your bare hand. Major ouch!!
Pour the sauce over the meatballs and tilt the pan carefully from side to side to coat them with sauce. Put the pan back into the oven and bake for another five minutes. The sauce will quickly thicken and cover the meatballs with a beautiful spicy sweet glaze.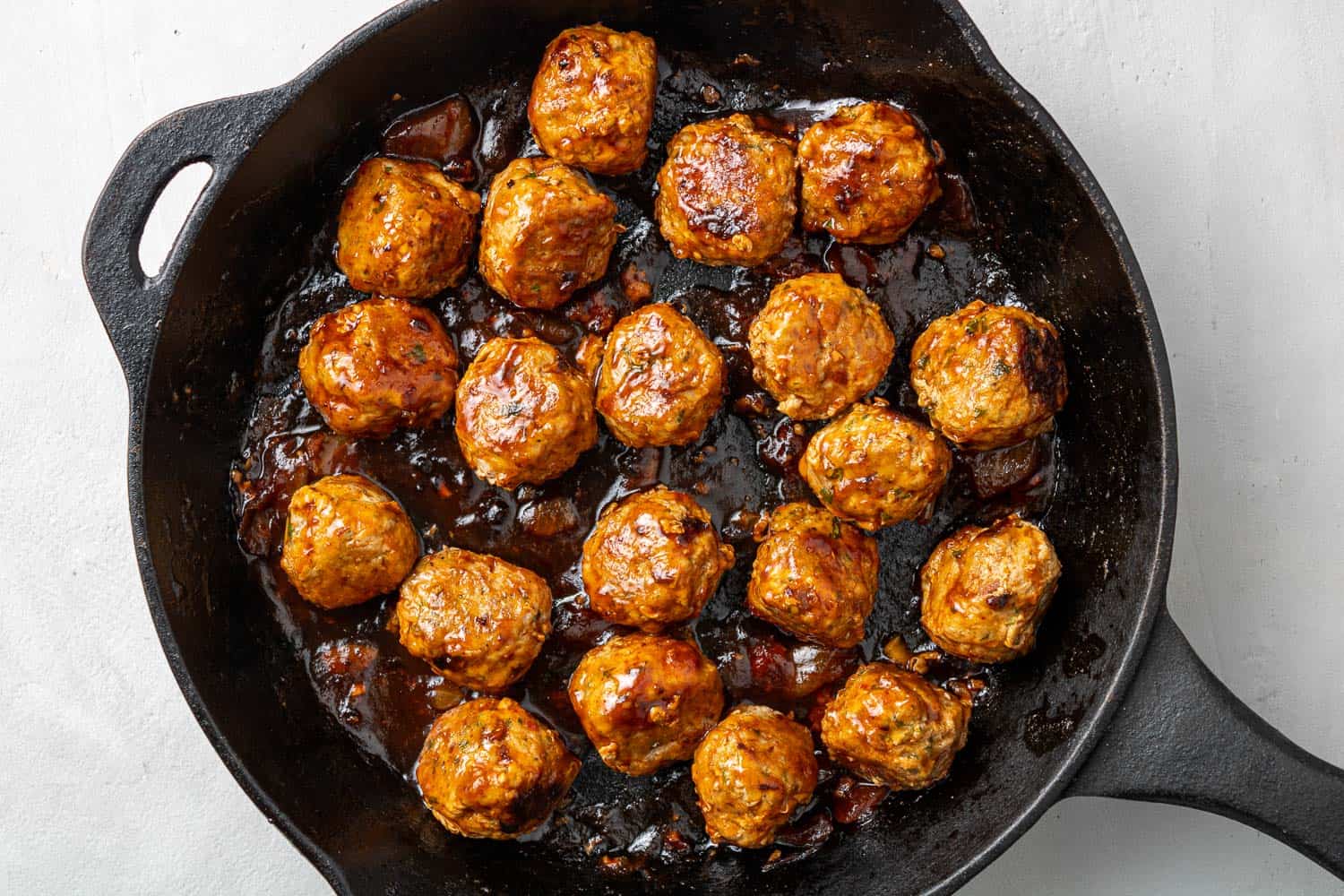 Oh, these glazed meatballs are the best! You're going to be crazy about them!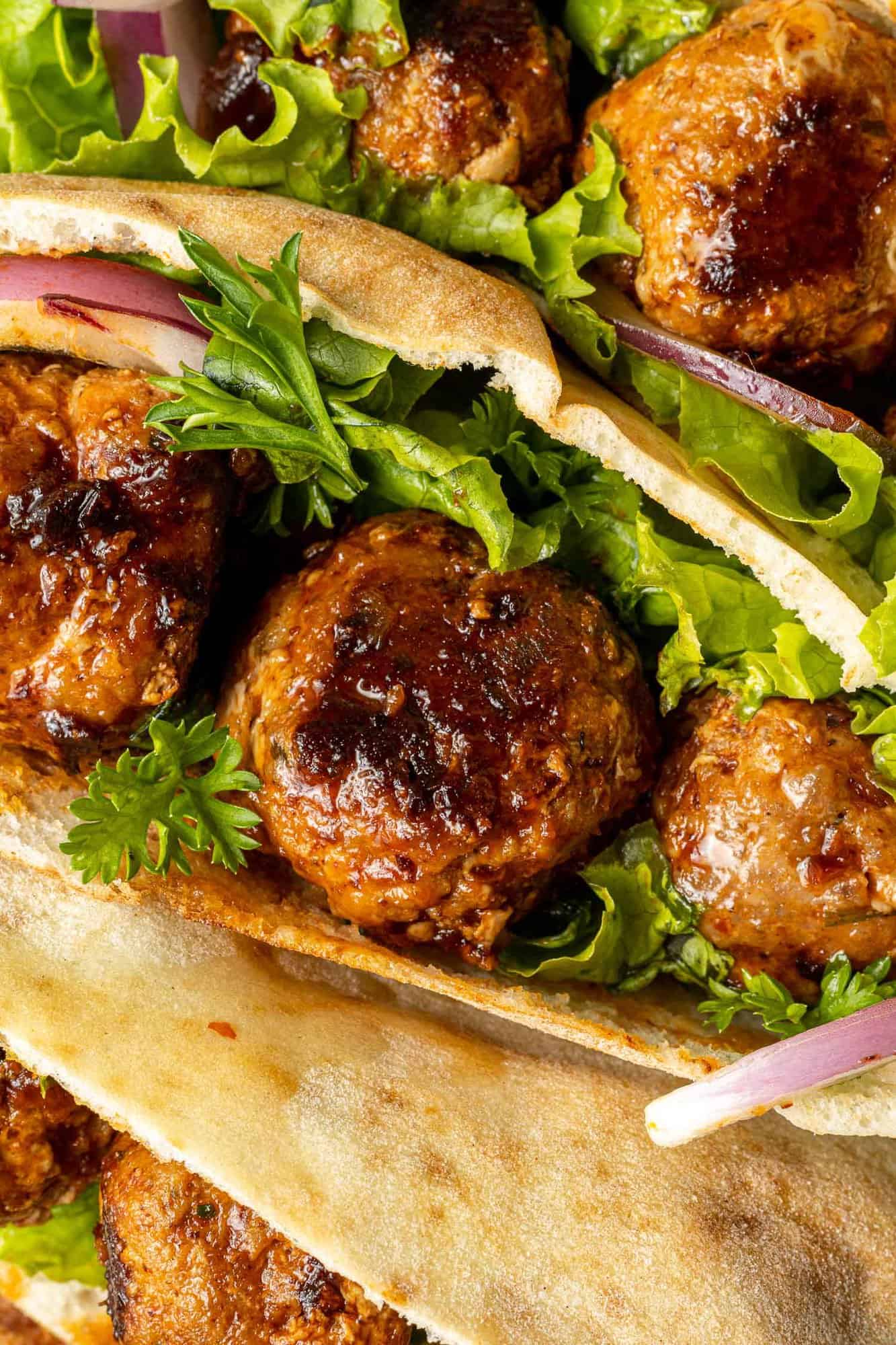 FAQs
How do you add moisture to meatballs?
If your meatballs tend to be tough or dry, perhaps you need to tweak your recipe. Adding an egg, breadcrumbs soaked in milk, or even ice water to the mixture can help prevent dry meatballs.
Make sure you don't over mix the meatball mixture which can lead to tough meatballs. Use your hands to gently blend all the ingredients together. A small scoop with a spring-loaded handle works well to make meatballs all the same size.
Is it better to bake or fry meatballs?
Both methods work but I really prefer baking meatballs. It's easier because there's no need to flip meatballs while they bake. They brown pretty evenly on all sides. You never have to worry about the delicate meatballs falling apart in the pan when you try to turn them. And the bonus? Your stovetop stays clean!
What kind of chile is chipotle?
Chipotle peppers are ripe (red) jalapeño peppers that have been smoked and dried.
Are chipotle chiles hot?
They are medium hot, just like jalapeño peppers, which totally makes sense because that's what they are! On the Scoville chart, they range from 2,500 to 8,000. They are hotter than ancho chiles which are made from poblano peppers, just as a comparison.
Make It Your Own
Use a different meat. The meatballs can be made with beef, pork, or chicken instead of turkey, or a blend.
Make it spicy! Add a bit more chipotle to the meatballs and extra adobo to the glaze.
Try a different glaze. We love the honey garlic glaze on Instant Pot Honey Sriracha Chicken and it could easily be substituted. Or try the maple mustard glaze that I use for this baked salmon (make a double batch of the glaze for the meatballs).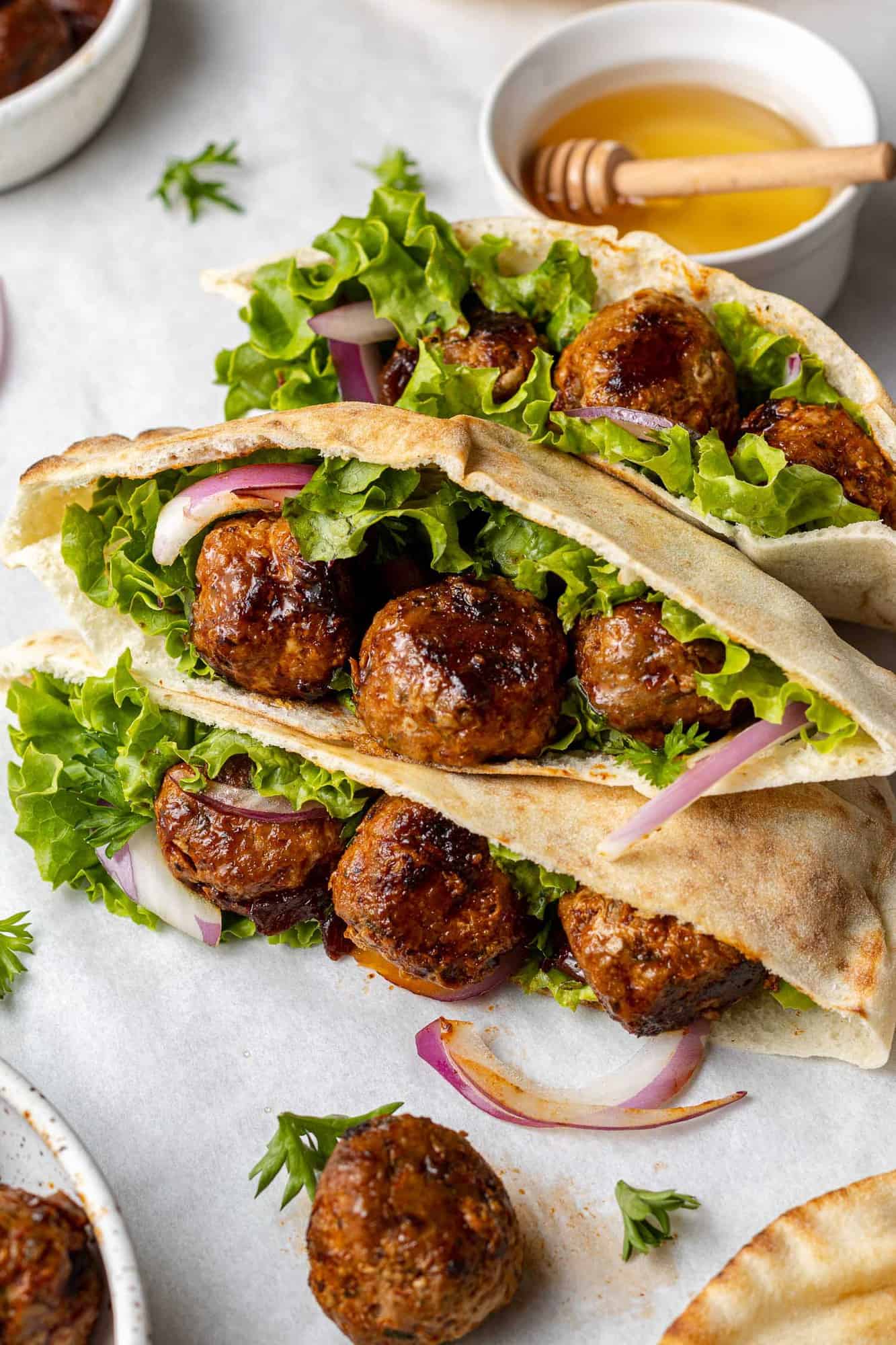 Make-Ahead Ideas
To get a head start on this recipe, prepare the meatballs but don't brown them. Put them on a baking sheet or tray, cover, and refrigerate for up to twenty-four hours. It will take about 20 minutes to finish up the recipe.
Storage & Reheating Tips
Refrigerate: Leftover glazed meatballs can be stored in a covered container in the refrigerator for up to 4 days.
Freeze: These meatballs can be frozen for up to one month. Just put cooked meatballs into a zip top bag and freeze. Make a double batch so you'll have some to eat later for an easy meal. Thaw overnight in the fridge before reheating.
Reheat: Individual portions can be microwaved in 15-second increments or until heated through. Larger amounts can also be heated in a skillet or in the oven.
Interested in a weekly meal plan (it's free!) that includes this meatball recipe? Take a look at my Meal Plan #38. You'll find a wholesome recipe for each weekday plus a categorized grocery list. Let me do the planning for you this week!
We'll be adding a new meal plan weekly. If you're interested, browse all of our meal plans.
Did you make this? Be sure to leave a review below and tag me @rachelcooksblog on Facebook, Instagram, or Pinterest!
Spicy and sweet, chipotle honey glazed meatballs are a taste sensation, perfect as an appetizer or weeknight dinner.
Ingredients
Meatballs
1

pound

lean ground turkey

½

yellow onion

1

chipotle chile, finely chopped

(from 7 oz. can)

1

clove

garlic, minced or pressed

2

tablespoons

finely chopped fresh parsley

½

teaspoon

salt

¼

teaspoon

ground black pepper

1

tablespoon

olive oil, for frying
Sauce
2

tablespoons

honey

2

tablespoons

adobo sauce from canned chipotle chiles

2

tablespoons

ketchup

2

teaspoons

cider vinegar
Instructions
Preheat oven to 375ºF.

Grate onion into a medium sized bowl. You should have approximately 2 tablespoons of grated onion and juice. If you prefer, the onion can also be finely minced.

Add ground turkey, chopped chipotle chile, garlic, parsley, salt, and pepper to bowl and mix, using your hands. Mix until just combined. Form into 19-20 small meatballs.

In a large oven-safe skillet, heat olive oil over medium-high heat. Add meatballs and brown on all sides, about 10 minutes. Transfer pan to preheated oven and bake for five minutes.

While meatballs are baking, add sauce ingredients to small bowl, and whisk to combine.

Remove the pan from the oven and pour sauce mixture over meatballs. Tilt pan so that meatballs are evenly coated. Return to oven and bake until sauce has become glaze-like, about 5 minutes, swirling pan halfway through cooking time.
Notes
Lean ground beef, pork, or chicken can be substituted for turkey.
Meatballs can be served as a main course, on a sandwich, or as an appetizer.
Store meatballs in the refrigerator for up to 4 days or in the freezer for up to one month.
Nutrition Information
Serving:
5
meatballs
,
Calories:
233
kcal
,
Carbohydrates:
15
g
,
Protein:
27
g
,
Fat:
8
g
,
Saturated Fat:
1
g
,
Polyunsaturated Fat:
1
g
,
Monounsaturated Fat:
4
g
,
Trans Fat:
1
g
,
Cholesterol:
62
mg
,
Sodium:
2010
mg
,
Potassium:
418
mg
,
Fiber:
1
g
,
Sugar:
11
g
,
Vitamin A:
444
IU
,
Vitamin C:
5
mg
,
Calcium:
25
mg
,
Iron:
2
mg
This website provides approximate nutrition information for convenience and as a courtesy only. Nutrition data is gathered primarily from the USDA Food Composition Database, whenever available, or otherwise other online calculators.