Use your air fryer to make the tastiest meatballs. Air fryer meatballs brown nicely and are juicy and tender. You're going to love these meatballs!
Recipe Overview
Why you'll love it: You can fry a batch of meatballs without messing up your stove. There's no need to flip them constantly and they brown on all sides. It works for frozen meatballs, too.
How long it takes: 15 minutes to prep, 12-15 minutes to air fry
Equipment you'll need: mixing bowl, air fryer
Servings: makes 20 meatballs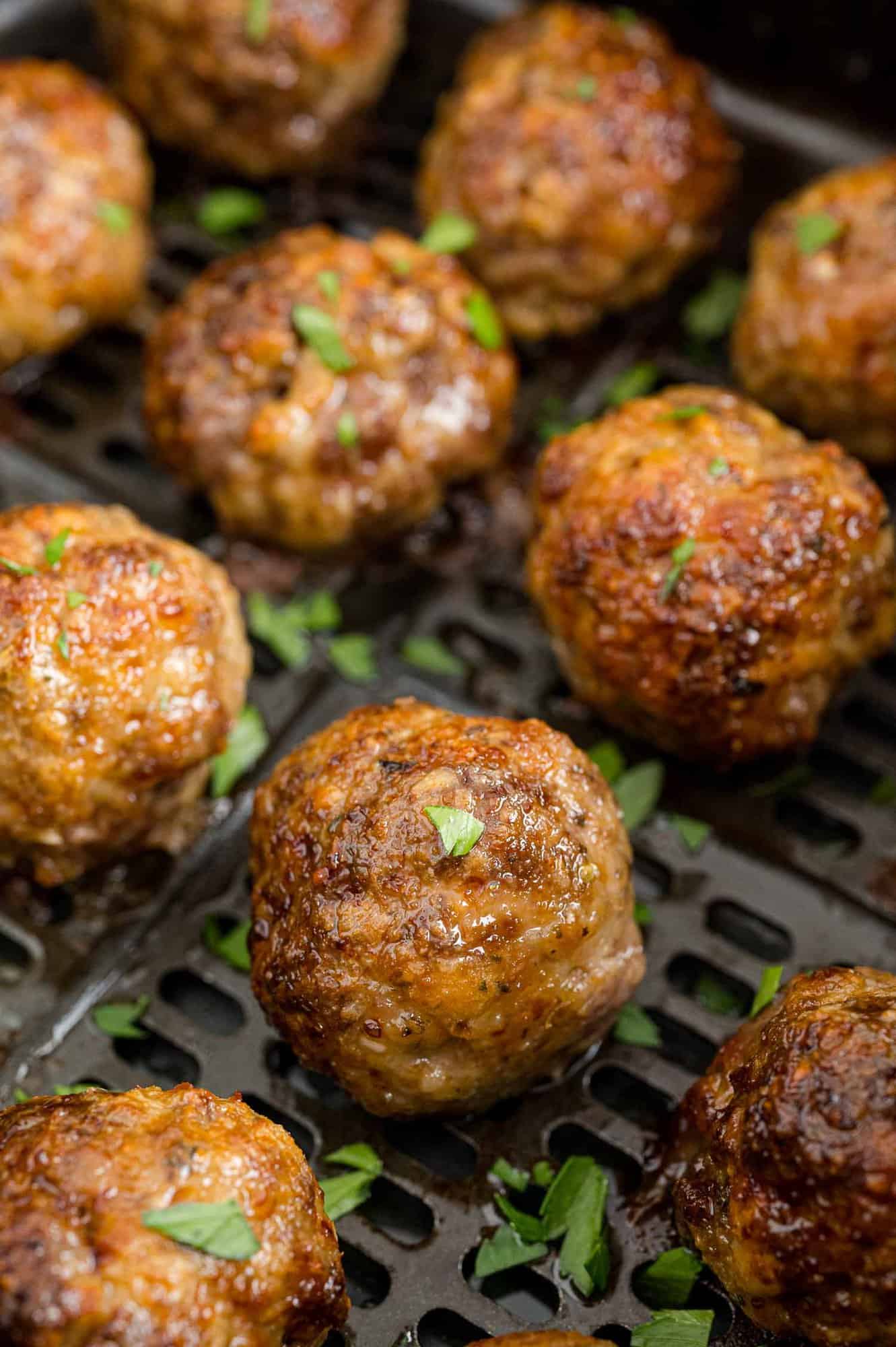 My son actually likes these meatballs. This guy will not eat meat. He's a carb boy through and through. While I don't have a problem with a vegetarian diet, he also won't eat beans, quinoa, tofu, or any other good source of protein, other than milk.
Well, you could have knocked me over with a feather when I "forced" him to try an air-fryer meatball. He asked for another ….. and another ….. and another! That has to prove how good these meatballs are. Even the most persnickety eaters will eat them.
And they really are good! We all love them. I love them because they brown easily and perfectly in my air fryer. There's no stovetop mess to cleanup and they are fully cooked in less than 15 minutes. I always have a bag in my freezer, ready to go.
Air fryer meatballs can be a real life-saver on busy weeknights. While they are perfect for spaghetti and meatballs (try my homemade spaghetti sauce), I also love to add them to soups that don't already have meat, like vegetable soup, or add them to canned soup for a really fast meal. Who doesn't love a meatball sub sandwich?
Meatballs are right at home as an appetizer, too. Add a quick glaze or sauce, jab them with toothpicks, and you're good to go. Easy peasy.
About This Recipe
This recipe for air fryer meatballs is based on the recipe that I use for my oven baked homemade meatballs. It's a great recipe that everybody loves and I make it frequently, but it makes 40 meatballs which is way too many meatballs to fit into most of our air fryers.
So, I cut the recipe in half to make it more air fryer friendly. That being said, I think that meatballs in the freezer are a treasure and are so handy for quick weeknight dinners or lunches. If you agree and would like meatballs in your freezer, go ahead and double this recipe or refer to the original recipe for proportions.
If beef or pork isn't your thing, give my turkey meatballs a try. Virtually any of my meatball recipes can be air fried.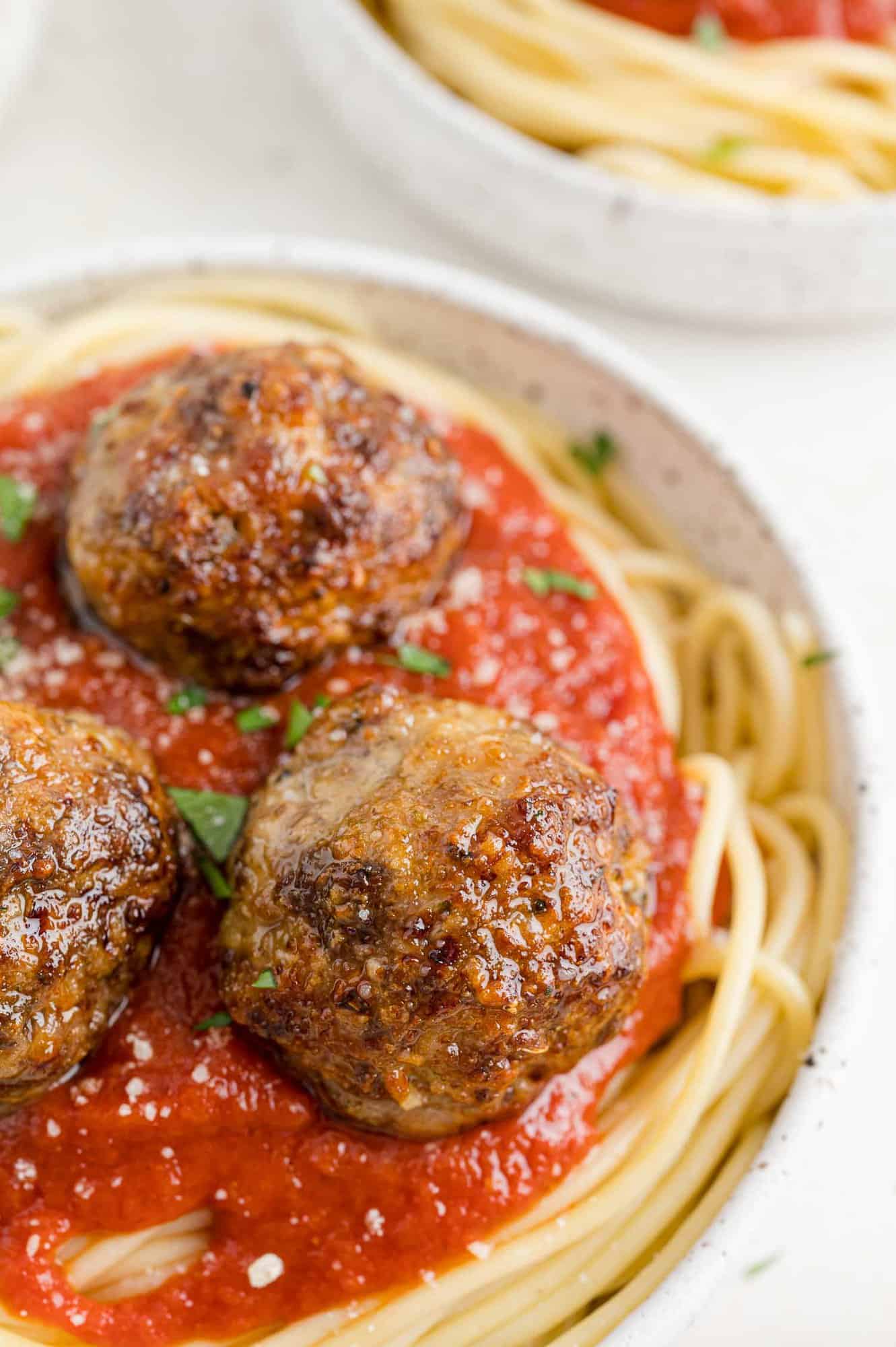 We'll get started on the meatballs here and I'll give you a few helpful tips. As always, you'll find the recipe card below with specific measurements, instructions, and nutrition information.
What You'll Need
Ground Beef & Ground Pork: A mixture of beef and pork makes the best tasting meatballs. I don't advise using all ground pork because the meatballs will be too greasy, but if you prefer no pork, it's okay to use 100% ground beef.
Italian Herb Seasoned Bread Crumbs: Using seasoned bread crumbs instead of plain bread crumbs is a way to add even more flavor. If you prefer, use plain bread crumbs (or homemade bread crumbs) but you'll need to increase the amount of seasonings in the recipe (add extra Italian seasoning, salt and pepper).
Whole Milk: For the best results, use whole milk. If you don't have it or don't want to purchase it, lower fat milk will work fine. The milk is combined with the dry bread crumbs. They absorb the moisture and give your meatballs great texture.
Egg: An egg will help bind the meatball mixture together. It also adds richness and enhances the texture of the meatballs.
Parmesan Cheese: Why add cheese to meatballs? Well, why not? Cheese makes everything taste better. You'll love the flavor of these meatballs.
Garlic Paste: You can substitute a clove of very finely minced garlic but I like to use garlic paste because it disappears into the mixture. You don't get little pieces of garlic in your meatballs. Plus, garlic paste is super easy to use and keeps a long time in the fridge.
Italian Seasoning, Brown Sugar, Salt & Pepper: Pantry seasonings that are easy to add.
Worcestershire Sauce: This brown sauce is a special fermented blend that is used for seasoning. Sometimes it's called Worcester sauce.
Fresh Parsley, for Optional Garnish
How to make it
Let's get those meatballs rolling! In a large mixing bowl, mix the bread crumbs and milk together. Set the bowl aside while you measure out the remaining ingredients to give the bread crumbs a chance to absorb the milk.
Okay, everything out of the fridge? You'll need the ground beef and ground pork, an egg, Parmesan cheese, garlic paste, and the Worcestershire sauce. Now, to the pantry to retrieve the salt and pepper, brown sugar, and Italian seasoning.
Give the bread/milk mixture a stir, and then add everything else to the bowl.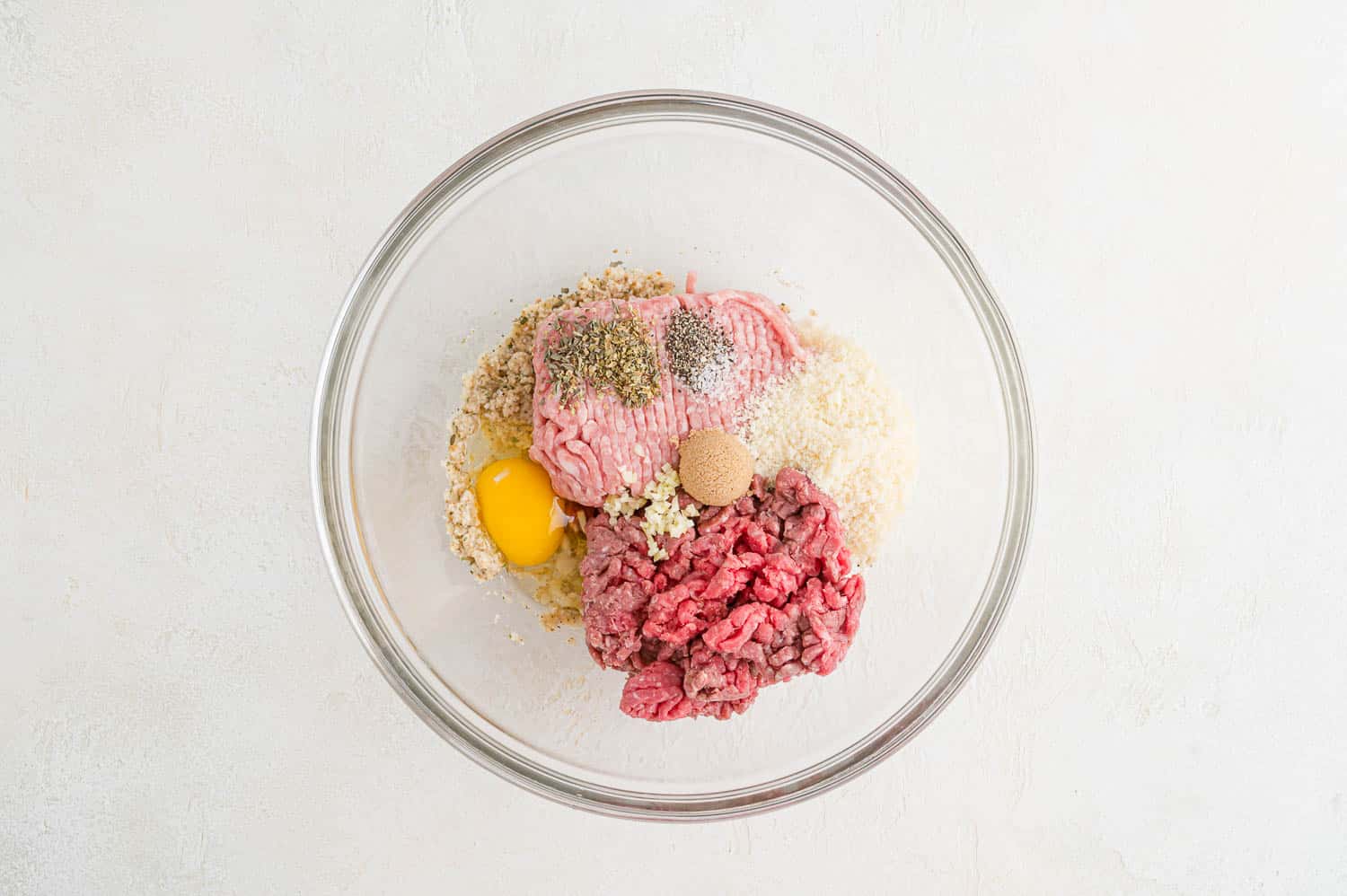 Mix it together with a fork, breaking up the meat and mashing things together. If you don't mind getting your hands sticky, go ahead and use your fingers to blend the mixture. It's really the best way to do it.
When the ingredients are mixed well and beginning to be cohesive, stop stirring (or squishing if you're using your fingers). Try not to get carried away. It's better to not overmix the meatball mixture (or meatloaf, for that matter). Overmixing tends to make meatballs tough and chewy.
Forming the Meatballs
A kitchen scoop is the easiest way to form the meatballs. It has a lever that pushes the mixture out of the scoop. They are indispensable for cookies and muffins, too.
They often come in sets with three different sizes.
Form the meatballs with a 2 tablespoon scoop. I usually spray it lightly with cooking spray before I get started. The goal is to make approximately 20 meatballs. If you don't have a scoop, use a large spoon.
As you can see, the photos show really nice rounded meatballs. It's okay if yours don't look exactly like that. This isn't Food Network, it's your own kitchen. If you do want yours to look more evenly rounded, wet your fingers and shape the meatballs up a bit.
As you form the meatballs, place them in a single layer on the cooking rack inside the air fryer basket. It's okay if the meatballs touch each other but they shouldn't be piled up.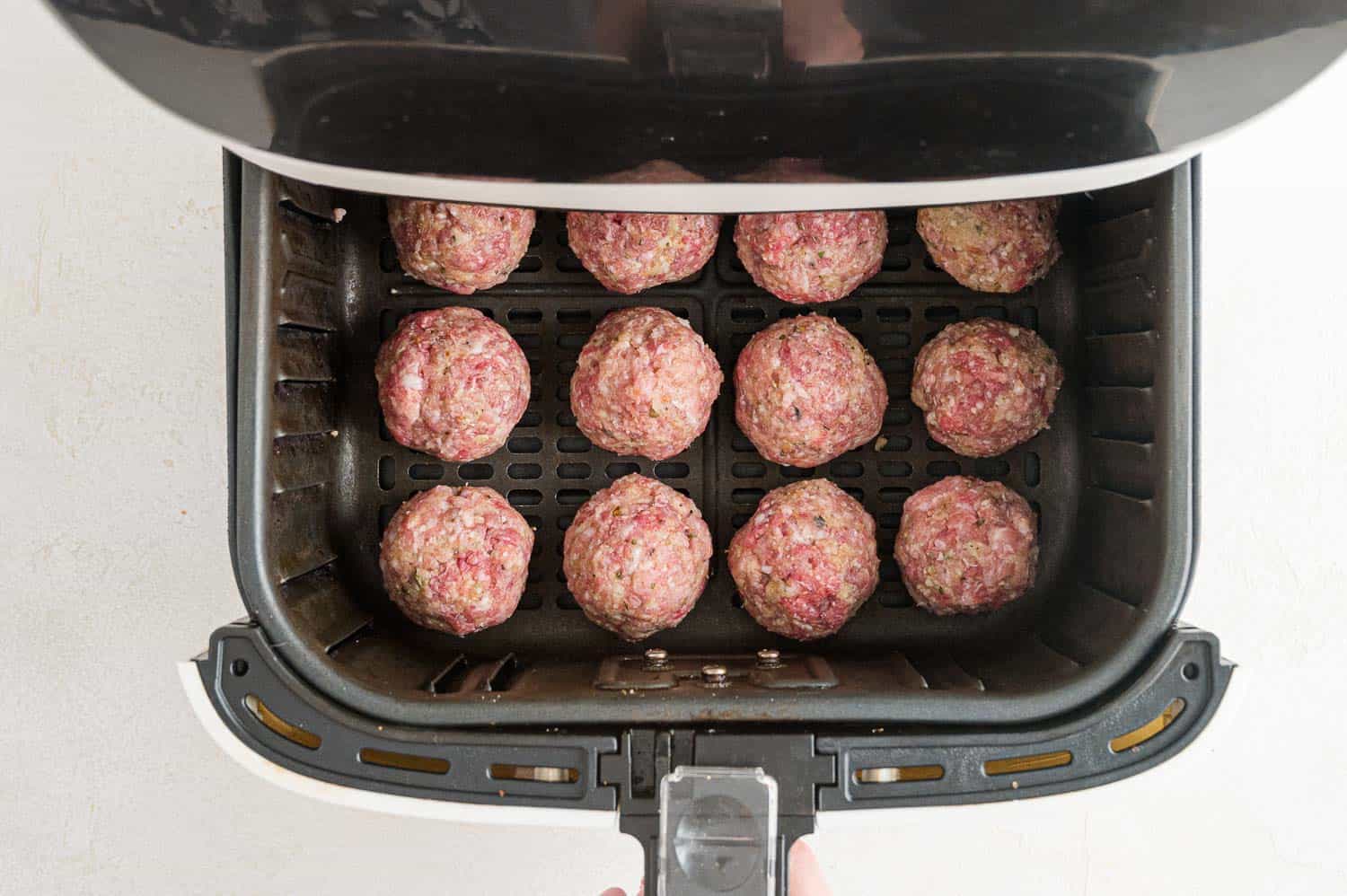 Air fry the meatballs at 400°F for 12 to 15 minutes. Check them once or twice to make sure they are browning evenly. Use tongs to rearrange them a bit if you have to.
Not sure if the meatballs are cooked all the way through? Use an instant read thermometer to check the internal temperature of one or two meatballs. It should be at least 165°F.
FAQs
Do you need to preheat an air fryer?
For many recipes, you do not need to preheat an air fryer. Air fryers heat up very quickly and most foods will begin cooking immediately. However, there are a few exceptions.
if you want a good sear on the surface of the food, like a steak or salmon, it's best to preheat the air fryer.
Preheat when you're cooking thin crisp foods that are already cooked, i.e. frozen french fries or fish sticks.
When you're reheating leftovers that you want to be crisp, it's probably best to preheat, too.
Do you need to brown meatballs before air frying?
You do not need to brown meatballs before you put them in the air fryer. It's better not to because the air fryer does such a great job of browning. You'll find that raw meatballs brown perfectly in your air fryer.
Make It Your Own
Experiment with different blends of ground meat to find the balance you prefer. Choose from ground beef, pork, turkey, chicken, or lamb. There are different types of ground beef, too, such as ground round, sirloin, chuck, etc, that have varying fat contents. You can buy extra lean ground turkey, as well. Be aware that if you choose a super lean ground meat, the meatballs tend to be drier. That's why I like to use a blend of beef and pork.
Tweak the seasonings to reflect your own taste. Add more garlic or omit it. Stir in a bit of cayenne pepper or smoked paprika.
Make-Ahead Ideas
Meatballs are so handy to make ahead and store in the freezer, either cooked or uncooked. They thaw quickly and can be used in pasta sauces (try my spicy Arrabbiata sauce!), soups, sandwiches or as appetizers. See recipe notes for freezing directions.
So why not make a double batch of meatballs while you're at it? It's really just as easy to make a big batch although you'll spend a little more time rolling the balls. Usually ground beef and pork are sold in one pound packages which is exactly the amount you need for a double batch.
And the bonus? Frozen uncooked meatballs do not need to be thawed before air frying; simply add a few minutes to the cooking time. You'll find that they are super handy for a quick weeknight dinner.
Storage & Reheating Tips
Store leftover cooked meatballs in the fridge for up to 4 days or freeze for up to 2 months. Let them cool completely in the refrigerator before covering them to avoid condensation forming on the inside of the container.
Raw meatballs can be stored in the refrigerator for a day or so before you cook them. They can be frozen for up to 2 months.
Leftover Love
Have lots of meatballs left over? Throw those babies in the freezer for another day! You'll be so happy you did when you come home from work next week and there's "nothing to eat".
Did you make this? Be sure to leave a review below and tag me @rachelcooksblog on Facebook, Instagram, or Pinterest!
Use your air fryer to make the tastiest meatballs. Air fryer meatballs brown nicely and are juicy and tender.
Ingredients
½

cup

Italian herb seasoned bread crumbs

⅓

cup

whole milk

½

pound

ground pork

½

pound

ground beef

1

clove

garlic, finely minced

(or ½ teaspoon garlic paste)

½

teaspoon

dried Italian seasoning

¼

teaspoon

coarsely ground black pepper

⅛

teaspoon

kosher salt

½

teaspoon

Worcestershire sauce

1

teaspoon

packed light brown sugar

1

large egg

¼

cup

grated Parmesan cheese

Fresh Italian parsley for garnish
Instructions
In a large bowl, combine bread crumbs and milk. Stir together so that the breadcrumbs soak up the milk.

To the breadcrumb/milk mixture, add ground pork, ground beef, garlic paste, Italian seasoning, black pepper, salt, Worcestershire sauce, brown sugar, eggs, and Parmesan cheese. Use your hands to mix the ingredients thoroughly but do not overmix.

Use a 2 tablespoon cookie dough scoop to form approx. 20 balls from the meat mixture. You can roll them in your hands for tighter, more uniform meatballs if desired.

Place in a single layer on air fryer rack. It's okay if sides are touching but the meatballs shouldn't be stacked on top of each other. If necessary, fry them in batches. Air fry at 400°F for 12 to 15 minutes or until browned and firm.
Notes
Recipe can easily be doubled (refer to my Homemade Meatballs recipe for proportions). Fry the meatballs in batches or freeze uncooked meatballs as directed below.
Freezing Uncooked Meatballs: Shape the meatballs and place on rimmed baking sheet or tray in a single layer. Freeze two hours or until mostly firm. Place frozen meatballs in freezer safe container and freeze for up to 2 months.
Air Frying Uncooked Frozen Meatballs: Place frozen meatballs in air fryer and

cook at 400°F for 15 to 17 minutes or until browned and firm.

Freezing Cooked Meatballs: Allow meatballs to cool. Place meatballs in a freezer safe container and freeze for up to 2 months. Add frozen meatballs directly to sauces and simmer until warmed through completely. They can also be reheated in the microwave or briefly in the air fryer.
Nutrition Information
Serving:
4
meatballs
,
Calories:
311
kcal
,
Carbohydrates:
11
g
,
Protein:
21
g
,
Fat:
20
g
,
Saturated Fat:
8
g
,
Polyunsaturated Fat:
2
g
,
Monounsaturated Fat:
8
g
,
Trans Fat:
0.4
g
,
Cholesterol:
103
mg
,
Sodium:
388
mg
,
Potassium:
349
mg
,
Fiber:
1
g
,
Sugar:
2
g
,
Vitamin A:
148
IU
,
Vitamin C:
1
mg
,
Calcium:
110
mg
,
Iron:
2
mg
This website provides approximate nutrition information for convenience and as a courtesy only. Nutrition data is gathered primarily from the USDA Food Composition Database, whenever available, or otherwise other online calculators.