Meatloaf in the air fryer? Who knew! This air fryer meatloaf recipe comes together in under an hour, with all the satisfying savory flavor of the original. Don't skip the sweet and tangy glaze on top!
Recipe Overview
Why you'll love it: A comfort food classic that's on the table even faster, thanks to the air fryer. Make a double batch of the meatloaf mixture to air fry for a future dinner.
How long it takes: under an hour, including prep and cooling
Equipment you'll need: air fryer, mixing bowl
Servings: 4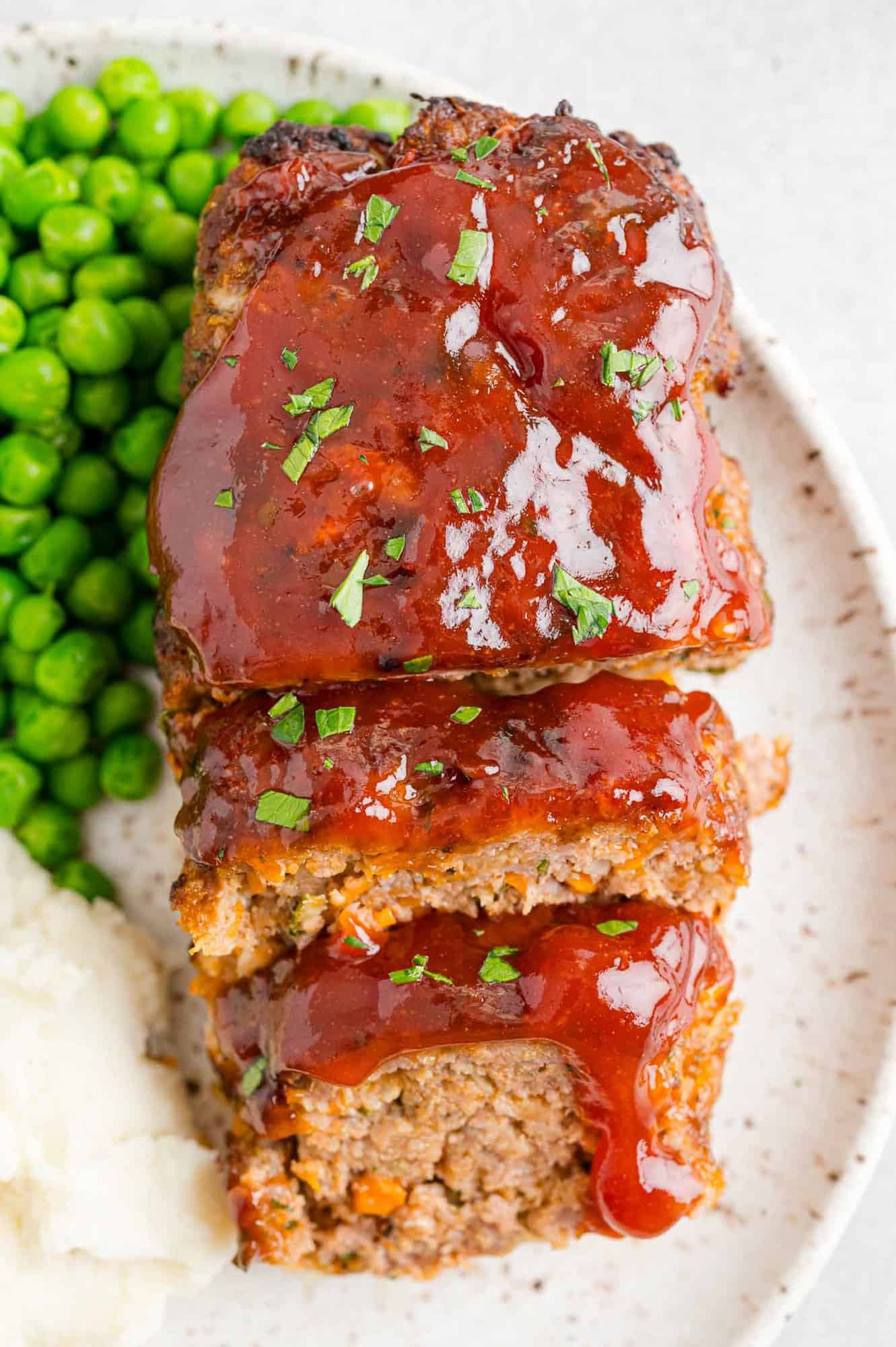 When it comes to weeknight dinners, it doesn't get much easier than meatloaf. Mix everything together and you're done. But, just like that old song goes, the waiting is the hardest part. A meatloaf in the oven can take an hour or longer to cook, depending on the size and oven temperature.
Once again, the air fryer saves the day! Just like air fryer meatballs, air fryer pork chops, and air fryer chicken breasts, air fryer meatloaf cooks a lot faster thanks to the convection method used by air fryers.
When you remove it from the fryer, you'll get meatloaf that's cooked through perfectly in just 35 minutes, and that has a satisfyingly crisp exterior and a perfectly tangy/sweet caramelized glaze.
Reasons to Love Air Fryer Meatloaf
Meatloaf in nearly half the time. When you're trying to squeeze in dinner between karate classes and homework, time is of the essence and a regular meatloaf recipe just isn't going to cut it. Air fryer meatloaf is ideal for busy nights, especially when you have a meatloaf in the freezer ready to cook.
Convenience without sacrifice. Let's be real: sometimes we sacrifice flavor just to get dinner on the table faster. (I mean, isn't that basically the entire purpose of the microwave?!) This air fryer meatloaf is as good as traditional meatloaf and if you're partial to that crispy layer on the outside, you might even like it better!
Hearty and healthy. Although I do share some variations below, as written this is pretty much your classic meatloaf recipe, with breadcrumbs, veggies, seasonings, and ketchup folded into the meat mixture, and a sweet, tangy glaze on top. Very finely minced carrots, onions, and celery add moisture, flavor, and extra nutrition.
Ingredients you'll need
Ground Beef: I recommend using 85/15 for meatloaf that's flavorful, neither too dry nor too greasy.
Ground Pork: A combination of meats is best for meatloaf; I pair beef with pork here, but turkey or veal would also work. We tested this with a lot of different combinations and found beef + pork was superior.
Yellow Onion: A white onion or shallots can be swapped in but yellow onion is the most popular choice for meatloaf recipes, including this air fryer meatloaf.
Carrot: If you happen to have baby carrots in the fridge, you can use those and skip the peeling and cutting.
Celery: The third ingredient in our trio of veggies. These additions add savory flavor—and sneak in a little extra nutrition too.
Garlic: If you like your meatloaf extra garlicky, feel free to add another clove or two.
Panko Bread Crumbs: Use panko if you have it on hand, but if you don't, sub in oats or regular bread crumbs. Your call! Did you know it's easy to turn slightly stale bread into homemade bread crumbs?
Fresh Parsley: I mix some in with the meatloaf and add more for garnish after I take the meatloaf out of the air fryer.
Ketchup: Ketchup adds some subtle tomato flavor and a little bit of sweetness to balance all the savory flavors in the dish.
Worcestershire Sauce: An umami powerhouse! Worcestershire sauce is an absolute flavor bomb and always a good pairing with ground meat.
Kosher Salt and Ground Black Pepper: For maximum flavor, grind the black pepper fresh.
Ketchup, Brown Sugar, and Red Wine Vinegar create a delicious, sticky meatloaf glaze—or swap in apple cider vinegar if that's what you have in your pantry.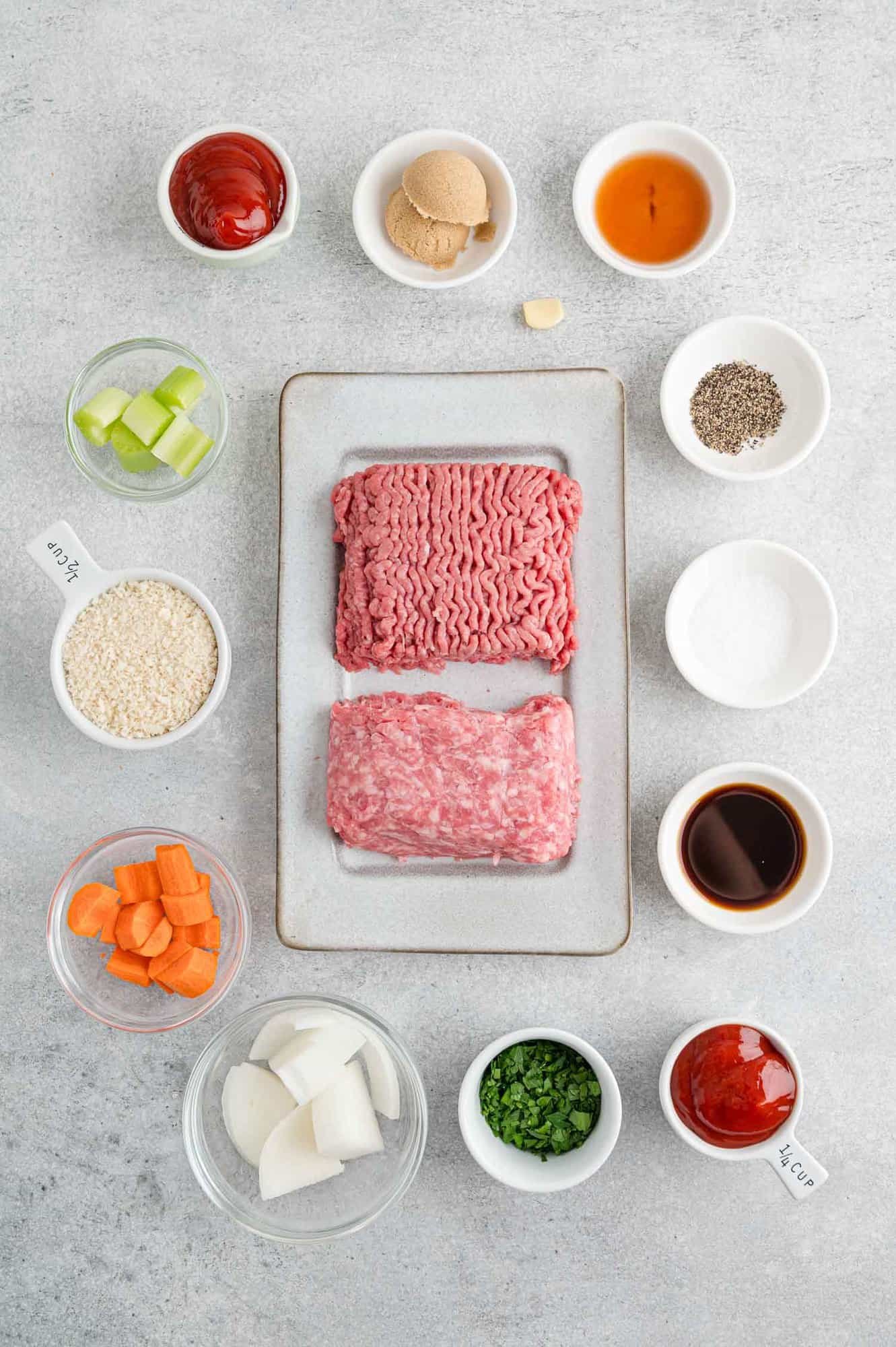 Cooking Tip
If you're squeamish, it might not be fun but the best way to mix up a meatloaf is to use your hands. Just be sure to take your rings off first! Wash your hands thoroughly with hot soapy water after handling raw meat.
How to make This meatloaf Recipe
Pulse the onion, celery, carrot, and garlic in your food processor until they're finely minced. You should have about a half cup of minced vegetables. Scrape them into a large mixing bowl.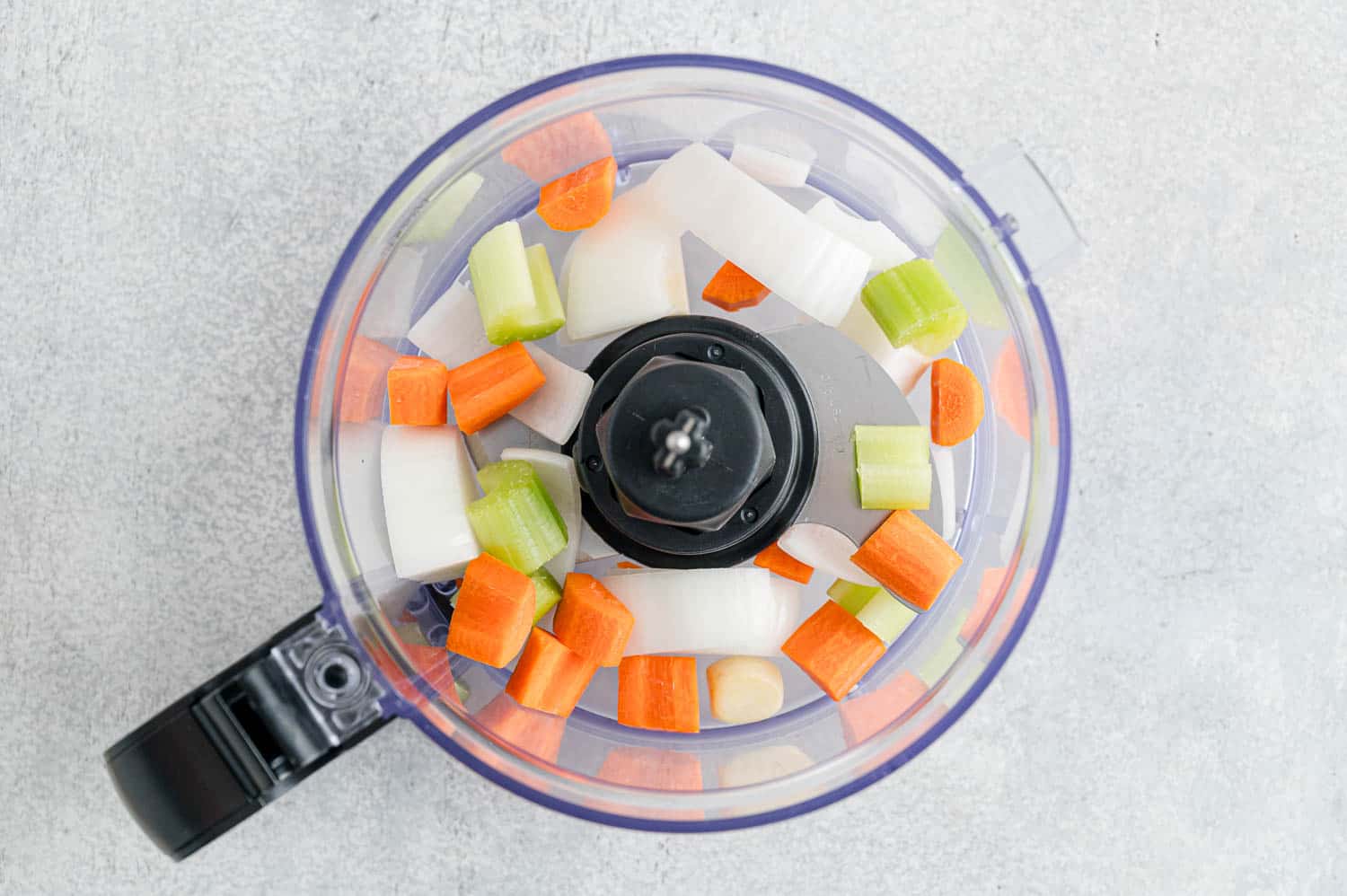 Add the ground meat, panko, parsley, ketchup, Worcestershire sauce, salt, and pepper to the bowl. Mix to combine but be careful not to overwork the mixture. It should just be blended together, enough to hold its shape.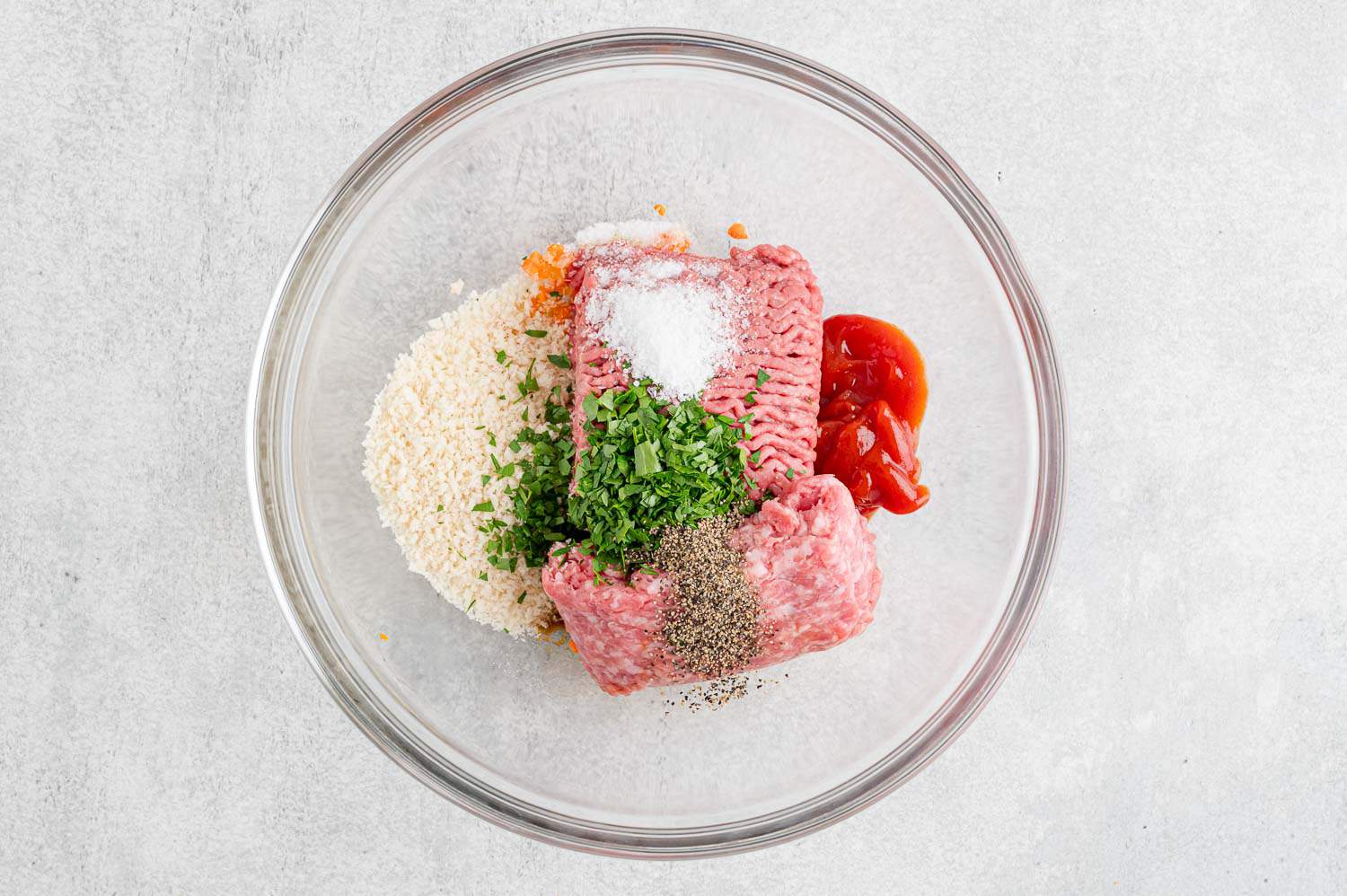 Form the meat mixture into 2 flat loaves about 7 inches by 3 to 4 inches, roughly 1-inch thick.
TIP: You could make one large loaf but I've found that smaller, flatter meatloaves cook more quickly and evenly than one large meatloaf and are less prone to burning on the outside.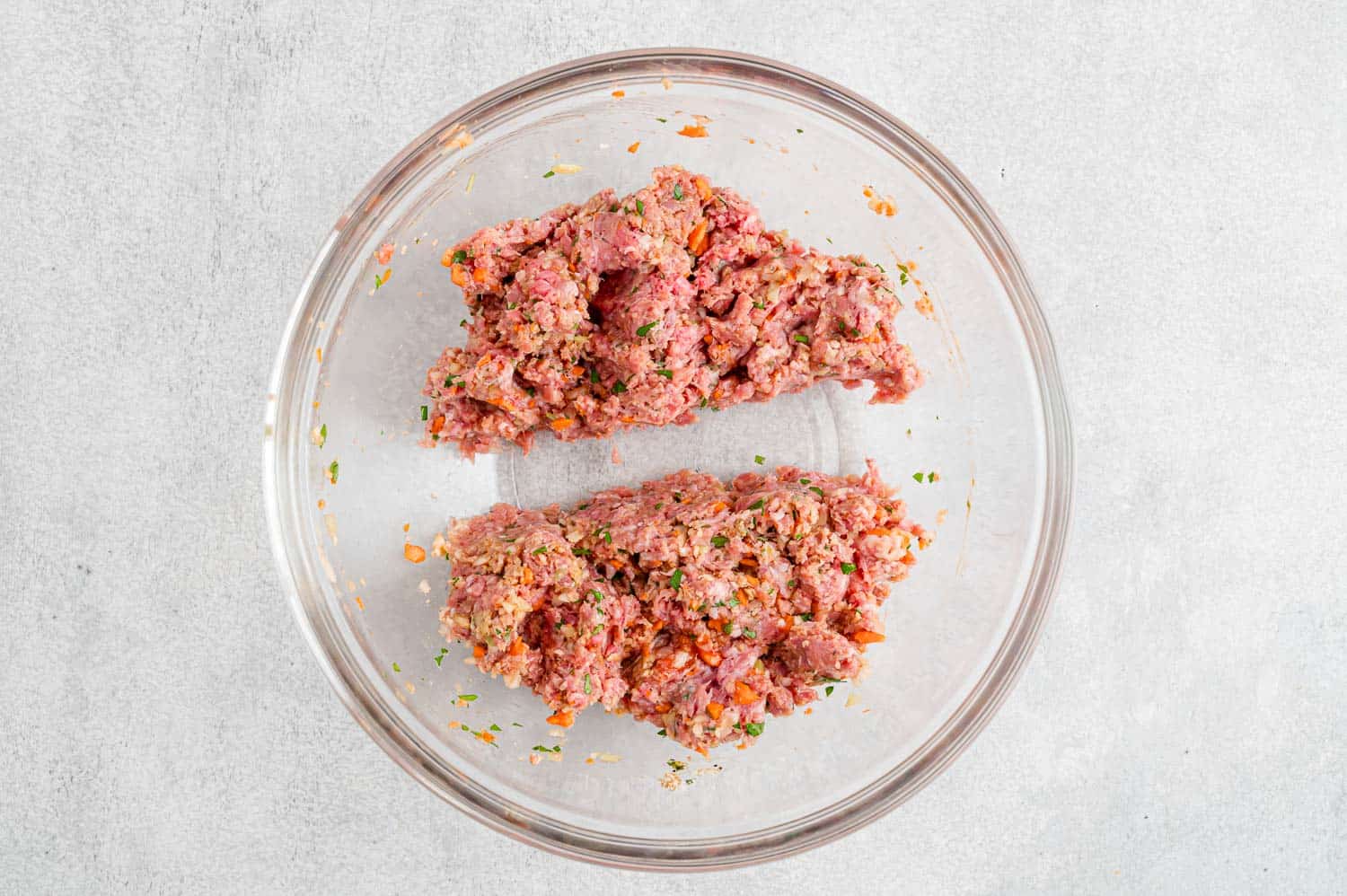 Cook in the air fryer at 350ºF for 25 to 30 minutes, or until the internal temperature reaches 155ºF.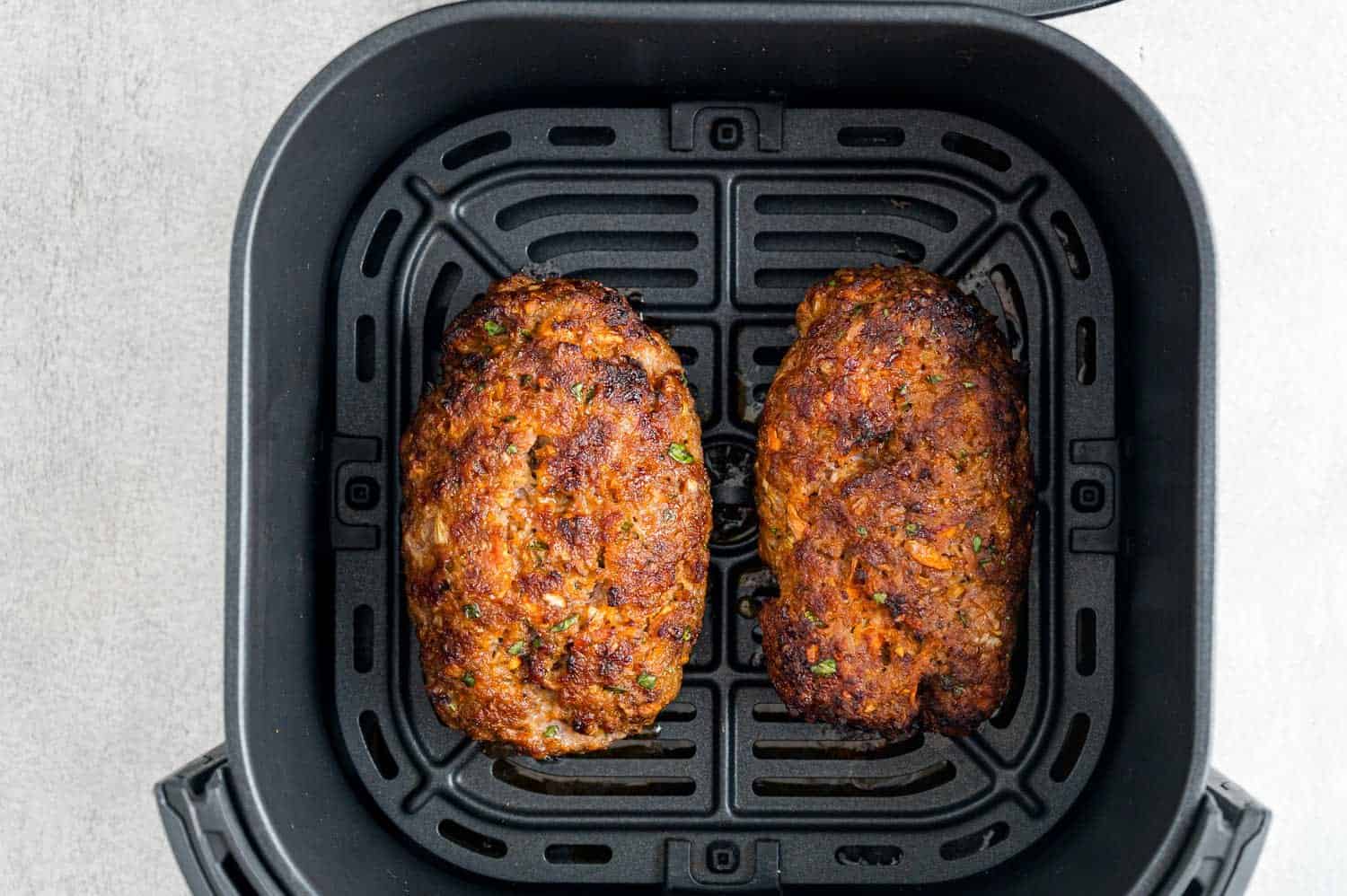 Brush or spoon the meat loaves with the glaze and cook for an additional 3 to 4 minutes, or until the glaze is caramelized and the internal temperature reaches 165ºF. Watch closely. The glaze can burn rather quickly.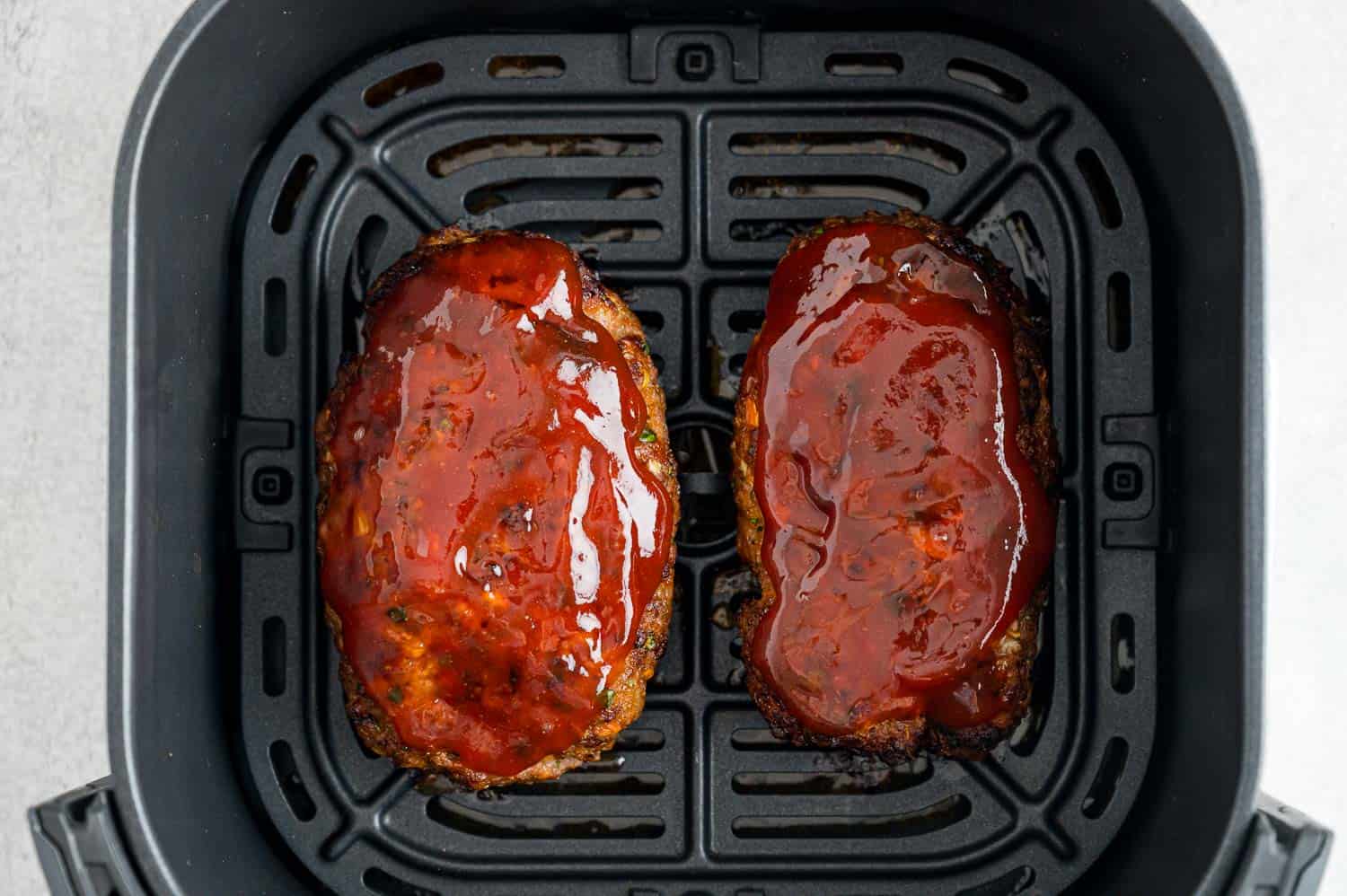 Rest the meat for 5 to 10 minutes before slicing it. If you slice it too soon, the slices tend to fall apart a bit. Serve with your favorite sides (keep reading for serving suggestions).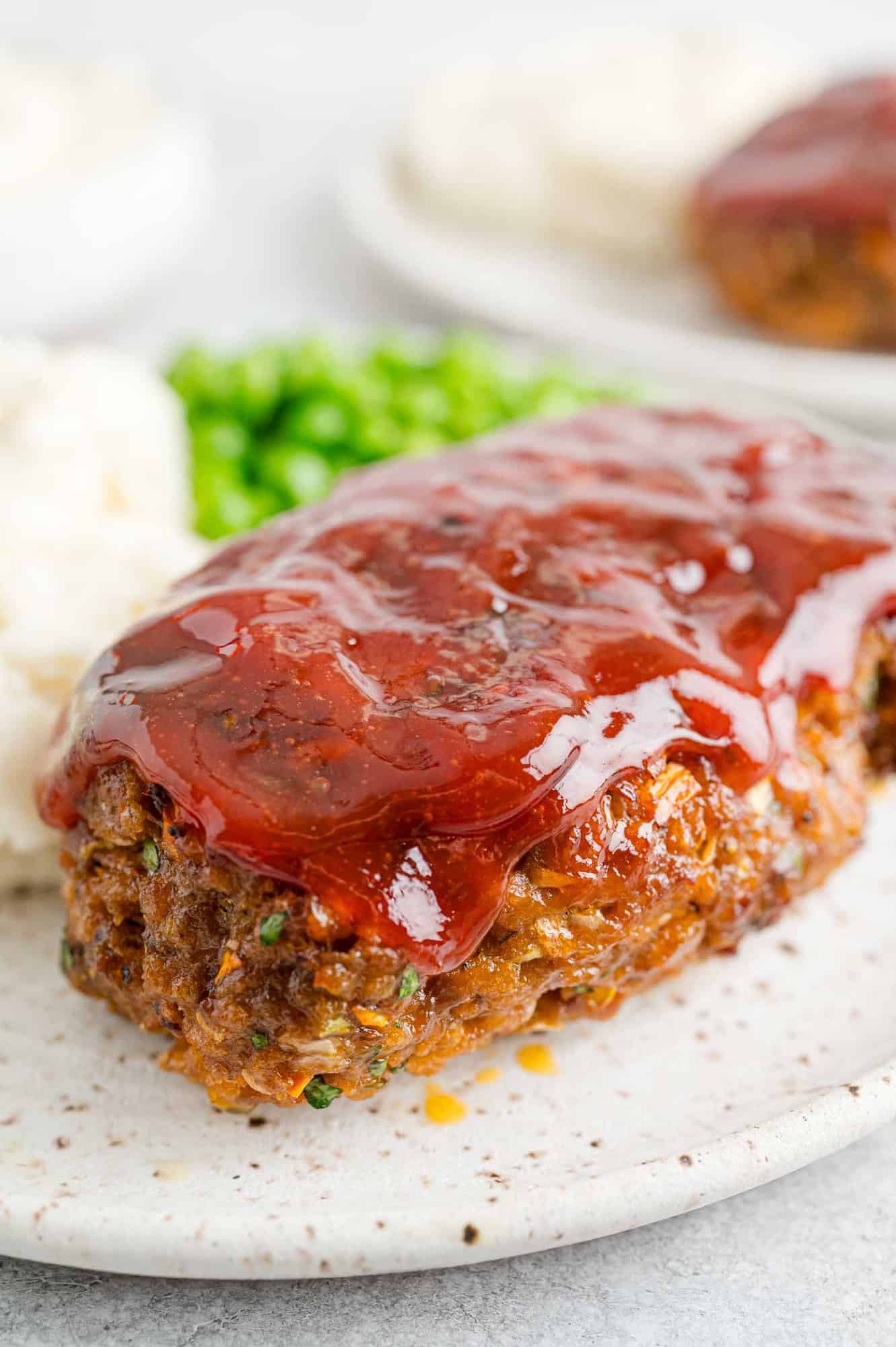 FAQs
How do you know how long to cook meatloaf in the air fryer?
The length of time needed depends on the size, shape, and temperature. These loaves aren't very thick, so they need just 25 to 35 minutes at 350ºF. The best way to know when your meatloaf is ready is to use an instant read thermometer to verify that the temperature is 165ºF.
Should air fryer meatloaf be covered with foil?
No, you don't need to cover the meatloaf with foil. The quick cooking time will help the meatloaf stay moist without being covered. Foil may impede air flow which is essential to cook the meatloaf properly. If you want to line the drip tray on the bottom of the air fryer to catch grease, that's perfectly fine.
What to Serve With Meatloaf
You can't go wrong with meatloaf and potatoes. Try crockpot mashed potatoes, crispy roasted potatoes, or stovetop scalloped potatoes.
Round things out with a vegetable. Add roasted broccoli, roasted green beans, or sautéed spinach. German red cabbage or sautéed green cabbage are good go-alongs, too.
Pasta salad goes well with meatloaf, too. Try grilled ratatouille pasta salad or bruschetta orzo pasta salad.
Flavor Variations
Italian-Style Meatloaf: Instead of ground pork, swap in Italian sausage. You can also add grated Parmesan cheese and chopped fresh basil to the mix, then use marinara instead of the glaze.
Tex-Mex Meatloaf: Switch out the celery and carrots for red bell pepper and a jalapeño. Use crushed tortilla chips instead of panko, cilantro instead of parsley, and add chili powder for flavor. Swap salsa for the glaze or top the meatloaf with Monterey Jack cheese.
BBQ Meatloaf: Use your favorite barbecue sauce instead of ketchup.
Oven Baked Meatloaf: Try my classic meatloaf recipe or mini turkey meatloaf sheet pan dinner, a one pan meal with meat, potatoes, and carrots all baked on one pan. Southwestern mini meatloaves are a fun alternative; they're muffin-sized meatloaves!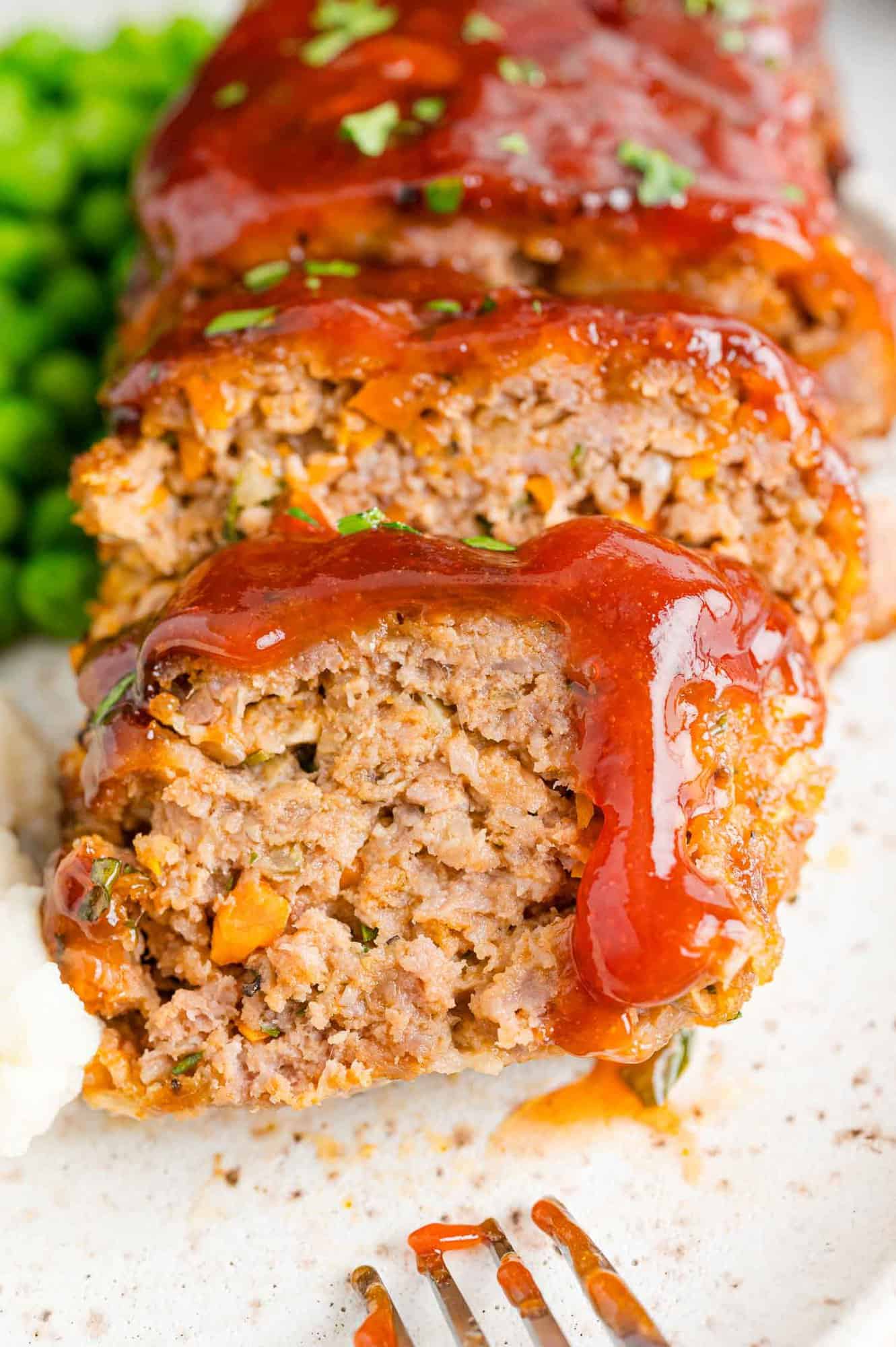 Make Ahead Ideas
Make a meatloaf for now, freeze one for later! Often ground meat comes in one pound packages. If you make a double batch, you'll use the whole package, rather than ½ pound of each.
Here's how to do it: Double the meatloaf mixture (use the servings adjuster in the recipe card and we'll do the math for you!) and form it into 4 loaves. Cook the first two right away, then freeze the other two on a parchment-lined baking sheet until they're solid. Wrap them tightly and freeze them for up to 3 months.
There's no need to thaw the meatloaf before cooking it. Put them in the air fryer frozen, set at 350ºF. Air fry for 40 to 45 minutes, or until the internal temperature is around 155ºF, then glaze and cook for an additional 3 to 4 minutes, or until the internal temperature reaches 165ºF.
Storage & Reheating Tips
Refrigerate: Store leftover meatloaf wrapped or in an airtight container for 3 to 4 days in the refrigerator.
Freeze: You can also freeze cooked meatloaf for up to 3 months; thaw it in the fridge overnight before reheating.
Reheat: Individual portions can be reheated in the microwave. Meatloaf can also be eaten cold in sandwiches or salads.
Leftover Love
Make a meatloaf sandwich: A simple sandwich with a slice of cold meatloaf stuffed between a couple slices of bread or in a bun is one of my favorites.
If you prefer a warm sandwich, top the meatloaf with caramelized onions and sharp cheddar. Brush the bread slices with garlic butter, if desired, and grill the sandwich on a griddle or in your air fryer until it's nice and toasty.
Did you make this? Be sure to leave a review below and tag me @rachelcooksblog on Facebook, Instagram, or Pinterest!
This air fryer meatloaf recipe comes together in under an hour, with all the satisfying savory flavor of the original. Don't skip the sweet and tangy glaze on top!
Ingredients
½

medium yellow onion, cut into quarters

½

medium carrot, peeled and ends cut off, cut into large chunks

½

stalk celery, cut into large chunks

1

clove

garlic, peeled

½

pound

ground beef (85/15)

½

pound

ground pork

(see note)

½

cup

panko bread crumbs

¼

cup

chopped fresh parsley, additional for garnish if desired

¼

cup

ketchup

1

tablespoon

Worcestershire sauce

1

teaspoon

kosher salt

½

teaspoon

coarsely ground black pepper
Glaze:
¼

cup

ketchup

2

tablespoons

packed brown sugar

1

tablespoon

red wine vinegar
Instructions
Place onion, celery, carrot, and garlic in a food processor and pulse until finely minced. You should have about ½ cup of the mixture. Put mixture into large bowl.

Add ground meat, bread crumbs, parsley,

¼

cup ketchup, Worcestershire, salt, and pepper. Mix to combine. You may want to use your hands. Don't over mix; ingredients should be just combined.

Form mixture into 2 loaves (about 7 inches by 3 to 4 inches, about 1 inch thick).

Cook in air fryer at 350ºF for 25 to 30 minutes. Internal temperature should be around 155ºF when measured with an instant read thermometer.

Meanwhile, combine

¼

cup ketchup, brown sugar, and red wine vinegar in a small bowl.

Coat meat loaves evenly with glaze. Cook for an additional 3 to 4 minutes or until glaze is caramelized and internal temperature is 165ºF.

Let meat rest 5 to 10 minutes before slicing.
Notes
Meatloaf can be made with all beef, or a mixture of ground meats such as ground turkey, veal, chicken, ground sausage, etc. Pork and sausage tend to have more fat so it's best to mix a leaner meat with it. However, we tested this with all beef and found it to be not meatloaf-y enough and more resembling a large hamburger. We tested it a few other ways and prefer this combo of pork and beef. So while other mixtures can work, they will change your final result.
Make Ahead: Make a double batch of meatloaf mixture. Form into 4 loaves; set 2 aside. Cook 2 loaves for immediate use. Place the uncooked meatloaves on a small sheet pan and freeze uncovered until firm, 1 to 2 hours. Remove from freezer and wrap securely. They will keep in the freezer for up to 2 months.
Cooking from frozen: Do not defrost. Air fry as directed, adding 15 minutes to cook time (40 to 45 minutes, plus a few minutes for glaze).
Flavor variations: Take a look at the post above for ideas.
Nutrition Information
Serving:
0.5
meatloaf
,
Calories:
370
kcal
,
Carbohydrates:
23
g
,
Protein:
22
g
,
Fat:
21
g
,
Saturated Fat:
8
g
,
Polyunsaturated Fat:
2
g
,
Monounsaturated Fat:
9
g
,
Trans Fat:
1
g
,
Cholesterol:
79
mg
,
Sodium:
1047
mg
,
Potassium:
557
mg
,
Fiber:
1
g
,
Sugar:
14
g
,
Vitamin A:
1775
IU
,
Vitamin C:
9
mg
,
Calcium:
60
mg
,
Iron:
3
mg
This website provides approximate nutrition information for convenience and as a courtesy only. Nutrition data is gathered primarily from the USDA Food Composition Database, whenever available, or otherwise other online calculators.