All dressed up with fresh garlic and a squeeze of lemon juice, sautéed spinach is a quick and easy side that is powerfully nutritious and so tasty!
Recipe Overview
Why you'll love it: It's a delicious way to add your daily greens to the menu.
How long it takes: 10 minutes
Equipment you'll need: large skillet with cover
Servings: 4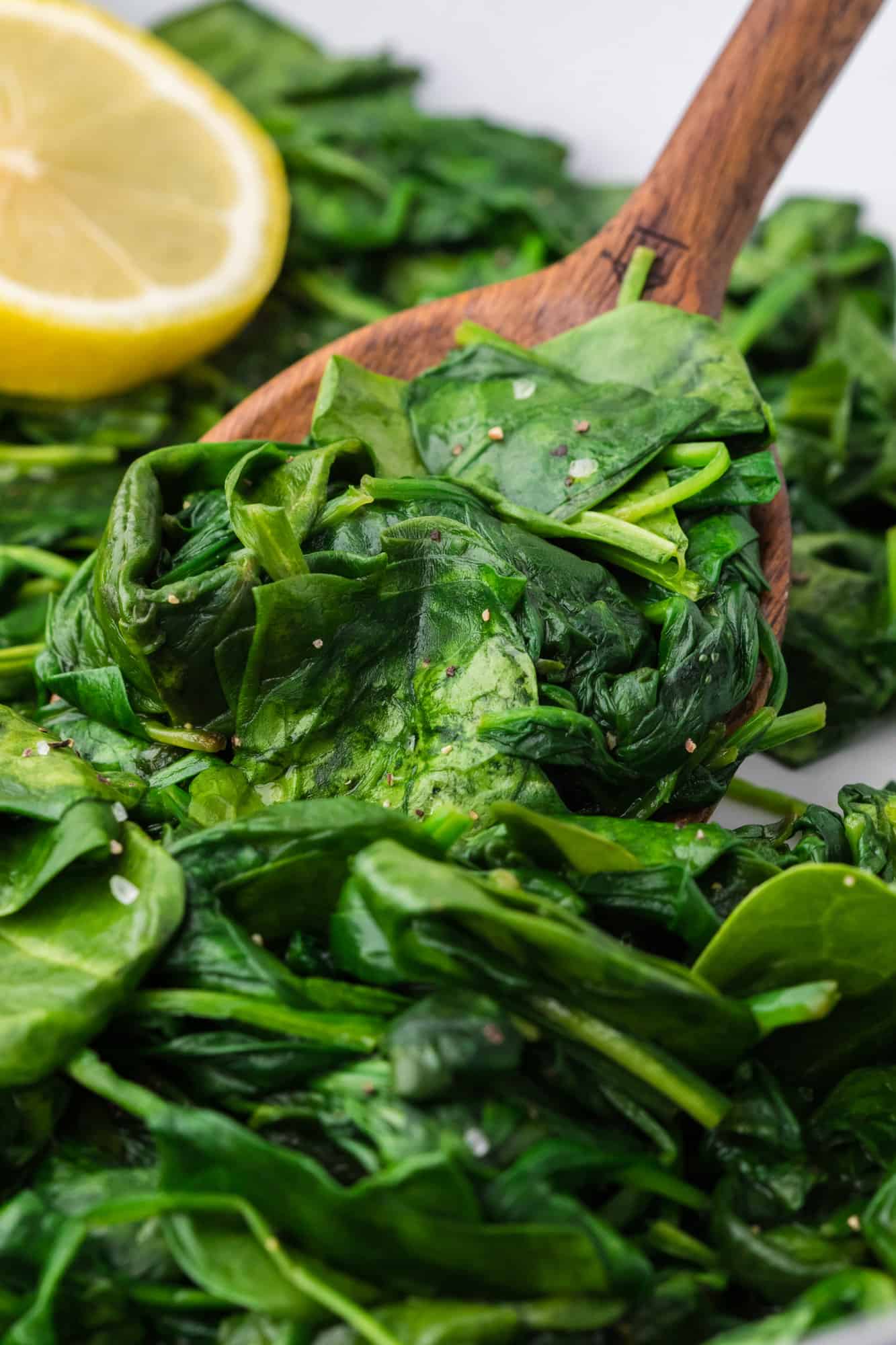 We all know we're supposed to eat lots of leafy green vegetables, right? Whether you're talking about reducing cancer risks or reducing your weight, leafy green vegetables always seem to make an appearance in the conversation. I can't tell you how many magazine articles I've read that say the same thing: eat leafy green vegetables. All right already, I get it!
Spinach has several health benefits from eye health to cancer prevention to reducing the risk of heart disease. Of course, there are lots of other leafy greens to choose from: kale, Swiss chard, arugula, just to name a few. Even cabbage falls into this category (be sure to try my sautéed cabbage!).
But I'm not here to pound you over the head with more nutrition facts or to try to make you feel guilty for not eating the right foods. That's not my job. My job is to bring you lots of delicious recipes and this sautéed spinach is one of them.
I can't help it that sautéed spinach is extremely healthy, too. Consider it a bonus.
About This Recipe
It doesn't get much easier than this. Throw the spinach in the pan with a little garlic and olive oil, add some salt and pepper, and cook it, but not very much!
We've all been victims of overcooked spinach, all olive green, slimy, and yucky looking. This is not Popeye's canned spinach. Gross! If that's what you're thinking of, put that thought right out of your head.
Sautéed spinach is vibrantly dark green, just barely cooked, and almost sweetish in flavor. Never bitter! Cooking spinach (the right way) enhances the flavor of spinach. I actually prefer spinach cooked rather than raw. I think it tastes better.
Give this recipe a try and see what you think. You're going to be pleasantly surprised, or maybe just plain blown away.
By the way, I usually choose baby spinach because I'm lazy. What can I say? Baby spinach usually comes in a package all nicely washed and ready to use.
Any type of spinach will work although if the leaves are really large, you'll want to chop them into smaller pieces before you cook them. More mature spinach may take a bit longer to cook.
Spinach IQ
There are many types of spinach! To greatly simplify, it can be boiled down to two main types: curly (savoy) or smooth.
Baby spinach is smooth spinach that's harvested when the leaves are very young, about 15 to 20 days.
Mature spinach is harvested when the leaves are fully grown, about 45 days.
Gardeners' Cultivar has an informative page listing 37 spinach varieties with photos of each. If you're interested in growing your own spinach (it's pretty easy!), you might want to check it out.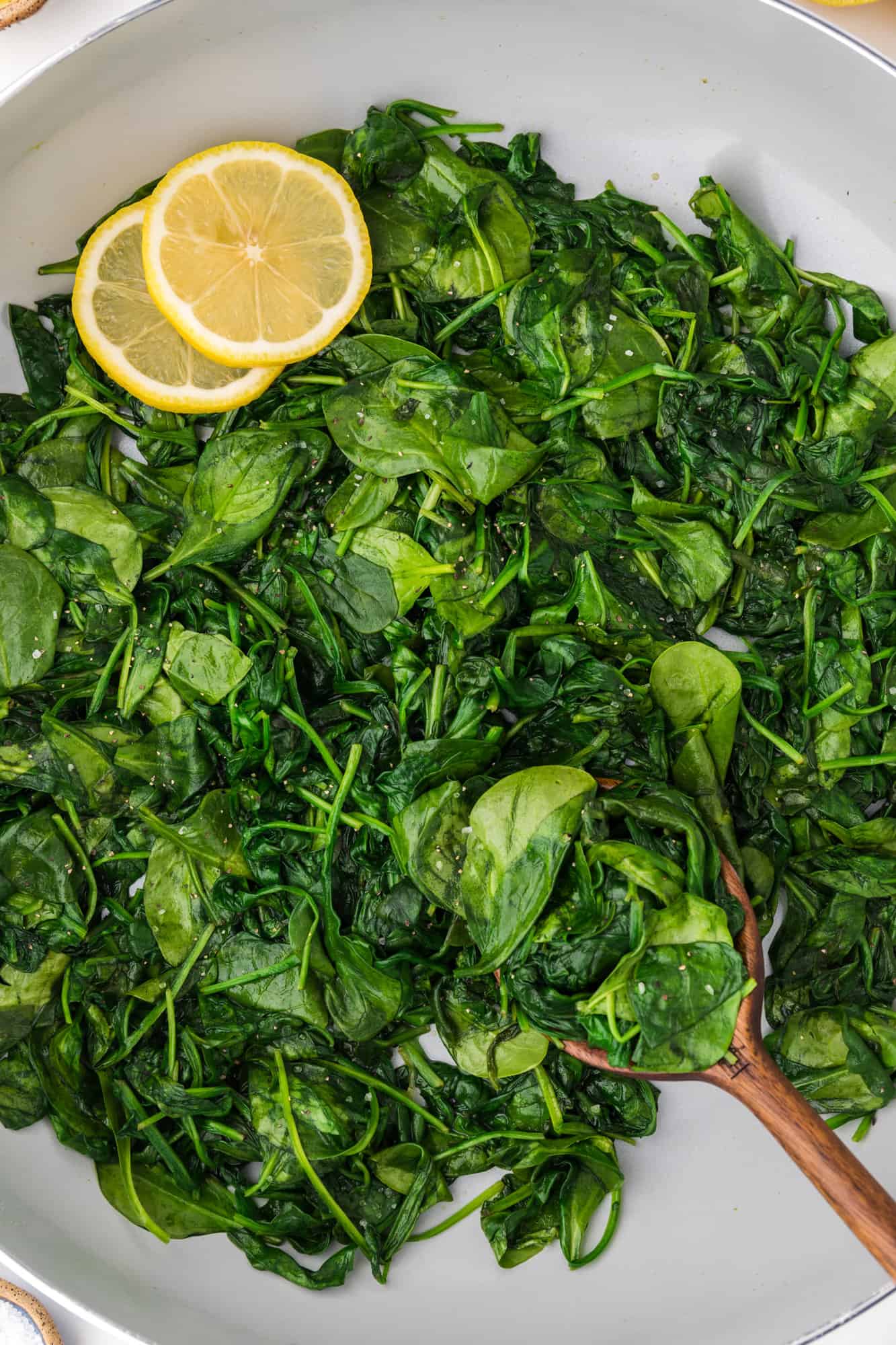 What You'll Need
Spinach: To make 4 servings, you'll need about 16 oz. of fresh spinach. It cooks down drastically so each serving is about a quarter cup. The recipe is written for baby spinach but if you have mature spinach, it can be substituted.
Olive Oil: Really, any type of oil can be used. Olive oil tastes great and has health benefits so it's the oil I usually choose.
Garlic: Totally optional! Add as much or as little as you want.
Salt & Pepper: Like most cooked vegetables, spinach benefits from simple seasoning, like salt and pepper. Use freshly ground black pepper for the best flavor.
Lemon Juice: Another optional flavoring, lemon juice perks up the flavor of spinach. Use freshly squeezed lemon juice. You could also serve the cooked spinach with a wedge of lemon. You'll find that spinach with lemon is a winning combination if you haven't tried this yet.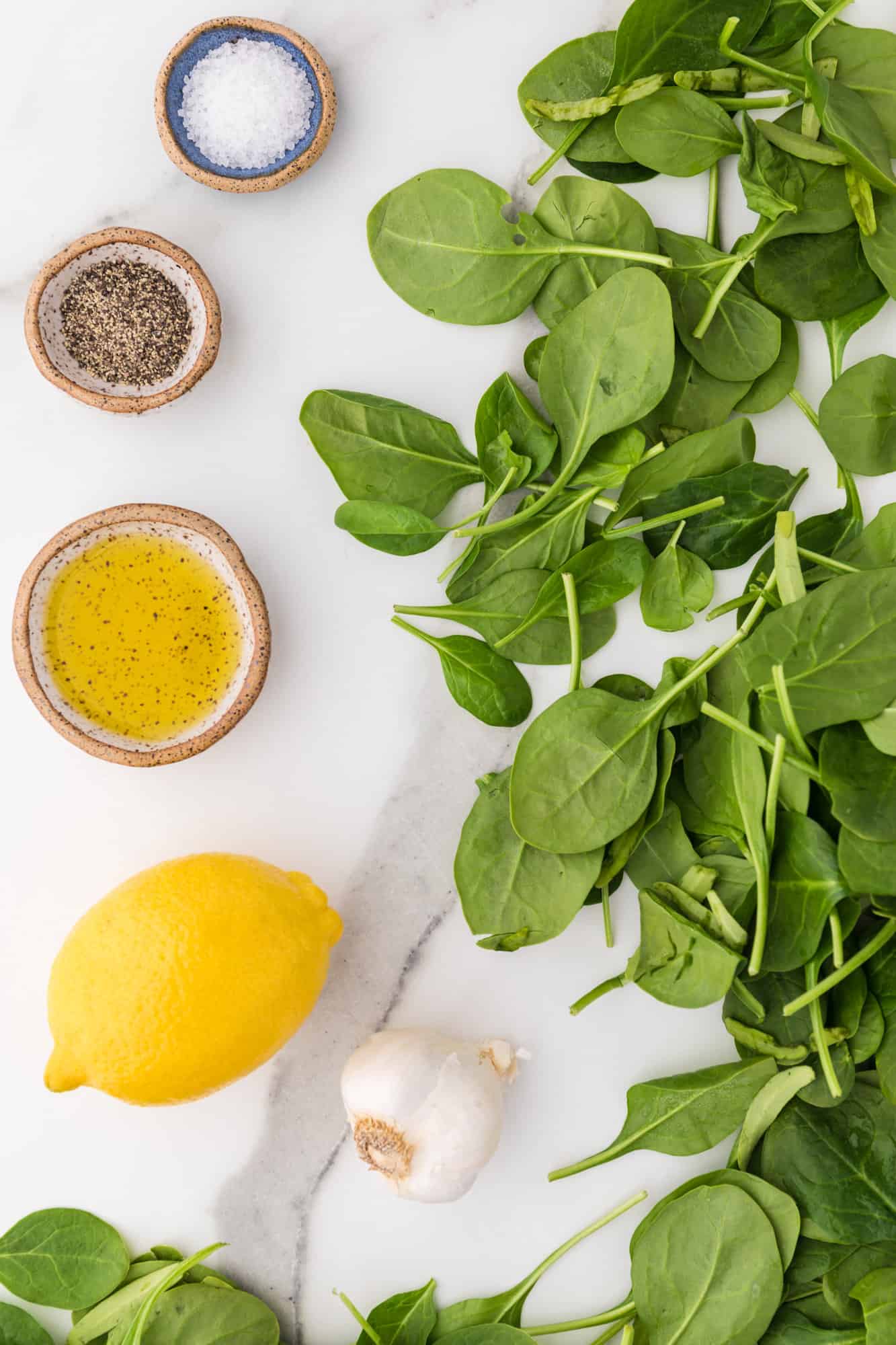 How To Make It
The first step is to make sure the spinach is clean. Often, packaged spinach is triple washed, which means you don't have to rinse it again. If you buy the spinach in bulk form, from a farm market, or grow your own, it will need to be washed thoroughly.
The best way to wash spinach is to fill a large bowl or clean sink with cool water and add the spinach. Swish it around and let the grit settle to the bottom. Remove the spinach leaves and repeat until all the dirt is removed.
There's no need to dry the spinach for this recipe. Simply shake off the excess water.
If you're planning on adding garlic, prep that before you get started. It's going in the pan first once you heat up the oil.
In a large skillet, heat a splash of oil over medium heat. When it's hot, add the garlic and cook it for a minute or so, until it's fragrant. Don't brown or scorch it. Just cook it long enough to release the fragrance.
Add the spinach, along with salt and pepper. I know, it looks like a TON of spinach but it really cooks down. If it doesn't all fit in your pan right away, cook what's in the pan for a minute or two. When it begins to shrink down, there'll be a little more room in the pan, so you can add the rest of the spinach.
Once it's all in there, cover the pan and cook the spinach for a couple of minutes. It will steam slightly and that just helps to get things rolling.
Remove the lid and cook for another few minutes, stirring pretty frequently, until the spinach is cooked to your liking. Don't overcook baby spinach because it tends to get slimy or mushy. You can see by the photos that the spinach is very lightly cooked. Cook it a little more than that if you want but not a lot more.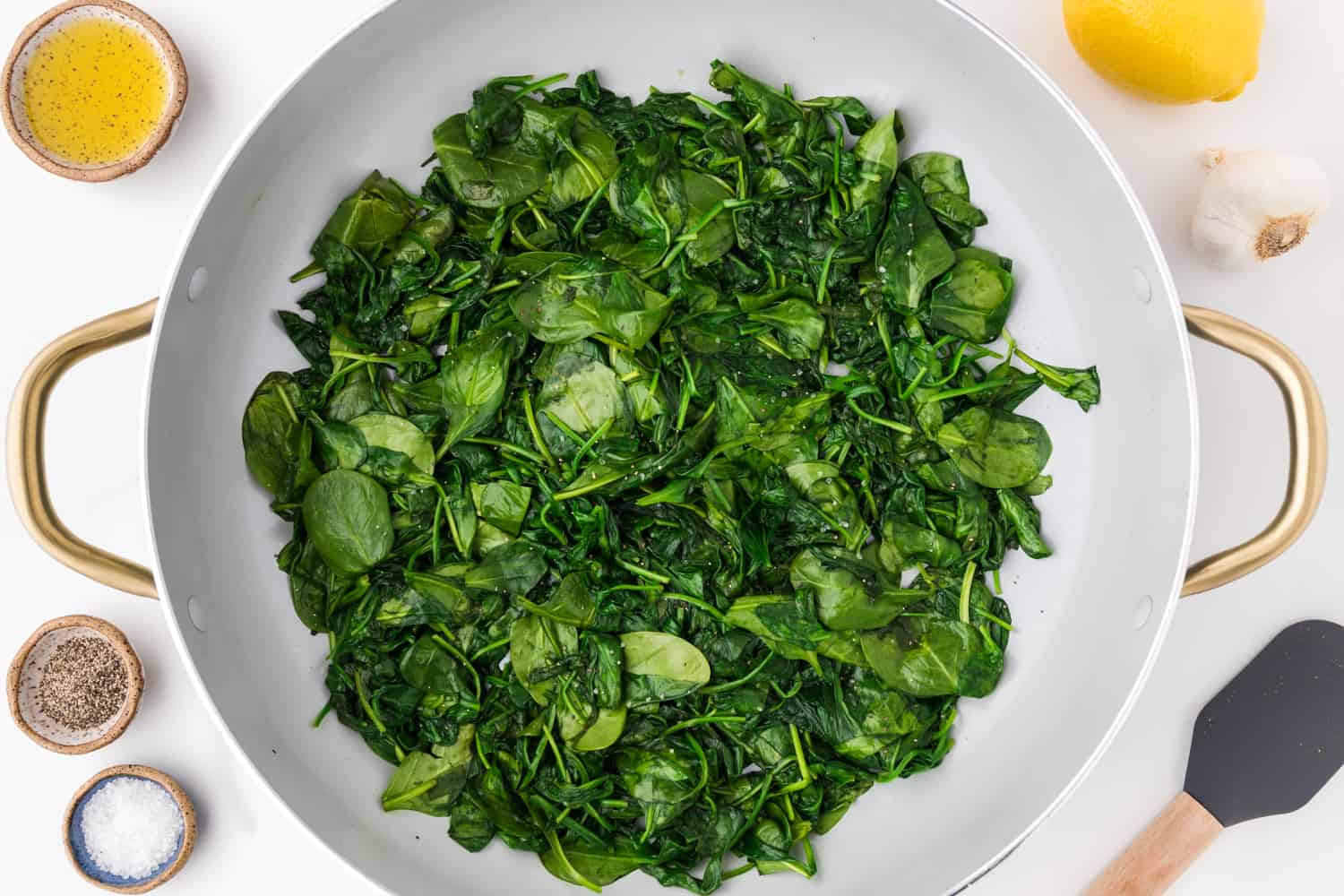 Remove the pan from the heat. Add a squeeze of lemon juice, if you want. Serve the spinach immediately. It's best when it's hot!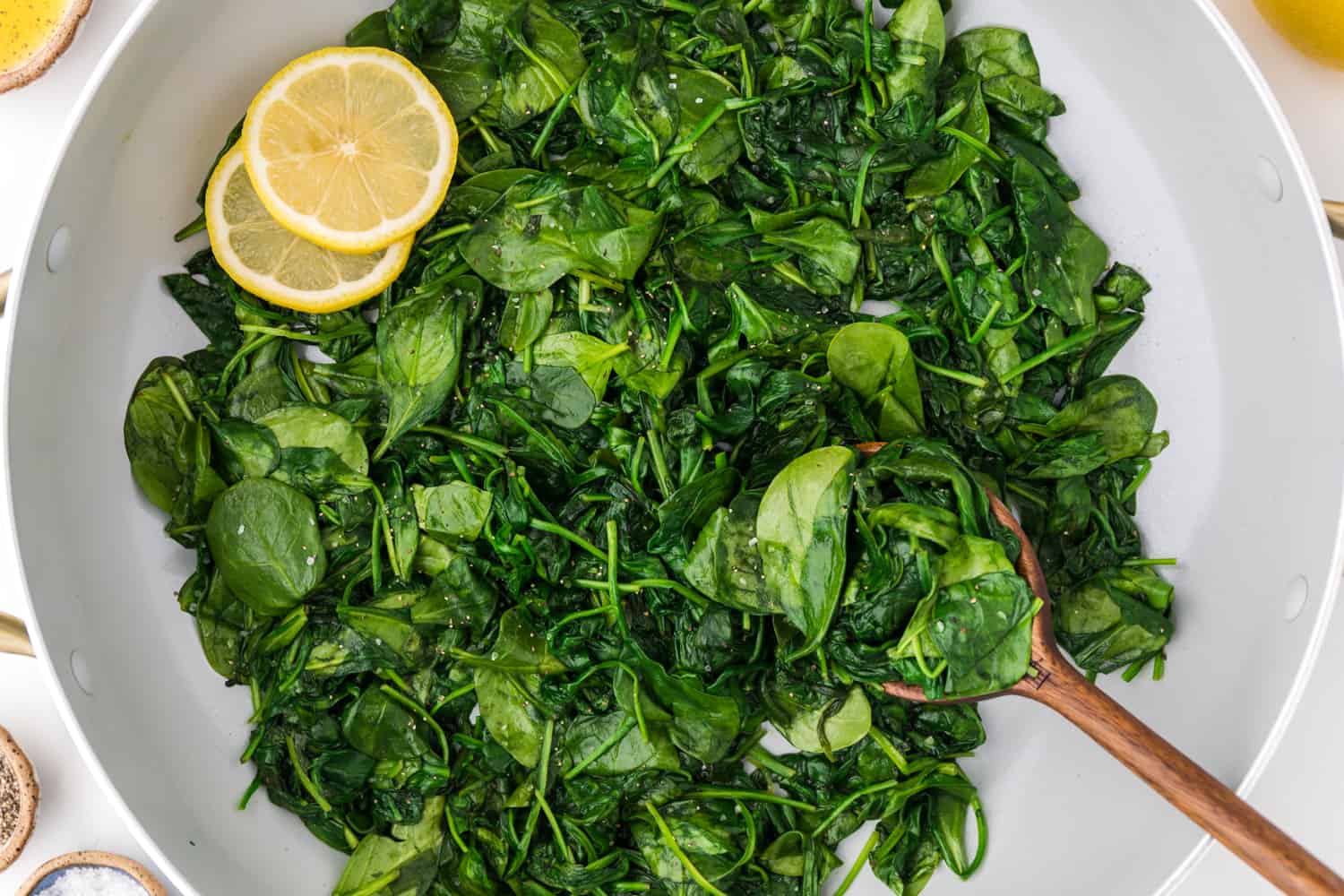 FAQs
How do you make sautéed spinach not bitter?
Yikes, we've all experienced that bitter taste. Spinach contains oxalic acid which can make it taste bitter in your mouth. There's a scientific reason for that and it's also the reason that your teeth feel weird after eating spinach (Plant Food At Home).
>Try not to overcook spinach.
>Choose a nonreactive pan (stainless steel, nonstick).
>Counteract the bitterness by adding seasoning. One good way is to add a squeeze of citrus juice (i.e. lemon juice). Seasoning the spinach well with salt and pepper is essential and garlic is another seasoning that helps.
Can you overcook spinach?
Yes. Overcooked spinach will taste bitter, look ugly, and get slimy and mushy.
Make-Ahead Ideas
Sautéed spinach is best served immediately. It's not ideal to make it ahead and since it cooks so quickly, there's not much benefit.
If you have an abundance of fresh spinach and want to learn how to freeze it, check out Simply Canning. They have lots of great tips for how to freeze spinach.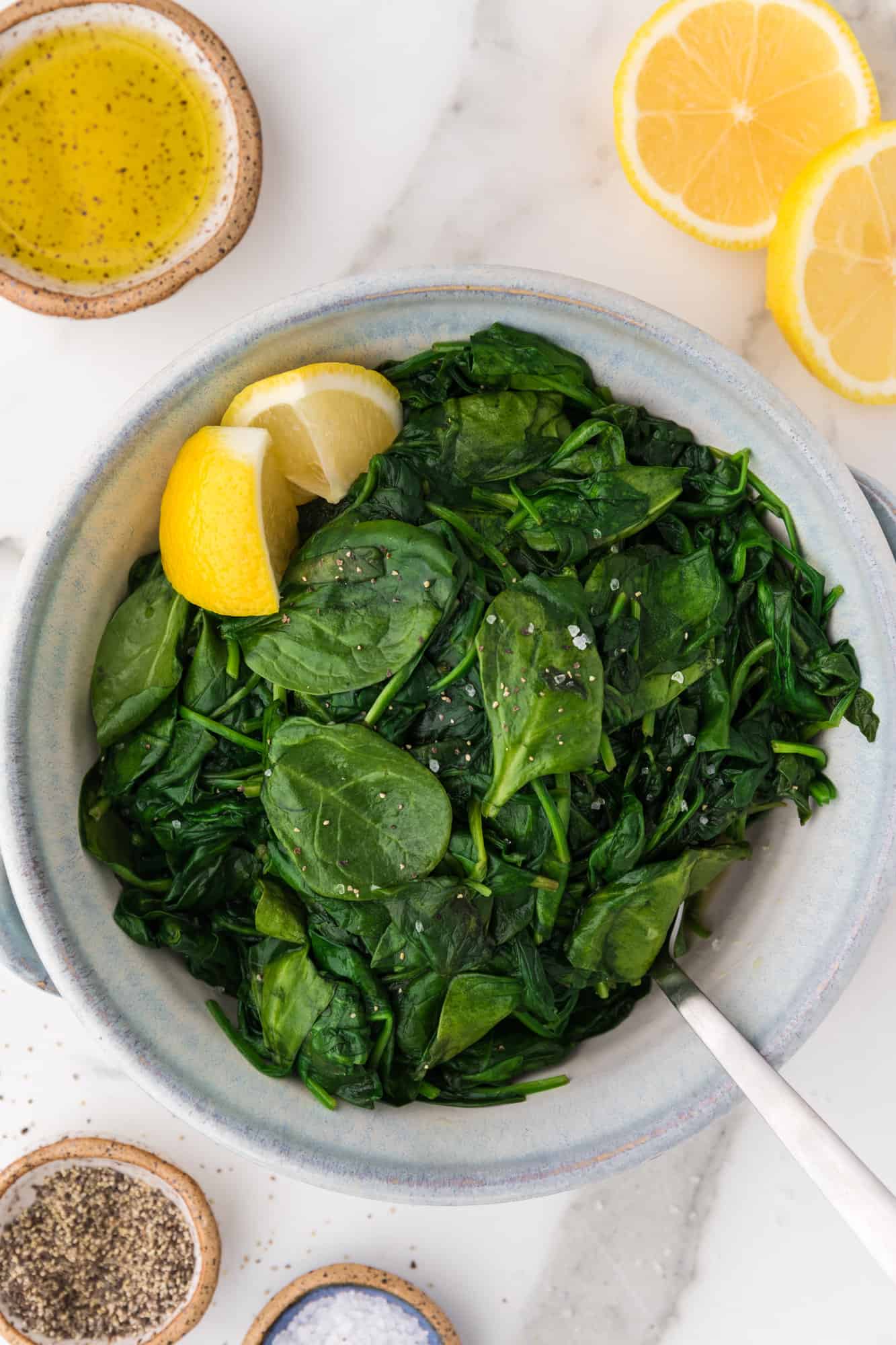 Storage & Reheating Tips
If you happen to have leftover spinach (and that's not likely), refrigerate it in a covered container. It will keep for a couple of days.
Reheat it briefly in a small skillet just until it's warmed through.
Did you make this? Be sure to leave a review below and tag me @rachelcooksblog on Facebook, Instagram, or Pinterest!
All dressed up with fresh garlic and a squeeze of lemon juice, sautéed spinach is a quick and easy side that is powerfully nutritious and so tasty!
Ingredients
1

tablespoon

extra virgin olive oil

1

clove

garlic, minced

(optional)

16

oz.

baby spinach

(about

15

cups)

½

teaspoon

kosher salt, more to taste

¼

teaspoon

coarse ground black pepper, more to taste

1

teaspoon

fresh lemon juice, optional
Instructions
Heat a very large skillet (that has a cover available) over medium heat. Add oil. If using garlic, add garlic to hot oil and sauté for 1 minute, stirring constantly. Don't let it scorch.

Add spinach, salt, and pepper and toss to coat with oil. If all of the spinach doesn't fit into the pan, add what you can and let it cook for a couple of minutes, then add the rest. Cover and cook for 3 minutes or until spinach has wilted slightly.

Uncover and stir, cooking for another 3 to 4 minutes or until spinach is completely wilted and cooked to your liking, and most of the liquid has evaporated.

Stir in lemon juice, if desired, and serve immediately.
Notes
Spinach is mostly water so it really cooks down. Even though 16 oz. of spinach may look like a LOT of spinach, you'll end up with roughly one cup of cooked spinach, depending on long you cook it. The more you cook it, the more it will shrink down.
Don't overcook baby spinach. It tends to get slimy or mushy. It's best when it's lightly sautéed.
If you prefer, substitute regular spinach for baby spinach. Baby spinach is harvested when the leaves are very small (15-20 days) and regular spinach is allowed to mature (45 days). Add a little more cooking time if you're not using baby spinach.
Nutrition Information
Serving:
0.25
cup
,
Calories:
58
kcal
,
Carbohydrates:
4
g
,
Protein:
3
g
,
Fat:
4
g
,
Saturated Fat:
1
g
,
Polyunsaturated Fat:
1
g
,
Monounsaturated Fat:
3
g
,
Sodium:
380
mg
,
Potassium:
638
mg
,
Fiber:
3
g
,
Sugar:
0.5
g
,
Vitamin A:
10634
IU
,
Vitamin C:
32
mg
,
Calcium:
114
mg
,
Iron:
3
mg
This website provides approximate nutrition information for convenience and as a courtesy only. Nutrition data is gathered primarily from the USDA Food Composition Database, whenever available, or otherwise other online calculators.