Quinoa is protein packed and so versatile! Check out these 24 easy quinoa recipes to get some great ideas for how to use it!
Some may call quinoa a fad food like kale, but it's a delicious and healthy staple in our pantry. (So is kale, for that matter.)
Quinoa is a good source of plant-based protein and is naturally gluten-free. Try it as a side dish, along with vegetables. It's more protein-packed than rice (1 cup quinoa contains over 8 grams of protein, whereas brown rice only contains 5 grams) and can be flavored in many of the same ways.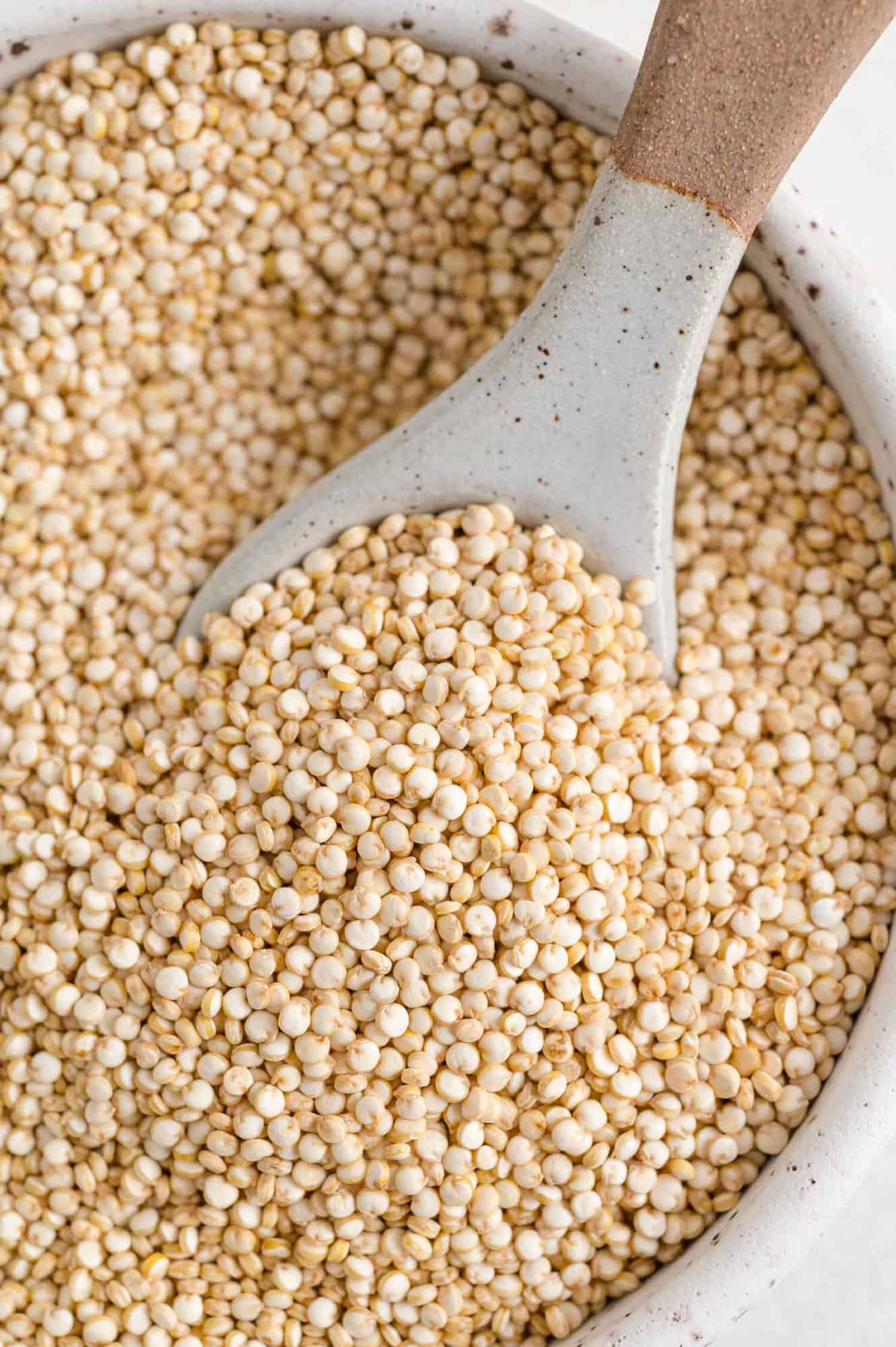 We eat it often in soups, salads, and all the usual places you'd find quinoa. But our favorite are quinoa pancakes. They're the best — and a protein packed breakfast. I try to always have cooked quinoa in the freezer on hand for some quick meals.
Quinoa Facts
One cup of cooked quinoa contains over 8 grams of protein and over 5 grams of fiber.
Quinoa also contains antioxidants, vitamin E, lysine, and a variety of amino acids. Read more about the health benefits of quinoa (Healthline).
There are many types of quinoa – you'll see red, white, and black. You may also see a tricolor variety in stores.
Basic Quinoa Cooking Tips
Always rinse quinoa before cooking. Quinoa is coated in a naturally occurring chemical called saponin. Some brands will be labeled pre-washed, in which case you can likely skip this step.
While cooking, expect quinoa to expand 3 times in size. 1 cup of uncooked quinoa will yield 3 cups of cooked quinoa.
When cooking, use the ratio of 2 parts water to 1 part quinoa. So if you're cooking a cup of quinoa, you'll need two cups of water.
Enjoy this list! What is your favorite use for quinoa?
24 Easy Quinoa Recipes