Start your day right with quinoa pancakes, an easy pancake recipe made with quinoa for extra protein and nutrition.
Recipe Overview
Why you'll love it: Quinoa pancakes are a perfect way to fit more nutritious eating into your day. They feel like a treat but they're packed with protein, fiber, and nutrients. Kids love 'em too!
How long it takes: 15 minutes (plus additional time to cook quinoa)
Equipment you'll need: mixing bowl, griddle
Servings: makes 6 large pancakes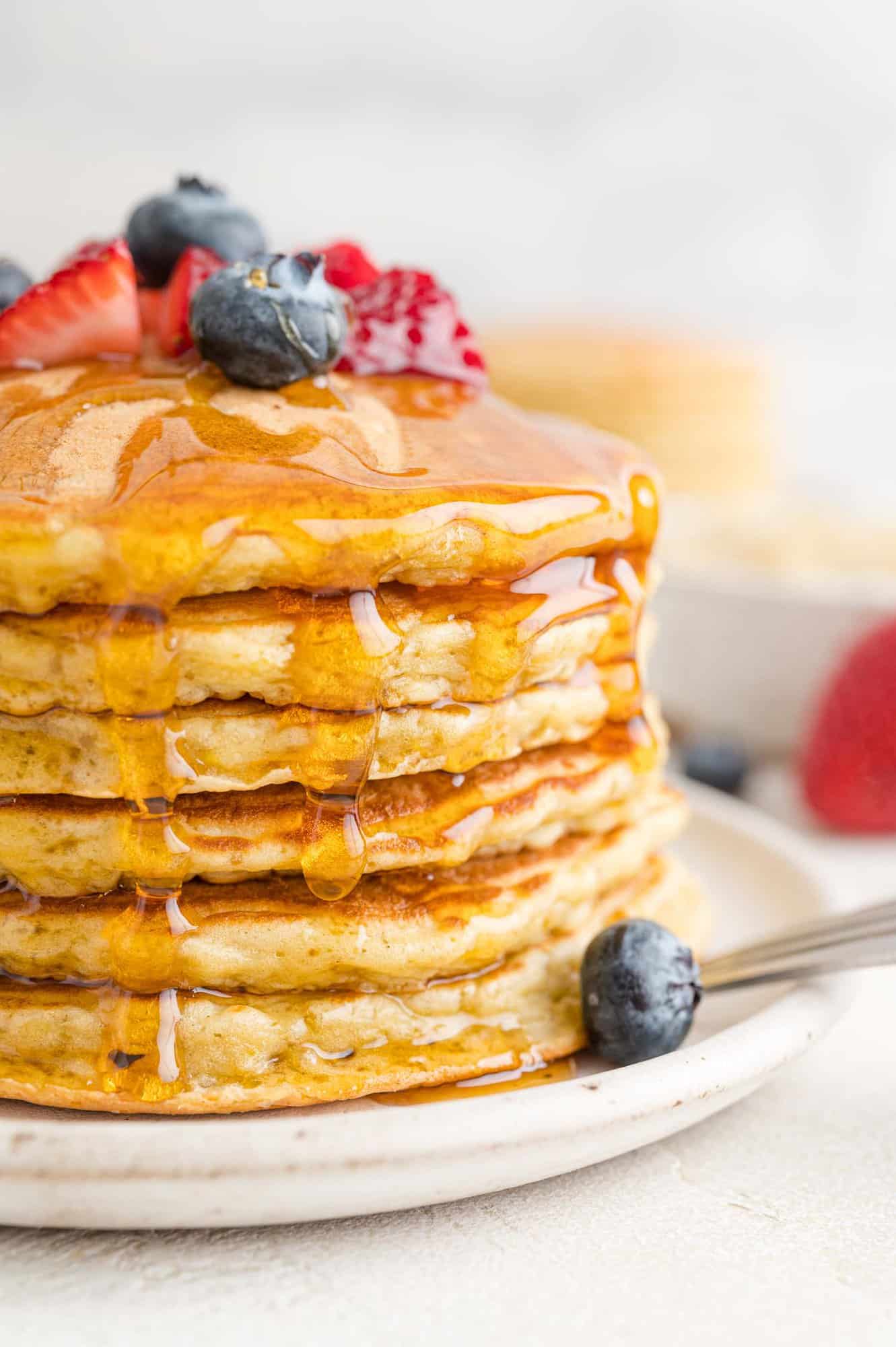 I'm a big breakfast person. I usually have two scrambled eggs, toast, fruit, juice and coffee. Sometimes I have oatmeal with ground flax, dried cranberries, fresh or frozen blueberries and toasted walnuts. (Be sure to check out my list of 23+ easy breakfast ideas!)
It is important for me to eat a big breakfast because sometimes I don't get a chance to eat lunch until about 3 PM. That's one of the reasons I love this recipe for quinoa pancakes. The pancakes are a good way to add protein to my breakfast so it will stick with me well into the early afternoon.
You're going to love quinoa pancakes. They are slightly different from typical pancakes because there is a little bit of a crunch from the quinoa but these pancakes are fluffy, light, and tender. Pure maple syrup sweetens the batter which gives the pancakes a really nice flavor.
If you like the idea of adding quinoa to pancakes, be sure to try my apple quinoa pancakes, too. The pancakes are studded with bits of sweet apple and topped with a warm cinnamon-laced apple compote. I swear I could live on those pancakes!
My husband really loves quinoa power pancakes made with quinoa, whole wheat flour, ground flax seed, wheat bran, and an extra egg white for lots of protein. The pancakes are fiber-rich, packed with protein, and super hearty.
Is Quinoa Good For You?
Quinoa (pronounced KEEN-wah) is a quick-cooking protein-packed seed that is generally considered to be a grain. It contains all 8 amino acids necessary for a complete protein. Quinoa is rich in vitamins, minerals, and fiber.
Quinoa is easy to prep and stores well in the fridge or freezer. Cooked quinoa is great in salads, soups, bowls, and casseroles. It can be used to stuff tomatoes or squash. Check out my list of 24 easy quinoa recipes.
About Quinoa Pancakes
Why make quinoa pancakes? Why not buy a pancake mix at the grocery store?
Making your own pancakes is economical and better for you. The ingredients are simple and you probably have most of what you'll need already in your pantry. When you make your own pancakes, you can rest easy knowing that there are no preservatives or artificial ingredients added to your breakfast. If you're looking for an easy pancake mix that you can make ahead and keep in your pantry, try my pancake mix (with whole wheat option).
Quinoa pancakes have fiber, extra protein, and other nutrients. The pancakes are a good start to the day. You won't feel hungry by mid-morning. In fact, often my kids will beg me to make pancakes for dinner and why not? It's an easy and nutritious meal. Add scrambled eggs and a bowl of fresh fruit to round out the meal.
You can make the pancakes ahead. Quinoa pancakes store well in the fridge or freezer so they are ready to eat at breakfast time. Simply pop one in the toaster or toaster oven and it will taste freshly made. The quinoa can be prepped ahead, too, and frozen or refrigerated until you're ready to use it.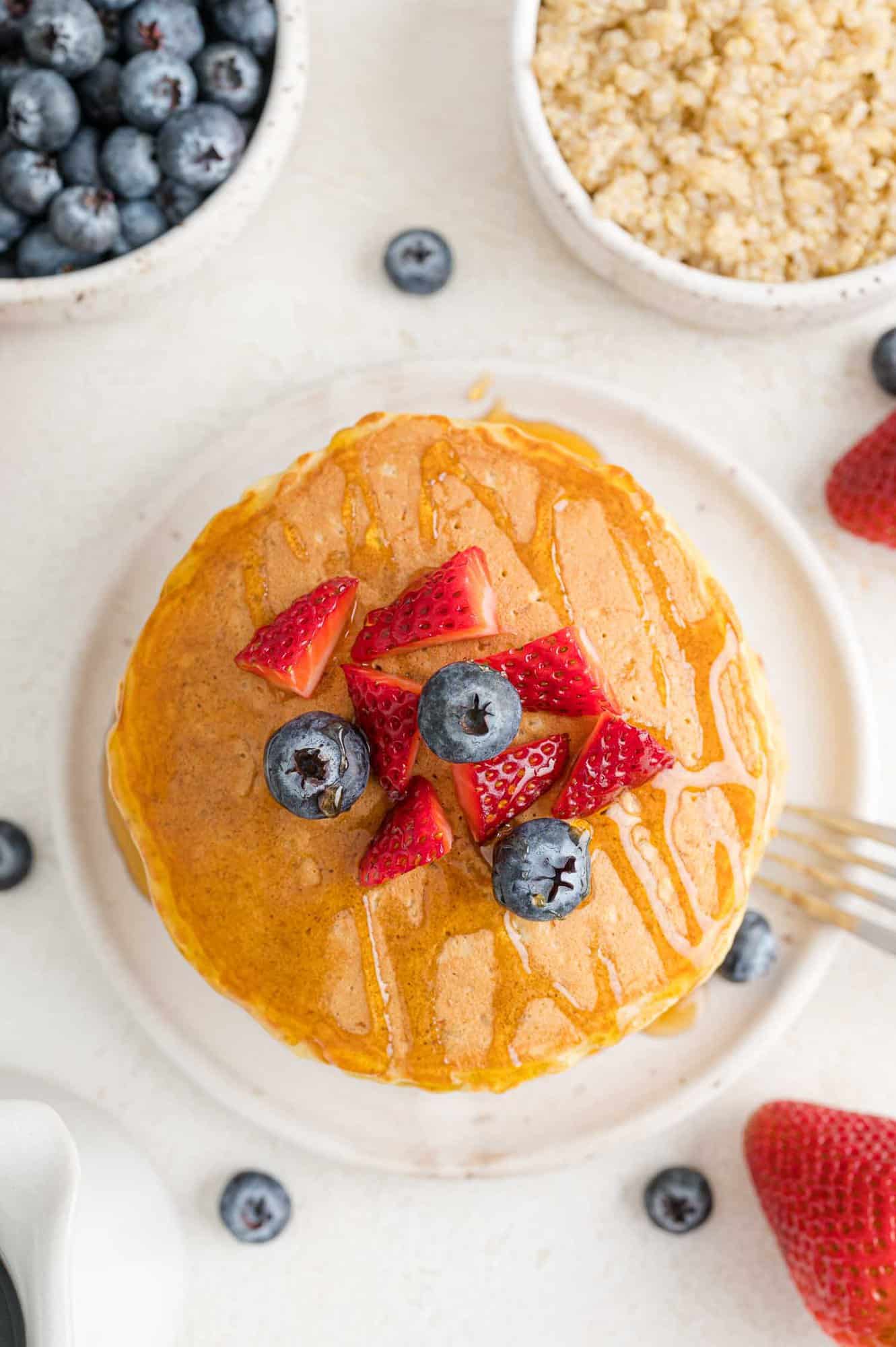 Ingredients You'll Need
Cooked quinoa: You'll need one third cup of dry quinoa to make 1 cup of cooked quinoa. I usually use white quinoa for pancakes because it makes more normal looking pancakes than red or black quinoa.
All Purpose Flour: If your family is used to the texture of whole wheat flour, feel free to substitute it or use a combination of both types of flour. The pancakes are a bit lighter and fluffier when you use all purpose flour. I usually choose unbleached flour.
Baking Powder: The pancakes are leavened with baking powder — it's what makes them "puff up" and gives them a fluffy texture. Don't substitute baking soda; it's not the same product and won't work as well.
Eggs: A couple of eggs add rich flavor, enhance the texture, and add protein.
Salt: You may wonder why there is salt in pancakes. A pinch of salt keeps the pancakes from tasting flat. They don't taste salty but you would definitely miss it if you omitted it.
Butter: A tablespoon of melted butter is added to the pancake batter so the pancakes are tender. You could also use a mild-tasting oil such as canola oil or vegetable oil. If you want, additional butter can be used to fry the pancakes but it usually isn't necessary with a nonstick griddle.
Milk: Use whatever type of milk you have on hand: whole, 2%, or lowfat. Nondairy milks are fine, too, as long as they are unflavored and unsweetened.
Pure Maple Syrup: Everyone loves maple syrup ON their pancakes so why not include a little in the pancake batter? So good!
Ground Flaxseed, Optional: Sometimes referred to as flaxseed meal, ground flaxseed is ground up flax seeds. Flax is nutritious, with lots of protein, fiber, and omega-3s, but the whole seeds are hard to digest and often pass through the digestive system whole. Usually you'll find ground flaxseed in the baking aisle of the grocery store. Bob's Red Mill is a popular brand.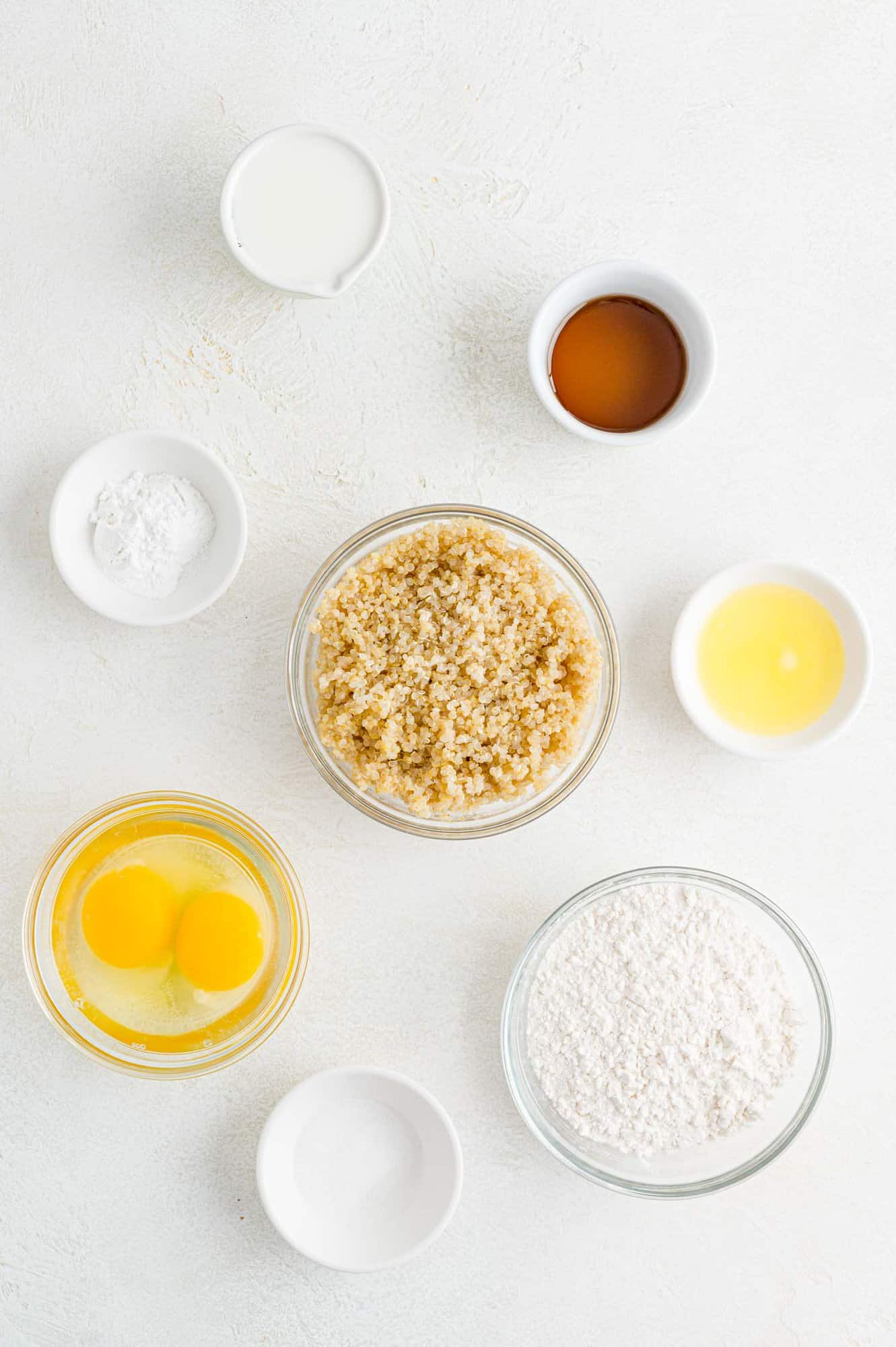 How To Make Quinoa Pancakes
Making quinoa pancakes is pretty much the same as regular pancakes once you have the quinoa made.
Mix the wet ingredients together. Begin by lightly whisking the eggs in a mixing bowl. Add the quinoa, butter, milk, and syrup and blend the ingredients together.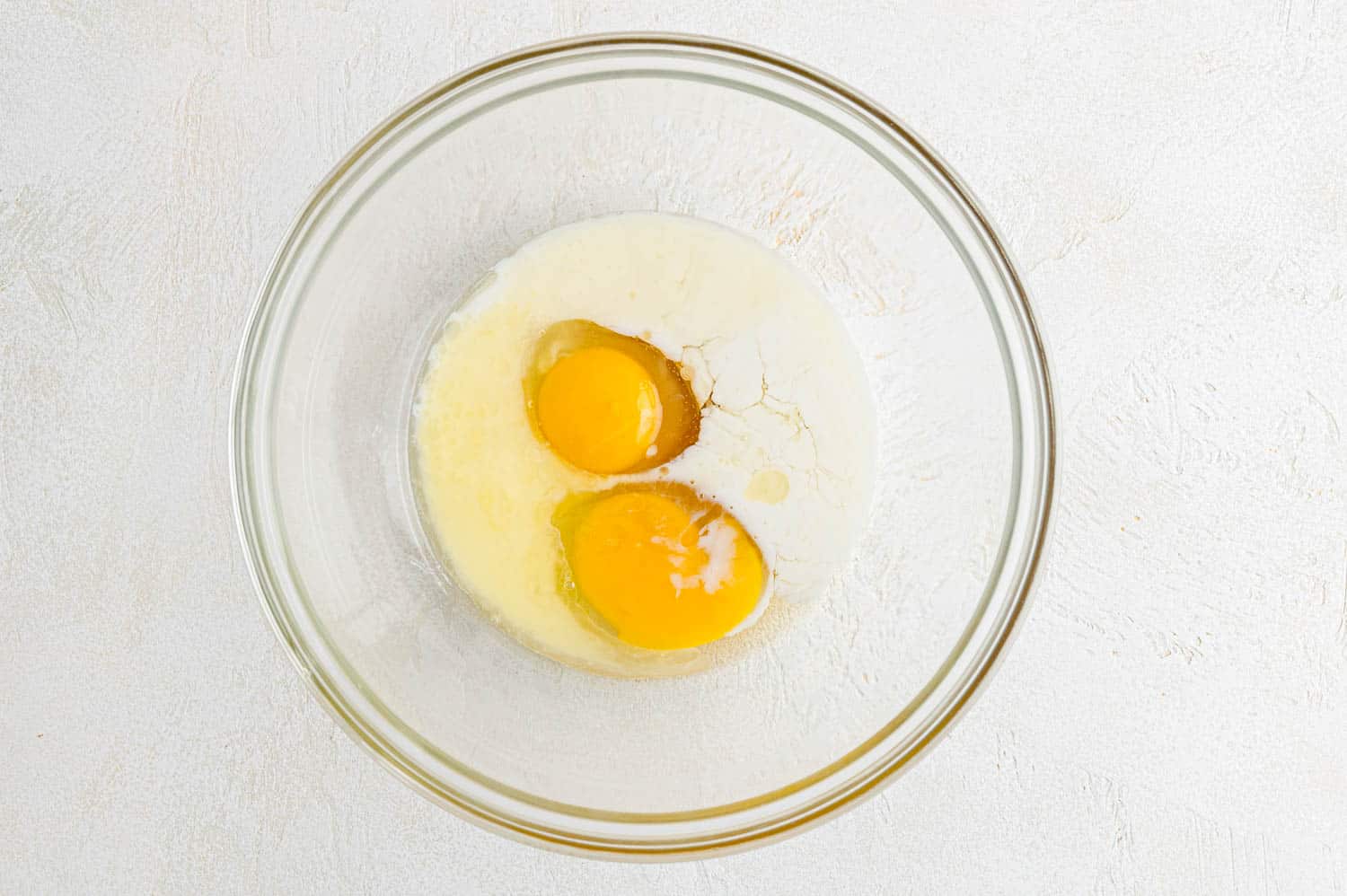 Add the dry ingredients. Add the flour, baking powder, salt, and ground flaxseed, if using, to the bowl. Whisk the dry ingredients into the wet ingredients, mixing just until blended.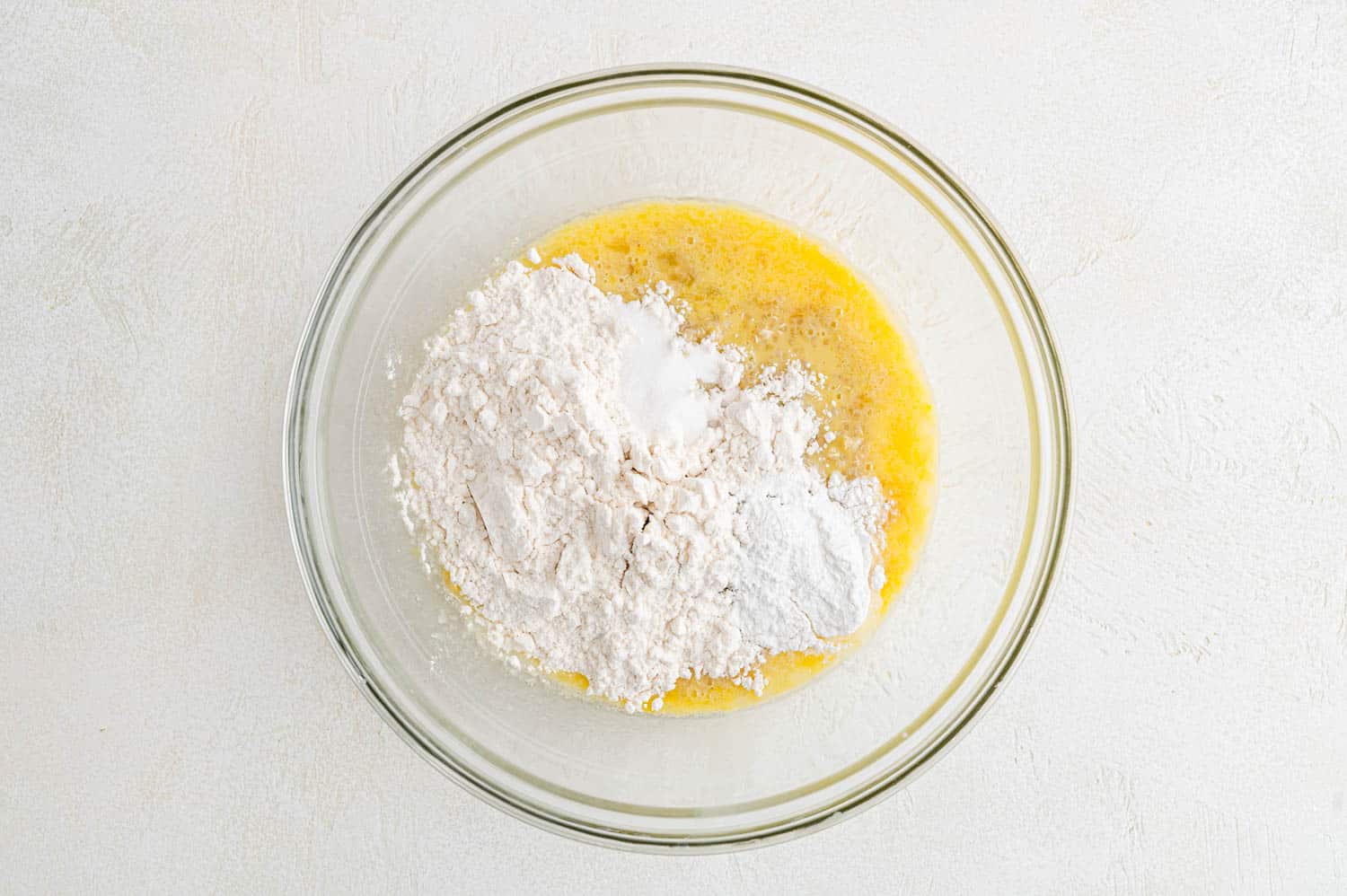 Fry the pancakes. Heat a griddle or large skillet over medium heat. When the pan is hot, add butter if desired. Scoop a quarter cup of batter out of the bowl and pour it into the pan. If the batter seems too thick, you may want to spread it out a bit, or add a tablespoon or so of milk to the batter.
Add as many pancakes to the pan as will fit. Fry the pancakes on one side until bubbles form and pop. That's the baking powder doing its job. Flip the pancakes over and fry until golden brown.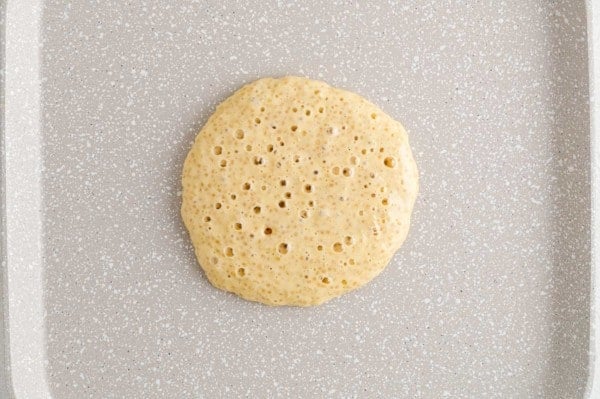 Serve immediately with a drizzle of pure maple syrup and fresh fruit, if desired.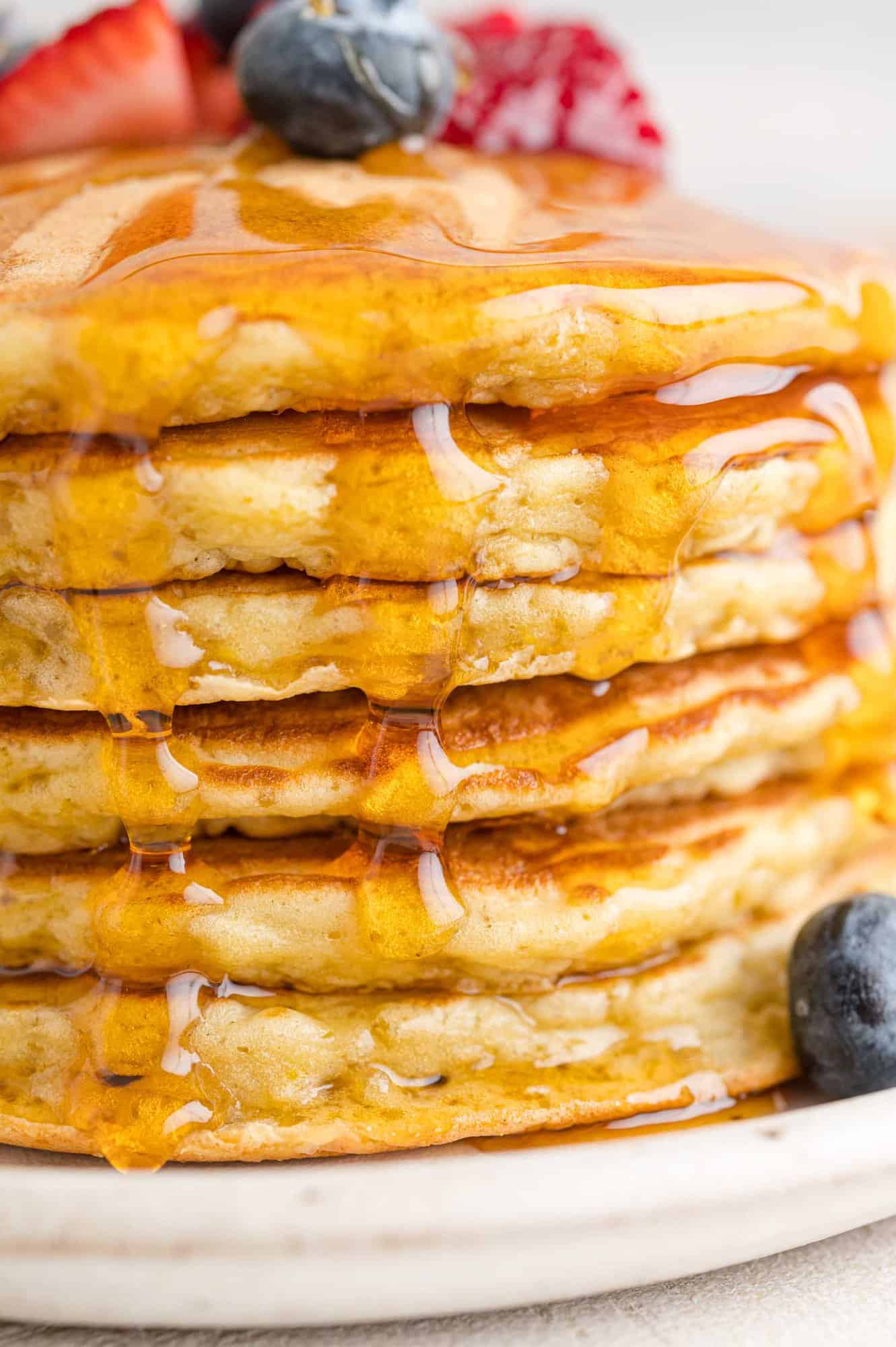 What Is the Secret to Good Pancakes?
Follow the recipe. Be sure to measure correctly and have everything you need on hand. One common mistake happens when measuring flour. Use a spoon or scoop to lightly fill the measuring cup; level it off with a table knife or other flat edge. If you add too much flour, the pancakes will be too thick and dry.
Use a light hand when stirring. Overstirring the batter causes the baking powder to activate right away before it has a chance to leaven the pancakes. Your pancakes won't rise properly and will be flat and hard.
Preheat the skillet or griddle. The pan should be nice and hot before you add the batter so the pancakes begin "baking" immediately, resulting in light, fluffy pancakes, just the way they are meant to be.
Looking for a vegan option? Try my delicious vegan pancakes!
Topping Ideas
While everyone loves maple syrup, there are more ways to top a pancake. For lots of topping ideas, be sure to check out my other site, Pancake Recipes.
Sweet Toppings: Try chocolate syrup, cinnamon sugar, or warm caramel sauce. Freshly sliced bananas, strawberries, or peaches are wonderful. For "apple pie" pancakes, top a pancake with dollop of warm cinnamon-spiced applesauce or apple compote. Whipped cream is always a hit, too.
Savory Toppings: Top a pancake with a runny fried egg and/or crumbled bacon. Roll a pancake around a sausage link for homemade "pigs in the blanket."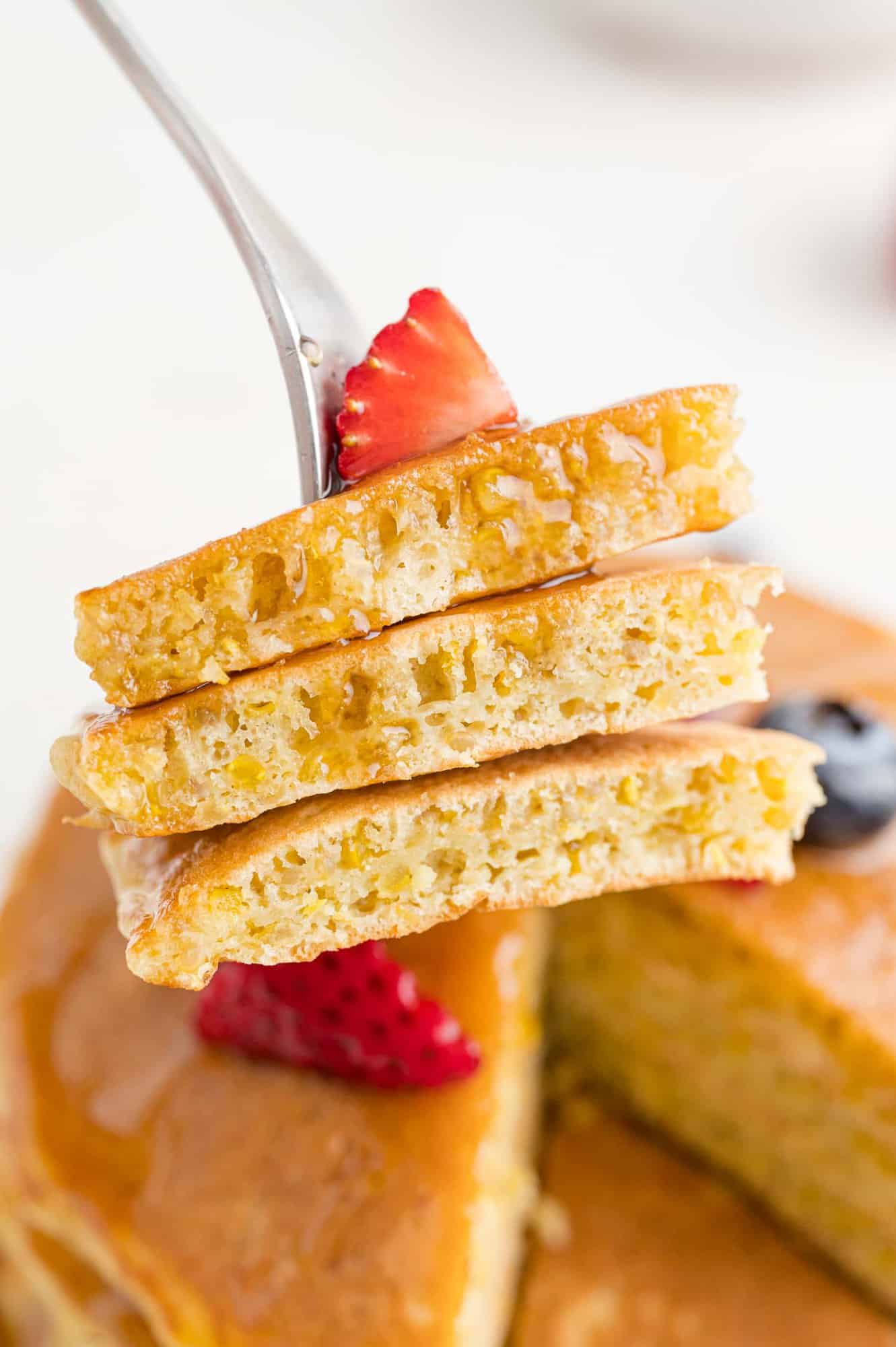 Make Ahead Ideas
Prep the quinoa ahead: Quinoa pancakes are easier to make in the morning if you have the quinoa already made. I cook the entire package of quinoa and freeze it for later use. Try freezing cooked quinoa yourself; it's such a timesaver and it thaws very quickly.
Make the pancakes ahead: Make a double or triple batch of quinoa pancakes and freeze the extras for an easy breakfast. Making your own pancakes is way more economical and healthier than buying commercial frozen pancakes or waffles.
Storage & Reheating Tips
Refrigerate: Pancakes will keep in the fridge for up to a week in an airtight container or ziptop bag. Cool completely before storing; condensation will form on the inside of the container if the pancakes are still warm, causing the pancakes to get soggy.
Freeze: Cool the pancakes completely on a wire rack, stack them with waxed paper or parchment paper between layers, and put them in a freezer container or bag. They'll keep for up to 2 months. There's no need to thaw pancakes before reheating them.
Reheat: Your toaster oven or air fryer will do the best job. I heated three of these in my toaster oven this morning, and wow! It was like they were fresh off the griddle because they were crispy on the outside and soft on the inside. Delicious.
Did you make this? Be sure to leave a review below and tag me @rachelcooksblog on Facebook, Instagram, or Pinterest!
Start your day right with quinoa pancakes, an easy pancake recipe made with quinoa for extra protein and nutrition.
Ingredients
1

cup

cooked quinoa

(see note)

¾

cup

all-purpose flour

2

teaspoons

baking powder

2

large

eggs

½

teaspoon

salt

1

tablespoon

unsalted butter, melted

(more for skillet, if desired)

¼

cup

milk

2

tablespoons

pure maple syrup

2

tablespoons

ground flax seed, optional
Instructions
In medium bowl, whisk together eggs, butter, milk, and syrup until smooth.

Add quinoa, flour, baking powder, salt, and ground flax seed if using. Whisk just until combined.

Heat a large nonstick skillet or griddle over medium heat. Drop batter by ¼ cupfuls onto skillet. Spread into an even layer, if needed. Cook 2 to 4 minutes, or until top appears slightly dry and bottom is golden. Flip cakes and cook until golden brown on other side, 2 minutes. Repeat with remaining batter.

Serve immediately with maple syrup and fresh fruit, if desired.
Notes
Make quinoa in your Instant Pot or on the stove (follow package directions). You'll need ⅓ cup dry quinoa to make 1 cup cooked quinoa. I like to cook the whole package and freeze the extra. Learn how to freeze quinoa.
Yield will vary depending on the size of the pancakes.
If desired, make a double batch and freeze half of the pancakes. Freeze pancakes between sheets of parchment paper in zip-top bags, up to 1 month. Reheat in toaster, toaster oven, or microwave oven.
Nutrition Information
Serving:
1
pancake
,
Calories:
168
kcal
,
Carbohydrates:
25
g
,
Protein:
6
g
,
Fat:
5
g
,
Saturated Fat:
2
g
,
Polyunsaturated Fat:
1
g
,
Monounsaturated Fat:
1
g
,
Trans Fat:
0.1
g
,
Cholesterol:
60
mg
,
Sodium:
365
mg
,
Potassium:
139
mg
,
Fiber:
2
g
,
Sugar:
5
g
,
Vitamin A:
149
IU
,
Vitamin C:
0.03
mg
,
Calcium:
120
mg
,
Iron:
2
mg
This website provides approximate nutrition information for convenience and as a courtesy only. Nutrition data is gathered primarily from the USDA Food Composition Database, whenever available, or otherwise other online calculators.