Buckwheat Pancakes
These buckwheat pancakes are made with buckwheat flour, resulting in a beautiful nutty flavor. They're filling, healthy, and a great way to start the day.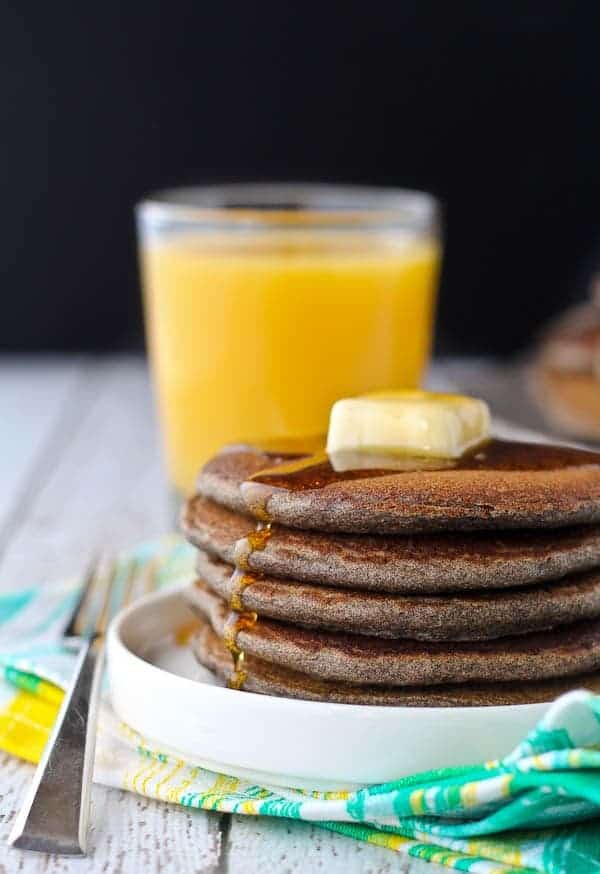 Seeing my friends put out beautiful cookbooks never gets old. I think there's something so special about a cookbook that has been a dream of an individual. You can feel their passion and hard work in the writing, in the pages, and in the recipes.
Laurie's new cookbook, Simply Scratch, is no exception. I've always been a huge fan of Laurie's blog, Simply Scratch. (Plus she's a fellow Michigander!) Personally, I've been known to take a shortcut or two in my cooking (hellllooo I have two small children), but when at all possible, I prefer to make things from scratch. If that appeals to you at all – this book is for you.
It's a fantastic resource – starting with a chapter on pantry and fridge essentials, kitchen tools and equipment, and tips and techniques. After Laurie has laid down the groundwork for scratch cooking (including her journey into this style of cooking), she covers recipes for the basics. Stuff like ketchup, mayo, spice mixes and more. After that, she moves into more recipes – breakfast, soups, salads, sandwiches, sides, mains, and desserts. Basically everything you need – 120 recipes in total.
Some recipes I can't wait to try:
Strawberry-Cinnamon Sugar Compound Butter
Heirloom Tomato Tart
Roasted Eggplant and Tomato Panzanella
Roasted Red Pepper, Sun-Dried Tomato & Feta Topped Chicken
Cornbread and Leek Stuffed Pork Chops
Fresh Cherry Pie with Walnut-Thyme Crumb
About these buckwheat pancakes:
The recipe I started with was these buckwheat pancakes. Which my kids are still convinced are chocolate pancakes. I haven't corrected them. These pancakes are full of flavor thanks to nutty buckwheat flour, fresh orange juice, and coconut oil. They're healthy, hearty and a fantastic way to start the day. Laurie tops hers with strawberries in the book but since it's November in Michigan, I opted for pure maple syrup. Can't go wrong.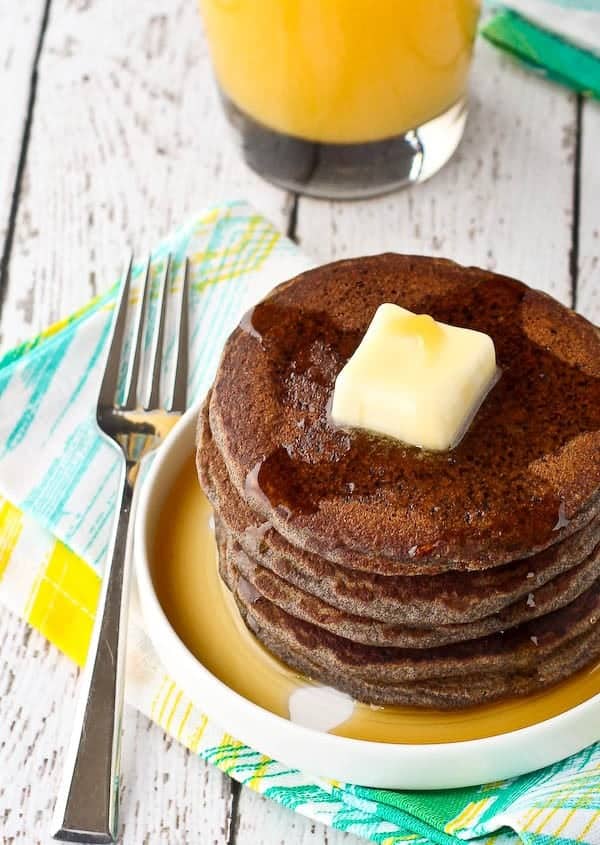 I froze a bunch of these pancakes which is perfect for Ben – while he's getting ready for work in the morning, he'll pop a few in the toaster oven and breakfast is ready!
Looking for more pancake recipes?

Boy, do I have you covered! Try:
Buckwheat Pancakes
Yield: 18 pancakes
Prep Time: 10 minutes
Cook Time: 5 minutes
Total Time: 15 minutes
These buckwheat pancakes are made with buckwheat flour, resulting in a beautiful nutty flavor. They're filling, healthy, and a great way to start the day.
Ingredients
1½ cups buckwheat flour
½ cup unbleached all-purpose flour
2 tablespoons sugar
2 teaspoons baking powder
½ teaspoon baking soda
1 teaspoon salt
2 cups whole milk
¼ cup fresh orange juice
2 large eggs
1 teaspoon pure vanilla extract
3 tablespoons coconut oil, melted, plus more for the griddle
Butter and pure maple syrup, for serving
Instructions
Heat an electric griddle to 375ºF or a skillet over medi­um-high heat.
In a large bowl, whisk together both flours, the sugar, baking powder, baking soda, and salt. Set aside.
In a medium bowl, whisk together the milk, orange juice, eggs, and vanilla. While whisking slowly, pour the milk mix­ture and the melted coconut oil into the flour mixture and whisk until just combined.
Place 1 teaspoon of coconut oil onto the hot griddle; use a spatula to spread it around until it has melted and the grid­dle is evenly coated. Working in batches, measure 1/4 cup of pancake batter and pour it onto the hot griddle. Cook the pancakes for 4 minutes or until bubbles form, break, and do not fill back in, then flip. Cook the pancakes on the second side for 30 seconds to 1 minute.
Repeat with the rest of the pancake batter, adding more co­conut oil to the griddle only as needed.
Serve warm with butter and real maple syrup.
Notes
Try adding fresh fruit like bananas or berries into the pancake batter for extra healthy goodness.
Nutrition Information:
Yield: 9
Serving Size: 2 pancakes
Amount Per Serving:
Calories: 215
Total Fat: 9g
Saturated Fat: 6g
Trans Fat: 0g
Unsaturated Fat: 2g
Cholesterol: 50mg
Sodium: 465mg
Carbohydrates: 27g
Fiber: 2g
Sugar: 8g
Protein: 6g
RachelCooks.com sometimes provides nutritional information, but these figures should be considered estimates, as they are not calculated by a registered dietitian. Please consult a medical professional for any specific nutrition, diet, or allergy advice.
Verdict:
If you're used to buttermilk pancakes made with white flour, these buckwheat pancakes will be a bit different for you but I assure you, they are delicious!
Husband's take:
Skeptical at first, but he's been loving these.
Changes I would make:
None!
Difficulty:
Easy.