Breakfast Quinoa with Chia and Cinnamon
Looking for a filling and nutritious breakfast but slightly bored with oatmeal? You'll love this protein-packed breakfast quinoa! Have fun with toppings!
Are you all resolution makers? I don't typically make a New Year's resolution, but I do try to live a healthy lifestyle all year-round. Normally, I'll go on a kick of working out every morning, and then I'll fall off the wagon. Lately though, I've been waking up at 4:45AM or 5AM and working out, and I truly feel like this time I've transformed my work outs from being a phase into being a lifestyle. At least that's what I keep telling myself, hoping it will get through my thick skull.
Along with working out comes healthy eating. At least for me. Because who wants to sweat your butt off and then ruin it all in the kitchen? Don't get me wrong, one of the major perks of working out is that you can indulge here and there with a bit less guilt, but it also makes you so aware of what you're putting into your body and what it's worth to you. For example, I can turn down ice cream most anytime but I'm rendered absolutely helpless if a bowl of popcorn is placed in front of me. To me, the popcorn (with butter and salt) is worth the calories, but the ice cream isn't. But that's just me — I know it's different for everyone.
Another important step for me personally is to remove unhealthy snacks and ingredients from my home. There are days I'm so grateful I do this — those days when I'm standing in front of the pantry or fridge looking for something junky to munch on. I'm annoyed but happy there isn't anything there and I settle for a square of dark chocolate. That is something we always have on hand.
I'm excited to be partnering with Bob's Red Mill again this year to bring you lots of delicious and healthy recipes that will help you achieve your goals and resolutions. My kitchen is always stocked with Bob's Red Mill products that I purchase myself which makes them one of my most valued partners. I share ingredients and brands with you not only to support my insane grocery bill but also because I actually USE and BUY the products I talk about. I know you all see a lot of sponsored content around the web, but I wouldn't be sharing these products if I didn't personally stand behind them, and I know Bob's Red Mill is always going to come through with a quality product.
Needed for this recipe:
With that being said, this breakfast quinoa is the perfect way to start the day. The quinoa is a great source of protein which makes it perfect for breakfast. If you're an oatmeal eater, you really need to try switching it up with this quinoa and chia concoction. Even if you're not an oatmeal eater, try this and maybe it will be a better fit for you. I added the chia to the breakfast quinoa not only because it looks pretty but also because it's a fantastic source of anti-oxidants, omega-3s, and fiber. Top it with fruit, nuts, coconut, or whatever you want for the perfect, filling breakfast.
Looking for more healthy breakfast ideas?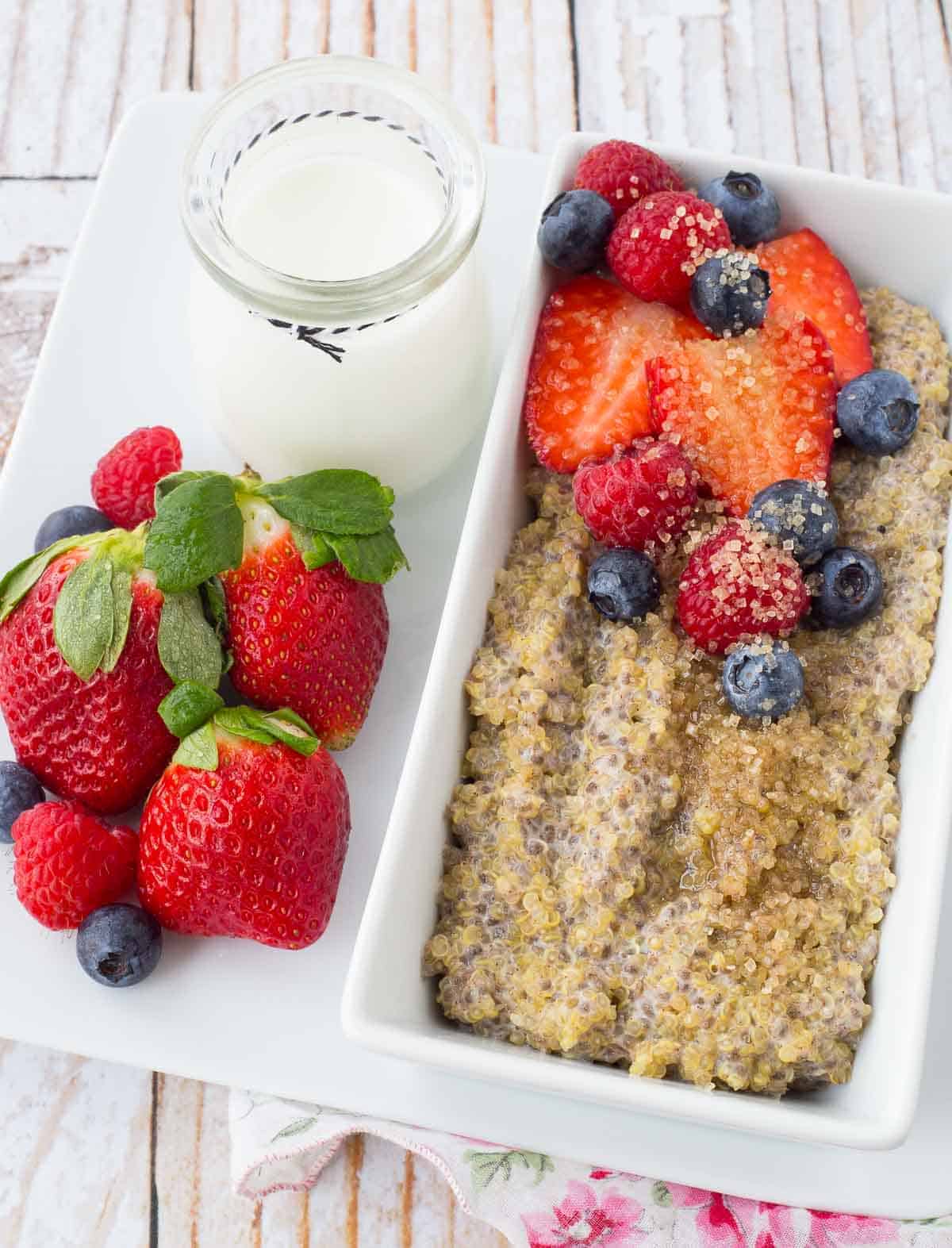 Breakfast Quinoa with Chia and Cinnamon
Yield: 1 serving
Prep Time: 5 minutes
Cook Time: 14 minutes
Additional Time: 5 minutes
Total Time: 24 minutes
Looking for a filling and nutritious breakfast but slightly bored with oatmeal? You'll love this protein-packed breakfast quinoa! Have fun with toppings!
Ingredients
1/4 cup Bob's Red Mill quinoa
1 tablespoon Bob's Red Mill chia seed
1/2 cup whole milk
1/2 cup water
1/4 teaspoon ground cinnamon
Toppings: milk, fruit, sweetener, nuts, coconut, etc
Instructions
In a small saucepan, bring milk and water to rapid simmer over medium high heat. Add quinoa, chia seed, and cinnamon, stirring to combine.
Simmer with cover on over medium-low heat for 12-14 minutes, stirring frequently, or until most of the liquid is absorbed and quinoa tails start to appear.
Remove from heat, cover and let stand for 5-10 minutes.
Top with desired sweetener, fruit, and milk and enjoy immediately.
Notes
Feel free to multiply this recipe to serve whatever size group you are feeding.
You can make it ahead and reheat in the microwave with additional milk as needed to thin.
Pictured, I topped with berries, raw cane sugar, and milk. It was delicious! Nutrition information does not include toppings.
If you would like to make this recipe vegan or lactose-free, use almond milk instead of whole milk.
Nutrition Information:
Yield: 1
Serving Size: 1 bowl
Amount Per Serving:
Calories: 356
Total Fat: 11g
Saturated Fat: 3g
Trans Fat: 0g
Unsaturated Fat: 7g
Cholesterol: 12mg
Sodium: 72mg
Carbohydrates: 51g
Fiber: 10g
Sugar: 8g
Protein: 14g
RachelCooks.com sometimes provides nutritional information, but these figures should be considered estimates, as they are not calculated by a registered dietician. Please consult a medical professional for any specific nutrition, diet, or allergy advice.
Verdict:
I love this breakfast quinoa! It's a filling and hearty breakfast you can really feel good about. Breakfast is very important to me and I need to start the day off BIG. This is just the thing for me.
Husband's take:
Umm, I haven't shared this with him, yet.
Changes I would make:
None are necessary but the sky is the limit in terms of toppings!
Difficulty:
Easy!
Disclosure: I've partnered with Bob's Red Mill as a brand ambassador to bring you this post. They compensated me for my time but all opinions are, as always, my own. If you opened my cupboards and fridge, you'd find a wealth of Bob's Red Mill products that I purchased myself. Thanks for supporting Rachel Cooks by reading about brands I use and love! Check out more delicious healthy recipes, snag coupons and find stores near you at BobsRedMill.com!