10 Delicious Smoothie Recipes
Turn on your blenders! Choose from over 10 juice and smoothie recipes for a delicious and easy snack or breakfast!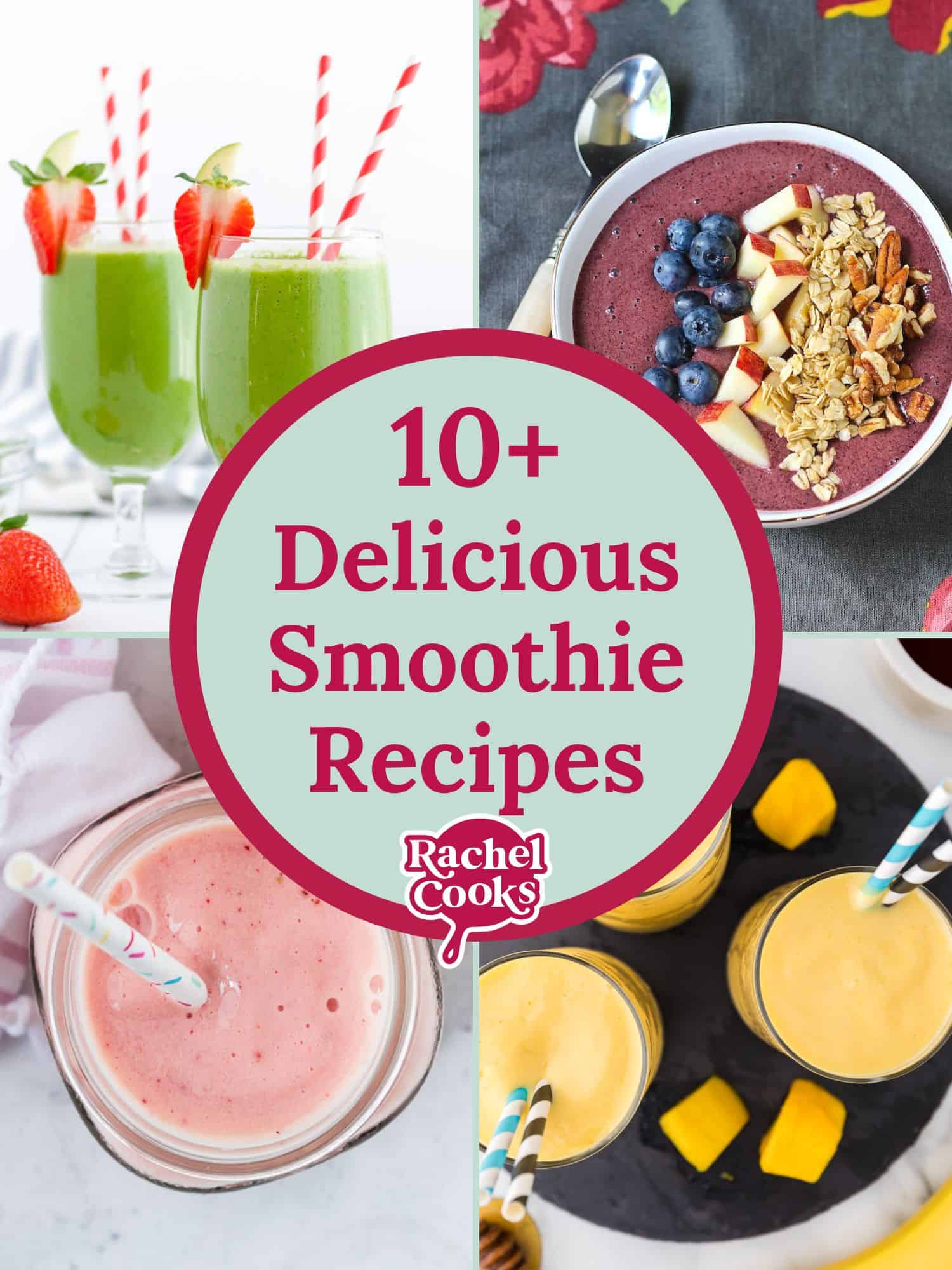 Tips for Making Smoothies
As versatile and easy to make as smoothies are, there are still a few things to do to make sure they turn out perfectly!
The most important tip is to add the softest ingredients including liquid closest to the blade of your bender. This helps the blender get going and will allow everything to blend together easily.
You may have to stop blending to scrape down the sides of your blender or add more liquid. The longer you blend, the smoother (and thinner) your smoothie will be.
How to Make A smoothie Thick
If you like your smoothies really thick or want to use it as the base of a smoothie bowl, make sure to use frozen fruit.If you don't have all frozen fruit or your smoothie still seems a little too thin, add some ice to thicken it.
It's also smart to start with a small amount of liquid and add more as needed. It's easier to thin a smoothie than it is to thicken it.
Smoothie Add-Ins
If you want to fancy up your smoothie a little bit, try some of the following add-ins. They also make great toppings for smoothie bowls!
Seeds or Grains: Try chia seeds, hemp seeds, or flax seeds. Oats are also great in smoothies and will add nice thickness.
Protein: If you want to amp up the protein content of your smoothie, you might consider adding a scoop of protein powder or collagen powder. Another way to add protein to a smoothie is by adding cottage cheese or a nut or seed butter.
Sweetener: If you're looking to sweeten your smoothie, try adding maple syrup, honey, agave, coconut sugar, simple syrup, granulated sugar, confectioners' sugar, or brown sugar. A pitted date can also sweeten your smoothie naturally.
Spices: A pinch of a spice can add a lot of depth to your smoothie. Cinnamon is a natural choice, but think of ginger, turmeric, and nutmeg too.
Extracts: Like spices, extracts can add extra flavor. Vanilla is always a great choice, but maple and almond are delicious too. Start with just a little, they're very concentrated.
Veggies: Everyone thinks of spinach, but any leafy green will work. Try kale or swiss chard. You might also want to try cauliflower or avocado in your smoothies.
Juice and Smoothie Recipes
Green Smoothie Recipe – make it your own!
A delightful breakfast or a happy snack, this easy-to-make green smoothie with apple, spinach, kale, and tropical fruit will have you feeling marvelously refreshed.
Check out this recipe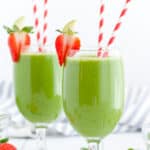 Chocolate Cherry Smoothie
Switch up your smoothie game with this chocolate cherry smoothie. You'll love the black forest flavors in this protein shake – it tastes as good as dessert!
Check out this recipe
Tropical Smoothie Bowl
Filled with the flavors of the tropics, this tropical smoothie bowl will be your new favorite way to start the day. The flavors of the bananas, coconut and pineapple will transport you to somewhere warm and sunny.
Check out this recipe
Mango Smoothie Recipe
Perfect for a quick breakfast or refreshing snack, a mango smoothie with bananas is creamy, delicious, and easy to make!
Check out this recipe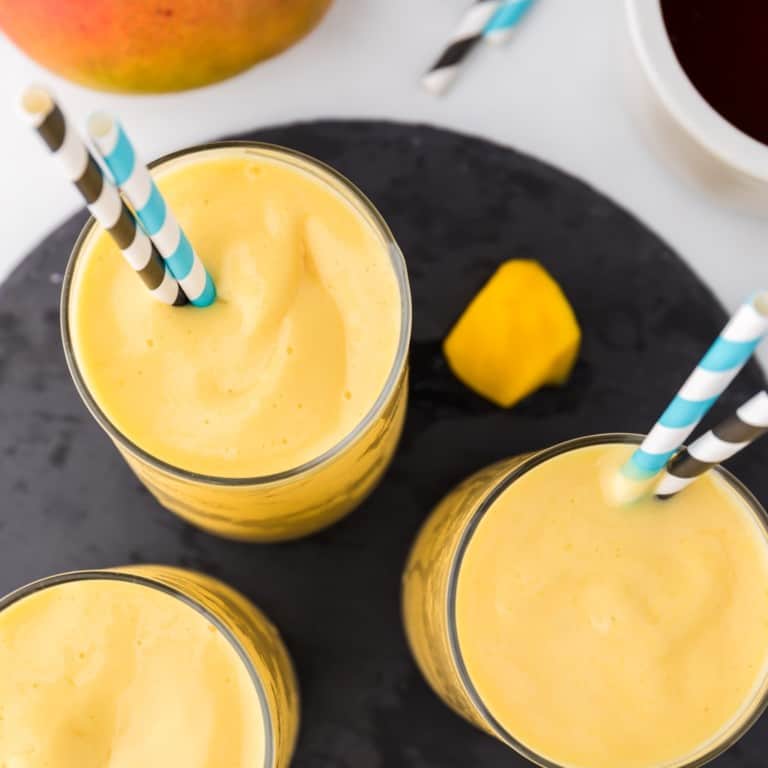 Tropical Smoothie Recipe
Refreshing and healthy, this tropical smoothie recipe is perfect for hot summer days, after a work out, or any time you desire a taste of the tropics.
Check out this recipe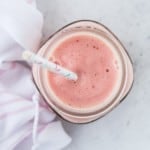 Raspberry Mango Coconut Water Smoothie
This refreshing raspberry mango coconut water smoothie will have you thinking you're on a warm beach somewhere!
Check out this recipe
Blueberry Apple Crisp Smoothie Bowl
A blueberry apple crisp smoothie bowl is a satisfying and delicious way to start the day and it's complete with hidden greens!
Check out this recipe
Creamy Lemon Smoothie
This creamy lemon smoothie is refreshing, easy to make, and you probably have all the ingredients in your house already. Kids love it, too!
Check out this recipe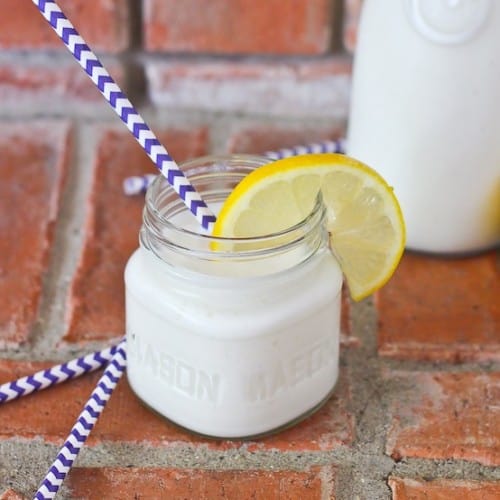 Clementine Smoothie with Vanilla
This clementine smoothie is creamy, delicious, and uses ingredients that you probably have on hand. It tastes just like an Orange Julius or a creamsicle!
Check out this recipe
Carrot, Orange, and Ginger Juice without a juicer
You don't need a juicer to make this nutrient packed juice. You can make juice without a juicer! You'll feel great and it tastes great too.
Check out this recipe
Green Juice without a juicer
Want to get on the juicing bandwagon but don't want to commit to buying an expensive juicer? This recipe for Green Juice without a juicer is the solution for you!
Check out this recipe
More Smoothies
If you want more, I have a ton of smoothies (and other breakfast beverages over on Pancake Recipes).