Green Smoothie Recipe – make it your own!
A delightful breakfast or a happy snack, this easy-to-make green smoothie with apple, spinach, kale, and tropical fruit will have you feeling marvelously refreshed.
Recipe Overview
Why you'll love it: Easy, nutritious, economical, fresh: what more can I say? Oh, and delicious!
How long it takes: 5 minutes
Equipment you'll need: high-powered blender
Servings: makes 6 cups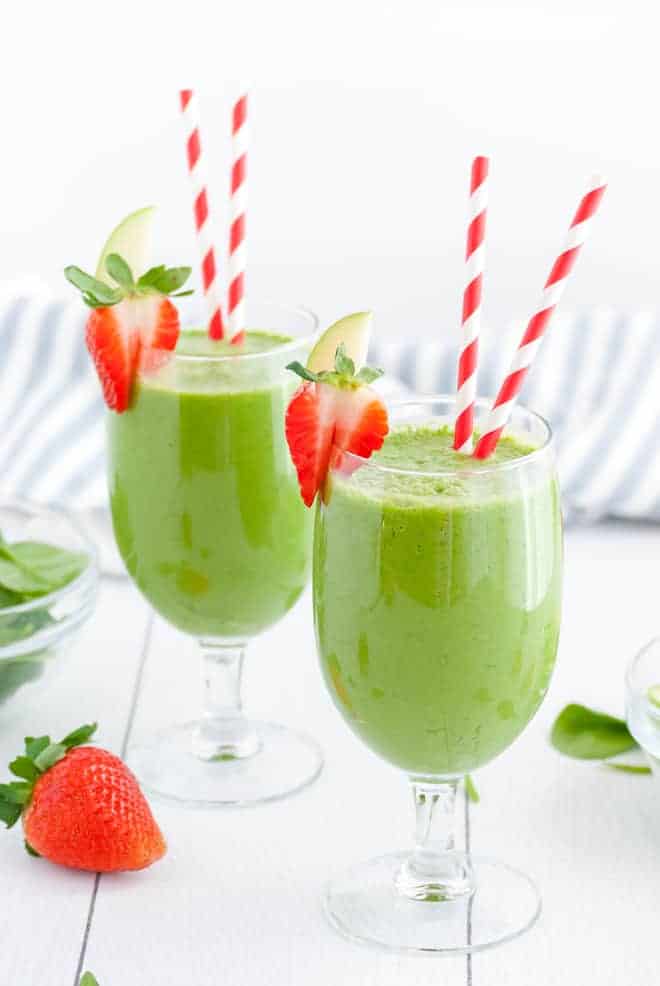 Imagine yourself lounging on a chaise, surrounded by white sand and palm trees, with the sound of ocean waves gently lapping the shore.
Or imagine yourself post workout, sweating, with tired muscles.
Now imagine yourself holding a frosty glass filled to the brim with a soothing green smoothie, filled with refreshing flavors of apple and tropical fruits.
You'll love this green apple smoothie! It's super simple to prepare, it's so refreshing to your body and soul, and it won't fill you up with empty calories, fat, or artificial sweeteners. This green smoothie is loaded with the green leafy vegetables your body needs to stay healthy, and fruit to add fiber and nutrition, and it's only 75 calories per serving (one and a half cups).
Get your blender whirring and enjoy a green apple smoothie today!
Your body will thank you for all those vitamins and minerals, and fiber. A smoothie is a good step toward getting those 9 servings of fruits and vegetables a day!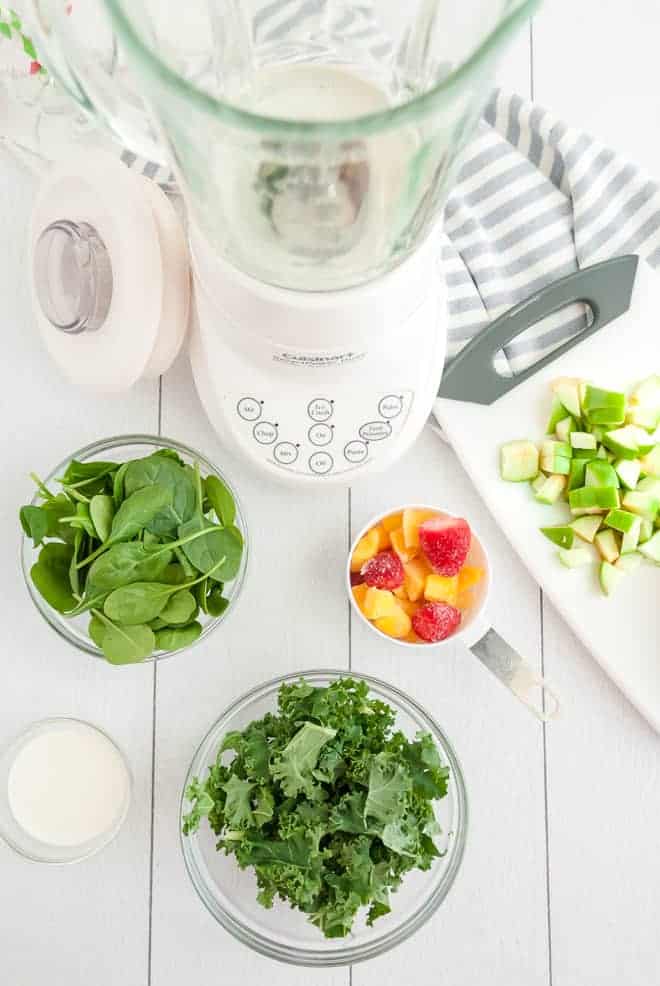 About this smoothie recipe
Okay, here's a big green healthy hint: Always have bags of spinach, kale, or other greens in the fridge, pre-washed and ready to go. I find that if I wash the greens shortly after I get home from the store, I tend to incorporate those healthy greens in everything I cook, including smoothies. It's just so much more convenient when the greens are washed and I can grab a handful or two to add to a salad, sandwich, wrap, stir fry, or whatever I happen to have going. Sautéed spinach is about the easiest side you can make.
And those pre-washed greens are just what you need for this smoothie. It's a breeze to put together, less than five minutes hands on time, if your greens are ready.
What You'll Need
Greens: For this smoothie, try a mixture of spinach and kale. They are mild flavored greens that work well in a smoothie.
Apple: A Granny Smith apple is green so the color blends in with the smoothie but any apple variety works.
Water or Milk: It's up to you. Yogurt is fine, too, but you may need to use less ice or add a bit of water to thin it down especially if you use Greek yogurt.
Tropical Frozen Fruit Mix: There are several different kinds of frozen fruit mixes. The one I used for this smoothie has pineapple, strawberries, and mango.
Ice
How To Make This Smoothie
So let's get going. Are you ready?
Stuff a handful of kale, a handful of spinach, and a chopped Granny Smith apple into your blender, and add a cup of water.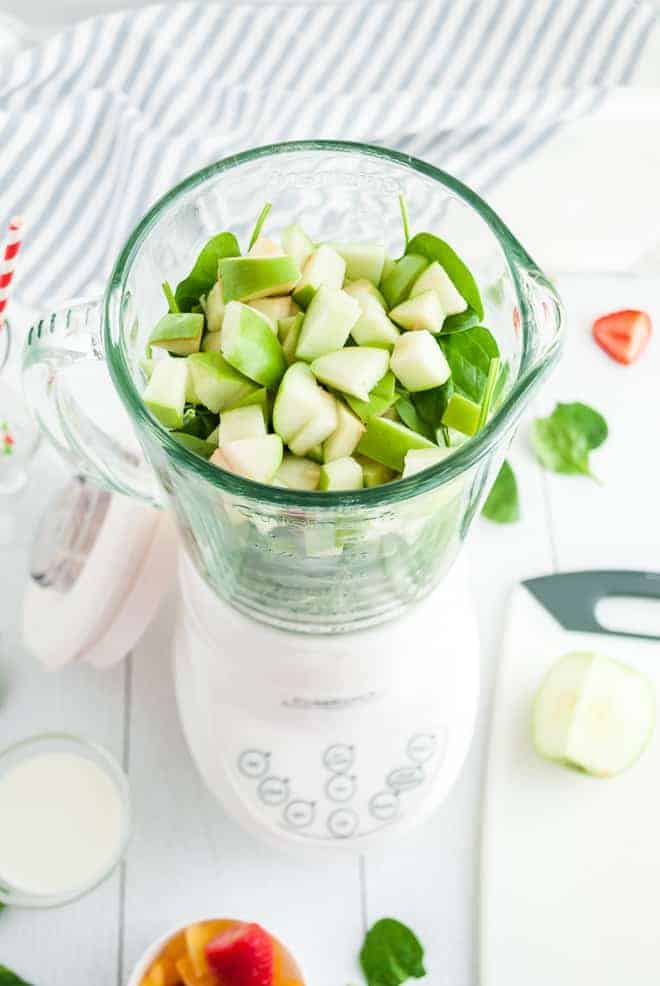 Cover the blender and watch it whirl. (You can also blend it all at once, as pictured, but blending it in steps like this will be a little easier on your blender.)
When that mixture is smooth, add a cup full of frozen tropical fruit and a handful of ice.
Blend until it reaches the desired consistency.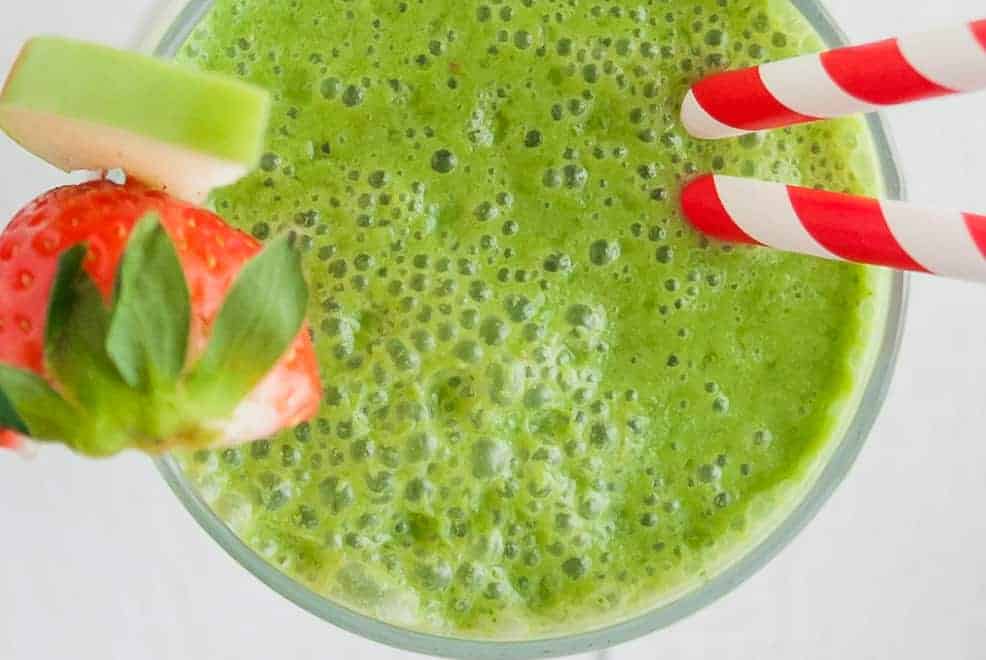 Pour your frosty green beverage into a tall glass, and enjoy!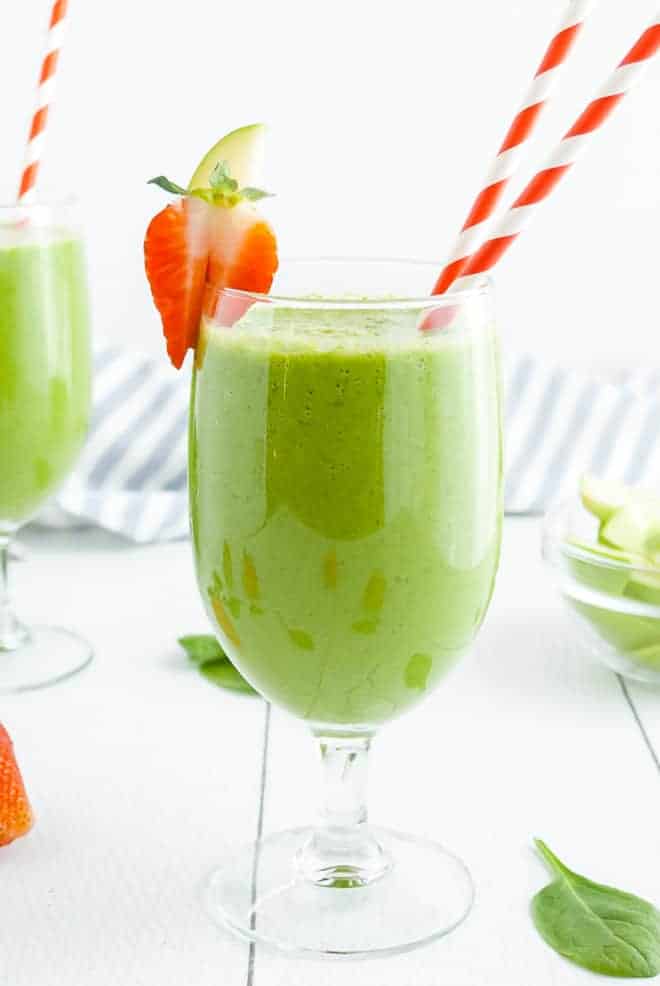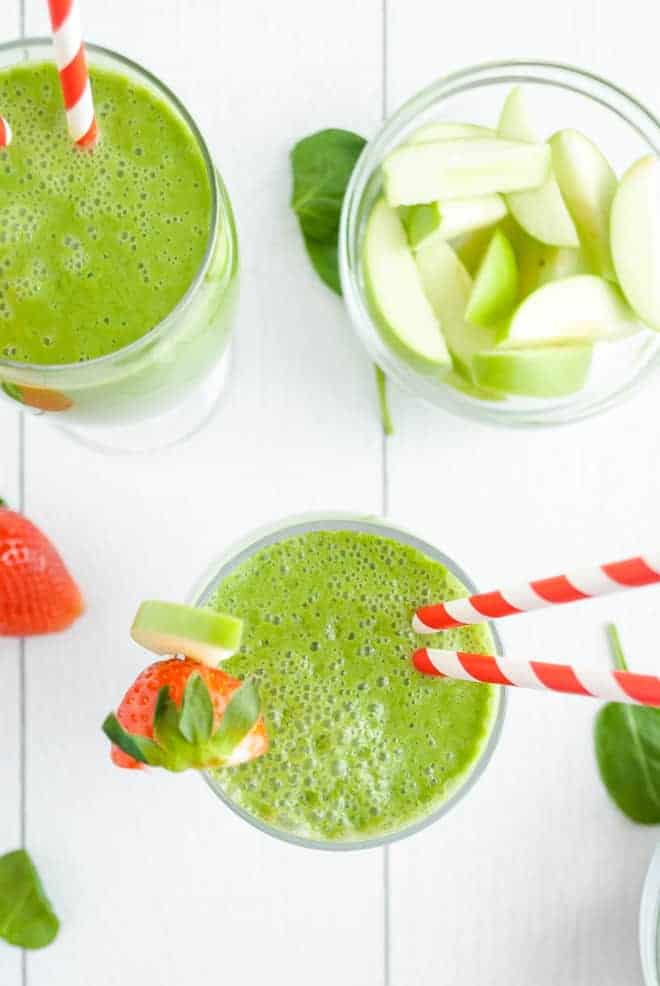 Make It Your Own
It's easy to swap out ingredients. Consider this super simple green smoothie recipe a starting point, a recipe for beginners. Make your own wonderful green concoction! Keep reading for suggestions.
Fruit to use in a green smoothie
This green apple smoothie uses a tart Granny Smith apple and a frozen tropical fruit blend. Tropical fruit blends consist of frozen pineapple, mango, banana, and papaya. There are variations depending on which brand you purchase. The options for fruit in a smoothie are nearly endless, though! Here are some ideas:
any variety of apple
bananas (bonus points if they're frozen bananas): see the tip below
peaches
papaya
mango
pineapple
blueberries
strawberries
blackberries
raspberries
citrus (lemon, orange, lime, grapefruit, or tangerine)
Frozen Bananas
Have a few extra ripe bananas on the counter? Peel them, break them into chunks, and put them into a freezer bag, ready and waiting for your next smoothie. Bananas add so much natural sweetness and give the smoothie a super creamy texture. Learn more about freezing bananas.
Vegetables and Greens to use in a green smoothie
Add green leafy vegetables to your smoothie: kale, spinach, mild arugula, collard, or Swiss chard. Stay away from "spicy" or bitter greens like mustard greens or radicchio, unless you're a green smoothie veteran.
Broccoli, cauliflower, or celery – make sure you have a powerful blender for these!
Fresh herbs such as parsley or mint add unique flavor, loads of nutrition, and play nice with the fruit flavors.
Avocado
Add protein to a green smoothie
Want to make your smoothie more of a power drink? Add protein! Here are some options:
instead of water, use any kind of milk: whole milk, half and half, non-fat milk, soy, coconut milk, almond milk, etc.
add yogurt (Greek or regular)
half cup of uncooked rolled oats
half-cup of cooked quinoa
a scoop of your favorite protein powder
nut or seed butters (peanut, cashew, almond, sunflower, etc)
flax seed or ground flax seed (flax meal)
chia seeds
Other Green Smoothie Add-ins
coconut oil
spices – try cinnamon, nutmeg, cardamom, ginger, or a sprinkle of cayenne if you're feeling daring.
fresh grated ginger
sweeteners (honey, agave, sugar) – I don't think they're necessary but if you're new to green smoothies, you could ease in this way.
vanilla extract
flaked or shredded coconut (avoid sweetened coconut)
Make it a smoothie bowl
Like a smoothie bowl for breakfast? I love this tropical smoothie bowl, or this (almost a dessert) blueberry apple crisp smoothie bowl. Can you make a green smoothie bowl? Sure!
You'll want to make the green smoothie a little thicker. Add more ice or more frozen fruit, and substitute a cup of Greek yogurt for the water. Blend this mixture well and pour into two serving bowls.
Toppings: fresh fruit, coconut, nuts or seeds, or a sprinkling of your favorite granola. An extra dollop of Greek yogurt on top would be great!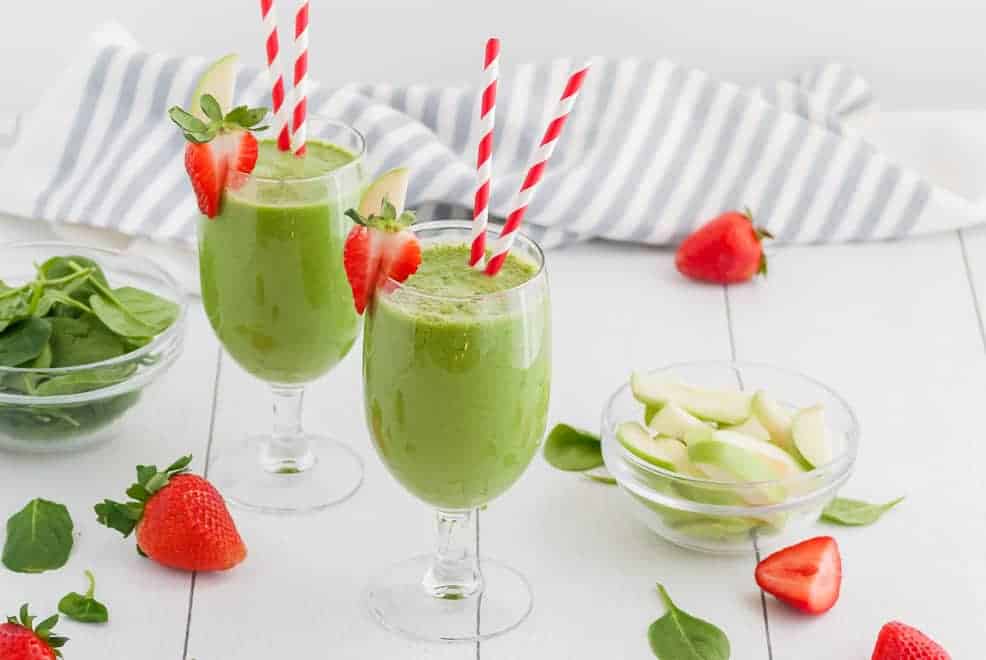 Storage Tips
Store left over green smoothies in an airtight container in the fridge for up to 3 days. You'll want to give the mixture a good shake to mix it up again before you drink it.
Make-Ahead Ideas
Option 1: Make a big batch of green smoothies and pour the mixture into freezer safe serving size containers, or pint sized canning jars. Don't overfill the jars because the mixture will expand slightly as it freezes.
Take a frozen smoothie out of the freezer and put it in the fridge the night before you want to drink it. It should be mostly thawed by morning. Give it a good shake and enjoy!
Option 2: Freeze the mix pre-blended if you prefer. Place all ingredients except liquid ingredients into a freezer bag. Label and pop into your freezer and just pour into the blender with milk or water and blend when you're ready to enjoy!
More Smoothies
Homemade smoothies are delicious and so much better for you than the fast-food versions. It's shocking how much sugar and artificial ingredients those smoothies contain. Here's some good-for-you smoothie (and juice) recipes you'll want to try:
Did you make this? Be sure to leave a review below and tag me @rachelcooksblog on Facebook, Instagram, or Pinterest!
A delightful breakfast or a happy snack, this easy-to-make green smoothie with apple, spinach, kale, and tropical fruit will have you feeling marvelously refreshed.
Ingredients
1

handful spinach

(about 1 ½ cups)

1

handful kale

(about 1 ½ cups)

1

Granny Smith apple, cored and diced

1

cup

cold water, or your choice of milk

1

cup

tropical frozen fruit mix

(strawberries, pineapple, mango)

½

cup

ice
Instructions
Add spinach, kale, apple, and water to blender. Blend until smooth. Add frozen tropical fruit and blend until smooth. Add ice and additional water (or milk), if necessary, until blended to desired consistency.

Makes 6 cups. Serving size: 1½ cups.

Store in refrigerator or freezer. For best taste, drink immediately or within 3 days.
Notes
For a creamier smoothie, replace the water with any milk of your choice: whole milk, half and half, 2%, non-fat, almond milk, oat milk, etc.
Instead of water or milk, add 1 cup Greek yogurt for added protein. You may need to add a little water to thin, or less ice.
Nutrition Information
Calories:
51
kcal
,
Carbohydrates:
13
g
,
Protein:
1
g
,
Fat:
1
g
,
Saturated Fat:
1
g
,
Polyunsaturated Fat:
1
g
,
Monounsaturated Fat:
1
g
,
Sodium:
8
mg
,
Potassium:
165
mg
,
Fiber:
2
g
,
Sugar:
9
g
,
Vitamin A:
1496
IU
,
Vitamin C:
39
mg
,
Calcium:
31
mg
,
Iron:
1
mg
This website provides approximate nutrition information for convenience and as a courtesy only. Nutrition data is gathered primarily from the USDA Food Composition Database, whenever available, or otherwise other online calculators.