Once you learn how to freeze bananas, you'll have a frozen treasure ready to be turned into all sorts of yummy concoctions!
Recipe Overview
Why you'll love it: From banana bread to smoothies, frozen bananas are so useful and delicious. Don't throw away those overripe bananas!
How long it takes: 5 minutes
Equipment you'll need: freezer containers or bags, baking sheet, freezer
Servings: Freeze as many as you like!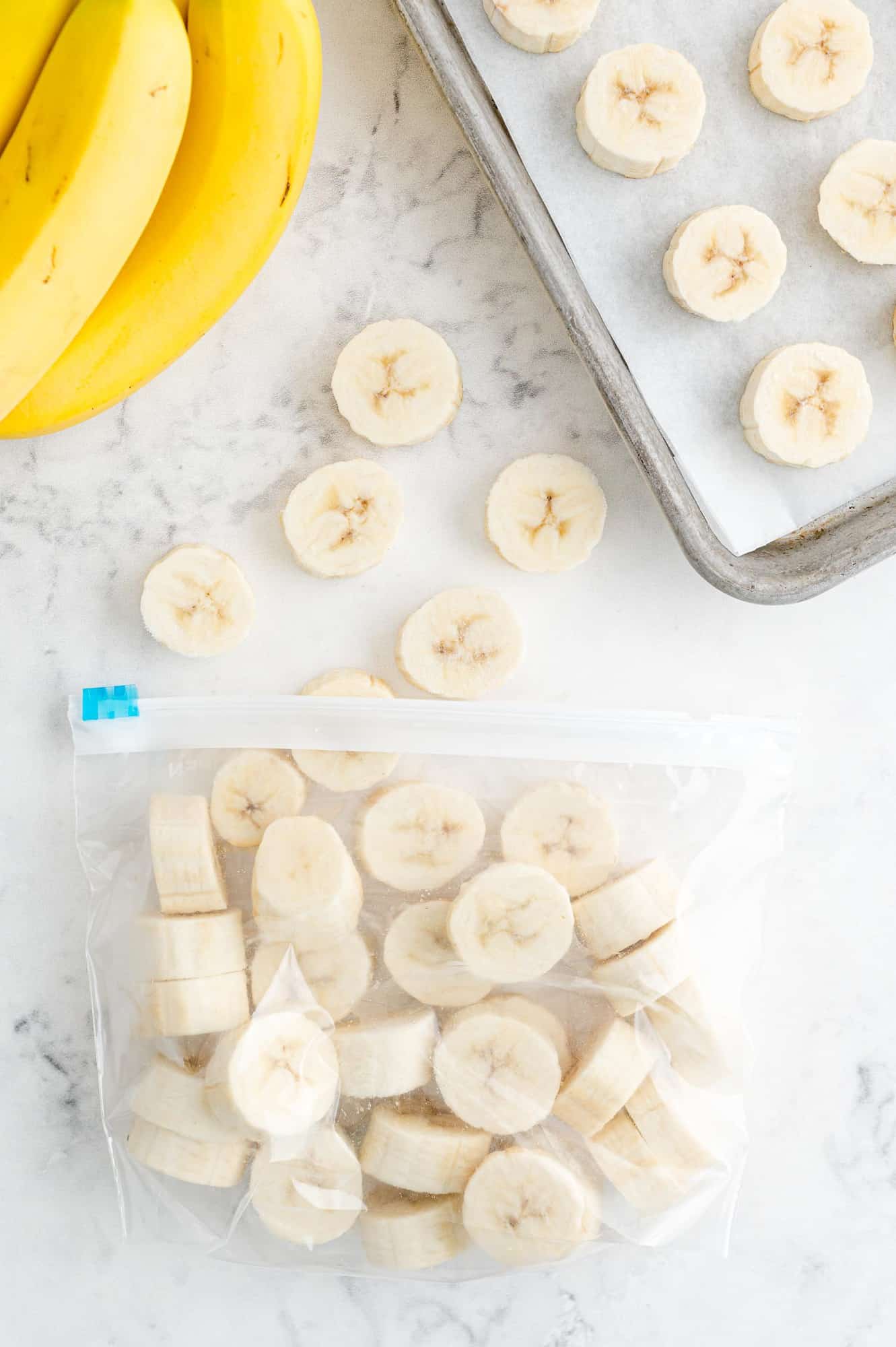 Do you have a few ripe bananas languishing on your counter? Maybe they've become a bit speckled with brown spots and everyone is turning their nose up at them. Maybe they've become completely brown and are starting to attract fruit flies.
I have a banana lovin' family that consumes a lot of bananas! I'm talking at least three large bunches a week for the four of us. My son would eat a banana for every meal, and snacks, too.
But even with all that banana eating, a few bananas somehow get left behind and get too ripe for anyone to grab. True confession: sometimes I hide a few just so I can make banana bread.
The good news? You can freeze bananas. It's super easy to do and there are all sorts of things you can make with them. Bake them into cakes, muffins, or banana bread, make smoothies, or non-dairy banana ice cream. Keep reading for lots of ways to use ripe bananas or take a look at this list of 16 banana recipes.
Never throw out these golden treasures ever again! Nestle them into your freezer and you'll be all ready to make sweet delights.
Did you know that ripe bananas are sweeter because their starch turns into sugar as they ripen?
And bonus! Bananas are good for you. They have good-for-your-gut fiber, vitamins (even vitamin C!), potassium, antioxidants and phytonutrients (Healthline). They are sweet, tasty, and low calorie (only 89 calories per banana, depending on size).
About Freezing Bananas
Freezing bananas isn't really a recipe but it's a useful how-to tip. I'll give you plenty of recipe links in this post though! We have lots of delicious ways to use frozen banana slices.
Freezing bananas is really easy. Some folks like to freeze them with the peels on, or freeze them peeled but whole. I like to freeze the bananas sliced because I find it's easier to use them that way. They can go into blender containers for smoothies as is, no need to thaw or mash. If I'm baking with them, slices thaw more quickly than whole bananas.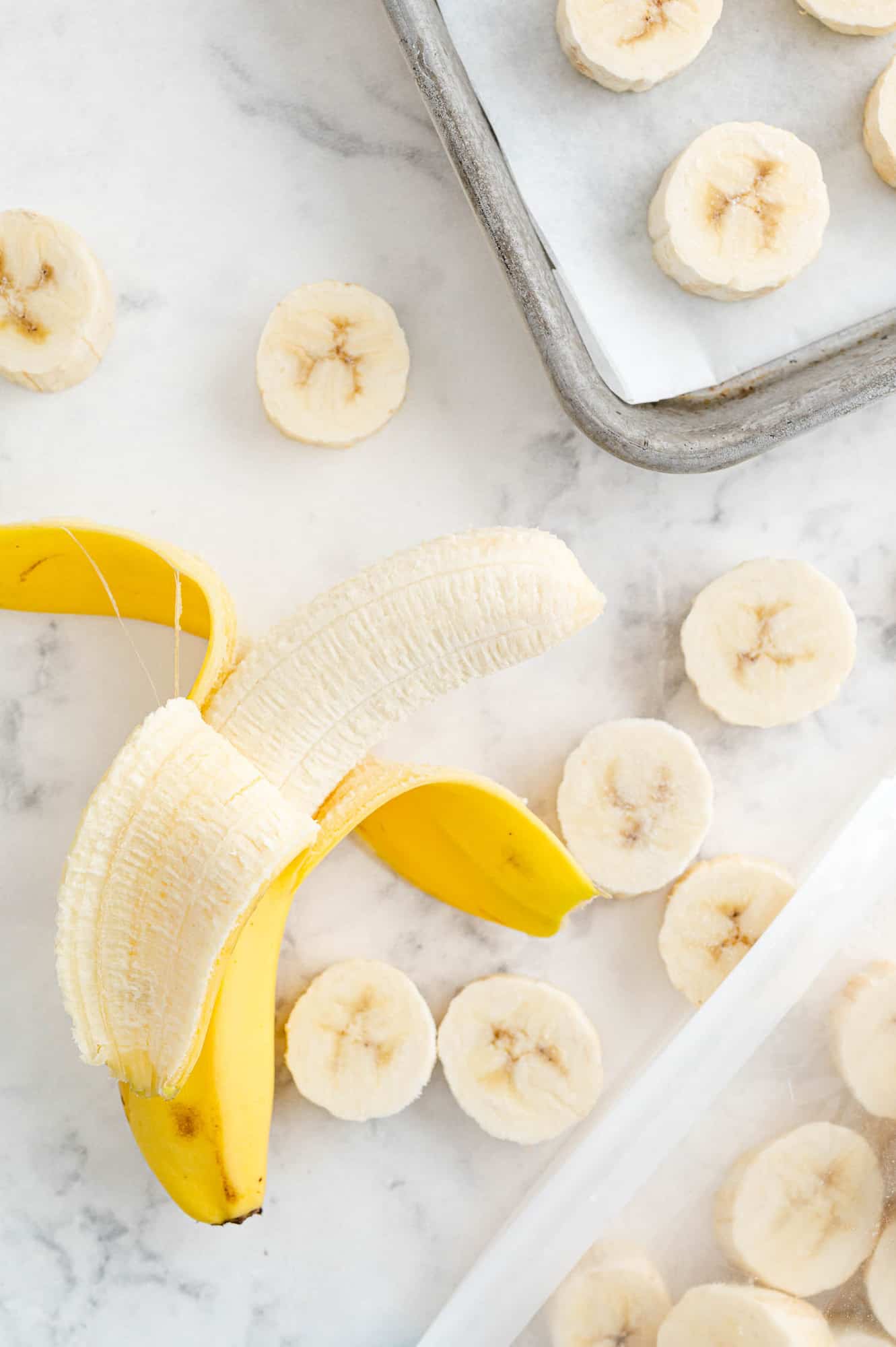 What You'll Need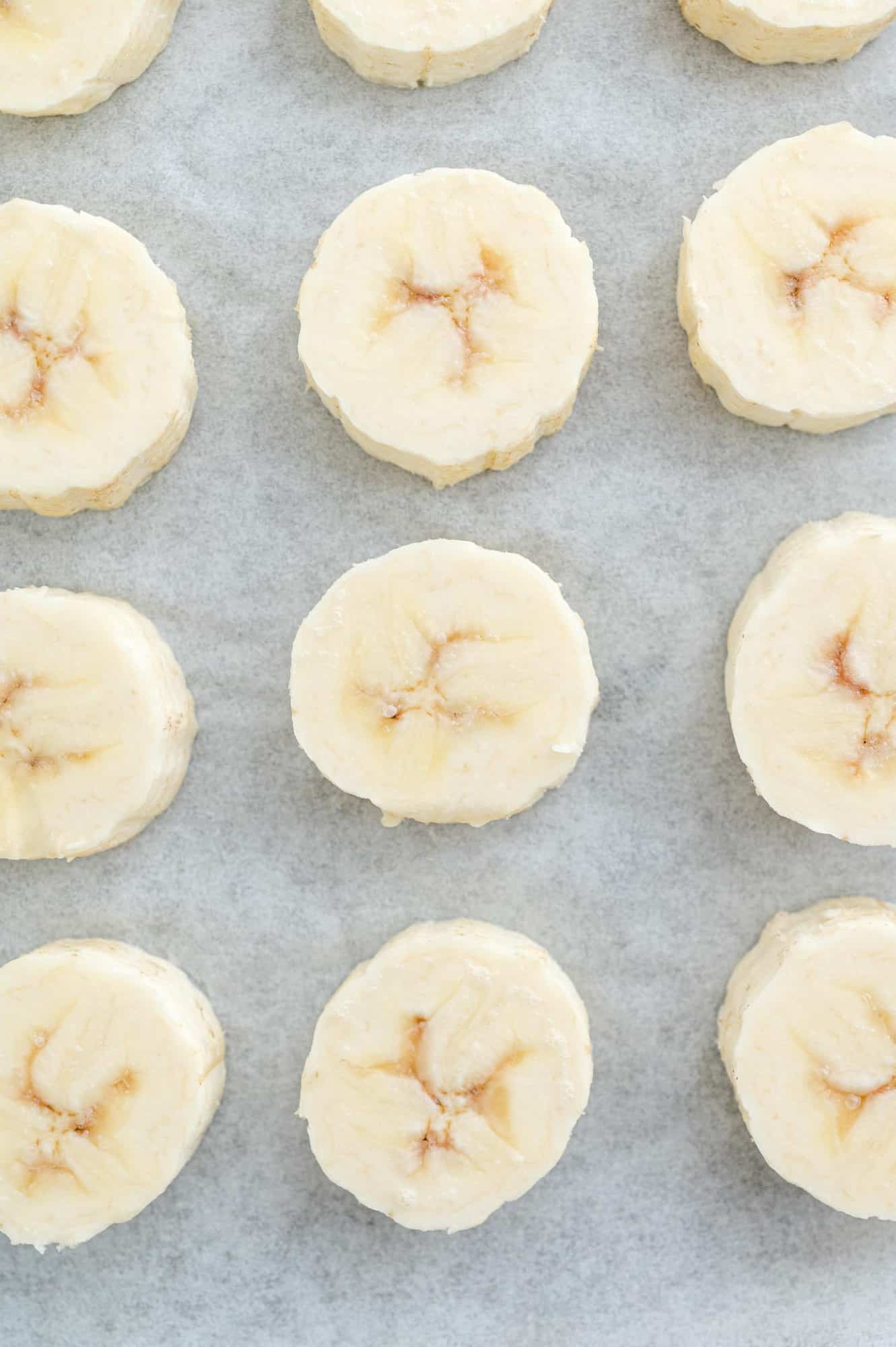 How To Freeze Bananas
If you're speed-reading, here's the short version: Peel and slice the bananas, and freeze the slices briefly on a tray or baking pan. Once they're frozen, simply slide the frozen slices into a freezer bag, label, and freeze for up to three months.
Now for those of you who like a little more detail…
Peel the banana.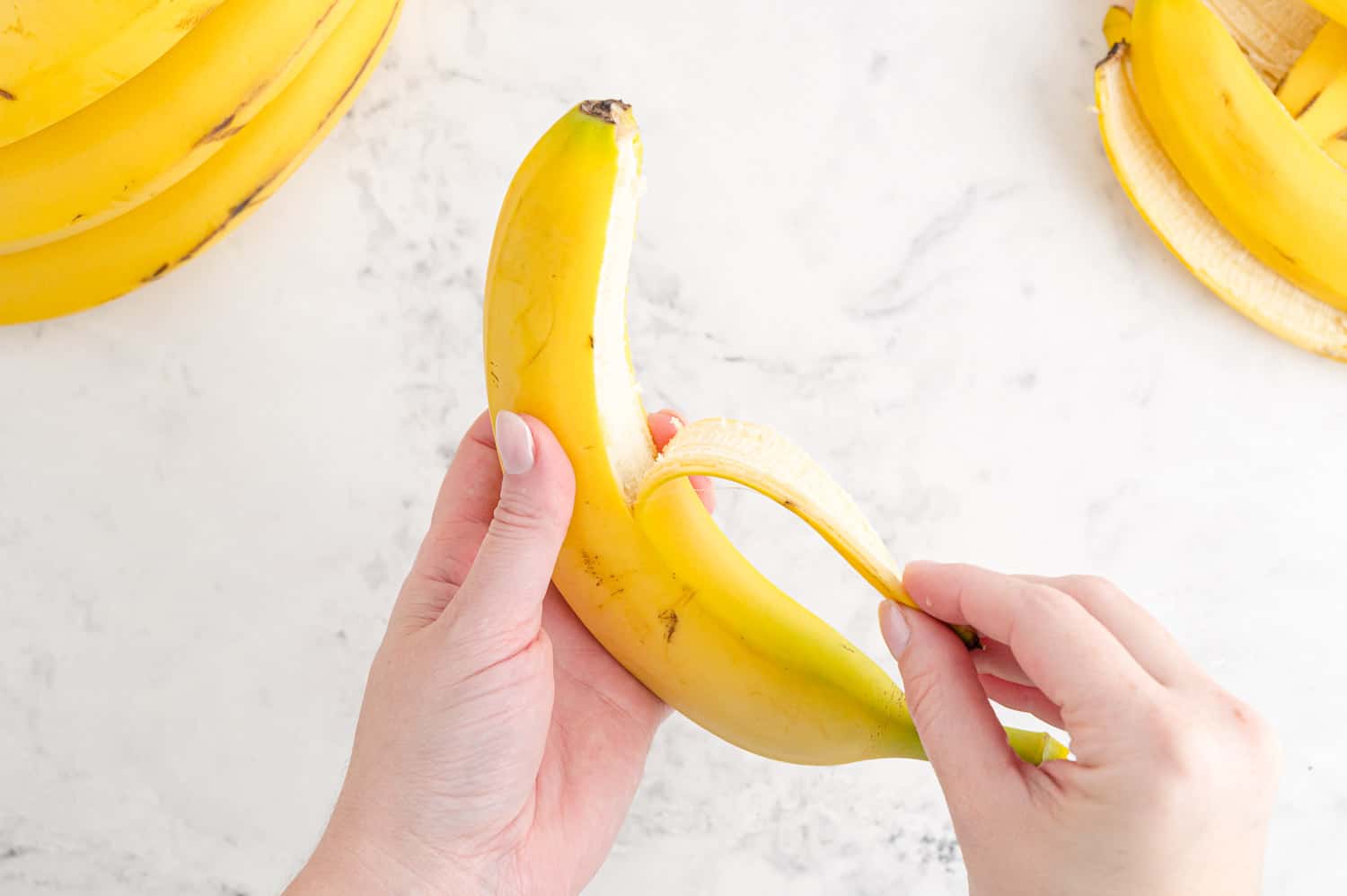 Using a knife, slice the banana into slices about a half inch thick. There's certainly no need to take an accurate measurement; three-quarters to one inch slices are just fine.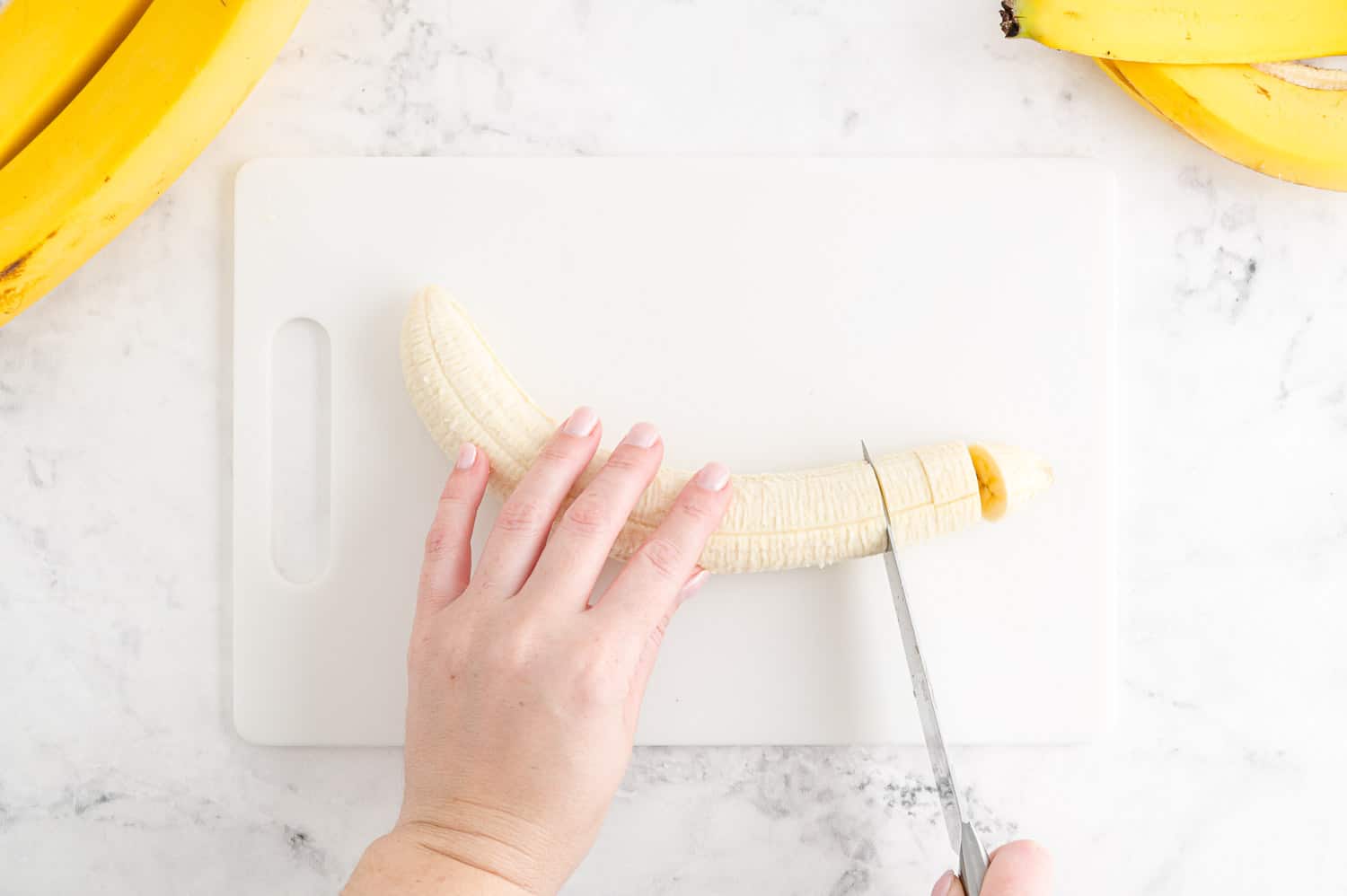 Find a tray or baking sheet that will fit flat in your freezer. Line the baking sheet with parchment paper so you'll have an easy clean-up. Spread the slices out on the pan and pop them into the freezer. They'll be firm in an hour or so.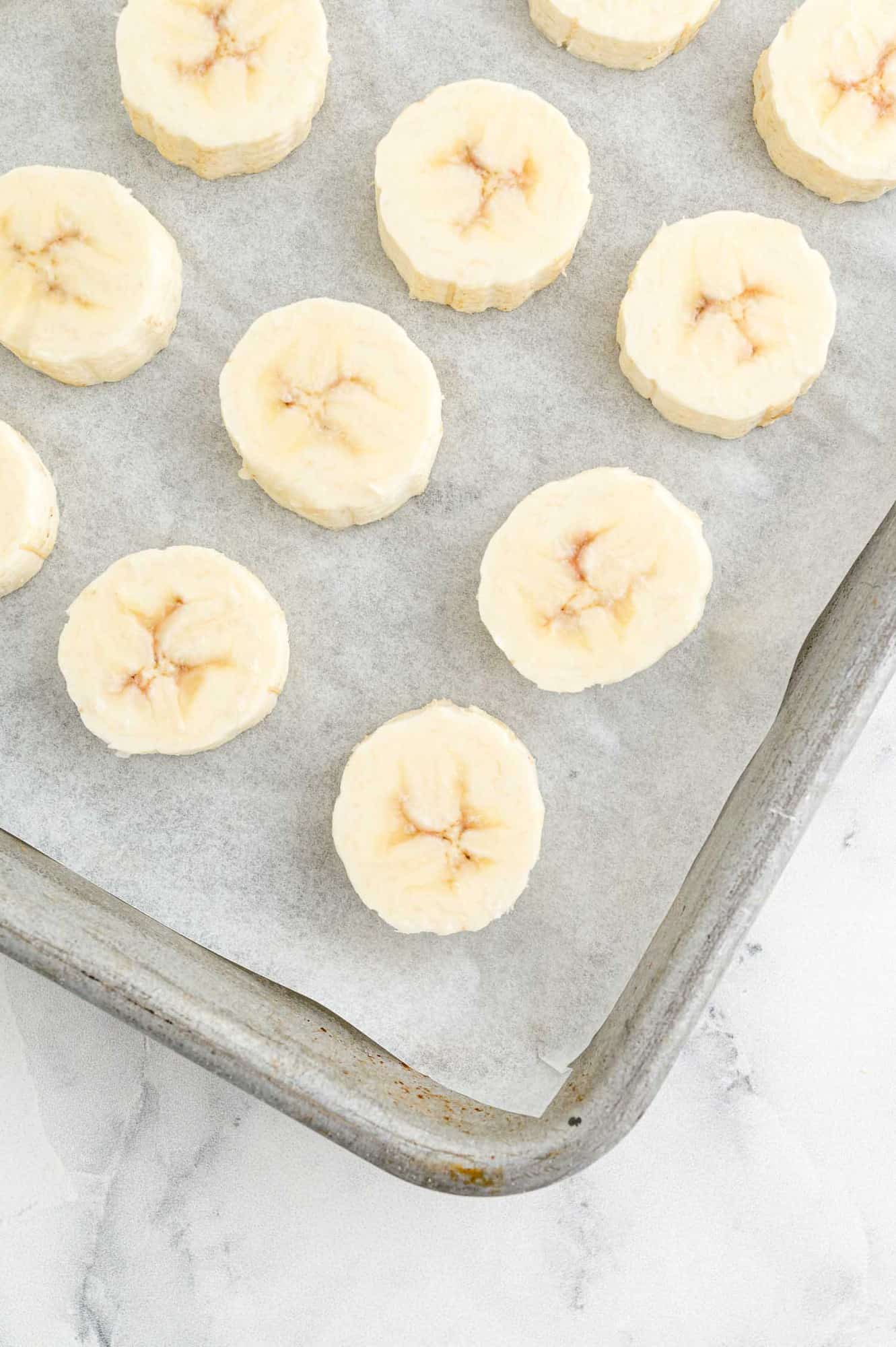 After bananas are frozen and firm (1 to 2 hours), place the banana slices in a container that seals well, label and date it, and return to freezer. We like to label the bag with the date and how many bananas the bag contains.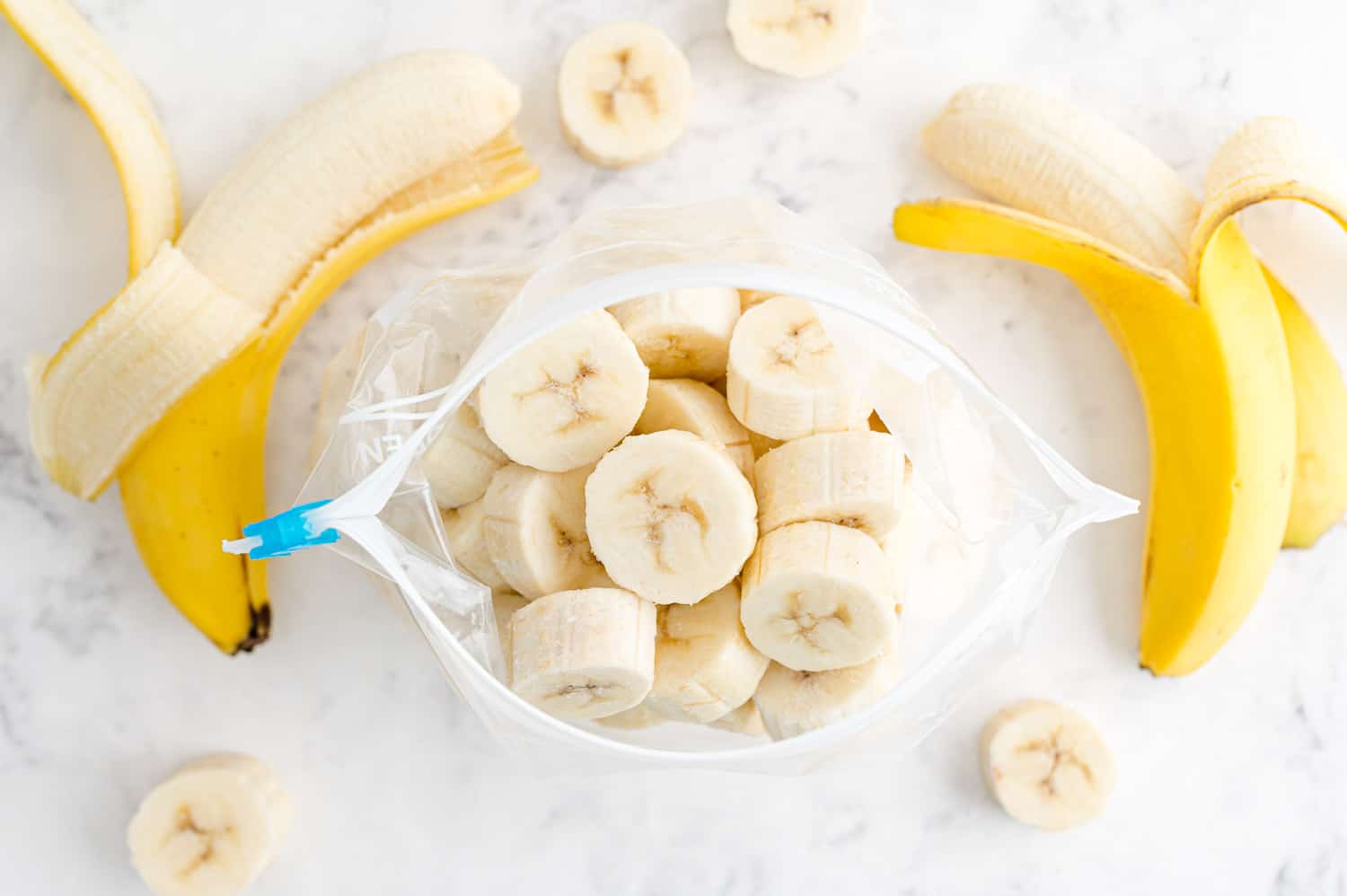 You'll want to note how many bananas are in the bag so if you have a recipe that calls for two bananas, it will be easy to tell. Some cooks like to put one banana in each container so they know exactly.
Put the frozen banana slices into your freezer. They'll keep for up to three months. They'll be safe to eat longer than that but the banana slices do get browner and mushier as time goes on. They still work great for baked goods.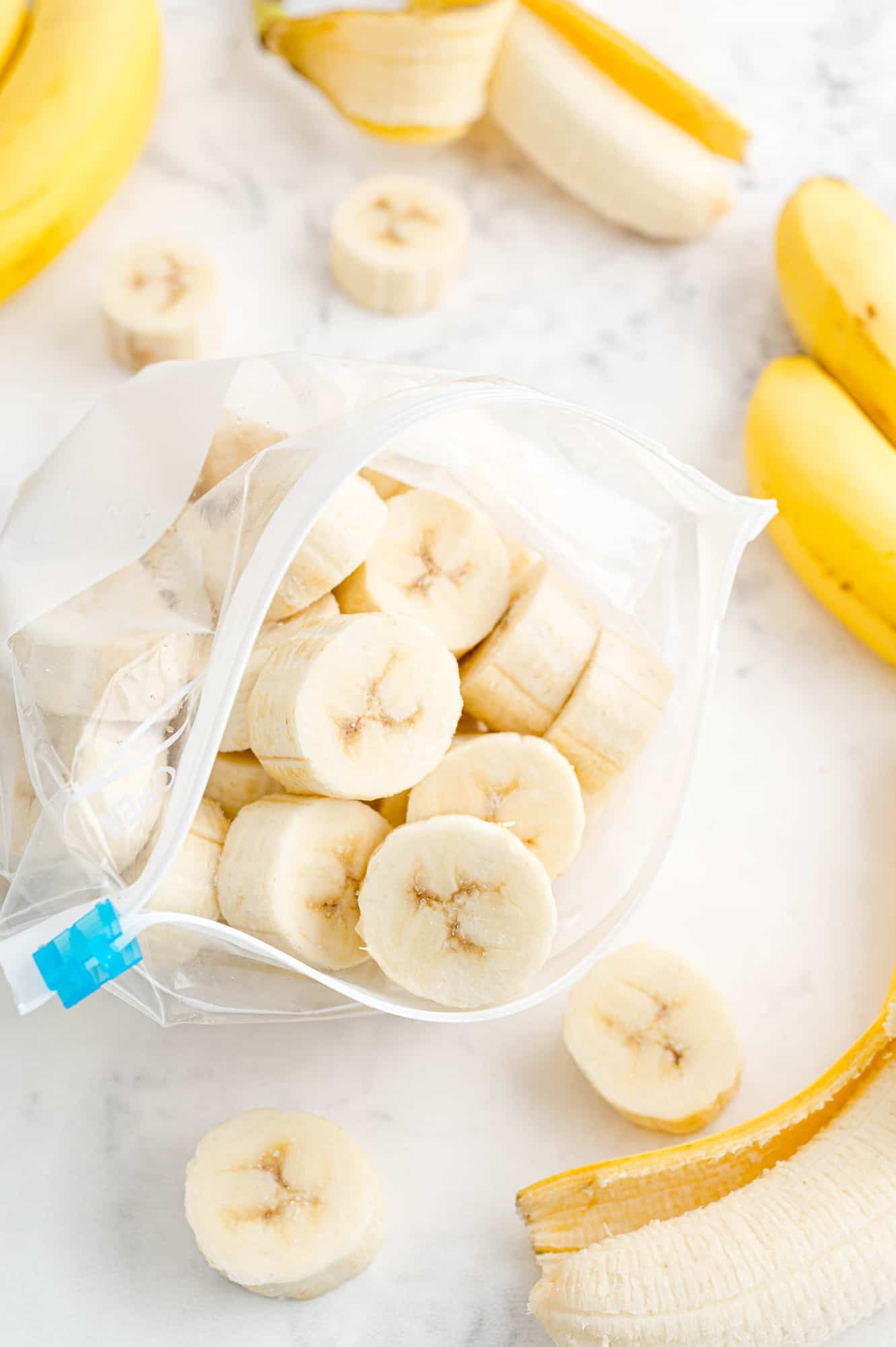 How To Use Frozen Bananas
For smoothies or other drinks, there's no need to thaw the bananas before using. Frozen bananas (or other frozen fruit) can take the place of ice and won't water down your beverage.
For baked goods like banana bread, it's best to thaw the frozen banana slices. Take them out of the freezer an hour or so before you start baking. If you forget, microwave the frozen slices on 50% power in 15-second increments until they're soft.
Don't worry if they get juicy or brown when you thaw them. Just add the juice with the bananas when you mash them. It may look unappealing, even a little gross, but don't worry. Everything turns out fine. I've done it a million times.
FAQs
How do you freeze bananas without them turning brown?
The riper the banana, the more quickly they turn brown in the freezer. If they are still relatively firm and white when you put them in, they'll stay white for a few weeks.
The good news is that, no matter what color they are, they will taste fine in baked goods or smoothies.
Should bananas be frozen with or without the peel?
For best results, remove the peel before freezing. It can be really difficult to remove the peel from frozen bananas and who wants to hassle with that? It's so easy to peel bananas before they're frozen. Why wait until they're frozen?
Banana Recipes
Here you go! As promised, I have lots of banana recipes for you to try. You'll be so glad you froze all those bananas. These goodies will put a golden banana smile on everyone's face :)
Breads, Muffins, Doughnuts, Pancakes
Cakes, Cupcakes
Smoothies, Milkshakes
Non-Dairy Banana Ice Cream or "Nice Cream"
Nice cream is frozen bananas blended into a smooth creamy frozen dessert. Use a high-powered blender or food processor. If necessary, add a bit of non-dairy milk (or regular milk, if non-dairy isn't your thing) if the mixture is too thick. Nice cream can be eaten right away like a soft serve ice cream, or frozen to eat later.
Banana popsicles are another frozen treat you can make with bananas. They're easy to make, economical, and delicious.
Check out 10 flavor variations, like peanut butter banana, cookies and cream, or very berry, and the basic technique at Chocolate Covered Katie.
Storage Tips
Just a reminder: Frozen bananas will keep for at least three months. After three months, they will look less "a-peeling" but will taste great in baked goods.
Did you make this? Be sure to leave a review below and tag me @rachelcooksblog on Facebook, Instagram, or Pinterest!
Once you learn how to freeze bananas, you'll have a frozen treasure ready to be turned into all sorts of yummy concoctions!
Ingredients
1

ripe banana

(or as many as you want)
Instructions
Line a baking sheet with parchment paper.

Peel bananas and cut into 1/2-inch thick rounds and place in a single layer on the prepared baking sheet.

Freeze until solid, or about 1 hour.

Remove from baking sheet and transfer to a freezer-safe bag or freezer-safe airtight container.

Store in the freezer for up to 3 months. Bananas can be frozen longer and are still safe to eat but will be browner and softer.
Notes
If you prefer, bananas can be frozen whole. Peel them and place into a freezer bag. Frozen bananas are easy to break into pieces for smoothies, etc.
Don't worry if thawed bananas are juicy. Simply combine the juice and banana when you mash them.
Check out the post for lots of banana recipes.
Nutrition Information
Calories:
105
kcal
,
Carbohydrates:
27
g
,
Protein:
1
g
,
Fat:
1
g
,
Saturated Fat:
1
g
,
Polyunsaturated Fat:
1
g
,
Monounsaturated Fat:
1
g
,
Sodium:
1
mg
,
Potassium:
422
mg
,
Fiber:
3
g
,
Sugar:
14
g
,
Vitamin A:
76
IU
,
Vitamin C:
10
mg
,
Calcium:
6
mg
,
Iron:
1
mg
This website provides approximate nutrition information for convenience and as a courtesy only. Nutrition data is gathered primarily from the USDA Food Composition Database, whenever available, or otherwise other online calculators.