16 Banana Recipes for Ripe Bananas
Needing inspiration for those bananas on your counter? Are they minutes away from being claimed by fruit flies? Look no further – here are so many great banana recipes to choose from!
We go through literally about 4 to 5 bunches of bananas a week. At least. My son alone eats about three a day, and that's only because I limit him to three a day. It was one of his first words, as a matter of fact. "Nah-nah!" He loves them. I can barely manage to save a few brown ones to bake with or use in smoothies. I almost always default to my favorite healthy banana bread, but it's fun to try new things too!
This list of recipes contains a little bit of everything, but as always, all the recipes are easy and simple.
You'll find desserts, smoothies, pancakes, and of course breads and muffins on this list.
Leave a comment and let me know what you plan to try first!
How to Ripen Bananas Quickly
If you don't have ripe bananas, you can still make these recipes today! There are two main ways to ripen bananas quickly.
Brown Paper Bag Method
This method is slower – it will still take 1-3 days for your bananas to ripen, depending on how ripe they are to begin with. Place them in a brown paper bag and fold over the top. To expedite the process, also place an apple, avocado, or tomato in the bag with the bananas.
The science behind this method is that ethylene gas builds up inside the bag and helps ripen the bananas more quickly.
Oven Method
Preheat your oven to 300ºF. Place bananas (with the peels still on) on a parchment paper baking sheet and put in preheated oven for 20-40 minutes or until they're dark blackish brown. They'll look super ugly, but they'll be soft and sweet on the inside. Don't be alarmed if they leak a little juice/sugar – that's what the parchment paper is for.
Cool well before handling and using in your recipes.
This method works best for bananas that are at least a little ripe, not bright green bananas.
How to Freeze Bananas
If you have too many bananas to use right now, you can freeze them for later! You can head to our tutorial to learn how to freeze bananas, but I'll give you the short version here.
Line a pan with parchment to prevent the bananas from sticking.
Cut the ripe bananas in slices and lay them in a single layer on the lined baking sheet.
Freeze until firm, 1-2 hours.
When they're firm, move them into a freezer-safe container, where they'll keep for 3 months.
Frozen bananas are great for smoothies straight from the freezer, or thaw them overnight in the fridge to use in baked goods.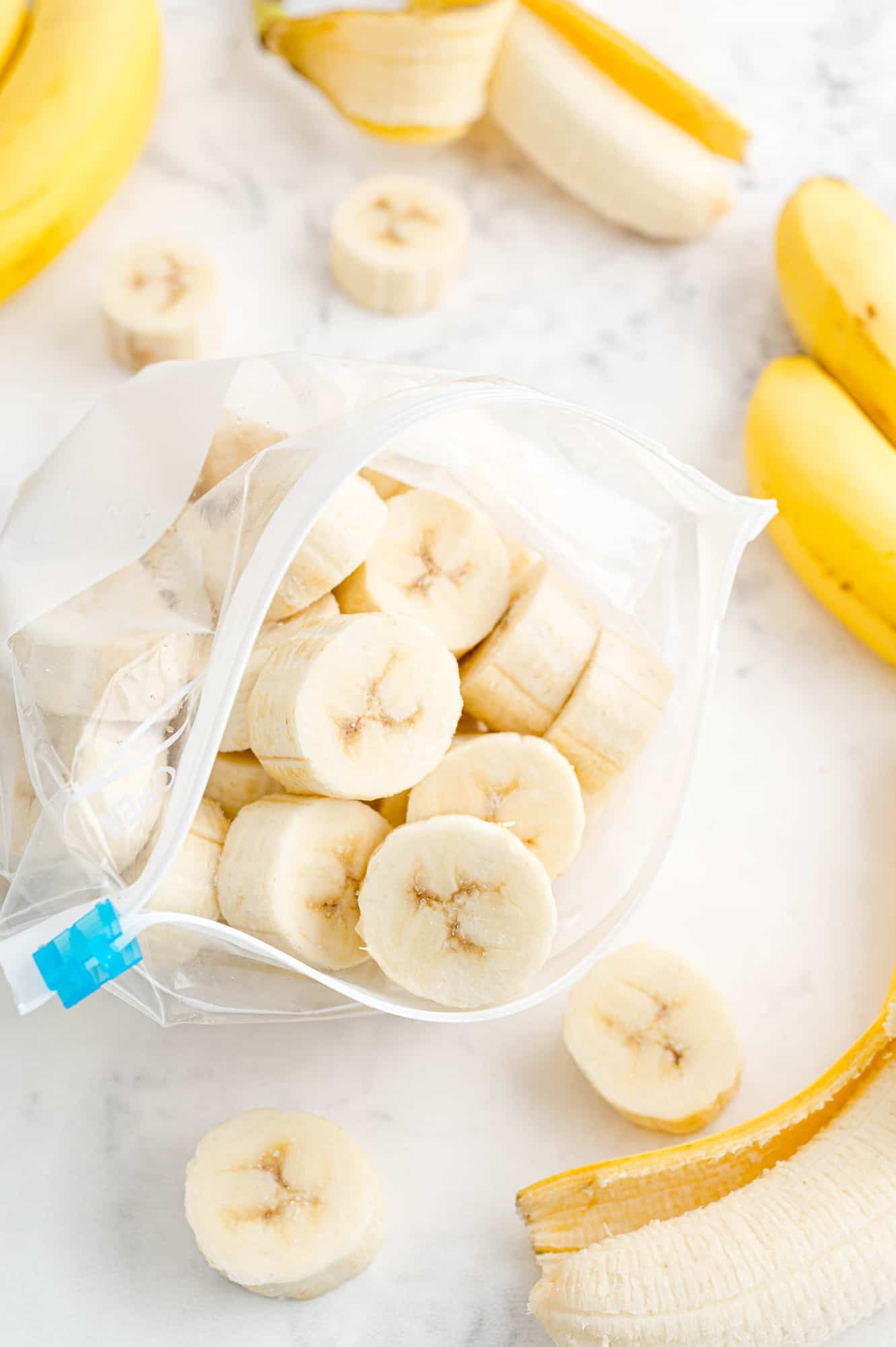 16 Banana Recipes