Whole Wheat Reduced-Fat Chocolate Banana Bread
This whole wheat reduced-fat chocolate banana bread is (almost) guilt-free and is a perfect way to start your morning. Tastes great with coffee!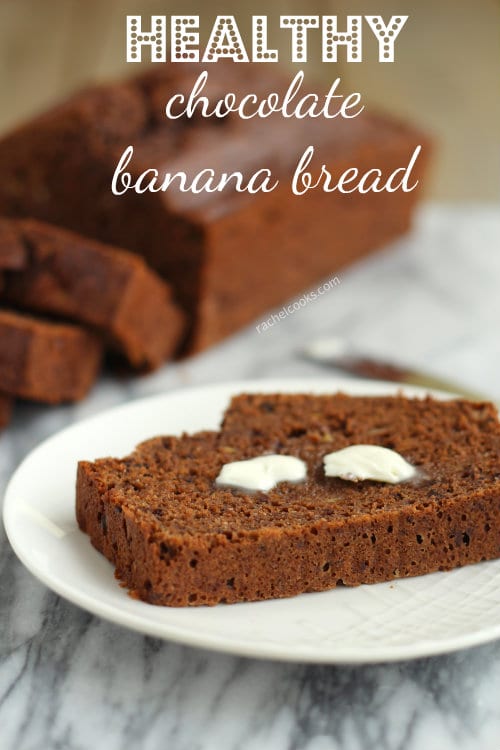 Banana bread is a classic, isn't it? It is everyone's go-to recipe when they have a pile of brown bananas siting on the counter top that no one wants to eat. We go through bananas like a bunch of monkeys, but occasionally a few are left over that have gone a little too far.
It doesn't happen often because I like them green and Ben likes them on the brown side, and we typically freeze some brown ones for smoothies. But we go through about 4 bunches of bananas a week so I often buy even more to ensure that there will be some ready to turn into banana bread.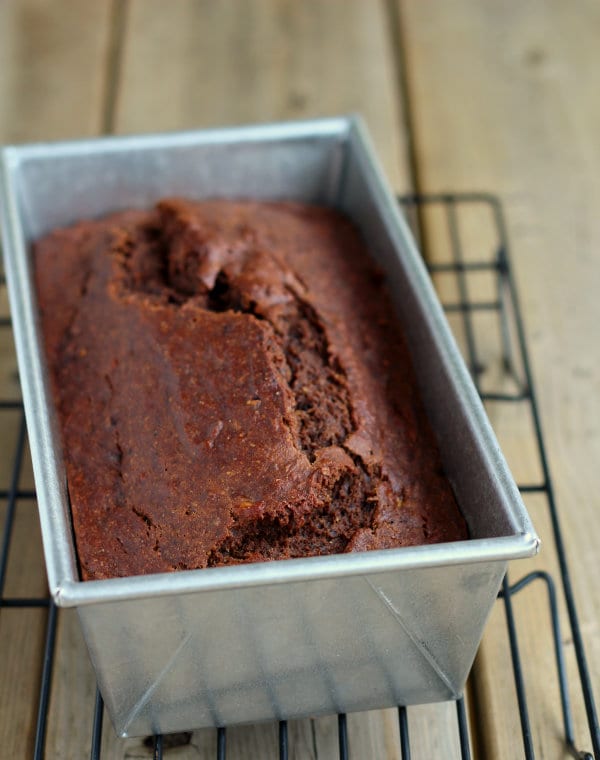 I've been making reduced fat banana bread for a long time and it is a family favorite. Reduced fat banana bread is so super moist using a minimal amount oil, substituting applesauce to replace most of the oil. It freezes great and I often make two loaves so that I have one to pull out of the freezer when the first loaf has been eaten (in other words, in two days or less).
Update: I wrote a new post about my whole wheat banana bread which is the way I make it now.
Sometimes I like to switch it up a little by adding some cocoa powder for extra anti-oxidants. Yeah. For that reason. And for the great taste of cocoa. The best part is that cocoa powder doesn't add hardly any calories.
I have to really fight the urge to throw in some chocolate chips as well but I like to keep this whole wheat reduced-fat chocolate banana bread something I can feel good about eating for breakfast. Try it with this delicious vanilla bean whipped cream cheese!
PS: I've also adapted this banana bread recipe into banana bread muffins and banana bread with coconut and chocolate chips! If you're really looking for chocolate, try triple chocolate banana muffins!
More ideas for brown bananas:
Healthy Chocolate Banana Bread
Yield: 1 loaf- 12 servings
Prep Time: 15 minutes
Cook Time: 1 hour
Total Time: 1 hour 15 minutes
This chocolate banana bread is (almost) guilt-free and is a perfect way to start your morning. Tastes great with coffee!
Ingredients
2 cups whole wheat flour
1 teaspoon baking soda
1/2 teaspoon baking powder
1/2 teaspoon salt
1/4 cup ground flax seed
1/2 cup unsweetened cocoa powder
3/4 cup granulated sugar
1/2 cup unsweetened applesauce
2 tablespoons vegetable or canola oil
1 teaspoon pure vanilla extract
2 large eggs
3 ripe bananas, mashed
Instructions
Preheat oven to 350F°. Spray a 9- by 5-inch loaf pan with nonstick cooking spray.
In a medium bowl, stir together flour, baking soda, baking powder, salt, flax seed, and cocoa powder until well combined.
In a separate bowl, whisk together sugar, applesauce, oil, vanilla, and eggs until combined. Stir in mashed banana.
Gradually stir in dry ingredients until everything is combined. Do not overmix. Pour into prepared loaf pan.
Bake until toothpick or knife inserted into the middle of the loaf comes out almost clean, or about 1 hour. Let cool in pan for about 10 minutes before removing from pan and cooling on a wire rack. Cool completely before slicing and storing in an airtight container.
Notes
Add a cup of chocolate chips if you want this to be a little more indulgent!
Nutrition Information:
Yield: 12
Serving Size: 1 slice
Amount Per Serving:
Calories: 196
Total Fat: 4g
Saturated Fat: 1g
Trans Fat: 0g
Unsaturated Fat: 3g
Cholesterol: 31mg
Sodium: 227mg
Carbohydrates: 38g
Fiber: 4g
Sugar: 17g
Protein: 5g
RachelCooks.com sometimes provides nutritional information, but these figures should be considered estimates, as they are not calculated by a registered dietitian. Please consult a medical professional for any specific nutrition, diet, or allergy advice.
Verdict:
The whole family loves this bread!
Changes I would make:
mmmm….chocolate chips. Maybe next time.
Difficulty:
Easy!