Instant Pot Pasta with Sausage, Spinach, and Tomatoes
A complete pasta dinner made in your Instant Pot! You'll love this Instant Pot pasta with sausage, spinach, and tomatoes. You might have all the ingredients on hand already!
Recipe Overview
Why you'll love it: It's healthy, satisfying, easy, and versatile, and you're going to keep making it again and again!
How long it takes: 30 minutes
Equipment you'll need: Instant Pot, measuring utensils
Servings: 6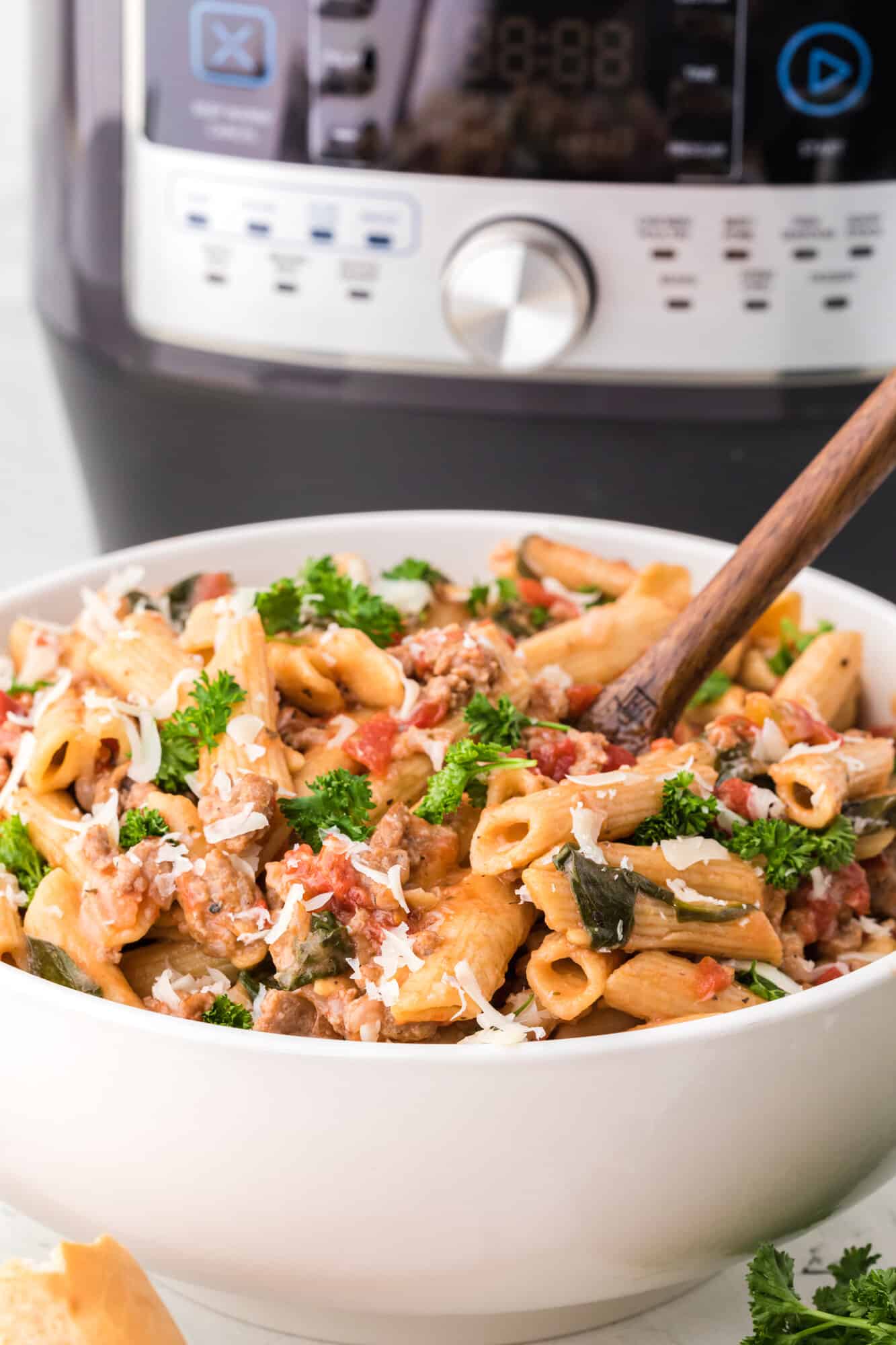 My Instant Pot has pretty much found a permanent place on my countertop. I use it frequently for meal prep, like making boiled eggs for the week and shredded chicken to use in future dinner recipes. It also does a great job cooking dried beans (try Instant Pot pinto beans). I love that you don't even have to soak the beans first.
Naturally, even as my list of Instant Pot recipes grows, I'm still always looking for more ways to use it, and I've been getting so many requests from all of you! You wouldn't believe how many people ask me for more Instant Pot recipes so clearly I'm not the only one with an infatuation.
I'm nearly as obsessed with one pan pastas as I am with pressure cooker recipes, so it's probably no surprise that the two recipe categories collided at some point. I now have several recipes that I've shared with you (check out the list near the end of the post) but this recipe remains one of my absolute favorites.
Are You New To Pressure Cooking?
Want to know which Instant Pot to get, along with tons of cooking tips for using a pressure cooker? Read my complete guide to cooking with a pressure cooker. You'll also find lots of great Instant Pot recipes!
About This Recipe
This pasta is cheesy, creamy, filling, and so flavorful. Would you believe that it only has 425 calories per serving? It's easy to make, it's nutritious, and you only get one pan dirty. You really can have it all with this pasta.
To keep this one pan pasta super filling and still nutritious, I use whole wheat pasta, turkey Italian sausage, and lots of spinach. There's a can of tomatoes, a little bit of garlic and onion, and a handful of mozzarella cheese. It's so easy and you can have it on the table in about a half hour.
There's no pasta pot or colander because the pasta (almost magically) cooks right in the Instant Pot. So yeah, easy to make and easy to clean up, too.
I'll run through the list of ingredients and get you started on the recipe here with a few helpful tips here and there.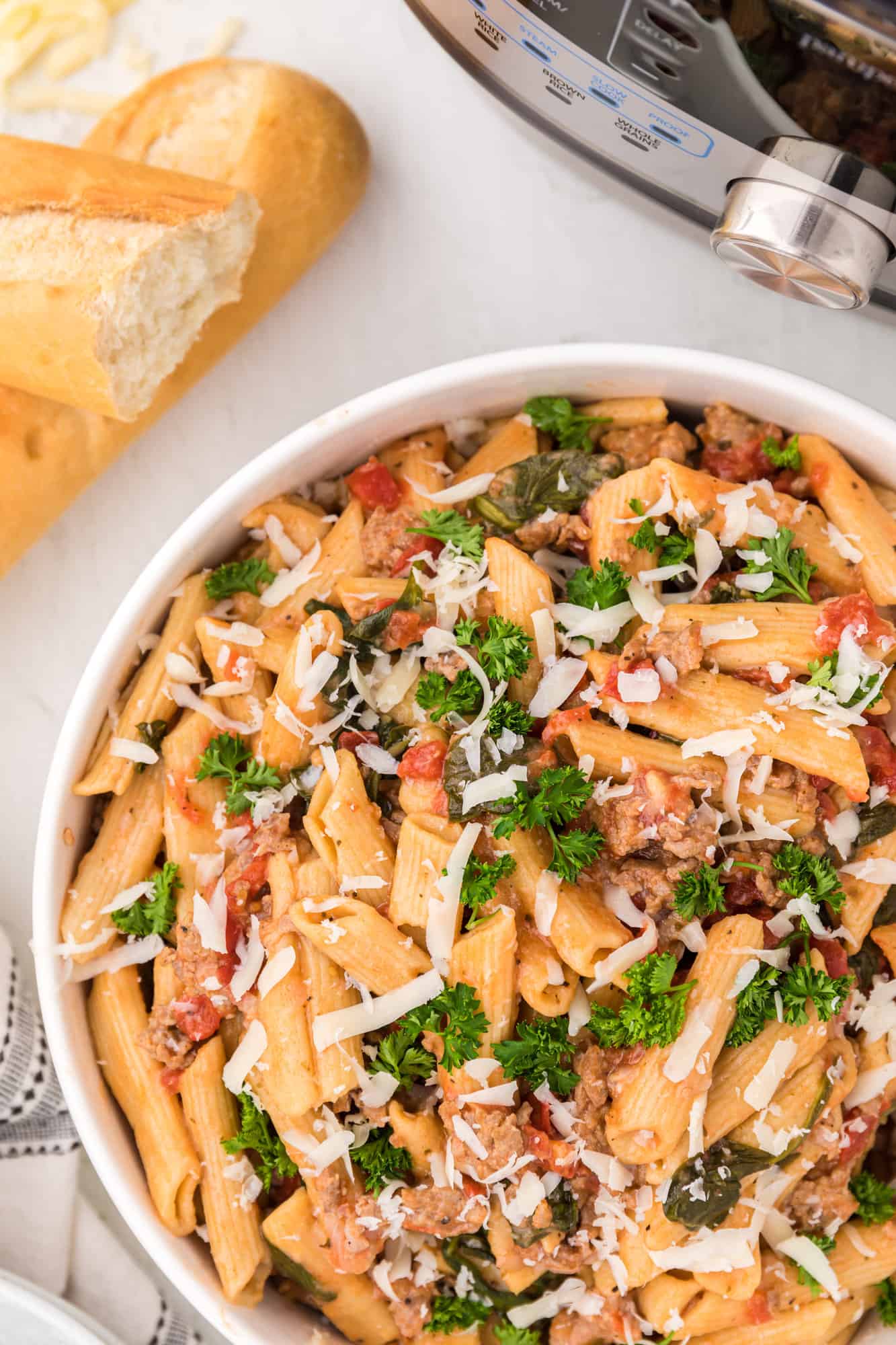 Look for the printable recipe card at the end of this post. You'll find complete instructions, measurements, and nutrition information.
Ingredients You'll Need
Italian Sausage: I usually choose Italian sausage made from ground turkey but if you prefer a different type of raw ground sausage, that's fine, too. Bulk sausage is easiest but if you can only find link sausage, simply squeeze the raw sausage out of the casings.
Onion: A yellow cooking onion is fine for this recipe; they are inexpensive and store well in a cool, dry environment such as your pantry. If you happen to have another type of onion, feel free to substitute it.
Garlic: The recipe calls for one clove of garlic but you can easily add more or skip it if you like. Remember: a clove is one small part of the larger head of garlic. Remove the papery husk and finely mince the garlic or press it through a garlic press.
Whole Wheat Penne: The recipe is written for this type of pasta. If you choose a different kind of pasta, the cooking time may vary. Another thing to consider: If you add more pasta or use less, you may have to adjust the amount of added liquid.
Canned Diced Tomatoes: Look for a large can, 28 oz., or use 2 small cans. I usually use "no salt added" tomatoes to control the amount of sodium in the recipe.
Dried Oregano: Dried herbs are easy to use and you probably have this one in your pantry.
Chicken Broth: Again, look for low sodium broth. The broth is added to hydrate the pasta as it cooks, taking it from hard and dry to soft and al dente. Most of it will be absorbed into the pasta.
Baby Spinach: This tender leafy green cooks very quickly so it's stirred in right before the pasta is served. Even though the leaves are quite small, I usually give them a rough chop.
Mozzarella Cheese: A couple handfuls of shredded cheese really makes this recipe a winner. As it melts, it makes a nice creamy sauce. Have a little extra cheese on hand to sprinkle on top of each serving. Freshly shredded mozzarella melts a bit better than pre-shredded cheese but I've used either with good results.
Fresh Parsley: A garnish of fresh herbs seems to elevate any recipe from ho-hum to wow! Parsley is inexpensive, keeps well, and goes with everything. If fresh basil is available, feel free to substitute that for the parsley.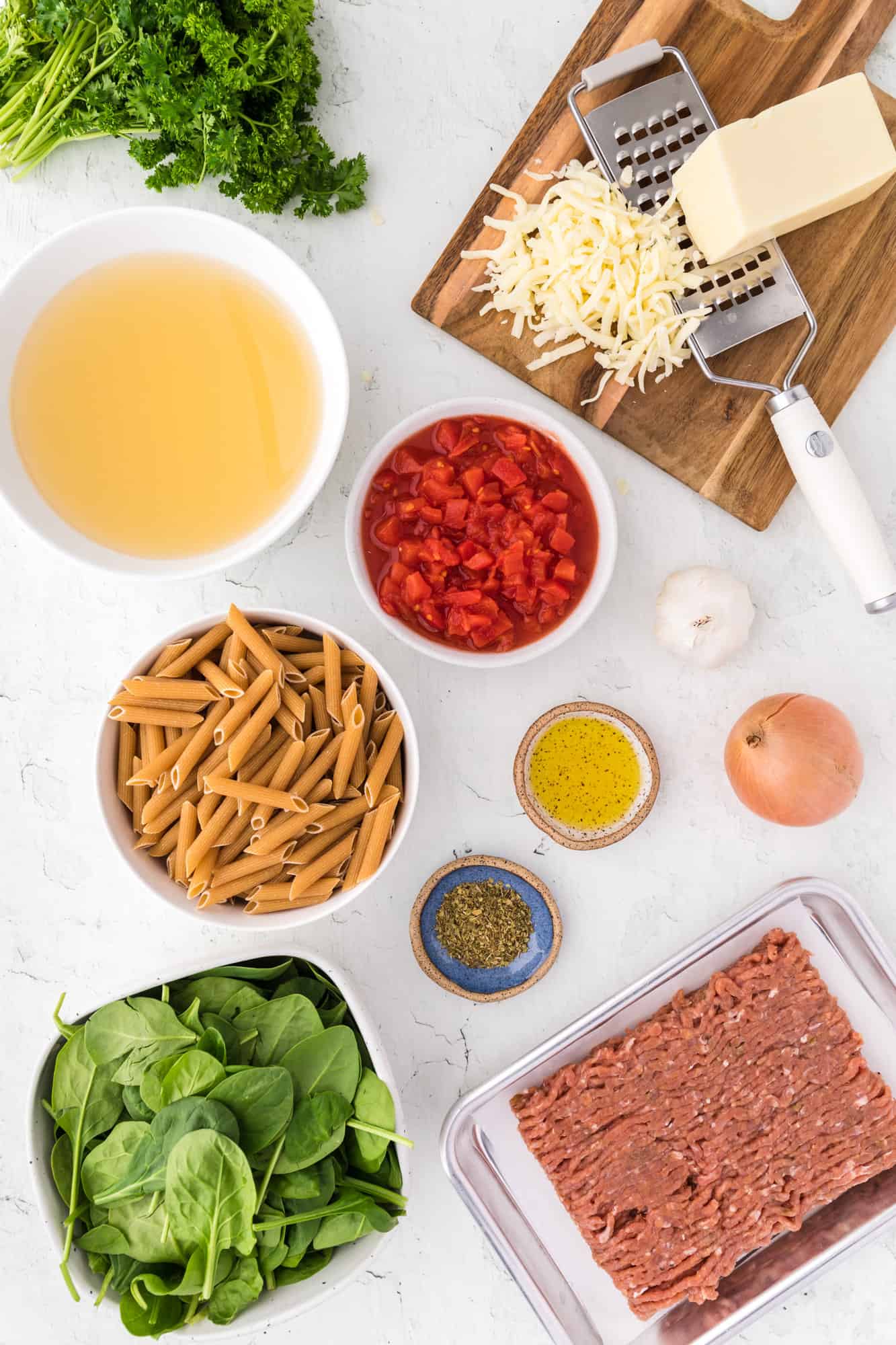 How To Make this Instant Pot Pasta Recipe
Let's get started! I'm so glad that Instant Pots have a Sauté function. That's a genius idea. Some of the new models have 3 different settings with the Sauté function so you can adjust the temperature if the pan seems to be getting too hot.
Begin by sautéing the sausage and onions in the Instant Pot, breaking up the sausage as it cooks.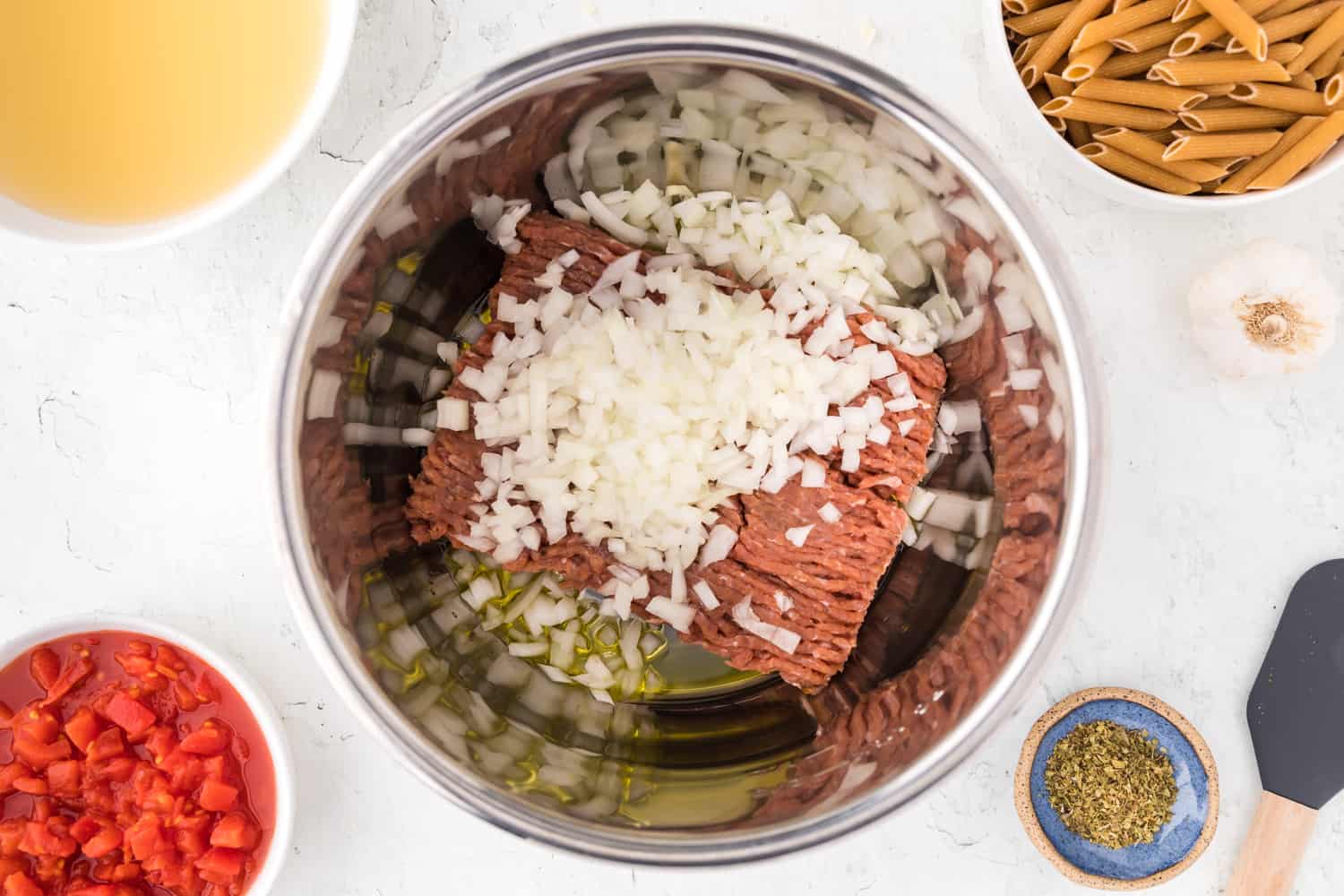 Once the meat is no longer pink, add the garlic and cook it for a minute or two.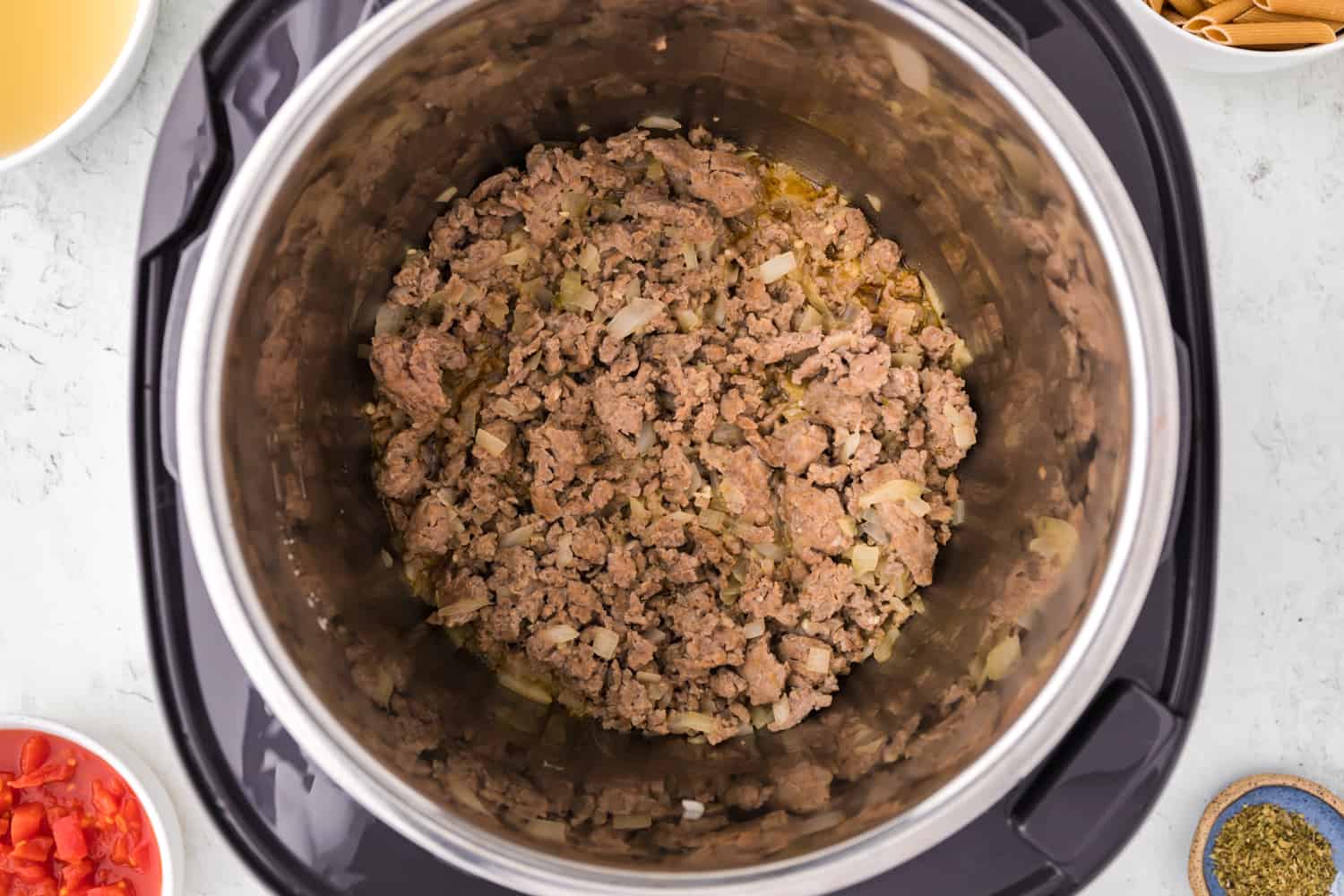 Next, add the diced tomatoes (don't drain them first), chicken broth, and oregano. These ingredients will form the sauce. Also add the pasta. Stir well and make sure the pasta is submerged.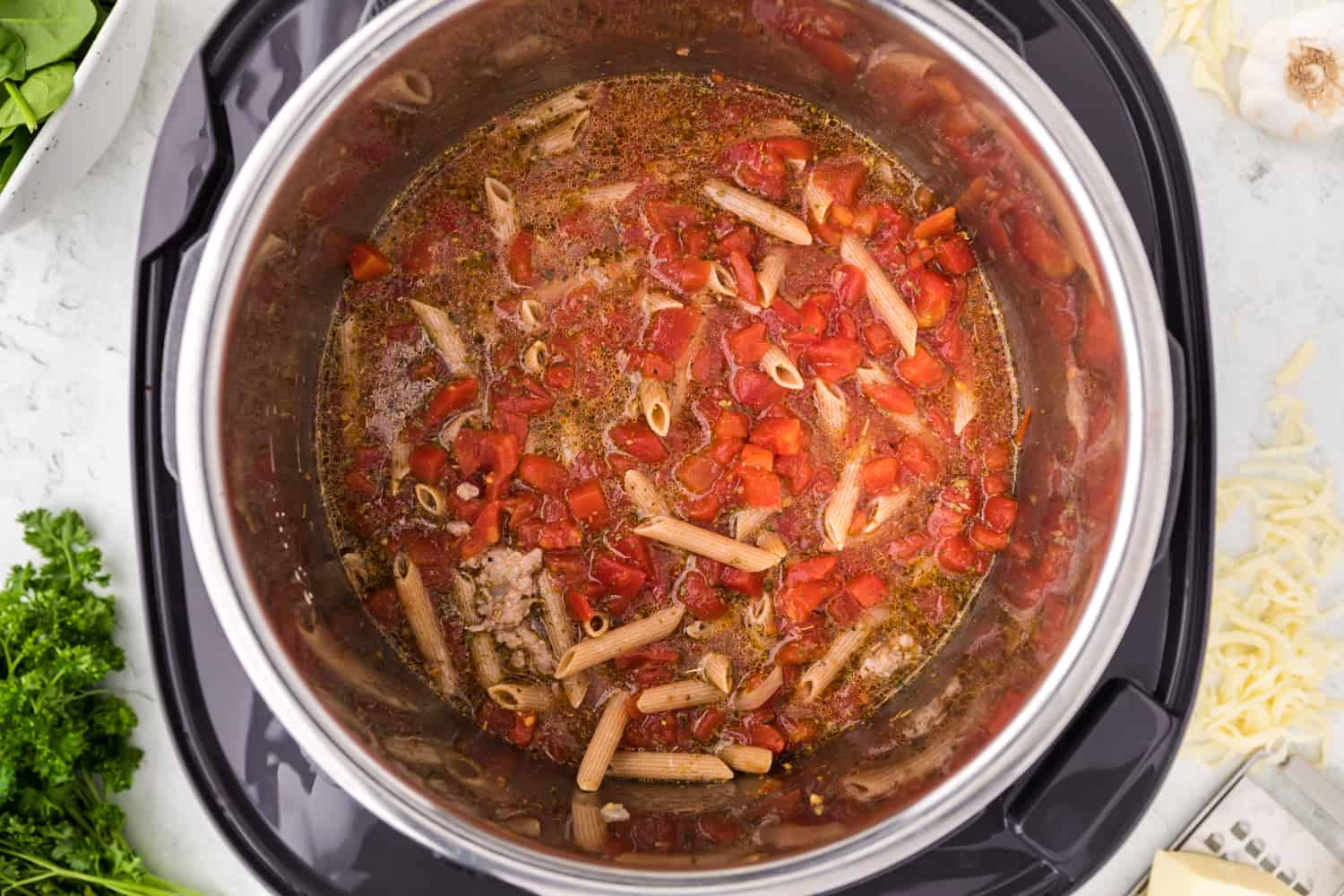 Put the cover on the Instant Pot and set it to Pressure Cook for 5 minutes. If you have an older model, choose Manual, High Pressure. Remember, it will take an additional 10 minutes or so for the cooker to reach full pressure.
Once the timer goes off, quick release the pressure by turning the valve to vent. Carefully! The steam is really hot. Once the pressure is released, remove the cover.
The pasta will be perfectly cooked! It's sort of unbelievable until you've tried it. Since the pasta cooks right in the sauce, the end result is a naturally creamy sauce, thanks to the starch that the pasta releases. It's a lovely thing.
We're not quite finished. Give the pasta a good stir and add the spinach.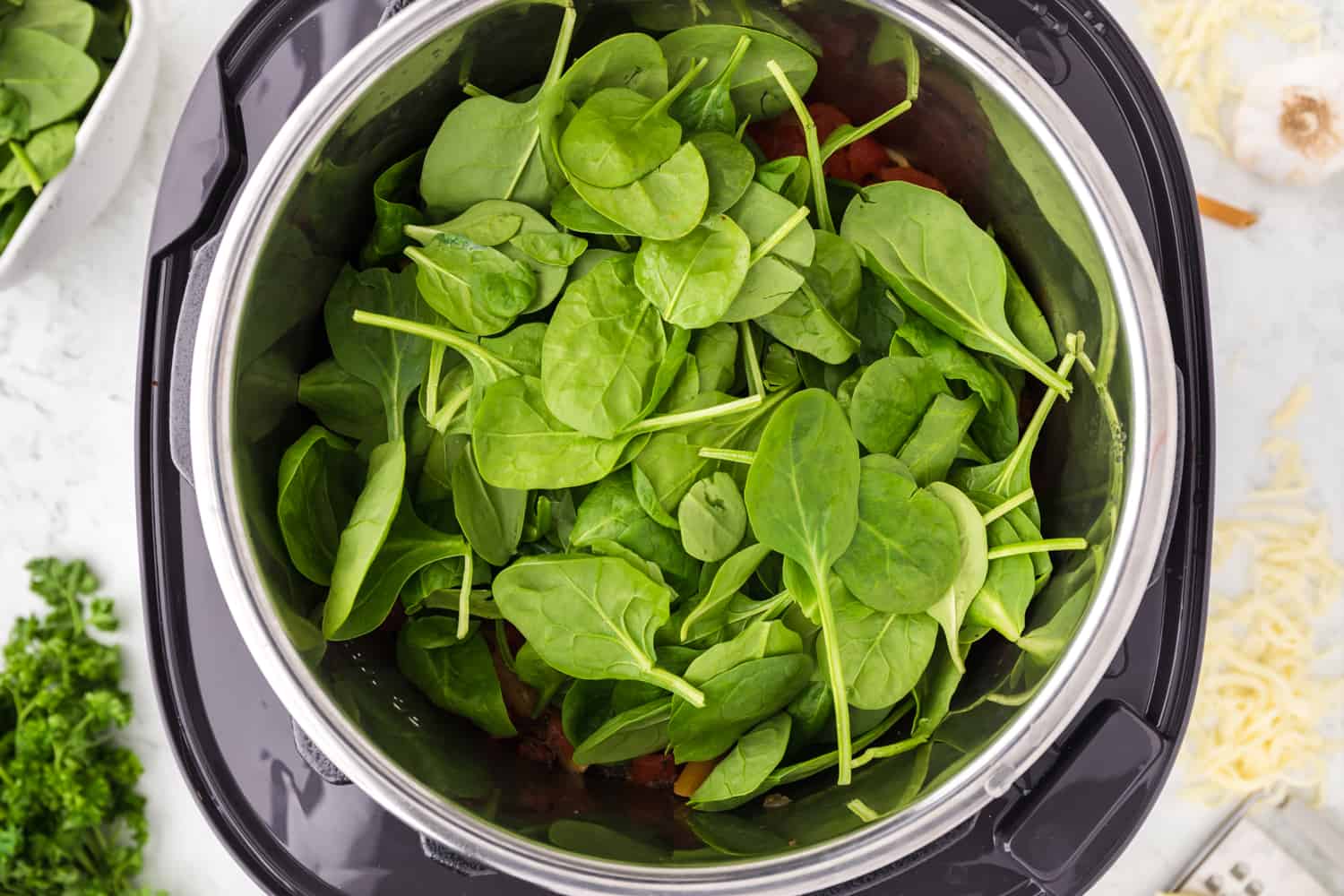 Replace the cover (just set it on loosely) and let the spinach wilt a couple of minutes. Stir it in once it's wilted.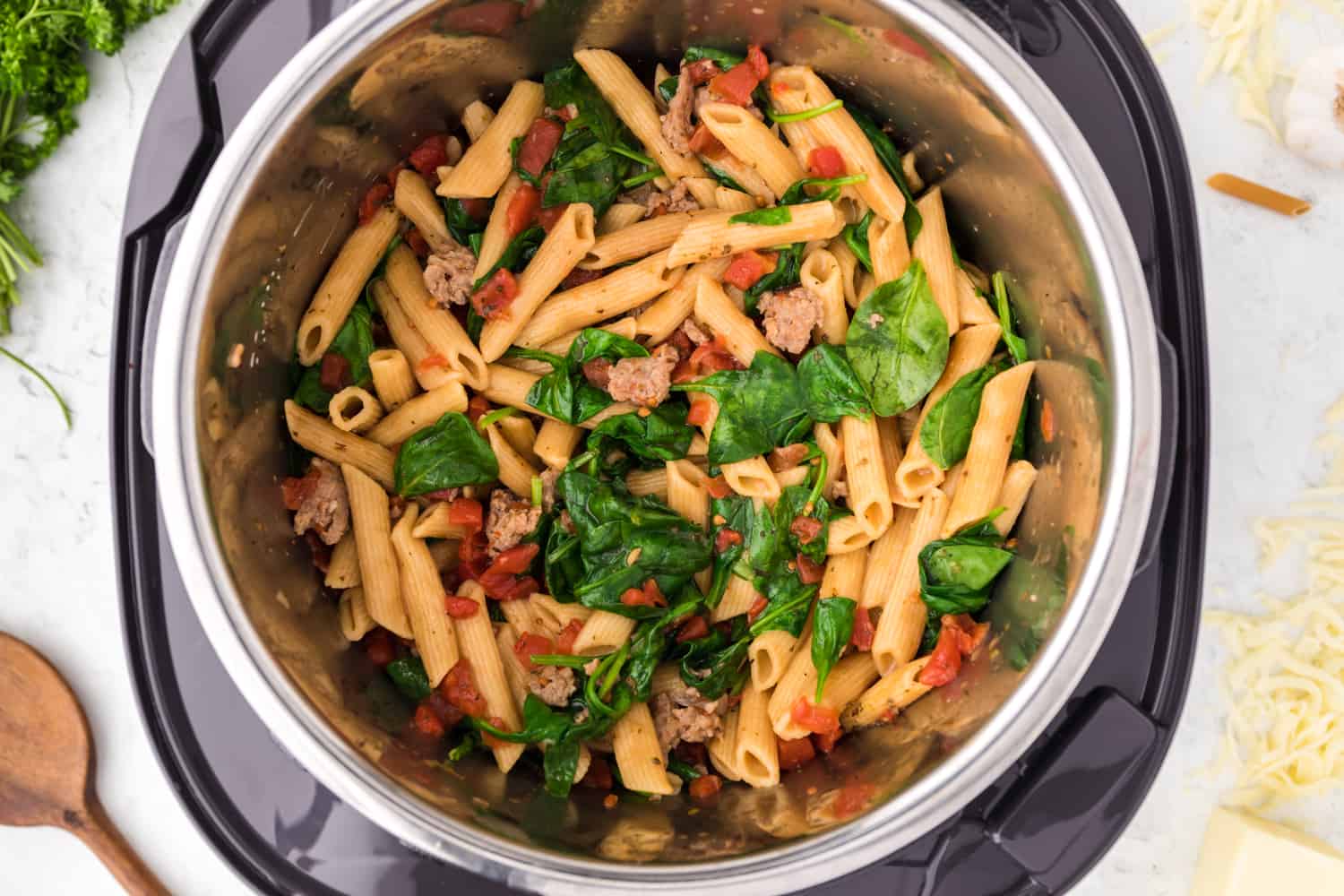 Of course, since everyone likes pasta even creamier, we're going to go ahead and melt some mozzarella cheese in there. The cheese also thickens the sauce a bit which helps it cling to the pasta.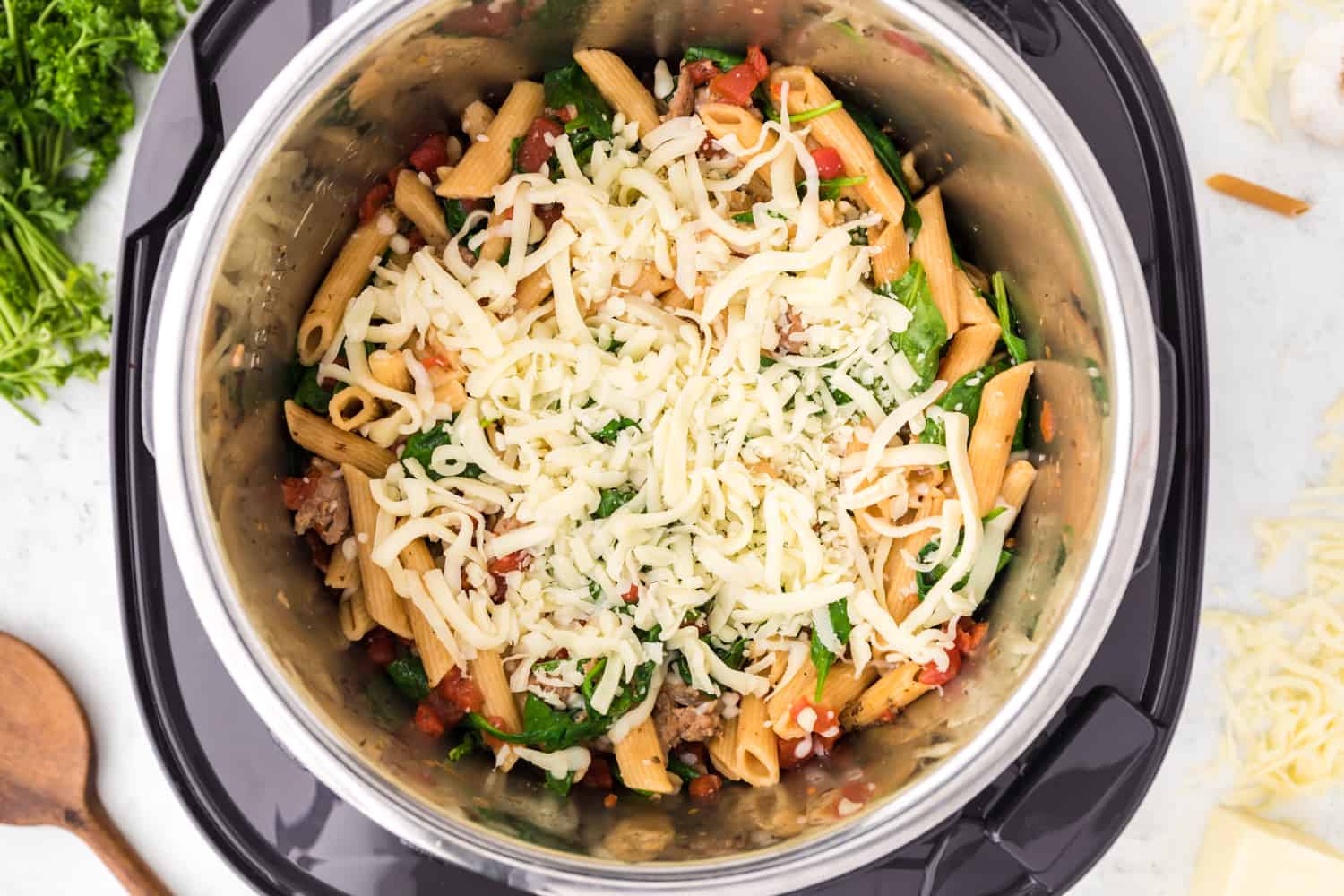 Let the pasta sit for five to ten minutes. It will continue to absorb a little more liquid and just seems to taste better if you let it settle down a little bit.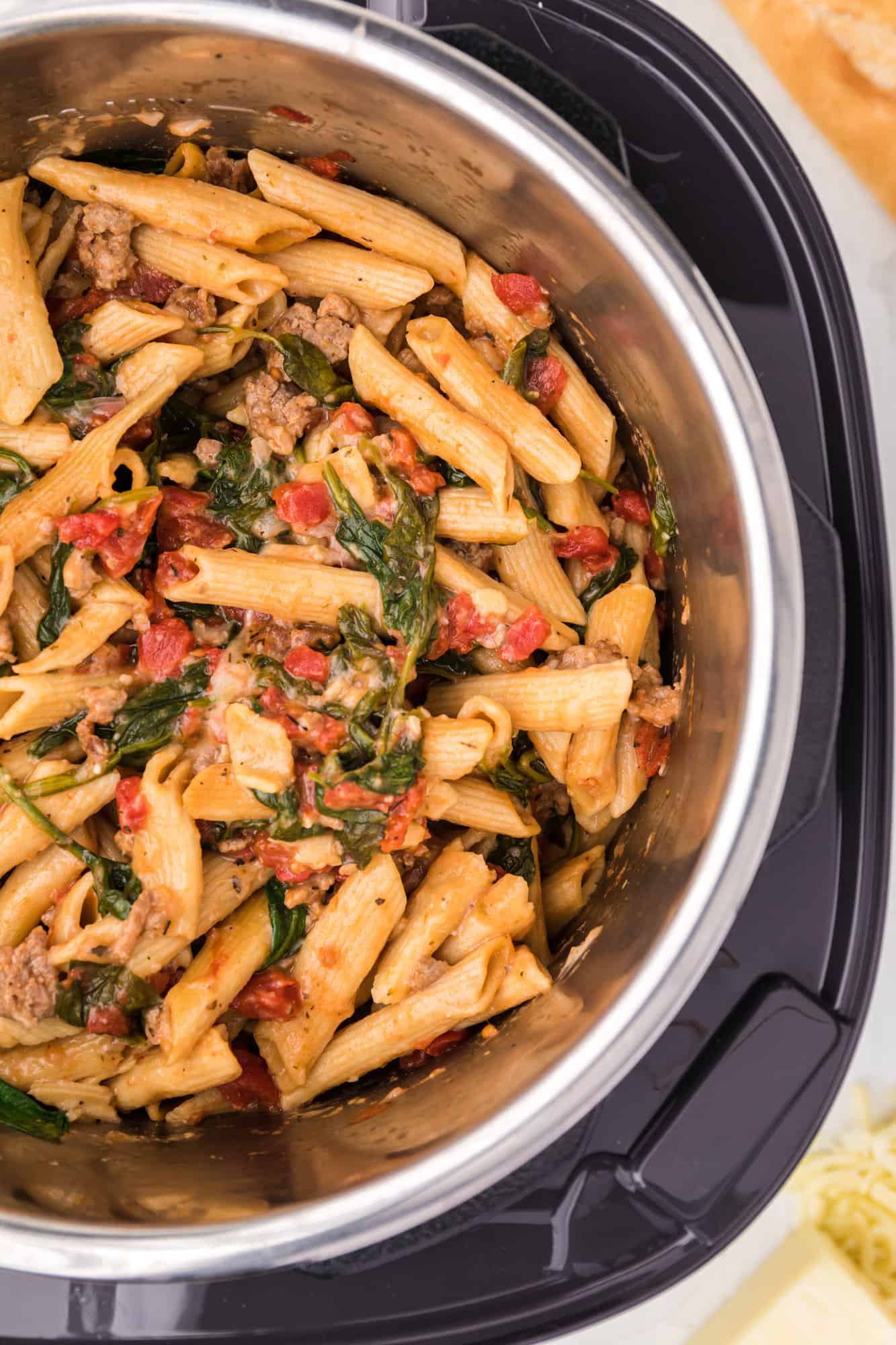 Although you really wouldn't have to serve anything extra with this dinner, warm crusty bread with restaurant style bread dipping oil tastes great with it. Add a rosé spritzer or an Aperol spritz if you're feeling festive.
FAQs
How long does it take to cook pasta in an Instant Pot?
It really depends on what kind of pasta you're cooking. Sturdier pastas require a bit more cooking time than thin delicate pasta. Cooking times can vary from zero minutes (the pasta cooks while the pot comes to pressure) to 5 minutes. Follow the recipes closely and you should have good results.
Can you overcook pasta in an Instant Pot?
Oh yes! Pasta cooks more quickly than you would expect because 1) it begins cooking as the pot comes to pressure and 2) it's cooked under pressure which speeds the cooking time. Again, follow recipe directions closely.
How much liquid do you cook pasta in Instant Pot?
According to the Barilla website, cover the pasta with liquid by a half inch, generally 4 cups of liquid per pound of pasta. Remember, that liquid is not necessarily all water when you're cooking pasta in an Instant Pot. It could be broth, tomato sauce, wine, etc.
Make It Your Own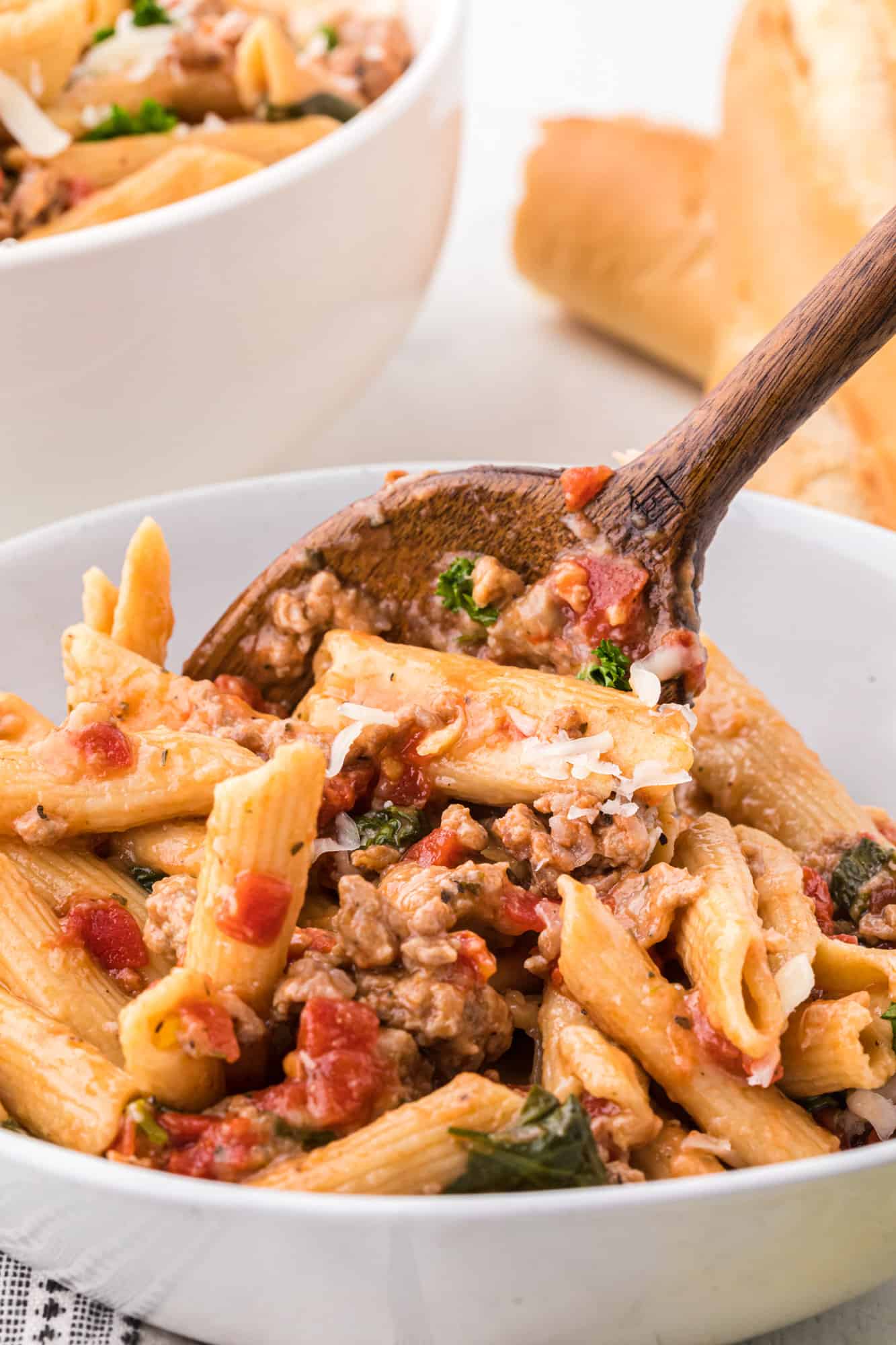 Make-Ahead Ideas
Want to make this ahead of time or turn it into a freezer meal? I've done this and it tastes delicious! Here's how you do it:
Prepare the recipe as directed and then put it into a greased 9×13 inch baking pan. (I prefer to use a metal pan if I'm going to freeze a casserole to eliminate the possibility of breakage.) Top with more mozzarella cheese (¼ -½ cup) and cover the pan completely with foil. Freeze or refrigerate until ready to bake.
Note: If the casserole is frozen, let it thaw overnight in the refrigerator before reheating. Baking a solidly frozen casserole is tricky. Often the edges get overdone while the middle stays cool.
Preheat oven to 350°F and bake the casserole for an hour, uncovering in the last 15 minutes, or until heated through and cheese is melted.
Storage & Reheating Tips
Refrigerate: Refrigerate leftover pasta promptly in a covered dish or airtight container. It will keep for three to four days.
Freeze: This pasta recipe can be frozen for up to three months. For best results, thaw overnight in the refrigerator before reheating.
Reheat: Individual portions can be reheated in a microwave safe container until warm. Larger amounts can be heated in a skillet or saucepan on the stove. Add a bit of water or broth if pasta seems dry.
Interested in a weekly meal plan (it's free!) that includes this easy pasta recipe? Take a look at my Meal Plan #33. You'll find a wholesome recipe for each weekday plus a categorized grocery list. Let me do the planning for you this week!
We'll be adding a new meal plan weekly. If you're interested, browse all of our meal plans.
More Instant Pot Pasta Recipes
Did you make this? Be sure to leave a review below and tag me @rachelcooksblog on Facebook, Instagram, or Pinterest!
A complete pasta dinner made in your Instant Pot! You'll love this Instant Pot pasta with sausage, spinach, and tomatoes. You might have all the ingredients on hand already!
Ingredients
1

teaspoon

olive oil

16

oz.

Italian turkey sausage

(see note)

1

small yellow onion, diced

(about

½

cup)

1

clove

garlic

3

cups

low-sodium chicken broth

(see note)

12

ounces

whole wheat penne pasta, uncooked

(

4

cups dry)

1

can

(28 ounces) diced tomatoes, undrained

2

teaspoons

dried oregano

5

ounces

baby spinach, roughly chopped

1

cup

shredded mozzarella cheese, extra for garnishing

(see note)

chopped parsley, for garnishing
Instructions
Heat Instant Pot to "Sauté." Add oil, sausage, and onion. Cook, breaking up sausage into small pieces, until sausage is no longer pink and onions are translucent. Add garlic and cook for 1 to 2 minutes or until garlic is fragrant.

Add chicken broth, pasta, diced tomatoes, and oregano. Stir to combine and make sure pasta is submerged in liquid.

Set Instant Pot to Pressure Cook (or Manual, High Pressure, depending on model) for 5 minutes. Turn valve to seal. When the timer goes off, turn valve to Vent to Quick release the pressure.

Keep Instant Pot on Warm and add spinach. Replace cover loosely (don't turn to latch). Wilt spinach for 2 to 3 minutes, stirring as needed to help it along.

Add 1 cup mozzarella cheese and stir to melt. Let pasta set for 5 to 10 minutes to let the sauce thicken before serving.
Notes
I like bulk sweet Italian sausage but you can use spicy if you prefer a little heat. If you buy links, squeeze it out of the links. If you prefer, pork sausage can be substituted.
Use low-sodium chicken broth in this recipe. It can get salty quickly because of the sausage and cheese so you want to control it where you can. I usually use no-salt-added canned tomatoes, too.

Buy a block of mozzarella and shred it. Pre-shredded cheese doesn't melt as well.

If you want to amp up the vegetables, add a diced sweet bell pepper, diced carrots, or sliced mushrooms when you sauté the sausage and onions.
To make ahead or turn into a freezer meal, refer to the post for instructions.
Nutrition Information
Serving:
1.75
cups
,
Calories:
425
kcal
,
Carbohydrates:
48
g
,
Protein:
27
g
,
Fat:
14
g
,
Saturated Fat:
5
g
,
Polyunsaturated Fat:
2
g
,
Monounsaturated Fat:
4
g
,
Cholesterol:
55
mg
,
Sodium:
887
mg
,
Potassium:
673
mg
,
Fiber:
7
g
,
Sugar:
8
g
,
Vitamin A:
2617
IU
,
Vitamin C:
43
mg
,
Calcium:
194
mg
,
Iron:
10
mg
This website provides approximate nutrition information for convenience and as a courtesy only. Nutrition data is gathered primarily from the USDA Food Composition Database, whenever available, or otherwise other online calculators.