American Goulash (one pan!)
Old-fashioned American goulash is a satisfying, one pan dinner made with ground beef, macaroni, tomatoes, and paprika. It's economical and easy to make.
Recipe Overview
Why you'll love it: A steaming pan of goulash is comfort food: warm, filling, and tasty. You won't need exotic ingredients; it's just simple good food.
How long it takes: 45 minutes
Equipment you'll need: a large pan or Dutch oven
Servings: 6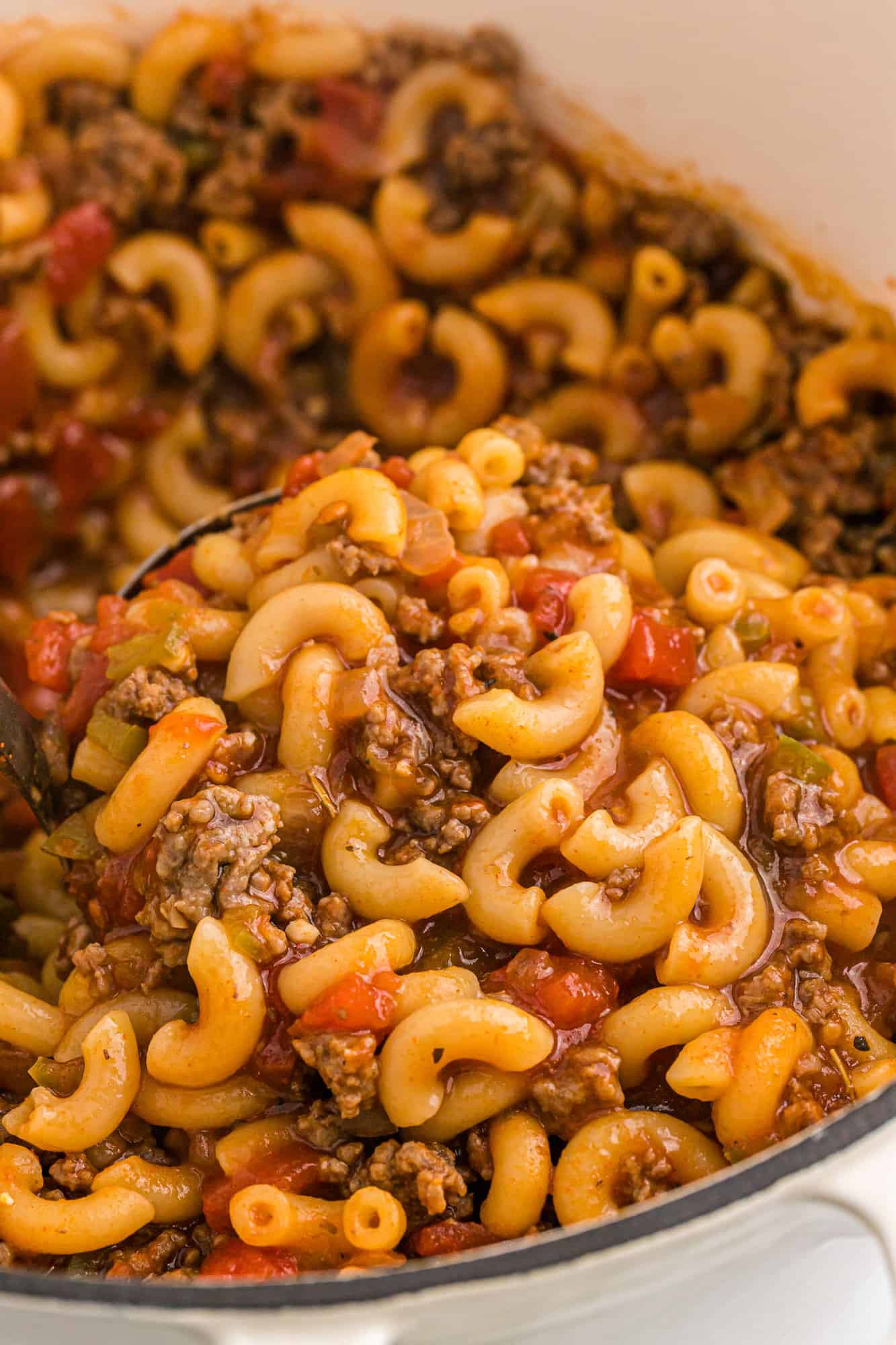 American goulash is good old-fashioned eating with ground beef, macaroni, and tomatoes. It's "plain" food but always hits the spot when dinner time rolls around. Goulash is healthy and hearty, economical to make, and most of us probably have almost everything we need to make goulash already in our pantries.
My mom says she grew up eating this homestyle meal about once a week. My grandma, a nurse, worked the 3-11 shift a few days a week, leaving my grandpa in charge of dinner and four kids. He had a limited repertoire of recipes and goulash was always one of his favorites.
My mom, the oldest sibling, soon became the de facto cook and learned how to cook her dad's specialities. Goulash was one of his favorite recipes and always included ground beef, macaroni, tomatoes, a can of condensed tomato soup, and not much else.
Well, mom, this one's for you. I think you're gonna love this goulash recipe (although I know you'll make it with ground turkey and whole wheat macaroni!)
About This Recipe
This is one pan pasta meal. That means you don't have to cook the pasta separately before you add it to the meat sauce. The pasta cooks right in the sauce.
Because dry pasta absorbs a lot of liquid as it hydrates and becomes tender, the recipe is made with a couple cups of broth. Don't worry, the goulash isn't like soup. You'll be amazed at how great the texture is. The starch from the pasta contributes an almost creamy feeling to the sauce.
Incidentally, if you're looking for more delicious one pan meals with hamburger (or ground turkey if you prefer), try hamburger soup, homemade hamburger helper, chunky cheeseburger soup (one of our favorites), or homemade sloppy Joes. Popular Mexican spaghetti is a tasty mash up of two favorites: spaghetti and tacos.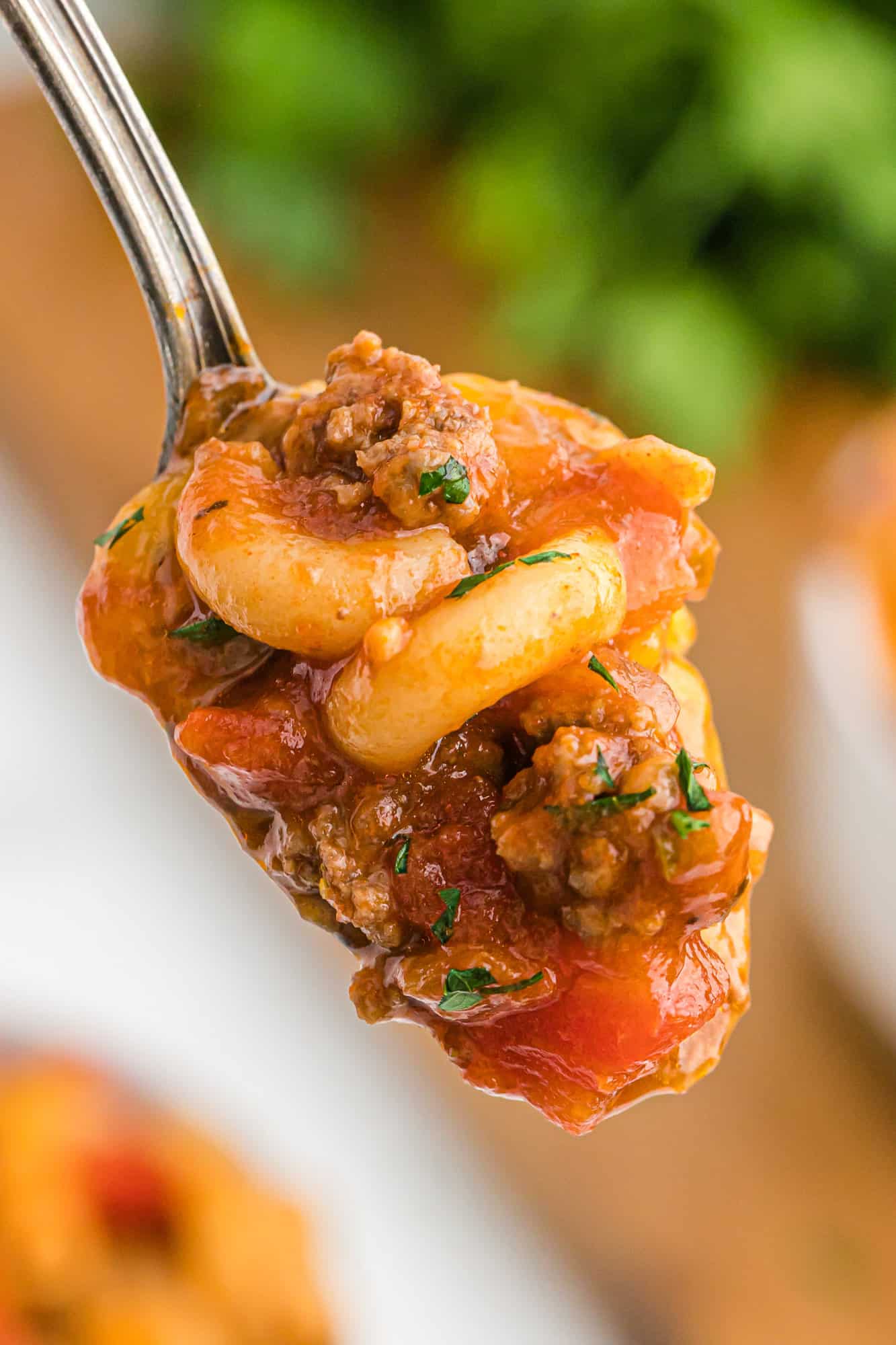 I'll describe the ingredients you'll need and run through the how-to's right here. You'll find the measurements, instructions, and nutrition information on the recipe card below.
Ingredients You'll Need
Ground Beef (or Ground Turkey): Goulash is traditionally made with ground beef but if you aren't a fan of beef, ground turkey is a good substitute. Quite honestly, I've made goulash with both and there's only a slight difference in flavor.
Onion: An inexpensive yellow cooking onion is fine for a recipe like this. Yellow cooking onions store well and are more finely textured, making them ideal for pasta dishes, soups, and stews.
Green Bell Pepper: Did you know that green bell peppers are actually unripe red bell peppers? Green peppers have a sharper flavor than red peppers, which get sweeter as they mature.
Garlic: You'll need 3 cloves of fresh garlic. Buy a head of garlic; break off 3 cloves from the head. Peel off the papery outer skin before mincing the garlic.
Paprika: This bright red spice is made from sweet red peppers that are dried and ground finely. The flavor of paprika is mild and sweet; it's not hot or spicy at all.
Elbow Macaroni: Choose either regular macaroni or whole wheat. You'll need 8 oz. or 2 heaping cups.
Canned Diced Tomatoes and Tomato Sauce: Goulash is a tomato-based recipe. The tomato sauce gives it a smooth texture and the diced tomatoes add small tomato chunks. Look for low-sodium or no-salt-added canned tomatoes to control sodium content.
Beef Broth: Again, look for low-sodium broth. Broth is notoriously salty and you don't really want all that extra salt in your diet if it isn't necessary. Goulash is very flavorful and doesn't need gobs of salt to make it delicious.
Worcestershire Sauce: A complex blend, this classic fermented liquid condiment adds umami.
Italian Seasoning: A great all-purpose seasoning tool, Italian seasoning contains a mixture of dried herbs: marjoram, rosemary, basil, thyme, savory, oregano, and sage. Even though it's labeled "Italian", this blend adds great flavor to many dishes.
Bay Leaf: You need one whole dried bay leaf. It will stay in one piece as the goulash cooks, imparting its unique flavor. Once the goulash is cooked and ready to serve, you'll remove it.
Cheddar Cheese, Parsley (optional): Cheddar cheese goes perfectly with the tomato beef goulash, and fresh green parsley brightens the goulash with a piquant herbal flavor.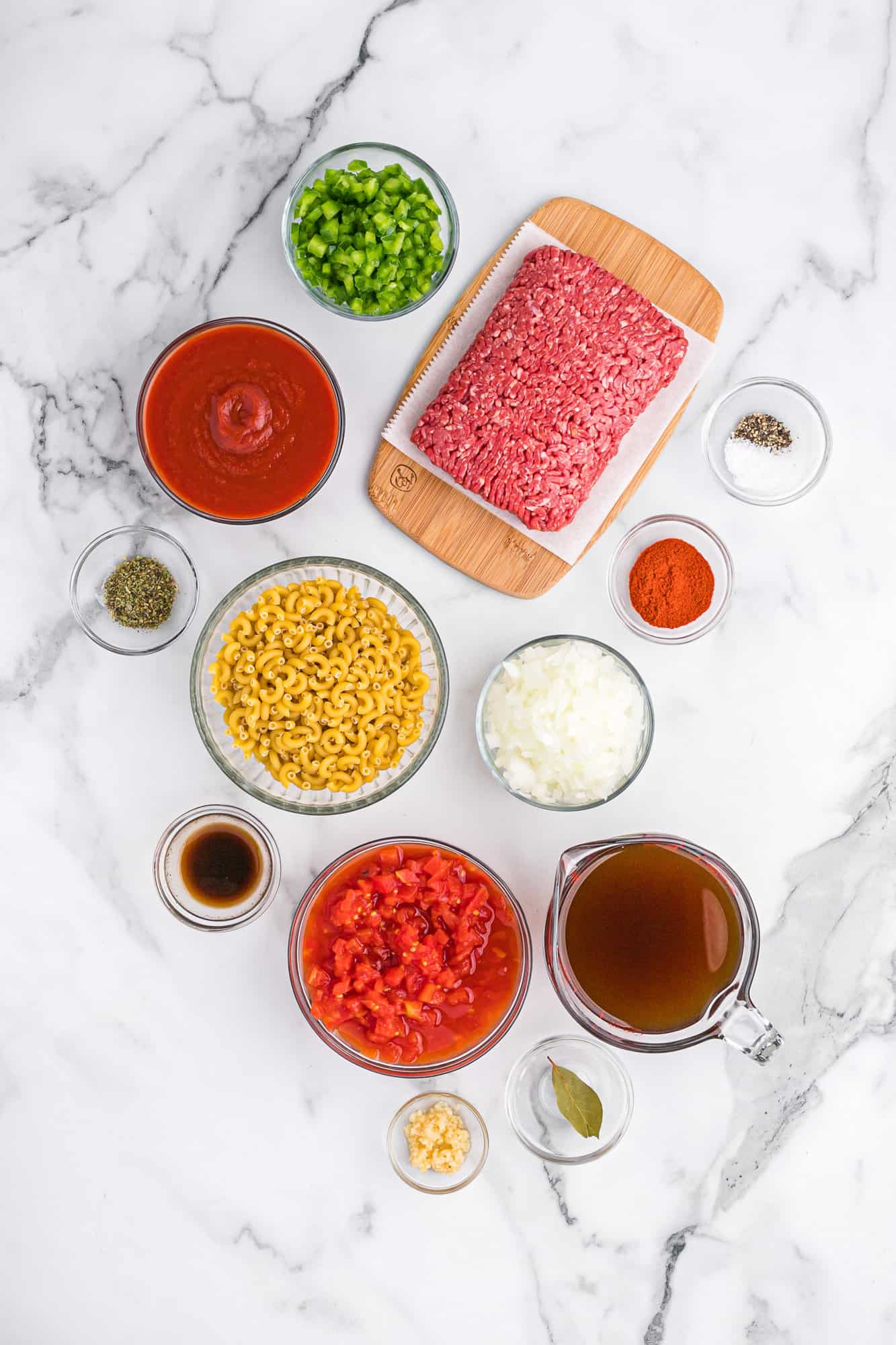 How to make Goulash
This best ever goulash is easy to make. You'll need a nice big pan, your stove, and about 45 minutes. Let's get started!
Prep work: Begin by prepping the onions, pepper, and garlic. Wash and finely dice the onions and pepper; mince the garlic.
Assemble the other ingredients so they're ready to go. Open the canned tomatoes, tomato sauce, and broth. Make sure you have all the seasoning ingredients: salt, pepper, paprika, Italian seasoning, bay leaf, and Worcestershire sauce.
(I'm a firm believer in having everything ready to go before I start cooking. It's way less stressful!)
Brown meat and onions. Heat the pan over medium heat. Add the ground meat, onions, and pepper. Season with salt and pepper.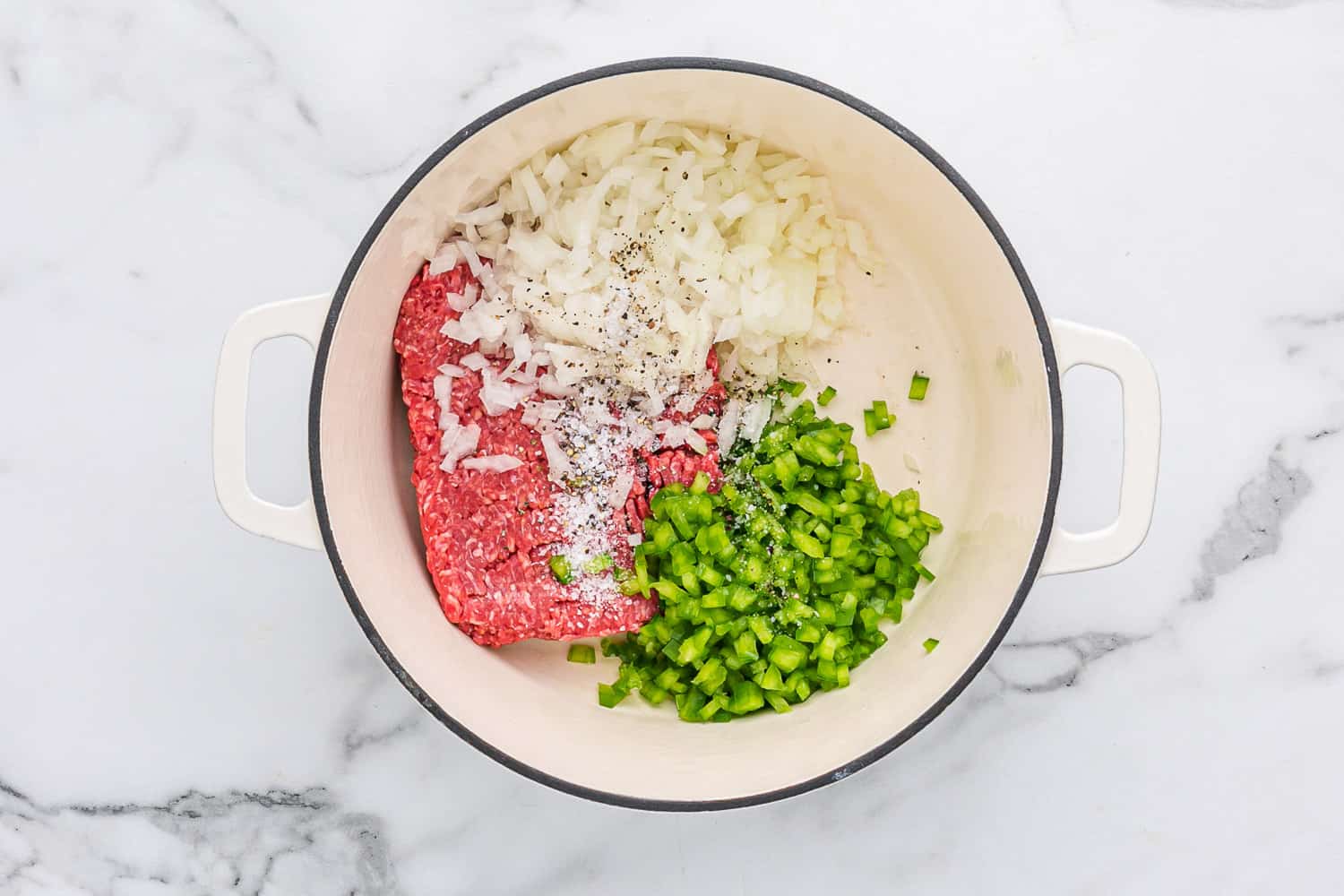 Cook, chopping the meat into small chunks, until it's completely cooked and the vegetables are fairly tender.
Add garlic and paprika. Cook, stirring constantly for a minute or so. The garlic smells really great, doesn't it? The paprika will warm up a bit, releasing the aromatic oils and deepening in flavor.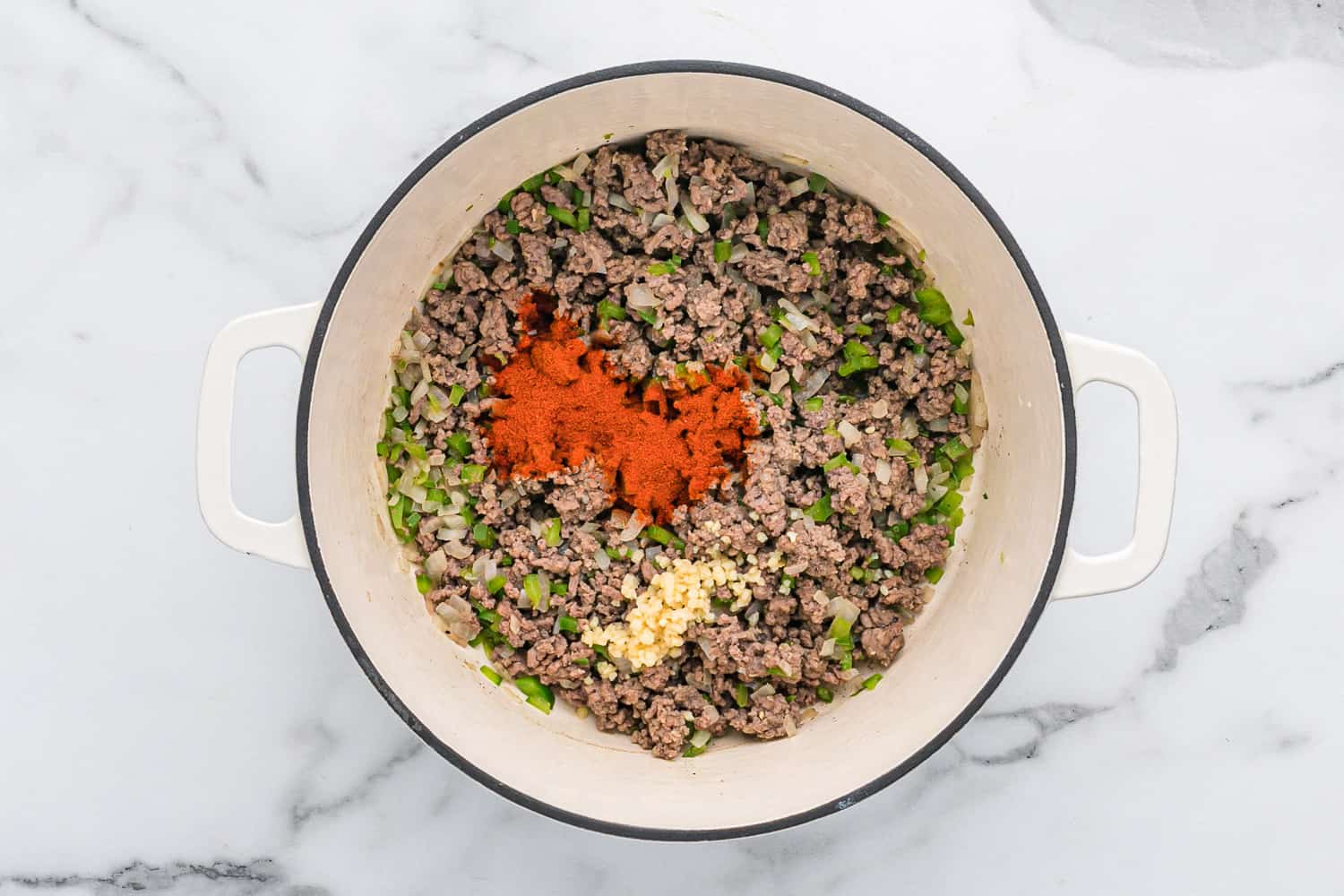 Stir in tomatoes, tomato sauce, and broth. It may look like a lot of liquid but all that liquid is needed to cook the macaroni. Dry pasta absorbs a surprising amount of liquid.
Along with the liquids, stir in the Worcestershire sauce, Italian seasoning, and bay leaf.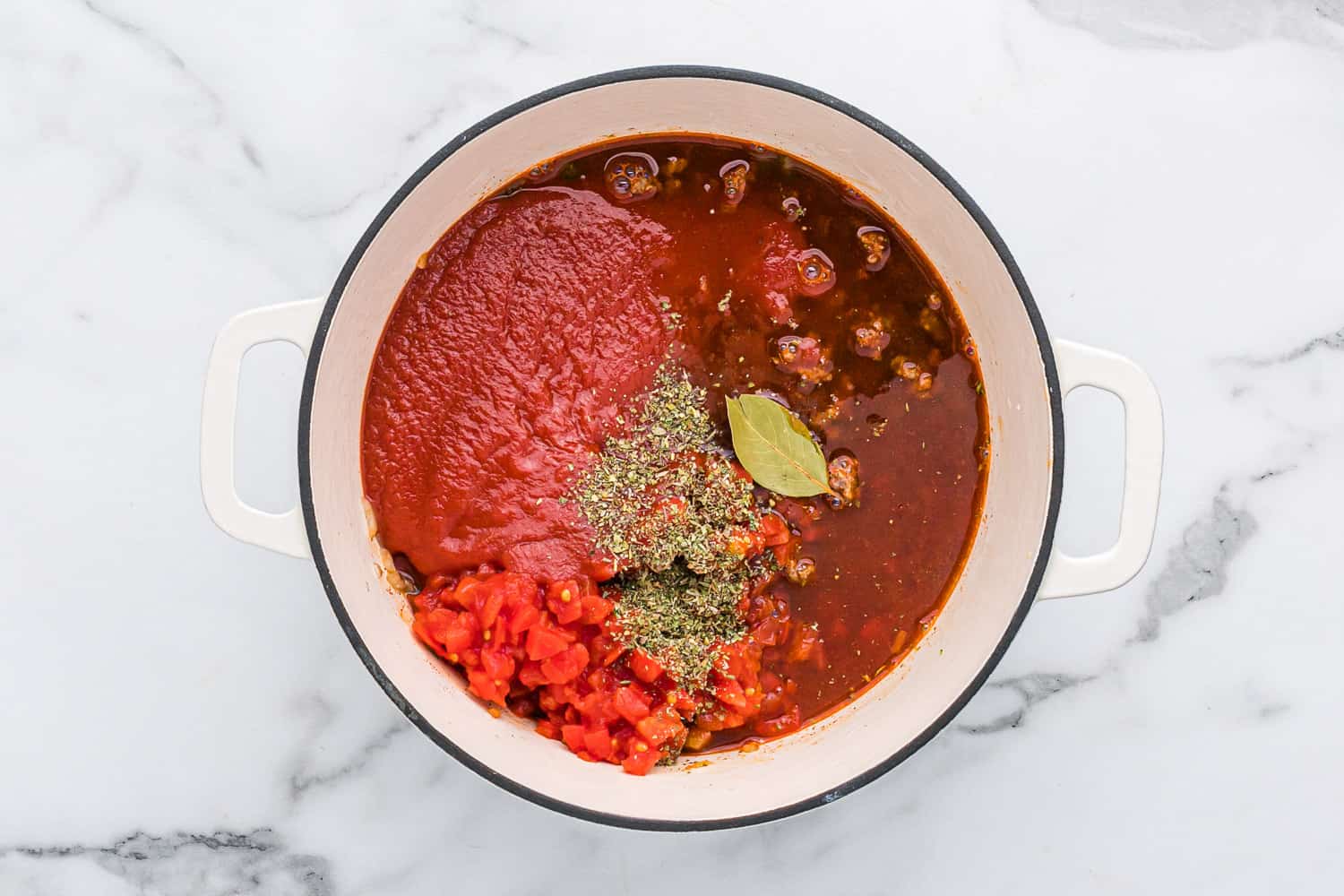 Add the dry macaroni and give everything a good stir.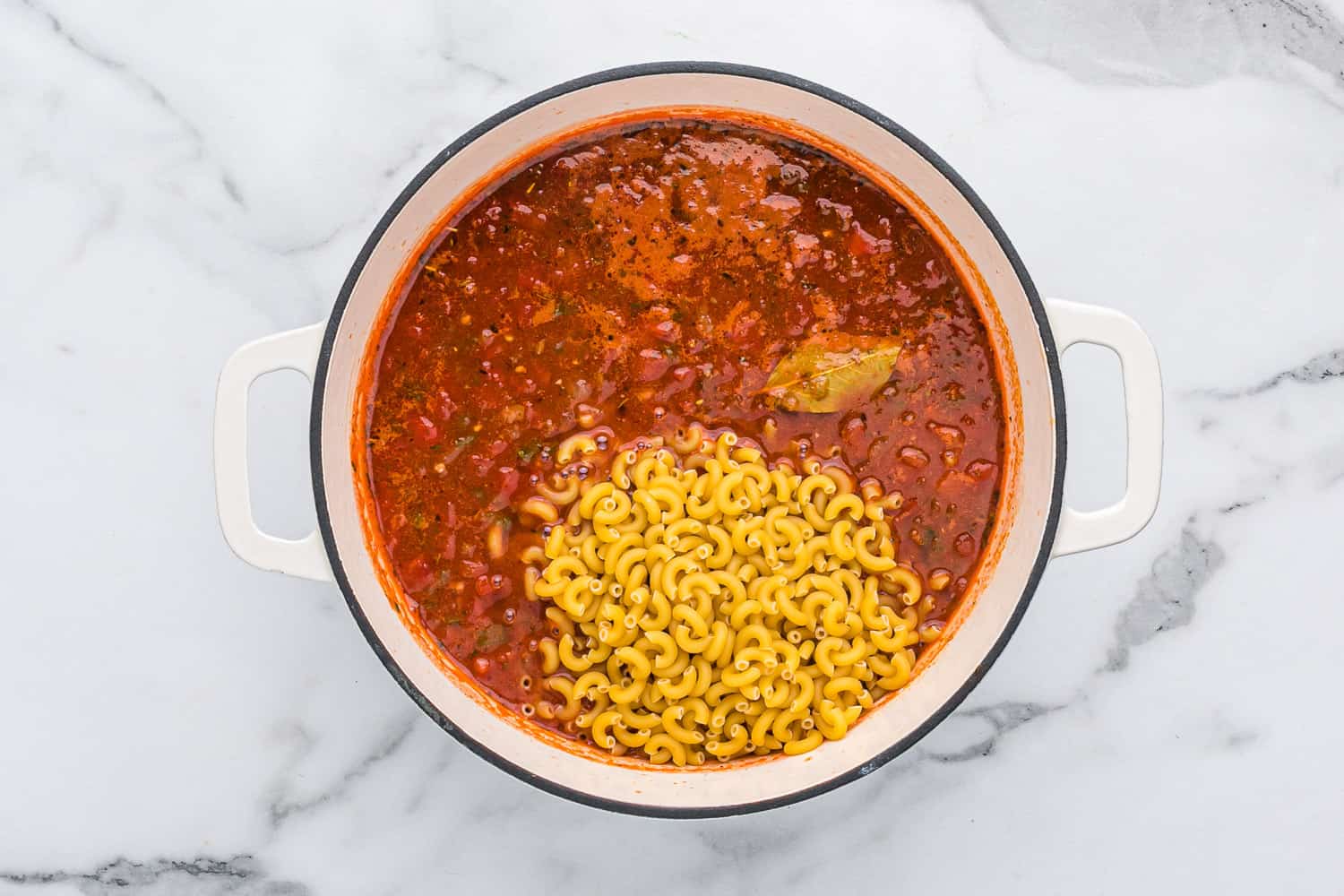 Simmer: Bring the goulash to a boil, then turn the heat down.
Cover the pan and let it simmer, stirring occasionally to make sure it isn't sticking to the bottom. If you notice that it seems to be sticking, lower the heat a bit more and add another splash of broth.
Let it rest. When the pasta is tender, turn the heat off, cover the pan, and let the goulash rest for a few minutes. The pasta will continue to absorb more liquid and the goulash will thicken nicely. It has a great consistency because the starch from the pasta combines with the broth to make a nice, almost creamy, sauce.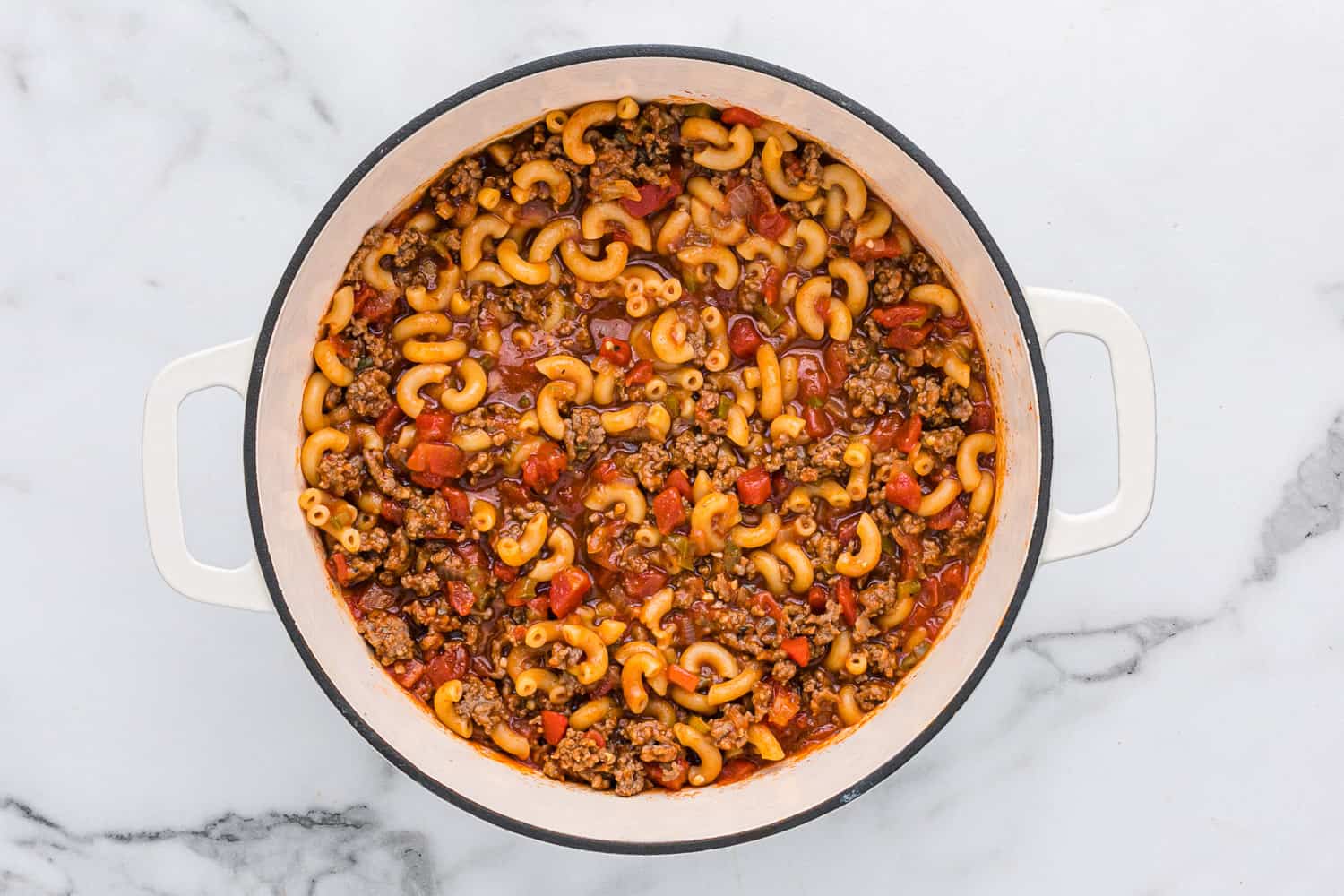 Serve: Scoop steaming hot goulash into shallow bowls or on plates. Garnish with shredded cheese and a sprinkle of fresh green parsley. So good! You're going to love it!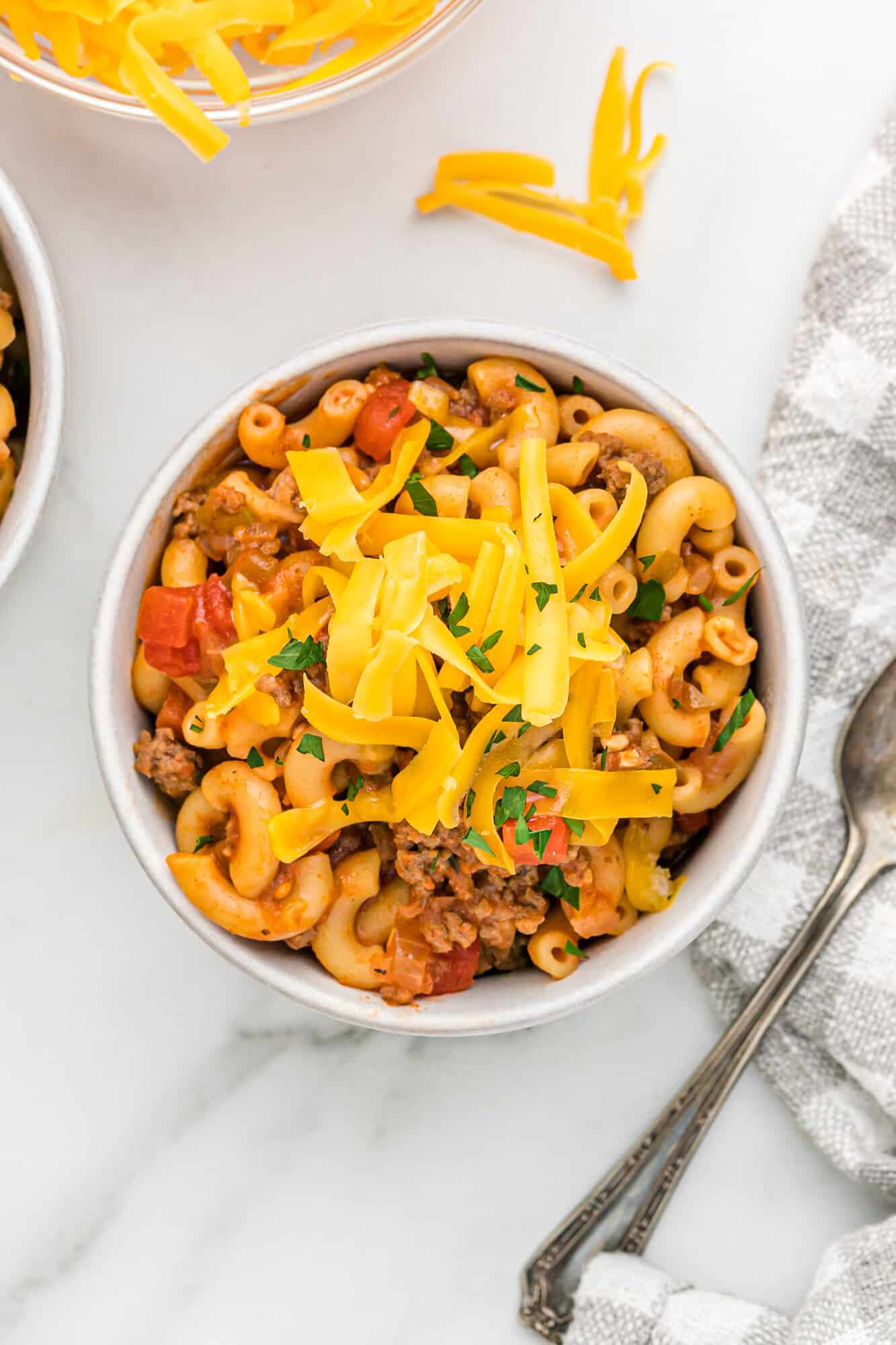 FAQs
What's the difference between Hungarian goulash and American goulash?
Hungarian goulash originated in central Europe and was a popular dish among herdsmen (the word "goulash" actually means herdsmen). Simply put, it is a slow-cooked stew or soup consisting of cut-up meat, vegetables, and a generous amount of paprika. There are many variations but it doesn't usually include pasta.
For more about the history of paprika and Hungarian goulash, check out this interesting article from the Smithsonian Magazine.
American goulash is a one pot dish made with ground beef, macaroni, tomatoes, and paprika. In some areas of the U.S., it's called American chop suey. It really doesn't bear much resemblance to its Hungarian cousin, except for the paprika.
Make It Your Own
Use a different meat. Replace the ground beef with another type of ground meat such as turkey, chicken, pork, lamb, or sausage. Boneless skinless chicken cut into small pieces can be substituted as well.
Make it vegetarian. Replace the beef with a can of white cannellini beans or kidney beans.
Try different pastas. Instead of macaroni, substitute another type of short pasta. Try ditalini, penne, cavatappi, or farfalle. Choose whole wheat pasta, if you prefer. Feel free to use that partial box of pasta in your pantry
Add more veggies. Goulash is pretty basic and you can easily add extra ingredients. Stir in baby spinach leaves; they wilt almost instantly. Add corn or peas. Mushrooms or an additional bell pepper are great, too.
Make it in an Instant Pot. Look for instructions on the recipe card below.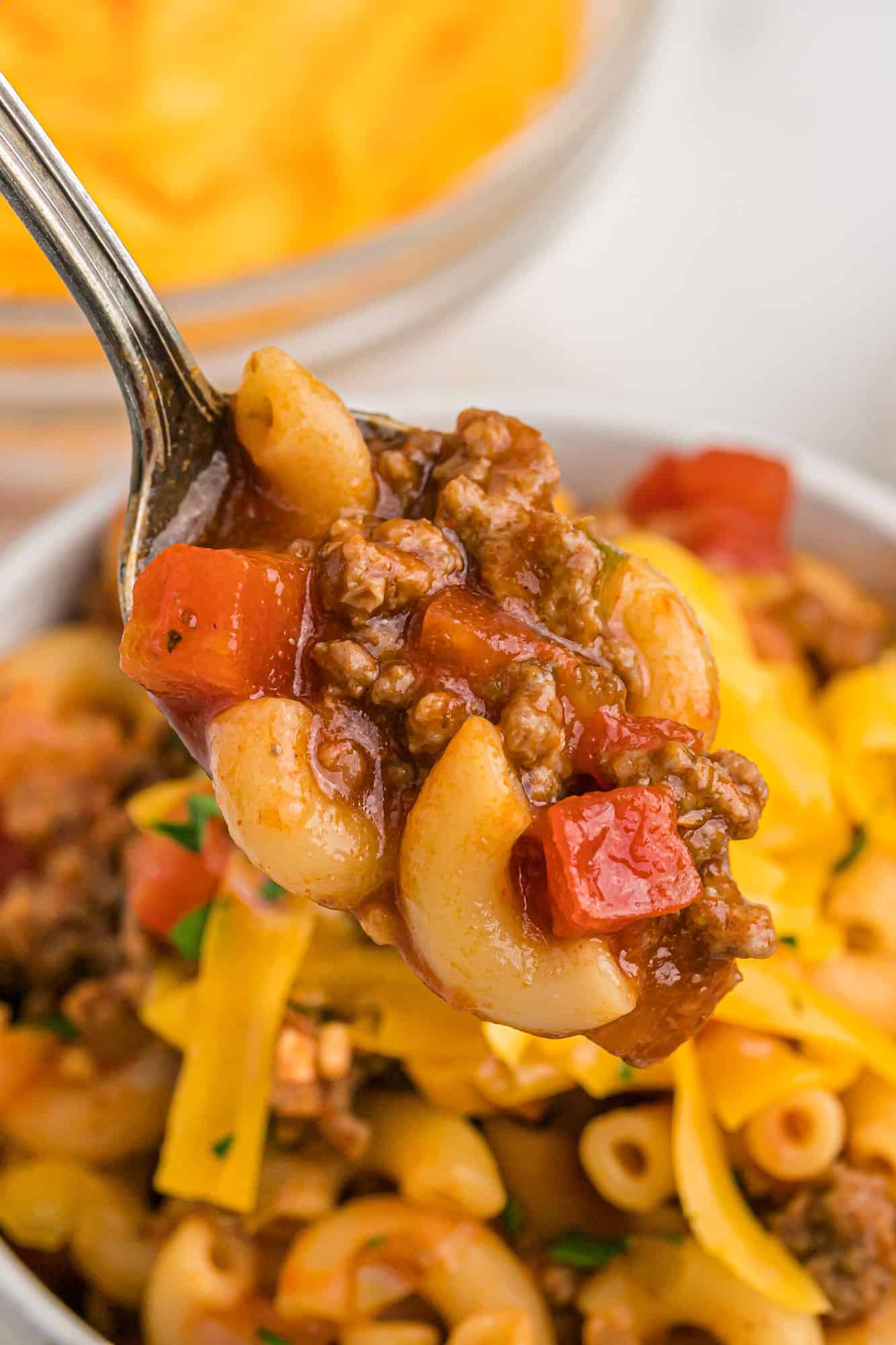 Make-Ahead Ideas
Since goulash freezes really well, make a big batch and freeze half to use later. If you prefer, freeze it in individual-size containers for a quick lunch.
Storage & Reheating Tips
Refrigerate: Scoop leftover goulash into a covered container; it will keep for three to four days.
Freeze: American goulash freezes well, too, for up to 3 months. Store it in a labeled freezer-safe container. Thaw frozen goulash overnight in the refrigerator before reheating.
Reheat: To reheat individual portions, microwave in 1-minute increments, stirring each time, until heated through. For larger amounts, reheat in a skillet or saucepan until hot.
Interested in a weekly meal plan (it's free!) that includes this goulash recipe? Take a look at my Meal Plan #23. You'll find a wholesome recipe for each weekday plus a categorized grocery list. Let me do the planning for you this week! We'll be adding a new meal plan weekly. If you're interested, browse all of our meal plans.
Leftover Love
Turn leftover goulash into a delicious casserole. Spread the goulash evenly in a baking dish; top with shredded cheddar cheese. Bake uncovered at 350°F for 30 minutes or until warm and cheese is melted.
Did you make this? Be sure to leave a review below and tag me @rachelcooksblog on Facebook, Instagram, or Pinterest!
Old-fashioned American goulash is a satisfying, one pan dinner made with ground beef, macaroni, tomatoes, and paprika. It's economical and easy to make.
Ingredients
1

lb.

lean ground beef or turkey

1

cup

finely diced yellow onion

(

1

medium or half of a large onion)

1

cup

finely diced green bell pepper

(about

1

pepper)

½

teaspoon

kosher salt

½

teaspoon

coarse black pepper

3

cloves

garlic, finely minced

1

tablespoon

paprika

1

can

(14.5 oz.) diced tomatoes, undrained

1

can

(15 oz.) tomato sauce

(no salt added)

2

cups

low sodium beef or chicken stock, more if needed

1

tablespoon

Worcestershire sauce

1

teaspoon

Italian seasoning

1

bay leaf

8

oz.

uncooked elbow macaroni

(

2

heaping cups)

Optional toppings: shredded cheddar cheese, chopped parsley
Instructions
In Dutch oven or large skillet, over medium high heat, brown ground beef, onion, and green pepper, seasoning with salt and pepper. Break ground beef into smaller chunks as it browns. Cook until meat is no longer pink and vegetables are softened, about 10 minutes.

Add garlic and paprika, cooking and stirring for one minute, or until fragrant.

Add tomatoes, tomato sauce, beef stock, Worcestershire sauce, Italian seasoning, and bay leaf; stir to combine. Bring to a simmer over medium high heat. Stir in uncooked macaroni.

Reduce heat to low; cover and simmer 8 to 10 minutes or until pasta is tender, stirring occasionally. Add more broth, as needed.

Remove from heat, leave covered for 3 minutes. Goulash will thicken as it cools.

Remove bay leaf. Serve with shredded cheddar cheese and chopped parsley, if desired.
Notes
Nutrition information was calculated with ground beef (90/10) and low-sodium beef broth. Makes 10 cups.
Storage/Freezing: Refrigerate leftover goulash promptly. It will keep for three to four days. Goulash freezes well for up to 3 months.
Instant Pot instructions: Using the Sauté function, brown meat and vegetables; add garlic and paprika. Turn off pot. Add remaining ingredients, stirring well. Cover and set to pressure cook for 5 minutes (allow 10 minutes to come to pressure). Quick release. Let set, covered loosely, for 5 minutes or until goulash thickens slightly.
Nutrition Information
Serving:
1.75
cups
,
Calories:
300
kcal
,
Carbohydrates:
33
g
,
Protein:
22
g
,
Fat:
8
g
,
Saturated Fat:
3
g
,
Polyunsaturated Fat:
1
g
,
Monounsaturated Fat:
3
g
,
Trans Fat:
0.5
g
,
Cholesterol:
49
mg
,
Sodium:
433
mg
,
Potassium:
609
mg
,
Fiber:
2
g
,
Sugar:
3
g
,
Vitamin A:
152
IU
,
Vitamin C:
25
mg
,
Calcium:
38
mg
,
Iron:
3
mg
This website provides approximate nutrition information for convenience and as a courtesy only. Nutrition data is gathered primarily from the USDA Food Composition Database, whenever available, or otherwise other online calculators.