Homemade Hamburger Helper
A classic boxed meal made healthier and heartier. And guess what? It's not that much harder to make! Your whole family will love this healthy homemade hamburger helper.
Recipe Overview
Why you'll love it: Everything cooks in one pan so it's an easy cleanup.
How long it takes: 45 minutes
Equipment you'll need: large skillet
Servings: 6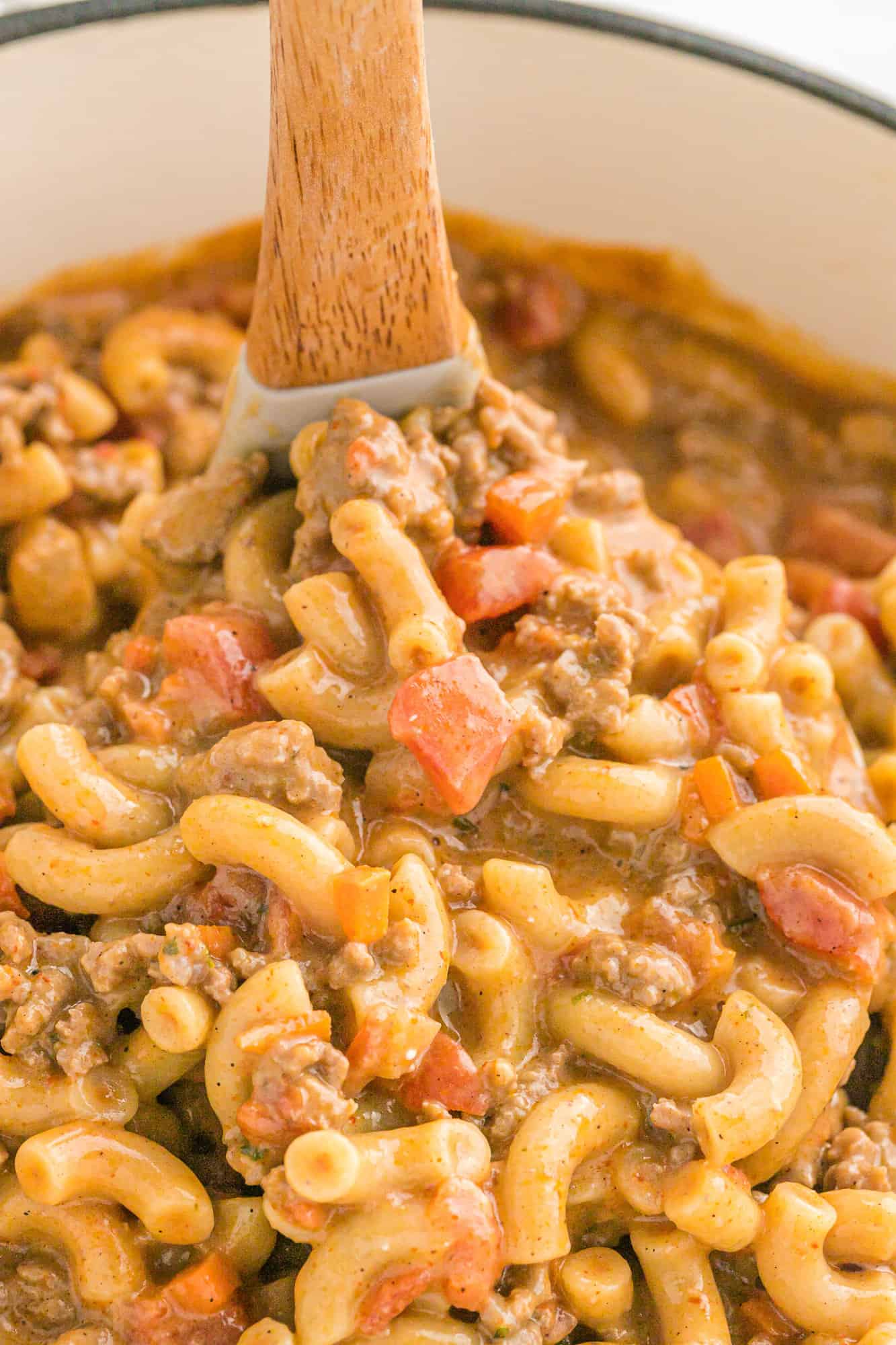 Dinners at my house are often a pan of something I threw together with whatever I have in the fridge. You can do amazing things with meat, vegetables, and a grain/pasta. The options are limitless.
Ben is used to ending up with some type of "slop" (his word, not mine) on his plate and asking, "What's in this?" Seriously, that happens at least once a week, and it's far better than it sounds. It's not an "Oh boy, what's in this?" It's more of a curiosity type thing. One of his favorites is taco slop, aka slow cooker salsa chicken.
There's a point to this. When I made this homemade Hamburger Helper, he walked into the kitchen and was probably 15 feet away from the stove and he said (with a hopeful tone in his voice) "Hamburger Helper?" It's recognizable, even to someone who hasn't eaten it in in years.
As we usually do here at RachelCooks, I made this version a little better for you. Coming in at 431 calories per serving, it's definitely not breaking the calorie bank, especially given the fact that it's a pan full of pasta, beef and cheese.
Paired with a salad (try this kale salad or a Brussels sprouts salad) or fruit, it's a hearty meal you can feel pretty good about. Did I mention you can make it in 45 minutes? And there's minimal cleanup since it's all made in one pan.
A quick healthy meal is important amidst the craziness of everyday life. This dinner is perfect after a day of working, errands, child care, or whatever life brings you. You're exhausted, I know you are, we all are! Make dinner easy, and good for you. You got this!
If you love hamburger, try hamburger soup! It's easy and nutritious with loads of vegetables. Chunky cheeseburger soup is always a hit, too, with ketchup and mustard right in the soup. Top it with chopped pickles and onions for a deluxe! Another one pan meal we love is old-fashioned American goulash.
About This Recipe
There are several different kinds of Hamburger Helper. This recipe most closely mimics Cheeseburger Macaroni which is one of the original flavors. The predominant seasoning is chili powder.
If you take a gander at the list of ingredients you need to make this recipe, don't feel intimidated. I admit, the list looks pretty long. However, most of the items are pantry items which means 1) you probably already have them and 2) they are easy to use. Open a few cans or boxes, measure out some seasonings, and do a little chopping.
And okay, I just had to point this out. The Hamburger Helper box exclaims proudly "Made with Real Cheese!". If you study the very long list of ingredients on the box, cheddar cheese, along with tomato and onion, are listed under "contains 2% or less of". So, obviously not much cheese or veggies either. And you have to add milk and ground beef yourself.
So give this hamburger helper recipe a try! I'm positive you'll love it.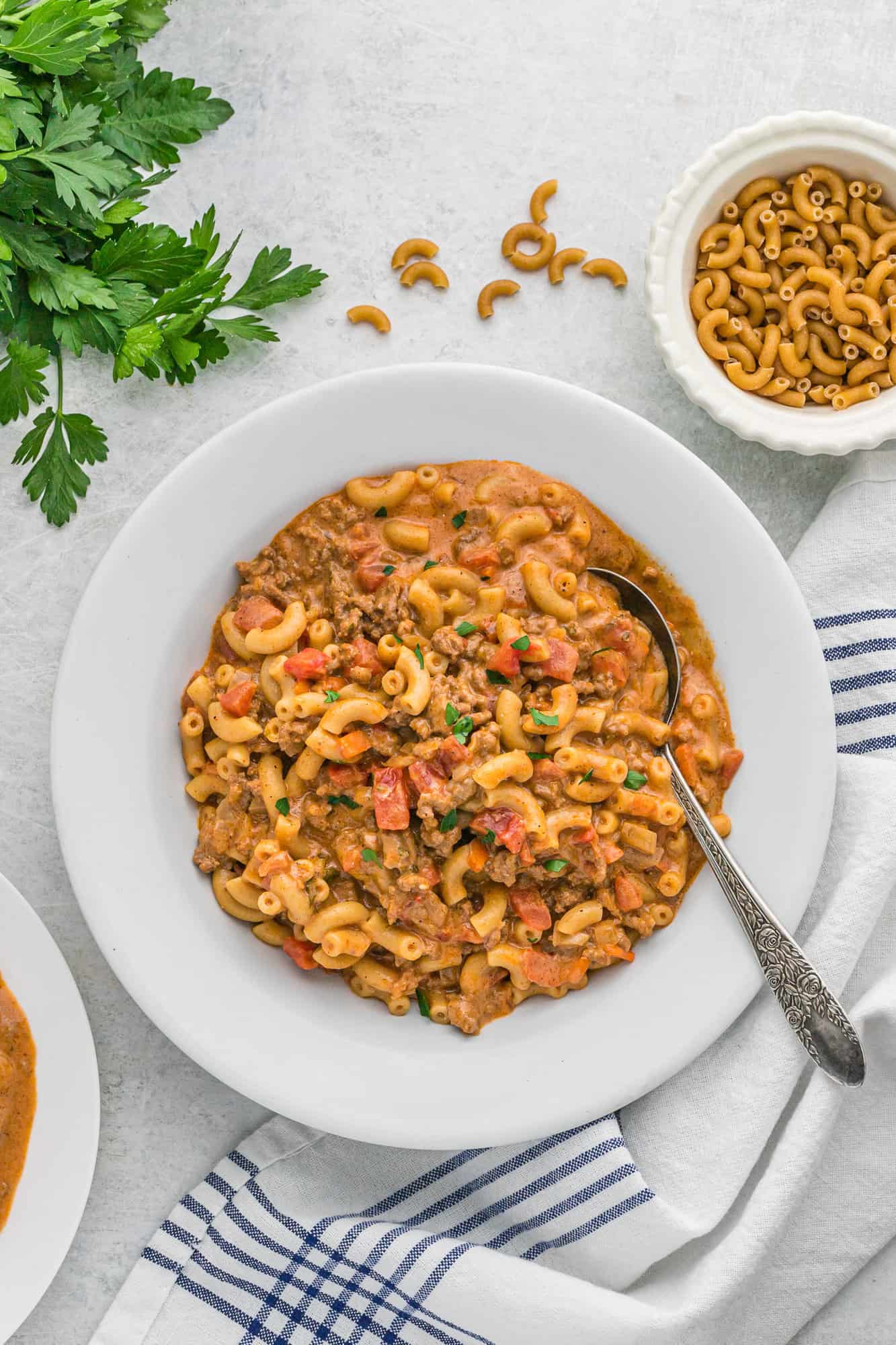 Let's get started here. I'll run through the recipe and give you lots of extra tips. The recipe card near the end of the post has complete instructions, measurements, and nutrition information.
What You'll Need
Lean Ground Beef: Look for a lean blend of ground beef, such as 95/5. While a lean blend isn't great for burgers or meatballs because it tends to be too dry, it's perfect for hot dishes like this one. Ground turkey is perfectly acceptable, too, if you prefer that.
Onion: A small yellow onion is perfect here. Onions are inexpensive and store well. I always have a bag of them in my pantry for soups, stews, etc.
Carrot: I sneak in a vegetable whenever I can. One small carrot adds a little extra nutrition and also adds a touch of natural sweetness to balance out the acidity of tomatoes. I often add a carrot to my homemade spaghetti sauce, too.
Whole Wheat Macaroni: Choose whole wheat pasta for added nutrition and fiber. If you prefer regular macaroni, or a different type of pasta, feel free to substitute it. The recipe calls for 2 cups of dry macaroni, which is about 8 oz.
Tomato Paste: You'll need two tablespoons of tomato paste. Read the cooking tip below to find out what to do with the rest of the can.
Tip: How To Freeze Tomato Paste
Tomato paste often comes in an 8 ounce can but many recipes call for an amount much less than that. You can buy tubes of tomato paste but the cans are much more economical.
Here's what I do: Open the can and use what you need for this recipe. Measure out the remaining tomato paste in 2 tablespoon increments and put it into snack size bags. Seal and freeze.
You can also freeze tomato paste in an extra ice cube tray. Freeze until firm, then place the cubes into a freezer safe container or bag.
When you need tomato paste, just grab some from the freezer. Easy!
Diced Tomatoes: There's no need to drain the tomatoes, just dump in the whole can. The liquid in the tomatoes helps to hydrate the dry pasta.
Beef Broth: Since the pasta cooks right in the pan, you'll need plenty of liquid to do the job. It may surprise you how much the pasta absorbs!
Whole Milk: We tested this recipe with low fat and 2% milk but found that whole milk really does work best. Lower fat milk tends to separate as the pasta cooks. It doesn't really affect the taste but it doesn't look as delicious.
All-Purpose Flour: Just a tablespoon of flour helps thicken the sauce.
Brown Sugar: It may seem a little out of place but I added a bit of sugar to the recipe in order to more closely mimic the flavor of the boxed dinner. You may omit if you prefer.
Chili Powder, Paprika, Parsley Flakes, Garlic Powder, Salt, Pepper: These simple pantry seasonings are all it takes to flavor your homemade Hamburger Helper. Feel free to tweak the amounts as much as you like. You're the cook in your kitchen!
Cream Cheese: A couple of ounces of cream cheese makes the sauce really creamy and rich tasting. It won't taste like cream cheese, I promise. If you're cooking or baking with cream cheese, it's usually best if it is at room temperature Take what you need out of the fridge before you begin cooking. Since it's a small amount, it will soften quickly.
Sharp Cheddar Cheese: Buy a block and shred your own cheese for the best results. Pre-shredded cheese has anti-caking additives (and a few other "goodies", too) which inhibit clumping but which also inhibit smooth and creamy melting.
Fresh Parsley: This one is totally optional and if you have someone in your family who hates everything green, feel free to omit it. We like the fresh flavor and bright color it adds.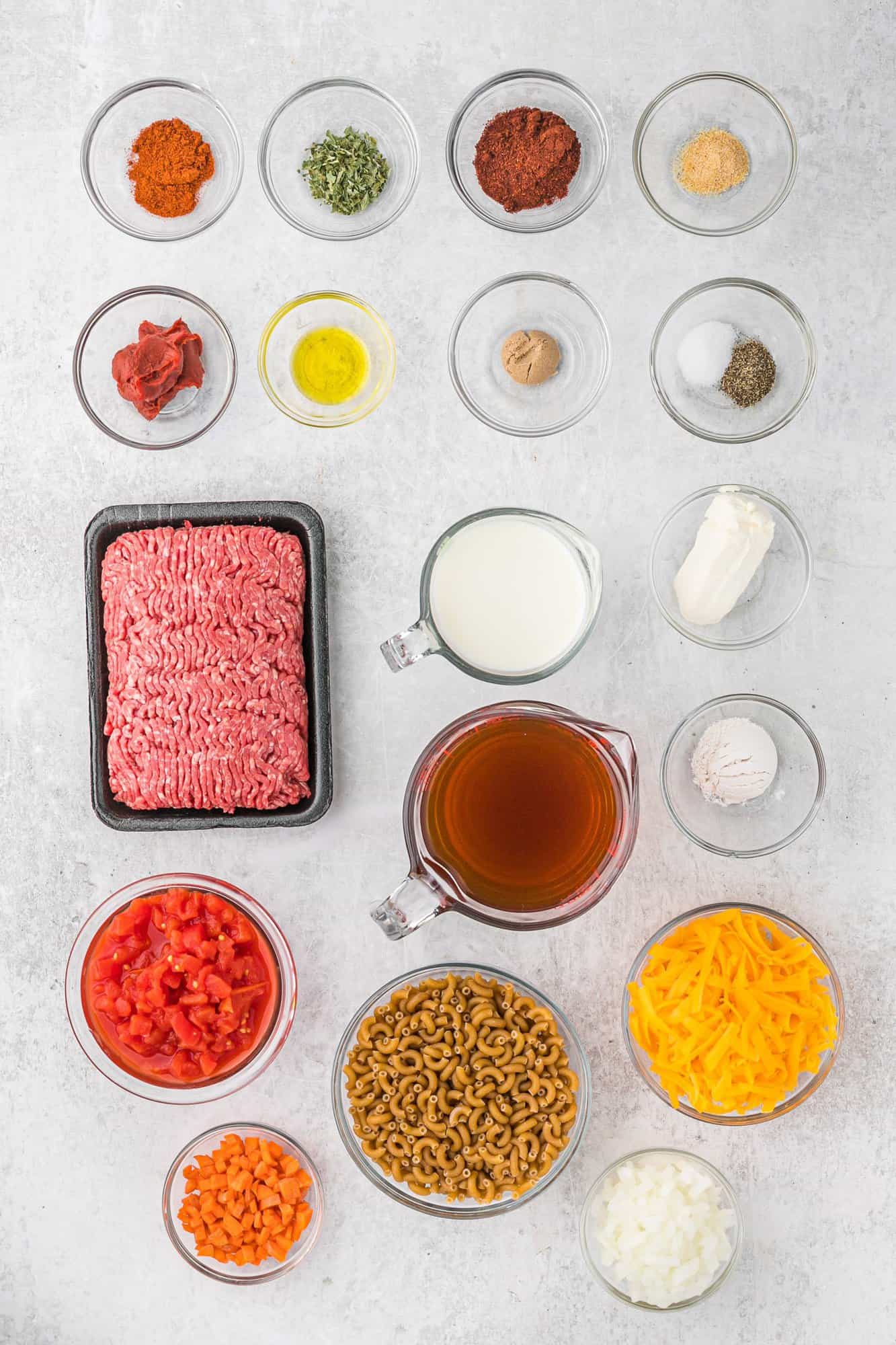 How To Make Homemade hamburger Helper
Grab a large skillet that has a cover or a Dutch oven. I usually use a straight sided skillet for one pot pastas but any wide bottomed large pan will work, as long as it has a lid.
Chop up the onion and carrot. I like to chop it pretty finely, a small dice, so that it blends in. This is not the place for large chunky vegetables because then your dinner would not resemble the boxed meal at all.
Turn the heat to medium high, add a bit of oil, and brown the meat and veggies, breaking up any large clumps of beef. It should take about 10 minutes. While that's cooking, measure out the remaining ingredients.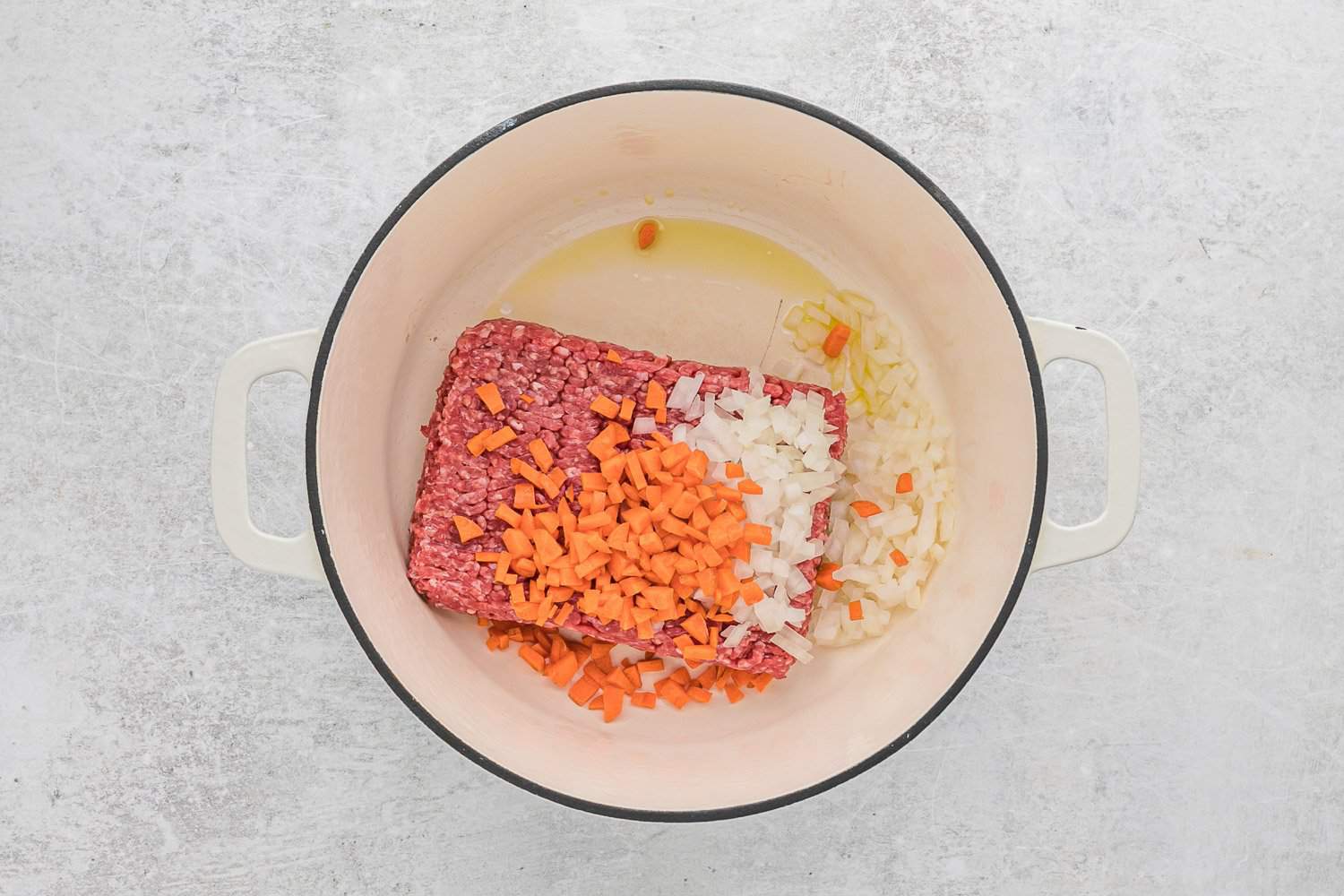 Add the tomato paste, flour, and seasonings to the pan. Cook, stirring constantly, until the tomato paste coats the meat and veggies, about one minute. Don't let the tomato paste burn.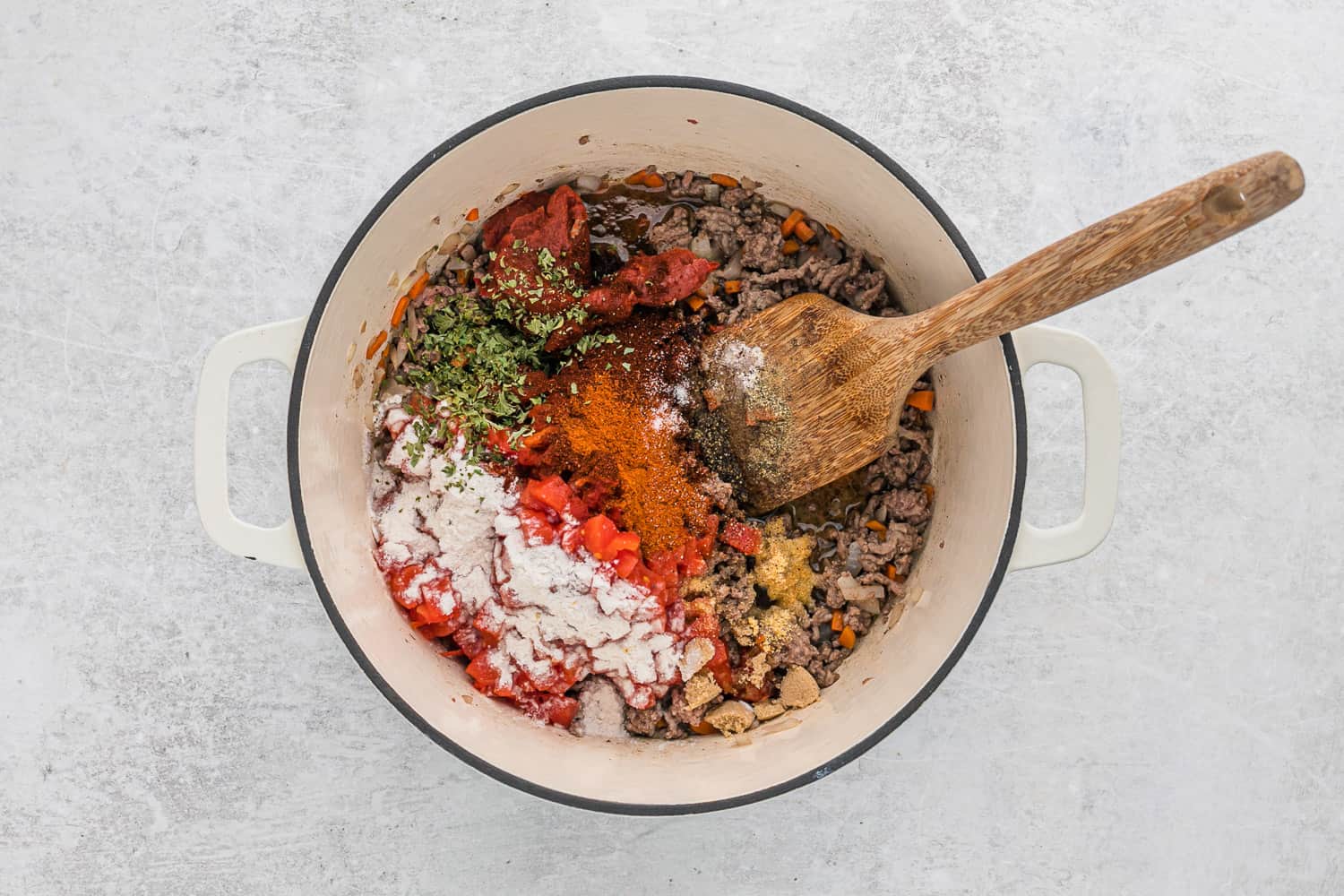 Pour the broth, milk, and canned tomatoes into the pan. Stir it in and bring it nearly to a boil.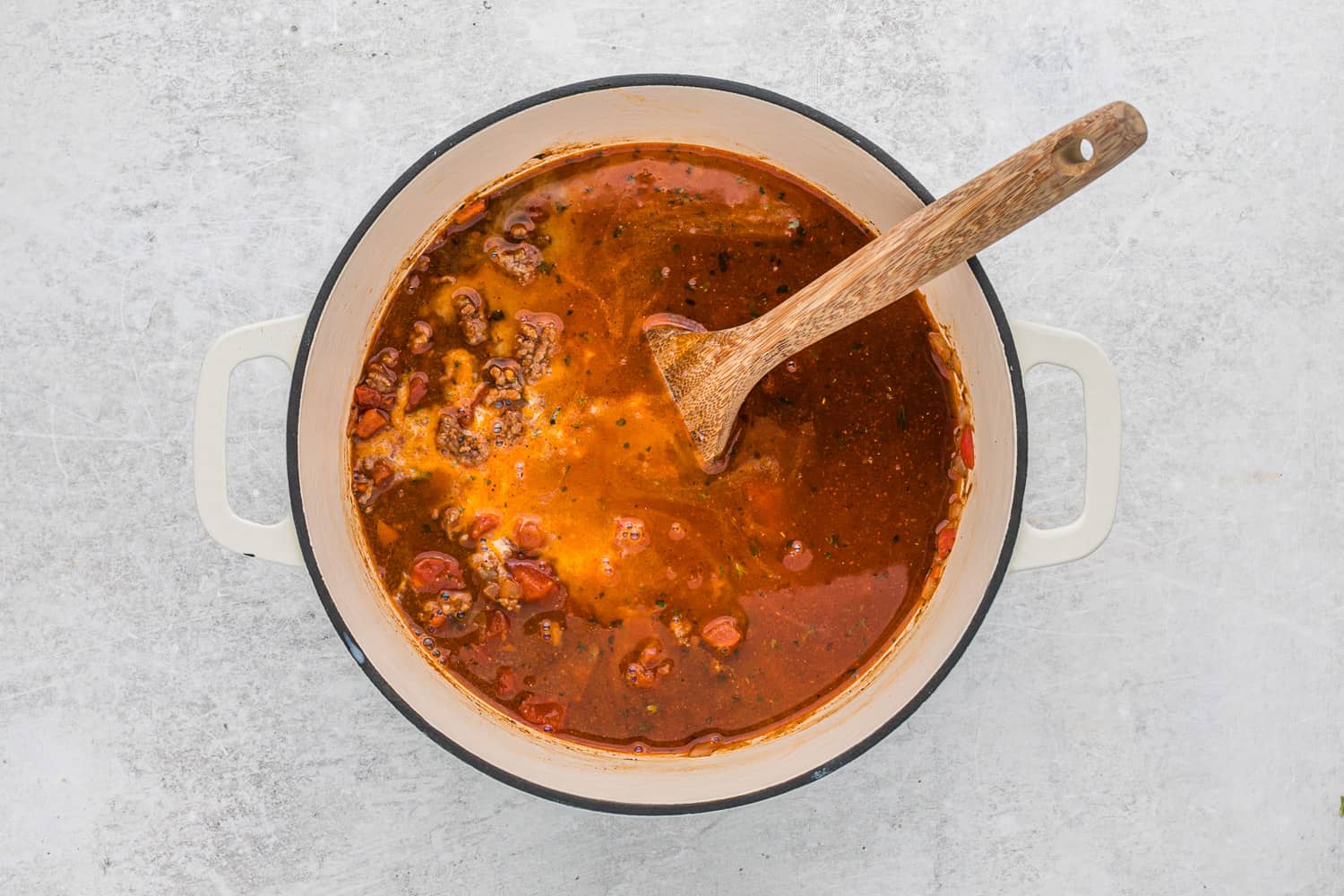 Add the uncooked macaroni, cover the pan, and turn the heat down to medium.
Cook for eight to ten minutes, stirring once or twice to make sure the pasta isn't sticking.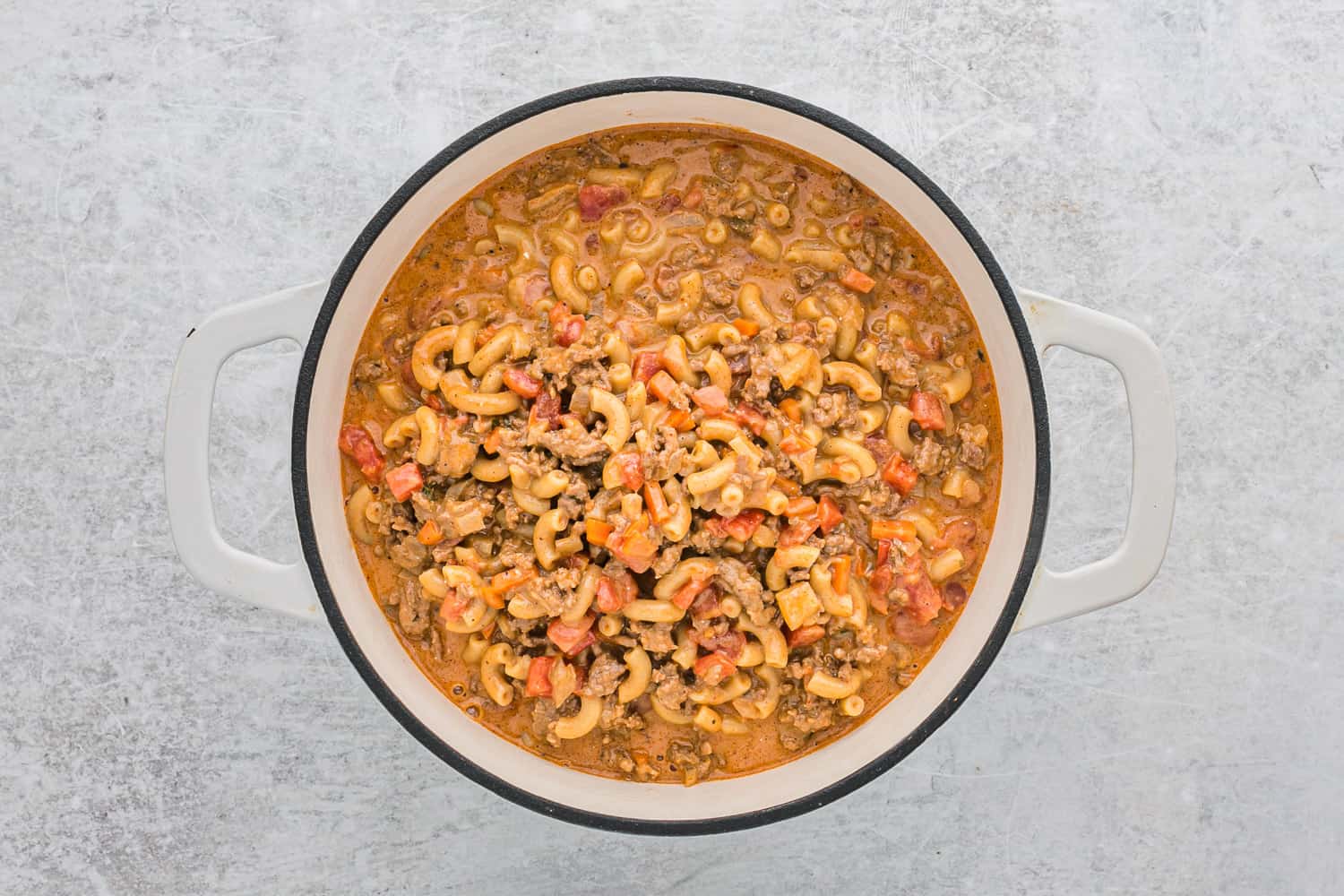 When the pasta is just tender, or al dente, stir in the cream cheese and cheddar cheese.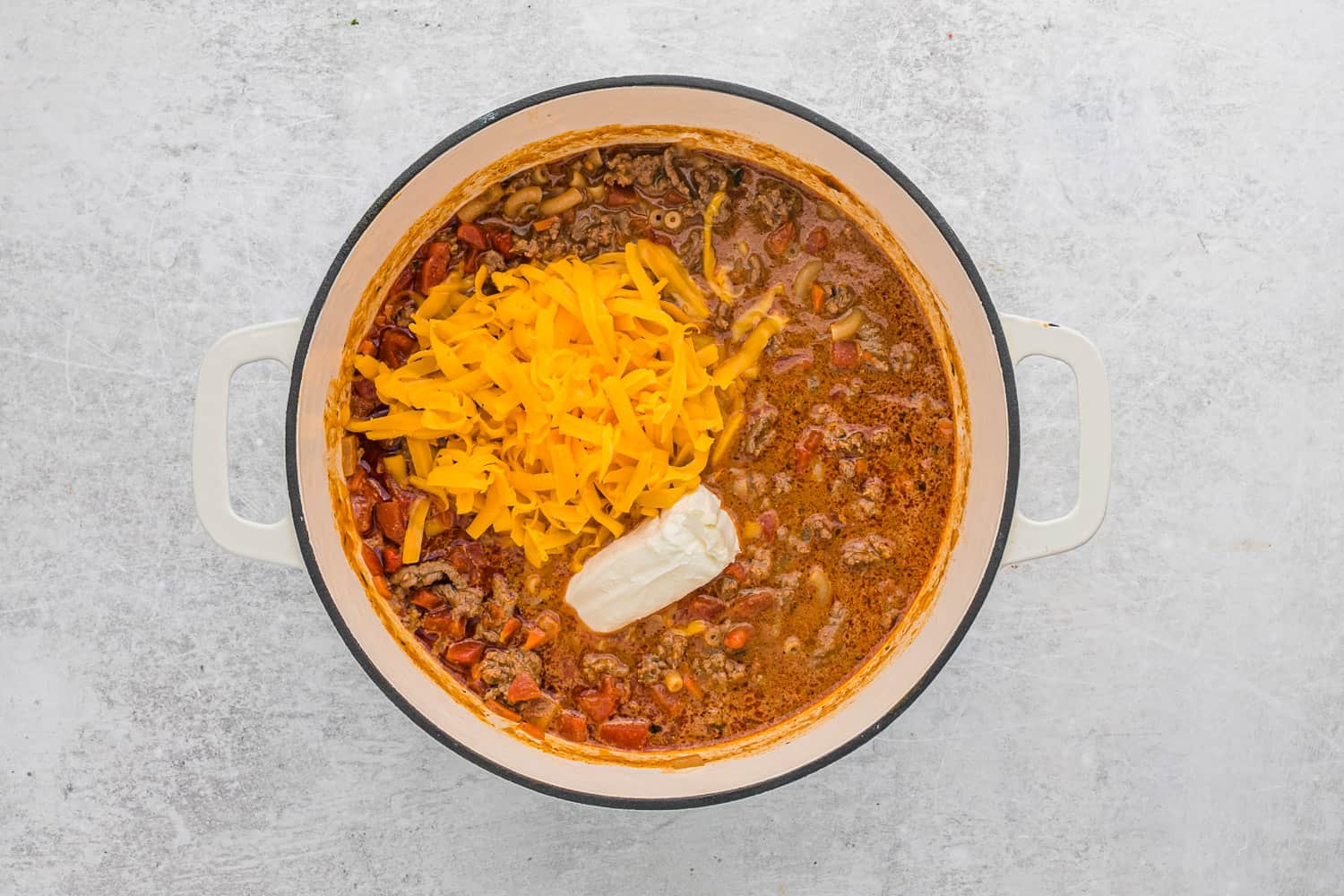 Once the cheese has melted, sprinkle with fresh parsley, if desired. Your healthy hamburger helper is ready to eat and you'll love how great it tastes!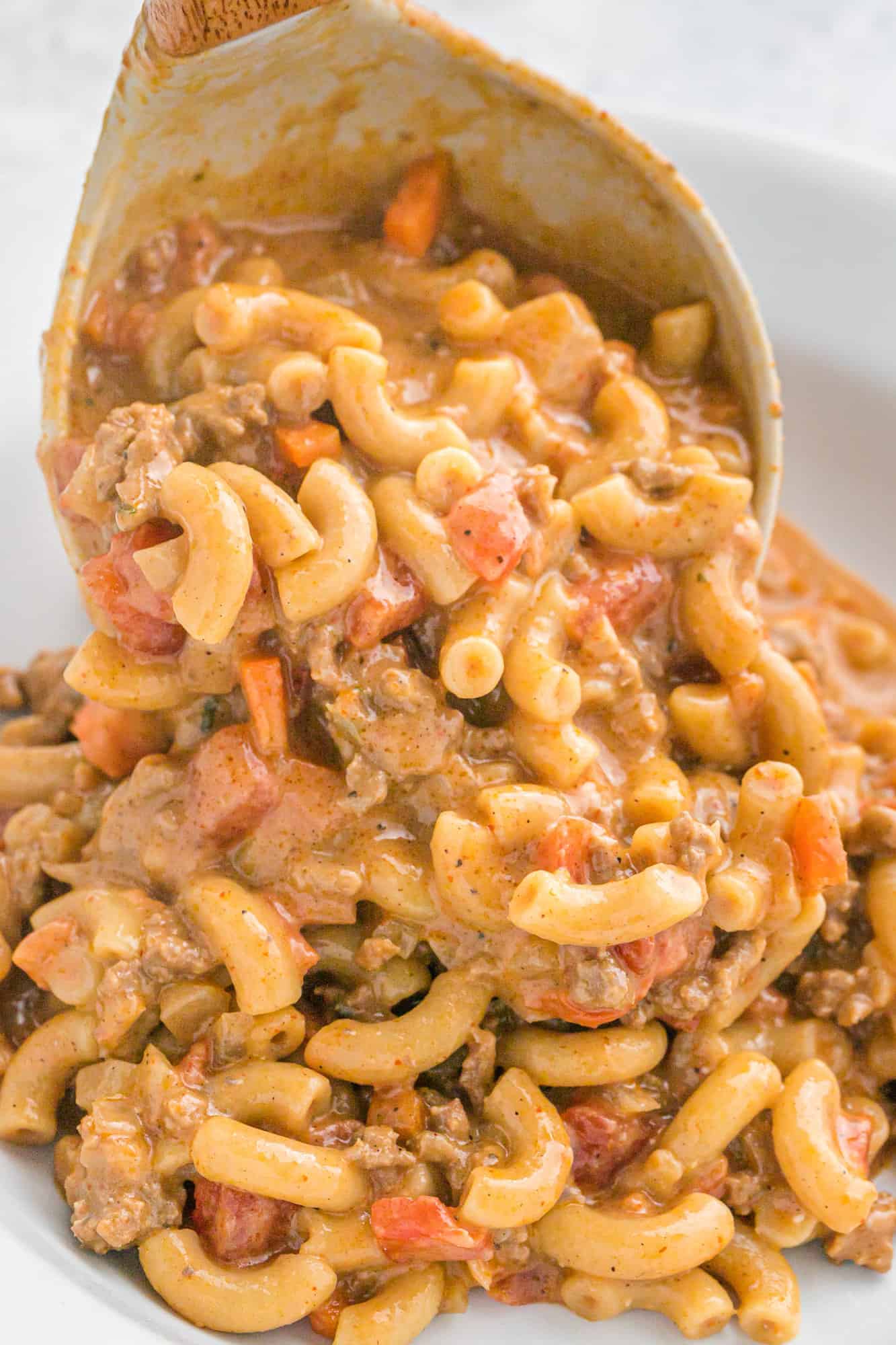 Looking for an easy vegetable to serve? We love sugar snap peas and they only take a couple of minutes to cook. Roasted broccoli is super easy, too, and goes great with this pasta dish.
If you still have room for dessert, no-cook pumpkin pudding is always a hit and it's super simple to make, with only four ingredients. Easy trail mix cookies are a good dessert, and kids love them (big kids, too!). A fruit crisp (try apple blueberry crisp or apple crisp with ginger) is a delicious non-fussy dessert and is especially good topped with a scoop of homemade no churn ice cream.
FAQs
What seasoning is in Hamburger Helper?
There are several different varieties of Hamburger Helper; in fact, Betty Crocker offers chicken and tuna Helpers, too. The flavors can be Italian, spicy, ranch, or BBQ, even beef stroganoff, just to name a few.
The Cheeseburger Macaroni Hamburger Helper, which my recipe is a copycat of, lists garlic and spice in the ingredients. It remains a mystery which spices or herbs are actually in there. There's no mystery to my recipe. It calls for chili powder, paprika, parsley flakes, garlic powder, salt and pepper. I think you'll agree the flavor closely mimics the boxed dinner.
How do you thicken up Hamburger Helper?
If your Hamburger Helper is too runny or juicy, the best way to thicken it up is to put the lid on the pan and let the mixture steam for at least five minutes. The macaroni will continue to absorb the liquid and the mixture will become thicker.
If it always seems too thin, reduce the amount of liquid added. Or you know, add more cheese. That's never a bad idea!
Make It Your Own
Add extra veggies. A few more onions or carrots can easily be slipped in. I like to stir in baby spinach. Add it right before the cream cheese; it wilts very quickly. Make it with zucchini; sauté shredded or finely chopped zucchini with the beef. Frozen green peas are good, too. Run hot water over them for a couple of minutes until they are thawed and stir them in before serving.
Change up the pasta. Substituting another type of pasta is a fun way to change up this recipe. I like to make it with egg noodles for a change; rotini or penne are good choices, too. Gluten-free pastas can be substituted, too.
Not a fan of beef? Make this recipe with ground turkey or ground chicken. Pork or Italian sausage are good, too. If you're looking for a vegetarian one pot pasta dish, try vegetarian orzo with sundried tomatoes.
Looking for a similar dish but with a different twist? Try Cajun chicken pasta (make it with ground beef, if you prefer), taco pasta, or pizza pasta.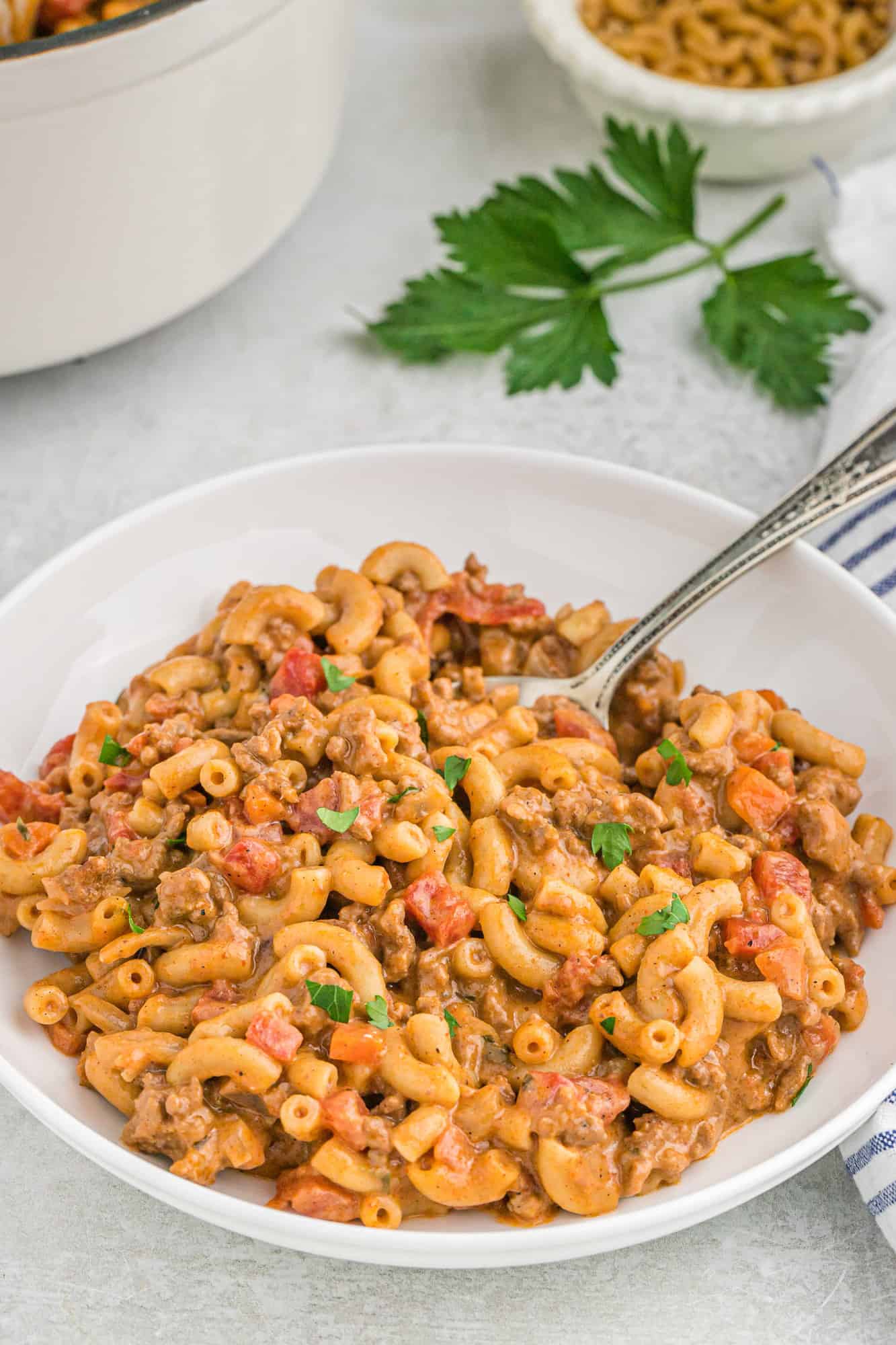 Make-Ahead Ideas
If you're looking for ways to streamline meal prep when you get home from work, dice the carrots and onions in the morning or the night before and refrigerate them. You can measure out the flour and seasonings ahead of time, too. It will save you five to ten minutes, and I know that every minute counts sometimes.
Another option is to make a double batch and freeze half for a later meal.
Storage & Reheating Tips
Leftover hamburger helper can be stored in the refrigerator for three to four days, or in the freezer for a few months in an airtight freezer container. Thaw overnight in the fridge before reheating.
To reheat individual portions, microwave in 30 second bursts until heated through, stirring each time. For larger quantities, reheat in a skillet over low heat.
Leftover Love
If you have a lot leftover, turn it into a casserole for another meal. Add a can of drained pinto beans and a can of corn or thawed frozen corn to the mixture; stir well. Spread in a greased baking dish. Top with a layer of salsa and additional cheddar cheese. Bake at 350°F for 30 minutes or until heated through. Delicious!
Did you make this? Be sure to leave a review below and tag me @rachelcooksblog on Facebook, Instagram, or Pinterest!
A classic boxed meal, made healthier and heartier. And guess what? It's not that much harder to make! Your whole family will love this healthy homemade hamburger helper.
Ingredients
1

teaspoon

olive oil

1

pound

lean ground beef

(95% lean, 5% fat)

1

small onion, diced finely

(about

½

cup)

1

small carrot, diced finely

(about

¼

cup)

2

tablespoons

tomato paste

1

tablespoon

all-purpose flour

1

tablespoon

chili powder

1

teaspoon

paprika

1

teaspoon

parsley flakes

1

teaspoon

brown sugar

½

teaspoon

garlic powder

½

teaspoon

salt

½

teaspoon

black pepper

1

can

(14.5 oz) petite diced tomatoes, undrained

2

cups

beef broth

(low sodium or no salt added)

1

cup

whole milk

(see note)

8

ounces

whole wheat elbow macaroni

(about

2

cups dry)

2

ounces

full-fat cream cheese

1

cup

shredded sharp cheddar cheese

(we recommend shredding your own)

fresh parsley for garnish, optional
Instructions
In a large covered skillet, heat olive oil over medium-high heat. Add ground beef, onion, and carrot and cook until beef is browned and onions are translucent, 8 to 10 minutes, breaking up beef as it cooks.

Add tomato paste, flour, chili powder, paprika, parsley, brown sugar, garlic powder, salt and pepper. Keep stirring until tomato paste coats all the meat. Make sure to keep stirring so the tomato paste doesn't burn.

Add tomatoes, broth, and milk and bring to nearly a boil.

Add pasta, stir, reduce heat to medium, and cook, covered, for 8 to 10 minutes or until al dente, stirring occasionally to make sure pasta gets cooked evenly and isn't sticking to the bottom of the pan.

Reduce heat to low; add cream cheese and cheddar cheese. Stir until cheese is melted.

Turn off heat, cover, and let set for 5 minutes (this helps the sauce thicken up).

Serve topped with fresh parsley, if desired.
Notes
I recommend using whole milk because milk with lower fat percentage tends to curdle at a higher heat, which you need to cook the pasta. If you don't have whole milk, use 3 cups (total) broth and increase the cream cheese to 4 ounces to add creaminess at the end.
If you wish, substitute ground turkey, ground chicken, Italian sausage, or ground pork for the ground beef.
If you want to use a can of beef broth (14.5 oz.) instead of 2 cups, just make up the difference with water or more milk (1.5 oz.).
Leftover Hamburger Helper can be refrigerated for up to four days or frozen for up to three months.
Nutrition Information
Serving:
1.33
cups
,
Calories:
430
kcal
,
Carbohydrates:
43
g
,
Protein:
31
g
,
Fat:
16
g
,
Saturated Fat:
8
g
,
Polyunsaturated Fat:
1
g
,
Monounsaturated Fat:
5
g
,
Trans Fat:
0.3
g
,
Cholesterol:
80
mg
,
Sodium:
724
mg
,
Potassium:
941
mg
,
Fiber:
3
g
,
Sugar:
8
g
,
Vitamin A:
2731
IU
,
Vitamin C:
11
mg
,
Calcium:
253
mg
,
Iron:
5
mg
This website provides approximate nutrition information for convenience and as a courtesy only. Nutrition data is gathered primarily from the USDA Food Composition Database, whenever available, or otherwise other online calculators.