Classic fruit crisps are easy to make and so delicious. Try apple blueberry crisp! The sweet tart combination of apples and berries makes an outstanding dessert.
Recipe Overview
Why you'll love it: Fruit crisps are versatile and no fuss. Many fruits can be turned into a crisp, fresh or frozen.
How long it takes: 15 minutes to prep, and 50 minutes in the oven
Equipment you'll need: baking dish, large bowl, oven
Servings: 6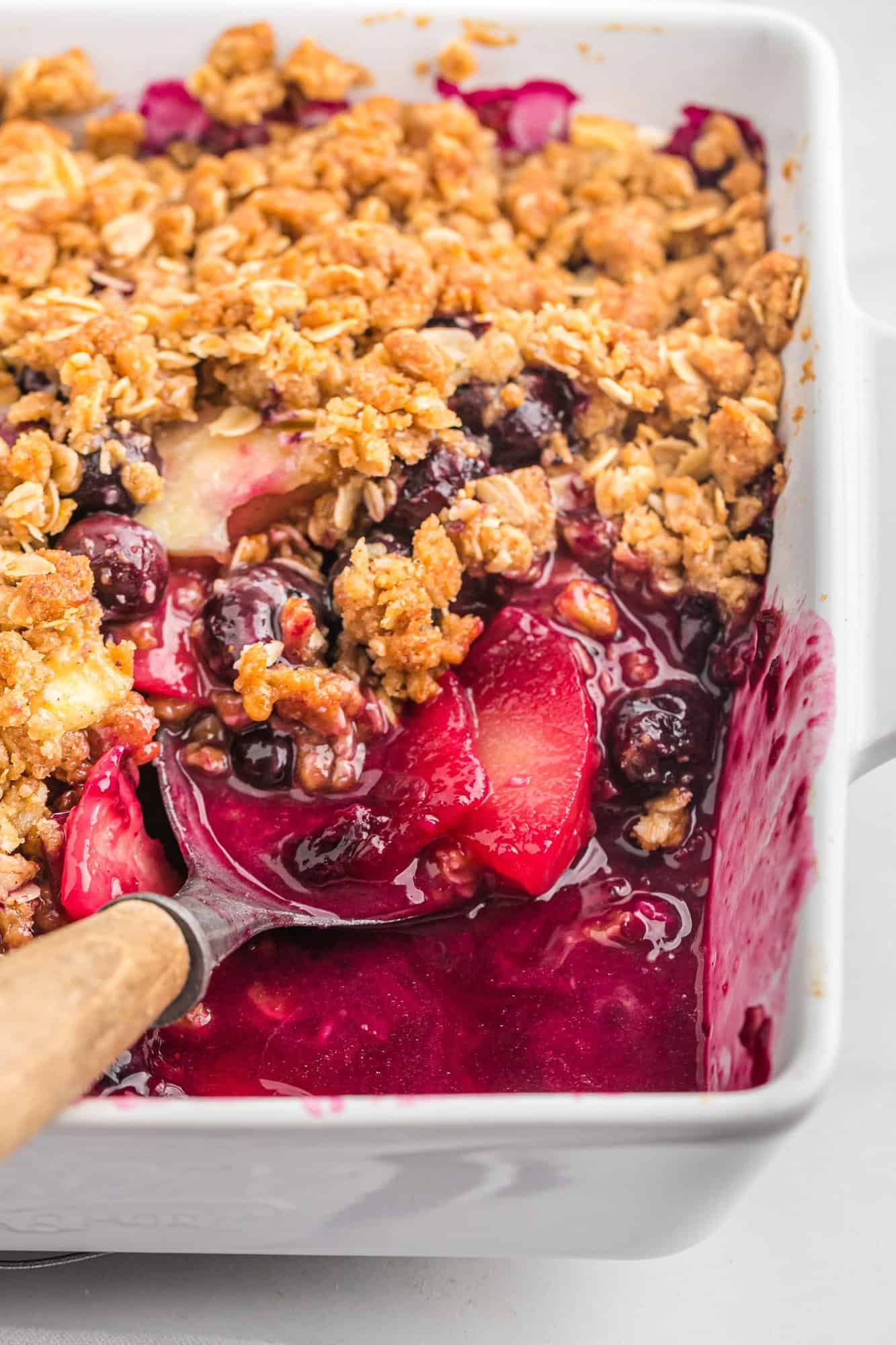 Apple crisp is one of my favorite desserts. My grandma always used to make it for my birthday (that and pot roast!). There's just something about the warm apples and crunchy cinnamon topping that makes me feel happy all over. Add a scoop of vanilla ice cream that slowly melts into the warm crisp, and you've pretty much described bliss.
Today, I'm bringing you apple crisp dessert with a little riff. I've added blueberries to the mix. Blueberries add a bit of tartness, gorgeous color, and a fair bit of healthy nutrition as well. Blueberries boast a high level of antioxidants (flavonoids) and fiber but they are low in calories. They have many health benefits (Healthline).
So enjoy! If you're not a fan of blueberries, be sure to try my apple crisp with ginger or one of the other ideas listed below.
About this apple blueberry crisp
This is a basic fruit crisp recipe that is easily adaptable. I've been making it for years. Apples and blueberries are good friends and make a really scrumptious crisp but feel free to use whatever combination of fruit you have. Fresh or frozen, it doesn't matter. Other suggestions are peaches, cherries, raspberries, blackberries, or plums.
This recipe can be made in a 8 or 9 inch square baking dish, or whatever you have that's comparable, whether it's square, rectangular, oval, or even a round pie dish. It's fun to bake and serve in a cast iron skillet too. If you happen to have one of those darling small skillets that serve two, cut the recipe in half.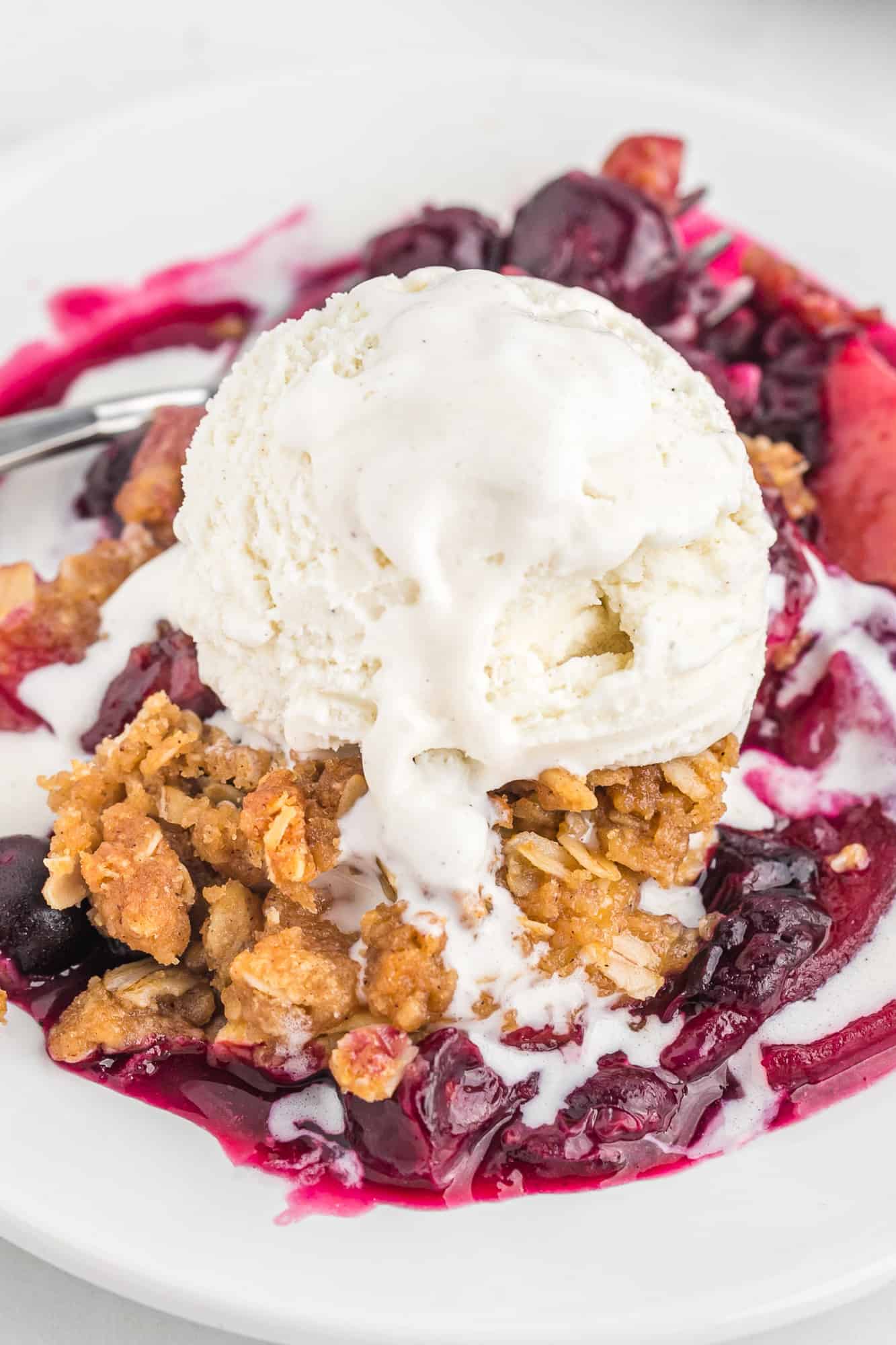 I'll get you started on baking your crisp and give you lots of helpful tips. As always, look for the printable recipe card near the end of the post for complete instructions, measurements, and nutrition information.
What You'll Need
Apples: You'll need about four small apples. Take a look at the FAQ section for information about which type of apple to use. Peel the apples, cut them into quarters, remove the core, and slice the quarters into thin slices.
Blueberries: Either fresh or frozen blueberries work fine in a crisp. It isn't necessary (or desirable) to thaw the berries first if they are frozen.
All-Purpose Flour: Flour is used to thicken the fruit mixture and as an ingredient in the topping.
Granulated White Sugar: Just a small amount of white sugar is mixed in with the fruit. Most of the sweetness in this dessert is found in the topping, and of course, the natural sugars in the fruit.
Brown Sugar: Either dark or light brown sugar is fine. Brown sugar gives almost a caramel flavor to the topping. Be sure you pack the brown sugar firmly into the measuring cup for an accurate measurement.
Butter: Always use unsalted butter for baking, unless directed otherwise. The butter should be at room temperature so it is soft enough to blend in.
Oats: Rolled oats are essential to crisps. Choose old-fashioned or quick oats. Steel cut oats or instant oatmeal won't work.
Nutmeg and Cinnamon: This spice duo is perfectly suited for baked fruit desserts. They add a sweet, warm flavor that is incomparable. Try buying whole nutmeg and grate it with a fine grater. The taste is much more potent than ground nutmeg.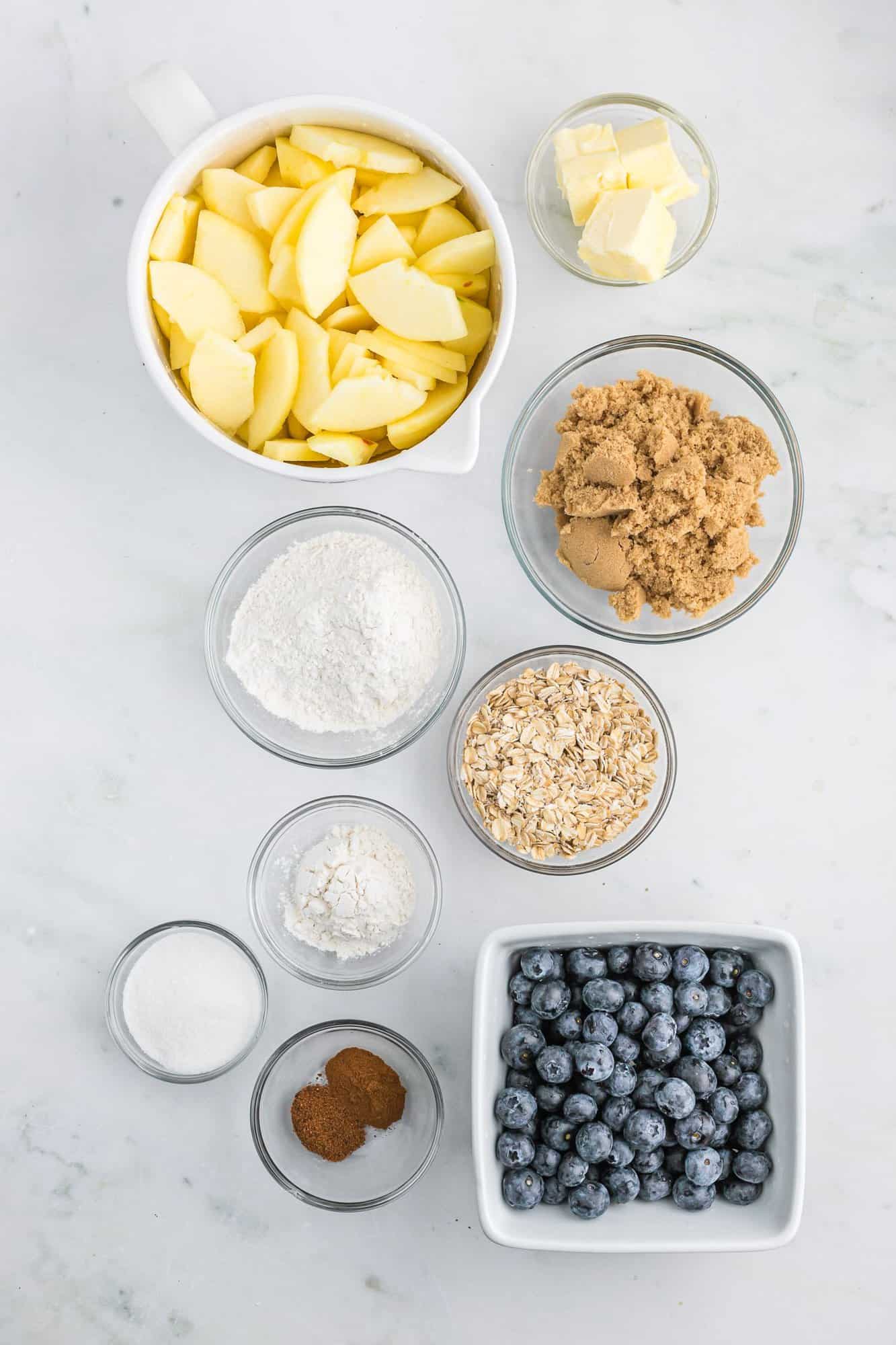 How To Make Fruit Crisps
Go ahead and get the oven preheating. It won't take you long to get the crisp ready to bake. Find the baking dish you want to use and give it a light misting of nonstick spray.
In a large bowl, lightly toss the apples and blueberries with a couple tablespoons each of flour and sugar. Pile the fruit in the prepared baking dish, arranging it so it's fairly even. If you notice that the blueberries are congregating in one corner, make sure you divvy them up a bit.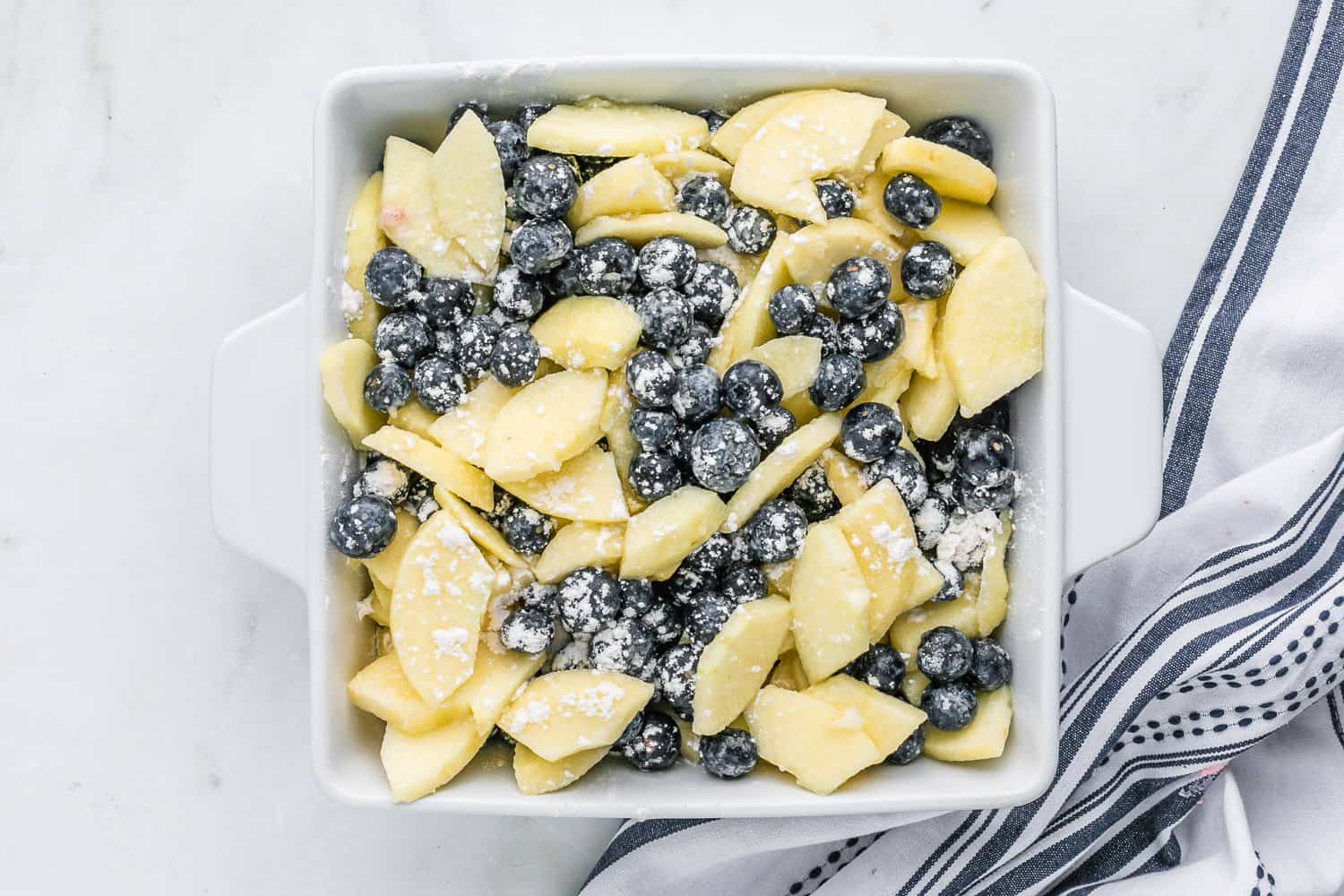 In the same bowl you used for the fruit, combine the topping ingredients: flour, brown sugar, oats, cinnamon, and nutmeg. Add the softened butter, and cut it into the dry ingredients. You can use a pastry cutter, a fork, your fingers, or a food processor to do this. The mixture should be pretty well combined and will be chunky. If you press a bit between your fingers, it should clump together.
Sprinkle the topping evenly on top of the fruit. If you like large clumps of crispy topping, press some of it between your fingers to form chunks.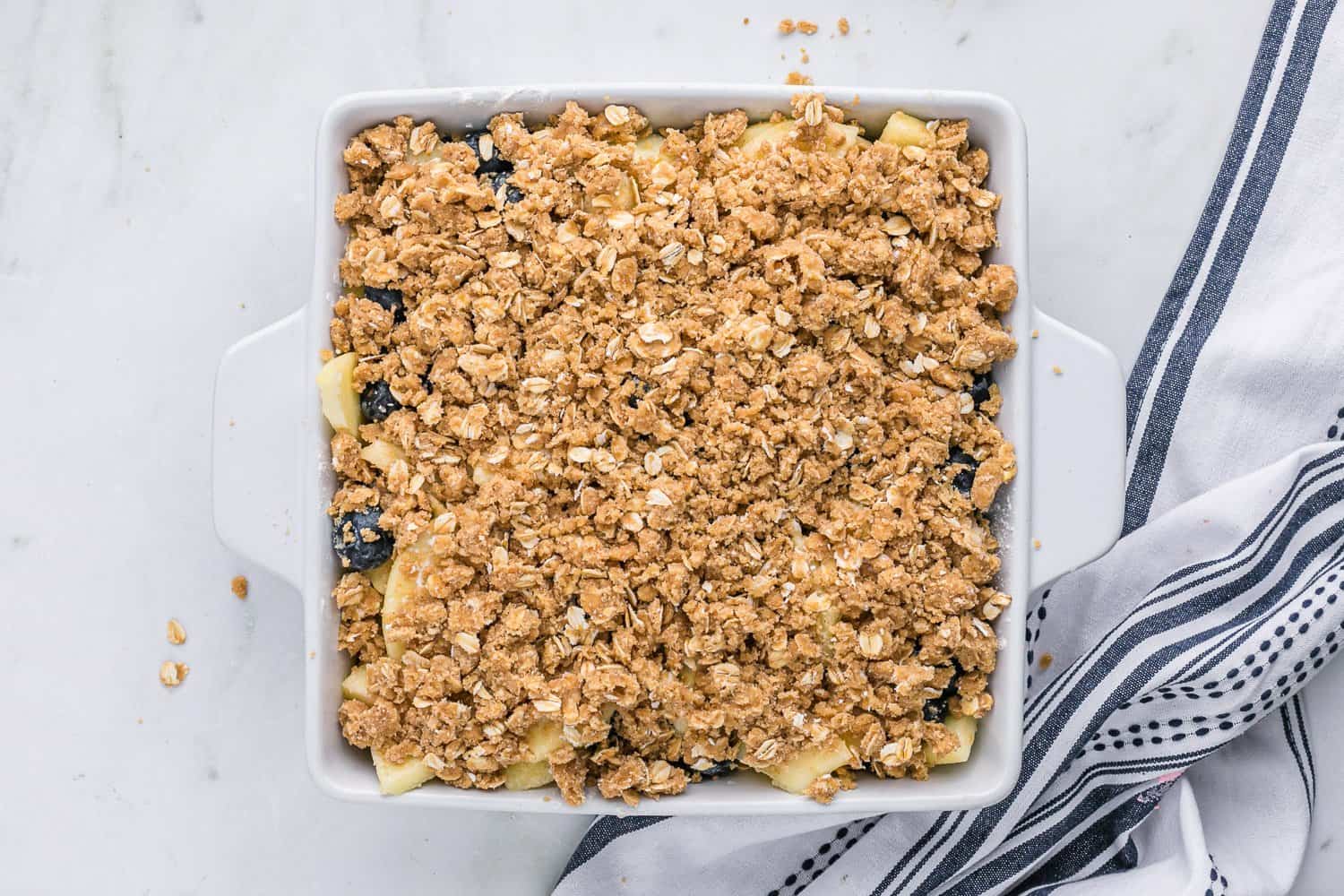 Bake the crisp for about 50 minutes. Crisps aren't overly fussy about cooking time. It's pretty difficult to overbake a crisp and in fact, it's better to overbake it than underbake it. If you happen to have something else in the oven that needs to cook at a lower temperature, the crisp will be fine. You'll just have to bake it a bit longer.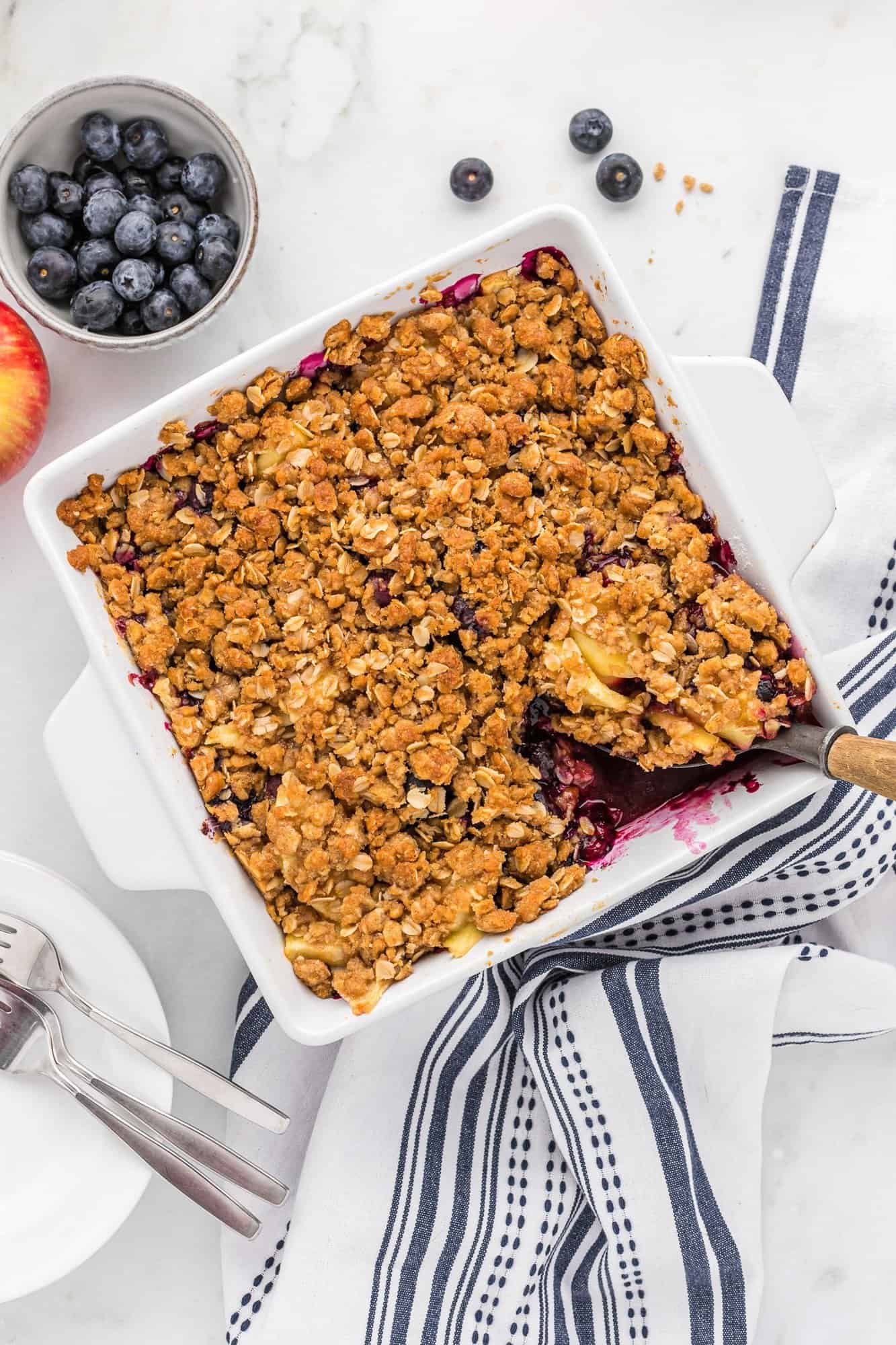 How can you tell when a crisp is done?
The top should be golden brown and firm and you should be seeing fruit juices bubbling up here and there throughout the topping.
What should you serve with a fruit crisp?
Serve apple blueberry crisp warm, with a scoop of vanilla ice cream or whipped cream. A dollop of plain or sweetened yogurt is really good, too, or even a dab of sour cream.
FAQs
What is the best apple for a crisp?
That's a great question. Not all apples are created equal. Some are better for eating fresh; some make great applesauce. There are lots of varieties that are good for baking but here's a short list to choose from: Honeycrisp, Pink Lady, Braeburn, Granny Smith, or Cortland. These apples will get soft and juicy but retain their shape when baked.
That being said, if you have a favorite apple, feel free to use it! There are lots of differing opinions on baking apples although it seems there is universal disapproval of Red Delicious (and I agree), so I would stay away from that one.
Why does my apple crisp get watery?
Crisps are naturally somewhat juicy. It's just what happens when you bake a bunch of juicy fruit together. They are always best served warm the same day you bake them. The juices tend to seep out after a day or two.
There are a couple of tricks to avoid a watery crisp. Tossing the fruit with a bit of all-purpose flour before adding the topping is very helpful. The flour helps to thicken the fruit juice making it more syrupy and less watery.
Make sure you bake the crisp long enough. You should see juices bubbling up from the center. The fruit juice thickens as it boils.
Choosing the right variety of apples is important too. Some varieties are contain more water and are better suited to eat fresh.
How do you keep apple crisp topping crispy?
Truly, apple crisps are best eaten the same day they are baked and are especially good warm out of the oven. As time goes on, the topping tends to absorb the fruit juices and get softer.
If you want to store the crisp, be sure to cool it completely before covering. Any residual heat will turn to steam under cover and that will make the topping soggy.
As a side note, I've found that recipes for crumbles tend to retain their crispness just a bit longer.
Crisp, Crumble, or Cobbler?
Do all baked fruit desserts begin with the letter "C"?! You may be wondering how they differ from each other. It's all in the topping; the fruit base is very similar. Crisps usually contain oats in the topping. Crumbles are more streusel-like, with more flour but no oats. Either may have added nuts such as pecans or walnuts. Cobblers have a biscuit-like topping.
Make It Your Own
Use different fruit. If you're not a fan of blueberries, make your crisp with all apples. Or, instead of blueberries, substitute tart cherries, raspberries, or strawberries. In fact, feel free to mix and match the fruit. Plums, pears, peaches, or nectarines are good substitutions for the apples. Frozen fruit is perfectly acceptable.
Add nuts. Pecans or walnuts can be added to the topping before baking.
Make a double batch. Expecting a big crowd? Use a large baking dish and double the recipe. Increase baking time if necessary.
Make extra topping. If you really love the crisp topping, it's okay to make a batch and a half or even a double batch of the topping mixture and really pile it on. I often do that!
Dress it up. Top your apple blueberry crisp with vanilla ice cream and a drizzle of homemade caramel sauce (or bourbon caramel sauce!).
More Recipes With Blueberries
Have a lot of blueberries? No worries, I have a lot of recipes for you.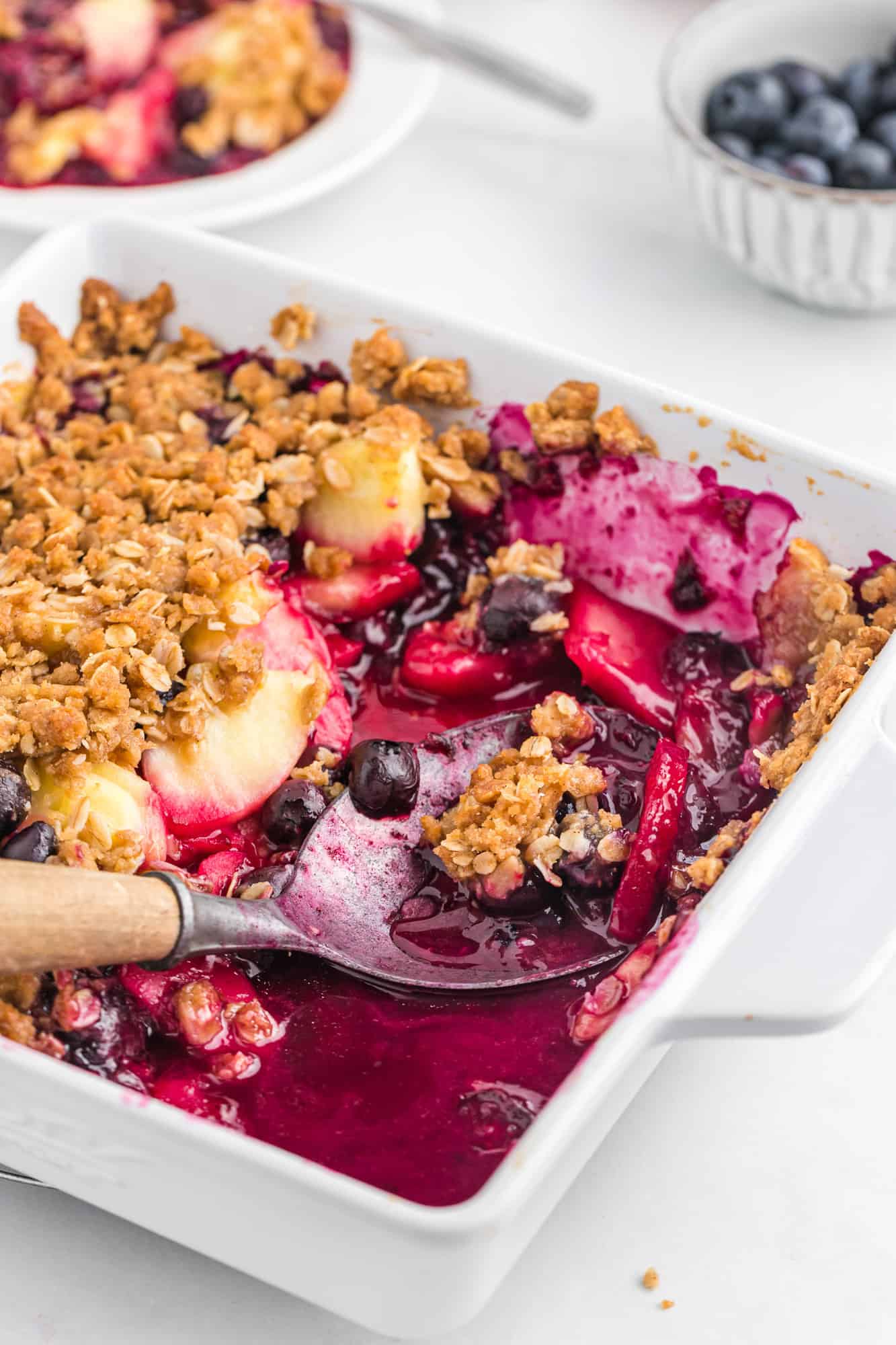 Make-Ahead Ideas
Prepare the crisp a day in advance, and refrigerated unbaked. Don't worry if the apples discolor a bit. That's normal and will not affect the end product at all.
Unbaked fruit crisps can also be frozen. Double wrap in foil, label, and freeze for up to 3 months. Thaw overnight in the fridge before baking.
To bake, simply take the dish out of the refrigerator for a half hour while the oven preheats, uncover it, and bake as directed.
Storage & Reheating Tips
Baked apple blueberry crisp is best eaten the first day. If you have leftover crisp, it can be stored at room temperature for a day or two, or refrigerated for up to three days. Be sure the crisp is totally cool before covering it with plastic wrap or foil.
Leftover apple crisp can be eaten at room temperature or lightly reheated.
To reheat, single portions can be warmed in the microwave. Be careful, because it seems to heat quickly. Use 50% power and heat in 15 second increments. For a larger amount of leftover apple crisp, heat in a 325°F oven until it's warm.
Leftover Love
Did you make this? Be sure to leave a review below and tag me @rachelcooksblog on Facebook, Instagram, or Pinterest!
Classic fruit crisps are easy to make and so delicious. Try apple blueberry crisp! The sweet tart combination of apples and berries makes an outstanding dessert.
Ingredients
3

cups

sliced apples, peeled

(about 4 small apples)

2

cups

blueberries, fresh or frozen

2

tablespoons

all-purpose flour

2

tablespoons

granulated sugar
Topping
⅔

cup

packed brown sugar

½

cup

all-purpose flour

½

cup

rolled oats

(old fashioned or quick)

1

teaspoon

ground cinnamon

¾

teaspoon

freshly ground nutmeg

⅓

cup

unsalted butter, softened
Instructions
Preheat oven to 350°F and lightly spray 8 x8 inch baking dish with nonstick spray (see note).

In large bowl, mix together

2 tablespoons

sugar and

2 tablespoons

flour. Add fruit and toss lightly to coat. Spread fruit evenly in baking dish.

In same bowl, combine topping ingredients: brown sugar,

½ cup

flour, oats, cinnamon, and nutmeg. Cut in butter using a fork or a pastry cutter until combined. There should be small clumps. Sprinkle this mixture on top of fruit, squeezing some between your fingertips if you like large clumps on the crisp.

Bake 50-55 minutes, or until apples are soft, fruit is bubbling, and crisp is browned on top..

Serve warm with ice cream or whipped cream, if desired.
Notes
Any baking dish that is of comparable size or a small cast iron skillet can be used.
Choose a good baking apple such as Honeycrisp, Pink Lady, Braeburn, Granny Smith, or Cortland.
Feel free to sub in a different fruit. Use all apples, or all blueberries. Instead of blueberries, try cherries, raspberries, or strawberries. Instead of apples, try pears, plums (unpeeled), peaches or nectarines. Fresh or frozen fruit may be used.
Nutrition Information
Calories:
334
kcal
,
Carbohydrates:
59
g
,
Protein:
3
g
,
Fat:
11
g
,
Saturated Fat:
7
g
,
Polyunsaturated Fat:
1
g
,
Monounsaturated Fat:
3
g
,
Trans Fat:
1
g
,
Cholesterol:
27
mg
,
Sodium:
10
mg
,
Potassium:
181
mg
,
Fiber:
4
g
,
Sugar:
39
g
,
Vitamin A:
377
IU
,
Vitamin C:
8
mg
,
Calcium:
39
mg
,
Iron:
1
mg
This website provides approximate nutrition information for convenience and as a courtesy only. Nutrition data is gathered primarily from the USDA Food Composition Database, whenever available, or otherwise other online calculators.