Blueberry Strawberry Muffins – healthy!
Bursting with juicy strawberries and blueberries, enjoy these healthy blueberry strawberry muffins for breakfast or as a healthy snack.
Recipe Overview
Why you'll love it: Homemade muffins are healthier and much more economical than bakery muffins, and they are so delicious! Your house will smell like a bakery.
How long it takes: 33 minutes
Equipment you'll need: muffin tins, mixing bowl
Servings: 12 muffins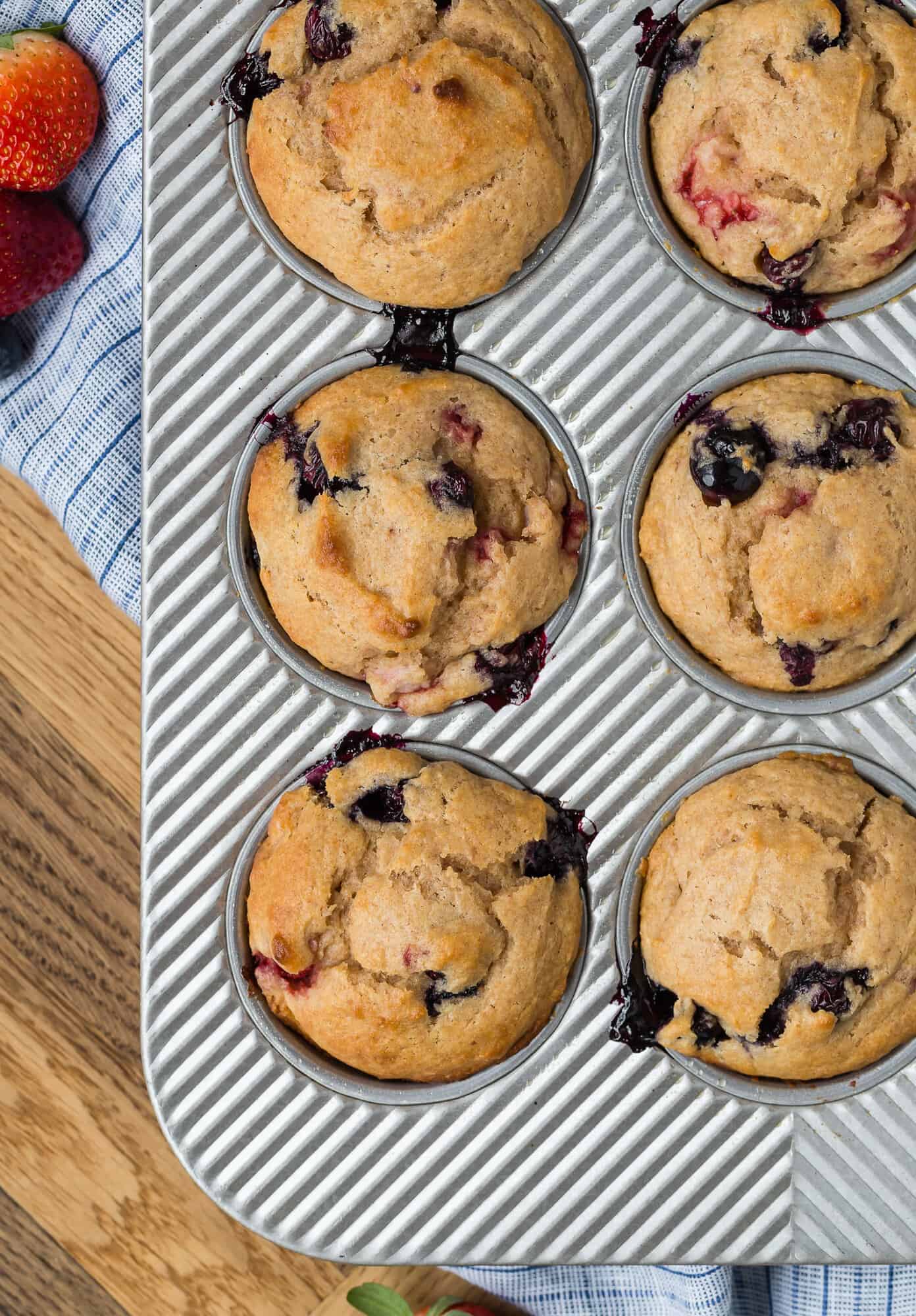 Double berry muffins, made with whole wheat flour and yogurt, are so much better than bakery muffins. Better taste, better for you, better price.
I checked the nutrition information for muffins at a favorite restaurant/bakery of mine. Each blueberry muffin has 460 calories, 18 grams of fat, and a whopping 40 grams of sugar! Not to mention that each muffin will run you almost three dollars.
Wow! That kind of blows me away! Make your own muffins, folks! It's not difficult and you'll save tons of money, and be healthier, too. (Did I just sound kind of bossy? Sorry about that!)
About This Recipe
These delicious blueberry strawberry muffins have half the calories of those bakery muffins, only 11 grams of fat, and 13 grams of sugar. Plus, there's the added benefit of whole wheat flour and LOTS of fresh berries.
You won't have to wonder where the berries are in these muffins! There are two cups of berries in every batch. And if you're like me, you'll sneak in a few extra berries.
Muffins are easy to make. The only equipment you'll need is muffin tins, two bowls, a spoon, and an oven.
So let's get started! You're going to love these muffins.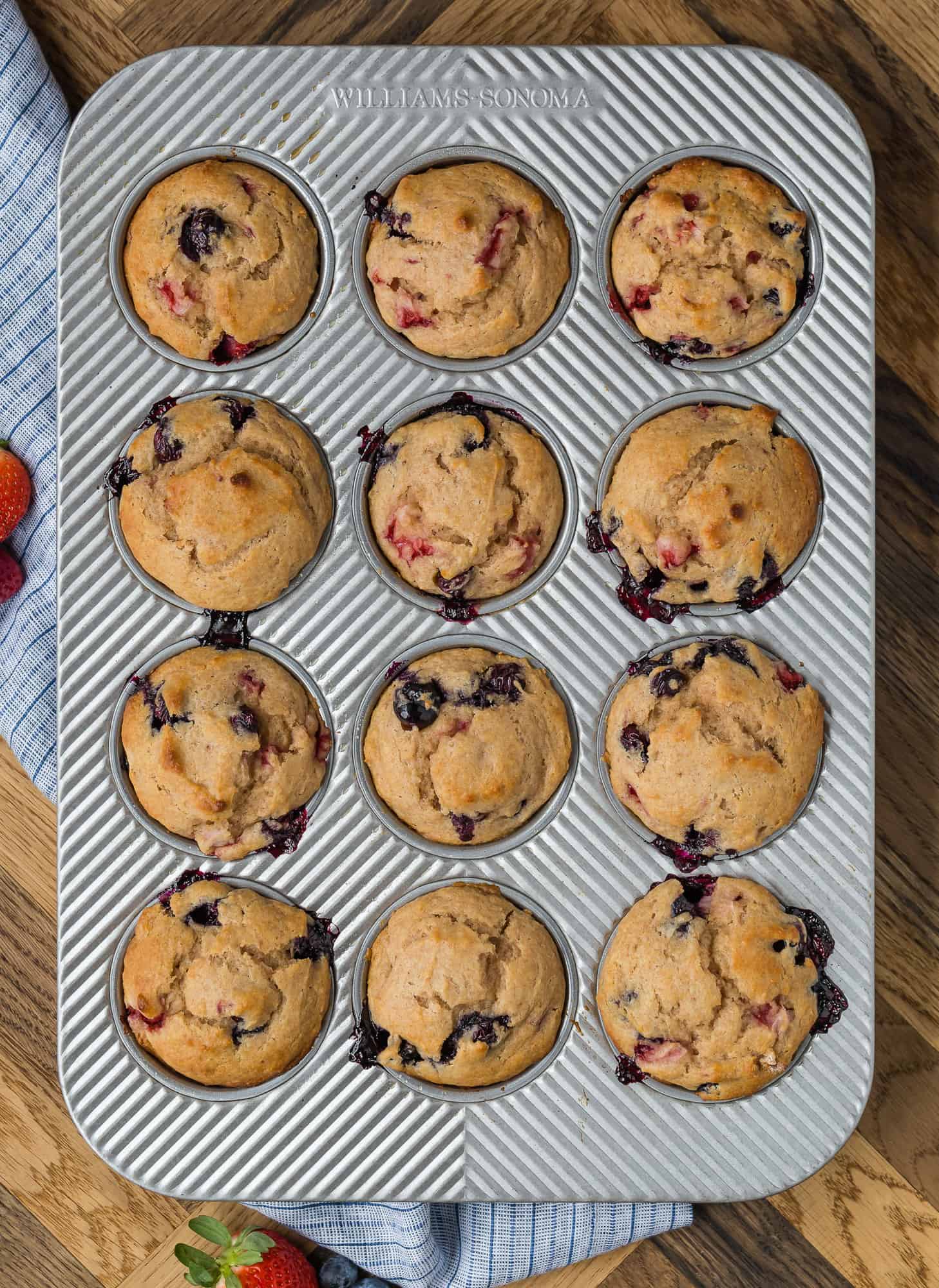 I'll run you through the recipe here and give you some helpful tips. Look for the printable recipe card near the end of the post. It has complete instructions, measurements, and nutrition information.
What You'll Need
Blueberries: You'll need about one cup of blueberries, either fresh or frozen. See the FAQ section for more about using frozen berries.
Strawberries: I usually use fresh strawberries so I can chop them into smaller pieces. Whole strawberries are usually too large for muffins. You'll need a cup of chopped strawberries.
Flour: Use a 50/50 mixture of whole wheat flour and all purpose flour. Whole wheat flour adds nutrition and fiber to the muffins but if you use only whole wheat flour, the muffins can be a bit heavy. A mixture of flours keeps the muffins light and fluffy.
Greek Yogurt: Yogurt reduces the need for a lot of oil and also adds some protein to the muffins.
Oil: Any neutral flavored oil is fine: canola, vegetable, corn, etc.
Eggs: A couple of eggs add rich flavor and keep the muffins moist.
Strawberry Jam: I like to add just a couple tablespoons of jam to the muffin batter to enhance the strawberry flavor.
Sugar: You won't find a lot of sugar in these muffins, just a half cup (and the sugar that's in the jam).
Pure Vanilla Extract: Added for its sweet warm flavor, vanilla is a baker's true friend.
Baking Powder: Commonly used for leavening, baking powder will make the muffins rise. By the way, baking powder is not the same thing as baking soda.
Salt: Without salt, your muffins will taste flat and a little flavorless.
How To Make These Muffins
Begin by preheating your oven and getting the tins ready. I like to spray them with nonstick cooking spray but you can use cupcake liners if you prefer.
Mix the wet ingredients in a bowl or large measuring cup: yogurt, oil, strawberry jam, vanilla extract. In another bowl, mix the dry ingredients. Add the berries to the dry ingredients and gently mix them in. By coating them with flour, they will have less of a tendency to sink to the bottom of the muffins.
Add the wet ingredients to the dry, mix just until blended. You don't want to overmix the muffin batter, just stir until the dry and wet ingredients are combined.
Evenly divide the batter into the muffin tins and bake your muffins. They'll take about 18 minutes.
How will you know the muffins are done? You can check them with a toothpick to see if they're done. Just stick a toothpick near the center of one of the muffins. Take it out and look at it. Did the toothpick come out clean? Is there a couple of crumbs stuck to it? Then the muffins are done! If there's still sticky batter clinging to the toothpick, put the muffins back in the oven for a couple of minutes.
There, you made your own muffins! Easy, peasy, right? Enjoy your delicious blueberry strawberry muffins and bask in the knowledge that you saved money and calories. And it doesn't get fresher than right out of the oven!
Hint: Make a double batch and freeze some to eat later. You'll be glad you did!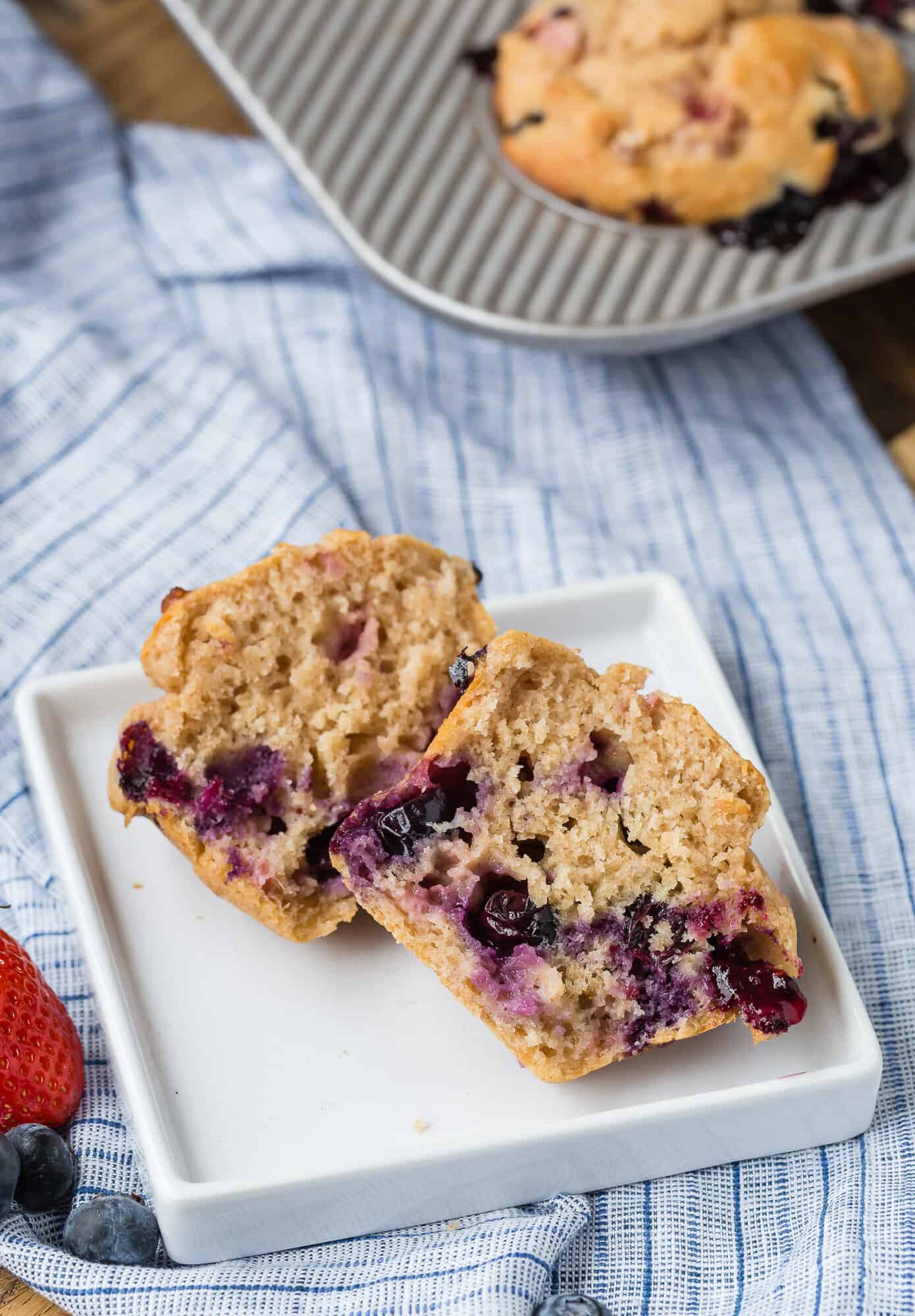 FAQs
How do you keep berries from sinking in muffins?
There are a couple of techniques. Tossing the berries in the flour mixture will help them stay in place and not sink to the bottom. Lately I've come across another technique that seems to work well, too. Mix the batter without adding the berries. Put a spoonful of plain batter into the bottom of each muffin cup. Fold the berries into the remaining batter and divide it between the muffin cups. Bake as directed.
Is it better to use fresh or frozen berries for muffins?
Either fresh or frozen berries will work fine in muffins. If you're using frozen berries, there's no need to thaw them first; in fact, it's better if you don't. Thawed berries tend to become juicy and will discolor the muffin batter.
You may need to add a minute or two to the baking time if you're using frozen berries.
What is the secret to making moist muffins?
I've found that using oil instead of butter (or a combination) for muffins makes a better muffin. I often add yogurt or buttermilk to muffin recipes, both of which add lots of flavor and make a moist muffin. Almost all of my muffin recipes also include fruit or vegetables, such as banana, pumpkin, carrot, apple or berries.
Make It Your Own
Only have one kind of berry? That's just fine! Use 2 cups of any combination of berries including raspberries, blackberries, or whatever berries are available to you.
Want to add a little chocolate? O course you do! Try these strawberry chocolate chip muffins — so good!
Don't have strawberry jam? Don't worry about it, just leave that out.
Prefer 100% whole wheat? That will work fine, the muffins will be a little denser and heavier but will taste great!
Don't like any whole wheat? No problem, just use 2 cups of all-purpose unbleached flour.
Use regular plain yogurt instead of Greek yogurt. Or use sour cream, milk, or buttermilk. Low fat or regular, doesn't matter.
Have some leftover berries? Try making an easy dessert. Apple blueberry crisp is one of our favorite desserts, especially when it's topped with homemade no churn vanilla bean ice cream. There's also peach blueberry crisp and blueberry crisp with coconut — so yummy!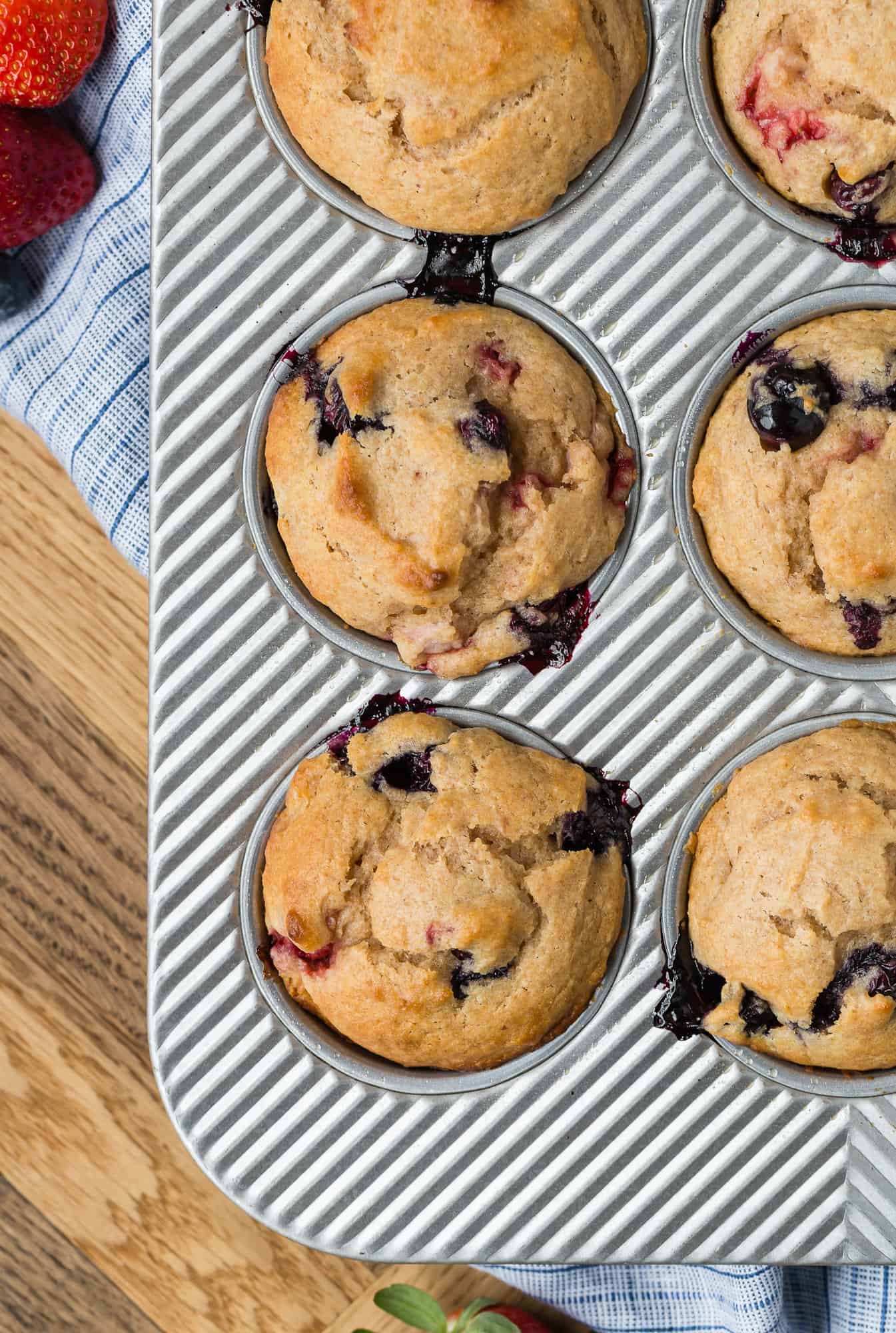 Storage Tips
While there's nothing like a warm muffin fresh out of the oven, muffins will keep on the counter for a couple of days. If you want to store them longer, put them in the fridge or freeze them for up to a couple of months in a freezer safe container.
Tip: Be sure to cool the muffins completely before storing them in an airtight container. If they are still warm, condensation will form and the muffins will become sticky.
More muffins!
I have more delicious better-for-you muffin recipes that I'm sure you'll love. Try:
Did you make this? Be sure to leave a review below and tag me @rachelcooksblog on Facebook, Instagram, or Pinterest!
Bursting with juicy strawberries and blueberries, enjoy these healthy strawberry blueberry muffins for breakfast or as a healthy snack.
Ingredients
2

large eggs

1

cup

low fat Greek yogurt

(see note)

½

cup

canola or vegetable oil

2

tablespoons

strawberry jam

1

teaspoon

vanilla extract

1

cup

all-purpose flour

1

cup

whole wheat flour

½

cup

sugar

2

teaspoons

baking powder

¼

teaspoon

salt

1

cup

strawberries, hulled and diced

1

cup

blueberries, fresh or frozen
Instructions
Preheat oven to 400℉. Prepare 12 muffin cups by spraying lightly with non stick spray or line with paper liners.

In medium sized bowl, whisk together eggs, yogurt or sour cream, oil, strawberry jam, and vanilla.

In separate bowl, whisk together flour, sugar, baking powder, and salt. Add berries, and lightly stir until berries are coated and dispersed.

Fold wet ingredients into dry ingredients, mixing gently just until combined.

Divide batter into muffin cups. Bake for 18 minutes, or until toothpick inserted in center comes out clean or with crumbs clinging. Cool for 10 minutes before removing from tins. Serve warm or at room temperature.
Notes
Any type of plain unsweetened yogurt can be used. Buttermilk or sour cream can be substituted, if desired.
If preferred, use 2 cups whole wheat flour or 2 cups all-purpose flour.
Use all blueberries or all strawberries, or another berry of your choice.
Nutrition Information
Serving:
1
muffin
,
Calories:
233
kcal
,
Carbohydrates:
30
g
,
Protein:
6
g
,
Fat:
11
g
,
Saturated Fat:
1
g
,
Polyunsaturated Fat:
9
g
,
Cholesterol:
33
mg
,
Sodium:
145
mg
,
Fiber:
2
g
,
Sugar:
13
g
This website provides approximate nutrition information for convenience and as a courtesy only. Nutrition data is gathered primarily from the USDA Food Composition Database, whenever available, or otherwise other online calculators.