Enjoy blueberry bran muffins as a healthy breakfast, snack, or lunchbox treat. They freeze really well too.
Recipe Overview
Why you'll love it: These are healthy and yummy muffins that are easy to make and far more economical than bakery muffins.
How long it takes: 30 minutes
Equipment you'll need: muffin tins, mixing bowls, oven
Servings: 12 muffins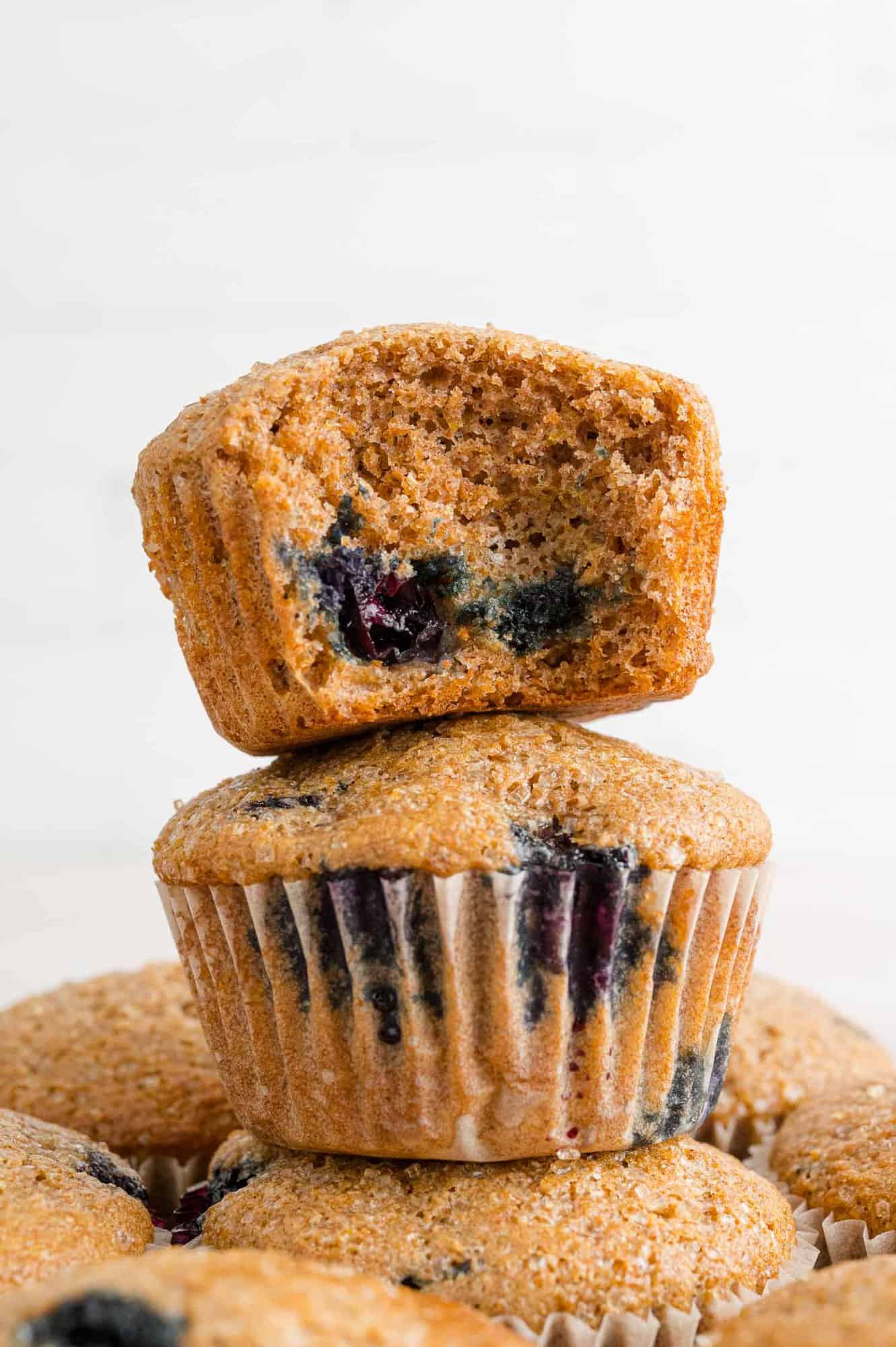 I love muffins. Who doesn't love muffins? Do you favor the top of the muffin or the bottom? I'm a fan of the top.
Does anyone prefer the bottom?
Blueberry bran muffins have a hearty flavor thanks to the addition of whole wheat flour and wheat bran. They are packed with blueberries and have a nice crunchy topping thanks to a generous sprinkling of turbinado sugar.
They'll leave you feeling full and satisfied which is a great way to start the day or get you through the mid-afternoon slump. They are perfect for lunchbox treats and pretty enough to serve at a brunch.
Muffins are so easy to make. Don't settle for store-bought muffins. I love making my own muffins, smelling the wonderful aroma as they bake, and knowing that I make them so much healthier than the bakery, with no preservatives or additives.
Family's take: Hubby swears these are the best muffins he ever tasted. Seriously! My kids scarf them down; they love them in their lunchboxes.
About This Recipe
These homemade muffins are much lower in fat and sugar than bakery muffins. They have lots of extra fiber due to the whole wheat flour and wheat bran.
Did you know that a blueberry muffin at a popular chain restaurant has 520 calories and they cost $3.29 each? Homemade muffins are much, much more economical and have far fewer calories (107 calories per muffin).
In addition, this recipe is easily adapted. Don't have blueberries? Throw in blackberries or raspberries. I like chopped strawberries in muffins, too. Cinnamon-spiced apple bran muffins are great in the fall.
I think you'll find yourself turning to this recipe over and over again!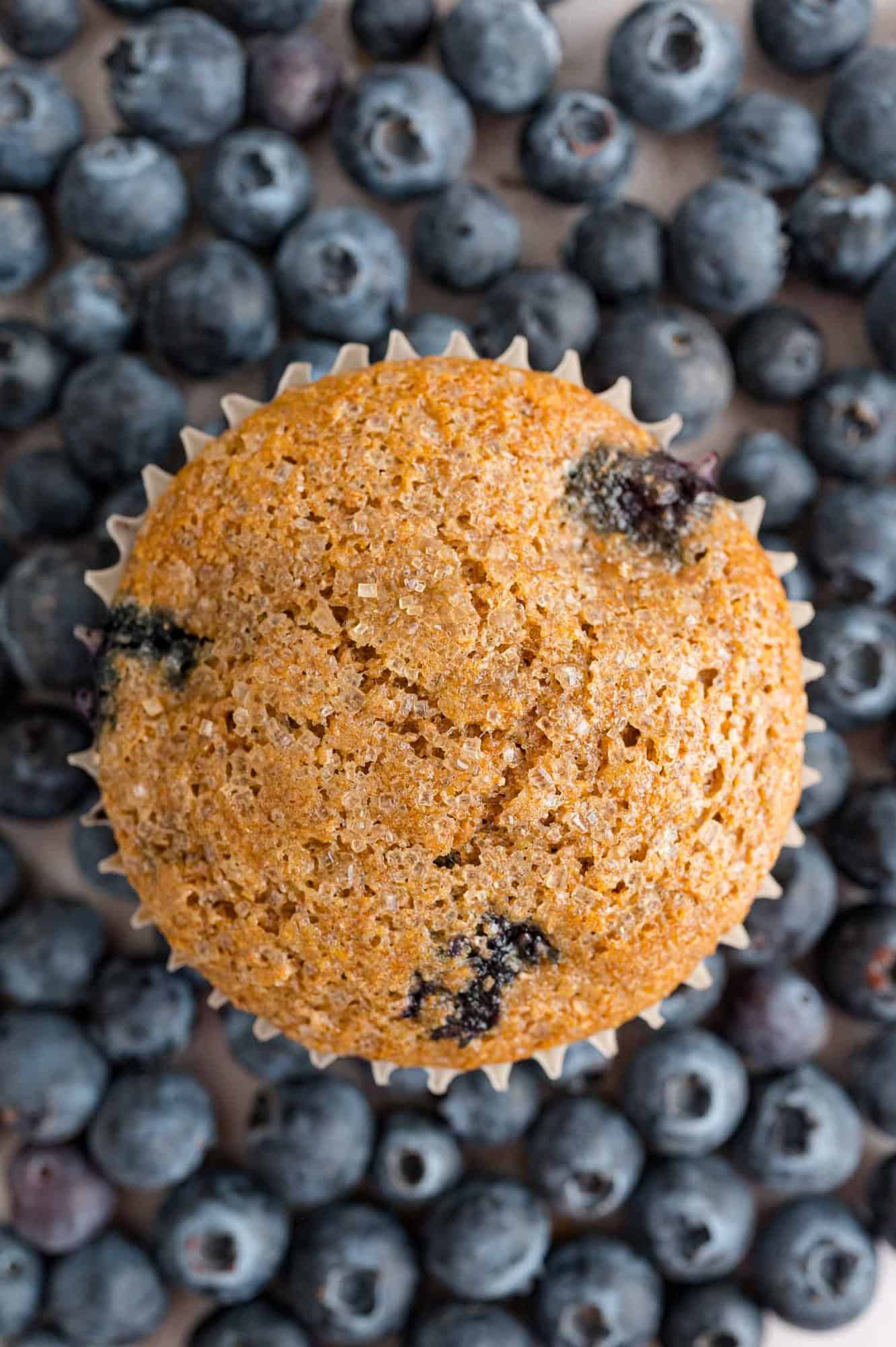 I'll get you started here with lots of helpful tips. Look for the printable recipe card near the end of the post for complete instructions, measurements, and nutrition information.
What You'll Need
Whole Wheat Flour: This whole grain flour has a hearty flavor. Store it in the refrigerator or freezer to keep it fresh.
Wheat Bran: Wheat bran is the fiber part of the wheat kernel, i.e., the outer part which is usually removed during the milling process. However, it's full of nutrients and has many health benefits (Healthline). You can usually find it in the baking aisle of the grocery store. Bob's Red Mill is a popular brand. If you prefer, oat bran can be substituted.
Blueberries: Either fresh or frozen berries work well. Blueberries have lots of health benefits, too. They are loaded with antioxidants and are often considered to be a superfood. Have you tried my blueberry crisp yet? So yummy!
Baking Powder, Baking Soda, Salt: Normal ingredients in muffins. They provide leavening and seasoning.
Cinnamon: There's just a hint of sweet tasting cinnamon in these muffins.
Oil: Choose a mild tasting oil such as canola or vegetable oil.
Sugar: Plain granulated white sugar is used to sweeten the muffins.
Eggs: Just a couple of eggs add richness and protein.
Milk with White Vinegar Added: Baking soda needs a bit of acid to work its leavening magic. You'll mix a tablespoon of vinegar with 3/4 cup milk to achieve this. Basically, you're making sour milk. Buttermilk can be substituted or even plain regular yogurt (not Greek).
Pure Vanilla Extract: Vanilla is a baker's friend in the kitchen. It adds so much flavor.
Turbinado Sugar: This sugar is very coarse and light brown in color. A sprinkle on top of each muffin adds a nice crunch. It's optional but really very good.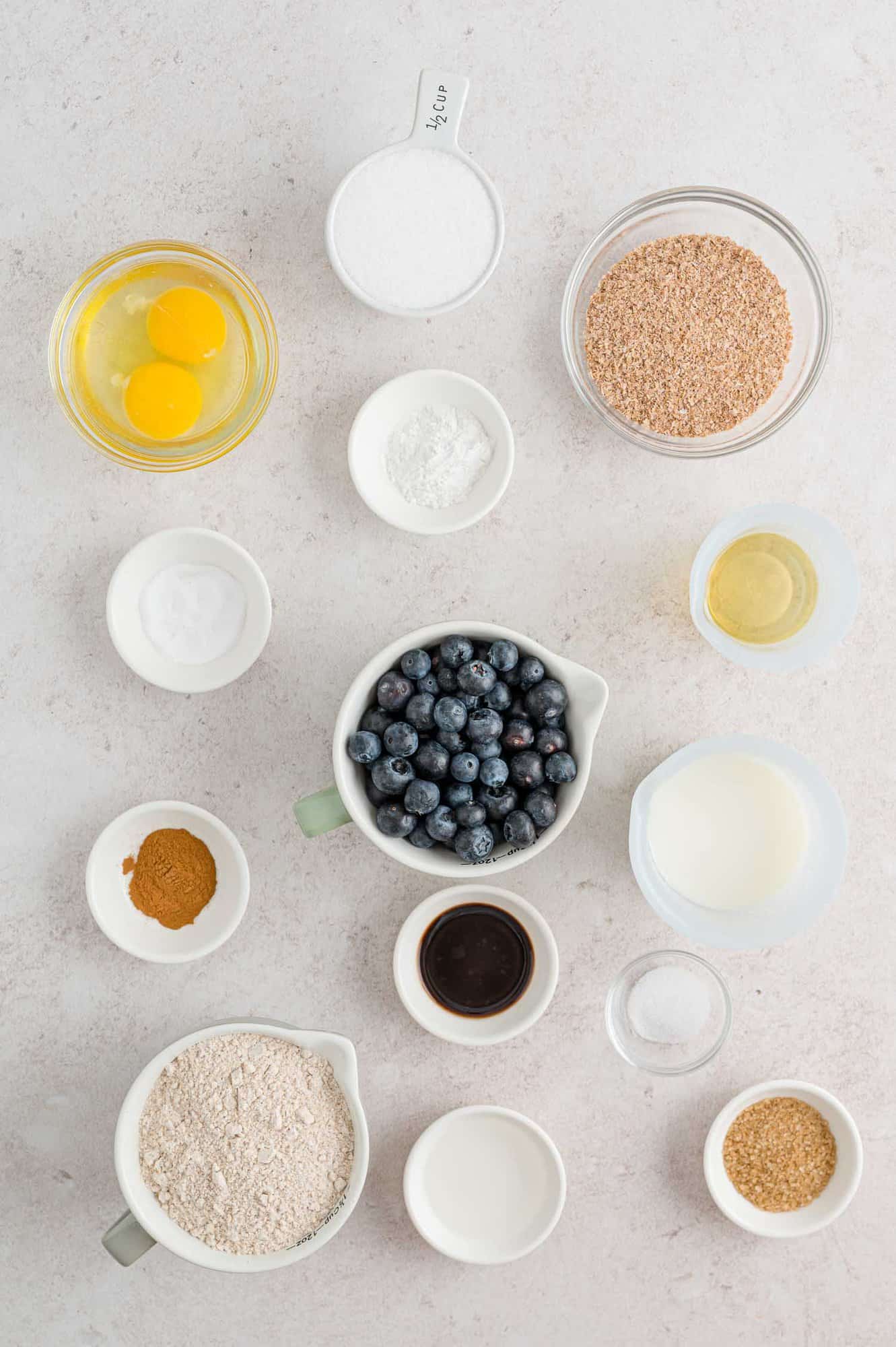 More About Bran
While wheat bran and oat bran are interchangeable in recipes like this one, they do have different qualities. Wheat bran is mostly insoluble fiber which can help digestive issues. It's lower in calories and has less fat.
Oat bran has more soluble fiber which has health benefits, too. Both brans contain lots of minerals and vitamins. Adding either to your diet is a healthy choice.
Incidentally, the cereal All-Bran is mostly wheat bran with 8 grams of added sugar per serving. Many bran muffins are made this cereal but why add all that extra sugar?
How To Make These Muffins
Begin by preheating the oven and prepping your muffin tins. Either spray them lightly with nonstick spray or use paper muffin liners. This recipe makes 12 muffins.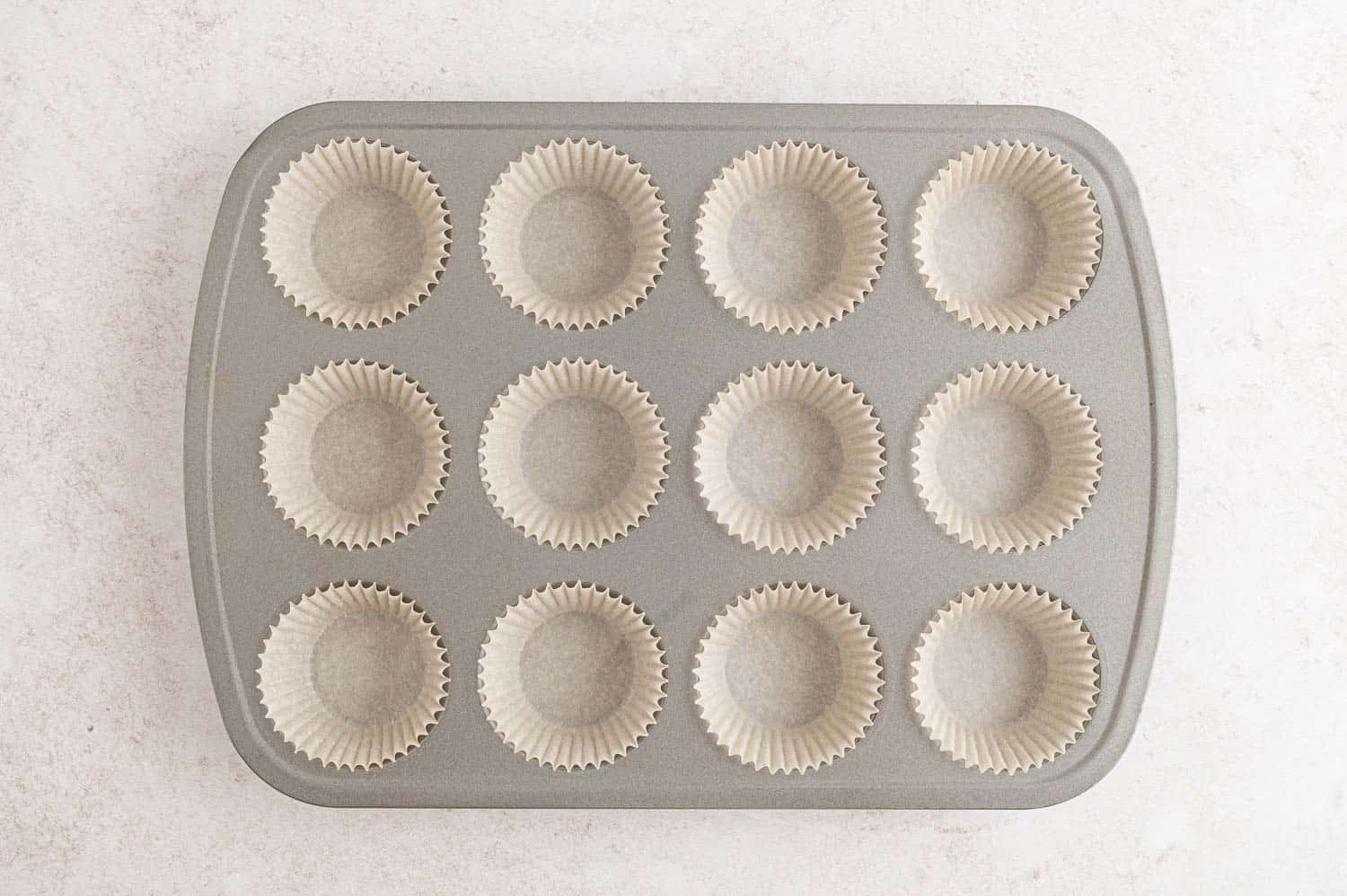 Begin by making your sour milk. In a measuring cup, stir together the milk and vinegar. Set it aside. It will curdle a bit and look a little strange but that's okay.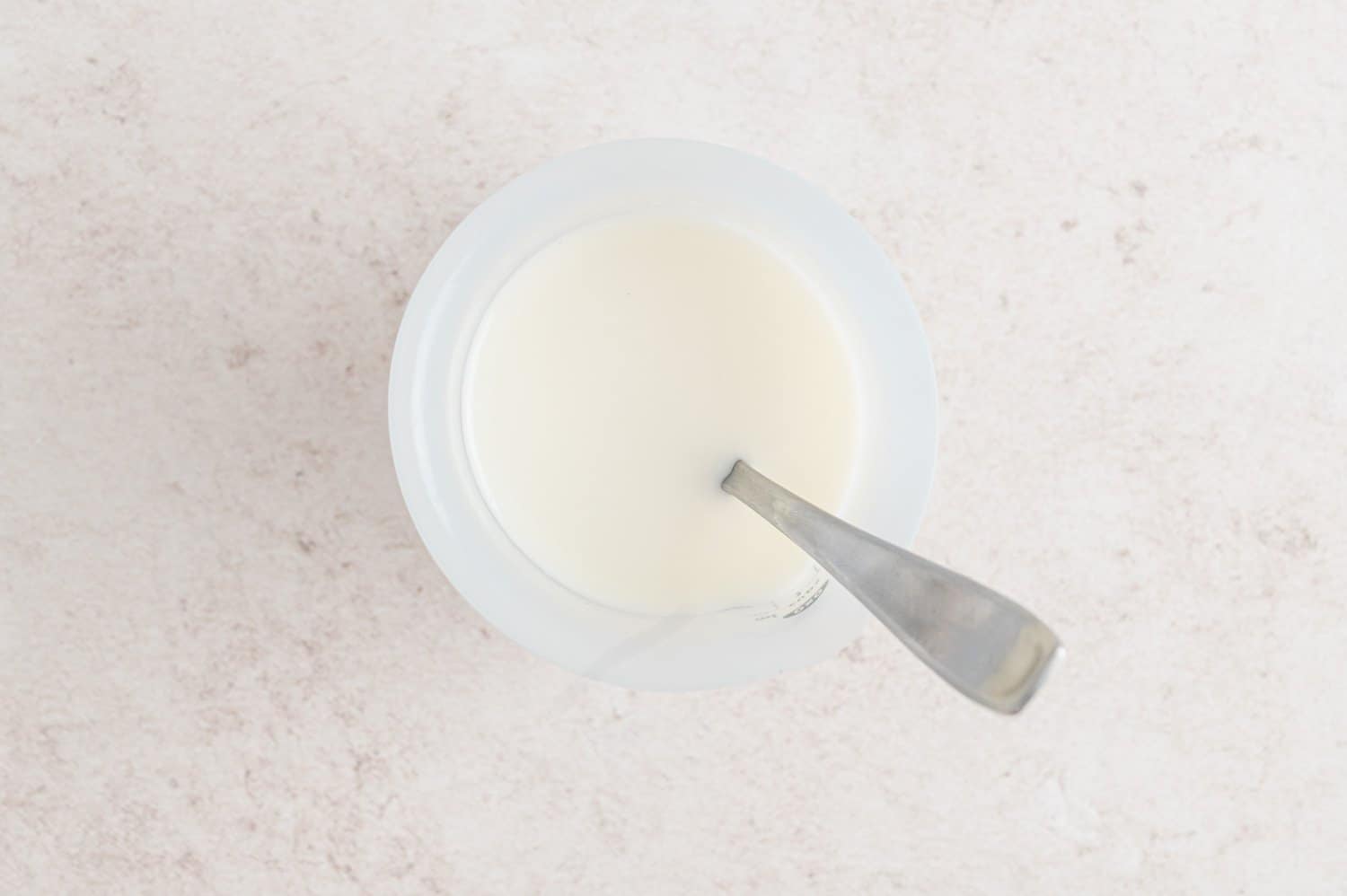 Next, in a medium size bowl, whisk together the dry ingredients: flour, bran, sugar, baking powder, baking soda, salt, and cinnamon. Set that aside for now too.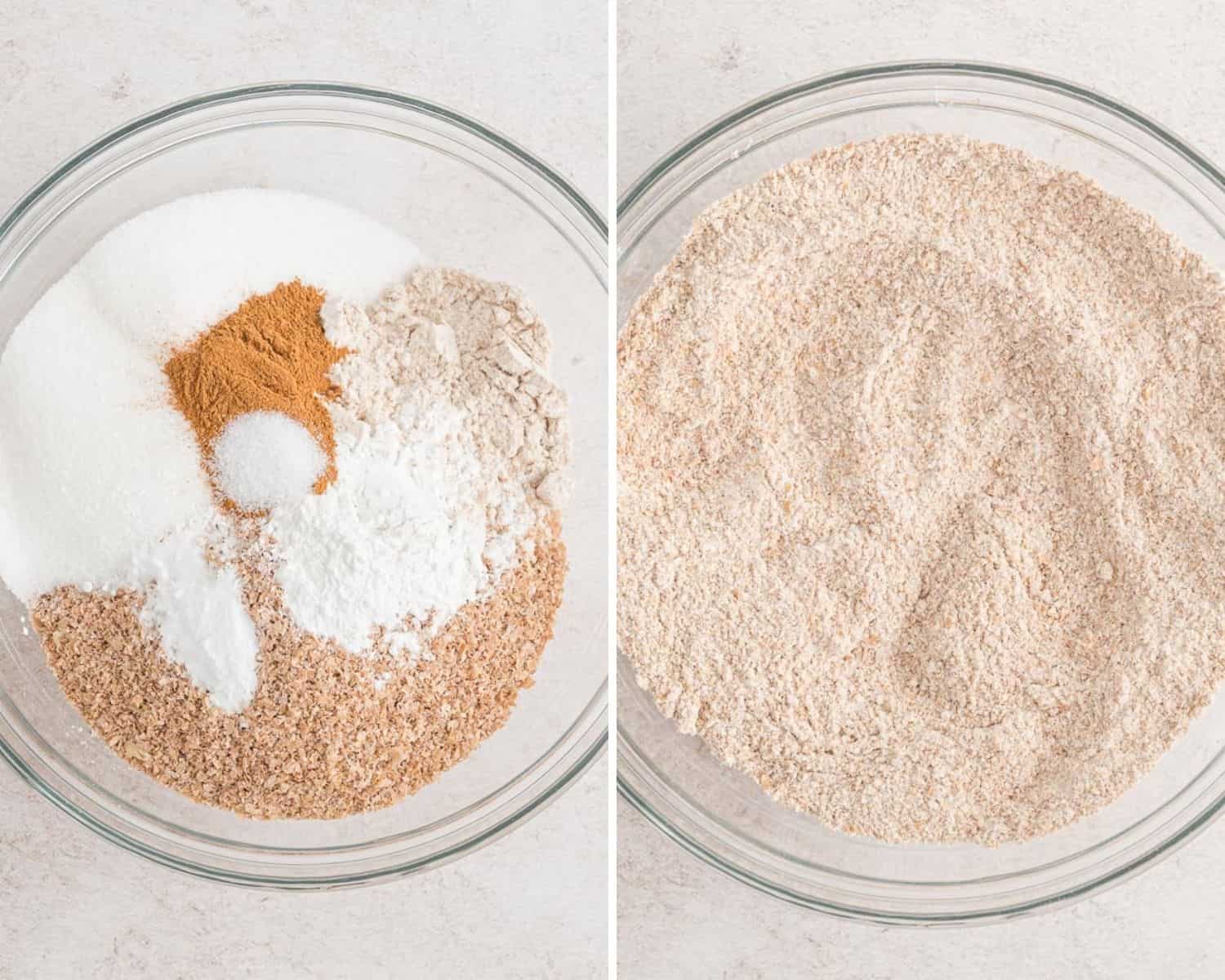 In a larger bowl, whisk the two eggs lightly. Add the oil, vanilla, and the sour milk; stir lightly.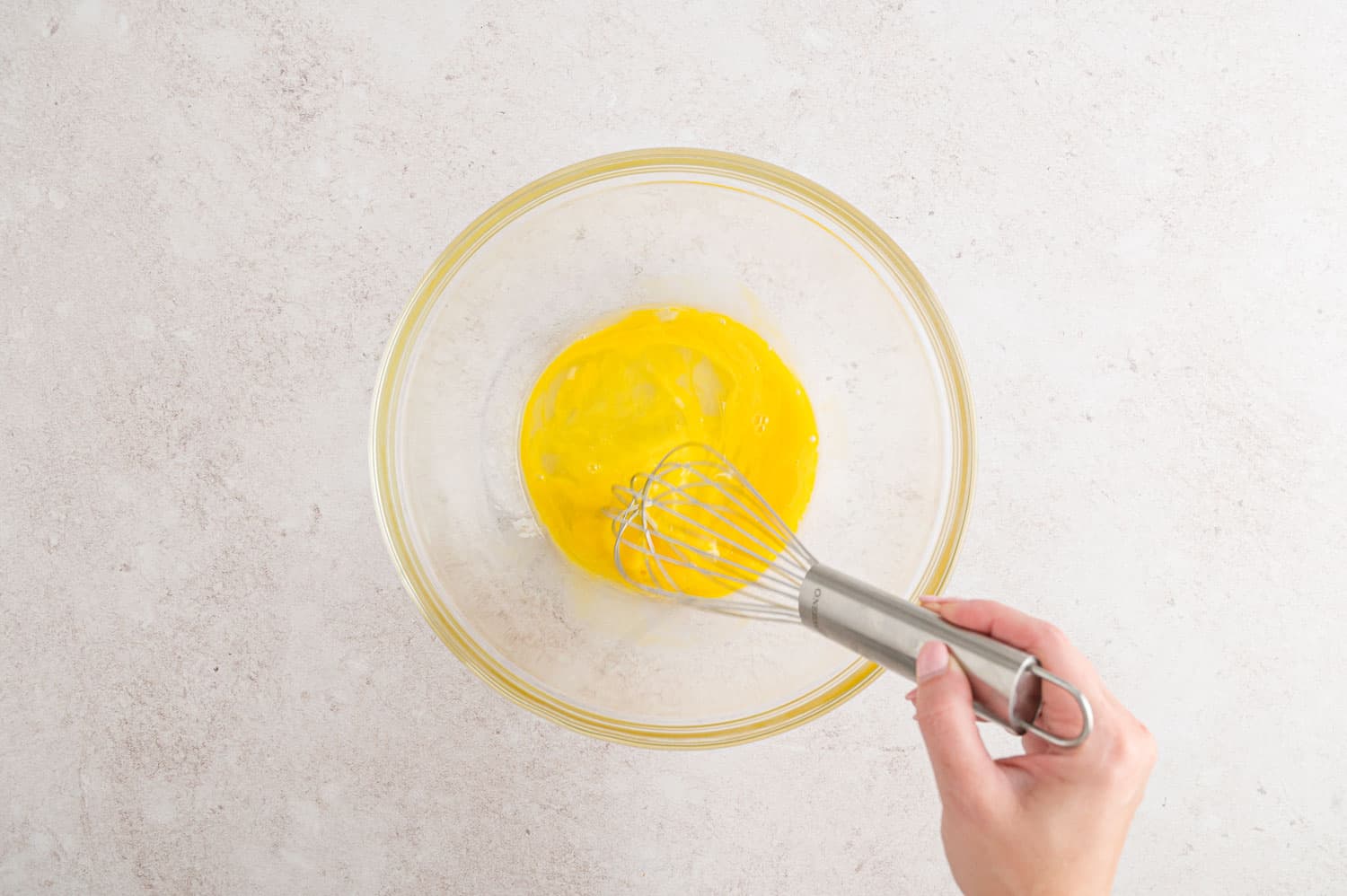 Add the dry ingredients and combine them with the egg mixture. Don't over mix the batter. It just has to be barely blended together and lumps are okay.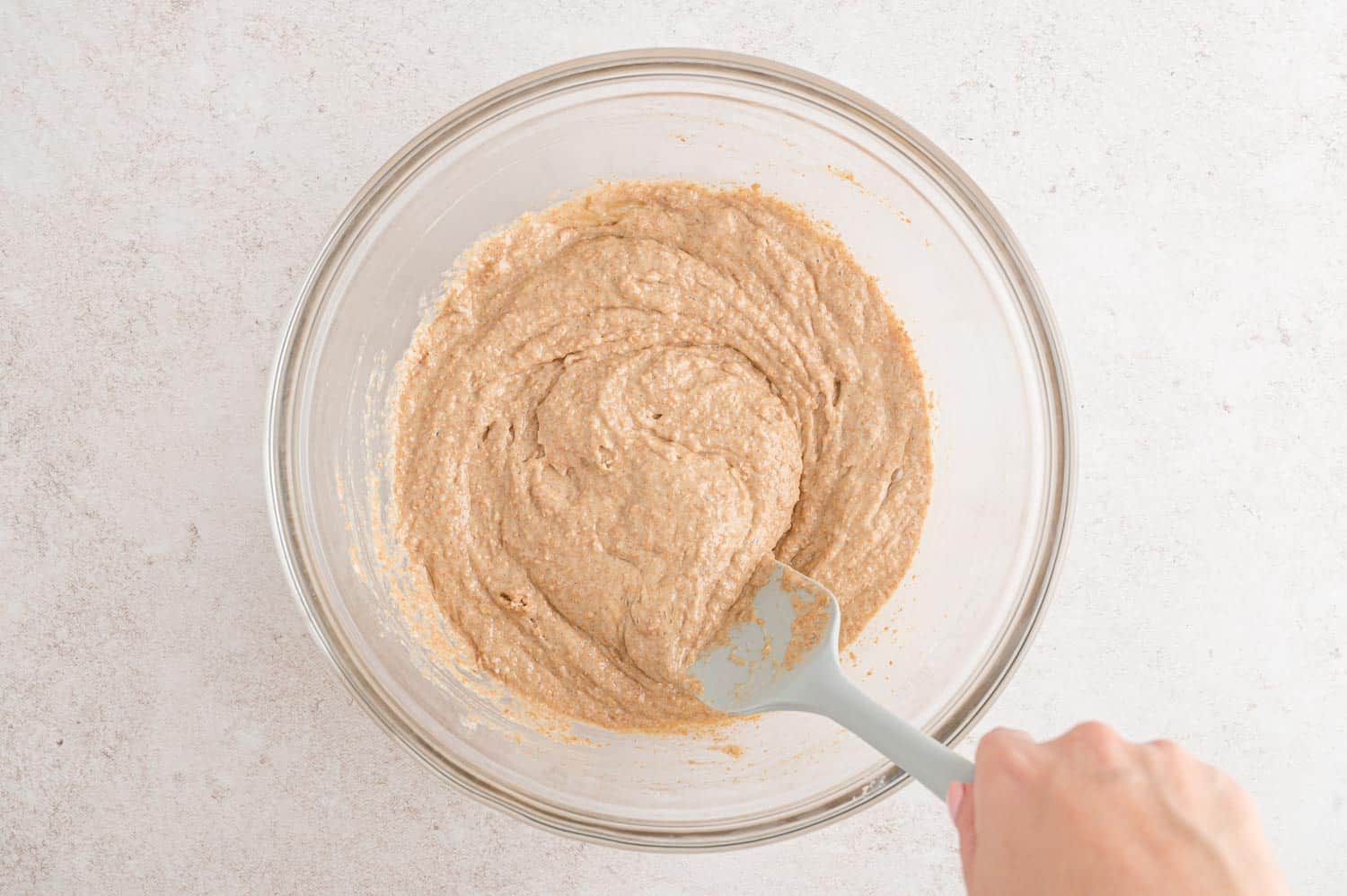 Gently fold in the blueberries.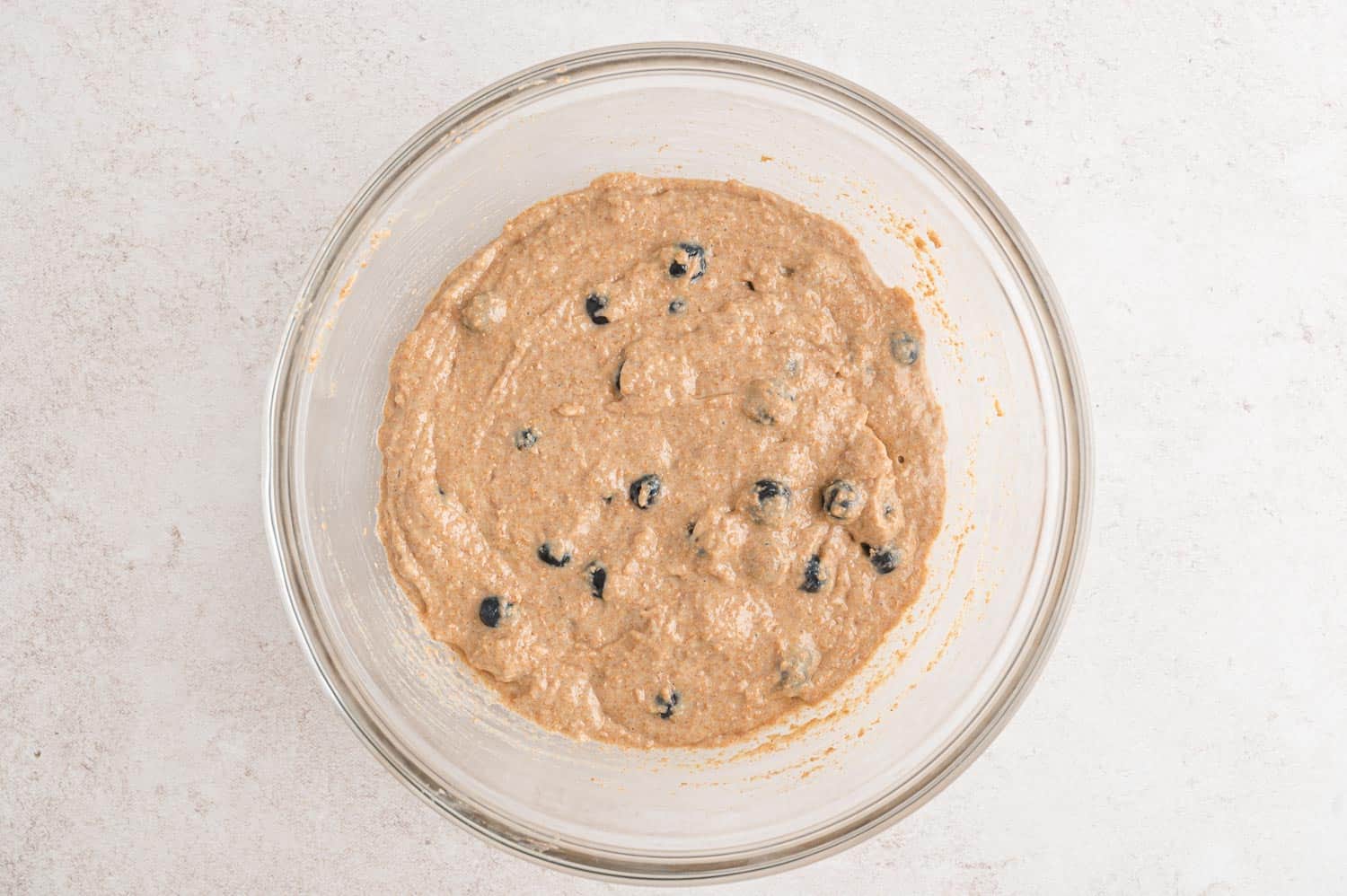 Divide the batter between the muffin tins evenly. If you like, sprinkle the tops with turbinado sugar.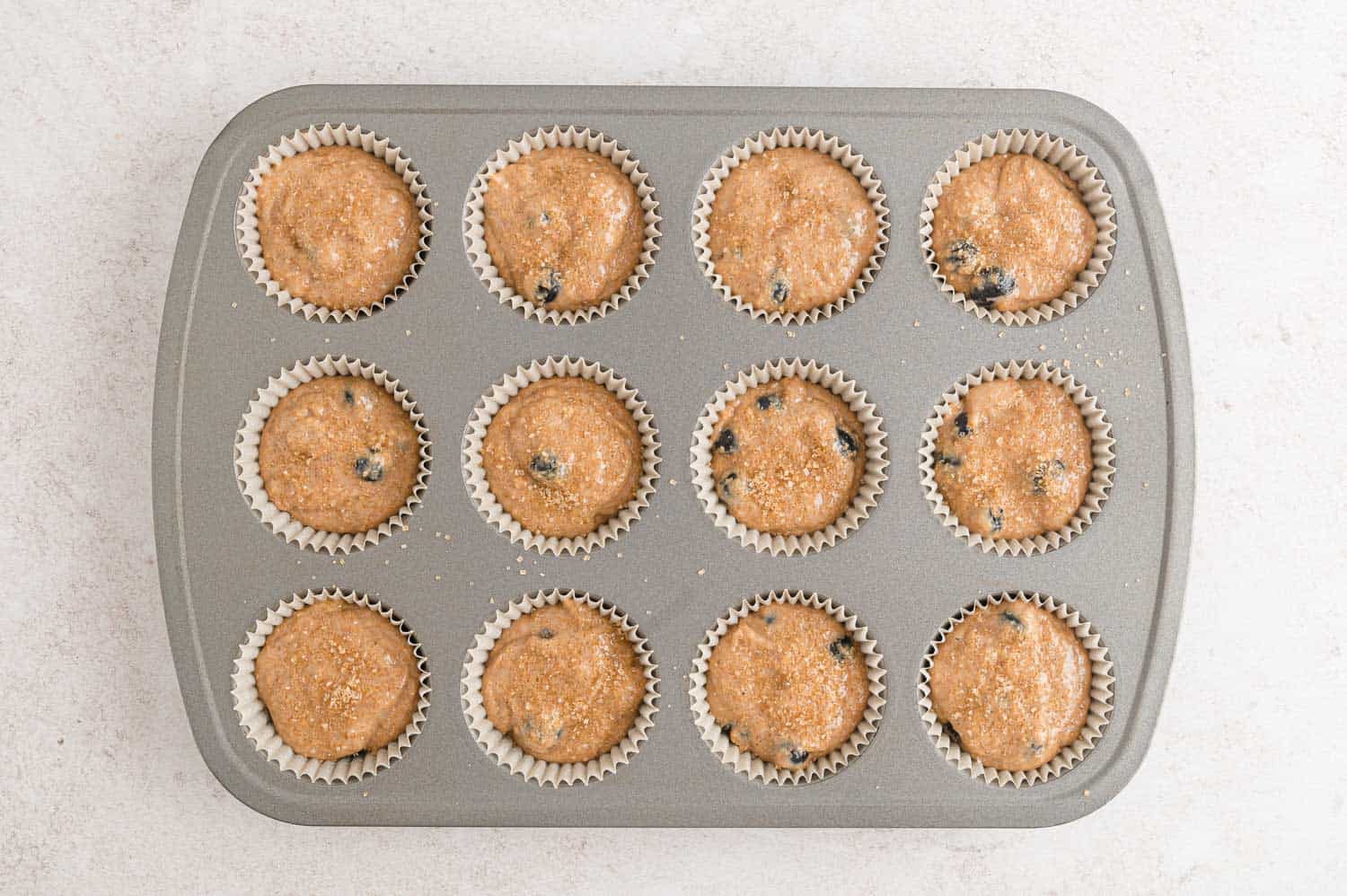 Bake the muffins until they are light brown. They should be fairly firm on the top when you lightly press them with your fingertip.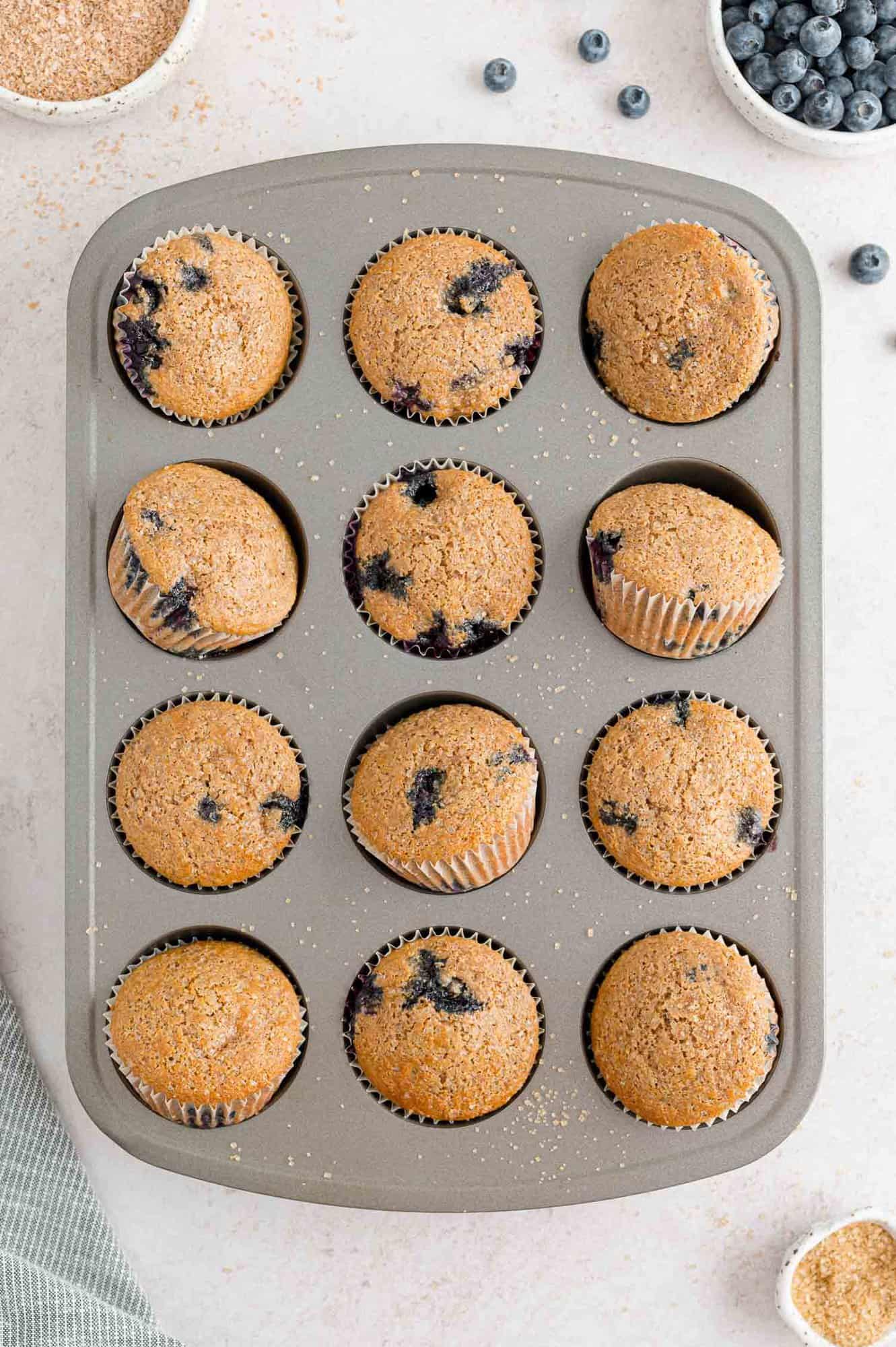 Cool the muffins in the tins for ten minutes; remove them to a wire rack to cool completely. If they stick a bit, lightly run a table knife around the edges to loosen them.
You will probably want to eat one right away! Be careful you don't burn your mouth on a hot juicy blueberry!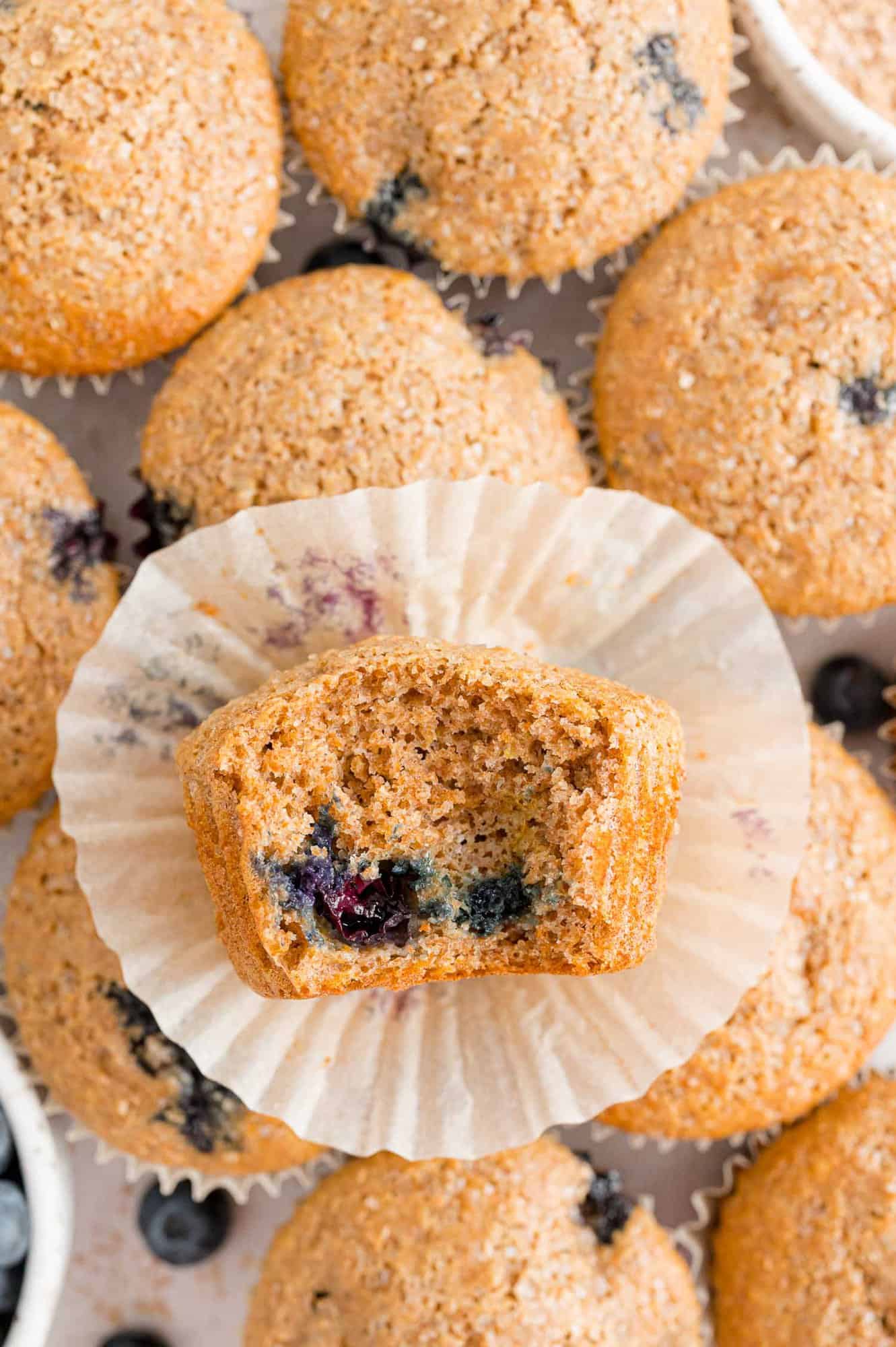 FAQs
What makes blueberry muffins unhealthy?
Blueberry muffins may have gotten a bad reputation because many bakeries pack them full of refined flour and sugar, with lots of added oil. As I mentioned above, they may have more than 520 calories per muffin! That's a lot of calories and not much nutrition.
On the other hand, this blueberry bran muffin recipe is made with nutritious whole wheat flour and wheat bran,f it's fairly low in sugar, and each muffin is only 107 calories. You'll find a lot more blueberries in each muffin too!
Are bran muffins healthy?
Again, it depends on the recipe. Bran muffins have a lot of added fiber which is important for a healthy diet but if the muffin is loaded with sugar and fat, it can be an unhealthy choice.
What happens if you use frozen blueberries in muffins?
Total deliciousness happens! Seriously, it's fine to use frozen berries especially if fresh berries aren't in season. There's no need to thaw them first. In fact, it's actually better if you don't. Thawed berries tend to get a little juicy and the juice will turn your batter light purple when you stir in the berries. It won't affect the taste but the muffins aren't quite as pretty.
Make It Your Own
Substitute a different kind of berry: chopped strawberries, raspberries, blackberries, or cherries.
For a lighter textured muffin, substitute all-purpose flour for the whole wheat flour, or use a combination.
If you like oat bran better than wheat bran, it can be substituted 1:1.
If you prefer a more natural sweetener, substitute 1/4 to 1/3 cup honey (note: I haven't tested the recipe with honey).
Love blueberry muffins? Try blueberry cream cheese muffins, you'll love the cream cheese filling! And the combination of two summer fruits in these blueberry strawberry muffins is so good!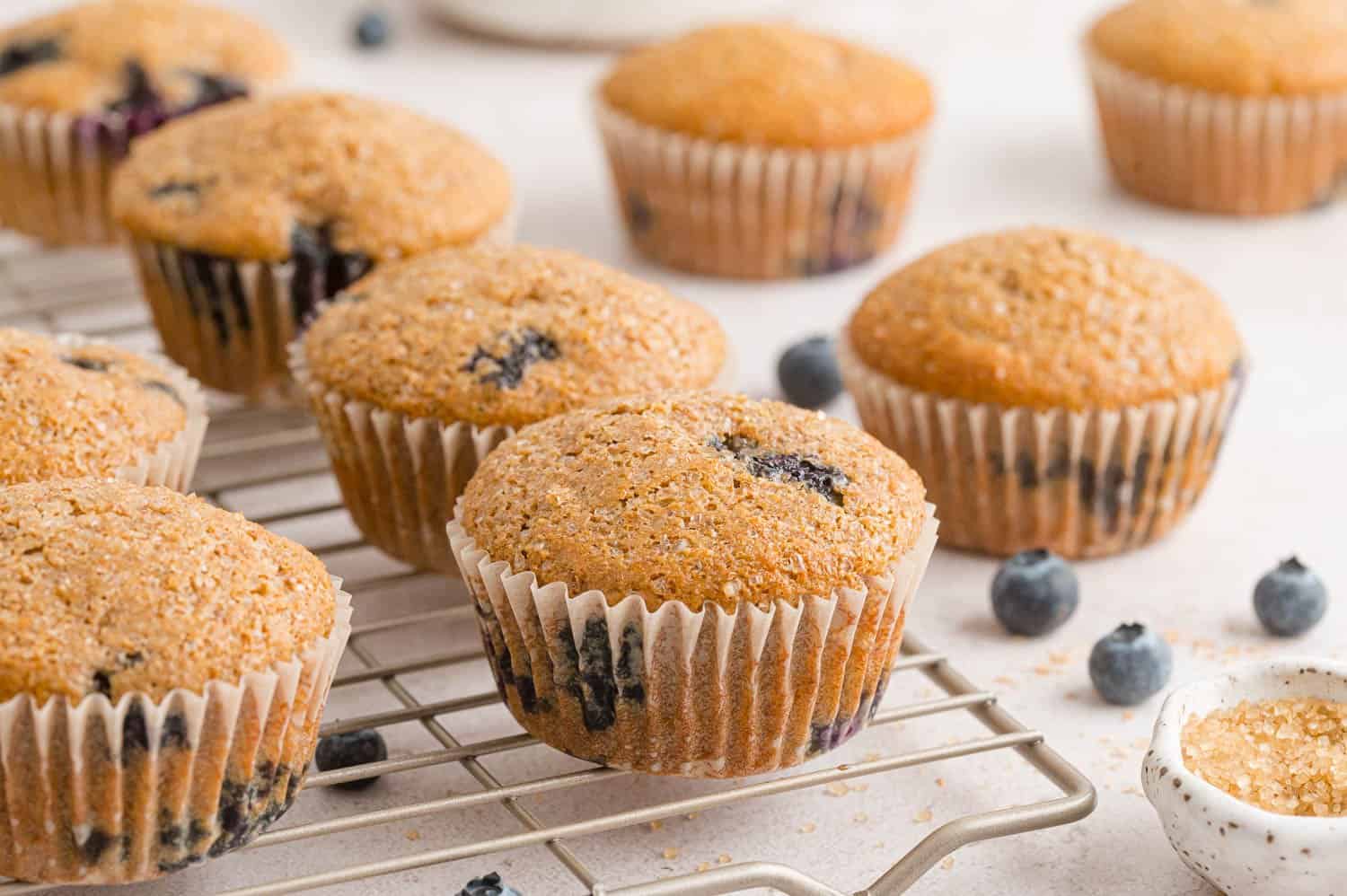 Storage Tips
Homemade muffins will keep at room temperature for a few days. Be sure they are completely cool before storing them in an airtight container. If you want to keep them longer, they can be frozen for up to three months.
You have your muffin tins, you know how easy muffins are to make, they are better than bakery muffins, so why not make fresh muffins every day? Okay, maybe not every day, but don't wait for a special occasion. Take a look at these favorites or browse through the entire list.
Did you make this? Be sure to leave a review below and tag me @rachelcooksblog on Facebook, Instagram, or Pinterest!
Enjoy blueberry bran muffins as a healthy breakfast, snack, or lunchbox treat. They freeze really well too.
Ingredients
¾

cup

milk

(see note)

1

tablespoon

white vinegar

1 ½

cups

whole wheat flour

⅔

cup

wheat bran

(or oat bran)

½

cup

granulated sugar

2

teaspoons

baking powder

½

teaspoons

baking soda

1

teaspoon

ground cinnamon

¼

teaspoon

fine salt

2

large eggs

⅓

cup

canola or vegetable oil

2

teaspoons

pure vanilla extract

1 ½

cups

blueberries, fresh or frozen

1

tablespoon

turbinado sugar, optional
Instructions
Preheat oven to 375°F and line 14 muffin cups with cupcake papers, or spray tins with non-stick cooking spray.

In measuring cup, stir together milk and vinegar; set aside (see note).

Whisk flour, bran, sugar, baking powder, baking soda, cinnamon, and salt in a medium bowl, set aside.

In large bowl, lightly whisk eggs. Add oil, vanilla, and milk mixture; stir. Add dry ingredients; combine just until blended. Fold in blueberries.

Divide into prepared muffin cups (about ¾ full) and sprinkle tops with turbinado sugar, if desired.

Bake for approx. 20 minutes, or until firm and lightly browned on top. Toothpick inserted in the center should come out clean or with a few moist crumbs.

Cool in tins for 10 minutes. Remove muffins from tins (if necessary, run a table knife around the edges lightly to loosen muffins) and completely cool on wire rack.
Notes
If desired, substitute ¾ cup buttermilk for the milk and vinegar combination. Plain regular yogurt (not Greek yogurt) can be substituted as well.
Frozen blueberries, straight out of the freezer, work fine! Do not thaw first.
Try chopped strawberries, blackberries, or raspberries if you like.
Recipe card updated 5/2022.
Nutrition Information
Serving:
1
muffin
,
Calories:
107
kcal
,
Carbohydrates:
22
g
,
Protein:
3
g
,
Fat:
1
g
,
Saturated Fat:
1
g
,
Polyunsaturated Fat:
1
g
,
Monounsaturated Fat:
1
g
,
Trans Fat:
1
g
,
Cholesterol:
24
mg
,
Sodium:
157
mg
,
Potassium:
120
mg
,
Fiber:
3
g
,
Sugar:
10
g
,
Vitamin A:
57
IU
,
Vitamin C:
2
mg
,
Calcium:
61
mg
,
Iron:
1
mg
This website provides approximate nutrition information for convenience and as a courtesy only. Nutrition data is gathered primarily from the USDA Food Composition Database, whenever available, or otherwise other online calculators.