Blueberry Pancake Muffins with Cream Cheese Filling
These blueberry pancake muffins have all the great taste of a blueberry pancake but with a decadent cream cheese filling — and you can eat them with your hands!
Well, I'm still alive. I've been MIA for the last week because I've been busy getting our new house in order and looking nice. Takes forever to get any boxes unpacked or anything put away when you have two toddlers.
It's pretty much impossible. I've been lucky enough to get some semi-productive evenings in when I have a tiny bit of energy left.
What has saved us is my parents. They've come out to help us two weekends in a row and man, oh, man do they work hard. We've gotten an unbelievable amount of work done thanks to their great help.
And I can finally do laundry here at our new house! THANK GOODNESS. Because, again, TWO TODDLERS. They make an awful lot of laundry dirty for being so small.
In between painting, putting away everything, and managing to keep the kids alive, I also made muffins! And photographed them during a thunderstorm! Yeah…super ideal photography weather.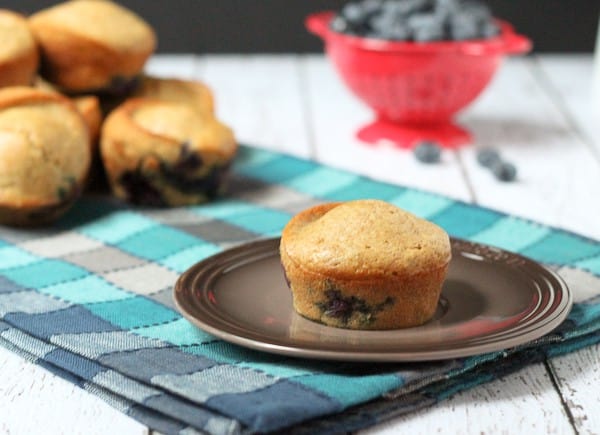 Regardless of all that, these muffins are amazing. They will definitely be added to the regular rotation here at the Gurk household. They have all the great taste of blueberry pancakes (my daughter E's favorite), but you don't need a fork to eat these gems.
And even better yet, there is a little pearl of cream cheese filling waiting for you in the middle of each one. The cream cheese filling adds great flavor but also makes these a slightly more filling and hearty breakfast.
I add a little whole wheat flour to make them more filling and nutritious so that you're not hungry an hour after breakfast. I left some all-purpose flour in to give them a great fluffy pancake feeling. If you prefer an even heartier muffin, try these blueberry wheat bran muffins.
Craving more blueberries:

I just love Michigan blueberries and I have lots more blueberry recipes for you. Try:
Blueberry Pancake Muffins with Cream Cheese Filling
Yield: 18 muffins
Prep Time: 15 minutes
Cook Time: 15 minutes
Total Time: 30 minutes
These blueberry pancake muffins have all the great taste of a blueberry pancake but with a decadent cream cheese filling — and you can eat them with your hands!
Ingredients
for the muffin batter:
1 cup whole wheat flour
1 cup all-purpose flour
1/4 cup granulated sugar
2 teaspoons baking powder
1 teaspoon baking soda
1/2 teaspoon salt
1 1/3 cups whole milk
1 tablespoon vinegar
1 tablespoon vanilla extract
2 large eggs
1/2 cup unsalted butter, melted and cooled
1/2 cup blueberries, fresh or frozen (unthawed)
for the filling:
8 ounces cream cheese, softened
1/4 cup granulated sugar
1 teaspoon vanilla extract
Instructions
Preheat oven to 400°F. Lightly spray an 18 well muffin tin with nonstick cooking spray.
In a medium sized bowl, mix together whole wheat flour, all-purpose flour, baking powder, baking soda, sugar, and salt. Set aside.
In a large mixing bowl whisk together milk, vinegar, vanilla, eggs and butter. Whisk in dry ingredients until combined. Stir in blueberries.
In another bowl, stir together cream cheese, sugar, and vanilla. (I used a fork to get it all combined.)
Fill muffin tins about 1/3 to 1/2 full of the muffin batter. Using a small scoop (I used a 2 teaspoon cookie scoop), drop a small amount of the cream cheese mixture into each muffin cup. Top with a small amount of the remaining muffin batter.
Bake for 15 minutes or until golden brown. Cool completely in muffin tins before removing. Store in an airtight container in the fridge.
Nutrition Information:
Yield: 18
Serving Size: 1
Amount Per Serving:
Calories: 183
Total Fat: 11g
Saturated Fat: 6g
Trans Fat: 0g
Unsaturated Fat: 4g
Cholesterol: 49mg
Sodium: 239mg
Carbohydrates: 18g
Fiber: 1g
Sugar: 8g
Protein: 4g
RachelCooks.com sometimes provides nutritional information, but these figures should be considered estimates, as they are not calculated by a registered dietitian. Please consult a medical professional for any specific nutrition, diet, or allergy advice.
Verdict:
Blueberry pancakes + cream cheese. These are obviously a winner.
Husband's take:
He loves these blueberry pancake muffins, too, which was surprising considering he's not a huge cream cheese fan.
N's take:
He loves these too. And he's incredibly picky.
E's take:
She loved them one day and the second day she said "I don't like cream cheese." Kids. What are you gonna do?
Changes I would make:
Nada.
**Disclosure: I am thrilled to be in an ongoing partnership with United Dairy Industry of Michigan. I have been compensated by UDIM for my time to develop this recipe. All opinions are as always, my own. Find out more about why Milk Means More on Twitter, Facebook, YouTube and Pinterest