Whole Wheat Chocolate Chip Cookies
A healthier spin on the original, whole wheat chocolate chip cookies are everything you want in a cookie: a little chewy, a little crispy and a lot decadent.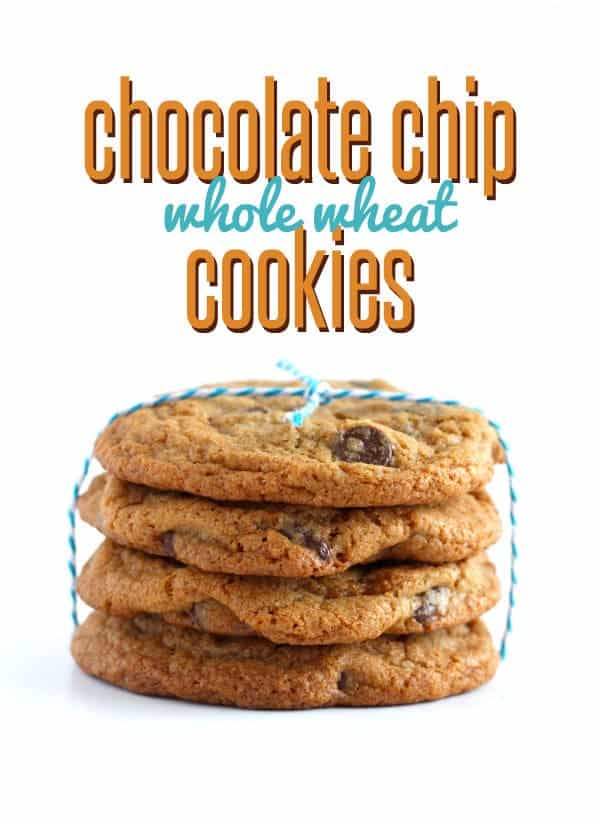 There's this guy, Ben. I'm kinda crazy about him.
Kind. Brave. Strong. Faithful. God-fearing. Handsome. Funny.
That list could go on, and on and on.
When my friend Amanda of i am baker suggested that a bunch of us food bloggers all post on the same day about our better half that sits across the table, it was a no-brainer for me.
So today, I made Ben his favorite chocolate chip cookies.
And the real treat is for you, because I did a little interview with my man so that you can get to know him better.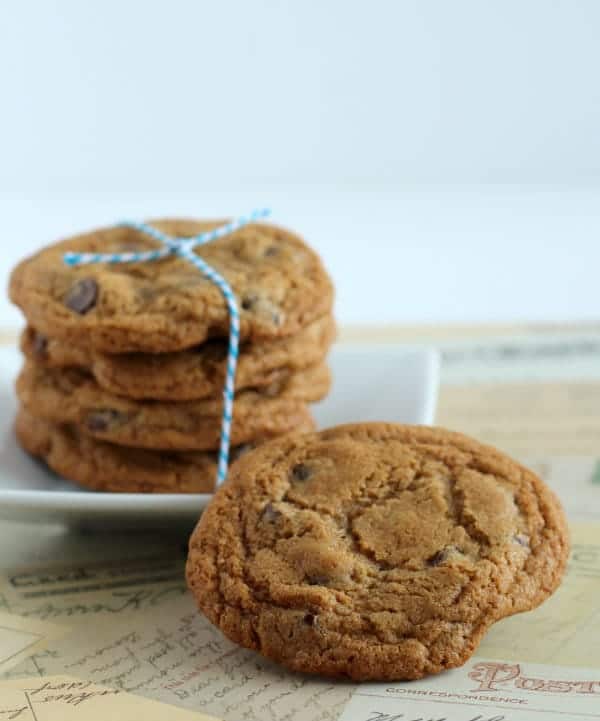 Rachel: What is your significant other's favorite blog called?
Ben: What is your favorite blog?
Rachel: Yes, mine.
Ben: Rachel Cooks? I don't know what the heck you read.
Rachel: What is my favorite prop?
Ben: Your favorite prop? The wood deck? That new white stuff you got?
Rachel: New white stuff?
Ben: Bowls or something? White marble?
Rachel: That marble board?
Ben: Yeah, that.
Rachel: I do like that.
Rachel: What is the weirdest thing you have seen me do for a blog post?
Ben: Buy ice cream for a recipe and then eat it all before you made the recipe.
Rachel: If you could have your own blog what would you call it?
Ben: LifeAndLiberty.org
Rachel: What do you do for a living and what are your hobbies?
Ben: I'm an assistant principal. Hobbies? Reading, working out, spending time with my wife and kids.
Rachel: Who does the dishes?
Ben: You and the dishwasher except when you're at work. I pull my weight though.
Rachel: I know! Just because you don't do dishes doesn't mean you don't pull your weight.
So that's my hubs! Barely scratches the surface, but as you can see, we have fun. I kinda like him.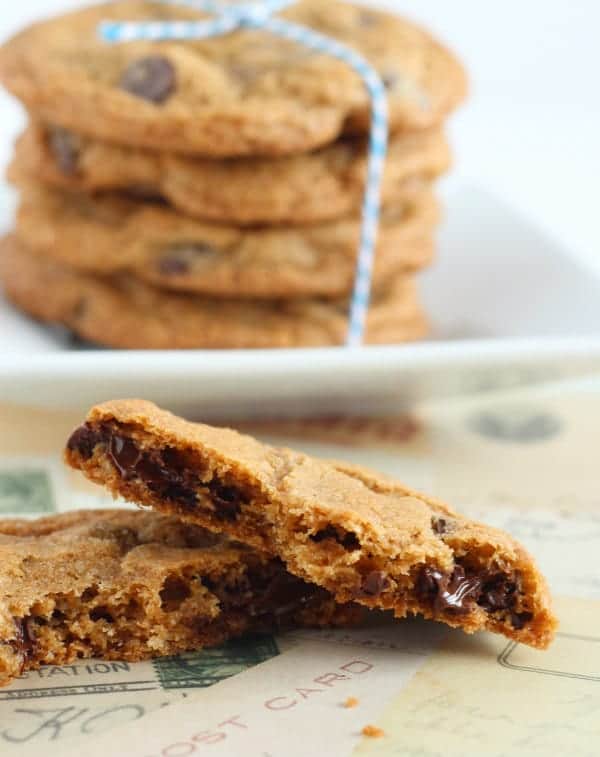 He loves original chocolate chip cookies and he's always open to trying something that is a little better for him.
Don't get me wrong, these are still a treat! They are chocolate chip cookies after all. I like to focus on small changes that can add up and make a difference in our health. Deprivation is not the answer — at least not for me.
I like to keep a big batch of this dough in the freezer. Ben cuts off a couple chunks and bakes them in the toaster oven when he's craving a chocolate chip cookie. Sometimes I even bake them for him. Or for myself.
If you prefer, bake the whole batch and freeze the cookies to eat later.
More yummy cookies!
Whole Wheat Chocolate Chip Cookies
Yield: 4 dozen cookies
Prep Time: 15 minutes
Cook Time: 10 minutes
Total Time: 25 minutes
A healthier spin on the original, whole wheat chocolate chip cookies are everything you want in a cookie: a little chewy, a little crispy and a lot decadent.
Ingredients
2 ¼ cups whole wheat flour
1 teaspoon baking soda
1 teaspoon salt
½ cup unsalted butter, softened (1 stick)
½ cup shortening
¾ cup granulated sugar
¾ cup packed dark brown sugar
1 teaspoon pure vanilla extract
½ teaspoon water
2 eggs
2 cups semisweet chocolate chips
Instructions
Preheat oven to 365°F.
In a small bowl, combine flour, baking soda and salt. Set aside.
In the bowl of a mixer (or you can mix it by hand), cream together butter, shortening, sugars, vanilla extract, and water. Once creamy, beat in eggs.
Stir in dry ingredients until combined. Do not overmix. Stir in chocolate chips.
Drop onto cookie sheet (about 1-2 tablespoons each), and bake for 10-11 minutes or until golden brown but still slightly soft in the middle.
Nutrition Information:
Yield: 48
Serving Size: 1 cookie
Amount Per Serving:
Calories: 116
Total Fat: 7g
Saturated Fat: 3g
Trans Fat: 0g
Unsaturated Fat: 3g
Cholesterol: 14mg
Sodium: 75mg
Carbohydrates: 15g
Fiber: 1g
Sugar: 10g
Protein: 1g
RachelCooks.com sometimes provides nutritional information, but these figures should be considered estimates, as they are not calculated by a registered dietitian. Please consult a medical professional for any specific nutrition, diet, or allergy advice.