Sweet and Sour Shrimp Lettuce Wraps
There's nothing ho-hum about sweet and sour shrimp lettuce wraps. If you're looking for an exciting new dinner idea, you'll love these healthy wraps.
Recipe Overview
Why you'll love it: These easy lettuce wraps can be on the table in a half hour (only one pan to wash!) but they are impressively delicious.
How long it takes: 30 minutes
Equipment you'll need: large skillet
Servings: 4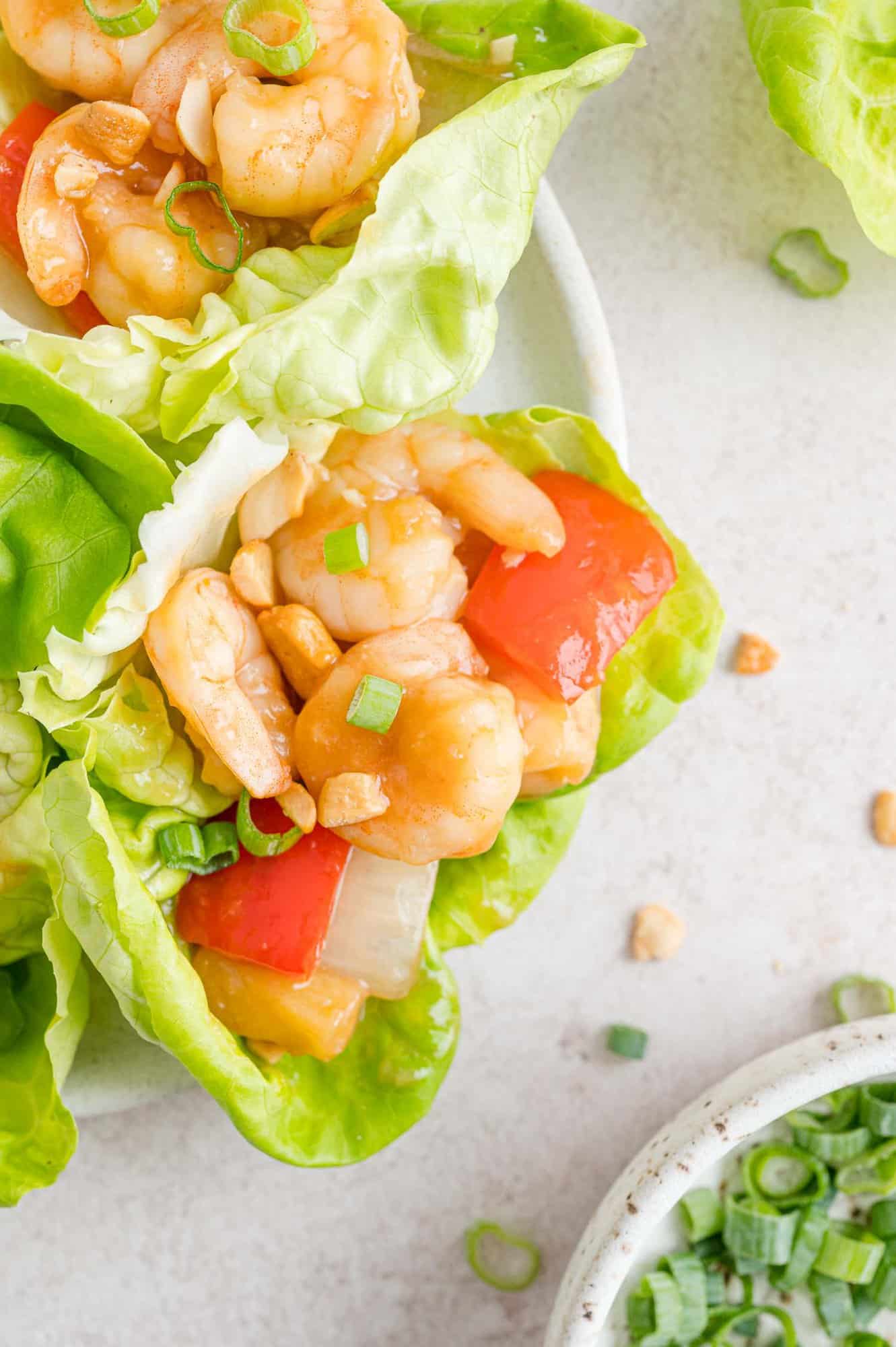 Fast cooking shrimp, crisp red bell pepper, and juicy pineapple are bathed in a tangy sweet and sour sauce, loaded on crisp green lettuce leaves, and garnished with crunchy cashews and sliced green onions.
Is your mouth watering yet? This is a really flavorful entrée that's easy to make and you'll use just one pan, so clean-up is a piece of cake. At only 369 calories per serving, it's a healthy meal, too. It's really a hand held salad!
Most of us have ordered sweet and sour shrimp at Chinese restaurants. The shrimp is battered, deep fried, and drowned in a bright colored sweet and sour sauce. This recipe is a much lighter version of that with homemade sauce, sautéed shrimp, and crisp vegetables.
If you're not a fan of lettuce wraps, sweet and sour shrimp is equally as great served on steamed white rice. Make Instant Pot jasmine rice while you prep the rest of the meal; it's ready to eat in just 25 minutes.
About These Shrimp Lettuce Wraps
I've been a fan of lettuce wraps for as long as I can remember, or maybe it's been since the first time I dined at P. F. Changs. I've made my chicken lettuce wraps many times, whenever the craving hits.
The shrimp lettuce wraps are uniquely different with a sweet and sour sauce. It puts a whole new spin on lettuce wraps which usually don't have a dominant sauce like that.
I think you'll really love this recipe. The sauce is easy to make and the shrimp cooks up in just a few minutes. It's packed with familiar items: bell pepper, onions, juicy pineapple. In fact, canned pineapple does double duty in this recipe because the sauce is made with the pineapple juice from the can.
If you love the shrimp/pineapple combo, try these marinated grilled shrimp kabobs with fresh pineapple or shrimp tacos with avocado, mango, and pineapple salsa. So good!
I'll get you started on the recipe here and give you some helpful tips as we go along. Look for the complete instructions, measurements, and nutrition information on the recipe card below.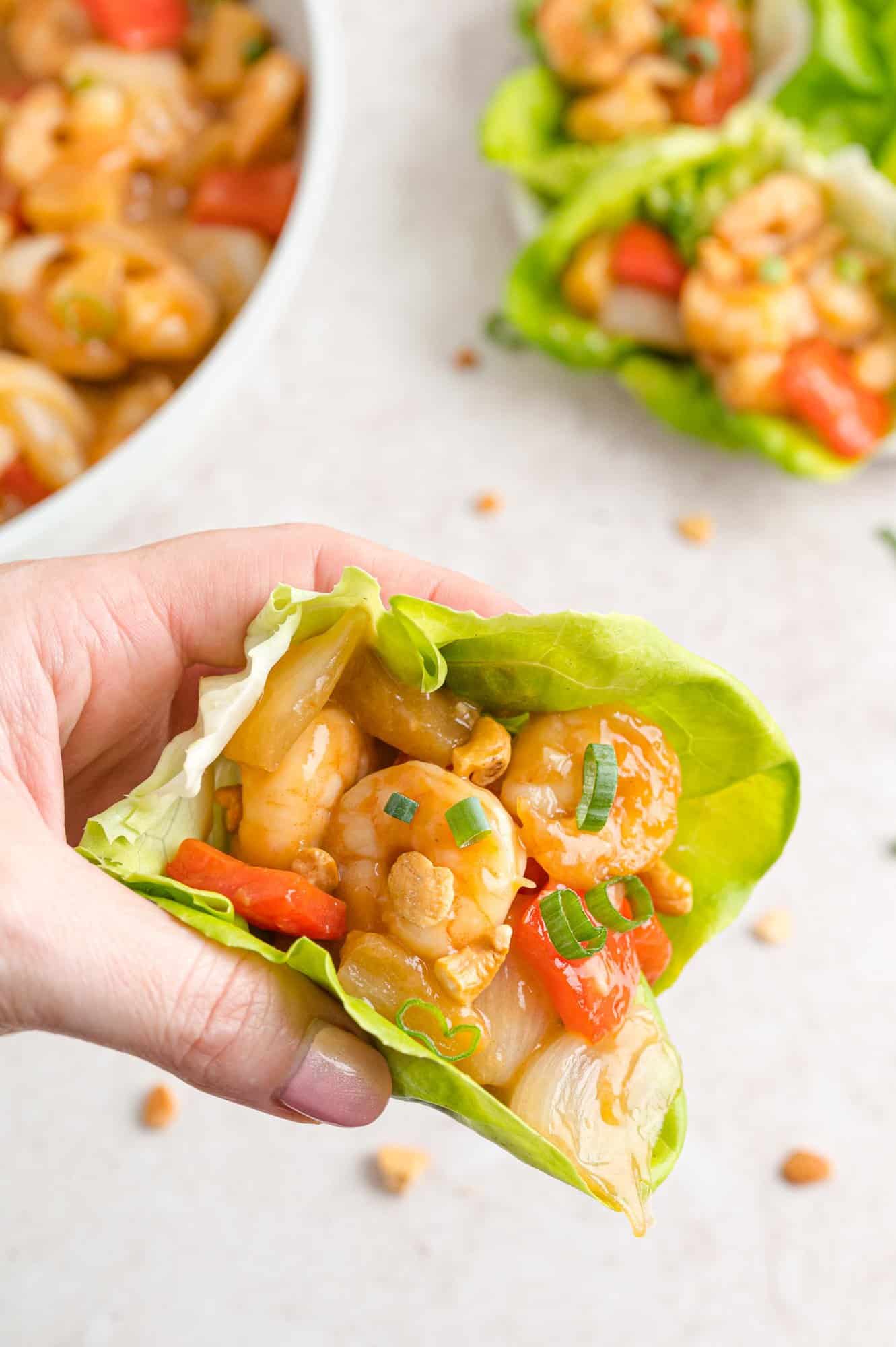 Ingredients You'll Need
Shrimp: Choose a smaller sized shrimp for this recipe so they fit better on the lettuce wraps. I like the 51/60 size. Frozen shrimp are so handy to have. They thaw very quickly and are just the thing for last minute meals.
Red Bell Pepper: Crisp bell pepper is an essential in this stir fry but the color doesn't really matter. Choose whatever color you like or happen to have.
Onion: Another essential for stir fries, onion adds flavor and nutrition.
Pineapple: You'll need an 8 ounce can of unsweetened pineapple in its own juice. Reserve the juice when you drain it because you'll be using it for the sauce.
Honey: Speaking of sauce, we like to use natural honey to sweeten it. Many commercial sweet and sour sauces are made with high fructose corn syrup.
Rice Vinegar: This vinegar has a light fresh taste. It works well in the sauce because it's tangy but not overpowering. Stay away from seasoned rice vinegar; it has a lot of added salt and sugar.
Ketchup: A tablespoon of ketchup is added more for the color than the taste. Use your favorite brand.
Fresh Garlic: Mince a clove of garlic finely or press it with a garlic press.
Ginger Root: The knobby brown roots are usually found in the produce section of the grocery store. Peel the outside with a paring knife, vegetable peeler, or scrape it off with a spoon. Grate the ginger finely. Fresh ginger adds so much pizzazz to the sauce!
Sriracha: There's just a hint of spiciness in the sauce. Sriracha is a bright red garlic pepper condiment that is mildly spicy.
Cornstarch: Powdered white cornstarch thickens the sauce. When it's cooked, it turns clear.
Lettuce Leaves: You should have at least 8 leaves. It depends on the size of the leaves and how much filling you like to pile into each one. Take a look at the FAQs below if you're wondering what kind of lettuce to buy.
Optional Garnishes: We love roasted cashews and sliced scallions (green onions) as garnishes. Crispy wonton strips or fried rice strips are also wonderful. Chopped peanuts or toasted sesame seeds are good options, too. Some folks love these wraps topped with avocado slices or extra sriracha.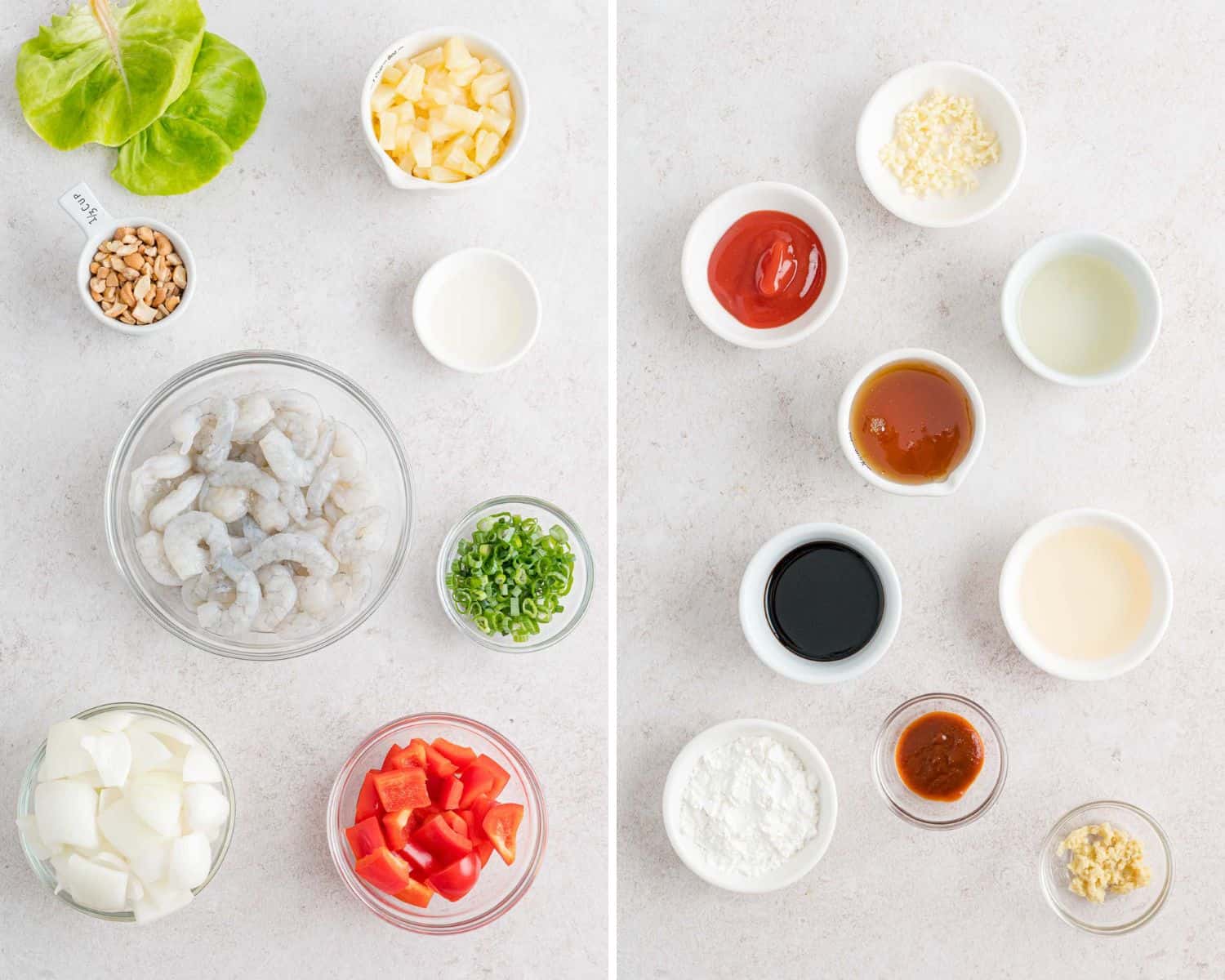 What Do The Numbers on Shrimp Packages Mean?
Are you puzzled by the numbers? Is it a secret code? Nope, it's pretty simple really. The numbers denote a range of how many shrimp are in a one pound package. For example, 51/60 means that there are between 51 and 60 shrimp in the package, 21/25 means that there are between 21 and 25 shrimp in the package. Small numbers mean larger shrimp; if it's a higher number, that means the shrimp will be smaller.
How To Make Shrimp Lettuce Wraps
Begin by prepping the lettuce leaves. They should be separated, trimmed, washed and dried as well as possible.
If your shrimp are still frozen, set a colander in the sink, put the shrimp in the colander, and spray them with cool water until they thaw. It won't take long.
Stir up the sauce ingredients in a small bowl. Remember to use the juice from the canned pineapple. The cornstarch will quickly settle in the bottom of the bowl so remember to give the sauce ingredients another quick stir before you add them to the pan.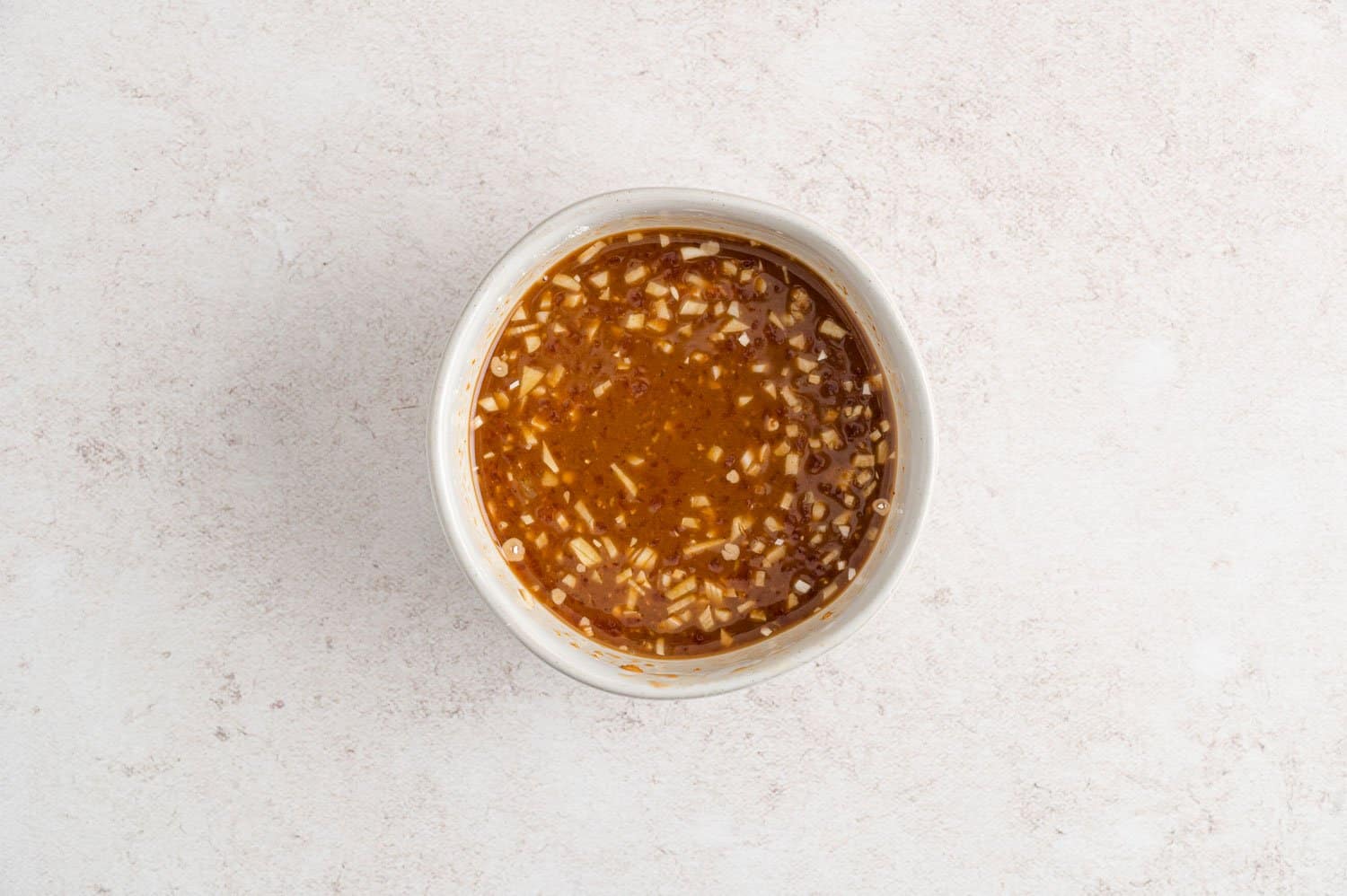 Prep the onion and bell pepper. Cut them into fairly small pieces, about a half inch. That's somewhat smaller than you would for a stir fry but smaller pieces stay on a lettuce wrap better.
Make sure everything is prepped and ready to go. Once you get the pan going, things move along rather quickly and you won't have time to chop things or stir up the sauce.
Heat up a large skillet. Add a dash of oil (we love coconut oil for this recipe!), swirl it a few times until it's shimmering, and toss in the peppers and onions. Cook and stir them until they begin to get soft, just a few minutes.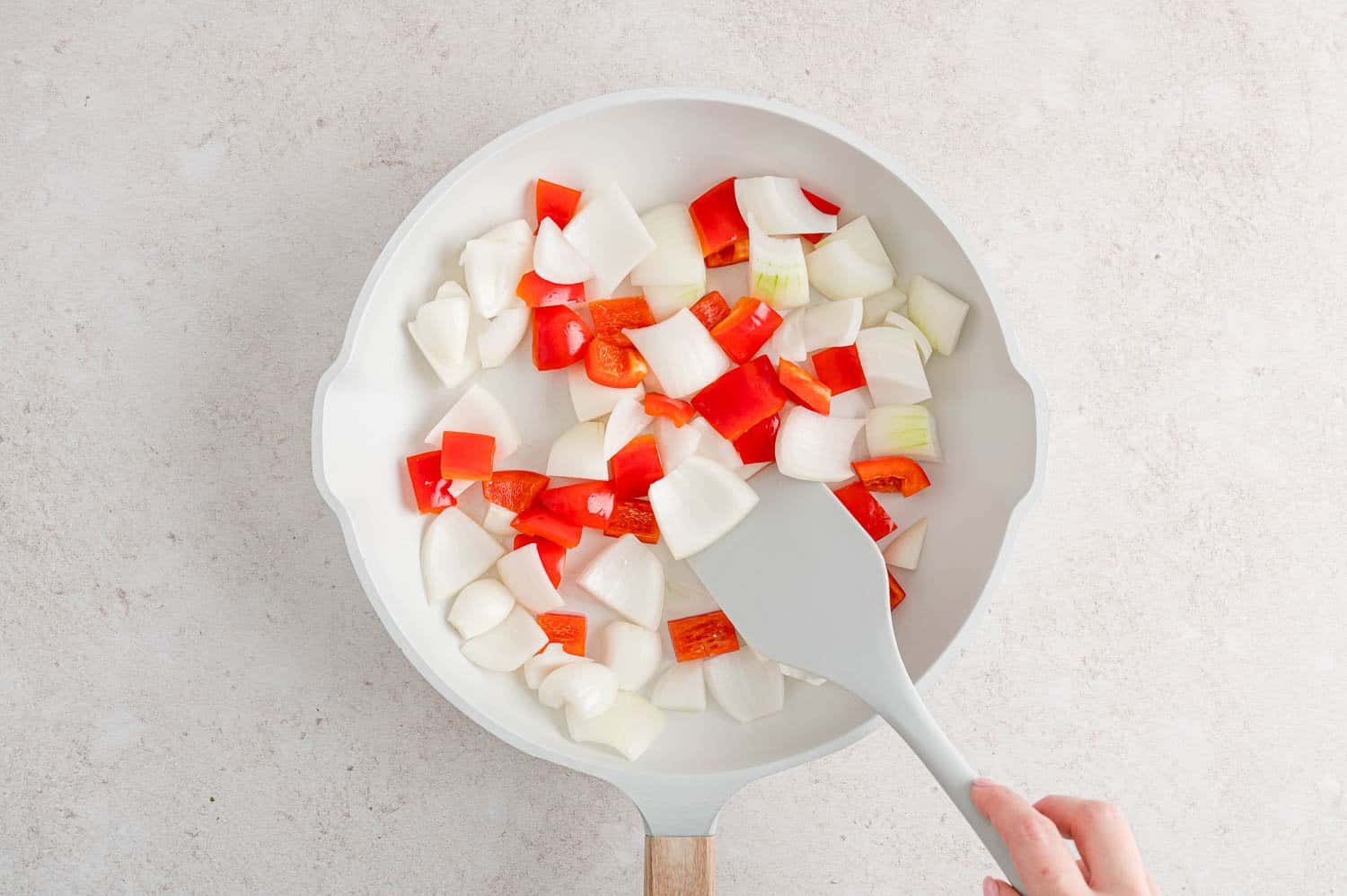 Push the veggies to one side of the pan and add the thawed shrimp.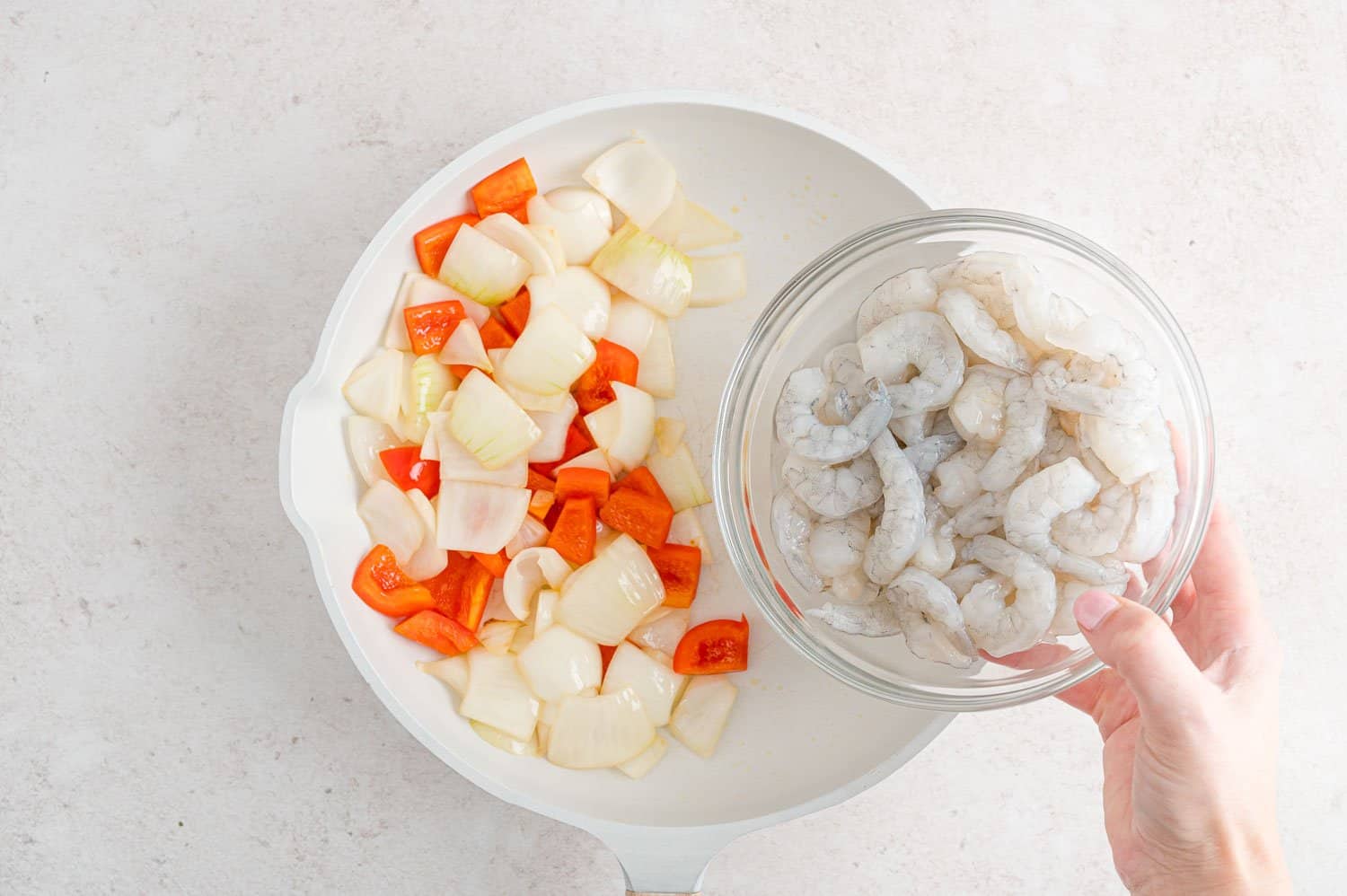 Stir and cook the shrimp until they begin to turn opaque pink and are starting to curl, just a few minutes.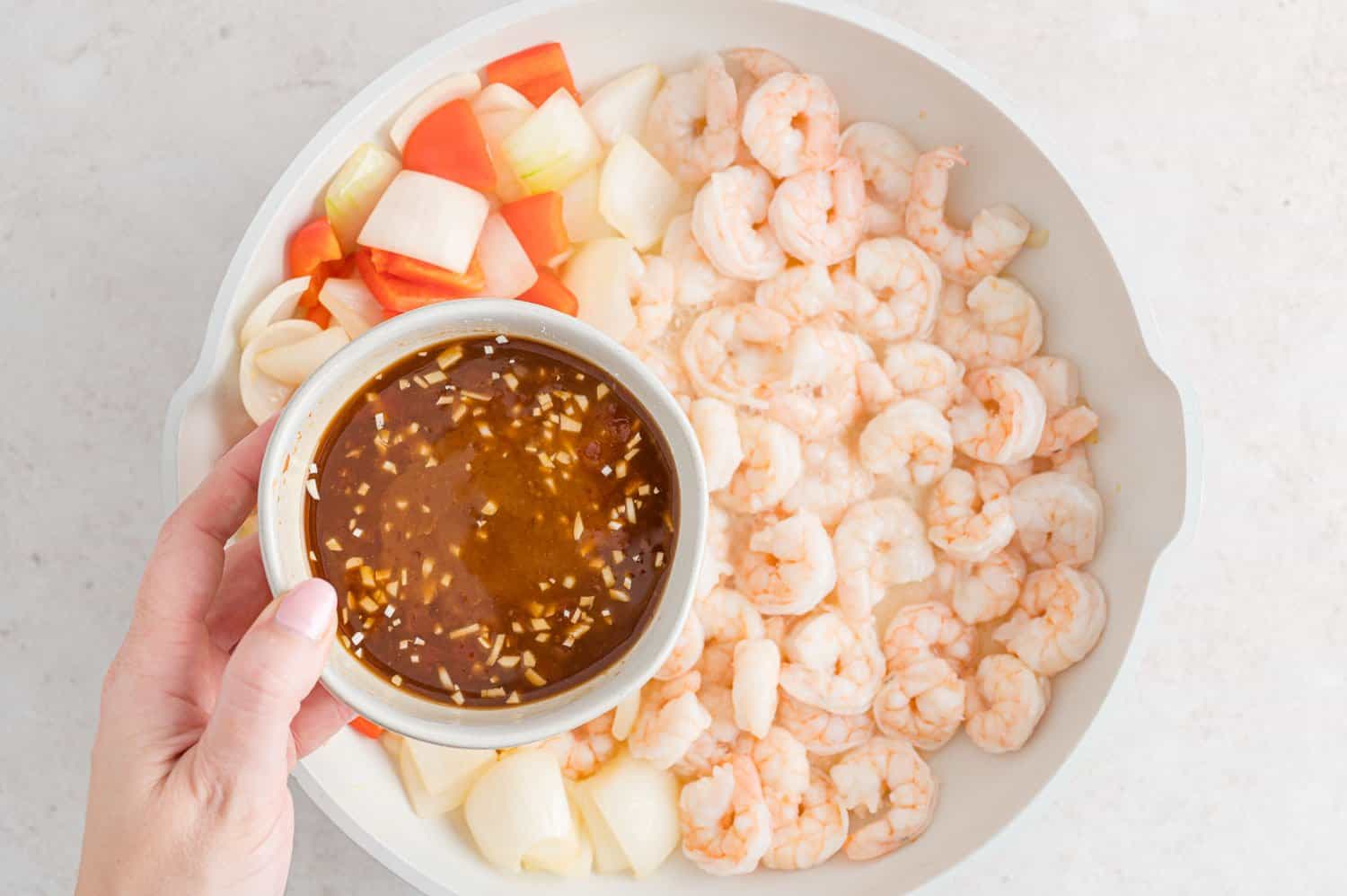 Add the sauce ingredients (remember to give them a stir first!) and mix everything together in the pan. Cook, stirring constantly, for another couple of minutes. The sauce should be clear and thick and the shrimp completely cooked.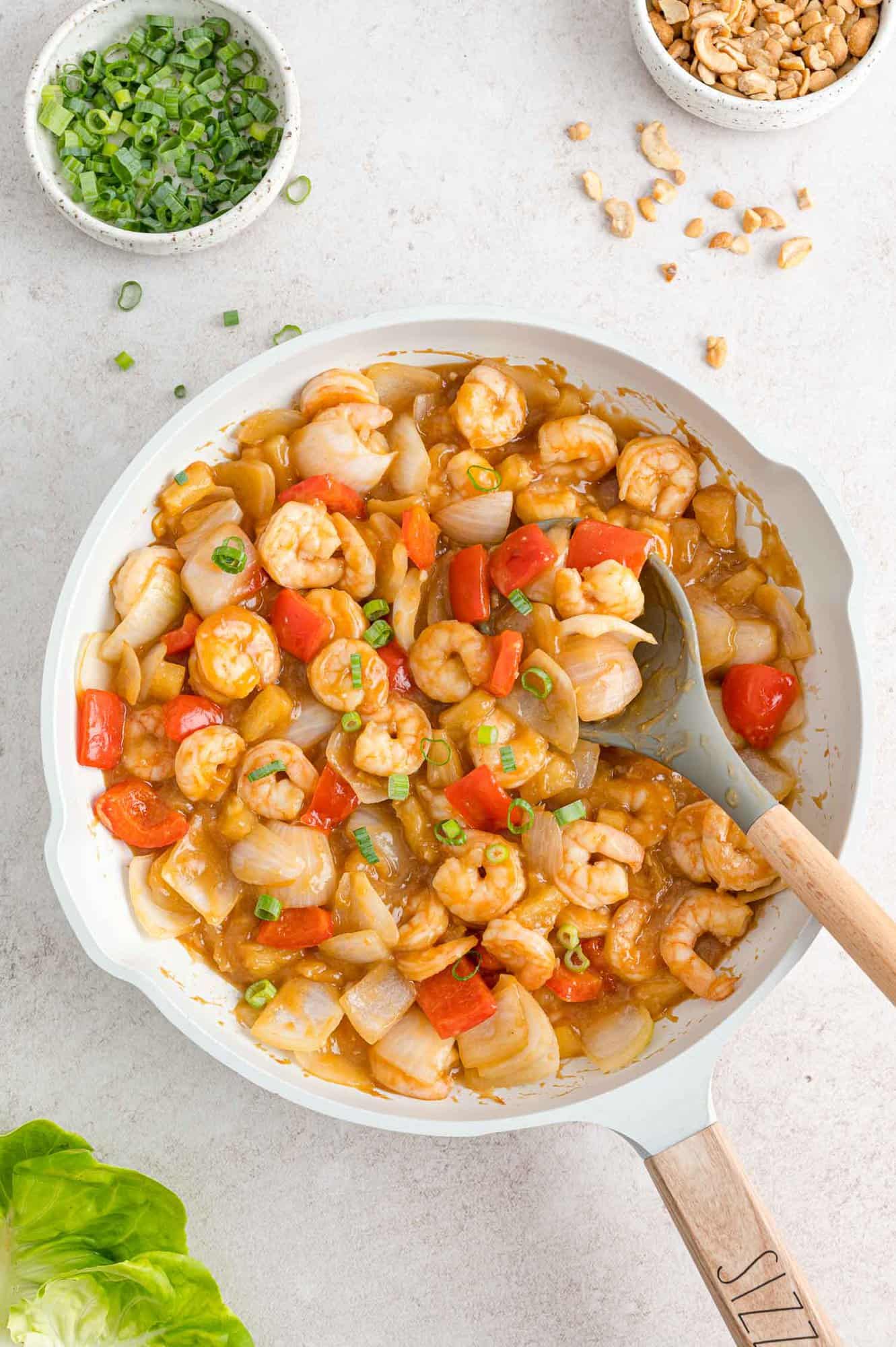 Phew! That really goes quickly, doesn't it?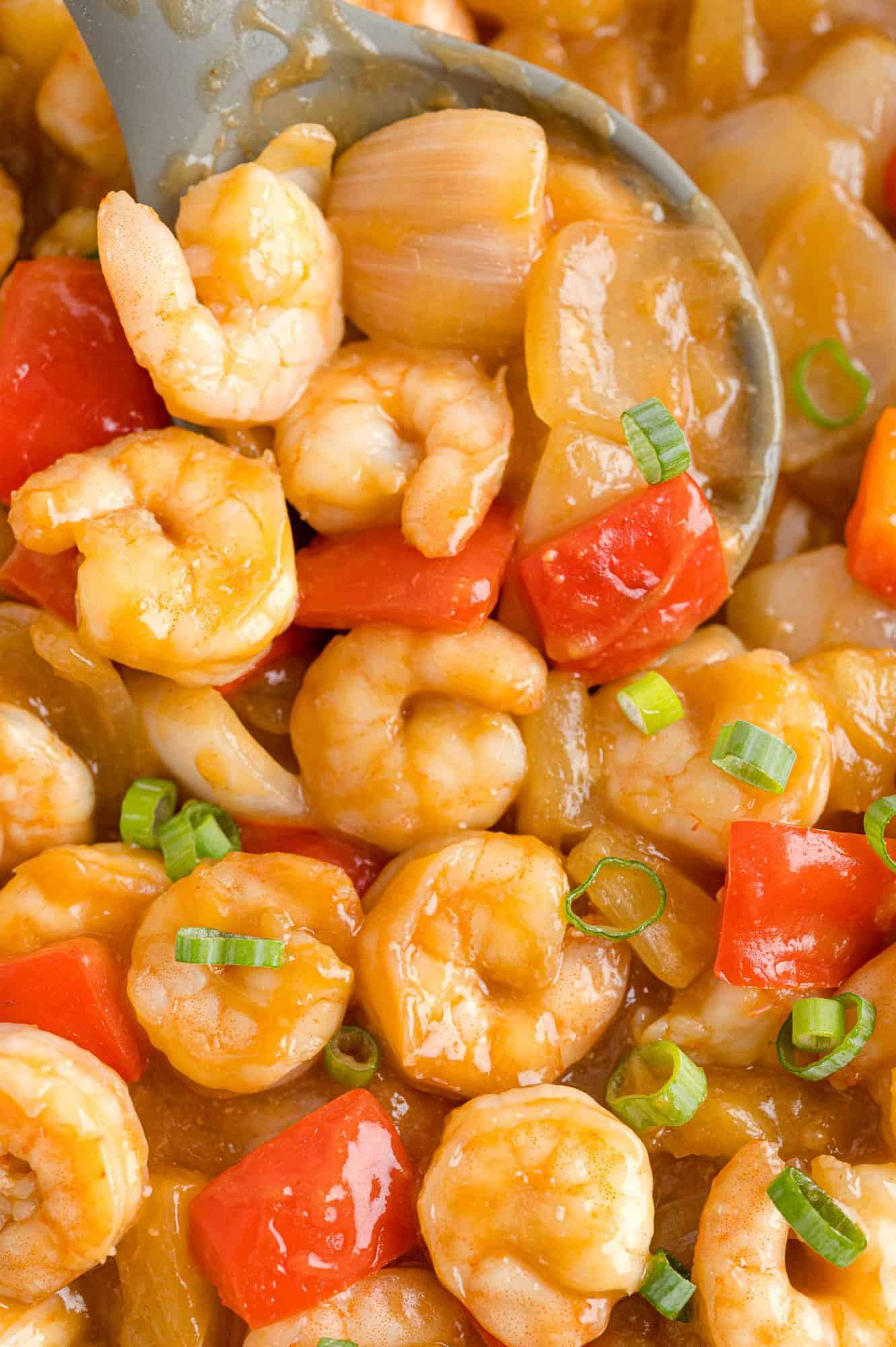 Pile the sweet and sour shrimp into the lettuce cups and top with your favorite garnish. Lettuce wraps are meant to be picked up and eaten so don't worry about getting your hands messy. Provide lots of napkins!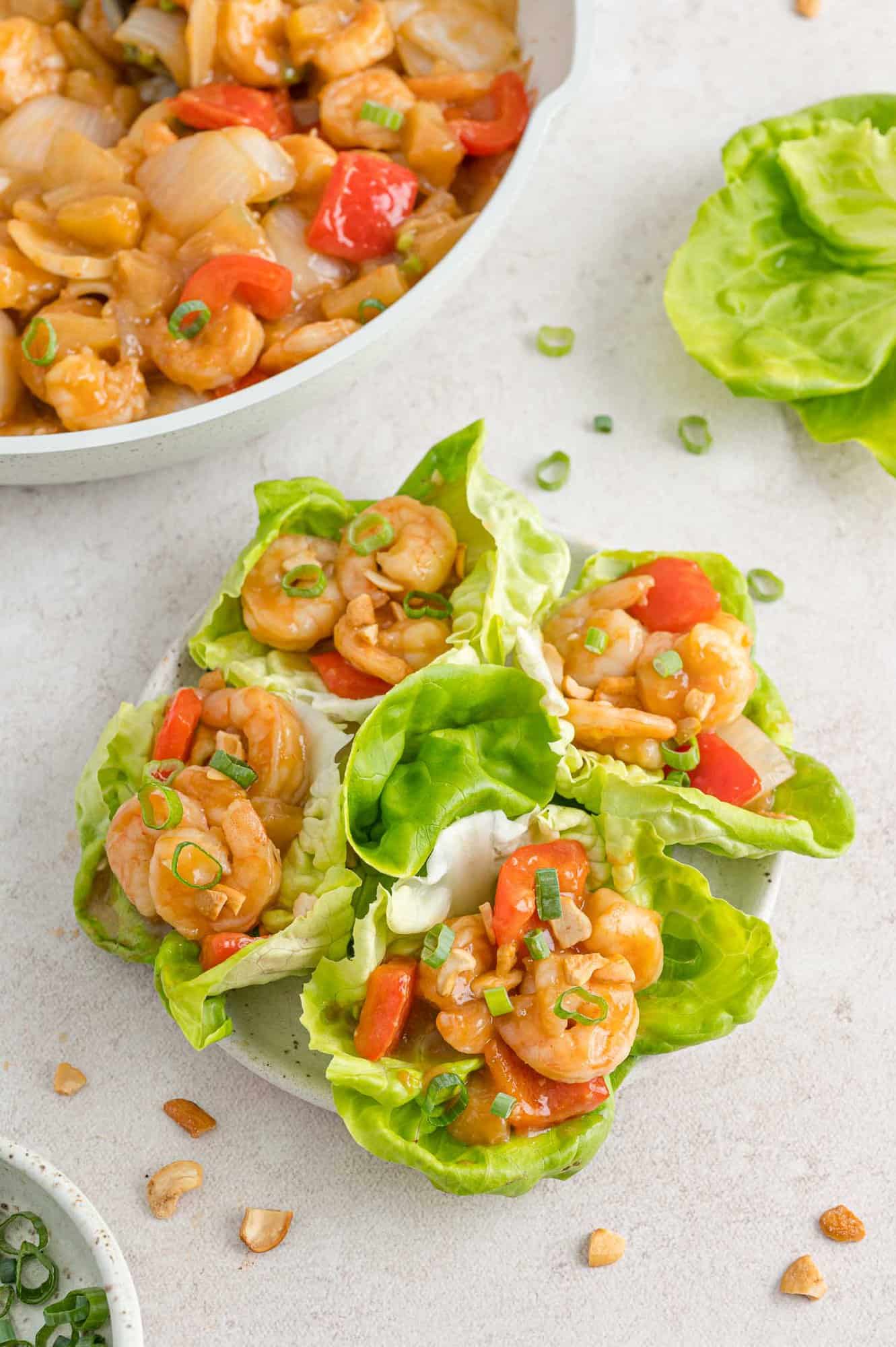 FAQs
What lettuce is best for wraps?
For wraps, you can't beat Bibb lettuce. It naturally forms small cups and it's quite sturdy. Alternatives are butter lettuce, leaf lettuce, romaine or iceberg.
How do you keep lettuce wraps from falling apart?
They do have a tendency to fall apart, don't they? Lettuce wraps can be a rather messy experience. Choosing the right type of lettuce really makes a difference. Try not to pile on too much filling. They are easier to eat if they aren't overflowing. If all else fails, put the lettuce and filling in your plate and use a fork to eat it.
Change it Up
Serve it on rice. Don't care for wraps? The sweet and sour shrimp goes really well with steamed rice, much like a sweet and sour shrimp stir fry.
Dial up the heat. If you like a spicier wrap, add a dash of red pepper flakes or increase the sriracha. Extra sriracha can be served on the side. If you like garlic, go ahead and use two cloves.
Make it keto by omitting the sauce and pineapple. Instead of pineapple, substitute snow peas. Add the garlic and ginger with the shrimp.
Looking for something different? Try lamb lettuce wraps with red pepper hummus sauce or chicken lettuce wraps.
Rather have a fish taco? Try salmon tacos with avocado slaw or fish tacos with blood orange salsa. Easy shrimp tacos are another great option.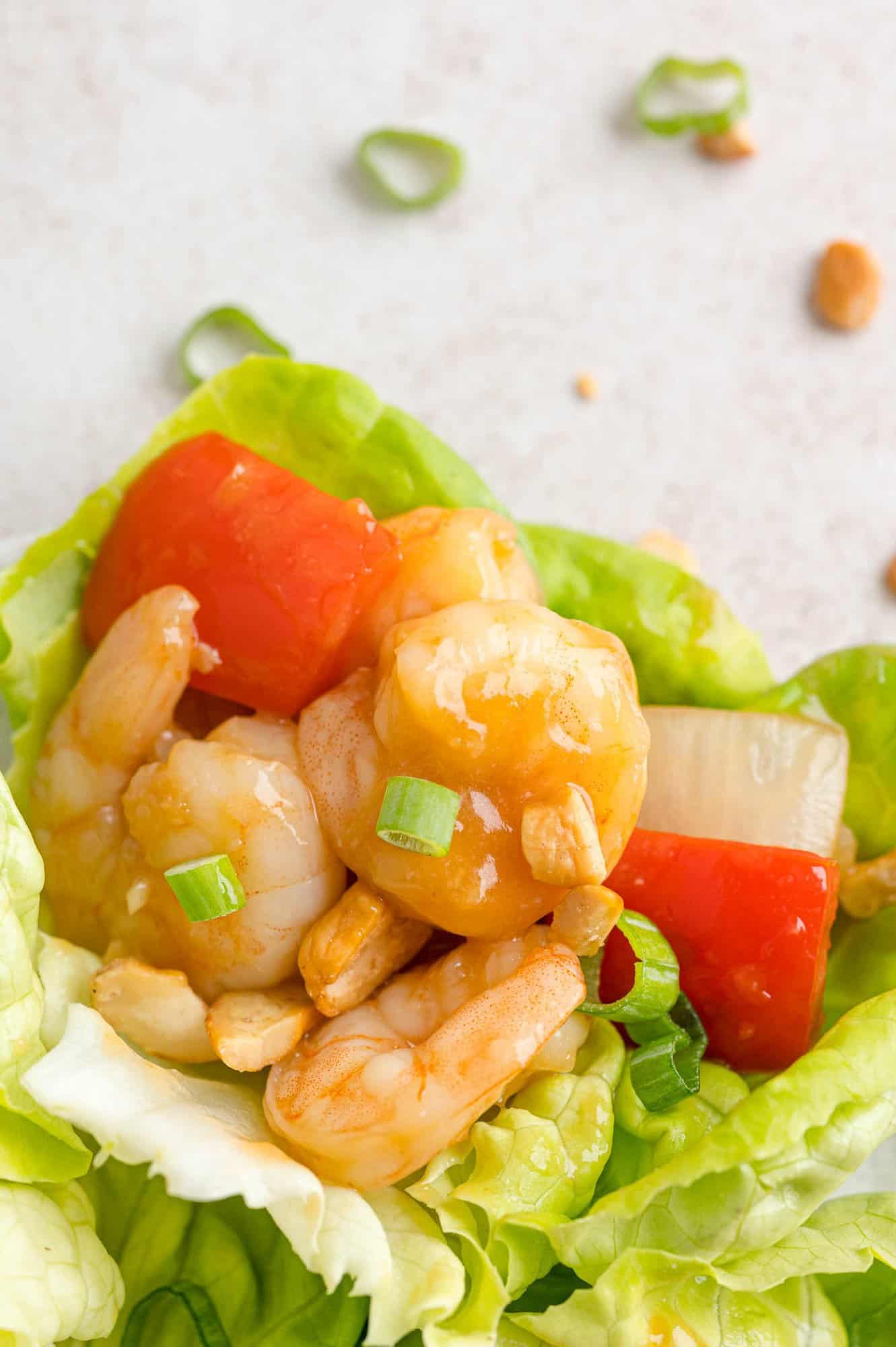 Make-Ahead Ideas
All of the ingredients for shrimp lettuce wraps can be prepped earlier in the day and stored separately in the refrigerator. Thaw the shrimp in the refrigerator for a few hours. Cut up the onions and peppers. Make the sauce, reserving the cornstarch to add later. Prepare the lettuce leaves and store in a plastic bag lined with paper towels.
If you have everything prepped ahead of time, the sweet and sour shrimp can be ready in 15 minutes!
Storage & Reheating Tips
Refrigerate: If you have leftover sweet and sour shrimp, it can be refrigerated for a couple of days. Store the lettuce leaves and any topping separately. It is really quite good reheated and makes a great lunch or another dinner.
Reheat: Single servings can be reheated in the microwave; larger portions can be reheated in the skillet. Try not to overheat the mixture; you don't want the shrimp to become overcooked and tough.
Interested in a weekly meal plan (it's free!) that includes this shrimp recipe? Take a look at my Meal Plan #32. You'll find a wholesome recipe for each weekday plus a categorized grocery list. Let me do the planning for you this week!
We'll be adding a new meal plan weekly. If you're interested, browse all of our meal plans.
Did you make this? Be sure to leave a review below and tag me @rachelcooksblog on Facebook, Instagram, or Pinterest!
There's nothing ho-hum about sweet and sour shrimp lettuce wraps. If you're looking for an exciting new dinner idea, you'll love these healthy wraps.
Ingredients
Sauce:
¼

cup

honey

2

tablespoons

pineapple juice

(from canned pineapple)

2

tablespoons

low sodium soy sauce

1

tablespoon

rice vinegar

1

tablespoon

ketchup

1

clove

garlic, minced

1

teaspoon

grated ginger root

1

teaspoon

Sriracha

2

tablespoons

cornstarch
Stir Fry:
1

tablespoon

coconut oil

1

small onion, diced into ½ inch pieces

1

red bell pepper, cut into ½ inch pieces

1

pound

shelled and deveined shrimp, 51/60 count, thawed if frozen

1

cup

chopped pineapple

(we recommend buying an 8 oz. can pineapple tidbits in 100% juice)

8

large leaves bibb lettuce

(you may need more)

⅓

cup

chopped cashews

2

green onions, thinly sliced
Instructions
In a small bowl whisk together honey, pineapple juice, soy sauce, vinegar, ketchup, garlic, ginger, Sriracha, and cornstarch. Set aside.

Preheat a large skillet over medium heat. Add coconut oil and melt. Add the onion and peppers. Cook and stir until vegetables are softened, 4 to 5 minutes. Push to one side of the pan.

Increase heat to medium high. Add the shrimp and cook until shrimp starts to curl, 3 minutes. Stir the sauce ingredients and add to pan, along with the pineapple. Stir and cook for 1 to 2 minutes, until shrimp is cooked through and sauce thickens.

To serve, spoon shrimp mixture into each lettuce cup, top with cashews and green onions.
Notes
If you use larger or smaller shrimp than the 51/60, your cooking times will be longer or shorter based on the size of shrimp you use.
Serving size: 2 lettuce wraps with one fourth of recipe.
If you prefer, serve sweet and sour shrimp on steamed rice instead of lettuce leaves.
Recipe updated 4/28/2022.
Nutrition Information
Calories:
369
kcal
,
Carbohydrates:
46
g
,
Protein:
31
g
,
Fat:
10
g
,
Saturated Fat:
4
g
,
Polyunsaturated Fat:
2
g
,
Monounsaturated Fat:
3
g
,
Trans Fat:
1
g
,
Cholesterol:
183
mg
,
Sodium:
506
mg
,
Potassium:
1388
mg
,
Fiber:
6
g
,
Sugar:
32
g
,
Vitamin A:
11833
IU
,
Vitamin C:
60
mg
,
Calcium:
218
mg
,
Iron:
6
mg
This website provides approximate nutrition information for convenience and as a courtesy only. Nutrition data is gathered primarily from the USDA Food Composition Database, whenever available, or otherwise other online calculators.