Shrimp and Broccoli Stir Fry
You'll find yourself turning to this shrimp and broccoli stir fry often. It's become one of our favorite meals. The sauce is so good!
Recipe Overview
Why you'll love it: The brown sauce makes it taste like your favorite take-out, only much fresher and better!
How long it takes: 10 minutes to prep, 12 minutes to cook
Equipment you'll need: sharp knife, large skillet or wok, wooden spoon
Servings: 4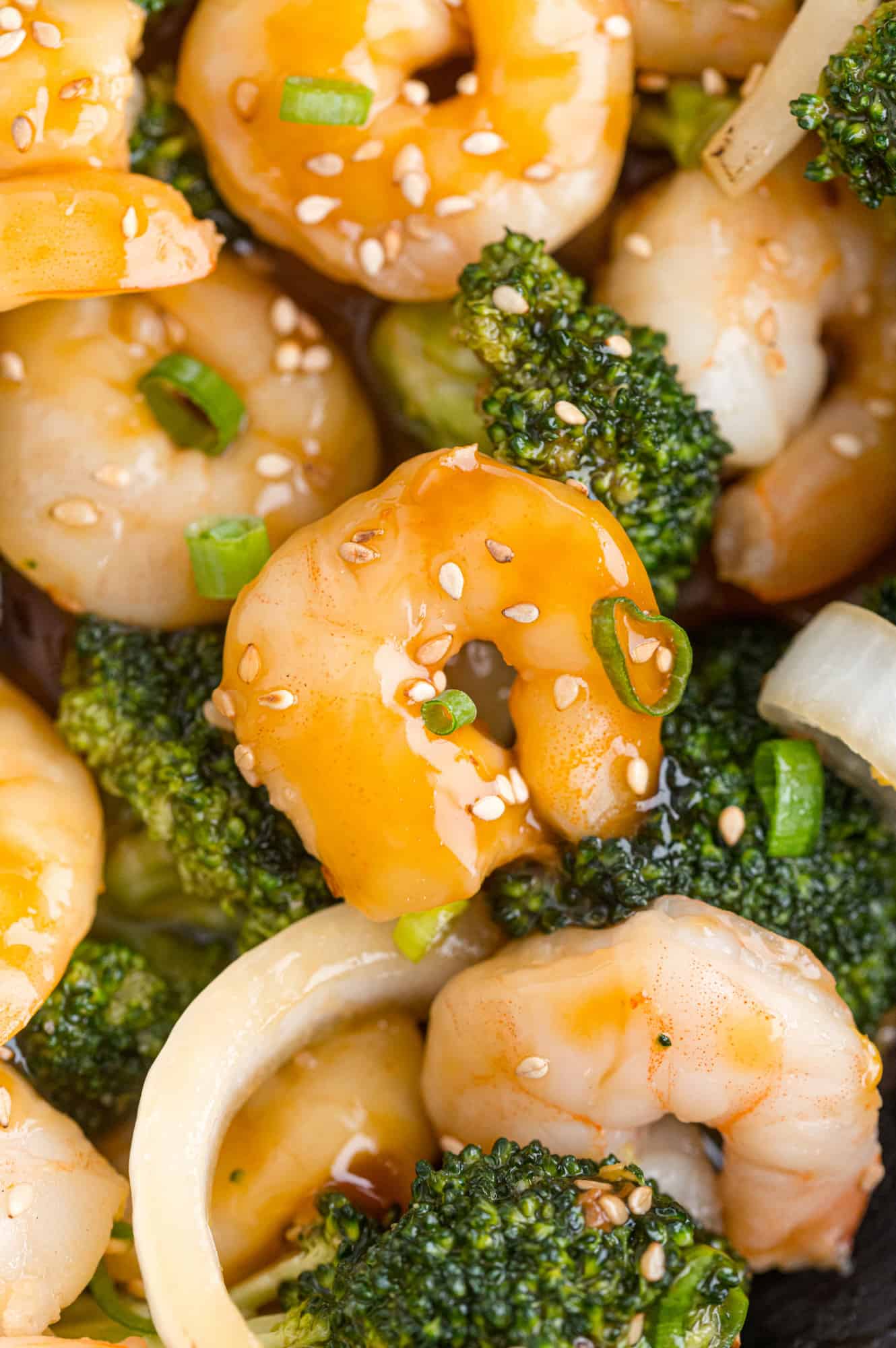 Crisp green broccoli and sweet onions, with briny shrimp, glistens with the best-tasting brown sauce. Don't you just love the soy-based brown sauce in Chinese restaurants? Have you been like me, searching for a homemade version of this perfect-for-stir-fries sauce?
What is it about the brown sauce on so many Chinese dinners? It has just the right saltiness, sweetness, and tanginess that complements almost everything. I've tried a lot of different recipes, trying to get the right balance of ingredients. I found a lot of good sauces but not one that tasted like that yummy brown sauce.
Well, ta-da! Search no further! This sauce has become my go-to stir fry sauce. It tastes like THE BROWN SAUCE! It is the brown sauce! Yes, you can make your favorite Chinese dishes at home.
About this Stir Fry
While this stir fry is made with broccoli, onions, and shrimp, you can substitute any protein or vegetable. Use your favorites and adjust the cooking time if necessary. The sauce ingredients will remain the same although I usually double them because I like a LOT of sauce. And since I usually end up cutting way more vegetables than the recipe calls for, a little extra sauce isn't a bad thing.
I'll get you started here with a quick look at the recipe and lots of extra tips. You'll find the printable recipe card at the end of the post with complete instructions, measurements, and nutrition information.
Stir Fry Basics
Make sure you have everything ready to go before you heat up the pan.
Cut vegetables into evenly sized pieces.
Use a large skillet or wok with plenty of room to stir.
A hot pan is essential. Cook over medium high or high heat.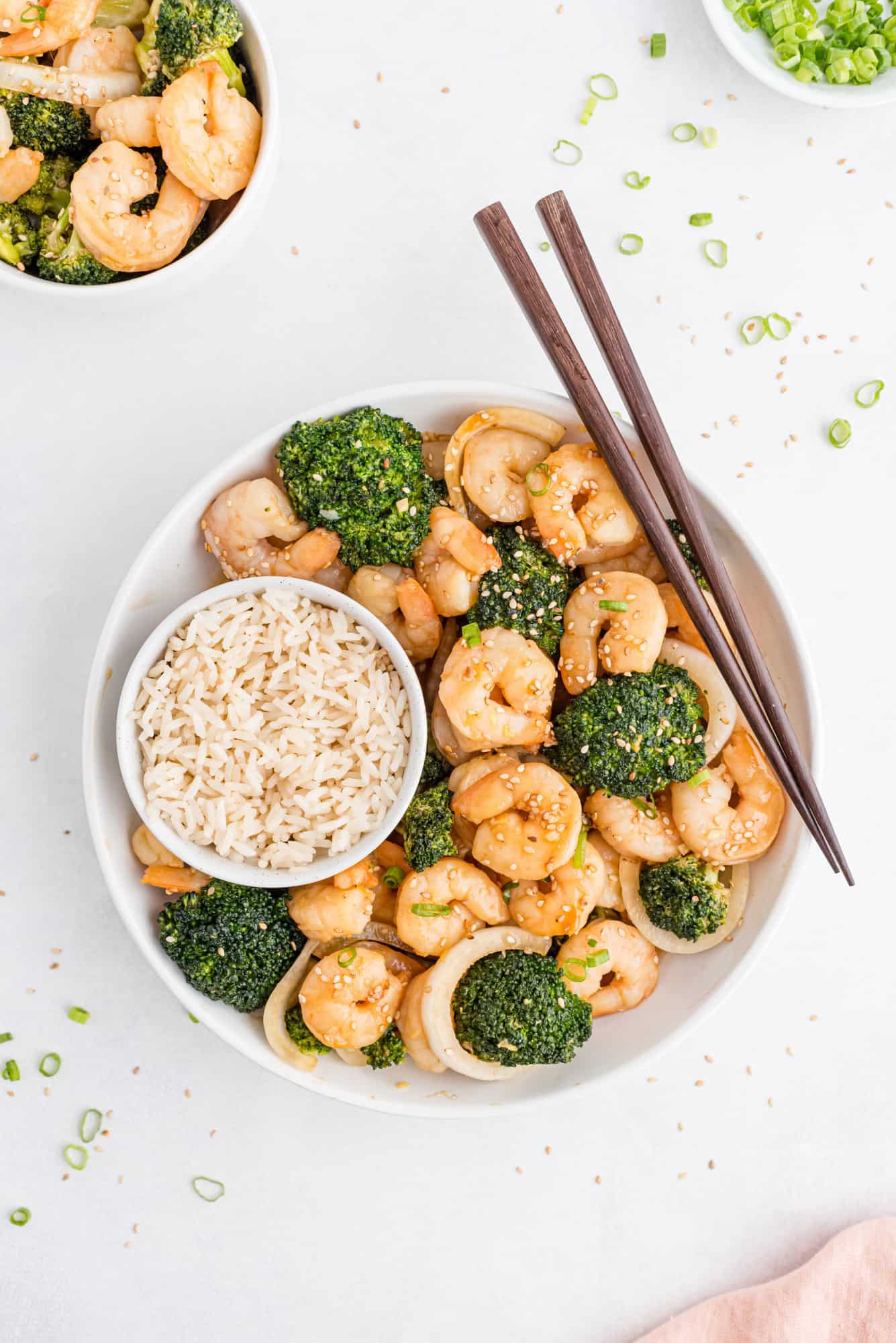 What you'll need
Shrimp: Whether you choose frozen or fresh, buy peeled shrimp with the heads and tails off, and deveined. I love frozen shrimp and always keep a bag in my freezer for quick dinners. It thaws in just five minutes or so under cold running water. It's a lifesaver!
Broccoli: Look for a nice compact head of broccoli that's dark green with firm stems. Freshness really matters in a broccoli stir fry.
Onion: Pretty much any kind of onion goes. Use what you happen to have on hand.
Oil for the stir fry: Use an oil with a high smoke point that can withstand the high heat of a stir fry: canola, vegetable, peanut, grapeseed, or avocado. This is not the place to use your extra-virgin olive oil.
Soy Sauce: Choose low-sodium soy sauce if you can. Buy a good quality soy sauce because it's the foundation of the brown sauce.
Rice Wine Vinegar: This colorless and somewhat sweet vinegar is used in a lot of Asian cooking. Sometimes it's called rice vinegar. Don't substitute rice wine or buy the seasoned rice vinegar which has added salt and sugar.
Brown Sugar: Dark or light brown sugar, doesn't matter. Sugar adds sweet caramel notes to the sauce.
Ginger and Garlic: Use fresh if you can. They both add so much flavor to the sauce.
Cornstarch: Commonly used as a thickener, cornstarch is stirred into the sauce ingredients before cooking.
Toasted Sesame Oil and Sriracha: These flavor agents pack a punch. They are optional and use them sparingly at first unless you already know you love them.
Sliced Green Onions and Sesame Seeds: Also optional, but garnishes really add a nice touch.
Steamed White Rice: Try jasmine rice! It has a slightly nutty, floral taste that is simply amazing. I like to cook it in my Instant Pot. Start the rice first so it's ready when the stir fry is. If you're looking for a low-carb option, try cauliflower rice.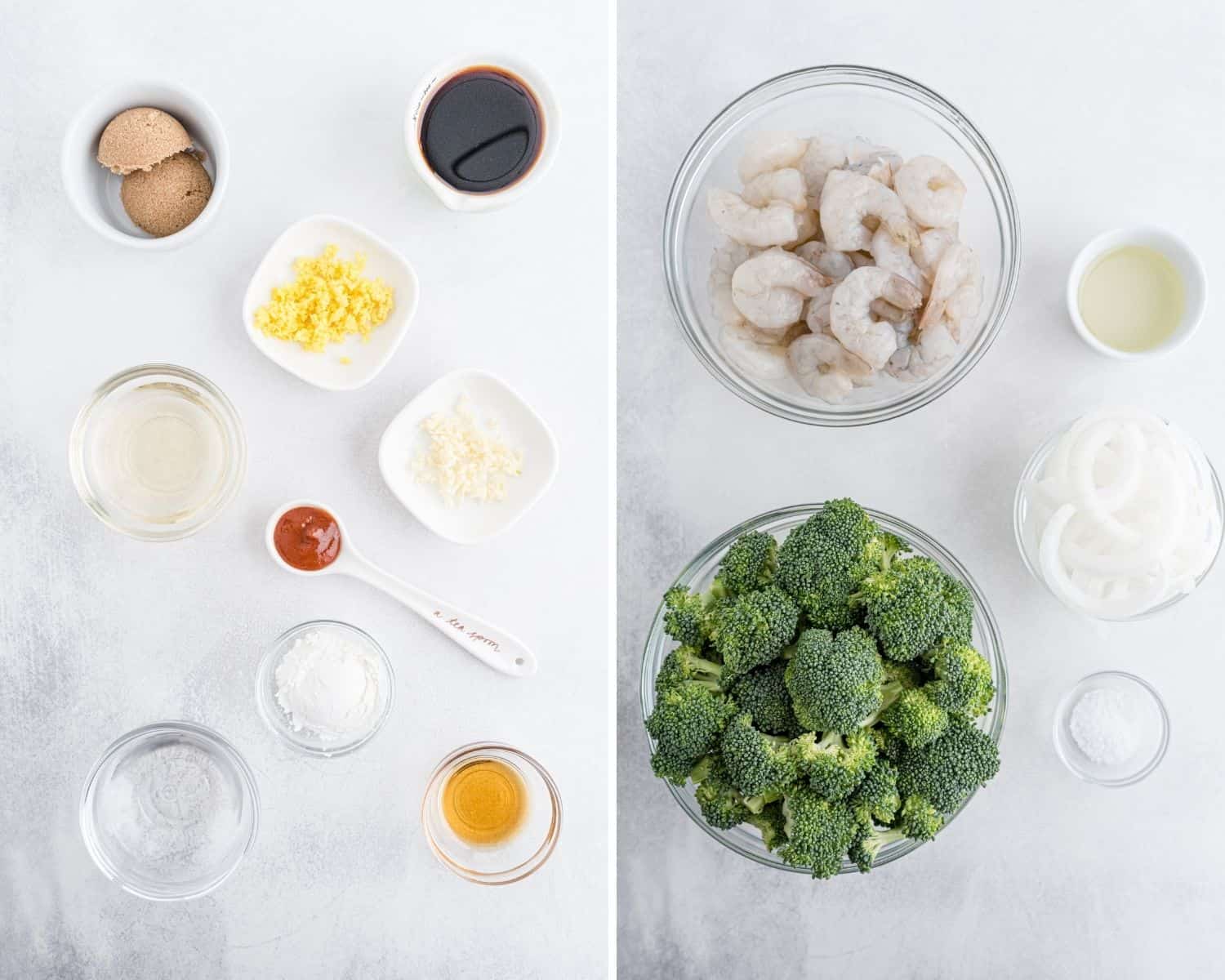 How to make it
First off, make sure you have everything prepped. Is the rice cooking? Did you thaw and pat dry the shrimp? Are the veggies cut into nice uniform pieces? Check, check, check! Once your pan is heated, everything moves really fast.
There's one more step before you get the pan going. Stir up the sauce ingredients in a small bowl. Make sure to whisk in the cornstarch so it's completely dissolved. You'l want to give it another quick stir before adding it to the pan.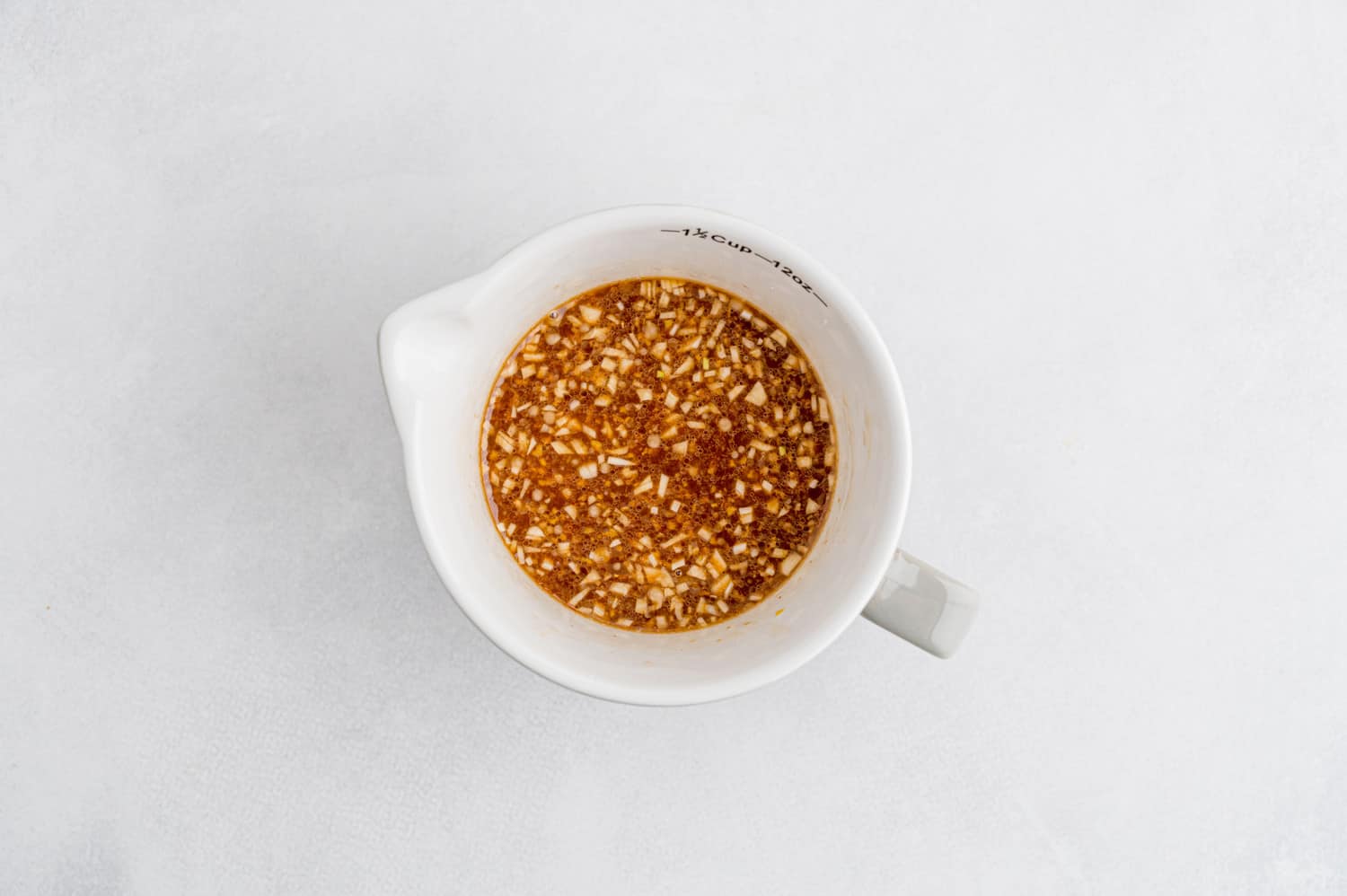 Okay! Now you're ready! Let's get the pan heating up.
Add a tablespoon of oil to the pan. It should shimmer if your pan is hot enough. Add the broccoli and onion along with a pinch of salt. Stir and fry for eight to ten minutes or until it looks almost done.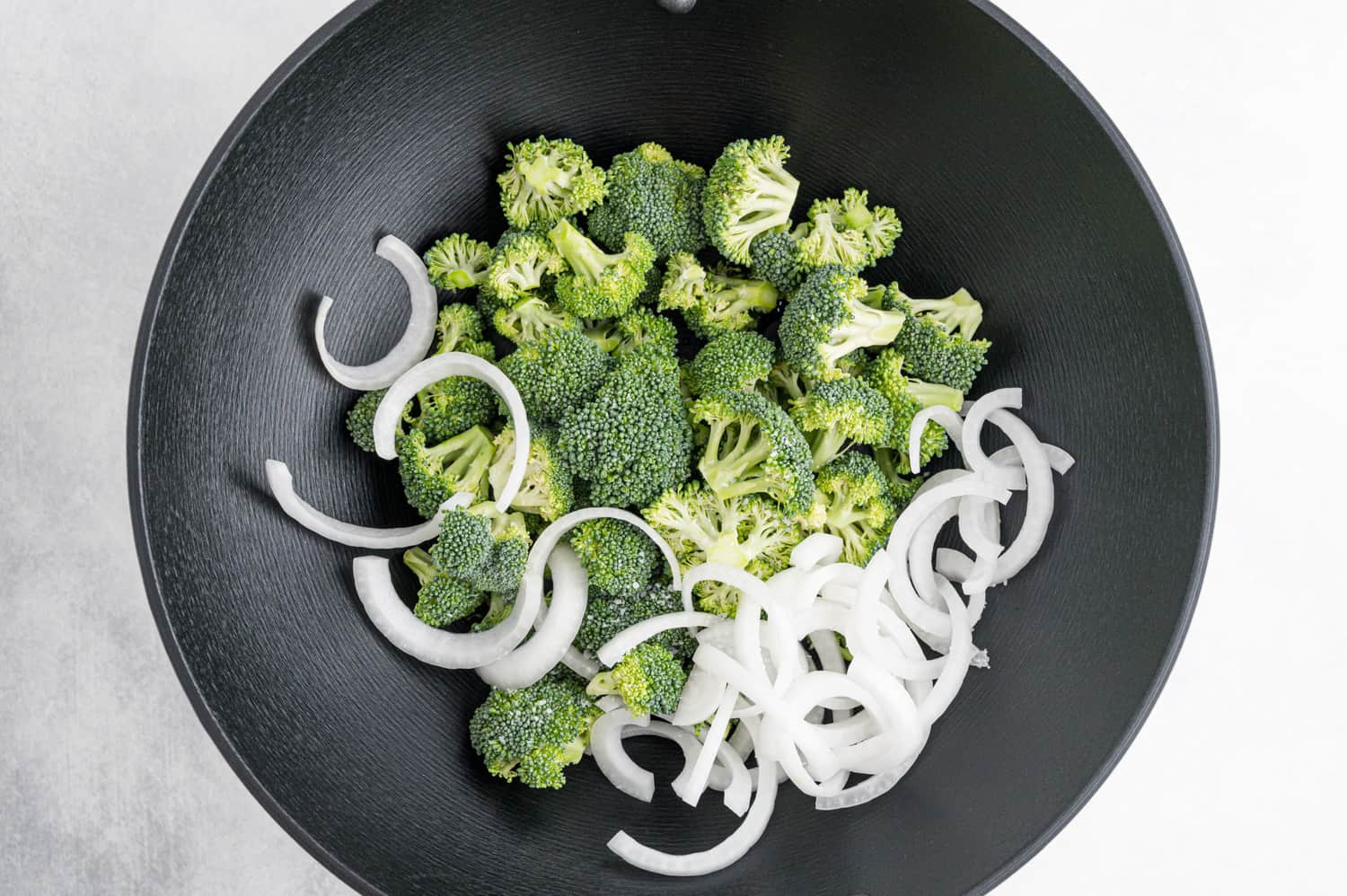 Put it into a bowl and cover the bowl with a plate or lid. The broccoli will steam and cook just a bit more. If you don't want it to cook further, leave the bowl uncovered.
The pan should still be hot. Add another tablespoon of oil and the shrimp (in a single layer). Sprinkle a little more salt on the shrimp. Don't stir! I know, it seems weird but just let the shrimp sizzle for a couple of minutes. While it's doing that, give your sauce another quick stir.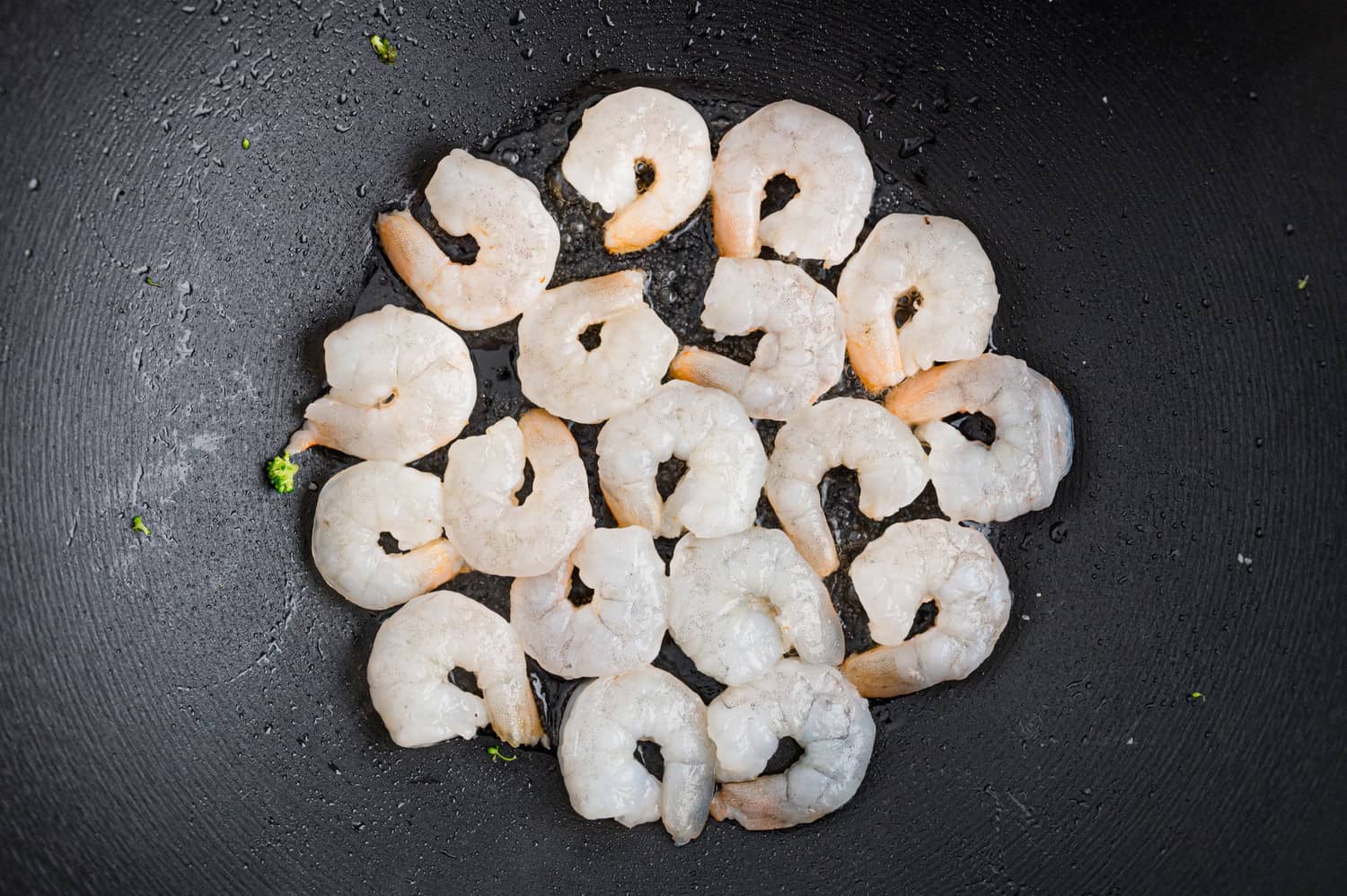 Now stir the shrimp and immediately add the sauce ingredients, stirring constantly. You can also add the veggies back in now. The sauce will thicken and turn clear almost immediately because the pan is really hot.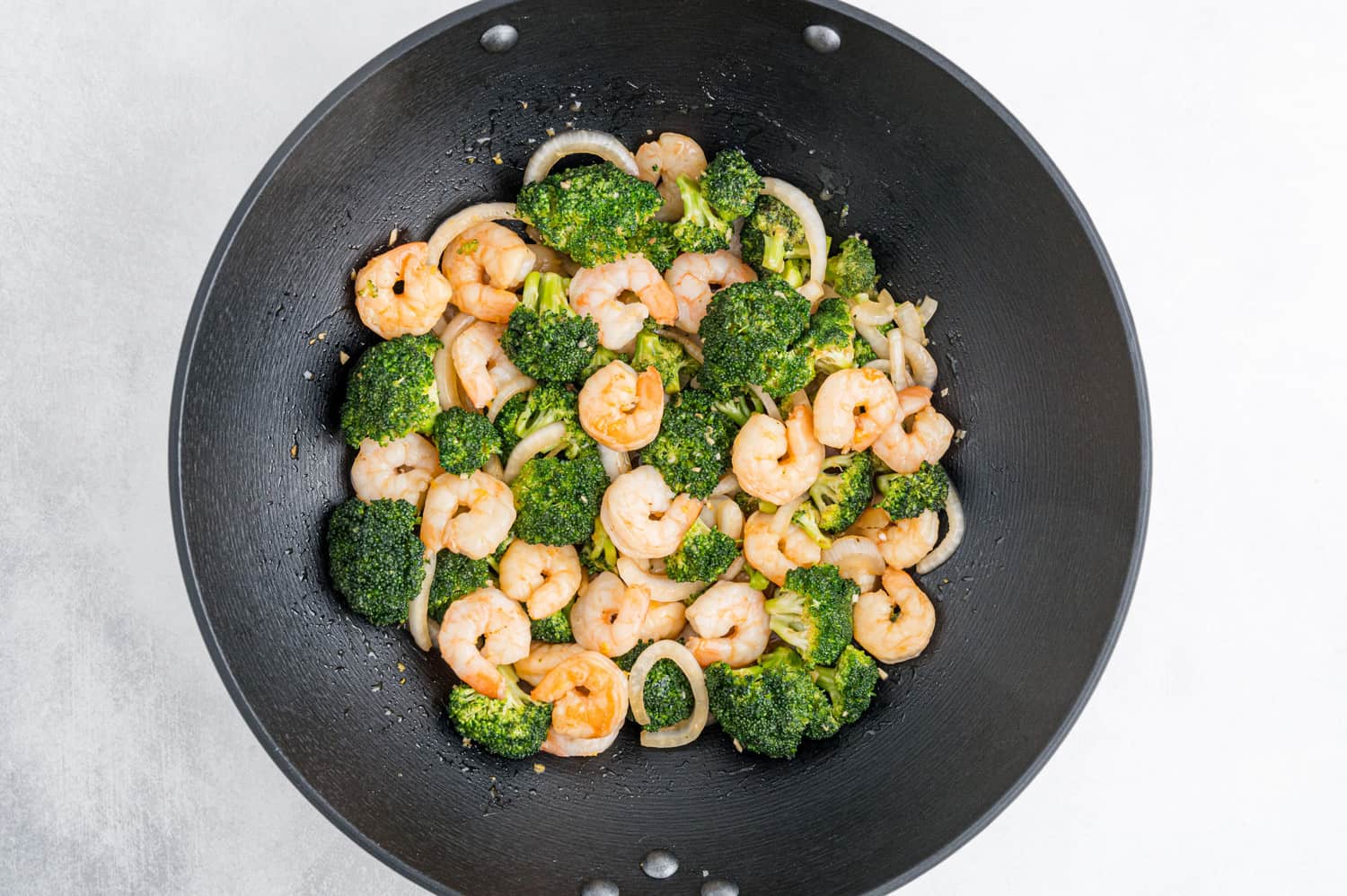 Take the pan off the heat and serve immediately over the steamed rice. Garnish with a sprinkle of sliced green onions and sesame seeds if you like. They really do look pretty and the green onions add an especially nice flavor.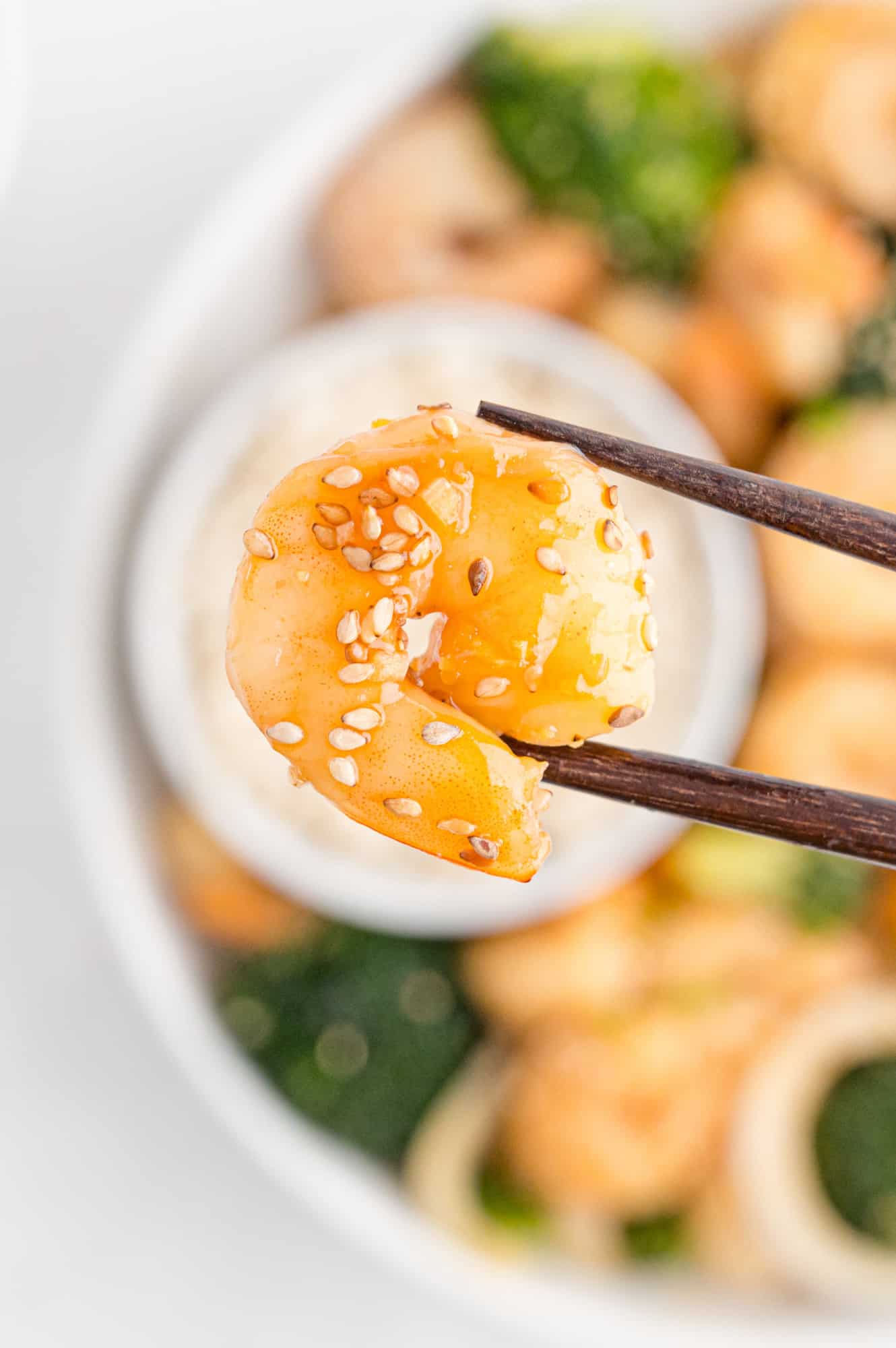 FAQs
What is the brown sauce at Chinese restaurants called?
The brown sauce we all love at American Chinese restaurants is usually just called "brown sauce." If you're looking for the Chinese word, I can't help you out. Maybe one of my readers can, I'd love to hear from you.
The brown sauce is usually made with soy sauce, broth, rice wine vinegar, brown sugar, sesame oil, oyster sauce, and cornstarch for thickening. Recipes vary widely (I used Fly By Jing as my reference). Brown sauce is somewhat similar to teriyaki sauce.
Do I need to boil broccoli before stir-frying?
No, the broccoli will become crisp tender when stir frying. If you prefer it a bit more tender, add a tablespoon of water and cover the pan for a minute to steam the broccoli. In this recipe, I cover the bowl of cooked vegetables briefly while the shrimp cooks. Same idea, the broccoli steams and becomes more tender.
Is shrimp and broccoli healthy?
Yes! A serving of this shrimp and broccoli stir fry is just 248 calories and is loaded with protein, vitamins and minerals. It's a delicious way to get more vegetables into your diet.
How to make this Recipe your own
Substitute or add different vegetables. This is a stir fry so you can pretty much do what you like. Good choices for stir fries are mushrooms, carrots, sugar peas, celery, bell peppers, zucchini, and the list goes on….
Not a seafood fan? Substitute another protein: boneless chicken, steak, pork, or tofu.
To make this recipe keto, you'd have to leave the brown sugar out of the sauce. Replace the cornstarch with another thickener, such as arrowroot powder. Serve with cauliflower rice.
Don't care for rice? Serve shrimp with broccoli over orzo, couscous, rice noodles, linguine or another pasta of your choice. Non-pasta choices are quinoa, barley, or cauliflower rice.
Looking for a different kind of sauce? Keep reading for more stir fry recipes. I also love the honey garlic sauce in this Instant Pot Honey Sriracha Chicken. It goes really, really well with broccoli!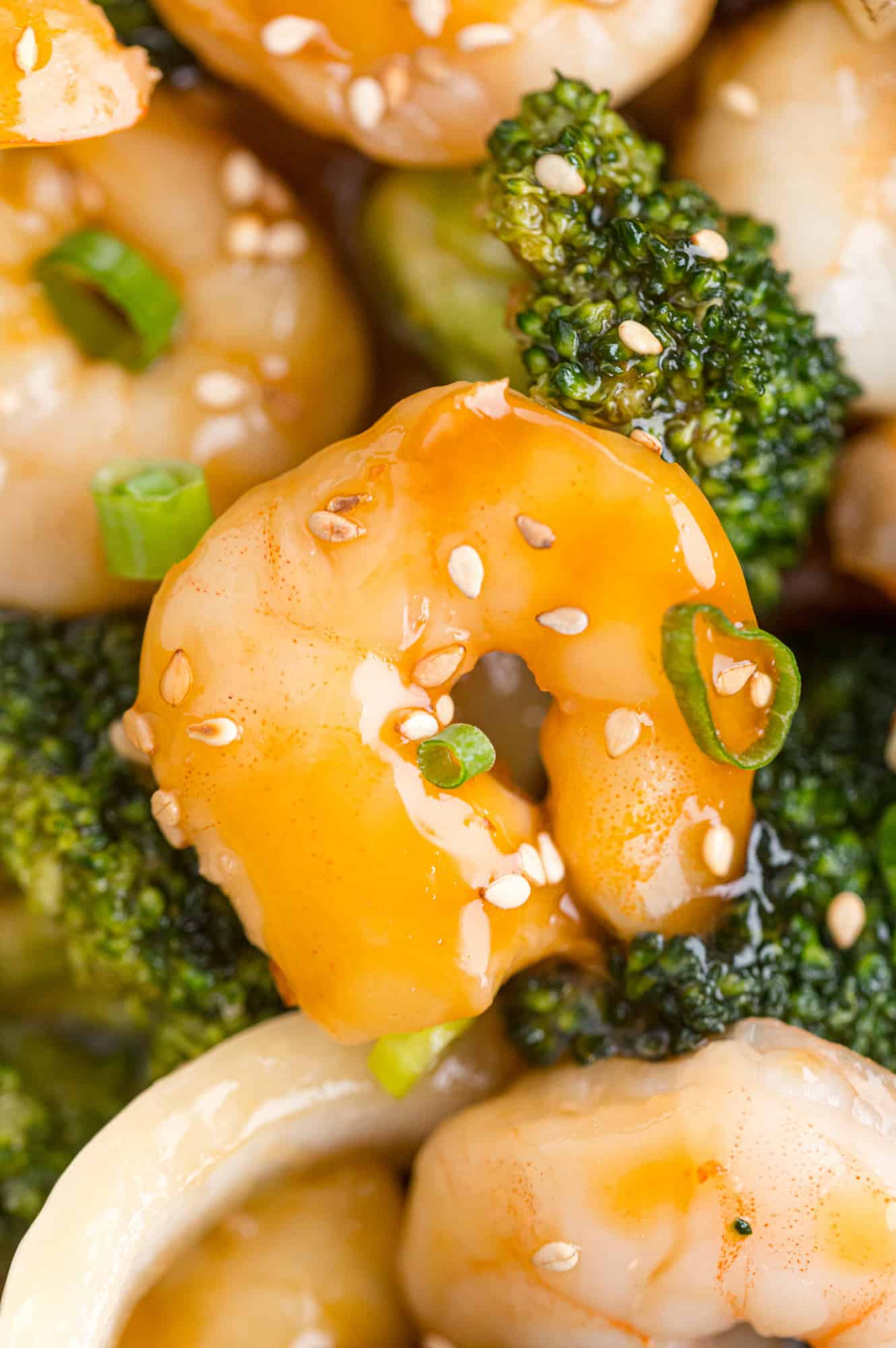 Make Ahead Ideas
To get a head start on this recipe, get a few things done in the morning or even the night before so that when dinner time rolls around, you'll be ready to go! Prep the broccoli and onions, cover or put into a plastic bag and refrigerate. Mince the garlic and ginger and make the sauce; cover the bowl and refrigerate. Move the bag of frozen shrimp from the freezer to the refrigerator to thaw. Phew! Most of the time-consuming work is done. Dinner will be so easy to make!
Storage & Reheating Suggestions
Store leftover stir fry and rice in separate containers if you like although I find that mixing them together before storing them keeps the rice from getting really dry. (Who am I kidding? We never have leftovers when it comes to this shrimp and broccoli stir fry!) The leftovers will keep in the fridge for up to 3 days.
To reheat, gently warm them up in a skillet on the stove or in the microwave. Don't overcook the stir-fry when you reheat it: the shrimp will get tough and the broccoli will lose its crispness.
Leftover Love
Combine all the leftovers, including the rice, with a good amount of unsalted chicken stock to make soup. How much chicken stock you need depends on how much stir fry you have left over. If you like, add a bit more soy sauce, toasted sesame oil, or Sriracha. If you don't have much rice left over, add some ramen noodles, too.
Interested in a weekly meal plan (it's free!) that includes this recipe? Take a look at my Meal Plan (#3). You'll find a wholesome recipe for each weekday plus a categorized grocery list. Let me do the planning for you this week!
We'll be adding a new meal plan weekly. If you're interested, browse all of our meal plans.
Did you make this? Be sure to leave a review below and tag me @rachelcooksblog on Facebook, Instagram, or Pinterest!
You'll find yourself turning to this shrimp and broccoli stir fry often. It's become one of our favorite meals. The brown sauce is so good!
Ingredients
Sauce (see note)
¼

cup

reduced sodium soy sauce

2

tablespoons

rice wine vinegar

2

tablespoons

packed brown sugar

2

tablespoons

water

1

tablespoon

freshly grated ginger

2

cloves

garlic, minced

1

tablespoon

cornstarch

½

teaspoon

toasted sesame oil

(optional)

1

teaspoon

Sriracha
Stir Fry
2

tablespoons

high-heat oil, divided

(canola, vegetable, avocado, grapeseed)

6

cups

broccoli florets

1

medium yellow onion, thinly sliced

½

teaspoon

kosher salt, divided

1

pound

raw peeled, deveined, tails removed medium shrimp (31 to 40 shrimp per pound),

thawed if frozen

Sliced green onion and sesame seeds for garnishing

cooked rice, for serving

(optional)
Instructions
Prepare rice. If you haven't already, thaw the shrimp, if frozen.

In a small bowl or measuring cup, whisk together sauce ingredients: soy sauce, rice wine vinegar, brown sugar, water, grated ginger, garlic, cornstarch, and sesame oil. Set aside.

Heat a large frying pan or a wok over medium-high heat; add

1 tablespoon

oil. Add broccoli and onion, sprinkle with

¼ teaspoon

salt, and cook for 6-7 minutes, stirring frequently, until broccoli is tender-crisp. Transfer to a bowl and cover with an inverted plate or a lid (covering the bowl helps the vegetables stay warm but will also continue to cook the broccoli slightly).

Add remaining

1 tablespoon

oil to pan and add thawed shrimp in a single layer. Sprinkle with remaining

¼ teaspoon

salt.

Cook for 2-3 minutes without stirring. Stir and immediately add sauce (whisk again before adding) and vegetables.

Cook for an additional 1-2 minutes or until shrimp is cooked through and sauce has thickened.

Serve over rice, topped with sliced green onions and sesame seeds.
Notes
If you like a lot of sauce, double the sauce ingredients (I usually do!)
Omit salt if you're not using reduced sodium soy sauce.
Nutrition information does not include rice.
Feel free to substitute a different protein (boneless chicken, steak, pork, tofu) for the shrimp or other vegetables for the broccoli.
Nutrition Information
Calories:
248
kcal
,
Carbohydrates:
23
g
,
Protein:
21
g
,
Fat:
9
g
,
Saturated Fat:
1
g
,
Polyunsaturated Fat:
2
g
,
Monounsaturated Fat:
5
g
,
Trans Fat:
1
g
,
Cholesterol:
143
mg
,
Sodium:
1539
mg
,
Potassium:
651
mg
,
Fiber:
4
g
,
Sugar:
10
g
,
Vitamin A:
1057
IU
,
Vitamin C:
125
mg
,
Calcium:
143
mg
,
Iron:
2
mg
This website provides approximate nutrition information for convenience and as a courtesy only. Nutrition data is gathered primarily from the USDA Food Composition Database, whenever available, or otherwise other online calculators.