Easy Beef and Vegetable Stir-Fry Recipe
Stir-fry is easy to make once you learn the basics. Start with this easy beef and vegetable stir-fry recipe and you'll gain confidence quickly.
Making stir-fry is something I think every cook should know how to do. Why?
Easy: If you know the basics, making stir-fry is a quick and easy meal.
Healthy: Lean protein + tons of veggies + rice = balanced and healthy meal. Choose brown rice if you can resist the sweet fragrance of jasmine rice. I can't.
Versatile: You can use up any veggies in your fridge with any kind of meat you have on hand.
Once you know the basic formula, it is so easy to throw together a quick stir-fry. Ready for it?
Protein + Vegetables + Sauce + Crunch (optional) + Something to serve it over = Stir-fry recipe for success!
Here are some great options for proteins:
Beef — use a lean cut such as flank steak. Cut against the grain.
Chicken — ground or thinly sliced
Pork — ground or thinly sliced
Shrimp — frozen or fresh
Crispy tofu — For crispy cubes, try air fryer tofu. It's easy to make, with only one tablespoon of oil.
chickpeas
The possibilities for vegetables really are endless. Here's some suggestions, but don't be limited by what you see on this list.
carrots
broccoli
onions (yellow, red, green onions, leeks)
sugar snap peas or snow peas
celery
mushrooms
cauliflower
kale
bean sprouts
eggplant
Sauce. This recipe has a very simple sauce with beef broth, soy sauce, and red pepper flakes. I also love this sesame beef stir fry with toasted sesame oil in the sauce. Sauces are pretty much interchangeable in stir fry recipes. Keep reading for more ideas.
Or buy your favorite pre-made sauce from the store if you are a beginner or in a hurry. I prefer homemade mostly because we watch our sodium intake closely. Other great flavors to add to either the sauce or stir-fy with the vegetables are grated ginger or minced garlic.
Cornstarch is essential to thicken the sauce so that the sauce really coats everything. Arrowroot starch is a good alternative.
"Crunch." Optional, but highly recommended. Some of my favorites are:
almonds
chow mein noodles
cashews
water chestnuts
bamboo shoots
Easy as pie. Errr…easy as stir-fry? 'Cause pie is hard to make. Easy to eat though.
A couple additional tips to make your stir-fry recipe successful:
Have your pan super hot!
Cook items with similar cooking times together. For example, in this recipe, I start with the carrots and onions, which take a little longer to cook, and add the broccoli, beef, and peas later.
Make sure everything is cut up, prepped, and ready to go before you turn your pan on. Stir-fry moves quickly so you'll want to have everything ready. That includes your sauce ingredients.
Beef and vegetable stir-fry is a simple stir-fry recipe that could easily be customized based on what is in your fridge or what you like in your stir-fry. For this recipe, I use beef, broccoli, carrots, red onions, and a simple sauce. I serve beef and vegetable stir-fry with jasmine rice (I could live on that stuff) and top it with sliced green onions to add freshness.
If you're more into chicken, try this sweet chili chicken stir-fry, chicken stir fry with ginger and basil, or sweet and sour chicken.
Anolon sent me something off my wish list — a stir fry pan from their Nouvelle Copper line — and it makes this recipe a breeze. Any deep, large skillet/frying pan will work for stir-fry. A pan with high sides like this one works well.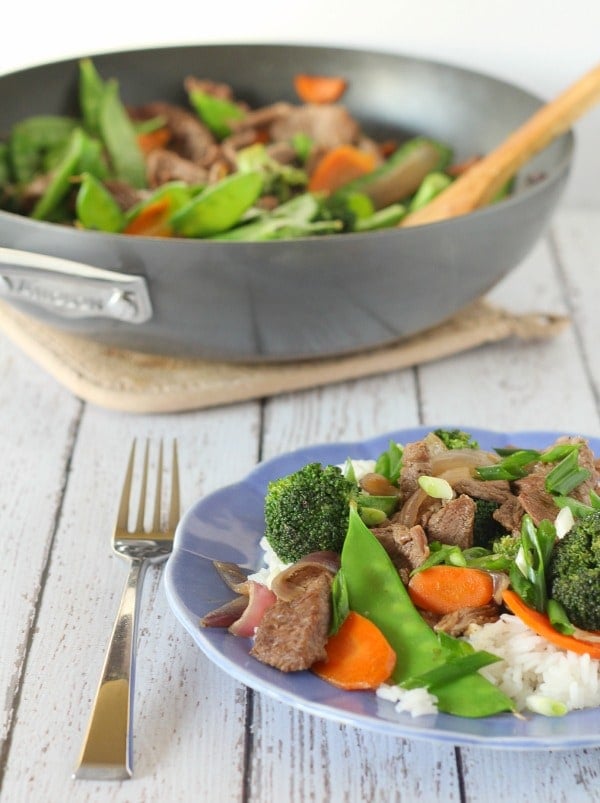 Easy Beef and Vegetable Stir-Fry Recipe
Yield: 4 servings
Prep Time: 15 minutes
Cook Time: 6 minutes
Total Time: 21 minutes
Stir-fry is easy to make once you learn the basics. Start with this easy beef and vegetable stir-fry recipe and you'll gain confidence quickly.
Ingredients
2 teaspoons cornstarch
1/2 teaspoon sugar
1/4 teaspoon red pepper flakes
3/4 cup low-sodium beef broth
2 tablespoons low sodium soy sauce
1 to 1 1/2 lbs. flank or flat iron steak, cut into very thin slices against the grain
salt and pepper
3 teaspoons light olive oil
1 cup thinly sliced carrots (cut diagonally)
2 cups broccoli, cut into bite-sized florets
1 to 1 1/2 cups snow peas
1 small red onion, sliced vertically, or about 1 cup
4 cups cooked rice for serving (I love jasmine rice for stir-fry)
2-3 green onions, thinly sliced for serving
Instructions
In a small bowl combine cornstarch, sugar and red pepper flakes. Whisk in beef broth and soy sauce and set aside.
Sprinkle sliced beef with salt and pepper (go light on salt because the sauce will add a lot).
Heat oil in a wok over high heat. Tilt pan and swirl to coat the sides. Add the onions and carrots and stir-fry for 2 minutes. Add the steak and broccoli and stir-fry for two more minutes. Stir in sauce mixture and snow peas; cook for another 1-2 minutes or until meat and peas are cooked to desired doneness. Serve over rice and garnish with sliced green onions.
Notes
adapted generously from Cooking Light's Way To Cook.
Use whatever meat or vegetable you like. This recipe is very versatile.
Nutrition Information:
Yield: 4
Serving Size: 1 of 4
Amount Per Serving:
Calories: 722
Total Fat: 26g
Saturated Fat: 9g
Trans Fat: 1g
Unsaturated Fat: 13g
Cholesterol: 141mg
Sodium: 621mg
Carbohydrates: 66g
Fiber: 7g
Sugar: 8g
Protein: 53g
RachelCooks.com sometimes provides nutritional information, but these figures should be considered estimates, as they are not calculated by a registered dietitian. Please consult a medical professional for any specific nutrition, diet, or allergy advice.
Follow the links below to find out what everyone else made in their shiny new Anolon pans!
Well Plated – Spicy Braised Green Beans with Feta
Climbing Grier Mountain – Tex-Mex Risotto with Chorizo and Red Peppers
Dessert for Two – Skillet Spanakopita
Cooking with Books – Orange Ginger Shrimp Stir Fry
Disclaimer: Anolon sent me a pan to try out and use for the creation of this recipe. I was not compensated to write this post. Post contains an affiliate link to a cookbook on Amazon. Thanks for supporting Rachel Cooks.