Beef Stir Fry With Vegetables
Stir fry is easy to make once you learn the basics. Start with this delicious beef stir fry with vegetables and you'll gain confidence quickly.
Recipe Overview
Why you'll love it: Stir fry meals are fast, healthy, and so flavorful! Perfect for weeknight meals.
How long it takes: just over a half hour, depending on how fast you are with a knife
Equipment you'll need: sharp knife, cutting board, measuring utensil, large skillet or wok
Servings: 4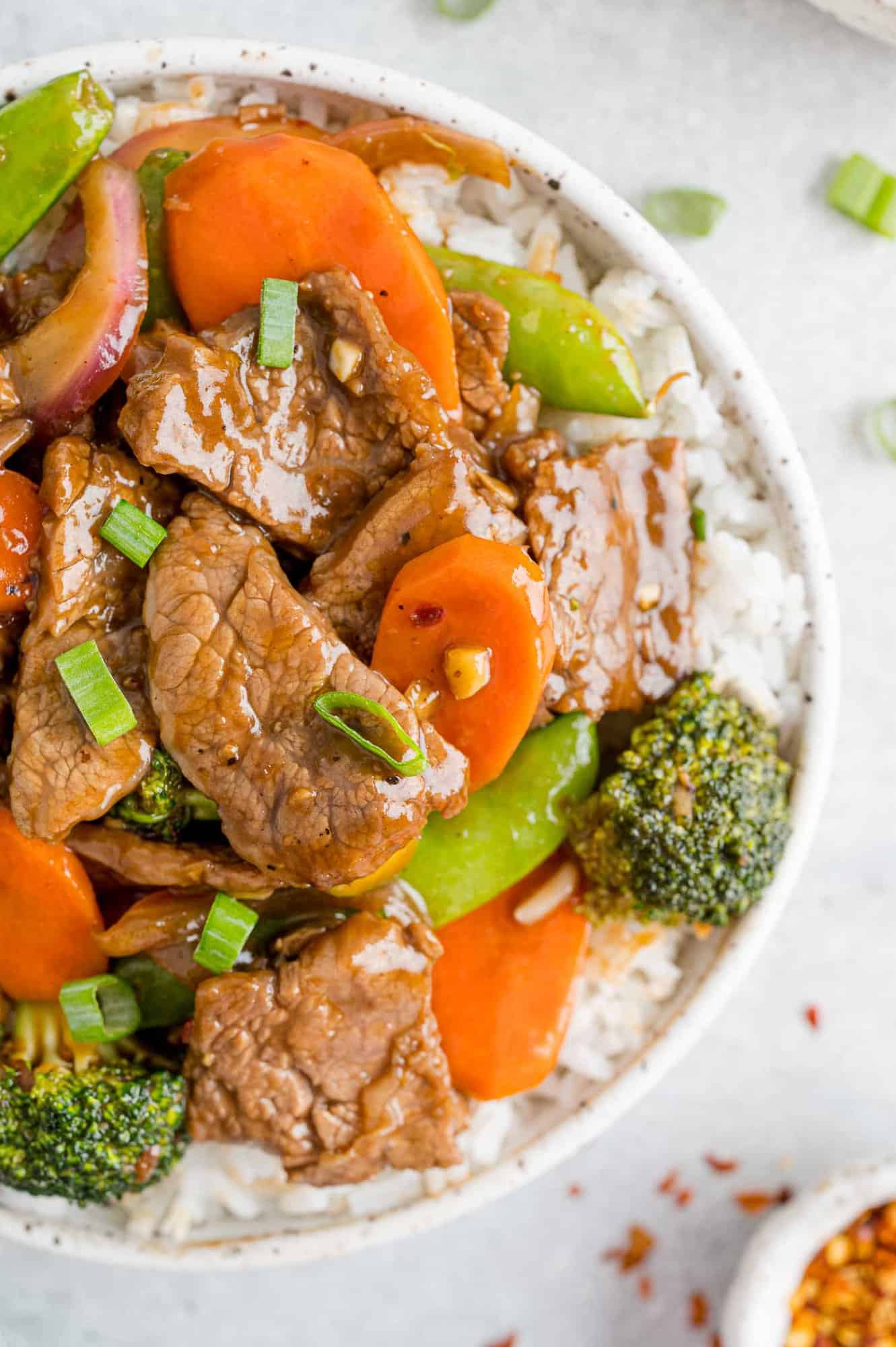 Making stir fry is something I think every cook should know how to do. Why?
Easy: Once you know the basics, making a stir fry is easy.
Fast: Everything cooks very quickly in a stir fry, making it a perfect choice for weeknight dinner. The veggies and the sauce can be prepped ahead of time.
Healthy: Lean protein + tons of veggies + rice = balanced and healthy meal. Choose brown rice if you can resist the sweet fragrance of jasmine rice. Stir fries can be served with noodles, too. For something different, try coconut rice. Classic white rice always works, too.
Versatile: You can use up any veggies in your fridge with any kind of meat you have on hand.
Once you know the basic formula, it is so easy to throw together a quick stir-fry. Easy as pie. Or, easy as stir fry? 'Cause pie is hard to make. Easy to eat though.
Looking for more Chinese restaurant favorites? Try air fryer egg rolls or air fryer crab Rangoon. Try making your own orange chicken or bourbon chicken. These spicy Asian chicken wings are finger-lickin' good.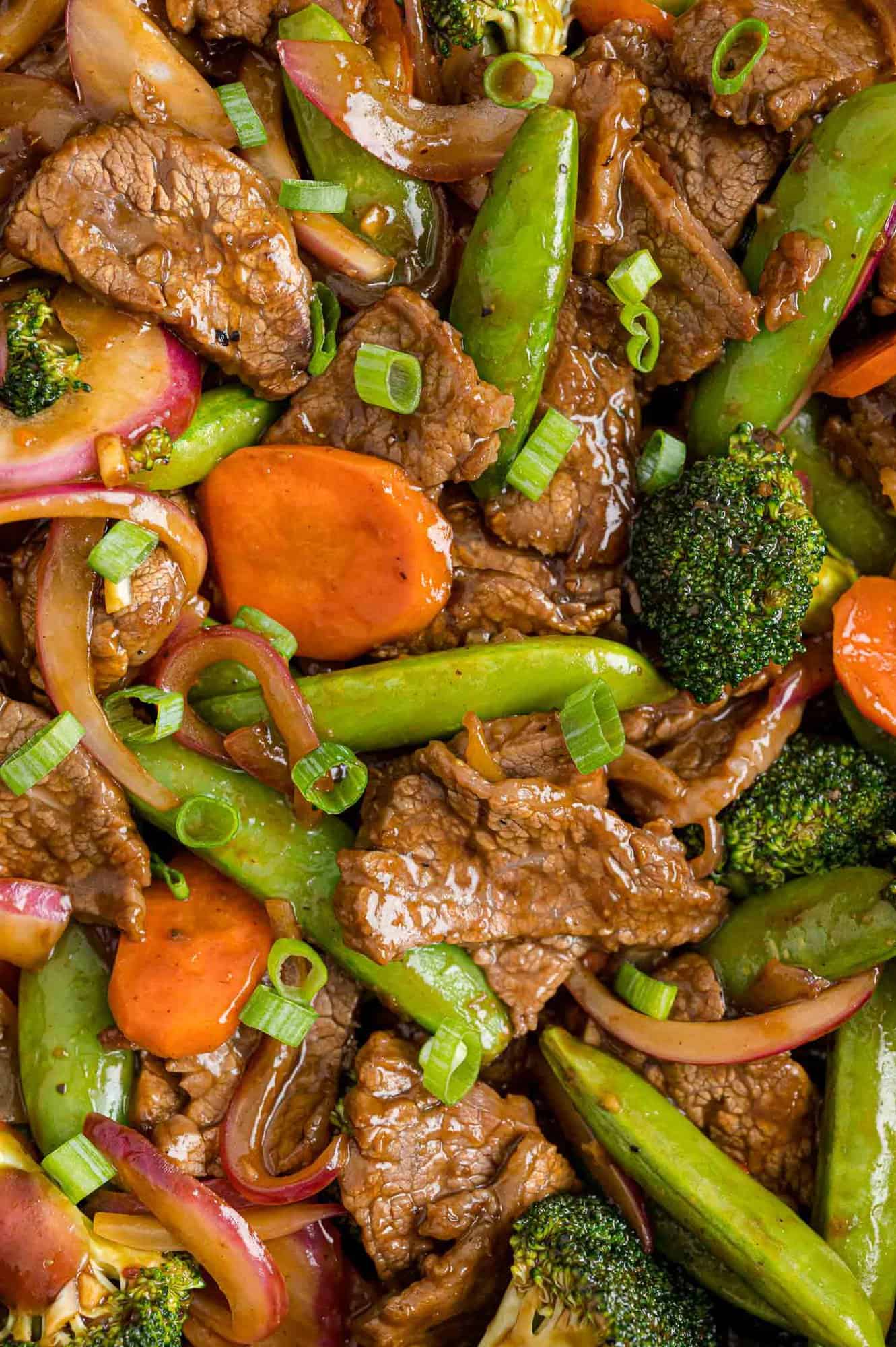 What You'll Need For a Stir Fry
Protein
Beef: Use a lean cut such as flank steak. Cut against the grain. This recipe calls for beef but any protein can easily be substituted.
Chicken: Boneless dark meat or white meat, cut into bite-sized pieces, thinly sliced, or even ground meat.
Pork: thinly sliced or ground. Try egg roll in a bowl, a variation of a stir fry, that is made with ground pork or chicken.
Shrimp: Use fresh or frozen shrimp (thawed).
Crispy tofu: For crispy cubes, try air fryer tofu or all purpose baked tofu. Either method is easy to make and can be done ahead of time.
Vegetables
The possibilities for vegetables really are endless. Here's a list of some of the most popular vegetables used for stir fries: carrots, broccoli, onions (yellow, red, green onions), sugar snap peas or snow peas, green beans, celery, mushrooms, cauliflower, kale (thinly shredded), bean sprouts, eggplant, and so on.
Sauce
This recipe includes a tangy brown sauce made with soy sauce, brown sugar, garlic, rice vinegar, red pepper flakes, and ginger. Sauces are pretty much interchangeable in stir fry recipes so don't be afraid to mix and match sauces.
Enhance the flavor of your stir fry and/or sauce by adding grated ginger or minced garlic. To make your stir fry spicy, add red pepper flakes to taste.
Cornstarch is essential to thicken the sauce so that the sauce really coats everything. Arrowroot starch is a good gluten-free alternative.
If you're in a hurry or are a beginner, buy your favorite pre-made sauce from the store. I prefer homemade but there are lots of great options on the store shelves.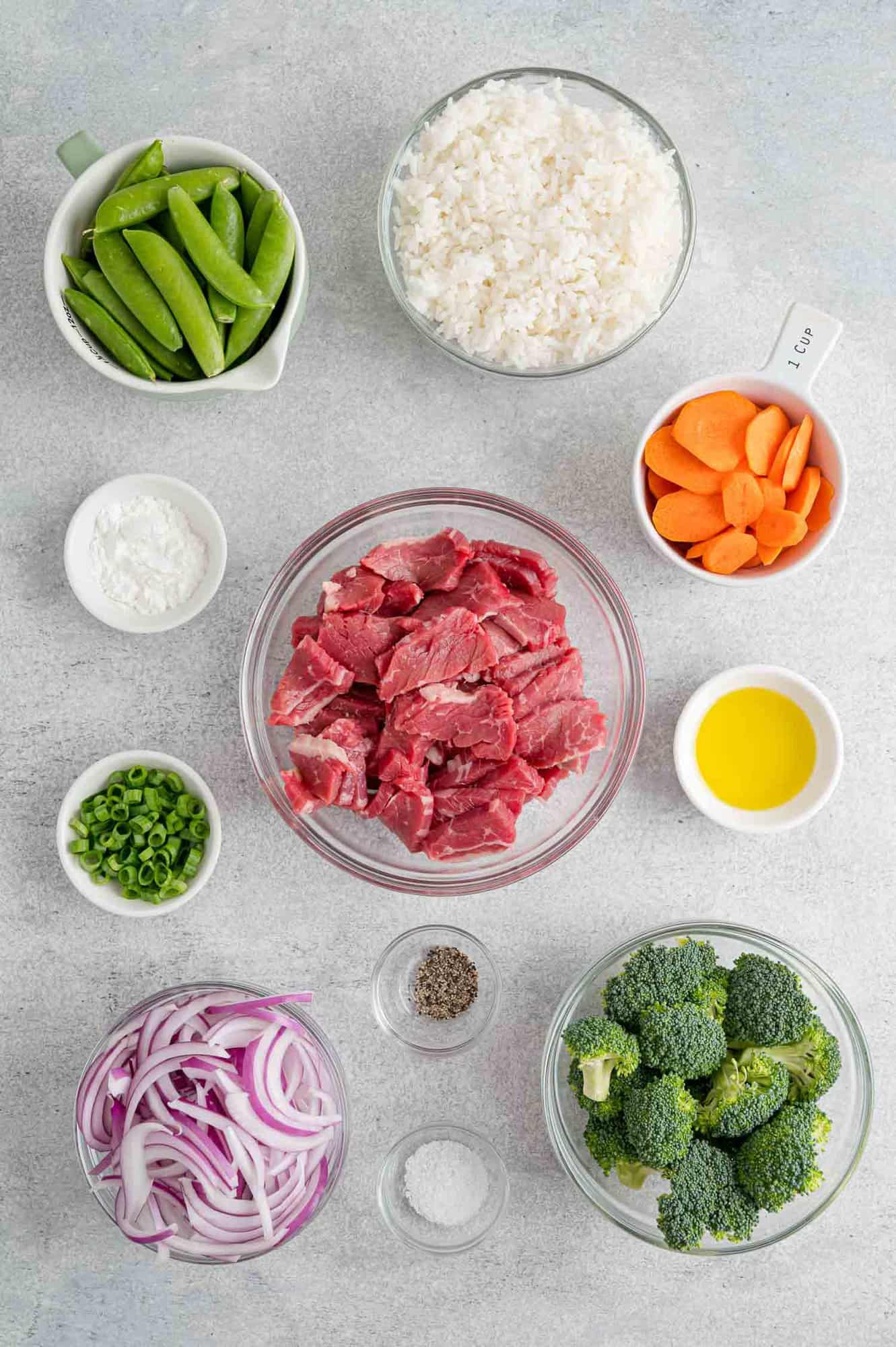 Don't Have A Wok?
No problem! Any large skillet or frying pan will work. A pan with curved sides works better than a straight-sided skillet.
How To Make This Stir Fry
After perusing the above list, I bet you're coming up with ideas for all sorts of fantastic stir fries. I'd encourage you to try this recipe; I modestly think it's the best beef stir fry. There are more of my stir fry recipes listed below.
Prep all the ingredients: Begin by prepping and assembling all the ingredients you'll need. It's important to have everything ready before you turn the pan on. Once you begin cooking your stir fry, things proceed at a rapid pace.
Start cooking the rice. If you want to serve rice, get that started right away. Don't worry if the rice happens to get done before your stir fry does. Leave the cover on the pan and let it steam. It will be perfectly fine.
Stir up the sauce. In a small bowl or measuring cup, stir together the sauce ingredients: soy sauce, dark brown sugar, rice vinegar, fresh ginger (grated), red pepper flakes, minced garlic, and cornstarch. Set that aside for now.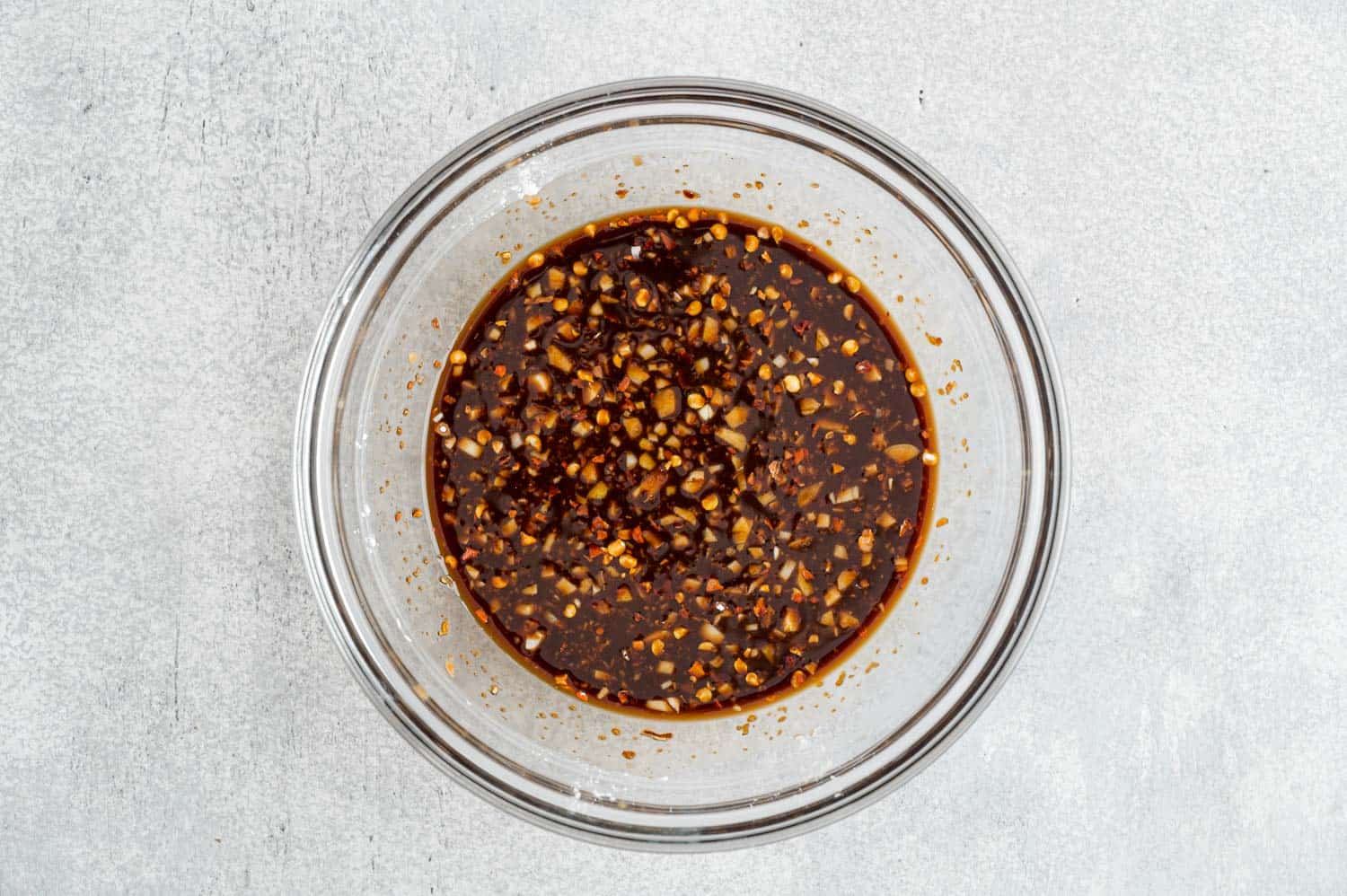 Slice the beef. Slice the beef thinly against the grain. In a medium sized bowl, mix a tablespoon of cornstarch with salt and pepper. Add the beef slices and toss until the beef is coated with the cornstarch mixture. This little trick helps seal in the juices and gives the meat a crisp brown exterior. Set the meat aside while you prep the vegetables.
Cut up the veggies. Peel and slice the carrots and onion. Wash the broccoli and cut it into bite size florets. Wash and trim the peas, removing any tough strings. If you are garnishing with green onions, prep those too.
Stir fry the meat: Heat a wok or large skillet over high heat. When it's hot, add a tablespoon of oil. I usually use olive oil but avocado, sesame, peanut, or grapeseed oils are good choices too. Add the beef to the pan. Cook, stirring the beef frequently, until it's done, about five minutes. Dump the meat out of the pan into a bowl or on a plate.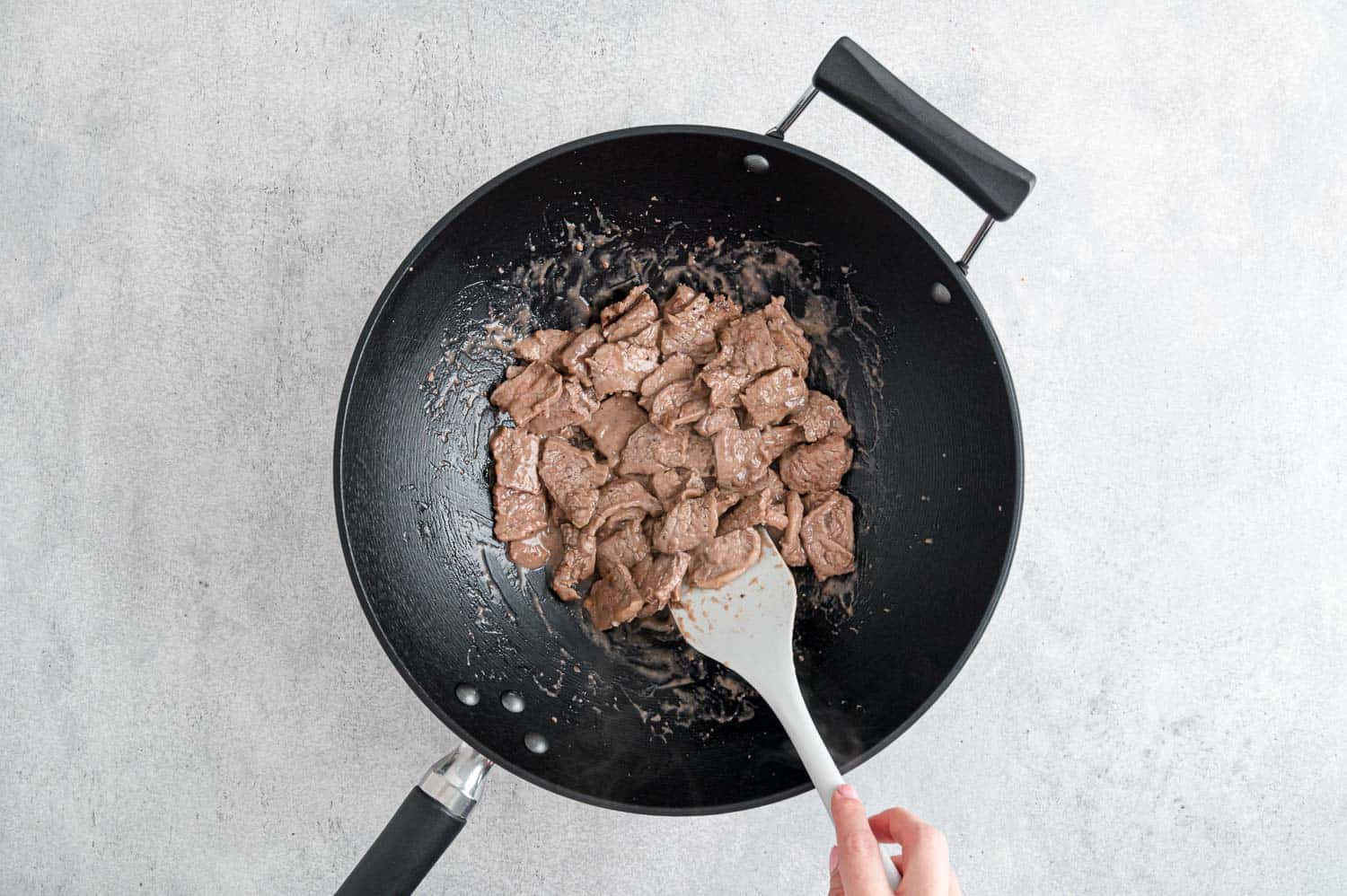 Stir fry the onions and carrots: Put the pan back on the heat, and add the onions and carrots. They should sizzle when they hit the pan.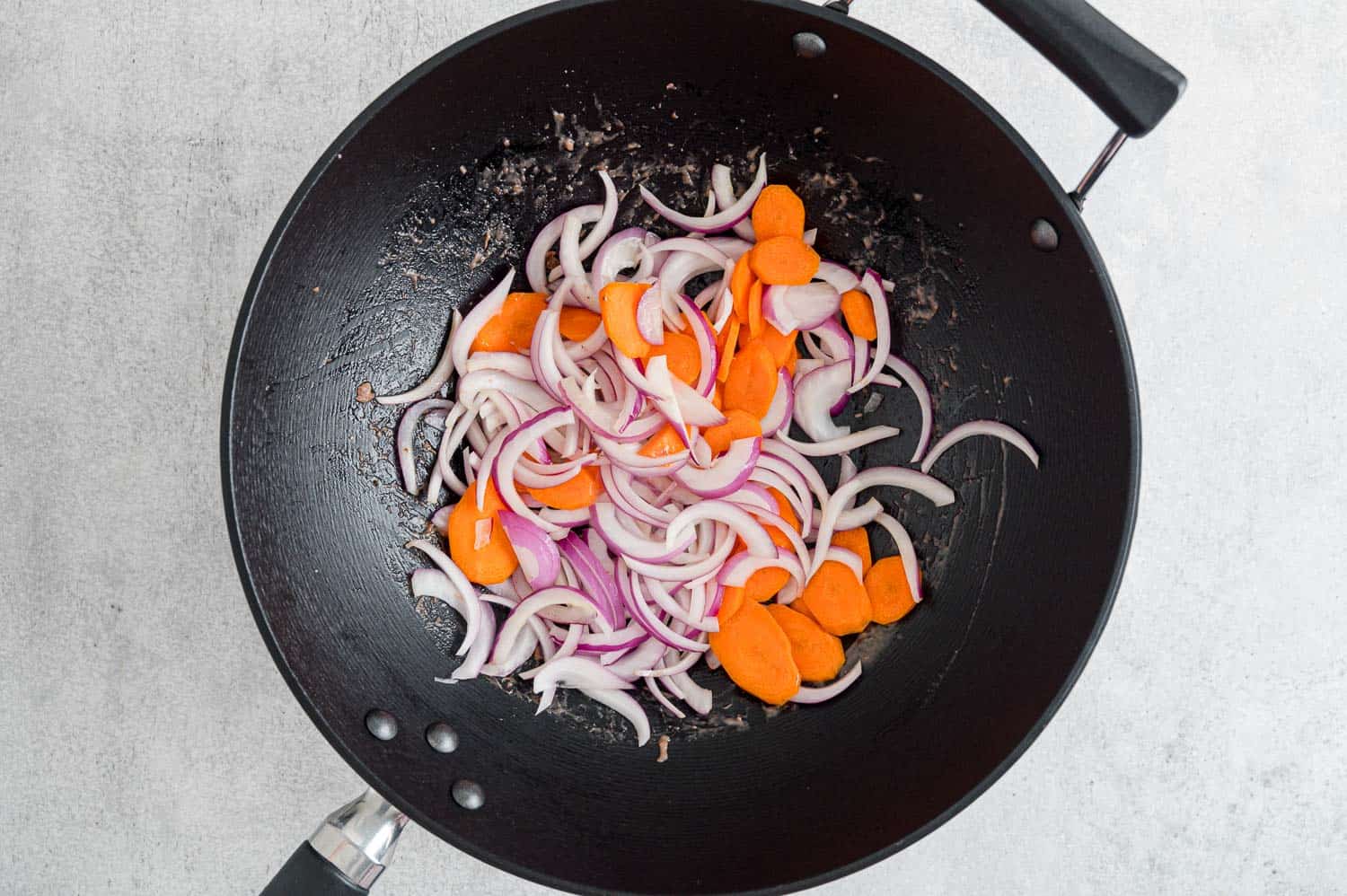 Stir fry broccoli: Stir fry them for just a couple of minutes; then add the broccoli. Again, you should see some sizzle! If you don't, turn up the heat or wait a bit longer before adding anything else. Stir fry the broccoli for a few minutes.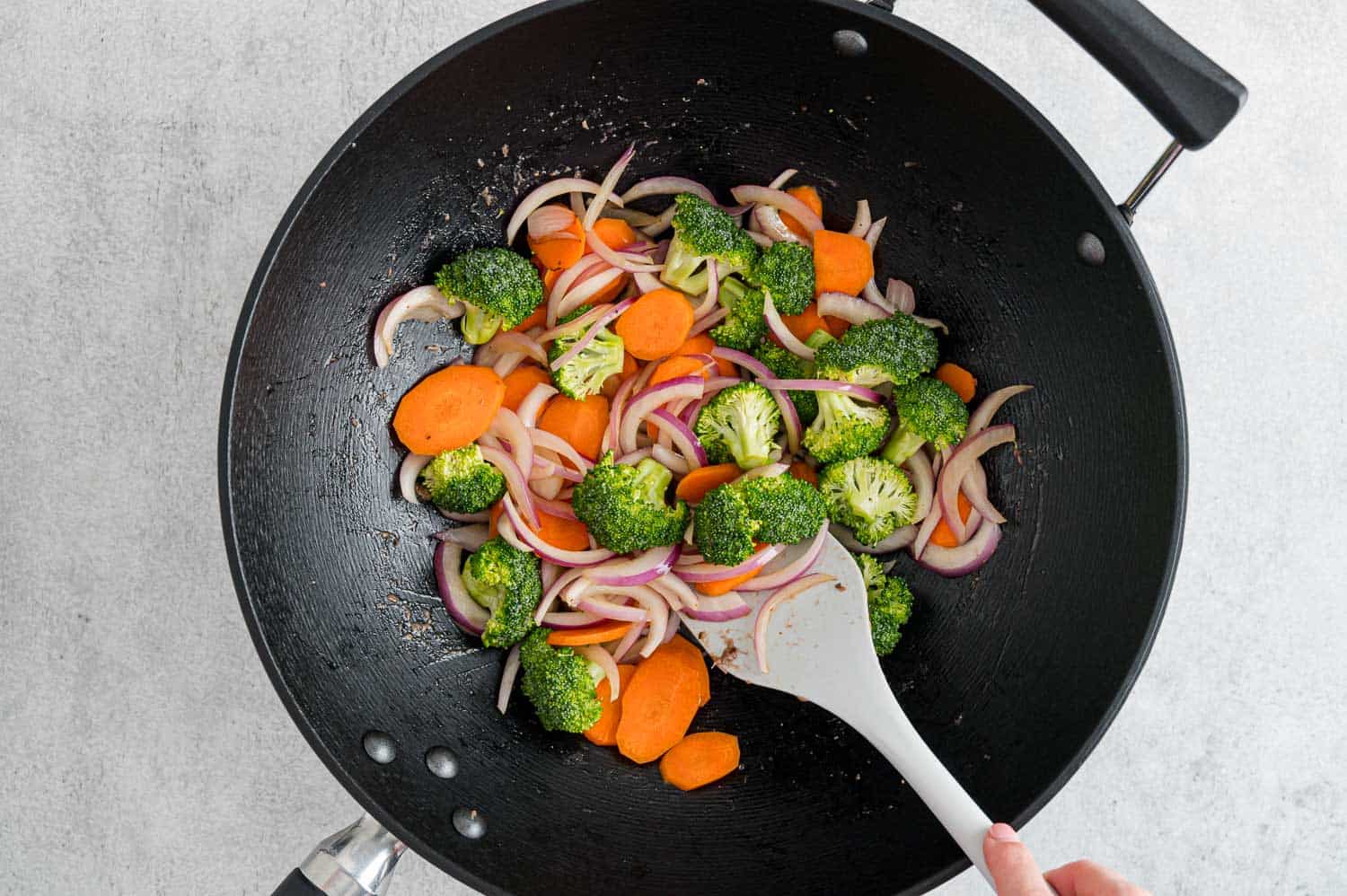 Add the sauce: Give the sauce a quick stir to make sure the cornstarch hasn't settled to the bottom. Add the sauce to the pan, stirring constantly, along with the peas and the beef, and any accumulated juices.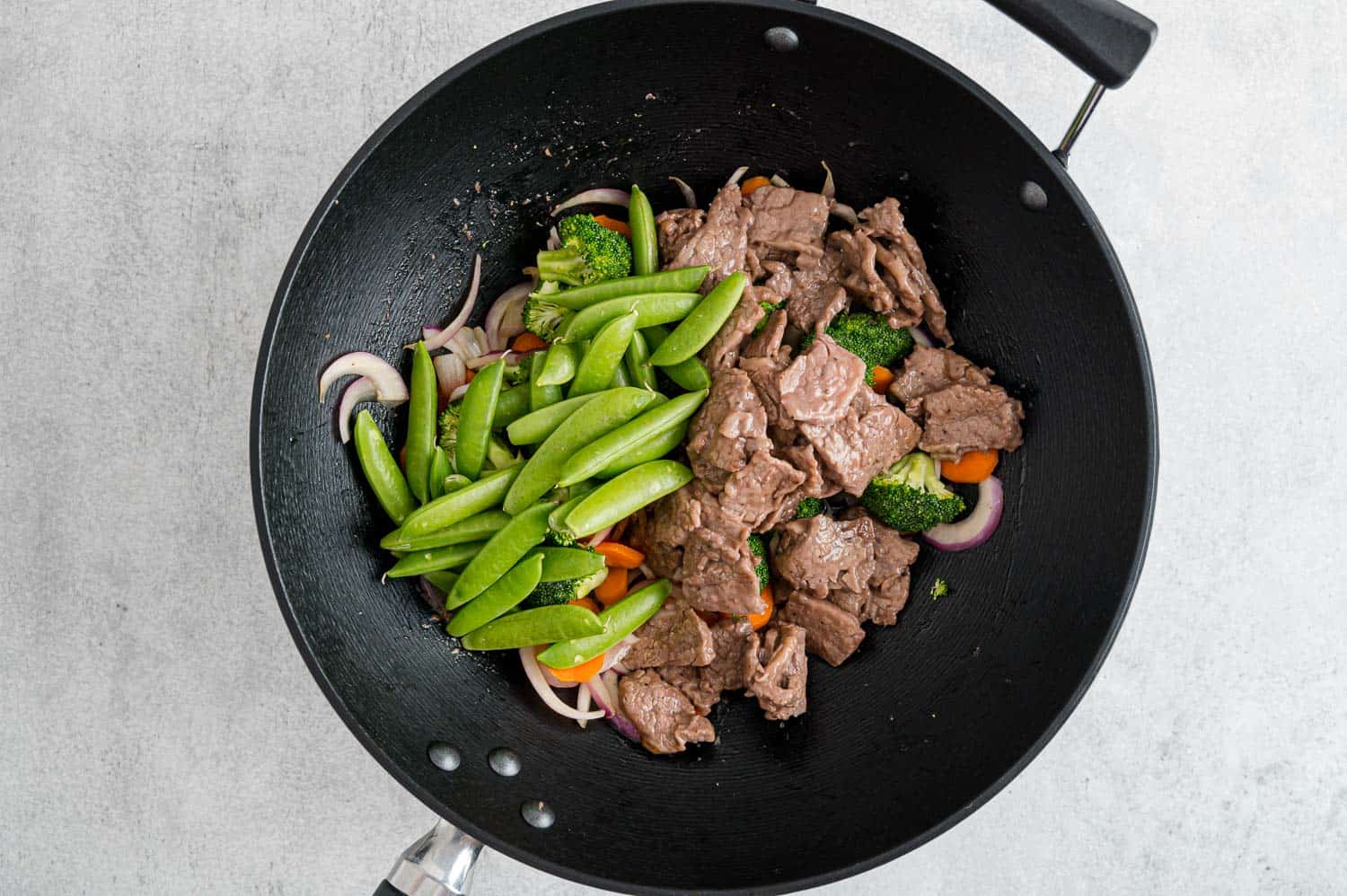 The sauce will cook very quickly. It will bubble and turn clear in just a minute or two.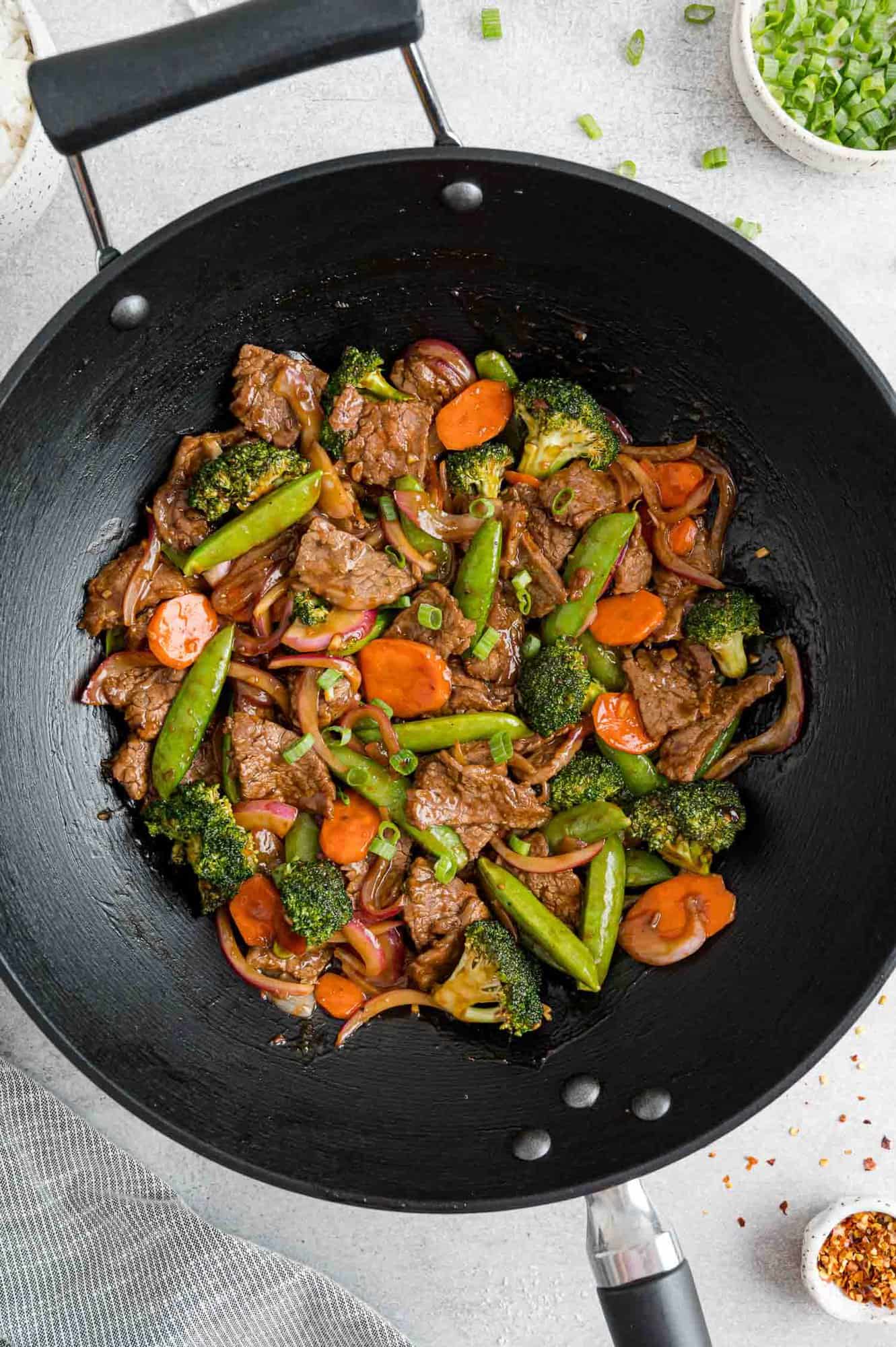 Serve: Your stir fry is ready to serve! Wasn't that fast? Serve the beef and vegetables over a mound of steaming jasmine rice. Sprinkle sliced green onions on top for a garnish.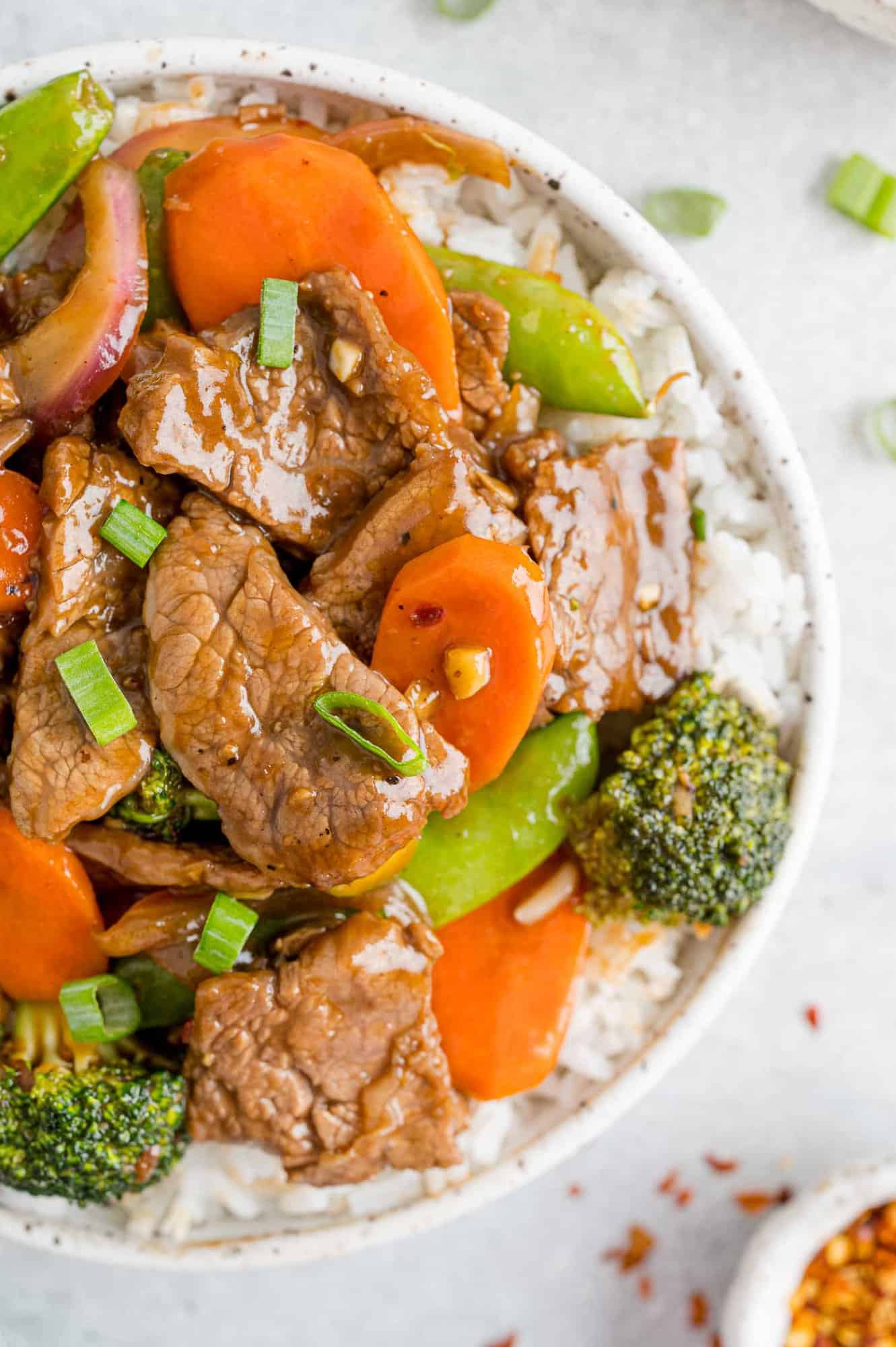 FAQs
How do you make stir-fry meat tender?
Slice the meat very thinly against the grain. Make sure your pan is sizzling hot, add the meat, stirring constantly, and remove it from the pan the instant it's done. Cooking the meat first and removing it from the pan before adding the other ingredients will help ensure that the meat isn't overcooked. Stir the meat in right before serving.
Marinating the meat first can tenderize it; another process called velveting is often used in Chinese restaurants. For a more in-depth explanation, check out The Woks Of Life.
What is the best meat for beef stir-fry?
Use a tender lean cut such as flank steak, flat iron steak, sirloin, or tenderloin. Cut the meat very thinly against the grain. Click here for a 30 second video explaining how to do this.
Tips For A Successful Stir Fry
Preparation: Make sure everything is prepped, and ready to go before you turn your pan on. Stir fry moves quickly so you'll want to have everything ready. That includes your sauce ingredients.
Preheat: Have your pan sizzling hot! Keep the heat high so that every ingredient gets cooked at a high temperature.
Plan: Cook items with similar cooking times together; don't throw everything in the pan all at once. For example, in this recipe, I start with the beef and remove it when it's cooked, then I add the carrots and onions, which take a little longer to cook, then the broccoli, stir the quick-cooking peas, and the beef in at the very end.
Make-Ahead Ideas
Prep your vegetables and meat up to a day ahead and store in covered bowls or zip top bags. Remember to keep the vegetables separated according to when you'll add them to the stir-fry, i.e. longer cooking vegetables together, fast cooking vegetables together. Stir together the sauce ingredients up to a day ahead and store in the refrigerator.
Storage & Reheating Tips
Refrigerate: Promptly refrigerate leftover stir fry in a covered container. It will keep for three to four days. I find it's works better to store the stir fry with the leftover rice and reheat them together.
Freeze: Stir fry can be frozen in a freezer safe container or bag for up to two months. Thaw overnight in the fridge for best results.
Reheat: Microwave individual portions until heated through. Try not to overheat the mixture. If you have a larger amount, reheat mixture in a skillet over medium heat.
More Stir-Fry Recipes
Interested in a weekly meal plan (it's free!) that includes this stir fry recipe? Take a look at my Meal Plan (#4) or Meal Plan (#12). You'll find a wholesome recipe for each weekday plus a categorized grocery list. Let me do the planning for you this week!
We'll be adding a new meal plan weekly. If you're interested, browse all of our meal plans.
Did you make this? Be sure to leave a review below and tag me @rachelcooksblog on Facebook, Instagram, or Pinterest!
Stir fry is easy to make once you learn the basics. Start with this delicious beef stir fry with vegetables and you'll gain confidence quickly.
Ingredients
Sauce:
¼

cup

low sodium soy sauce

¼

cup

dark brown sugar

2

tablespoons

rice vinegar

2

tablespoons

cornstarch

1

teaspoon

grated fresh ginger root

¼

teaspoon

red pepper flakes

(more to taste)

2

cloves

garlic, minced
Stir Fry:
1

pound

flank or flat iron steak, cut into very thin slices against the grain

1

tablespoon

cornstarch

½

teaspoon

kosher salt

¼

teaspoon

coarse ground black pepper

1

tablespoon

olive oil

1

cup

thinly sliced carrots, cut diagonally

1

small red onion, sliced vertically, or about

1

cup

2

cups

broccoli, cut into bite-sized florets

1 ½

cups

sugar snap or snow peas

4

cups

cooked rice, for serving

2 or 3

green onions, thinly sliced, for serving
Instructions
In a small bowl combine sauce ingredients and set aside.

Combine

1 tablespoon

cornstarch with salt and pepper. Toss sliced beef with cornstarch mixture; set aside while you prep the vegetables.

Heat oil in a wok or large pan over high heat. Tilt pan and swirl to coat the sides. Add the beef and cook, stirring occasionally, for 5 minutes or desired doneness is achieved. Remove beef from pan and place on a plate.

Return pan to high heat and add the onions and carrots; stir fry for 2 minutes. Add the broccoli; stir fry for 3 more minutes. Stir in sauce mixture (stir sauce mixture well before adding), beef and any accumulated juices, and snow peas; cook for another 1 to 2 minutes or until sauce is thickened and peas are cooked to desired doneness.

Serve over rice and garnish with sliced green onions.
Notes
You can use whatever meat or vegetable you like. This recipe is very versatile. Cooking times will vary, however.
Recipe card updated 5/5/2022.
Nutrition Information
Calories:
538
kcal
,
Carbohydrates:
77
g
,
Protein:
33
g
,
Fat:
10
g
,
Saturated Fat:
3
g
,
Polyunsaturated Fat:
1
g
,
Monounsaturated Fat:
5
g
,
Cholesterol:
68
mg
,
Sodium:
974
mg
,
Potassium:
905
mg
,
Fiber:
5
g
,
Sugar:
19
g
,
Vitamin A:
6127
IU
,
Vitamin C:
68
mg
,
Calcium:
119
mg
,
Iron:
4
mg
This website provides approximate nutrition information for convenience and as a courtesy only. Nutrition data is gathered primarily from the USDA Food Composition Database, whenever available, or otherwise other online calculators.