Quinoa Bowl Recipe with Roasted Tomatoes, Ricotta and Balsamic
This quinoa bowl recipe is perfect for meal prep days – you'll love lunching on this all week! It's healthy, flavorful, and versatile.
Recipe Overview
Why you'll love it: This recipe is easy to make and there are so many ways to change it up.
How long it takes: Prep time is 10 minutes but the tomatoes need to roast for over an hour.
Equipment you'll need: skillet, roasting pan, parchment paper
Servings: 6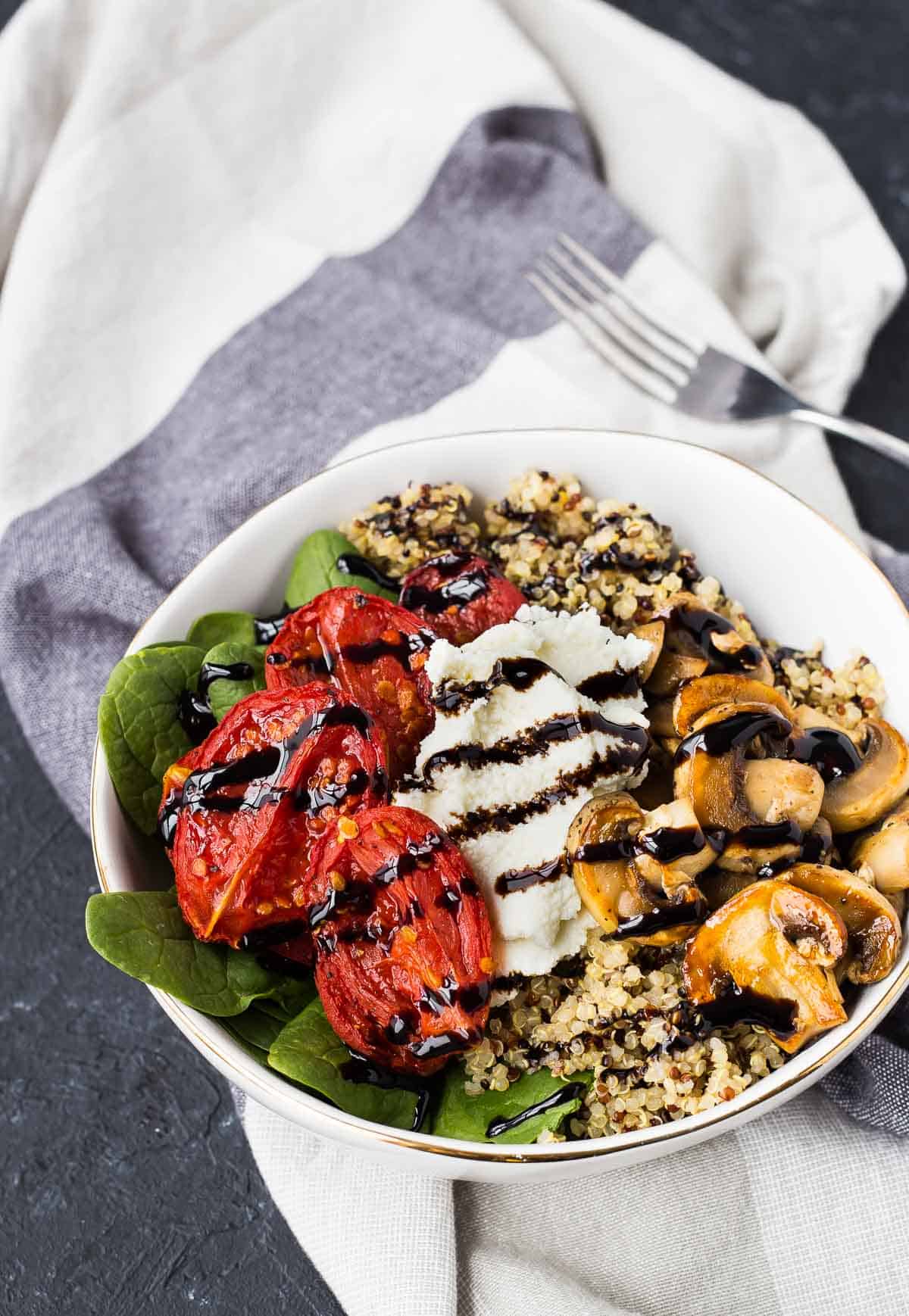 My kids think that this quinoa bowl recipe is topped with ice cream and chocolate syrup. I hate to disappoint, but it's not. Although, I think I'd choose ricotta and balsamic glaze over ice cream and chocolate most days. Most, not all. Especially with mushrooms and tomatoes. They go far better with ricotta and balsamic than they do with ice cream and chocolate.
Seriously though, I had to tell them about three times that it wasn't what they thought it was. I still don't think they believed me.
You know what else you might not believe? That the tomatoes in this quinoa bowl recipe are from a can. Crazy, right? They look like they're straight off the vine, do they not?
I've been partnering with Red Gold Tomatoes for awhile now, and this isn't the first time we've chatted about the quality of their product. They're great tomatoes to throw into the blender to make restaurant style salsa, but they also shine straight out of the can.
They maintain such a beautiful shape when you slice them in half. When you put them in a hot oven and roast them slowly, the flavors really shine. I could eat them on their own but they're even better in this quinoa bowl recipe.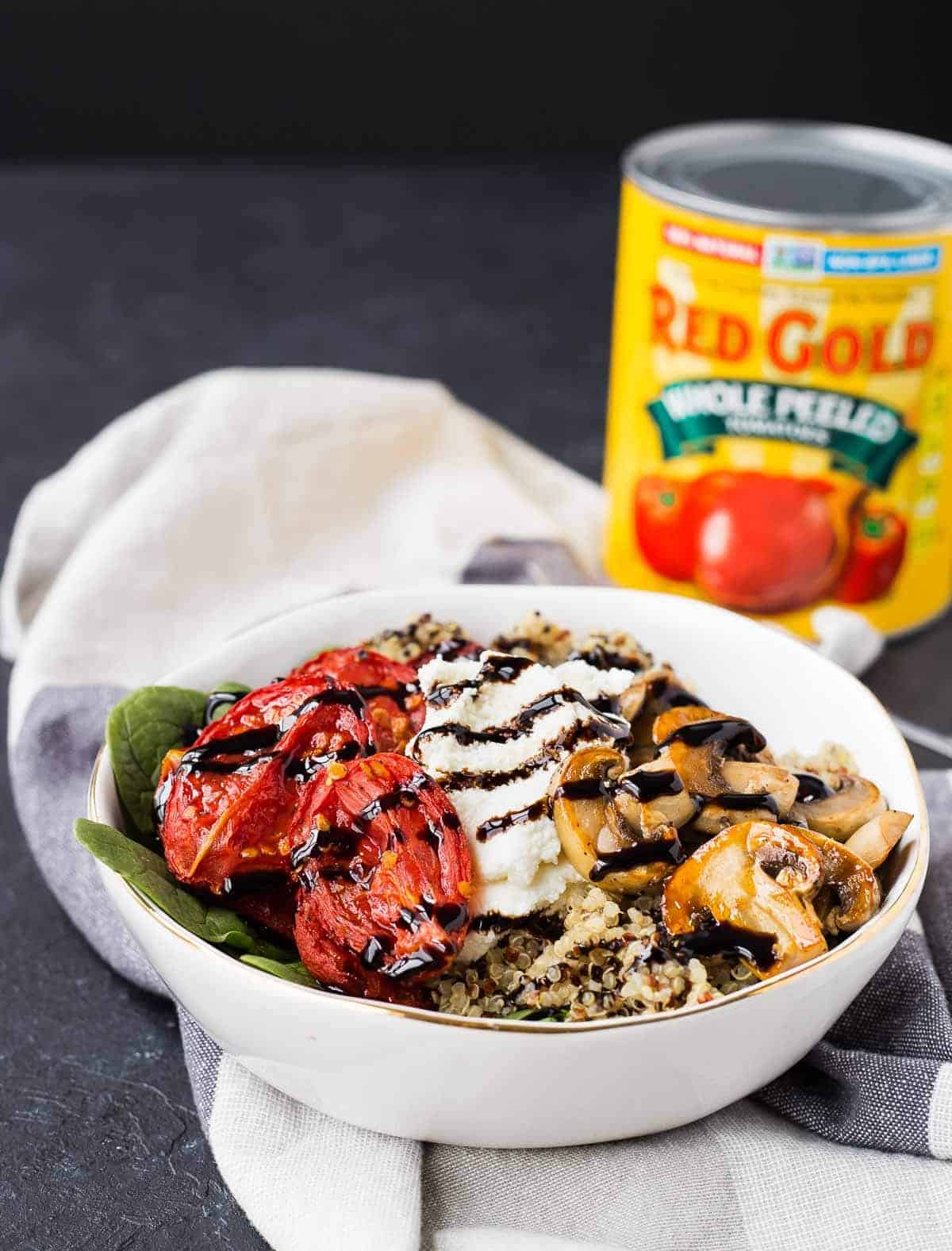 About This Recipe
What are "bowls"? You may be seeing lots of recipes for bowl meals that include a cooked grain, protein, and vegetables. Often they are called Buddha bowls or burrito bowls. if they have a southwestern theme. There's really no limitations on bowls; you can pretty much create anything you like.
One of our favorites is BBQ chicken bowl with black bean corn salsa. Almost everyone loves it. Another popular recipe is egg roll in a bowl. If you love quinoa, you'll want to try southwestern quinoa bowl with chicken. Tabbouleh fans love broccoli tabbouleh bowl with lentils.
The quinoa bowl today is very simple and the roasted tomatoes are a highlight. It's vegetarian, gluten-free, low fat, and low calorie (only 158 calories per serving). Quinoa is a good source of protein, fiber, and amino acids. This satisfying bowl doesn't skimp on taste and is perfect for lunch or a light dinner.
I'll run through the recipe here and give you some extra tips. Look for complete instructions, measurements, and nutrition information on the recipe card located near the end of the post.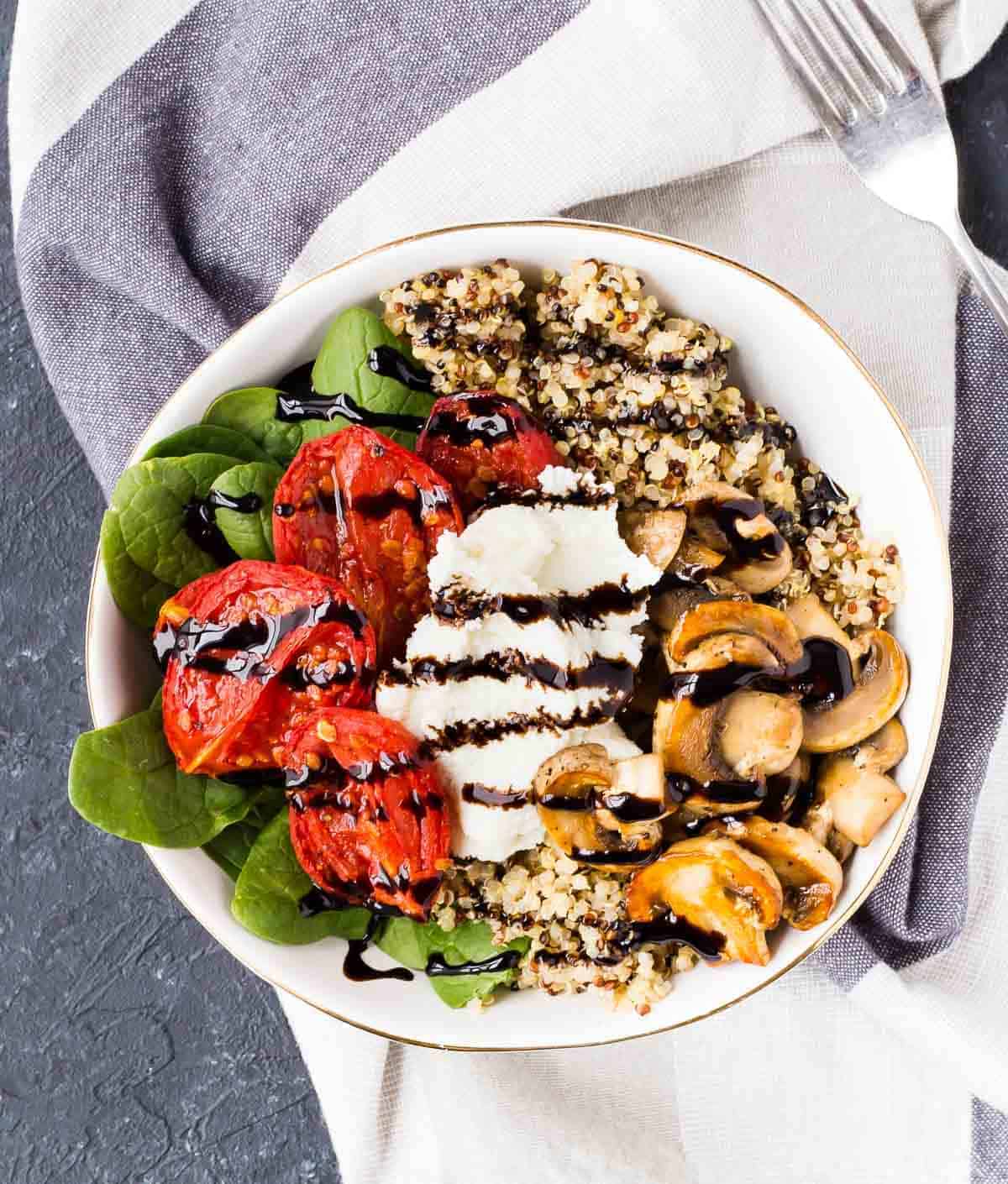 What You'll Need
Canned Whole Tomatoes: Look for a large 28 ounce can of whole peeled tomatoes. If you prefer, fresh Roma tomatoes can be substituted (there's no need to peel them).
Olive Oil: The tomatoes are tossed with a bit of olive oil. If you have olive oil spray, you can just lightly mist the tomatoes.
White Balsamic Vinegar: This vinegar is similar to regular balsamic vinegar but it's made with white grapes. It adds a sweet tangy note to the tomatoes which enhances their flavor.
Fresh Mushrooms: Choose white or button mushrooms; baby portobello mushrooms are fine, too.
Cooked Quinoa: This hearty gluten-free grain is the foundation of the bowl. It can be cooked ahead and refrigerated or frozen (learn how to freeze quinoa). I usually cook the whole package at once and store what I don't need. It thaws quickly and is so convenient. Other grains can be substituted; brown rice, farro, or cauliflower rice are good alternatives.
Ricotta Cheese: Either part-skim or whole milk ricotta cheese is fine. Choose what you like best or substitute fresh mozzarella. Feta is good, too. Probably not ice cream, though.
Baby Spinach Leaves: Spinach is so nutritious and this bowl is a great way to add those greens to your diet. Other greens can be substituted.
Balsamic Glaze: While it's not chocolate syrup, balsamic glaze is sweet and delicious. Try it as a topping for vanilla ice cream, especially combined with fresh strawberries. It's easy to make your own balsamic reduction or it can be purchased.
How To Make This Recipe
The most time consuming part of the recipe is roasting the tomatoes but that's all hands off. It can also be done ahead. Simply store the roasted tomatoes in the fridge until you're ready to use them.
Roast the tomatoes: Here's how to do it: Cut each tomato in half lengthwise. That's from the stem end to the other end. Arrange the halves on a rimmed baking sheet (sheet pan) that's been lined with parchment paper. Brush them with a bit of olive oil or give them a light misting. Drizzle on white balsamic vinegar and season with salt and pepper.
Roast the tomatoes at low heat for an hour and ten minutes. It could take a bit longer. The tomatoes should be very soft and slightly golden brown.
Cook quinoa: Meanwhile, prep the quinoa if you don't have it already cooked.
Sauté the mushrooms: Learn how to make the best golden brown and delicious sautéed mushrooms. It's a game-changer.
Assemble the bowls: When everything's ready, assemble the bowls. A wide shallow bowl works best so that all the ingredients are displayed attractively. Put a big spoonful of quinoa in the bowl, add the spinach, a dollop of ricotta, and 4 tomato halves. Drizzle with the balsamic glaze and enjoy!
FAQs
Are quinoa bowls healthy?
Quinoa bowls can be a very healthy choice. Quinoa is a gluten-free whole grain that has many health benefits. It has a lot of fiber and is a complete protein, containing all of the essential amino acids. Quinoa is rich in antioxidants, vitamins, and minerals (Web MD).
A quinoa bowl can contain many additional ingredients. Choose healthy add-ins like vegetables, legumes (beans), lowfat cheese, and nuts.
Is quinoa healthier than rice?
Because quinoa is considered a whole grain, it has more nutritional benefits than white rice which has been processed to remove the outer husk, the bran, and germ. White rice has very little protein; brown rice has a bit more but not nearly as much as quinoa. Quinoa is lower in calories than either white or brown rice.
Make It Your Own
Sauté the spinach with the mushrooms to wilt it if you like. If you're making this ahead and microwaving, the spinach will wilt in the microwave.
Add protein: cooked shredded chicken, sautéed shrimp, or leftover salmon.
Add nuts: If you enjoy nuts, sprinkle the bowl with toasted walnuts, pecans, pine nuts, or chopped almonds. This nut-free savory granola makes a great topping, too.
Substitute fresh tomatoes. Don't have time to roast tomatoes? No problem! This bowl is great with fresh tomatoes, too.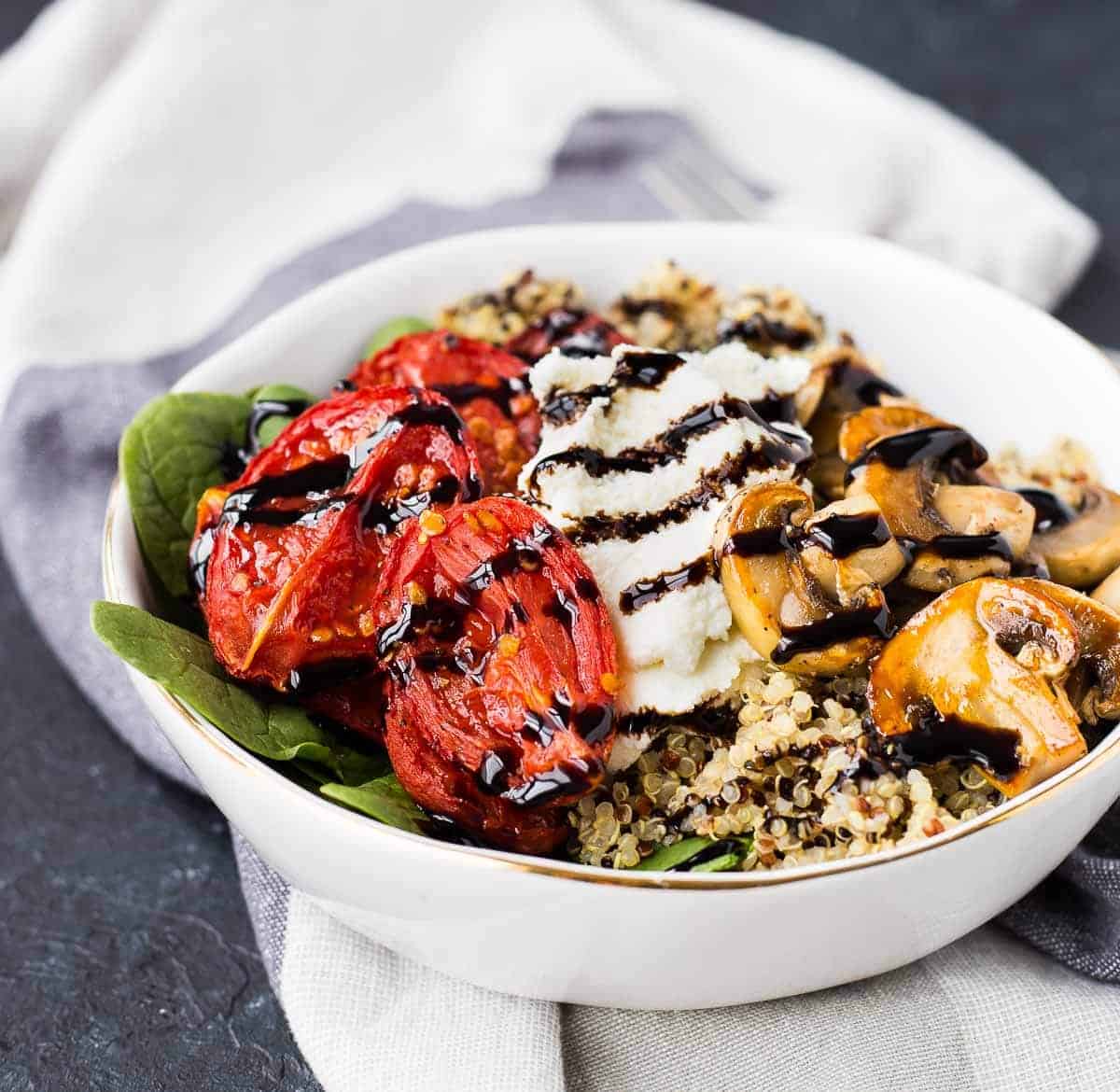 Make-Ahead Ideas
This recipe is perfect for meal prepping. Since the tomatoes are slow-roasted, they do take a bit of time (over an hour) but that hour is hands off and luckily the roasted tomatoes keep well. While the tomatoes are roasting, cook the quinoa and sauté the mushrooms. Store these three ingredients in the fridge. They'll keep for four to five days.
When it's time to eat, just make your bowl with all the ingredients. If you like, package the ingredients in containers and they'll be ready to take to work in the morning.
Storage & Reheating Tips
Refrigerate: Store the elements of this bowl in separate containers in the fridge for up to five days.
Reheat or serve cold: To serve, add what you want to a bowl and serve it cold or warmed up in the microwave for a few minutes. This quinoa bowl is good both ways but my preference is to heat it lightly to take the chill out.
Interested in a weekly meal plan (it's free!) that includes this recipe? Take a look at my Meal Plan #19. You'll find a wholesome recipe for each weekday plus a categorized grocery list. Let me do the planning for you this week!
We'll be adding a new meal plan weekly. If you're interested, browse all of our meal plans.
Did you make this? Be sure to leave a review below and tag me @rachelcooksblog on Facebook, Instagram, or Pinterest!
This quinoa bowl recipe is perfect for meal prep days – you'll love lunching on this all week! It's healthy, delicious, and versatile.
Ingredients
For tomatoes:
1

can

(28 ounces) whole peeled tomatoes

1

teaspoon

olive oil

(or olive oil spray)

1

tablespoon

white balsamic vinegar

¼

teaspoon

salt

¼

teaspoon

ground black pepper
For mushrooms:
1

teaspoon

olive oil

8

ounces

fresh mushrooms, cleaned and sliced

¼

teaspoon

salt

¼

teaspoon

pepper
For bowl:
2

cups

cooked quinoa

(½ cup per bowl)

1

cup

(8 ounces) part-skim ricotta cheese

(about 2 oz per bowl)

1

pkg.

(5 ounces) fresh baby spinach

(½ to 1 cup per bowl)

3

tablespoons

balsamic glaze

(½ – 1 tablespoon per bowl)
Instructions
For roasted tomatoes:
Preheat oven to 300°F. Line a rimmed baking sheet with parchment paper.

Using a sharp knife, cut each tomato in half lengthwise. Arrange cut tomatoes on prepared baking sheet. Spray tomatoes lightly with olive oil or drizzle with olive oil. Sprinkle or brush on white balsamic vinegar and season with salt and pepper.

Place in preheated oven for 1 hour 10 minutes to 1 hour 20 minutes, or until soft and golden brown around the edges.
For mushrooms:
In a large frying pan, heat 1 teaspoon olive oil over medium-high heat. Add mushrooms and season with salt and pepper. Sauté until golden brown.
To assemble bowls:
Add ½ cup quinoa to bowl, followed by ½ cup to 1 cup baby spinach, ¼ cup ricotta, 4 tomato halves, and a spoonful of mushrooms. Drizzle with balsamic glaze and serve. Note: If some of your ingredients are chilled, microwave them briefly to warm them up.
Notes
If you prefer, the spinach can be sautéed. Add it to the mushrooms near the end of the cooking time to wilt the leaves.
Arugula or baby kale can be substituted for the baby spinach leaves.
Instead of ricotta cheese, try fresh mozzarella or feta cheese.
Don't have time to roast tomatoes? This bowl is great with fresh tomatoes, too.
Make your own balsamic reduction (glaze) if you would like.
Nutrition Information
Calories:
266
kcal
,
Carbohydrates:
35
g
,
Protein:
14
g
,
Fat:
9
g
,
Saturated Fat:
4
g
,
Polyunsaturated Fat:
2
g
,
Monounsaturated Fat:
3
g
,
Cholesterol:
19
mg
,
Sodium:
525
mg
,
Potassium:
619
mg
,
Fiber:
4
g
,
Sugar:
7
g
,
Vitamin A:
386
IU
,
Vitamin C:
11
mg
,
Calcium:
219
mg
,
Iron:
3
mg
This website provides approximate nutrition information for convenience and as a courtesy only. Nutrition data is gathered primarily from the USDA Food Composition Database, whenever available, or otherwise other online calculators.