Dig into this black bean corn salsa with chips or add a couple spoonfuls to your favorite salad, bowl, or burrito. It's fresh and flavorful, and so easy to make.
Recipe Overview
Why you'll love it: It's a healthy salsa, packed with beans and colorful veggies. It can be made ahead, too.
How long it takes: 15 minutes
Equipment you'll need: sharp knife, colander, mixing bowl
Servings: makes 4 cups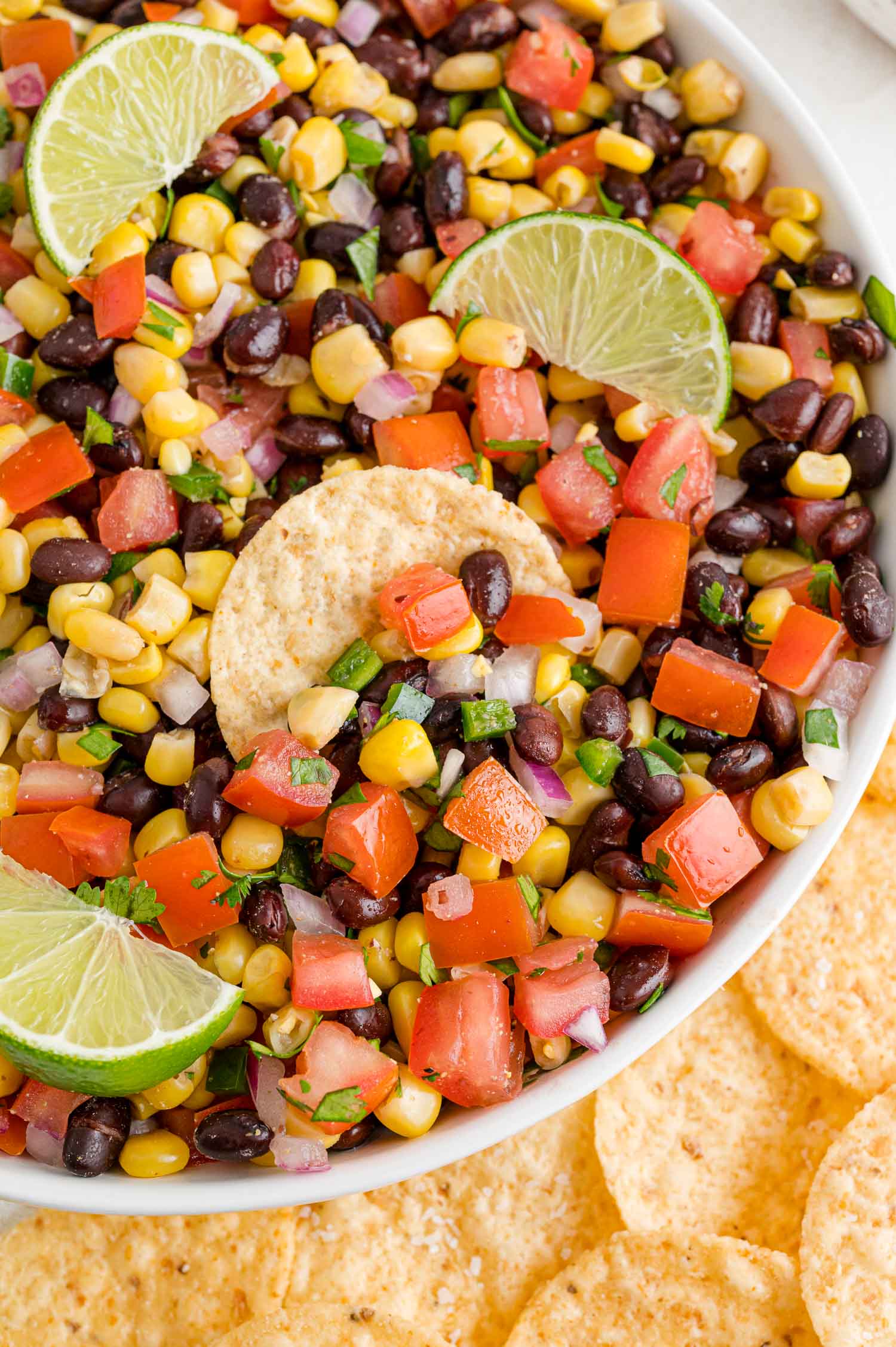 Are you a salsa fan? I sure am! I can totally make a meal out of chips and salsa. Put a basket of chips in front of me and watch out! The problem is, a meal of chips and salsa doesn't have a lot of nutritional value.
Tada! Black bean corn salsa comes to the rescue. Chock full of healthy beans (protein!) and colorful veggies, this salsa is filling and nutritious. Guess what? A half cup serving only has 85 calories! It's practically guilt free.
And does it taste good? You betcha! Would I make you eat something that doesn't taste good? I don't think so (although my kids would probably disagree).
About this Recipe
You may have purchased black bean corn salsa at your grocery store. It usually comes in a jar much like regular salsa. Yeah, and it pretty much tastes like canned salsa with a few beans and corn kernels thrown in. Not too exciting, to say the least.
Homemade black bean corn salsa isn't anything like that salsa. It's more like a scoopable salad, similar to pico de gallo, with lots of fresh tomatoes, onions, peppers, and cilantro. Freshly squeezed lime juice with a bit of warm cumin is the only dressing; there's no added oil or artificial ingredients.
This salsa is not just for chips. Keep reading for lots more ways to enjoy black bean corn salsa. I could eat it just plain.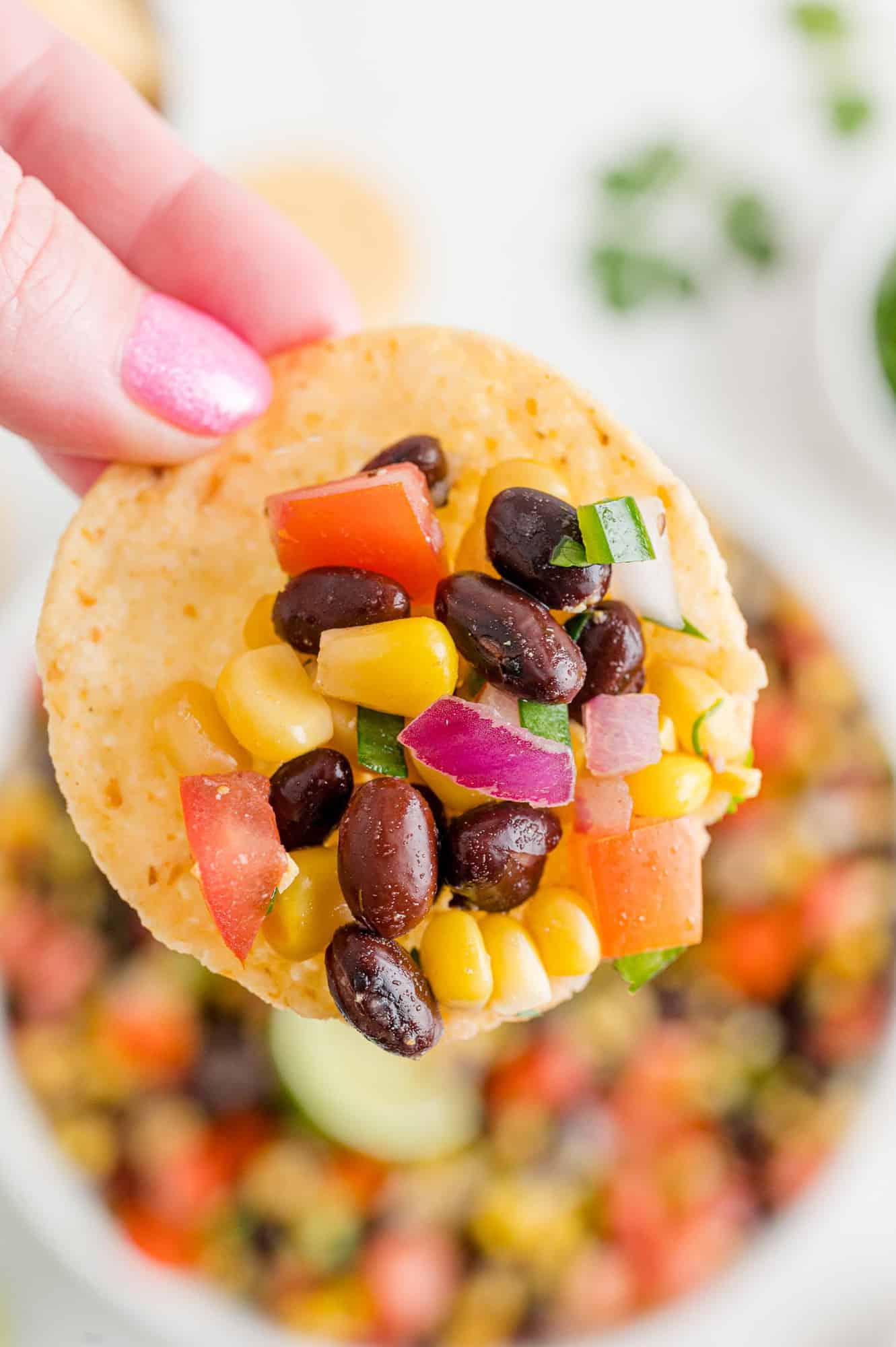 I'll get you started on making the salsa here with lots of helpful tips. For complete instructions, measurements, and nutrition information, check out the recipe card below (it's printable, too!).
What you'll need
Black Beans: Canned black beans make this dip super easy. You can substitute pinto beans if you prefer. Rinse the beans in a colander with cool running water until the water runs clear before adding them to the dip.
Corn: For convenience, canned corn can't be beat. There are lots of different kinds so just choose the one you like best. If fresh corn on the cob is available, for sure you'll want to use that. It's crisper and has lots more flavor. It's easy to cut the kernels off the cob (see the FAQ below).
Tomatoes: I usually use Roma tomatoes for this dip because they are meatier and not as juicy. Grape or cherry tomatoes are fine if you cut them into halves or quarters. If fresh tomatoes aren't available, use a can of diced tomatoes, drained well.
Red Onion: Red onion is perfect for this salsa but a sweet onion such as Vidalia is good, too.
Jalapeño Pepper: Remove the ribs and seeds from the pepper before adding it to the dip to make the salsa more mild. The heat of jalapeños can really vary so try a little bit before you add it all to the dip.
Cilantro: Fresh cilantro is a must for salsa. Use the leaves and tender stems.
Fresh Lime Juice: One lime will give you just enough juice.
Cumin: This earthy spice is added to many southwestern style recipes.
Salt & Pepper: Season the salsa to taste.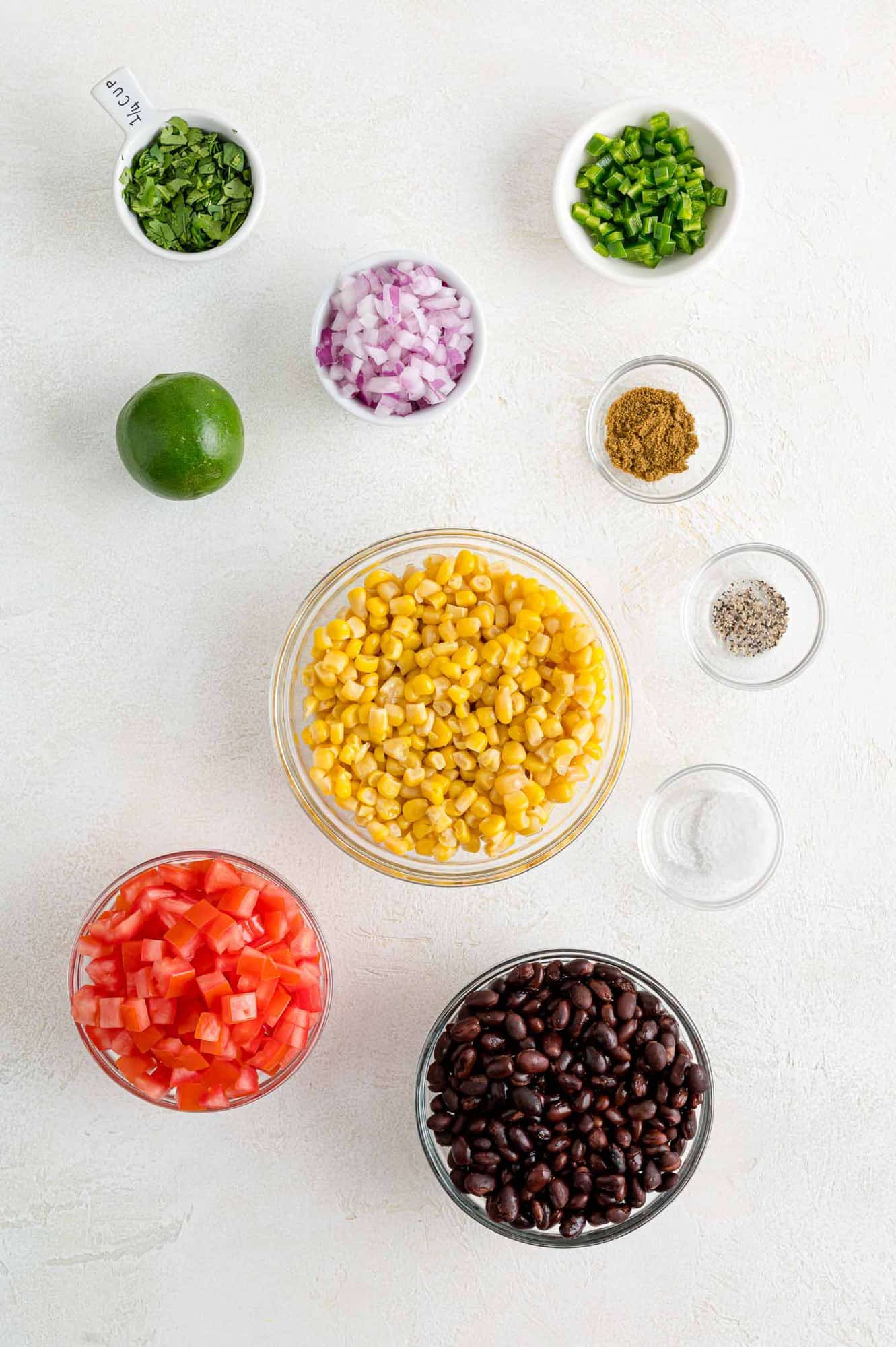 How To Make This Salsa
This is a pretty easy recipe to make. It does involve a little chopping and dicing so you'll need a sharp knife and cutting board.
Make sure your can of beans is rinsed and drained. Put the beans in a colander in the sink and run water over them until the water runs clear. You can drain the can of corn in the same colander.
Next, let's turn our attention to the tomatoes. Wash the tomatoes and cut them in half lengthwise. You'll want to remove some of the seeds and the jelly-like part of the tomato by gently squeezing the halves. Dice the tomatoes into fairly small pieces so that they are "dippable."
Peel and dice the red onion. You'll only need about a quarter cup.
Cut the stem end off the jalapeño pepper; cut it in half lengthwise and remove the ribs and seeds. Chop it pretty finely (minced). You probably don't want huge chunks of jalapeño pepper in your salsa.
Rinse the cilantro and shake off the excess water. You can use the thin stems as well as the leaves. Chop it up, and now we're good to go.
Simply put all the ingredients into a bowl, add the cumin and lime juice, and season with salt and pepper.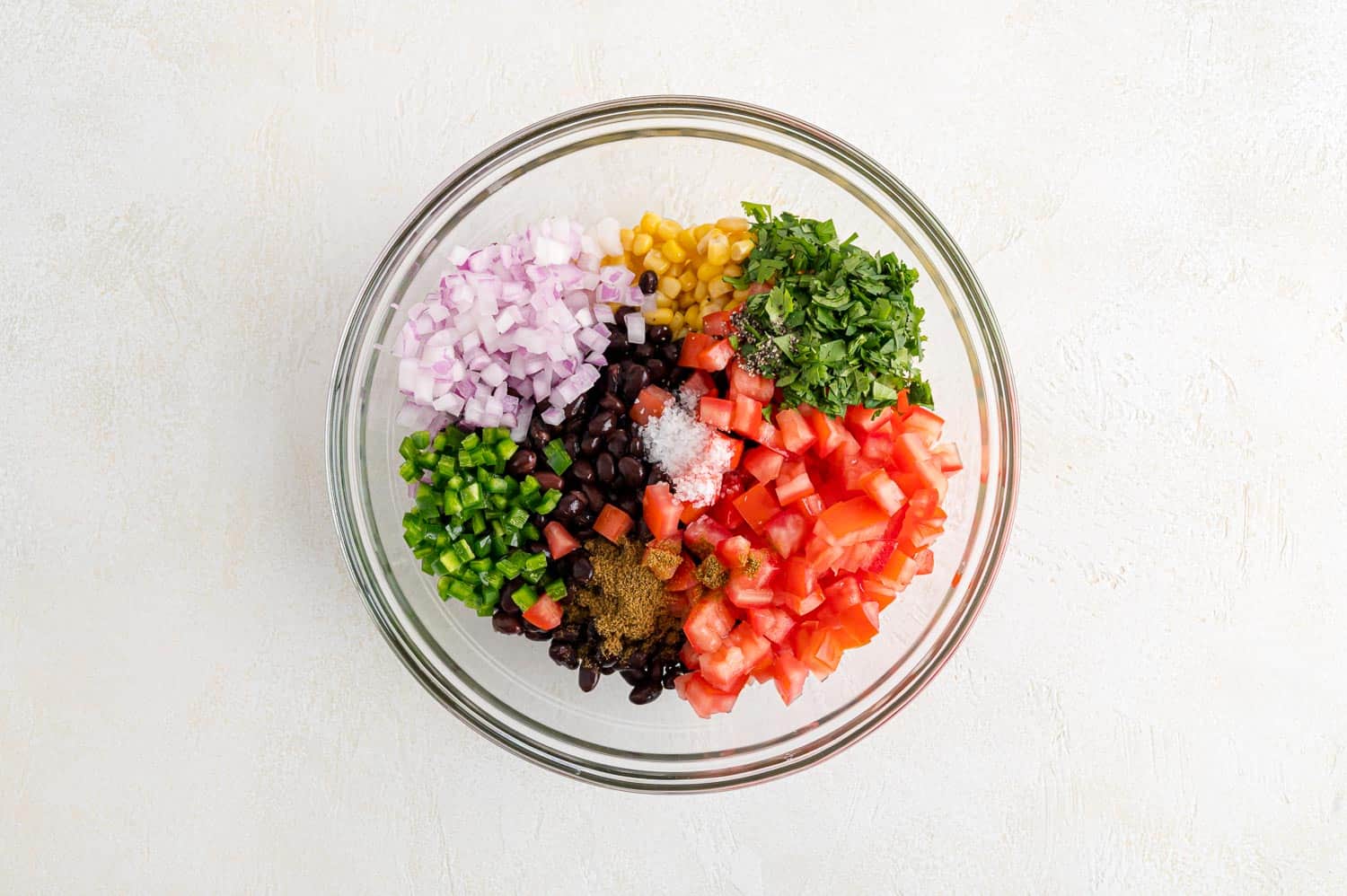 Stir it up and it's ready to serve.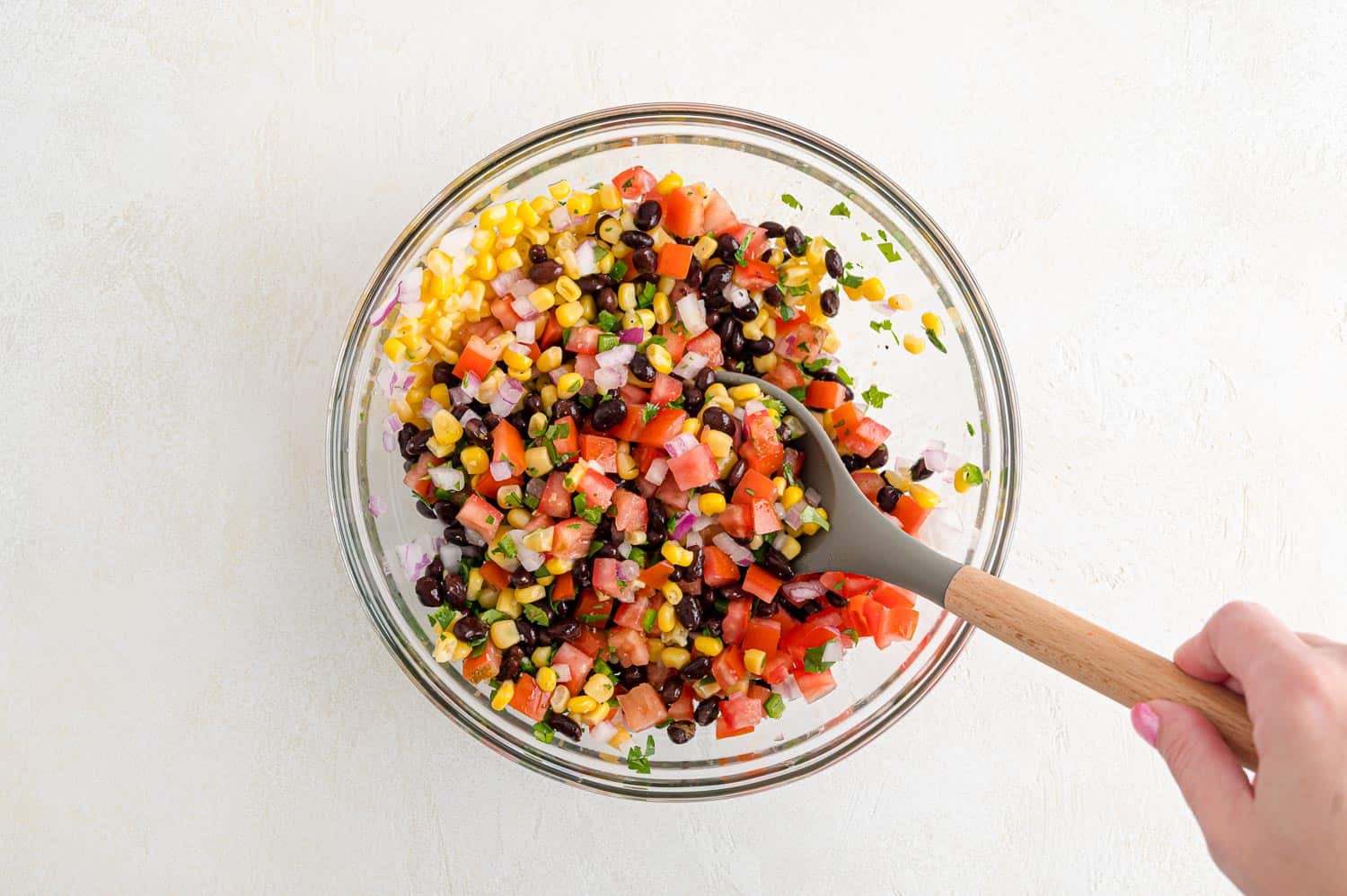 Looking for a cocktail to go with your salsa? Try a spicy Paloma or strawberry margarita punch. I love a frosty G &T with chips and my hubby always goes for a cold craft beer.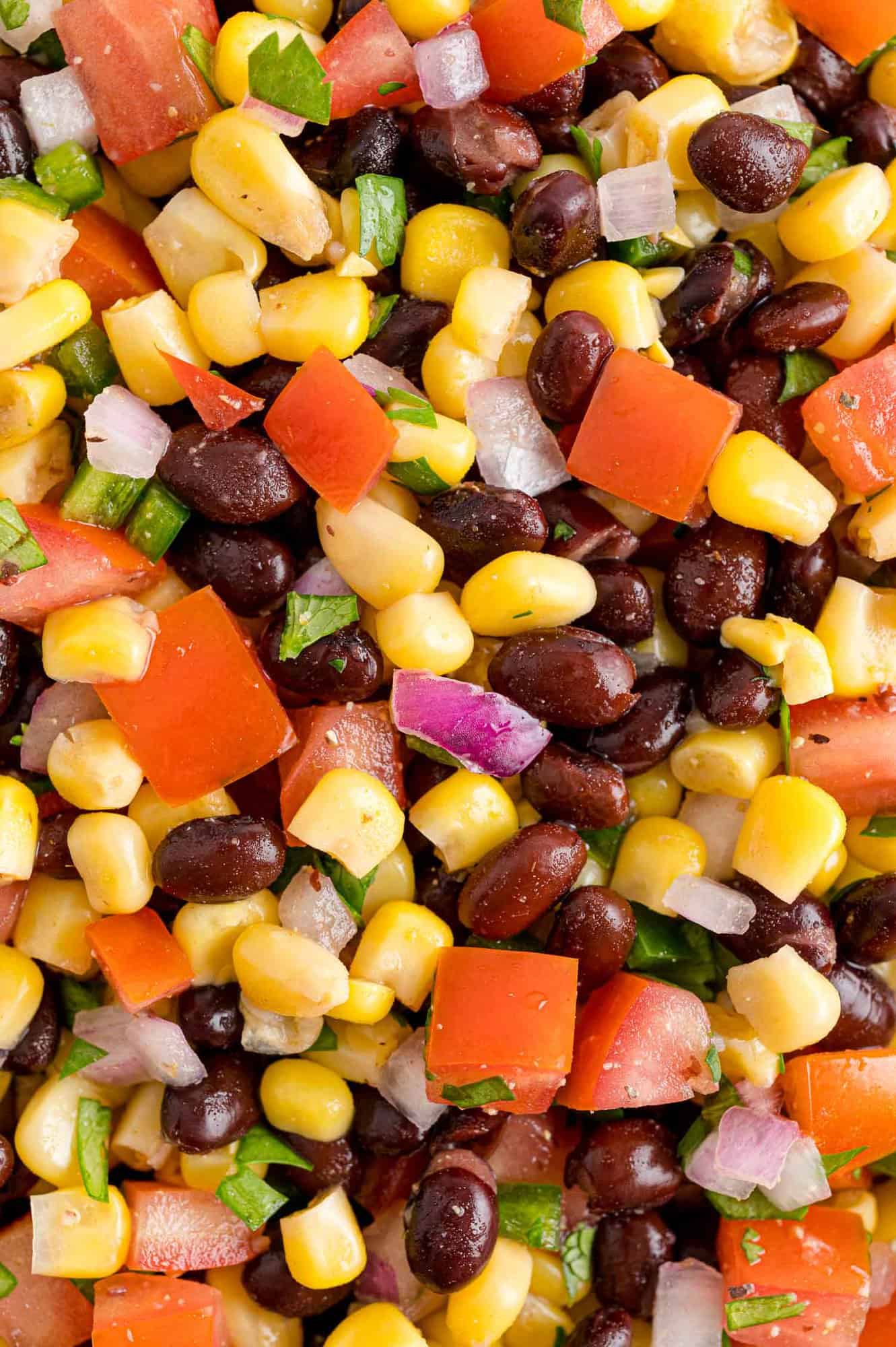 FAQs
Are black beans good for you?
According to Healthline, black beans have many health benefits. Like most legumes, they are high in protein and fiber, with lots of antioxidants, minerals, and vitamins. Black beans are low in calories and can be helpful for managing weight control, heart health, and blood sugar.
Should I rinse canned black beans?
When you open a can of beans, you'll notice a thick viscous liquid surrounding the beans. It contains starch from the beans, water, and salt, which helps preserve the beans.
If you're trying to lower your sodium intake, it's best to rinse the beans because the liquid contains quite a lot of sodium. If you're making a salad or salsa like this one, rinsing is a good idea because you really don't want all that liquid mucking things up.
However, some cooks like to add the bean liquid to soups and stews. It can improve the texture of the soup and enhance the flavor. It's really a matter of preference.
How do you easily cut corn?
Fresh corn on the cob is so delicious but you may be wondering how to get that corn off the cob. It's really pretty easy. There are a couple of ways to do it. You'll need a sharp thin-bladed knife.
Set a small bowl upside down inside a large shallow bowl. I usually put them both in my sink to contain the mess a bit. Center the stem end of the corn on top of the small bowl. Cut the kernels off the cob top to bottom. The corn will neatly fall into the larger bowl.
A bundt cake pan works surprisingly well too. The center hole can be used to position and hold the corn cob, and the cut corn falls into the pan. Nifty!

What Goes With Black Bean Corn Salsa
Tortilla chips (of course): Buy a bag of your favorite chips or make your own. For a healthier choice, try baked tortilla chips or air fryer tortilla chips. There's nothing like freshly made, warm chips, and these have very little added oil or salt.
Nachos: Arrange your chips on a platter, load it up with cheese, bake or microwave until the cheese is melted, then top it with lots of this salsa. So good! It's also great on cauliflower nachos or vegetarian nachos (we love the creamy cilantro lime drizzle on these nachos.
Quesadillas: Black bean corn salsa takes quesadillas to another dimension. Feeling wild? Try quesadilla nachos!
Bowls: If you're a fan of burrito bowls, they are simple to make. Start with warm rice, add cooked meat of your choice, and top it all with this salsa. So easy and delicious! You'll really want to try this BBQ chicken bowl.
Salads: Turn a bowl of plain greens into a power salad simply by adding a few spoonfuls of this salsa.
Tacos, Burritos, etc: Anywhere you would add salsa!
Make It Your Own
If you love avocados, stir in a diced avocado right before serving. It's really delicious with avocado! It will be similar to black bean avocado dip.
This is your salsa so tweak the ingredients any way you choose. Don't like tomatoes? Make it with no tomatoes. Not a fan of corn? That's okay, you could easily sub in chopped bell peppers. Love garlic? Go ahead and add a clove, finely minced. You get the idea.
Substitute canned diced tomatoes, drained, for the fresh tomatoes.
Looking for cowboy caviar? Try black bean and avocado salad which is somewhat similar to this recipe. It's great with chips, too.
Make Ahead Ideas
Since this salsa keeps well, it can be made ahead. In fact, it may be even a bit better the next day. It can be frozen, too, so if you have an abundance of tomatoes or corn, go ahead and make a double batch and freeze some to eat later. It won't taste quite as fresh, but it will still be yummy.
Storage Tips
Assuming the salsa is refrigerated promptly, it can be stored in the refrigerator safely for five days. If you prefer, transfer it to freezer safe containers and freeze it for up to two months. Thaw it overnight in the fridge, give it a good stir, and it is ready to serve.
Did you make this? Be sure to leave a review below and tag me @rachelcooksblog on Facebook, Instagram, or Pinterest!
Dig into this black bean corn salsa with chips or add a couple spoonfuls to your favorite salad, bowl, or burrito. It's fresh and flavorful, and so easy to make.
Ingredients
1

can

(15 ounces) black or pinto beans, rinsed and drained

1

can

(15 ounces) corn, drained

(or 1 ½ cups fresh corn or frozen corn, thawed)

1 ½

cups

finely chopped roma tomatoes, seeds removed

(about 3 tomatoes)

¼

cup

finely diced red onion, finely diced

(about ¼ onion)

1

jalapeño pepper, seeds and ribs removed, finely diced

¼

cup

minced cilantro

(leaves and small stems)

2

tablespoons

fresh lime juice

(from 1 lime)

½

teaspoon

ground cumin

½

teaspoon

kosher salt

⅛

teaspoon

coarse ground black pepper
Instructions
In medium sized bowl, combine all ingredients.

Refrigerate until ready to serve.
Notes
Makes 4 cups. Salsa will keep in the refrigerator for 5 days or can be frozen for up to two months.
If fresh tomatoes aren't available, substitute one can (14.5 oz.) diced tomatoes, drained well.
If desired, make this salsa with avocado. Add 1 or 2 diced avocados right before serving.
Nutrition Information
Serving:
0.5
cup
,
Calories:
85
kcal
,
Carbohydrates:
16
g
,
Protein:
4
g
,
Fat:
1
g
,
Saturated Fat:
1
g
,
Polyunsaturated Fat:
1
g
,
Monounsaturated Fat:
1
g
,
Sodium:
407
mg
,
Potassium:
329
mg
,
Fiber:
4
g
,
Sugar:
2
g
,
Vitamin A:
428
IU
,
Vitamin C:
12
mg
,
Calcium:
27
mg
,
Iron:
1
mg
This website provides approximate nutrition information for convenience and as a courtesy only. Nutrition data is gathered primarily from the USDA Food Composition Database, whenever available, or otherwise other online calculators.