Air Fryer Tortilla Chips – so crispy!
Imagine warm, restaurant-style tortilla chips made at home. Air fryer tortilla chips satisfy your cravings for a crisp salty snack in just a few minutes.
Recipe Overview
Why you'll love it: Air fryer tortilla chips are a healthy snack and are unbelievably easy to make.
How long it takes: 10 minutes
Equipment you'll need: air fryer, sharp knife
Servings: 3 (but it's easy to make more!)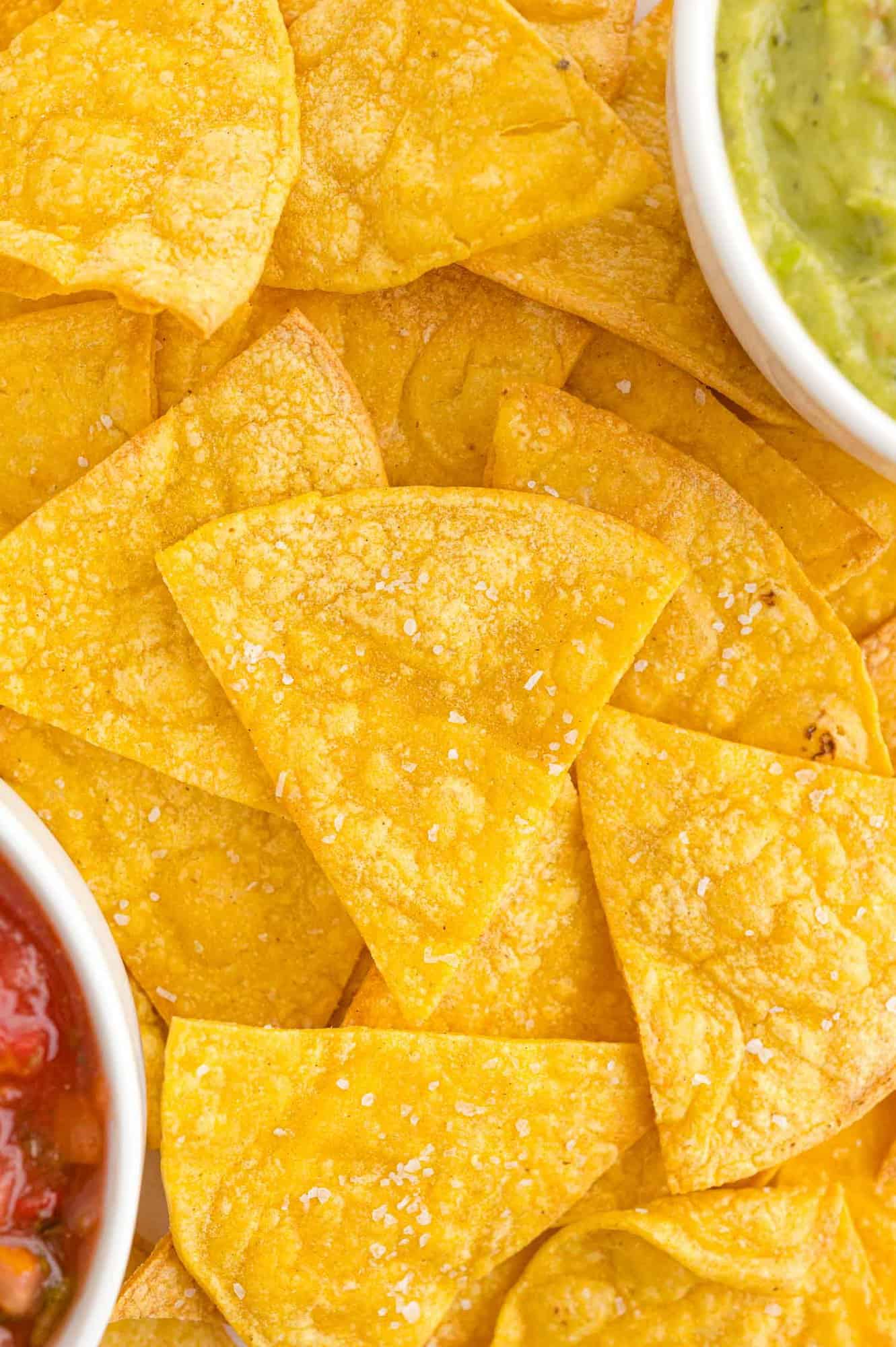 Looking for a quick snack? Looking for a way to use leftover corn tortillas? Looking for warm restaurant style tortilla chips? You can stop looking, I have the answer for you: air fryer tortilla chips.
Don't you just love those baskets of warm tortilla chips that are served at some restaurants? I could easily demolish a basket all by myself. We usually have to order at least a couple baskets depending on how many of us are sharing the chips. Yeah, one for me and one for the rest of you.
Now that I've found out how easy it is to make homemade tortilla chips in both my oven AND my buddy the air fryer, I may have to retire my popcorn popper. Ha, just kidding! That will never happen.
Keep reading if you want to know how seriously easy it is to make this tortilla chip recipe. You only need a few ingredients, corn tortillas, oil spray, and salt. These babies are not grease-laden bombs either because they are AIR-fried, not deep-fried. Gotta love it!
Serve them with homemade restaurant style salsa, pico de gallo, spicy chipotle salsa (make it in a blender), creamy guacamole, or tangy salsa verde. For something a little different, try citrus salsa with fresh grapefruit, orange, and lime.
Make it a meal with homemade crockpot refried beans or Instant Pot refried beans. No soaking necessary! We love this healthier version of black bean dip, too, or creamy refried bean dip with cream cheese. Make nachos or employ the chips as dippers to go along with this creamy queso chili.
If you're feeling like a party, make strawberry margarita punch or a cranberry margarita. Or, keep it simple with a icy cold G &T or Negroni.
About This Recipe
Homemade tortilla chips are a great way to use leftover tortillas. I always seem to have half a package hanging around. Maybe you made fish tacos , tortilla soup, or breakfast tostadas and are wondering what to do with the rest of the tortillas. Voila! No need to waste them, there are crispy chips waiting right around the corner for you.
This is an air fryer recipe so there's very little oil involved in the prep. That means you can wave bye-bye to those fat calories. The clean-up is super easy too.
By the way, did you know that corn tortillas are gluten-free and vegan? Basically, they are just ground up corn. That's a very pared-down description but ingredient-wise, corn tortillas really are just corn. Flour tortillas are made with lard or some other type of fat and can be high in sodium as well.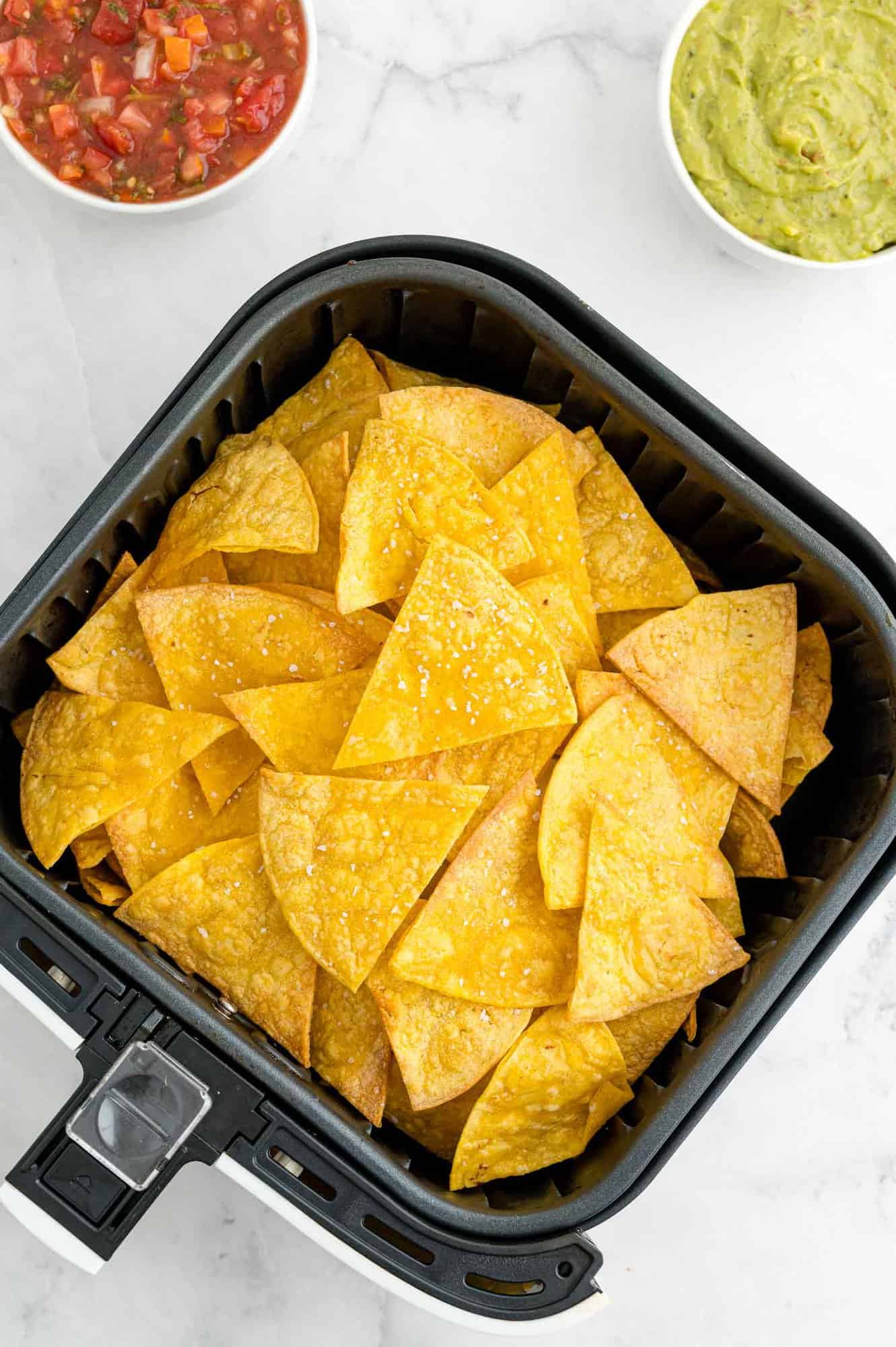 So here goes. I'll get you started here and give you some extra tips that may be helpful.
As always, you'll find the printable recipe card near the end of this post with complete instructions and nutrition information.
Don't Have An Air Fryer?
If you don't have an air fryer, you may want to try oven baked tortilla chips. They are basically the same thing but baked in the oven. They take a bit longer because it takes awhile for the oven to preheat and there's not all that hot air blowing around to get them crispy really fast.
What You'll Need
Corn Tortillas: Look for the taco size. Any size will work fine but the taco size is easy to cut into chip-sized wedges. White corn tortillas, yellow corn tortillas, or even flour tortillas are good.
Avocado or Olive Oil Spray: Just a light misting of spray will give the chips flavor and more crispness. You could brush the chips with oil but you would end up using a lot more oil.
Kosher Salt: Use as much or as little as you like. We'll talk more about flavorings in the Make It Your Own section.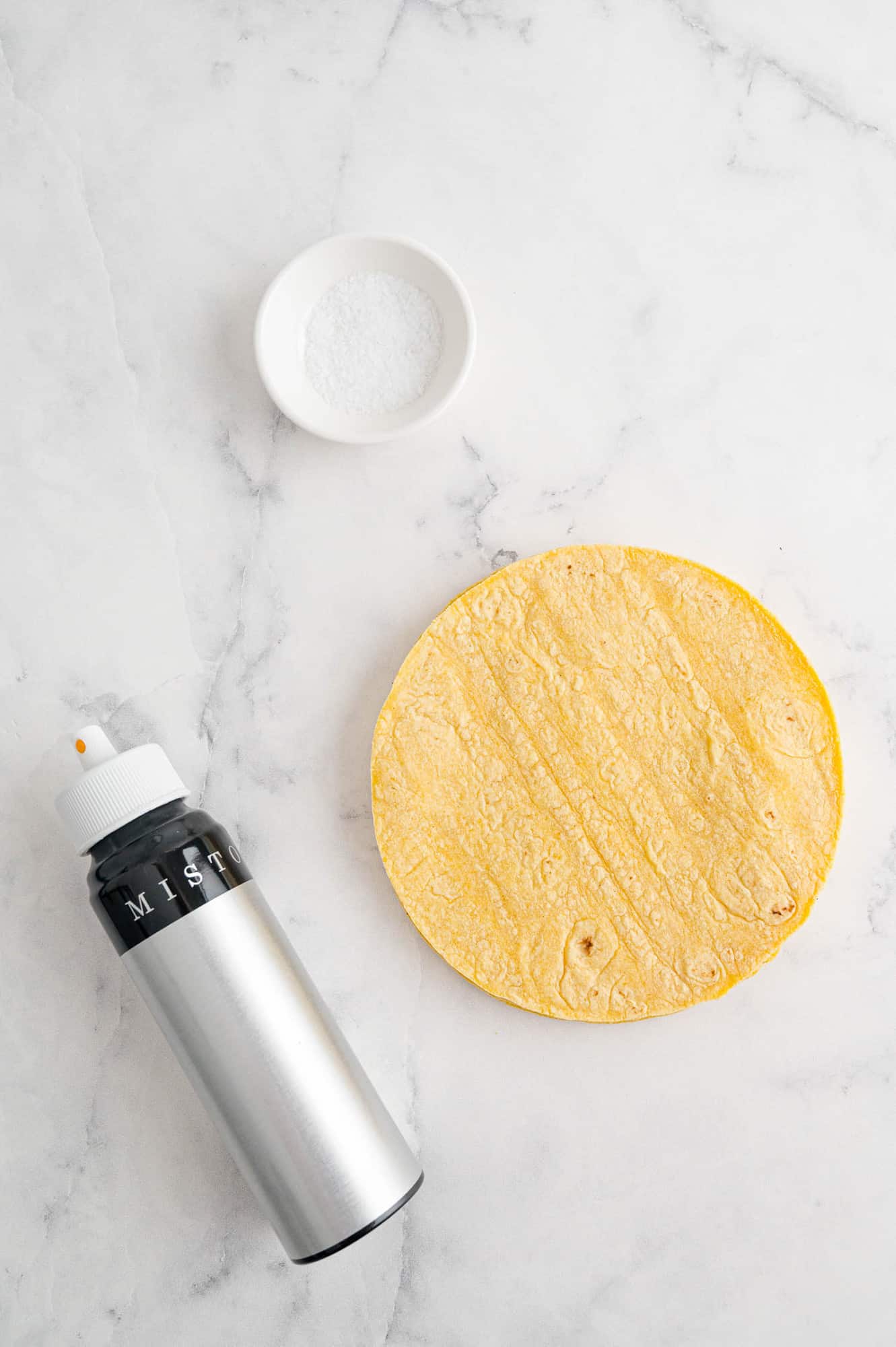 How to make Tortilla Chips
First step is to apply a little bit of oil to the tortillas. Do it before you cut them into wedges. It's much easier to apply oil to a whole circle than lots of little pieces.
There are a couple of ways to do this. The easiest way is to mist them lightly with avocado oil spray or olive oil spray. The tortillas get a much lighter layer of oil this way, too. Flip them over and spray the other side, too.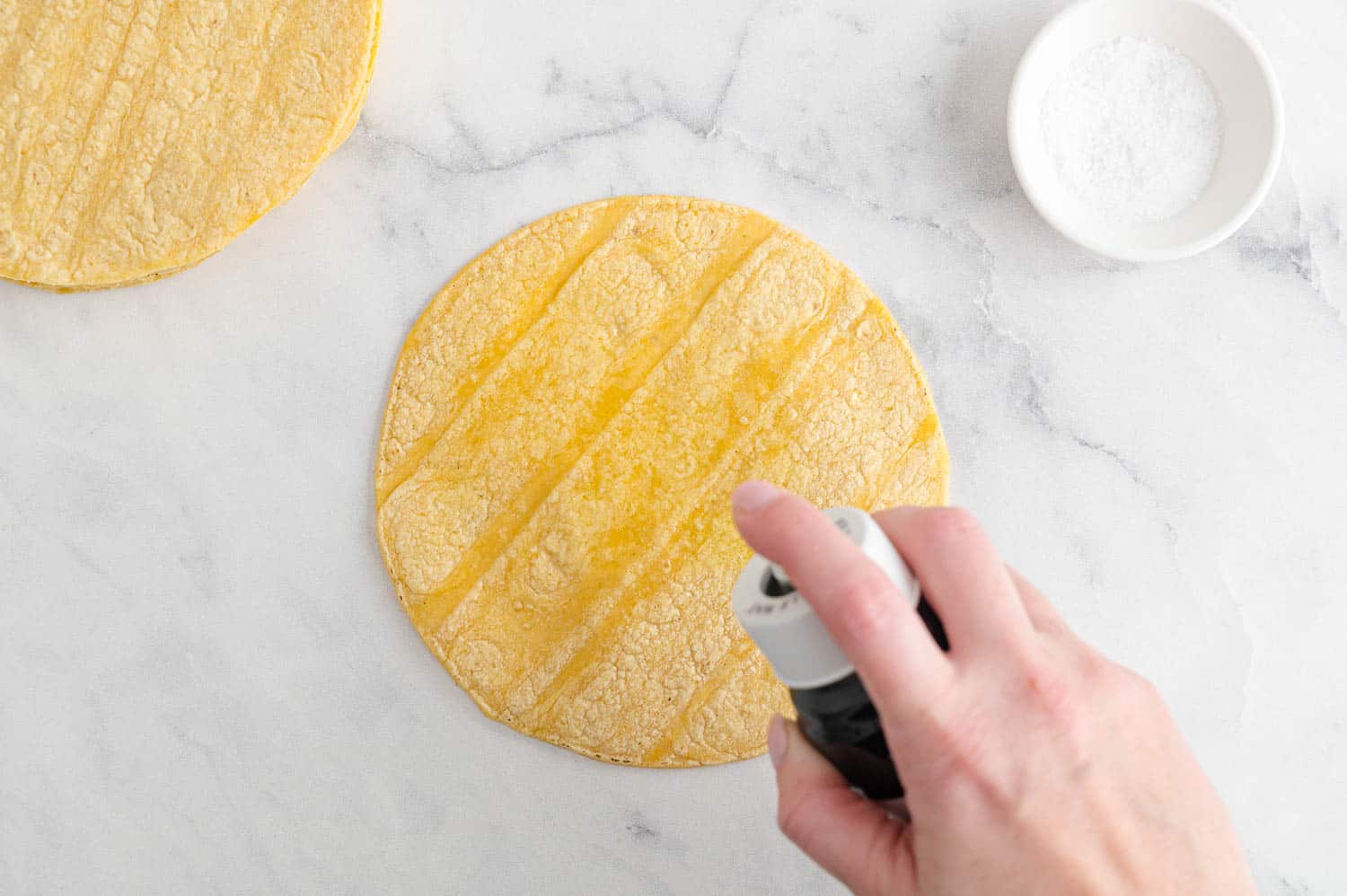 The other way to apply the oil is to brush it on with a pastry brush or baster brush. This method usually results in a bit more oil on the tortillas but there's nothing wrong with that. If you're not into spray oils, this is the method for you.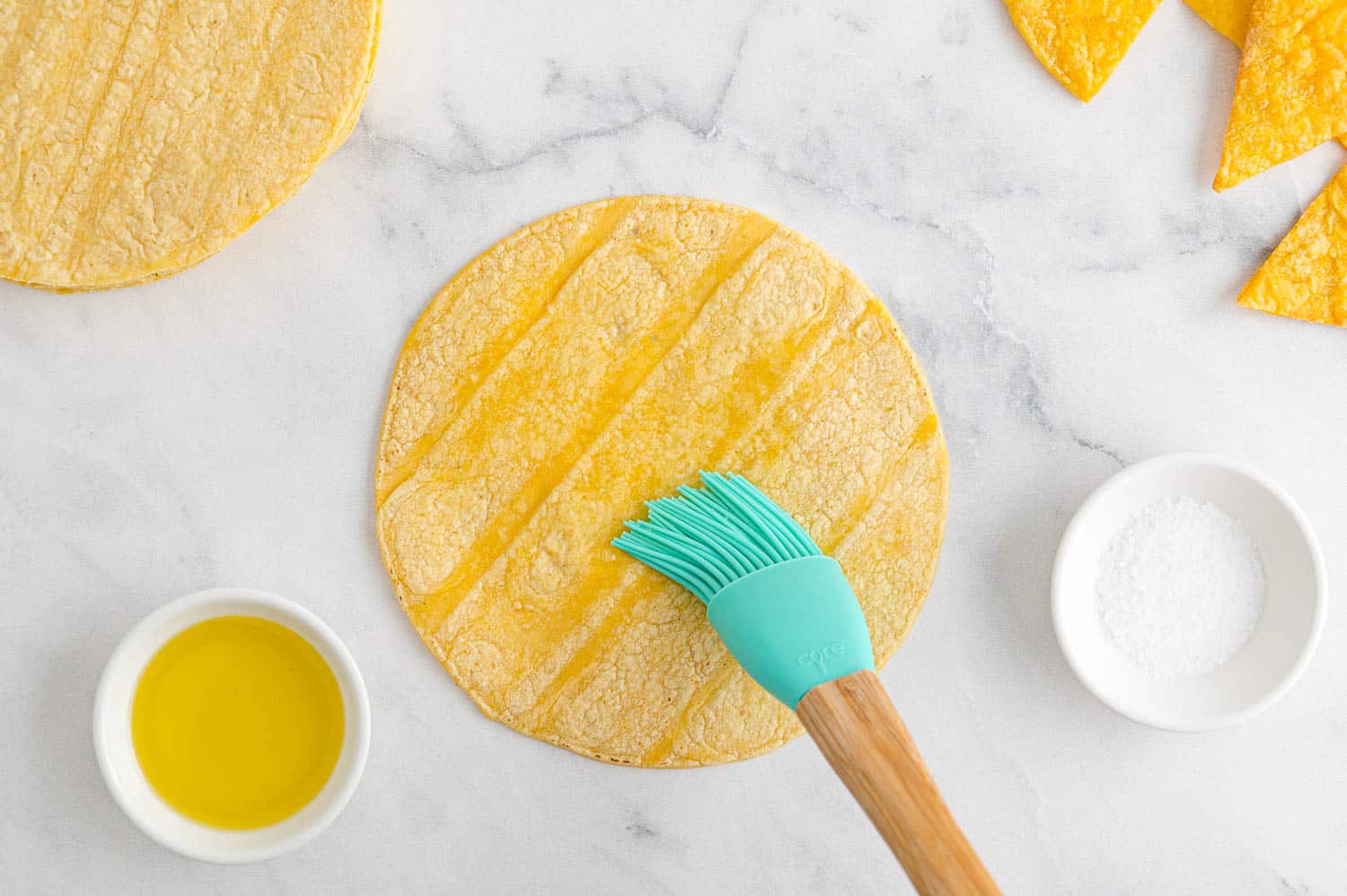 Don't worry about getting oil on every little bit of the tortilla. It's just not that fussy; your chips will turn out fine. Lightly sprinkle each tortilla with salt, both sides or just one side. It's up to you.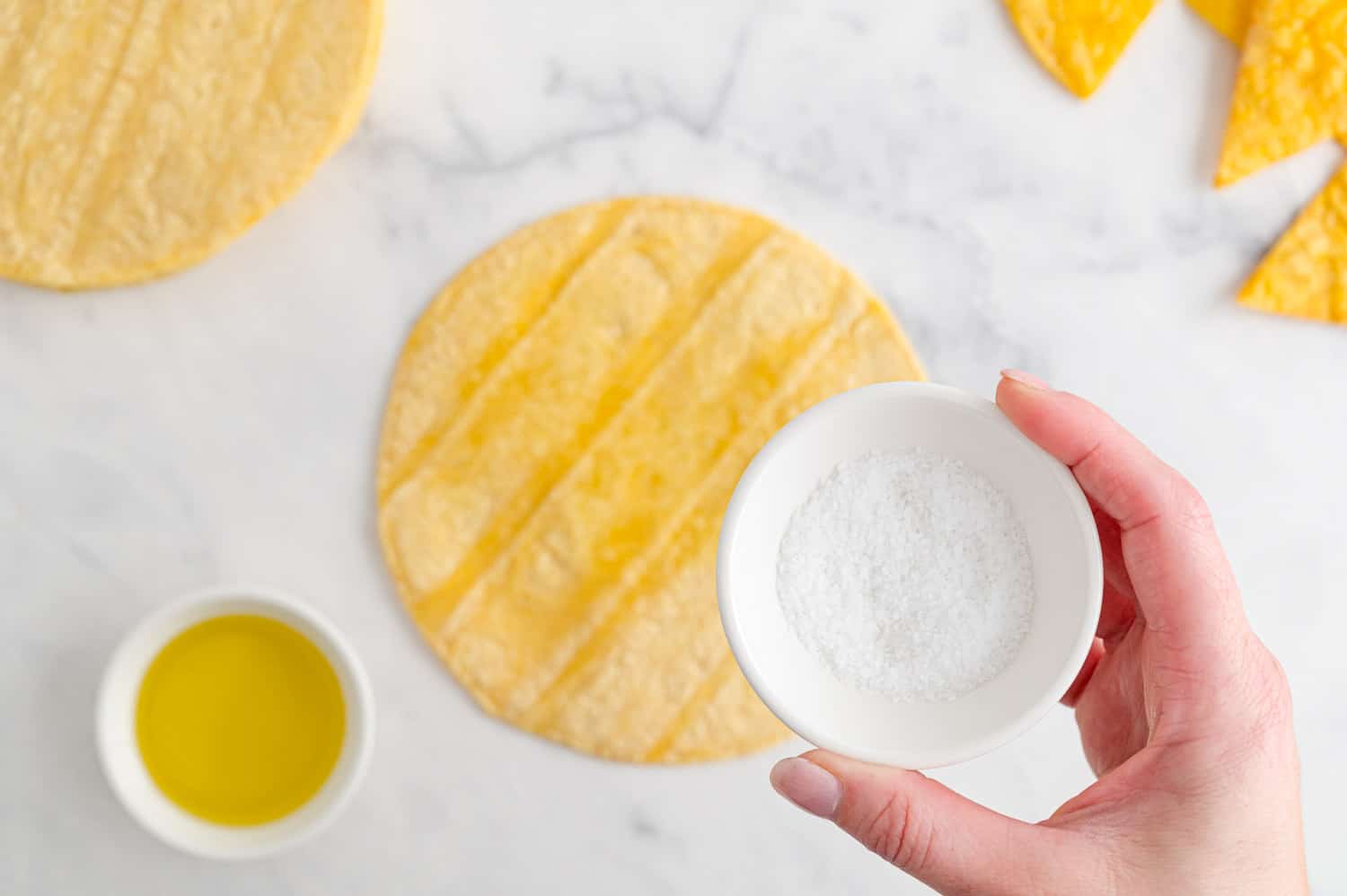 Next, cut the tortillas into wedges. Slice them like a pie so you get six triangles per tortilla. You can stack all of the tortillas on top of each other and slice through all of them at once if you have a good sharp knife. If your knife is just so-so, do three of them at a time. A sharp pizza cutter or a kitchen scissors works well too.
Arrange the wedges in the air fryer basket in a single layer. Yup, they probably won't all fit in one batch unless you have a really big air fryer but they cook really quickly so it's not much of a problem.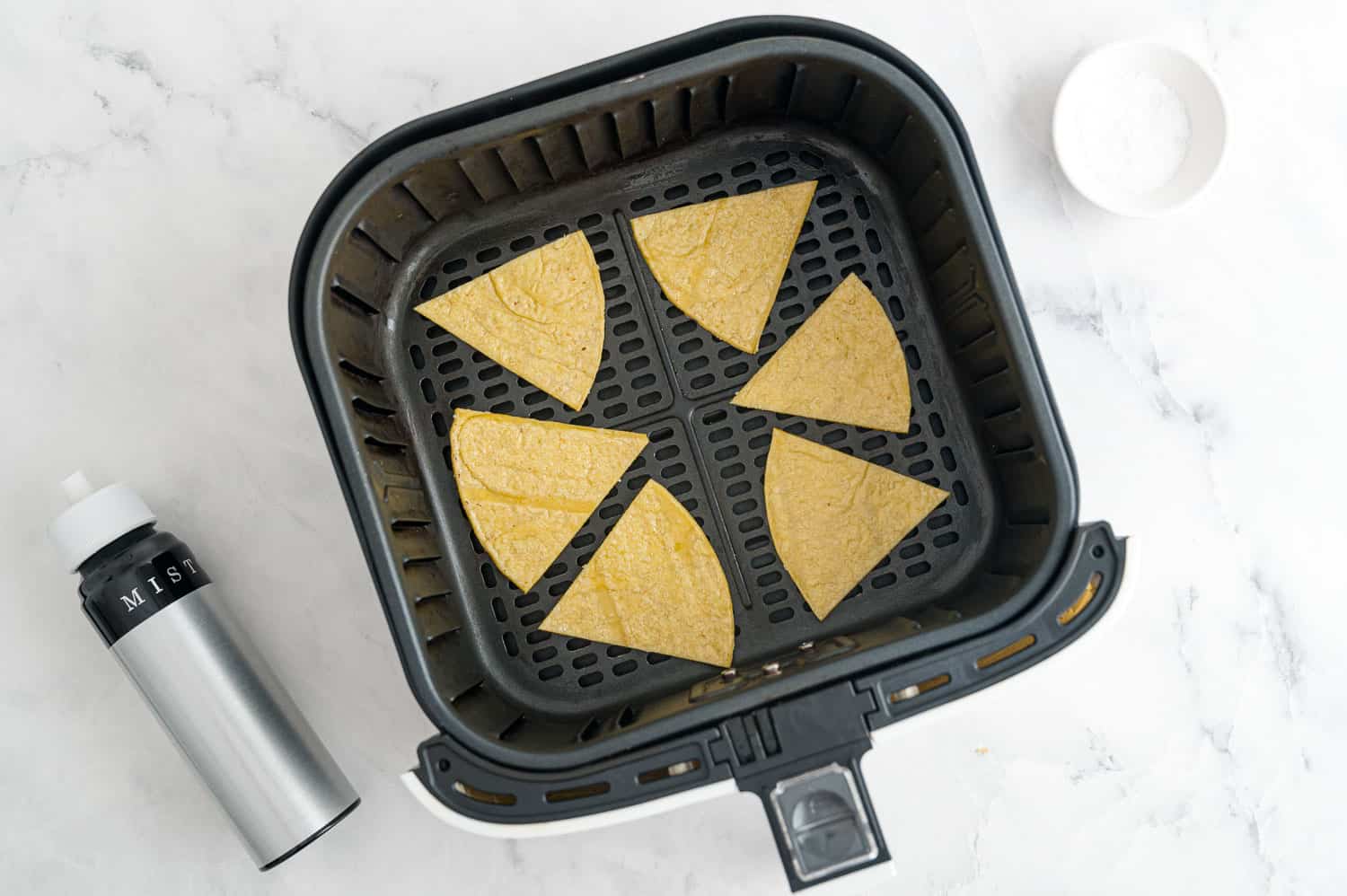 Air fry them at 350°F for five to seven minutes, checking them occasionally and giving them a shake to make sure they aren't sticking to each other.
Dump them out onto a plate and enjoy. They crisp up even more as they cool.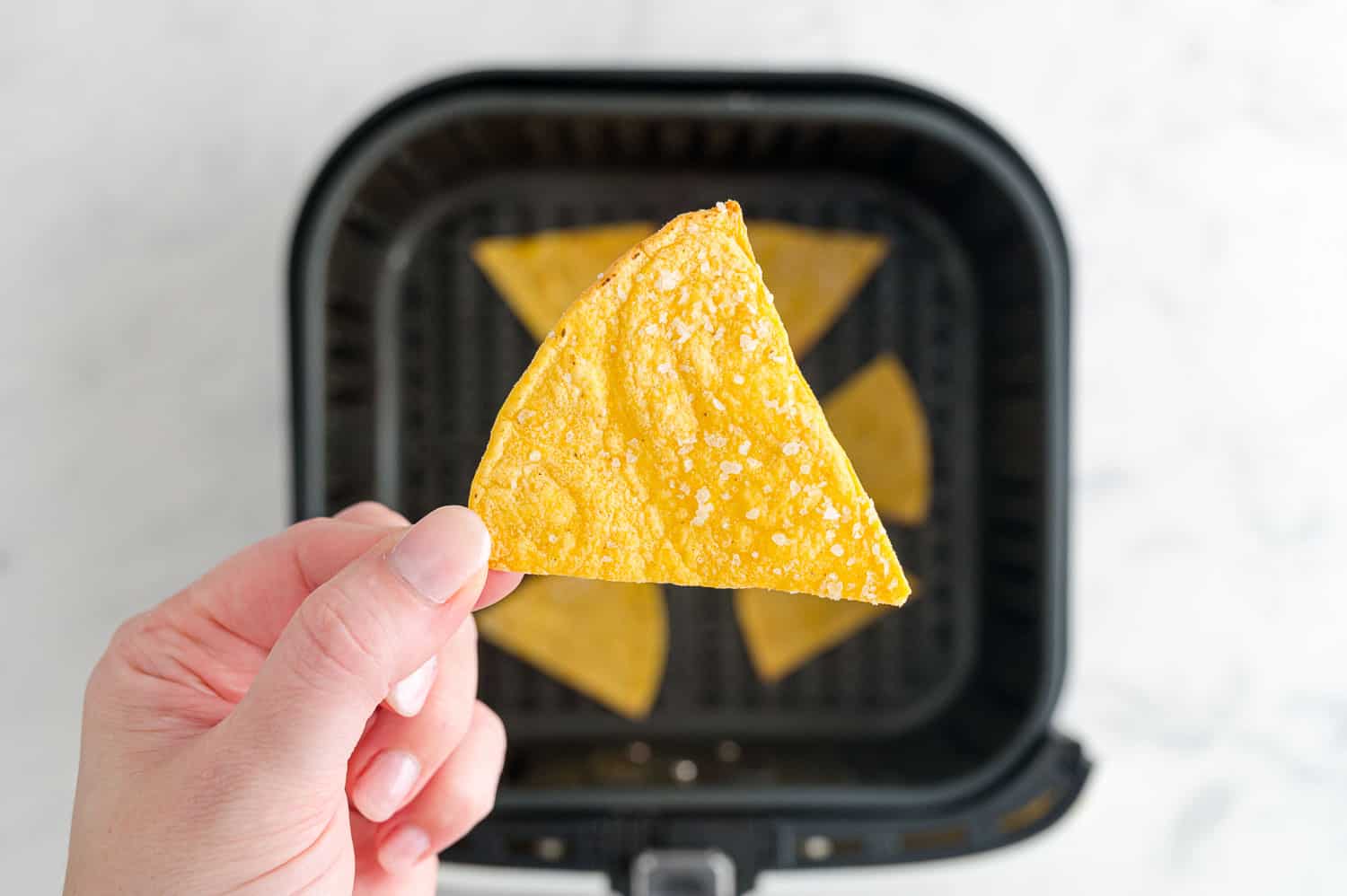 Note: Some recipes use no oil but instead brush the tortillas with lime juice before baking. I tested this method but wasn't happy with the results (soggy!)
FAQs
How do you make crispy tortilla chips?
To make homemade tortilla chips, try using your air fryer. It really crisps chips up nicely. If you find that they aren't as crispy as you like, put them back into the air fryer for a minute or two.
Store-bought chips that got a little stale can be crisped back up in the air fryer too. If you don't have an air fryer, try putting them in your microwave on a paper towel for 15 seconds on High.
How long should you preheat an air fryer?
Air fryers heat up really quickly so most of the time it isn't necessary to preheat it all.
Make It Your Own
If you're not a fan of corn tortillas, make this recipe with flour tortillas. You may decide you like them even better!
Season your chips with any seasoning that sounds good to you. The popcorn seasonings sold in little bottles work great for chips and come in many flavors.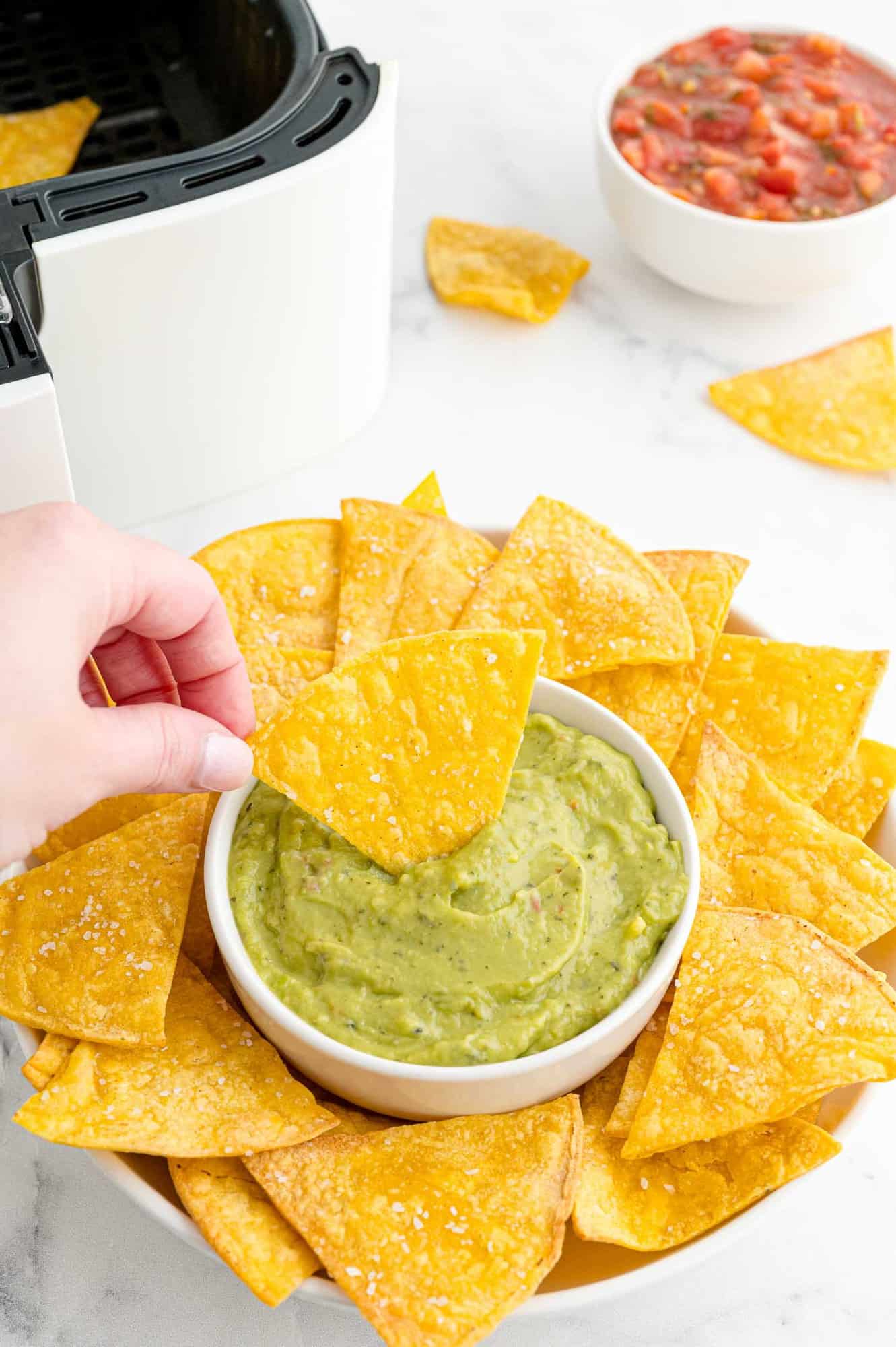 Storage Tips
After the chips have completely cooled, store them in an airtight container or plastic bag. They'll keep for a few days. If they lose some crispness, crisp them back up in the air fryer for a minute or two.
Did you make this? Be sure to leave a review below and tag me @rachelcooksblog on Facebook, Instagram, or Pinterest!
Imagine warm, restaurant-style tortilla chips made at home. Air fryer tortilla chips satisfy your cravings for a crisp salty snack in just a few minutes.
Ingredients
6

small (taco size) corn tortillas

(see note)

Avocado or olive oil spray

⅛

teaspoon

kosher salt, more to taste
Instructions
Brush or spray both sides of each tortilla with oil. Sprinkle one side with salt (or both, if you love them salty).

Cut each tortilla into 6 wedges.

Place in a single layer in the air fryer basket

Air fry at 350°F for 5-7 minutes, checking on them once or twice to make sure they aren't overlapping, shaking basket if needed.
Notes
While the recipe is written for 6 tortillas, you can choose to make anywhere from 1 tortilla to as many as you like. The tortilla size doesn't matter that much either. Just cut them into chip-sized wedges.
Nutrition information is for 12 chips, about 1/3 of the recipe. It doesn't include the avocado/oil spray.
Leftover chips can be stored in an airtight container or resealable bag. Be sure they are completely cool before storing them. If necessary, re-crisp them by putting them back into the air fryer a minute or two.
Nutrition Information
Serving:
12
chips
,
Calories:
113
kcal
,
Carbohydrates:
23
g
,
Protein:
3
g
,
Fat:
1
g
,
Saturated Fat:
1
g
,
Polyunsaturated Fat:
1
g
,
Monounsaturated Fat:
1
g
,
Sodium:
120
mg
,
Potassium:
97
mg
,
Fiber:
3
g
,
Sugar:
1
g
,
Vitamin A:
1
IU
,
Calcium:
42
mg
,
Iron:
1
mg
This website provides approximate nutrition information for convenience and as a courtesy only. Nutrition data is gathered primarily from the USDA Food Composition Database, whenever available, or otherwise other online calculators.