Everything you love about chili is in this creamy queso chili, with the added excitement of a velvety cheese sauce. You may never go back to your normal chili recipe!
Recipe Overview
Why you'll love it: It's like eating queso for dinner, only better for you.
How long it takes: 45 minutes
Equipment you'll need: large pan, saucepan, can opener, sharp knife, stove
Servings: 8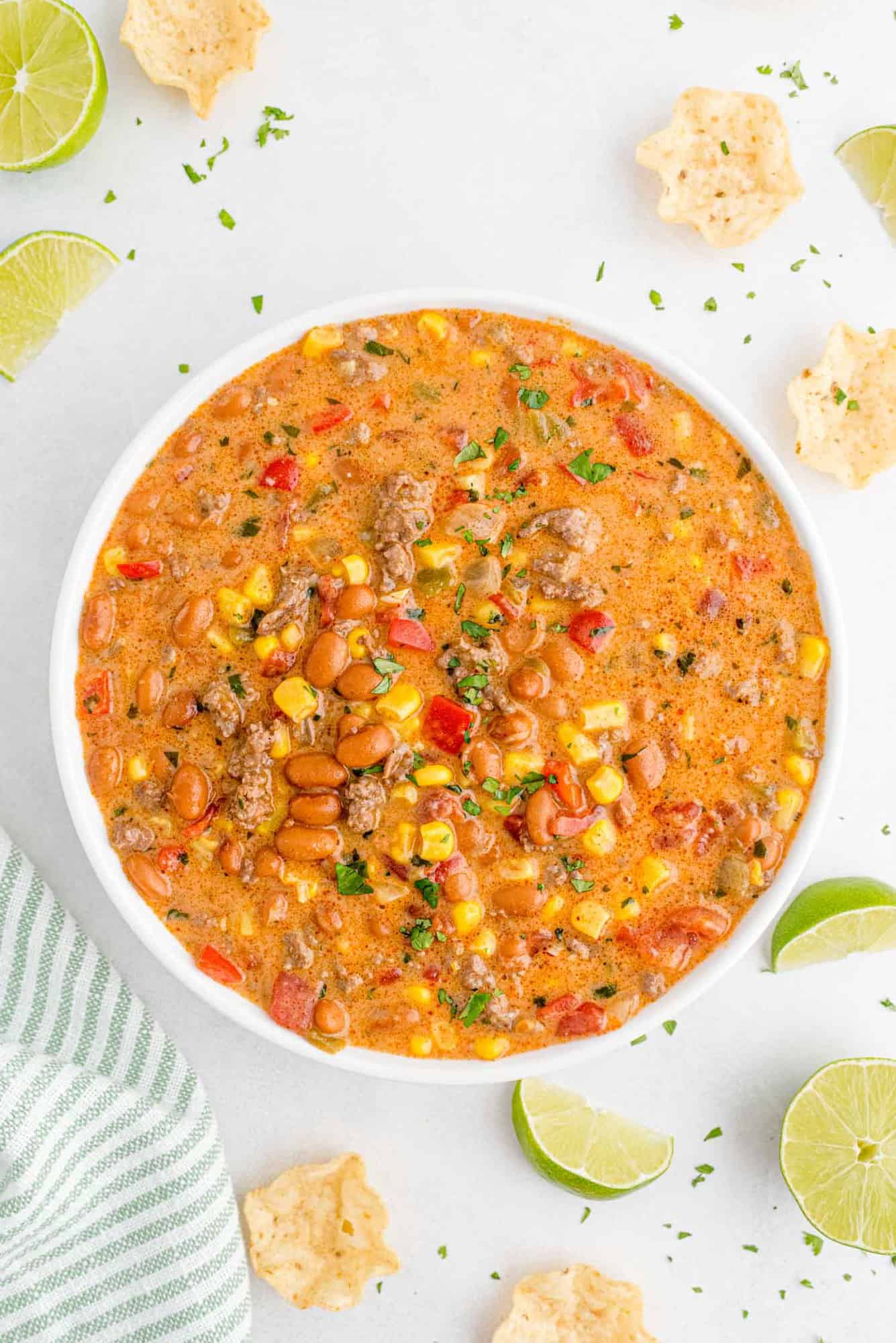 You may be wondering, do I really need another chili recipe? I know, I kind of get that. I've tried more than a few recipes and I have my favorites, too. Beef chili, white chicken chili, crockpot chili, vegetarian chili, even jerk chicken chili.
But…dip your spoon into this chili delight and you'll wonder why you ever liked any other kind of chili. I kid you not. This is kind of like chili with frosting. Not literal frosting, of course, but the queso part of this chili is pretty much as good as frosting on a cake. Eat a piece of cake without frosting and it's good, right? But add a layer of creamy sweet cream cheese frosting and that piece of cake goes from good to great. It's the same with the queso in this chili.
You'll find all the usual stuff in queso chili: meat, beans, peppers, garlic, onions, tomatoes, etc. It's good and you could enjoy a bowlful as is, but you're going to take it up a notch. Stir up a saucepan of velvety pepper jack cheese sauce and add that to the pot of chili. Now you're talking!
This may be the best chili you've ever had. Give it a try and see what you think. And if you're wondering about calories (I mean, cheese sauce, right?) don't worry. A serving (one and a half cups) of queso chili is only 286 calories, with 22 grams of protein. Not bad, wouldn't you say? And it's super satisfying.
About Queso Chili
The list of ingredients looks pretty long but really, queso chili is easy to make. If you can chop a few vegetables, brown meat, and open cans, you can master this chili.
I'll get you started here by running through the list of ingredients and the recipe, with lots of helpful tips and substitution ideas.
Look for the printable recipe card at the end of the post, with measurements, directions, and nutrition information.
No Velveeta, please
This queso chili is made without Velveeta, a cheese product that isn't really cheese at all. Sorry if you're a Velveeta fan but have you ever looked at the list of ingredients? Milk, water, whey, milk protein concentrate, milkfat, whey protein concentrate, sodium phosphate, and 2% or less of salt, calcium phosphate, lactic acid, sorbic acid, sodium citrate, sodium alginate, enzymes, apocarotenal, annatto, and cheese culture.
Wouldn't you rather make an easy cheese sauce with natural ingredients: milk, cheese, butter, and flour?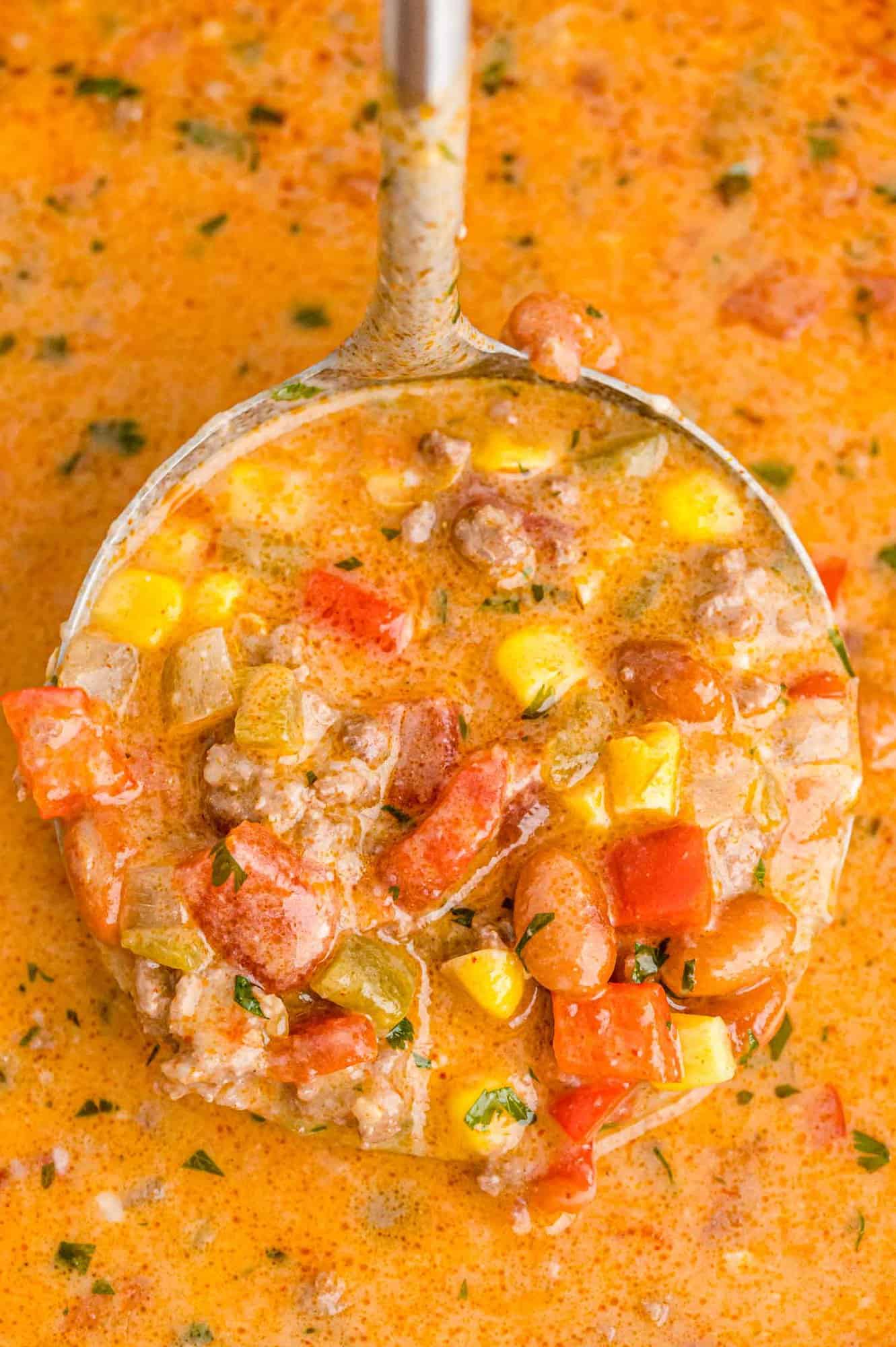 What you need
Ground Beef (or Turkey): Either one is fine. Choose a lean blend, such as 90/10 or 93/7.
Red Bell Pepper, Onion & Garlic: This savory veggie trio adds so much flavor to the chili and nutrition, too. If you prefer, green, yellow, or orange bell peppers are fine, too.
Salt, Chili Powder, Paprika: Seasoning for the chili is provided by this trio. Watch the salt because chili powder blends usually contain salt as well.
Pinto Beans: Two cans of beans = bean power! Black beans or kidney beans are good substitutes.
Canned Tomatoes: Use the petite diced tomatoes if you can. They blend in better so there aren't big chunks of tomato in your spoonful of chili.
Diced Green Chiles: I always have a couple cans of these gems in my pantry. They add so much flavor to soups and chili. I even put them in mac and cheese for a unique spin on an old favorite.
Broth: Try to find low-sodium or no salt added broth. Choose beef broth when using ground beef and chicken broth with ground turkey.
Corn: A can of corn adds just a touch of sweetness and texture. You can also use fresh or frozen corn.
Butter, Flour, Whole Milk: Stir these together to make a white sauce. The flour acts as a thickener for the soup.
Pepper Jack Cheese: Shredded cheese is blended into the white sauce to make a creamy cheese sauce (queso). The pepper jack adds a bit of heat to the chili, too. Shred your own for ultimate smoothness. You'll probably want a little extra to sprinkle on top of each serving,
Fresh Cilantro: The fresh herbal flavor is perfect with the rich chili. If you think it tastes like soap, leave it out!
Lime Wedges and Tortilla Chips, for serving: Totally optional, but highly recommended.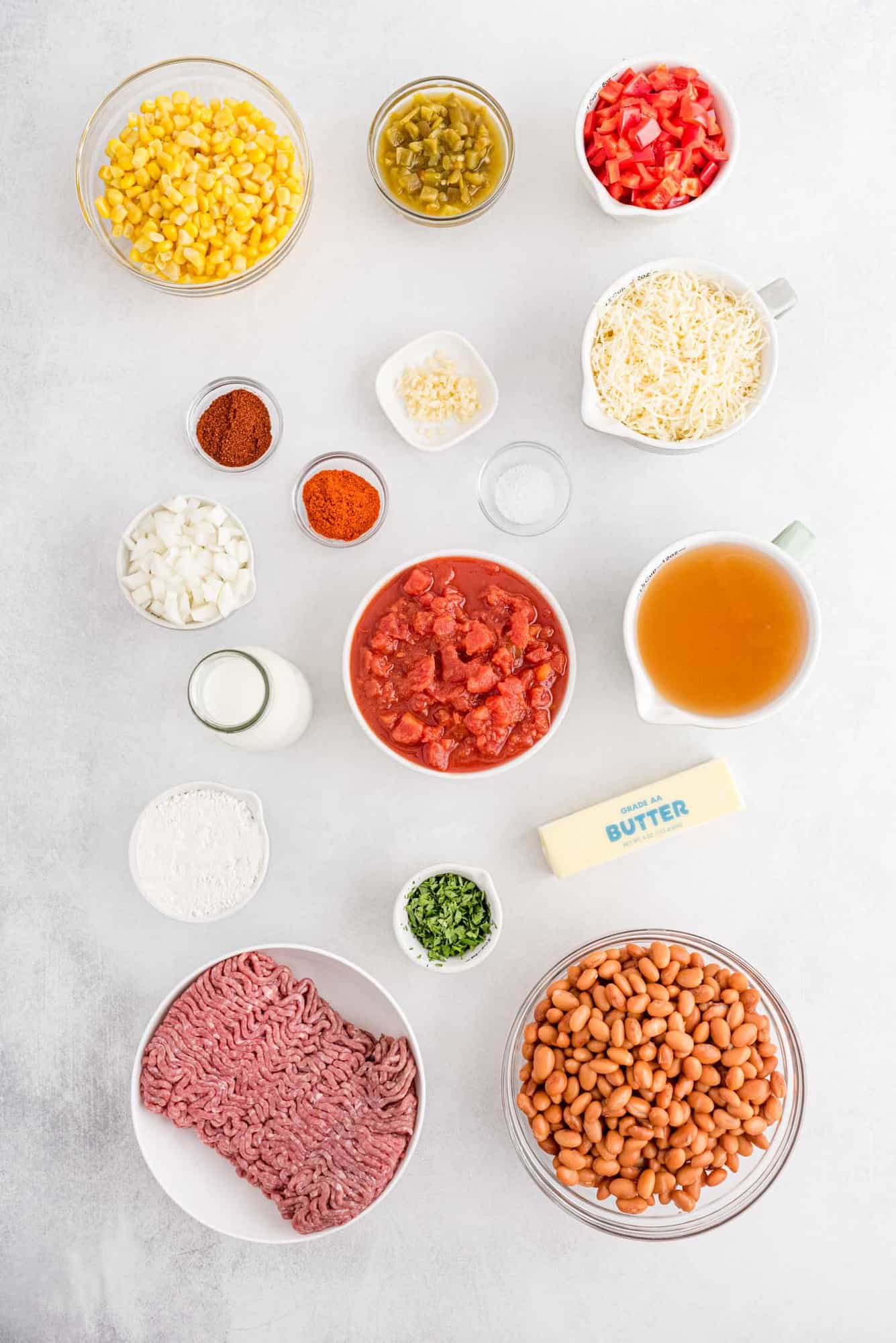 How to make This Chili
Before you get started, gather together all the ingredients. Open the cans, rinse and drain the beans. Chop the peppers, onions, and garlic. Shred the cheese, and measure out the milk and butter. Now you're well on your way to chili delight!
Find your favorite chili pot. You'll need a pretty good sized pan or Dutch oven. Brown the meat, onions, and peppers, for about ten minutes, breaking up the big chunks of meat. Throw a little salt in to season the meat.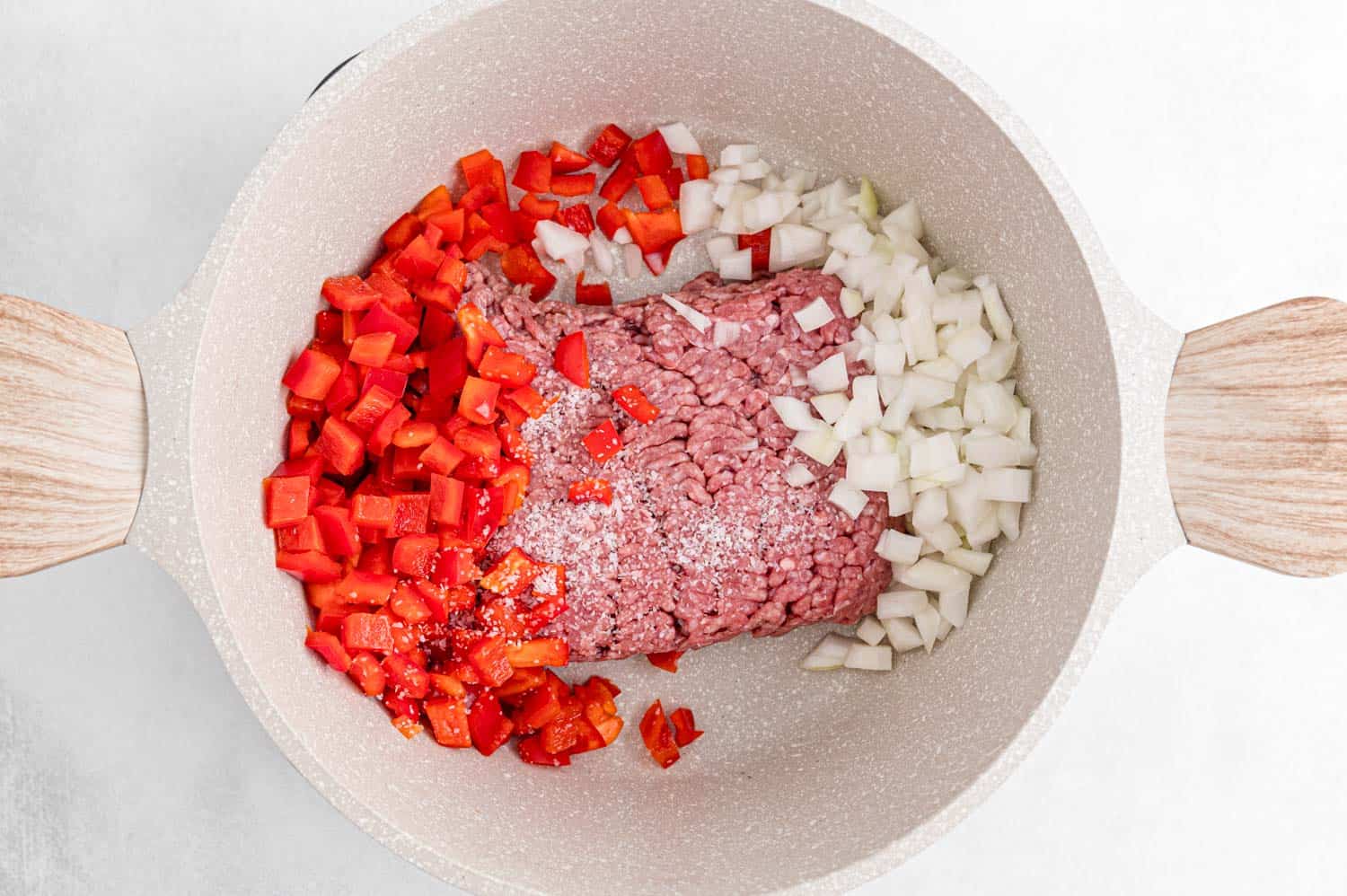 Next, add the garlic, chili powder, and paprika to the hot pan. Stir and cook briefly until the mixture smells really fragrant, just a couple of minutes.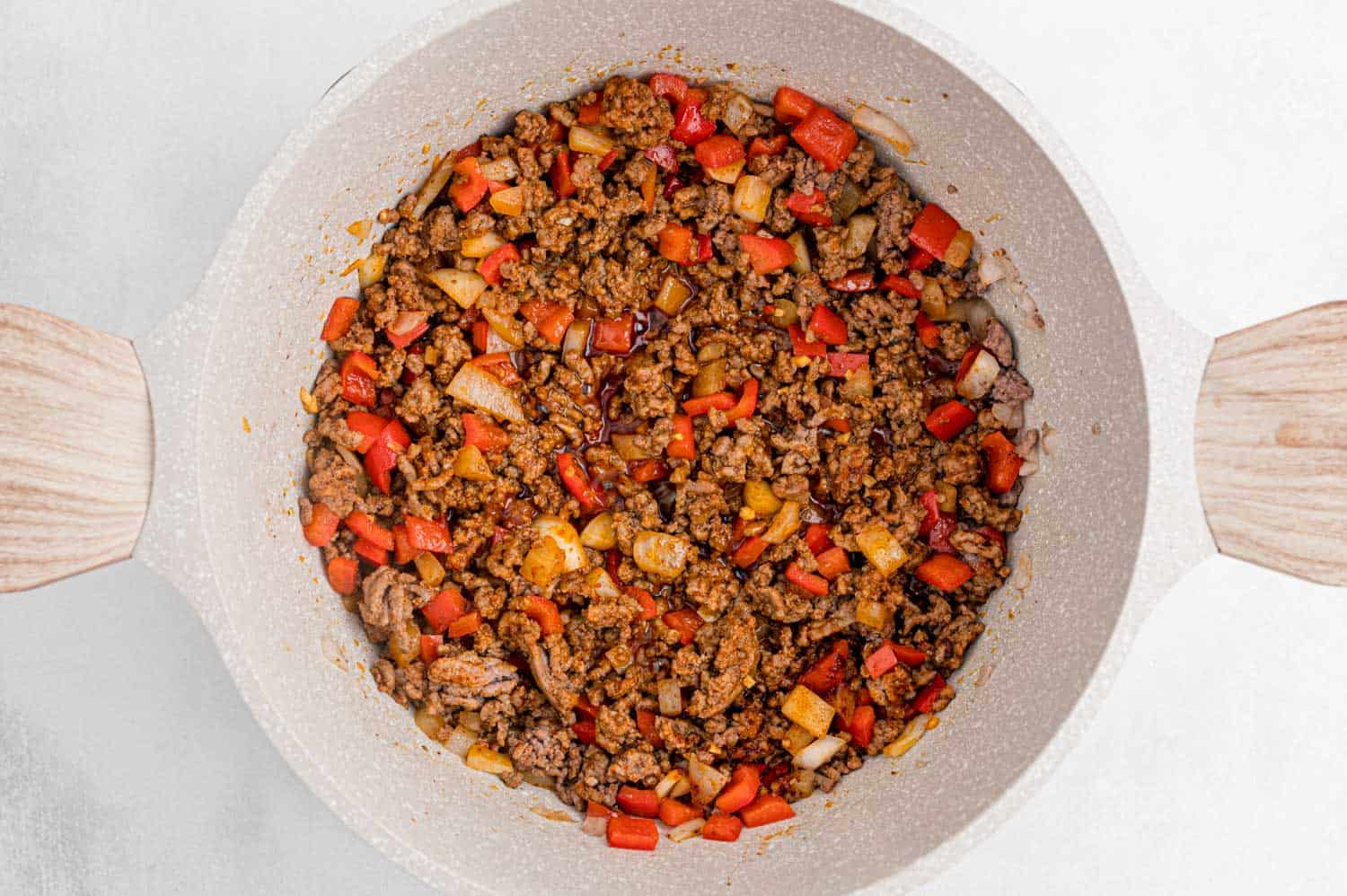 Ready? Now add the tomatoes, beans, and broth. The chili will look a little soupy at this point but that's okay. Bring it to a low boil, then turn down the heat, and simmer for fifteen minutes or so.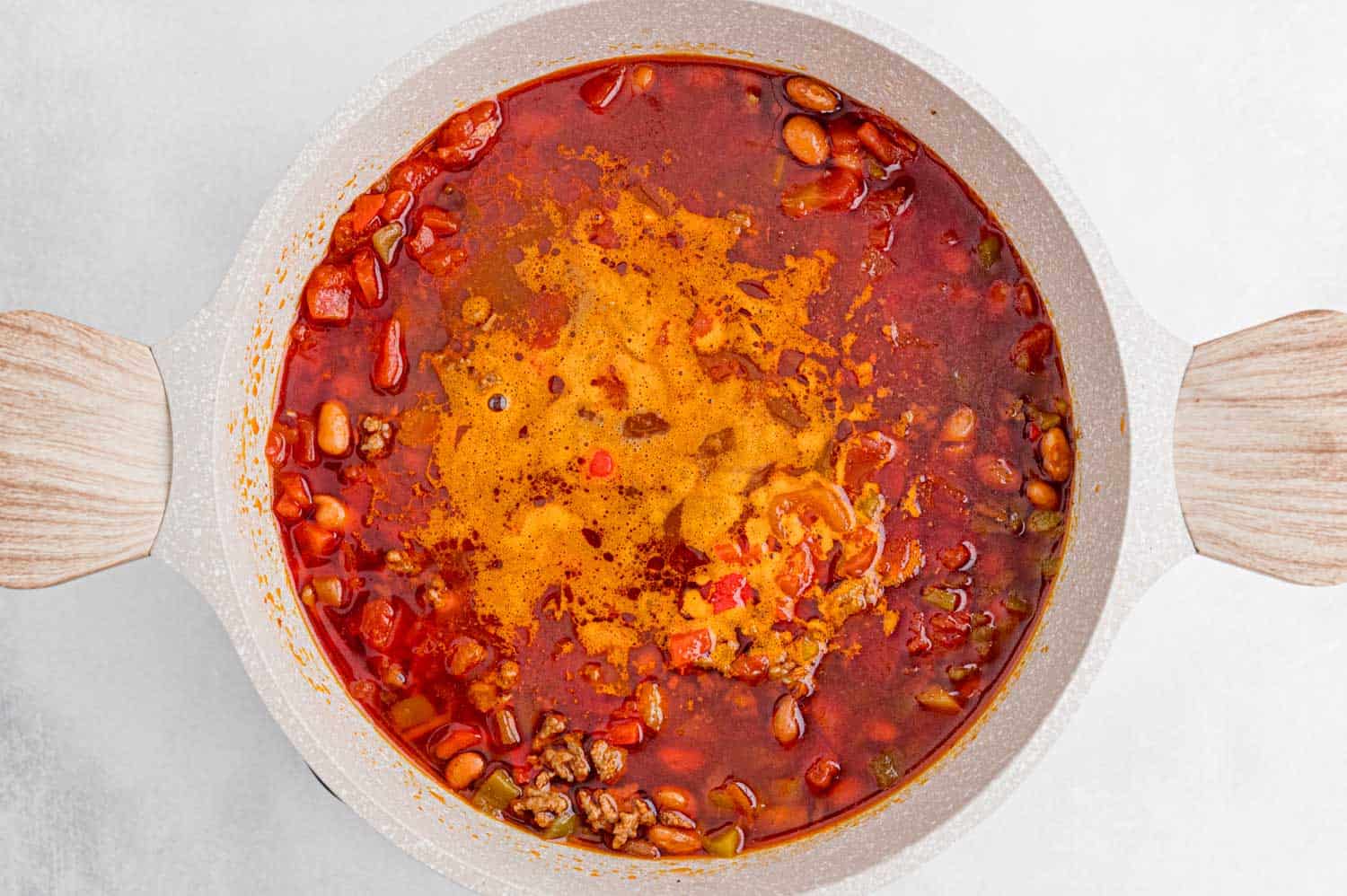 Meanwhile, make the "queso" part of the chili. We tested this a few times and found that the best way to achieve creamy smooth queso chili was to make the sauce separately and stir it into the chili right before serving.
So here we go. If you've never made a white sauce, it's super easy. Once you've mastered it, you can add cheese sauce to everything. Who doesn't love broccoli with cheese sauce? Or a baked potato smothered in cheese sauce? Or chips with cheese sauce (queso)?
Melt the butter in a saucepan over medium heat. Stir in a quarter cup of flour, blending it into the butter until it's a smooth paste and bubbling a bit from the heat. Don't overcook it, it just takes a few seconds. Slowly stir in the milk, using a whisk to smooth out the sauce. Cook, stirring constantly, until the mixture thickens and comes to a low boil.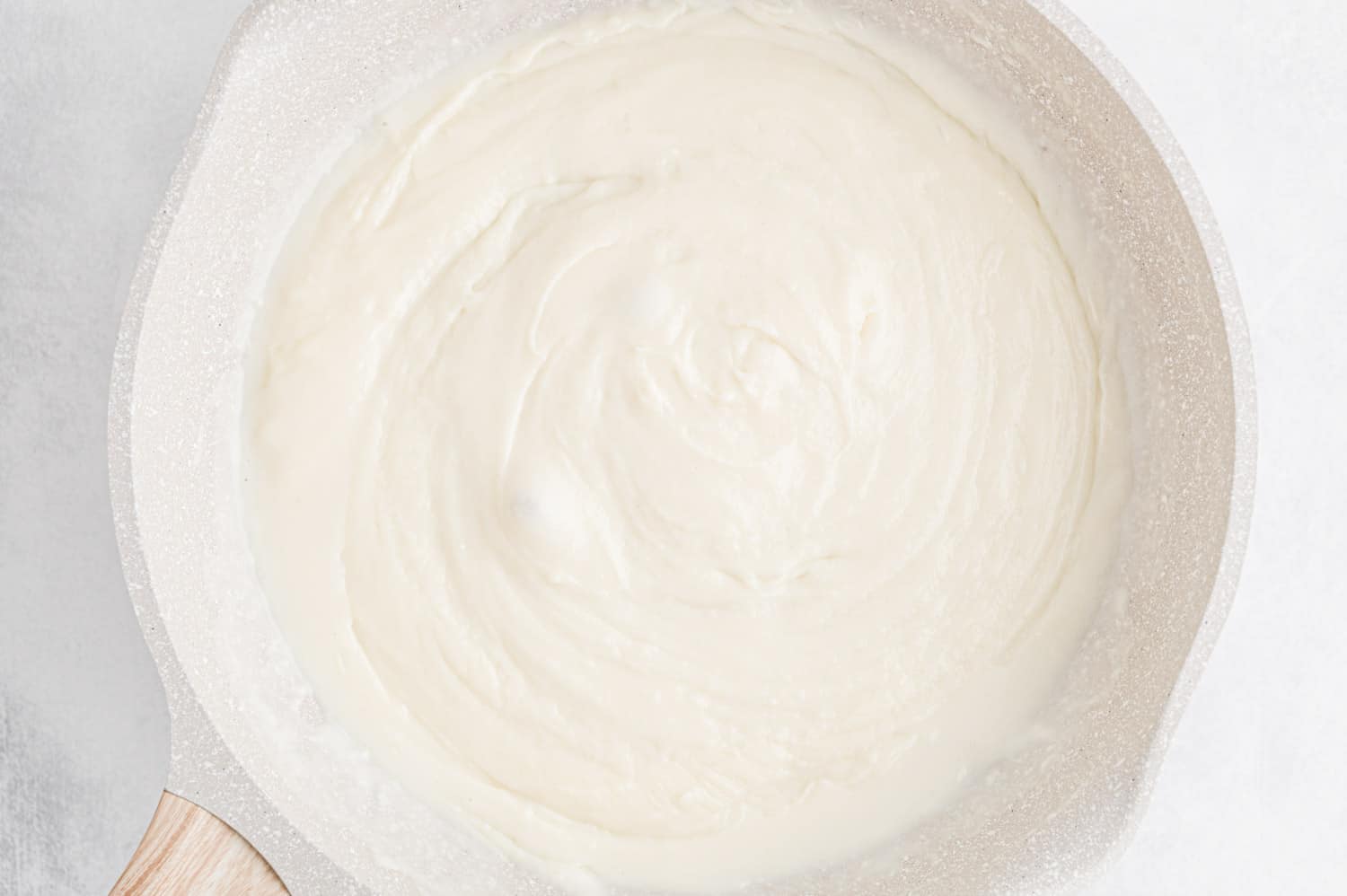 Remove the pan from the heat. If you were making a cheese sauce, at this point, you would stir in shredded cheese until it melted. Total yumminess!
When you're ready to serve the chili, add the can of corn.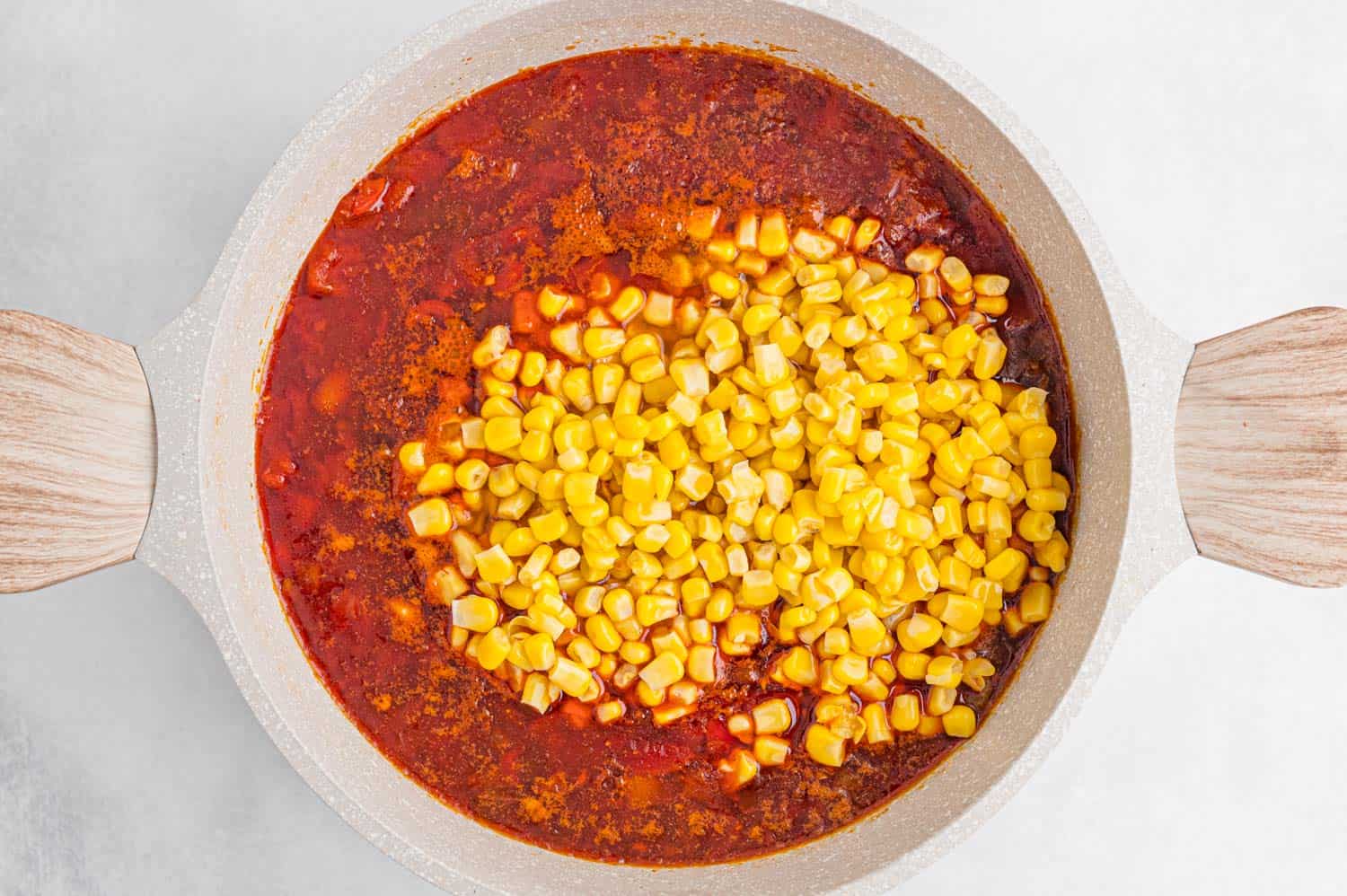 Stir in the white sauce, and then the shredded cheese. Try not to add the cheese all at once. It's better to stir it in kind of gradually so it doesn't clump up or separate.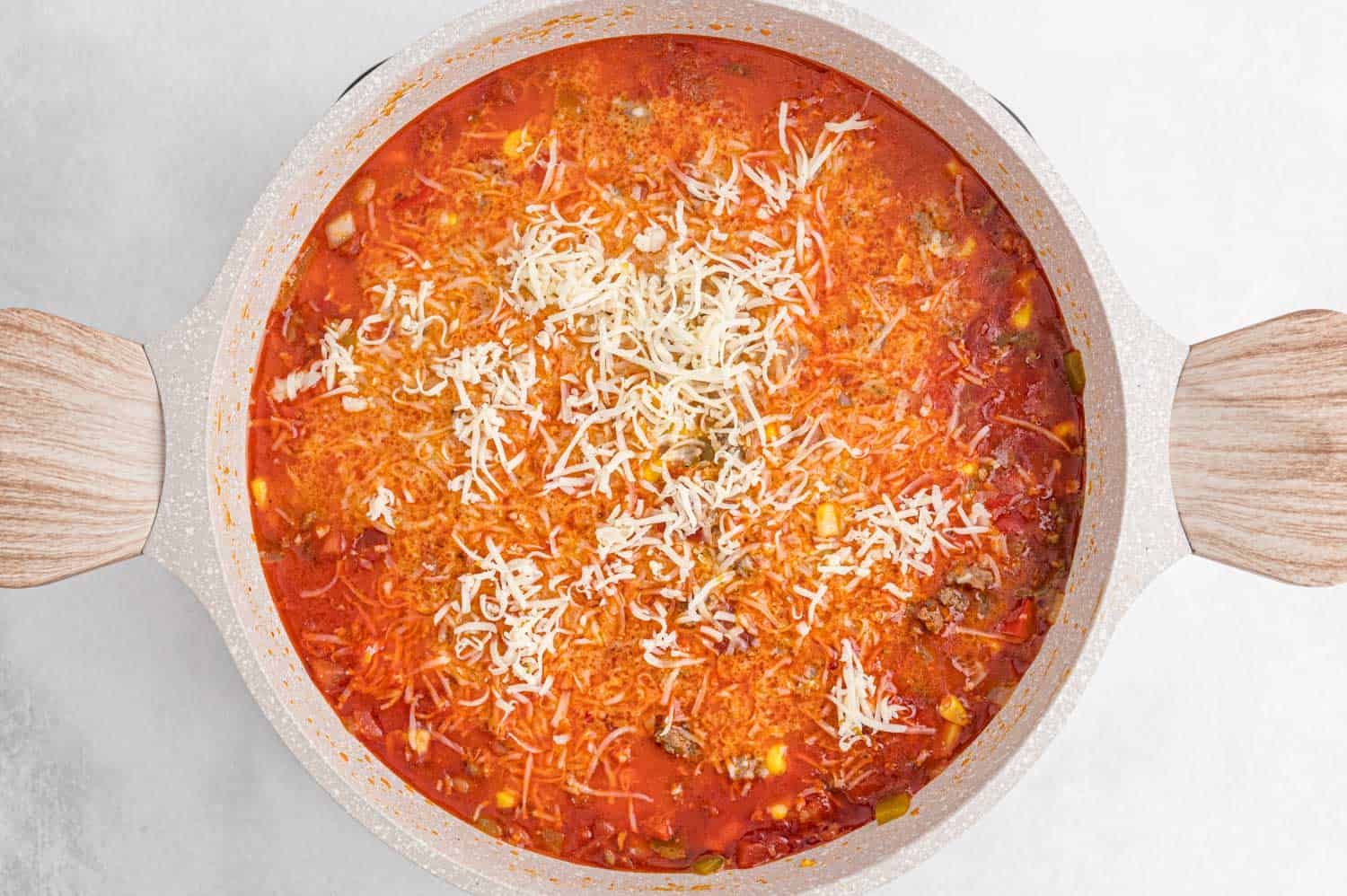 Stir in the cilantro and your queso chili is ready to enjoy!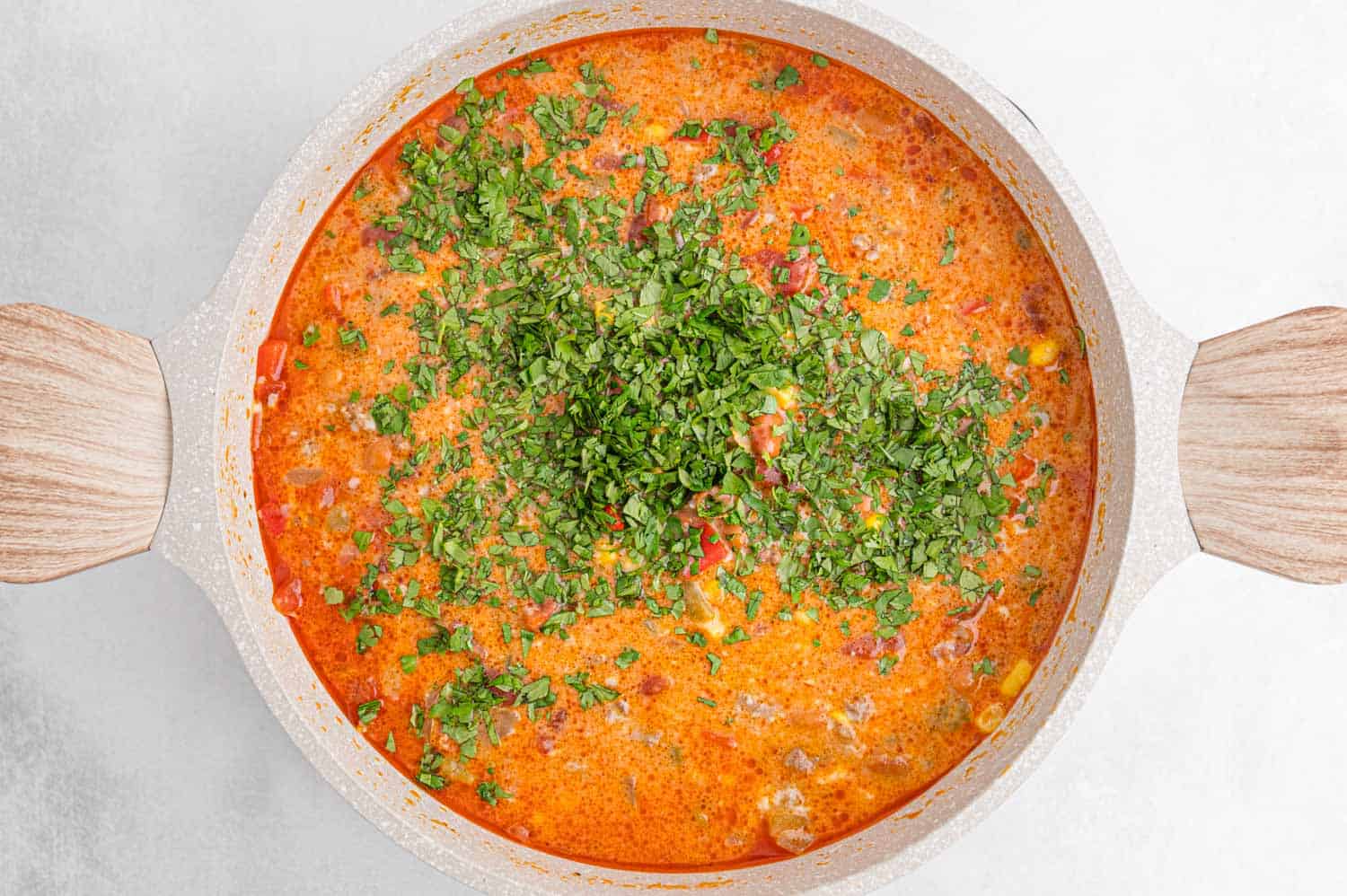 I just know you're going to love it! And yes, you are definitely going to want some tortilla chips to go along with it. Hmmm, or maybe homemade cornbread or corn muffins.
Looking for a beverage to go along with this delicious chili? Try a Mexican beer like Corona or Dos Equis, with a wedge of lime. Or stir up a pitcher of spicy Palomas or Strawberry Margarita Punch. I feel a party coming on…
FAQs
What does queso mean?
In Spanish, the word queso means "cheese". Queso is usually a creamy dipping sauce made of melted cheese and chopped hot peppers, such as jalapeño.
How do you thicken chili?
For this queso chili, the mixture is thickened with a white sauce (flour, butter, milk).
Often, watery or juicy chili can be thickened by simmering it a bit longer with the lid off. The excess liquid will evaporate.
You can also add another thickening agent such as masa harina, cornmeal, crushed tortilla chips, or crumbled cornbread. Another method is to reserve or remove some of the beans, mash them, and stir them in the chili.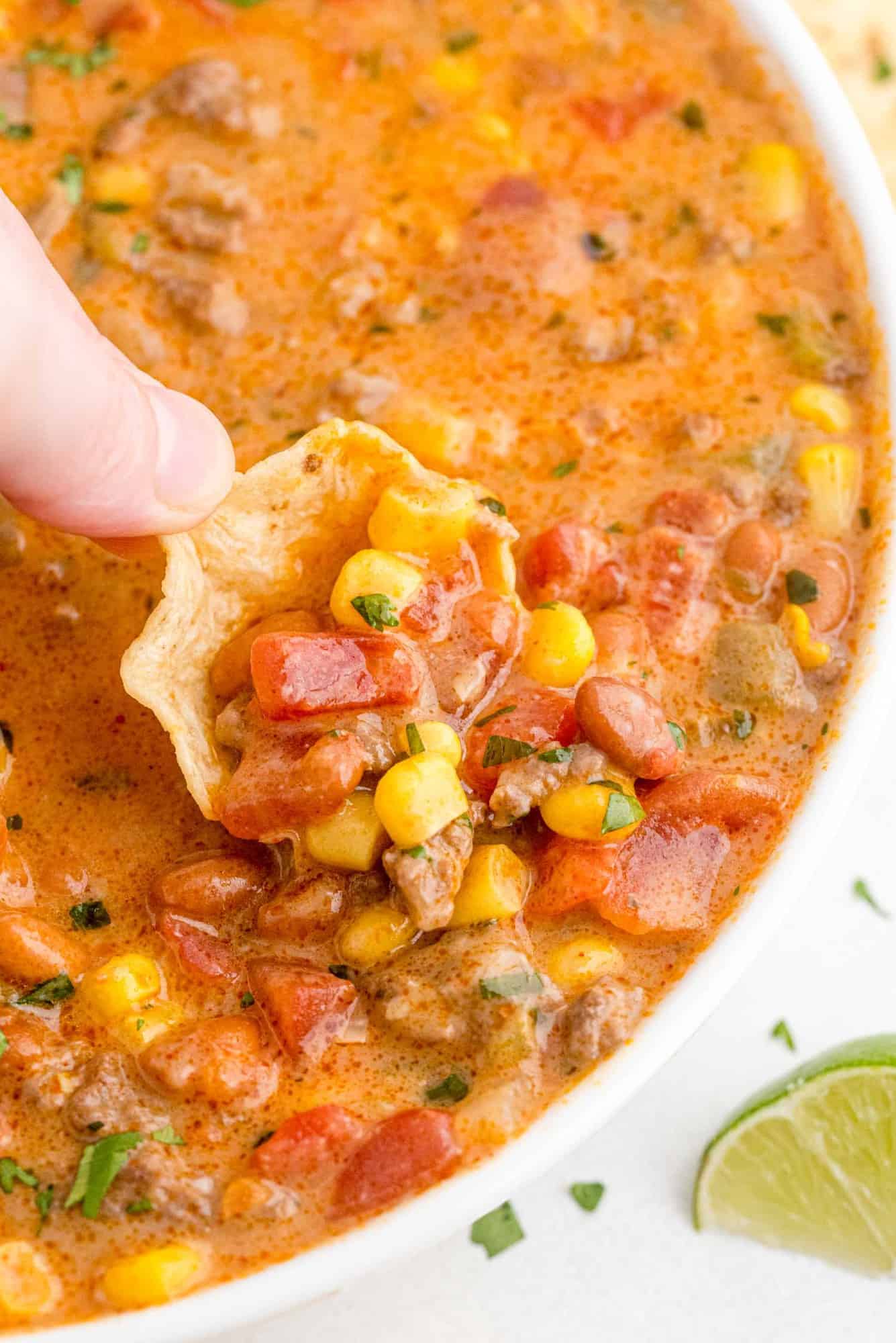 Make It Your Own
Prefer vegetarian chili? Simply omit the meat and add an extra can of beans. Use vegetable broth instead of beef or chicken broth.
If desired, prepare the chili as directed and keep it warm in a crockpot to serve to guests.
Not crazy about pepper Jack cheese? Use Monterey Jack instead.
Increase the spice level of your chili by adding a 1/4 teaspoon (or more!) of red pepper flakes. Or add a smoky element by substituting smoked paprika for the paprika, or chipotle chili powder.
Make Ahead Ideas
To get a head start on making this chili, prep the veggies, shred the cheese, and refrigerate. If you want to get it a bit further, brown the meat and veggies; cool, put into a container, and refrigerate up to two days. This will save you about fifteen minutes.
When you are ready to continue making the chili, heat the meat mixture in the pan with the garlic and spices, and proceed with the rest of the recipe.
Storage & Reheating Suggestions
If you have chili left over, refrigerate in a tightly sealed container for up to 3 days. Reheat gently in a pan. Don't overheat the chili because it may separate.
I haven't tried freezing this chili but if you try it, I'd love to hear how it goes.
Leftover Love
Leftover queso chili with tortilla chips is perfect for a quick snack or lunch.
Did you make this? Be sure to leave a review below and tag me @rachelcooksblog on Facebook, Instagram, or Pinterest!
Everything you love about chili is in this creamy queso chili, with the added excitement of a velvety peppery cheese sauce.
Ingredients
1

pound

lean ground beef

1

large red bell pepper, chopped

(about 1 cup)

½

large onion, diced

(about 1 cup)

½

teaspoon

kosher salt

2

cloves

garlic, minced

1

tablespoon

chili powder

1

tablespoon

paprika

2

cans

(15 oz. each) pinto beans,

rinsed and drained

1

can

(15 oz.) petite diced tomatoes

1

can

(4.5 oz.) diced green chiles

3

cups

low sodium beef or chicken broth

1

can

(15 oz.) corn, drained

4

tablespoons

(½ stick) unsalted butter

¼

cup

all purpose flour

1 ½

cups

whole milk

1 ½

cups

grated pepper Jack cheese

¼

cup

minced fresh cilantro,

more for garnish

lime wedges and tortilla chips

for serving
Instructions
In large pot or Dutch oven over medium high heat, sauté ground beef, bell pepper, onions, and salt for 8-10 minutes, or until beef is no longer pink and vegetables have softened. Add garlic, chili powder, and paprika, and cook, stirring, for 1-2 minutes or until fragrant.

Add pinto beans, tomatoes, green chiles, and broth; bring to a boil, then reduce heat to simmer for 15 minutes.

Meanwhile, in medium saucepan over medium heat, melt butter. Stir in flour until combined. Whisk in milk. Bring to a boil, stirring constantly until mixture is smooth and thickened. Remove from heat.

When ready to serve, stir corn into chili. Add white sauce, stirring to combine. Slowly add cheese to chili until melted. Stir in cilantro. Serve immediately with lime wedges and tortilla chips, if desired.
Notes
Nutrition information is based on one serving (1 and 1/2 cups) and does not include tortilla chips.
For vegetarian chili, omit the meat and add an extra can of beans. Use vegetable broth instead of beef or chicken broth.
If desired, prepare the chili as directed and keep it warm in a crockpot to serve to guests.
For more spice: Add a 1/4 teaspoon (or more) of red pepper flakes. Or add a smoky element by substituting smoked paprika or chipotle chili powder for the paprika.
Nutrition Information
Serving:
1.5
cups
,
Calories:
286
kcal
,
Carbohydrates:
12
g
,
Protein:
22
g
,
Fat:
17
g
,
Saturated Fat:
10
g
,
Polyunsaturated Fat:
1
g
,
Monounsaturated Fat:
5
g
,
Trans Fat:
1
g
,
Cholesterol:
74
mg
,
Sodium:
624
mg
,
Potassium:
696
mg
,
Fiber:
2
g
,
Sugar:
6
g
,
Vitamin A:
1373
IU
,
Vitamin C:
31
mg
,
Calcium:
248
mg
,
Iron:
3
mg
This website provides approximate nutrition information for convenience and as a courtesy only. Nutrition data is gathered primarily from the USDA Food Composition Database, whenever available, or otherwise other online calculators.