How to Make Baked Potatoes
Wondering how to make baked potatoes with a crispy brown exterior and fluffy white interior? Enjoy perfectly baked potatoes as a filling main dish, or versatile side dish.
Recipe Overview
Why you'll love it: A freshly baked potato is so satisfying and filling.
How long it takes: just over an hour
Equipment you'll need: oven
Servings: make as many as you want!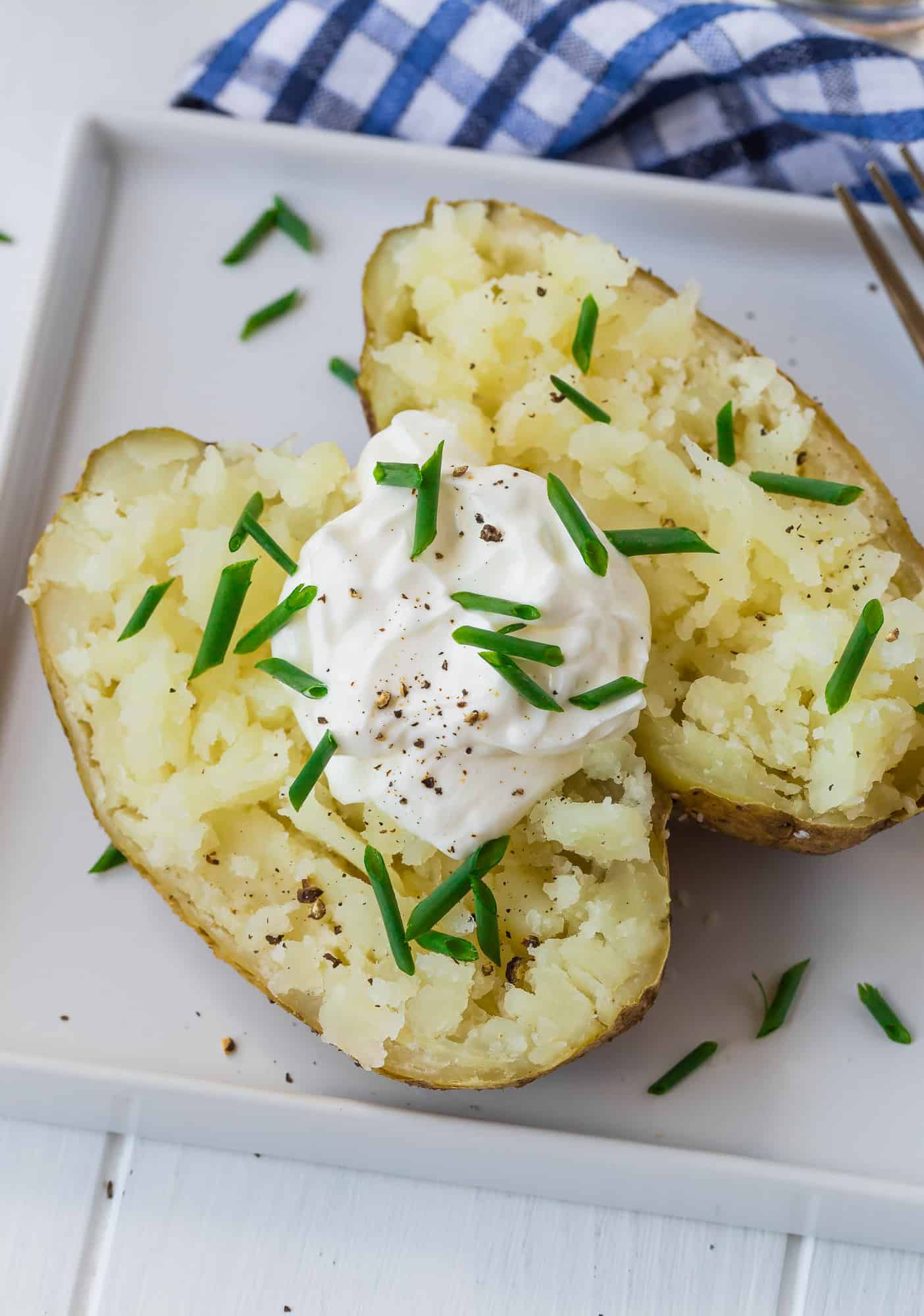 While baked potatoes aren't a quick dinner idea, they are super easy. Spend 5 minutes getting the potatoes ready, and pop them in the oven for awhile. Totally hands off time!
While the potatoes are in the oven, you'll have time to get the rest of dinner ready or, here's an even better idea, enjoy baked potatoes as your main dish. Take a look at the Topping Ideas section for inspiration.
Baked potatoes are filling, nutritious, and economical. They smell sooooo good while they're baking. You won't have any pans to wash. What more can I say?
Maybe you're wondering how to make really delicious baked potatoes. Keep reading to learn how to make perfectly brown and crispy potatoes with a fluffy white filling. I have lots of tips and information below to help you out.
Need a faster way to bake potatoes? Try baking them in your air fryer if you have one. They turn out pretty much the same as oven baked potatoes but in only 40 minutes. Or try easy Instant Pot baked potatoes (especially if you prefer softer skins) or loaded baked potato slices.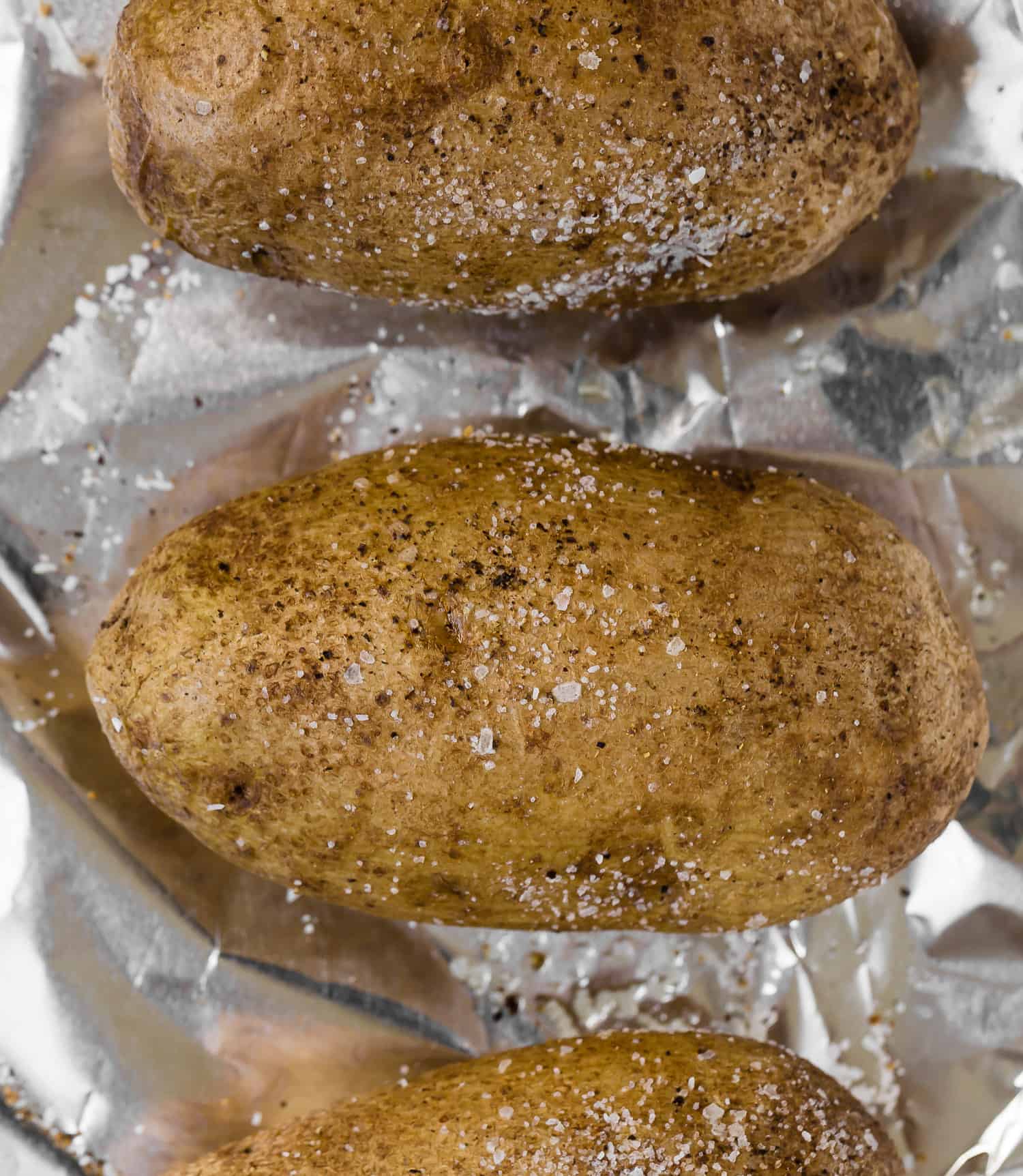 I'll get you started here with lots of helpful tips. As always, you'll find the printable recipe card near the bottom of the post with complete instructions and nutrition information.
How to Make Baked Potatoes
The first thing: choose the right potato! While other potatoes will be okay, russet potatoes are definitely the king of baking potatoes. Russet potatoes have thicker skins which turn into a nice crispy exterior, and starchy flesh, which yields a fluffy white interior.
Scrub, scrub, scrub! You're going to eat the skins, so please make sure they're clean. Nobody wants to crunch down on a piece of grit.
And dry, dry, dry! A dry potato equals a crispy potato.
Check the potato for bad spots: green spots, eyes, sprouts, or damaged skin. Just trim the bad spots off.
Poke the potatoes a few times with a fork or the tip of your paring knife. No need to go deeply, just puncture the skin.
Cover the potatoes with a thin coat of oil. I like olive oil, but butter or another kind of oil is fine. Don't want to get your hands dirty? Spray the potatoes with olive oil spray.
Sprinkle the potatoes liberally with coarse salt and pepper.
Okay, now we're up to the actual baking part. There's more than one way to bake a potato so choose the way you like best. I think the easiest way is to put the potatoes on a foil lined baking sheet, sides not touching. Or bake them on a wire rack set on a baking sheet. Or set the potatoes directly on your oven racks (put a pan on a lower rack beneath the potatoes to catch drippings).
To serve your perfectly beautiful baked potatoes, immediately make a slice in the top with a sharp knife. Squeeze the bottom (wear an oven mitt!) to open the top of the baked potato up a bit. Or use a fork to spread it open.
Top with your favorite toppings! Keep reading for lots of great suggestions.
Baked potatoes are a great side dish. Put lemon salmon with dill in the oven after the potatoes have been baking for a half hour or so. Serve an arugula salad with lemon vinaigrette alongside for a fabulous dinner.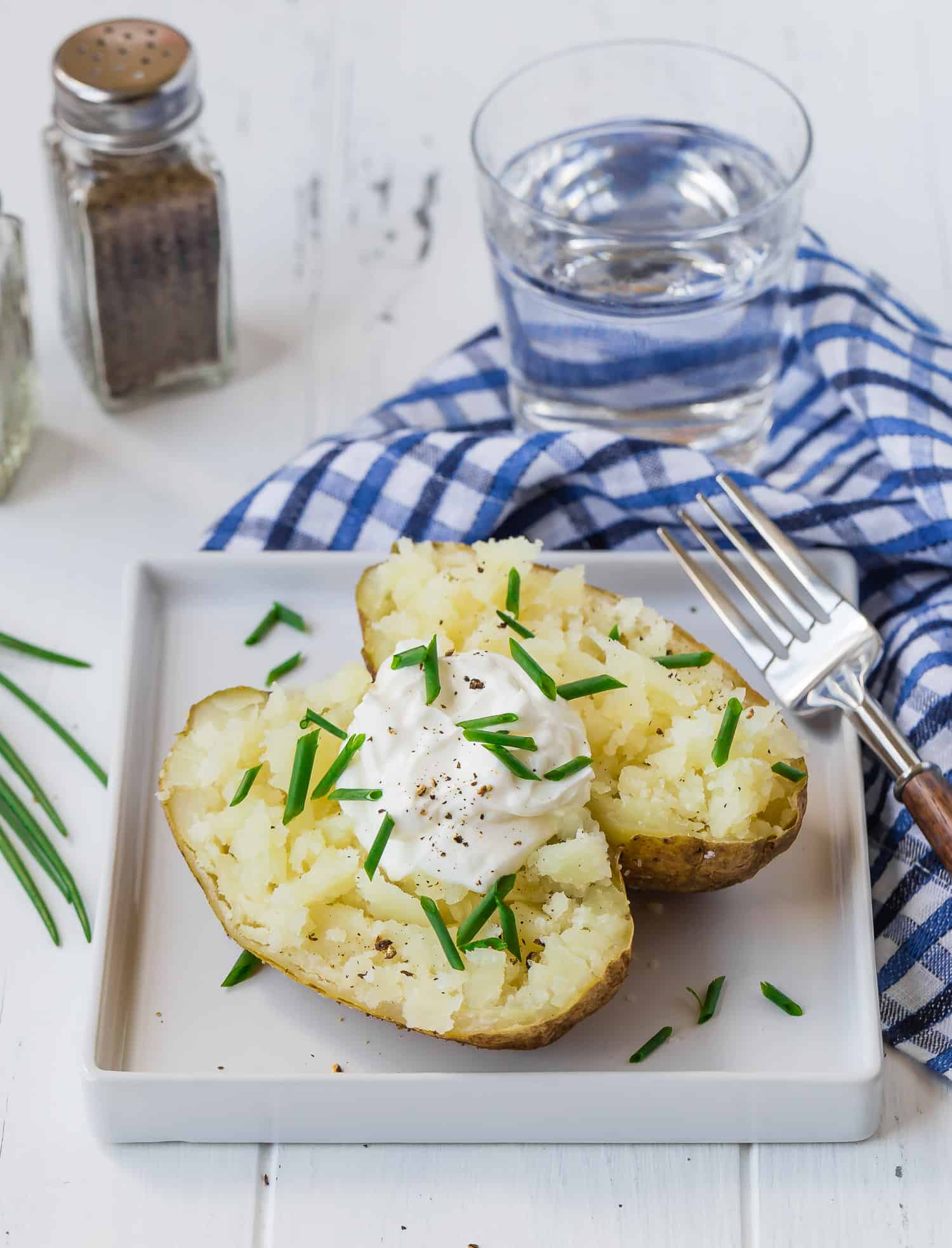 FAQs
Can you bake potatoes at different oven temperatures?
Baked potatoes are pretty forgiving. That's one of the reasons they make a perfect side dish–you can usually bake them at the same temperature of whatever else you have in the oven. The oven temperature can range anywhere between 300°F to 450°F.
The optimal range is 375°F-425°F.
Just remember that lower temperatures will increase baking time; higher temperatures will decrease baking time. For this recipe, I suggest baking the potatoes at 400°F for 45-60 minutes.
Can you bake a potato too long?
Again, baked potatoes are pretty forgiving. They need at least 45-60 minutes to get done, (internal temp should be between 205°F-212°F) but if dinner's not quite ready yet, don't worry, baked potatoes will be fine if they spend extra time in the oven. Some people say the longer the better, up to two hours. You be the judge. You can always turn the oven temp down a little if you're worried they'll get too done.
Should baked potatoes be wrapped in foil?
It depends on how you like the skin. I love the salty crispy brown skin of a baked potato–it's the best part! Potatoes wrapped in foil will have soft skins because they steam as they bake.
Why do you have to poke the potato with a fork?
The theory is that steam will build up inside the potato as it bakes, and if there's no outlet, i.e. holes made with a fork, the potato may explode in the oven or microwave. While this occurrence is rare, who wants to take a chance?
I poke the potatoes a few times with a fork, not deeply. Sometimes I simply use the tip of my paring knife to poke a few holes. Just remember: Do the poking right before baking. If you do this step too far ahead of time, oxidization will occur and the flesh of the potato will turn an unappetizing gray.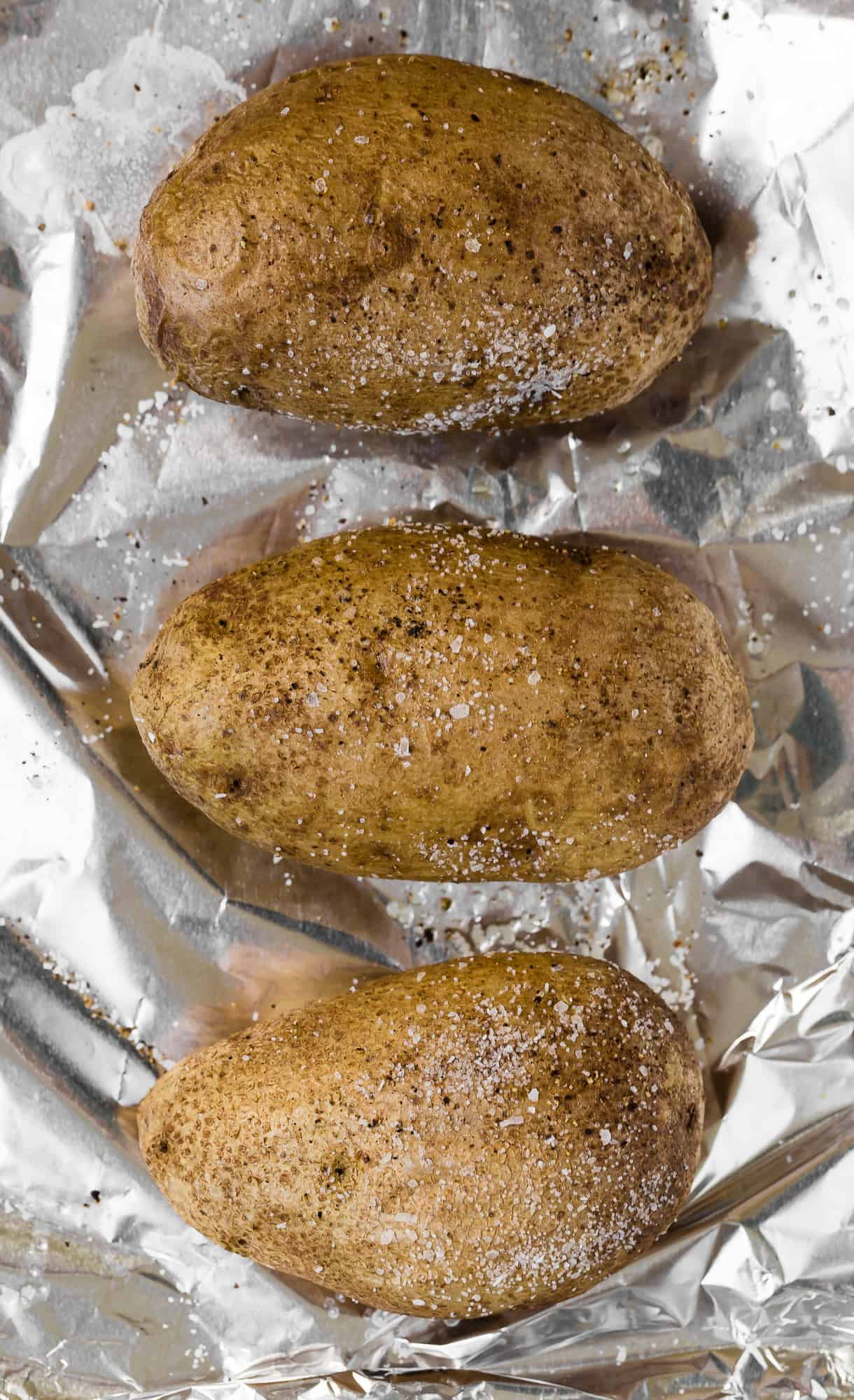 Make It Your Own
Now that you know how to make baked potatoes, it's time to be creative. While baked potatoes are totally delicious with just a pat of butter melted inside, they really are a blank slate. Keep reading for lots of topping ideas. Make baked potatoes a main dish, perfect for meatless Mondays.
Baked potatoes are a great idea if you're serving a crowd, too. Simply bake a bunch of potatoes and set up a do-it-yourself baked potato bar with lots of toppings that guests can add as they like. Call it "Spud Night"!
What's your favorite way to top a baked potato?
Topping Ideas
Chili, because we're taking things seriously here.
Cheese or cheese sauce. Or both.
Sour cream or Greek yogurt.
Green onions or chives, pickled red onions, or caramelized onions, because caramelized onions make everything better.
Avocado, because like bacon and caramelized onions, it makes everything better.
Broccoli – the perfect match to creamy cheddar cheese sauce.
Salsa! I like to do a southwestern baked potato with taco meat, pinto beans, salsa, cheese, avocado, and heaps of cilantro.
BBQ chicken piled on a baked potato is so good! Pulled pork, too.
These Shepherd's Pie Stuffed Baked Potatoes from Cupcakes and Kale Chips look amazing!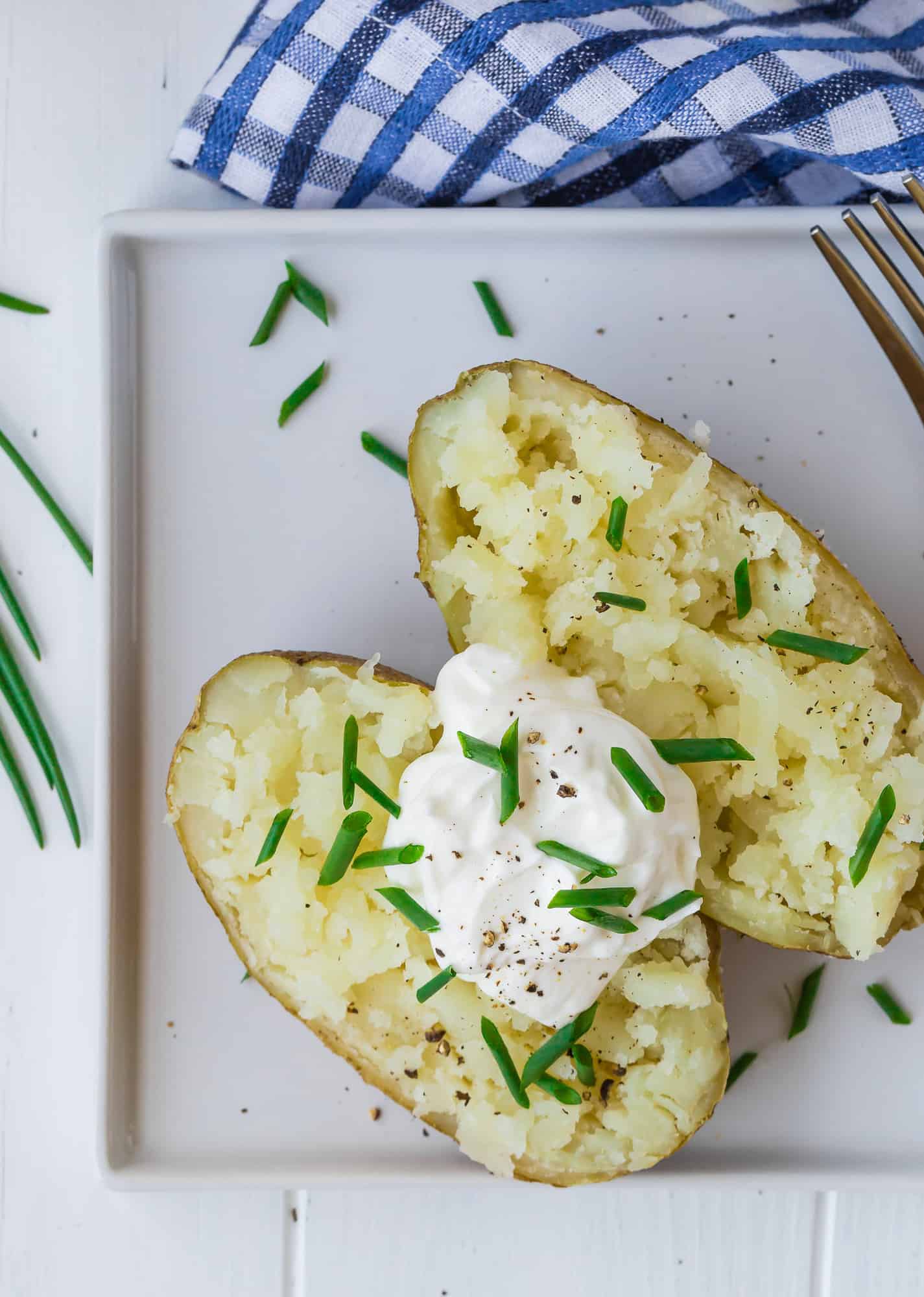 Storage & Reheating Tips
Baked potatoes will keep well in your fridge for 4 to 5 days. Wrap them in plastic wrap or put them in a covered bowl. The skins won't retain the crispness of a freshly baked potato but if you reheat them in the oven or toaster oven, they will be refreshed.
Interested in a weekly meal plan that includes this baked potato recipe? Take a look at my Meal Plan #1 or Meal Plan #18 (the potatoes are loaded with chili!). You'll find a wholesome recipe for each weekday plus a categorized grocery list. Let me do the planning for you this week!
We'll be adding a new meal plan weekly. If you're interested, browse all of our meal plans.
More Potato Recipes
I love potatoes in any shape or form, don't you? Try one of these delicious ways to prepare potatoes:
Did you make this? Be sure to leave a review below and tag me @rachelcooksblog on Facebook, Instagram, or Pinterest!
Wondering how to make baked potatoes with a crispy brown exterior and fluffy white interior? Enjoy perfectly baked potatoes as a filling main dish, or versatile side dish.
Instructions
Place oven rack in the center of the oven and preheat the oven to 400ºF. Line a baking sheet with foil or parchment paper for easy clean up.

Wash and dry potatoes well. Poke potatoes a few times lightly with a fork or the tip of a paring knife.

Rub potatoes with oil and sprinkle liberally with salt and pepper. Place on baking sheet, sides not touching each other.

Bake for 45-60 minutes or until fork tender. The baking time can vary, depending on the size and shape of your potatoes.

Remove from oven. Using a sharp knife, immediately make a cut in the top of the potatoes. Using an oven mitt, gently squeeze the bottoms of the potatoes to open up the tops. Or spread them apart with a couple of forks.

Serve with desired toppings.
Notes
Make as many potatoes as you like; just don't overcrowd the baking sheet.
If you prefer, place the potatoes on a wire rack in the pan or directly on the oven rack, with a pan beneath to catch drippings.
Potatoes can be baked at higher or lower oven temperatures, keeping in mind that cooking time will vary.
Nutrition Information
Calories:
177
kcal
,
Carbohydrates:
38
g
,
Protein:
5
g
,
Fat:
1
g
,
Saturated Fat:
1
g
,
Polyunsaturated Fat:
1
g
,
Monounsaturated Fat:
1
g
,
Sodium:
301
mg
,
Potassium:
888
mg
,
Fiber:
3
g
,
Sugar:
1
g
,
Vitamin A:
2
IU
,
Vitamin C:
12
mg
,
Calcium:
28
mg
,
Iron:
2
mg
This website provides approximate nutrition information for convenience and as a courtesy only. Nutrition data is gathered primarily from the USDA Food Composition Database, whenever available, or otherwise other online calculators.