With no boiling or draining required, crockpot mashed potatoes will become your favorite way to make mashed potatoes, especially on busy days!
Recipe Overview
Why you'll love it: No muss, no fuss! These mashed potatoes are a cinch to make.
How long it takes: 20 minutes to peel the potatoes, 3 hours to cook
Equipment you'll need: crockpot
Servings: makes 10 cups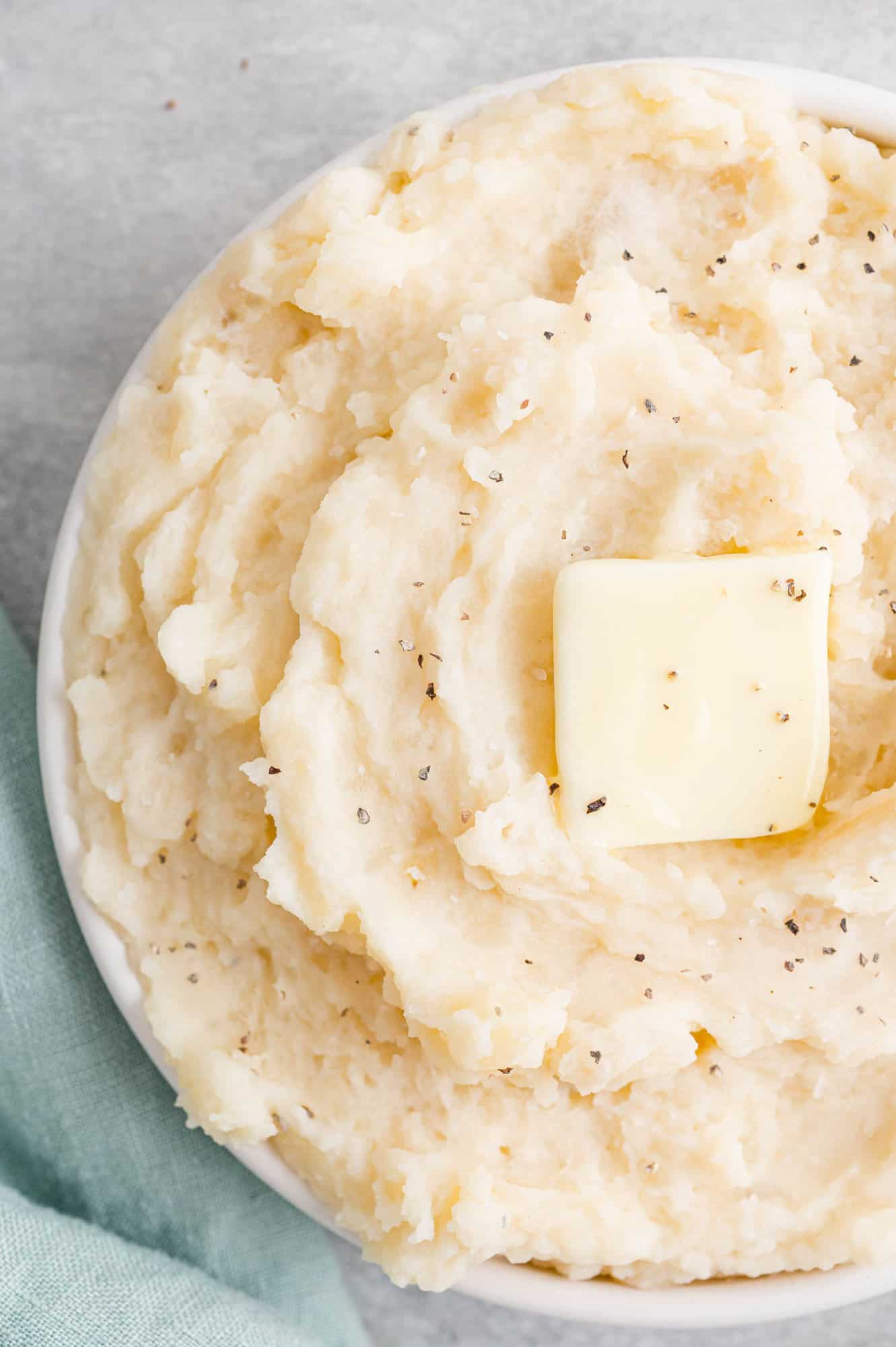 You barely have to think about these easy slow cooker mashed potatoes, and they're just as creamy and perfect as if you made them on the stovetop. They are really kind of amazing.
This recipe is the ultimate shortcut and you'll find that these mashed potatoes are a lifesaver for weeknight dinners and Sunday dinners alike. They're great for holiday dinners, too. When your stovetop is already loaded up with other dishes, you'll be glad you don't have another big ol' pot taking up space on your stove.
And, another bonus is that you can mash them right in the crockpot and then keep them on the Warm setting until you're ready to serve them.
About This Recipe
Doesn't it seem like it can take forever for a pot of potatoes to come to a boil on the stove? And then they always boil over and make a huge mess on your stovetop! It's so aggravating.
That's what's really nice about this recipe! You don't have to boil the potatoes. It's really kind of marvelous. You just put the raw potatoes in the slow cooker and let them cook. They never boil over, you don't have to babysit them, and they cook evenly, with no crunchy undercooked bits that make lumps in your mashed potatoes.
And you don't have to drain them! They cook in a little bit of broth and then you mash the broth right into the potatoes. It's really so easy.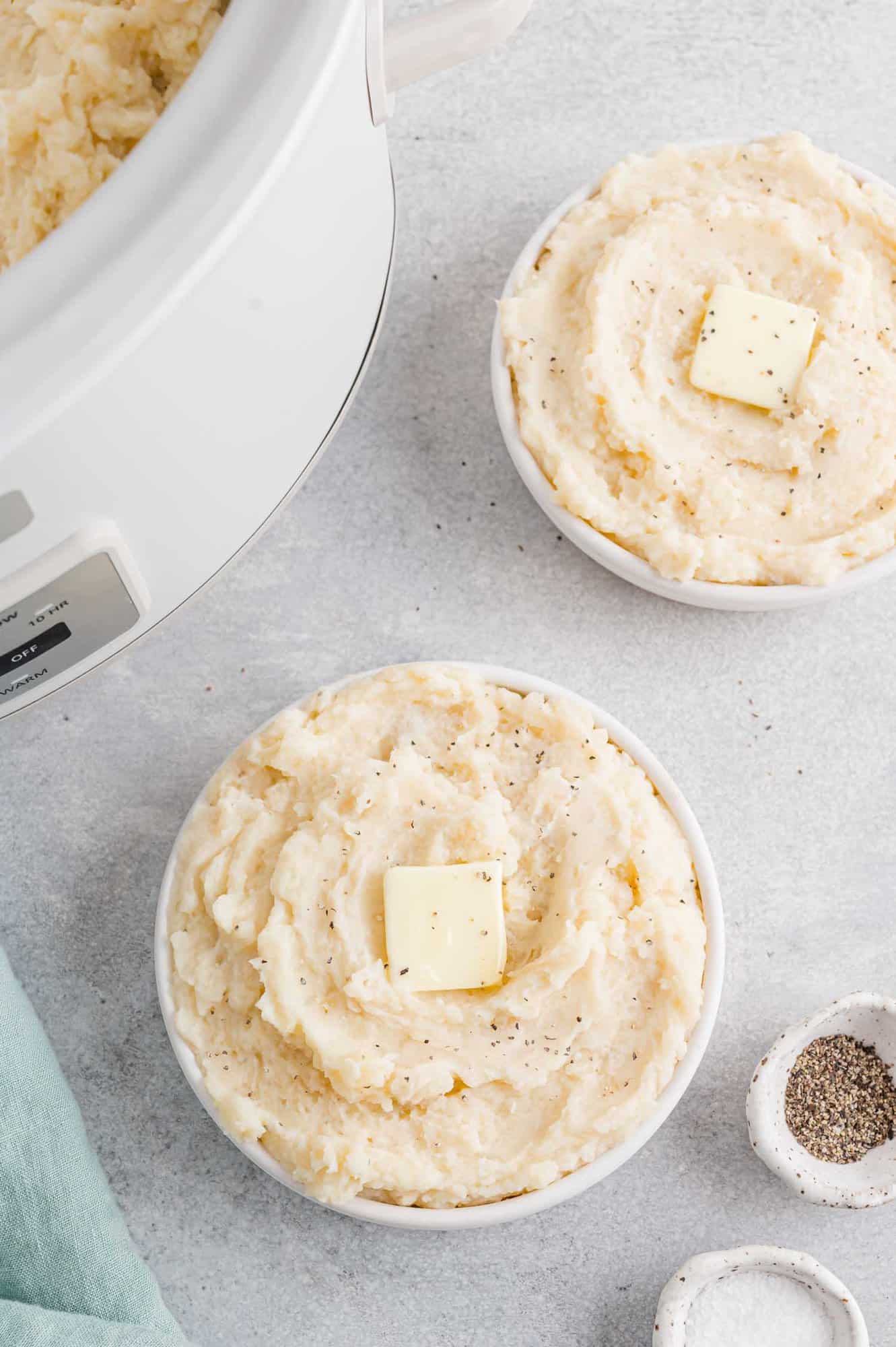 I'll run through the recipe here and give you some helpful tips. Look for the recipe card near the end of the post for complete instructions, measurements, and nutrition information.
What You'll Need
Potatoes: This recipe makes a big batch of mashed potatoes. Buy a five pound bag of russet potatoes or Yukon gold potatoes. Both are good choices for mashed potatoes with just the right amount of starch for a smooth, creamy texture.
Chicken Broth or Vegetable Broth: The potatoes are cooked in a small amount of broth, just one cup. A 14.5 oz. can of broth is probably your best bet (you'll have some left over).
Garlic: Garlic is totally optional; it depends on whether you like garlic mashed potatoes or not. The recipe calls for one clove but feel free to add more if you love garlic.
Salt: At least some salt is needed to season the potatoes. They won't taste very good without any salt. If you use salty broth, take that into account when adding additional salt.
Butter: It's best if the butter is at room temperature so it mixes into the potatoes more easily. If you prefer, brown the butter before adding it.
Sour Cream: Sour cream adds a bit of tanginess and richness.
Milk: Use whole milk or 2%, if you can. Skim milk or nonfat milk tend to make mashed potatoes taste watery. No milk in the house? Simply substitute additional sour cream.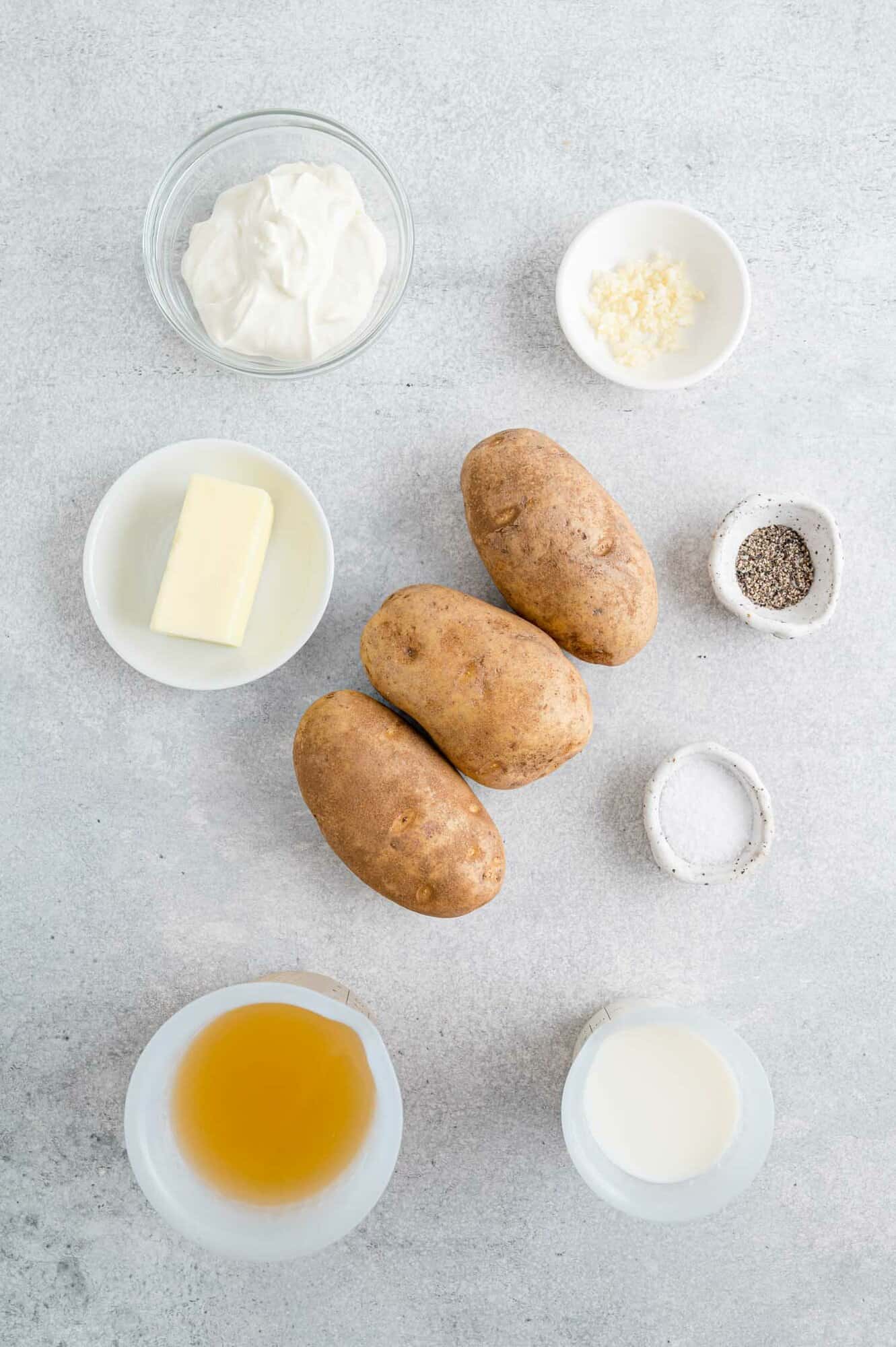 How To Make It
You'll need a large 6 to 7 quart slow cooker. Spray the inside lightly with nonstick spray for easy cleanup.
Next, you have to peel those potatoes. I know, it's a bunch of them to peel but put some music on and get to work. A vegetable peeler works super well and even kids can handle those, so put the kids to work. A small paring knife is fine, too. As you peel the potatoes, place them into a bowl of cold water to keep them from discoloring.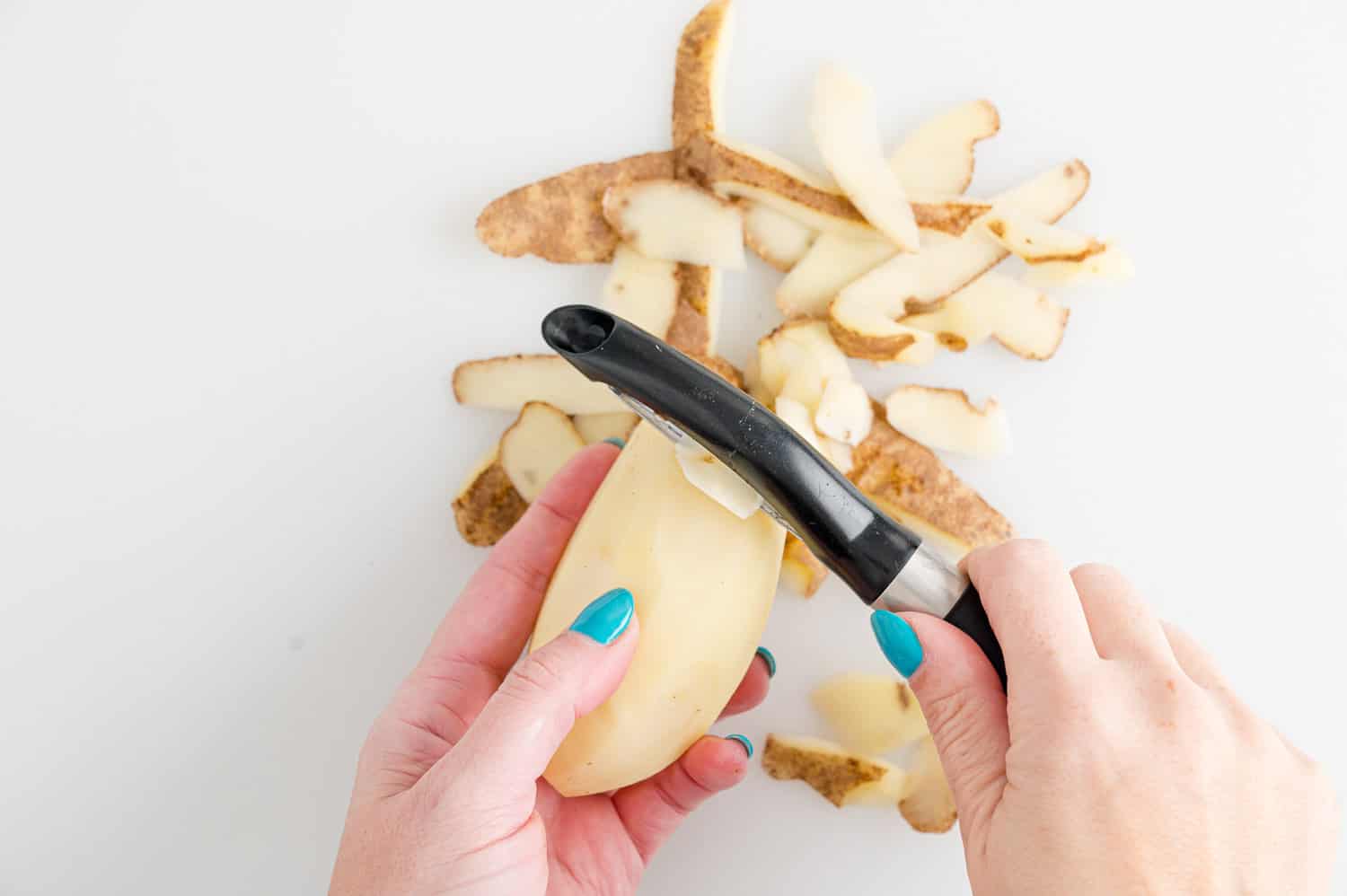 Cut the potatoes into evenly sized chunks, roughly two inches. You don't have to measure them. Just try to get them all about the same size so they cook evenly. Little pieces cook fast, larger pieces take longer.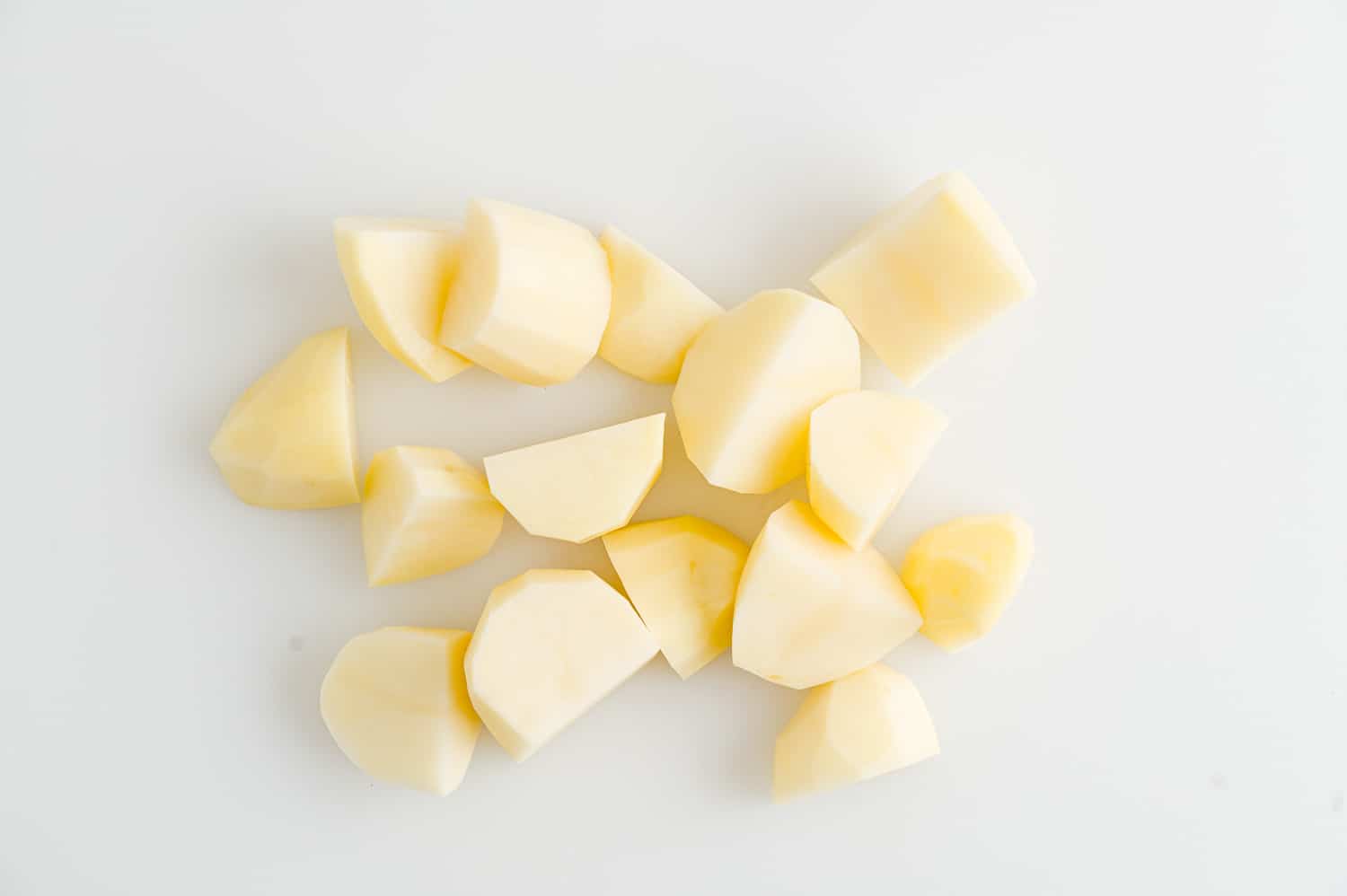 Rinse the peeled potatoes well to remove any grit and put them into the crockpot. Add the broth, minced garlic (if you're using it), and salt.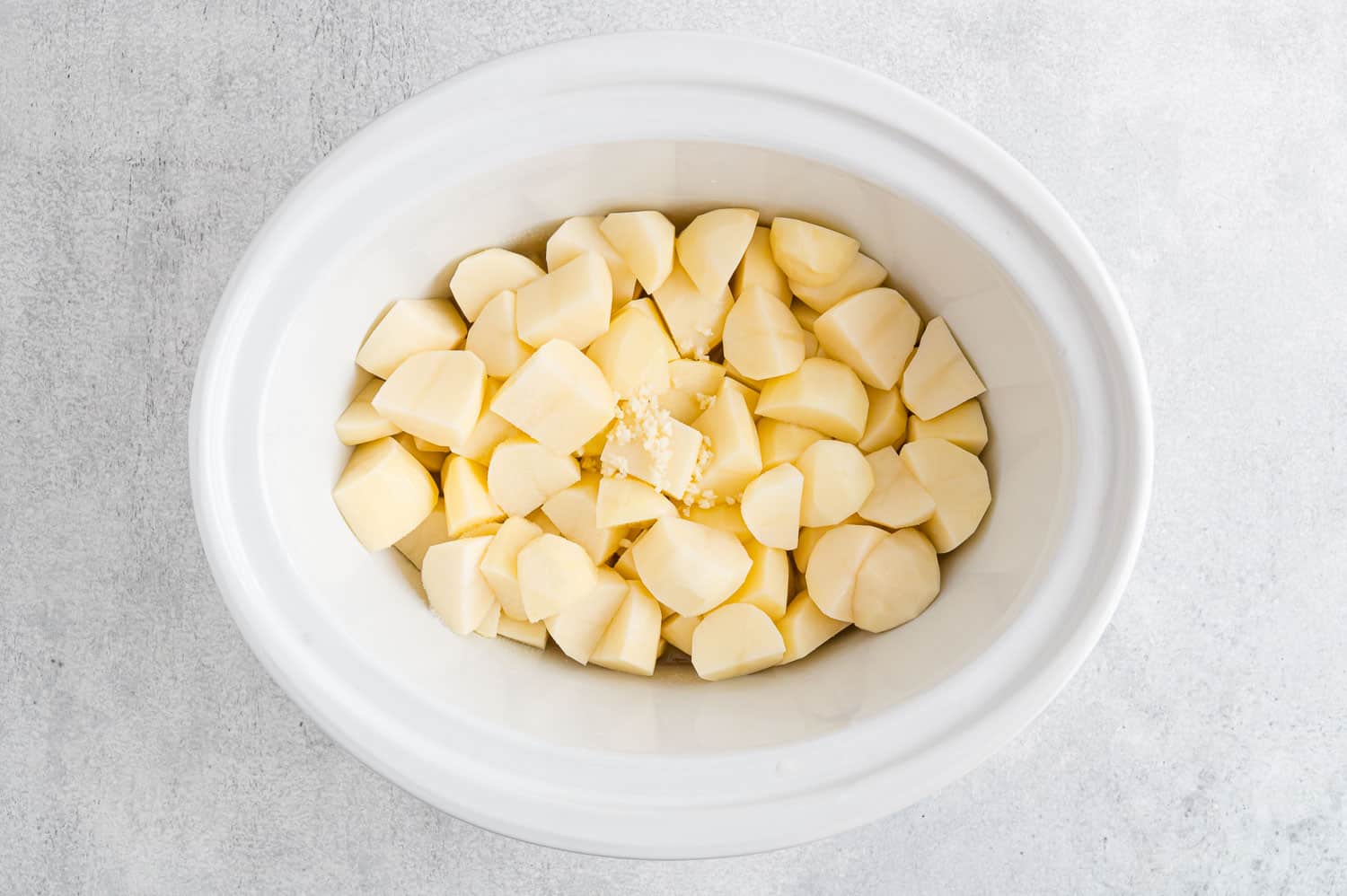 Cover the crockpot and select your setting. It takes 3 to 4 hours on High, or 5 to 6 hours on Low.
Cooking Tip
The cut potatoes will brown a bit on the top when they first start cooking since they aren't submerged in liquid. Don't stress! It will be okay because once you mash it all together, everything will look just fine.
Once the potatoes are fork tender, turn the crockpot off. What does "fork tender" mean? When you poke a fork into the centers of the potatoes, the fork should go in easily, with little resistance. If it feels like they're hard in the middle yet, cover the pot and continue cooking the potatoes.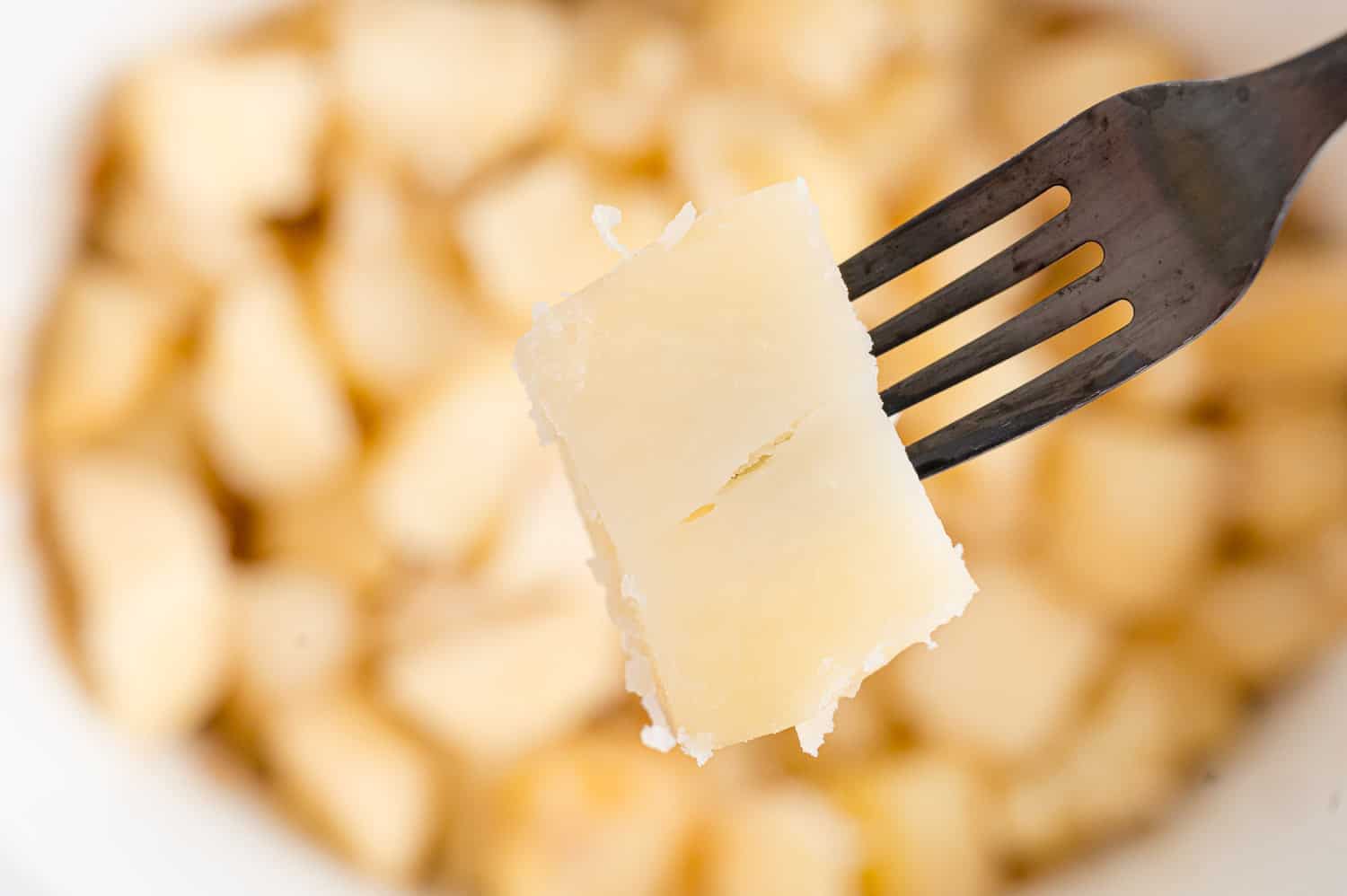 Don't drain the potatoes when they are finished cooking. Any leftover broth can be mashed right in. Add the softened butter, sour cream, and milk to the cooked potatoes in the crockpot.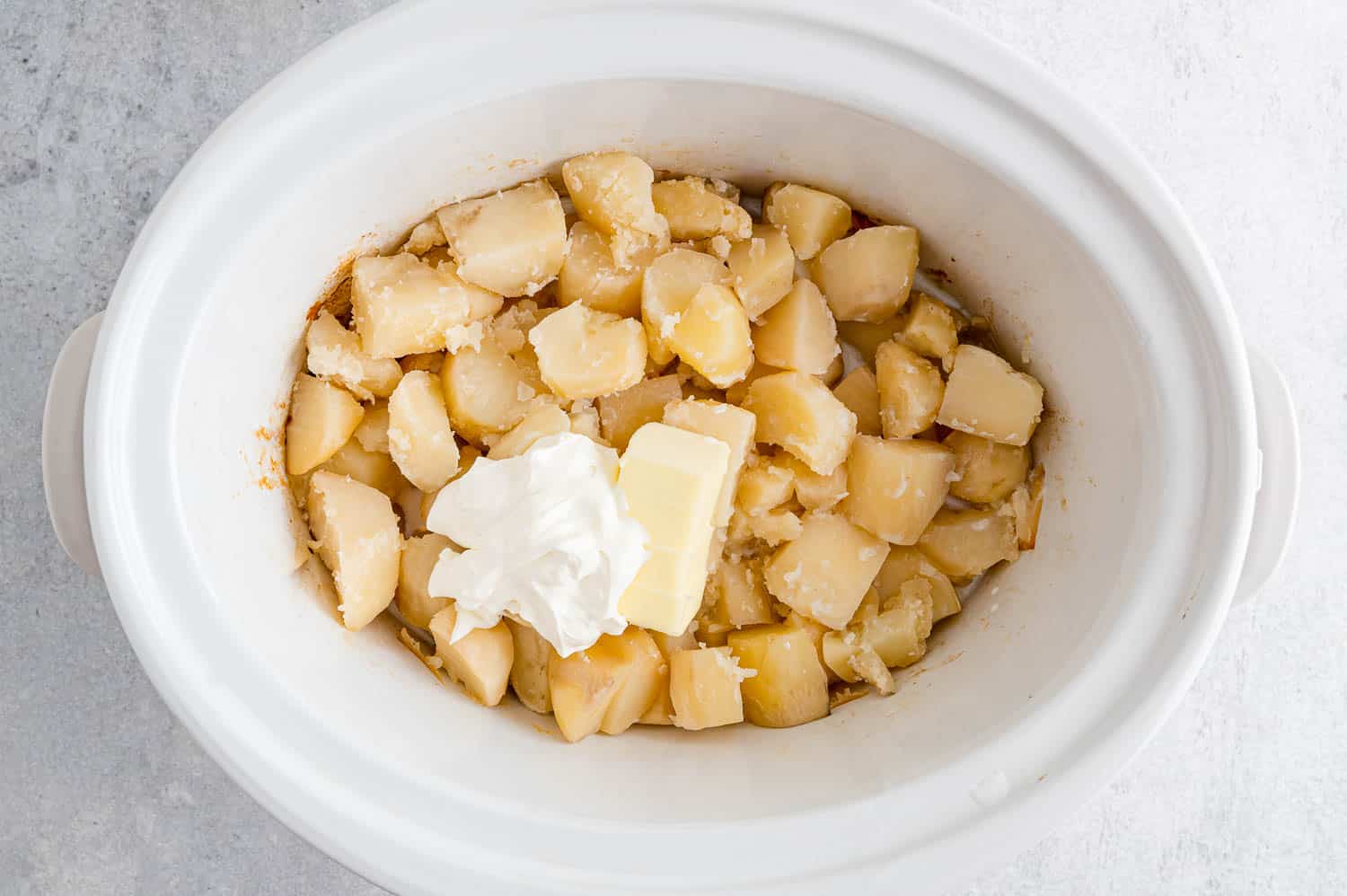 Mash the potatoes by hand, using a potato masher, or whip them with an electric mixer. You can mash or whip them right in the slow cooker. Isn't that nice? No colanders or bowls to wash! You gotta love that.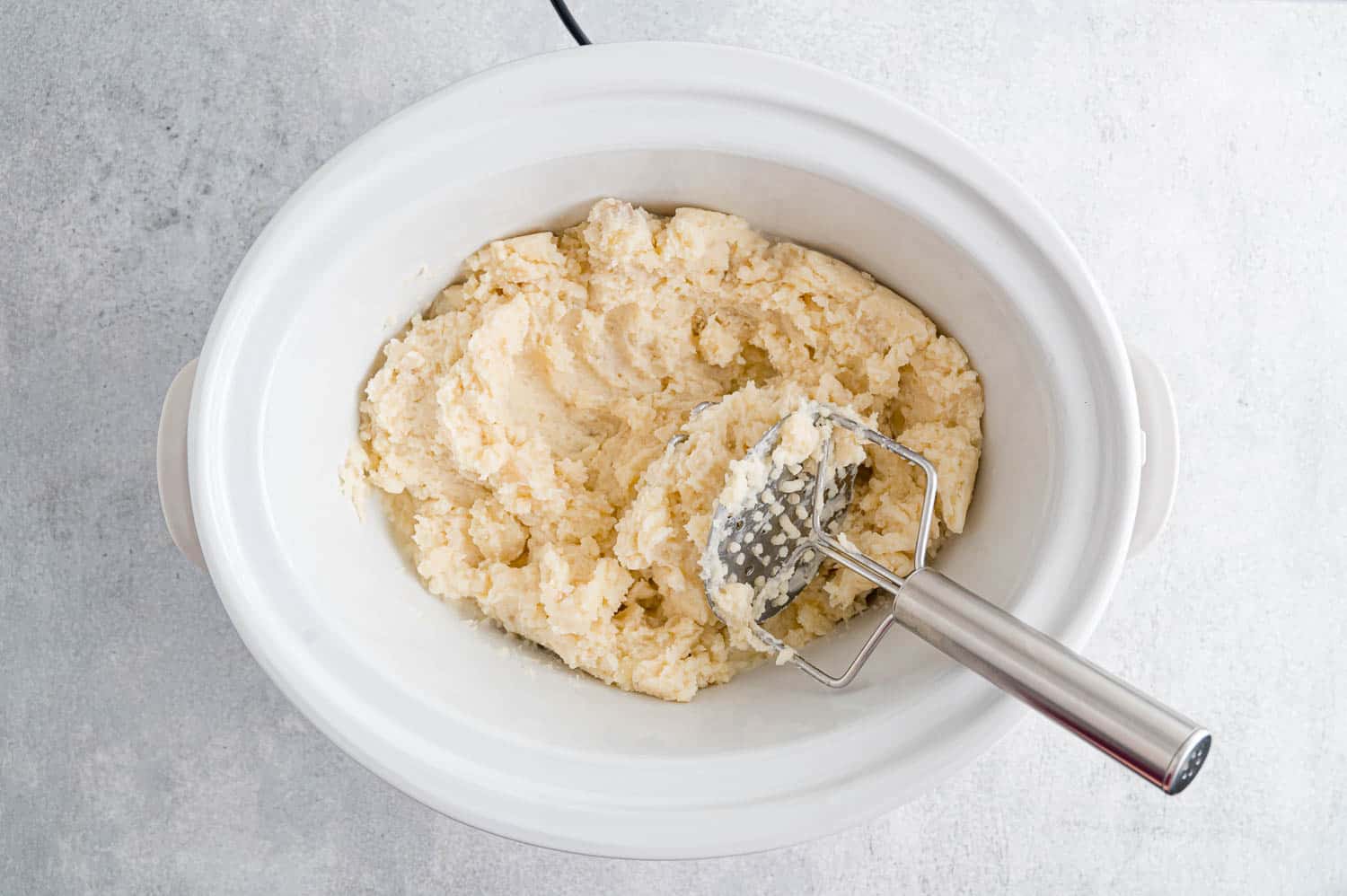 It seems like everyone has a preference regarding mashed potatoes. Some people like them thick and chunky, barely mashed, and some people like them smooth and creamy. If the potatoes don't seem to have the consistency you love, add a bit more milk or butter until they are just right.
Speaking of just right, taste a spoonful of potatoes before you serve them. Add more salt, if needed, and stir in freshly ground black pepper, too, if you like it. Garnish them with chopped chives or sliced green onions, or a pat of butter.
These flavorful potatoes barely need anything to dress them up but if you need a gravy recipe, try this make ahead turkey gravy. You can make it with chicken broth if it isn't turkey day.
Mashed potatoes go perfectly with Instant Pot pot roast or Instant Pot short ribs. If you have two slow cookers, try this crockpot Italian pot roast or crockpot ham with maple Dijon sauce. These braised lamb shanks are simply amazing.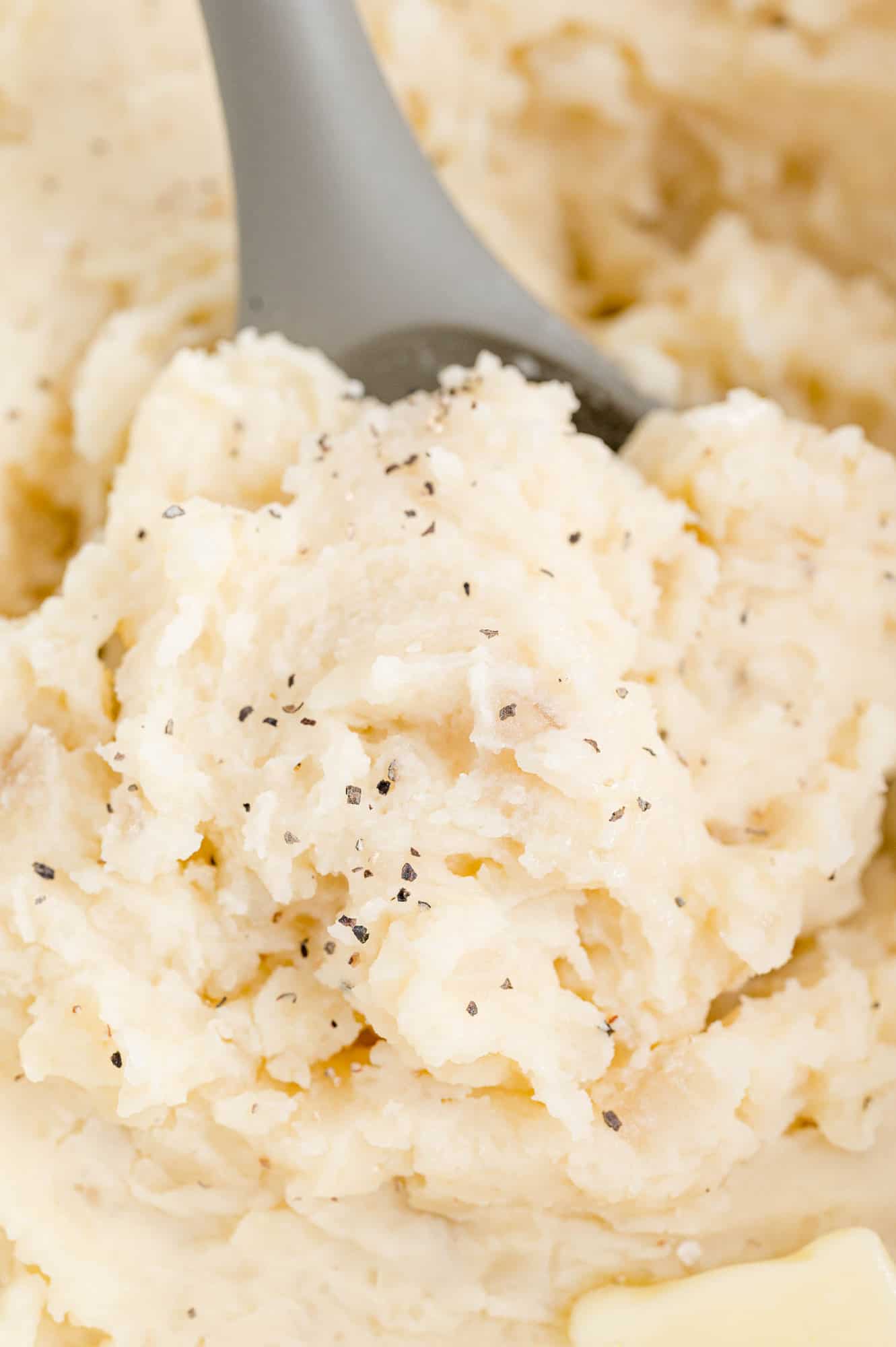 FAQs
Can you make mashed potatoes ahead of time and keep warm?
That's one of the advantages of these crockpot mashed potatoes. Once they are mashed, simply set the crockpot on Warm until you're ready to serve them.
Make It Your Own
Brown Butter Option: Take an extra step and brown the butter before adding it to the mashed potatoes. Brown butter gives the potatoes an extra layer of nutty flavor that will have everyone asking for the recipe. The recipe card below has instructions.
Roasted Garlic Option: Omit the minced garlic. When potatoes are finished cooking, add roasted garlic with the butter, sour cream, and milk. Learn how to roast garlic to add mellow garlic flavor to your potatoes, breads, pizza, and more.
Rather make your mashed potatoes in your pressure cooker? Try Instant Pot mashed potatoes. They are easy and pretty much fool-proof, and you can cook up to 5 pounds at a time.
Turn your mashed potatoes into a spectacular casserole. Try loaded mashed potato casserole with cream cheese, cheddar cheese, bacon, and green onions. So good!
Prefer a potato mash with skin? Try mashed red potatoes.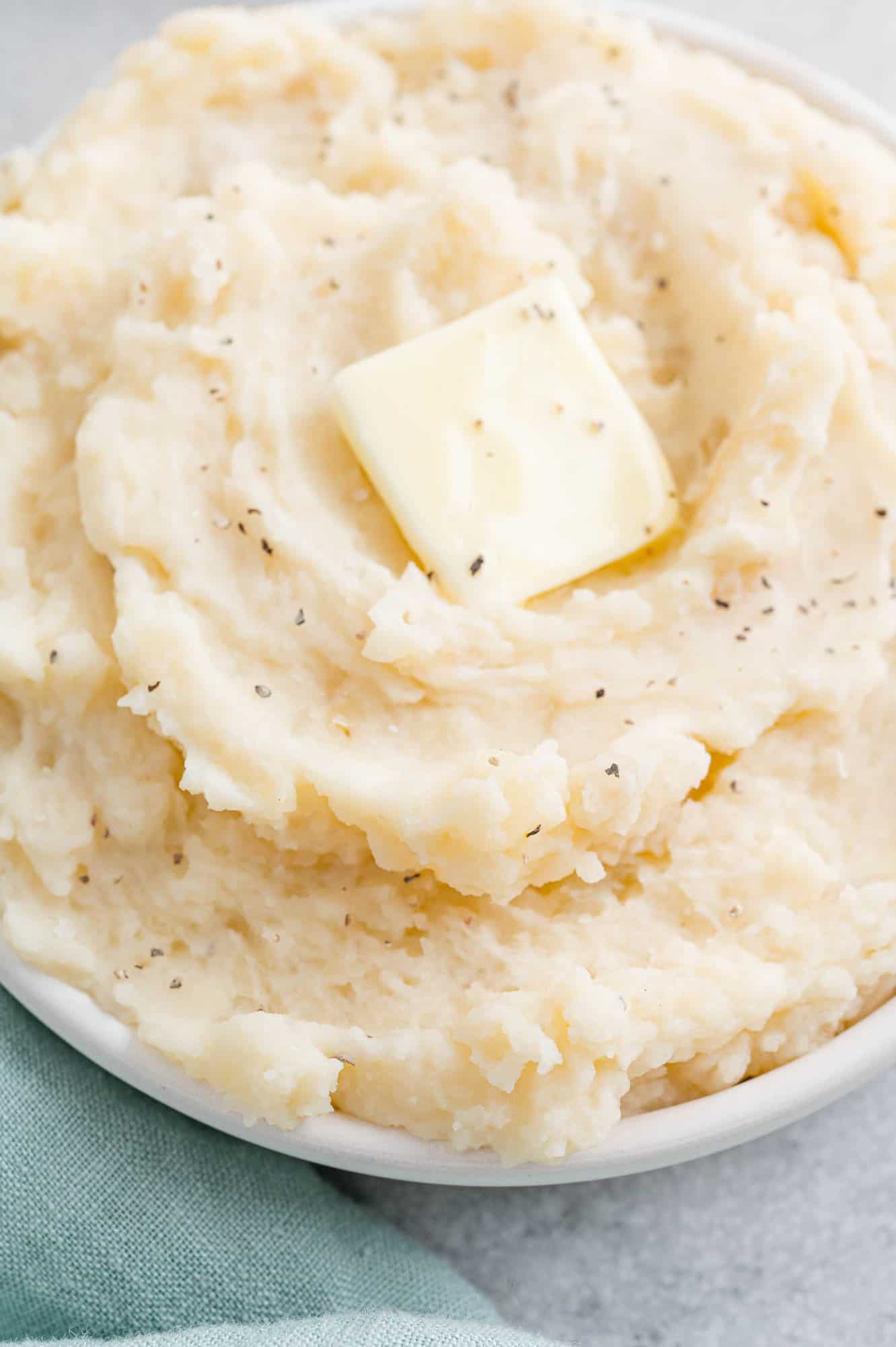 Make-Ahead Ideas
The potatoes can be peeled up to a day ahead of time. Make sure they are completely submerged in cool water. They can set on the counter overnight.
Since this recipe makes a big batch, be sure to check out the freezer ideas below. You can freeze mashed potatoes for future meals.
Storage & Reheating Tips
Cool leftover mashed potatoes slightly before refrigerating. Cover and use within three days.
Mashed potatoes also freeze well. They'll keep for one month in the freezer. After that, they will lose their texture and become watery. For helpful tips about freezing and reheating frozen mashed potatoes, check out this post by The Kitchn.
Reheat single portions in the microwave at 50% power until warm. Larger amounts can be reheated in the oven. Put the potatoes into a greased oven safe baking pan, add a little extra butter, and cover with foil. Bake at 350°F for a half hour or until heated through (165°F).
Did you make this? Be sure to leave a review below and tag me @rachelcooksblog on Facebook, Instagram, or Pinterest!
With no boiling or draining required, crockpot mashed potatoes will become your favorite way to make mashed potatoes, especially on busy days!
Ingredients
5

pounds

potatoes

(Russet or Yukon gold)

1

cup

reduced-sodium chicken or vegetable broth

1

garlic clove, minced

(optional)

1

teaspoon

salt, more to taste

¼

cup

unsalted butter

(see note)

½

cup

sour cream

½

cup

whole or 2% milk, more as needed

Salt and pepper, to taste
Instructions
Peel and wash potatoes and cut into large chunks, roughly 2 inches. Try to keep the size somewhat uniform.

Lightly spray a 6- or 7-quart crockpot with nonstick spray. Place potatoes inside. Add broth, optional garlic, and salt; stir. Cover and cook on Low for 5 to 6 hours or High for 3 to 4 hours, stirring once during cooking time.

When potatoes are fork tender, don't drain them. Add butter, sour cream, and milk. Mash using a potato masher. For whipped potatoes, use a hand mixer. Add more milk as needed to achieve desired consistency. Taste and season with salt and pepper, as needed.

Leave the mashed potatoes in the slow cooker on warm until ready to serve.
Notes
Brown Butter Option: When potatoes are nearly done cooking, brown butter in a small pan over medium heat. Hint: Use a light color pan so you can see the color of the butter. Keep cooking, swirling or stirring to prevent burning. Once the melted butter is golden brown in color and smells nutty, remove the pan from heat. Pour the butter into a bowl so it stops cooking and doesn't scorch, or add it directly to the potatoes before mashing.
Optional Add-Ins (stir into potatoes after they are mashed): fresh chopped parsley and/or chives); shredded Parmesan or cheddar cheese.
Cooking note: When we tested this recipe, potatoes were fully cooked in 3 hours on High.
Nutrition Information
Serving:
1
cup
,
Calories:
250
kcal
,
Carbohydrates:
41
g
,
Protein:
6
g
,
Fat:
8
g
,
Saturated Fat:
4
g
,
Polyunsaturated Fat:
0.4
g
,
Monounsaturated Fat:
2
g
,
Trans Fat:
0.2
g
,
Cholesterol:
20
mg
,
Sodium:
262
mg
,
Potassium:
1010
mg
,
Fiber:
5
g
,
Sugar:
3
g
,
Vitamin A:
238
IU
,
Vitamin C:
45
mg
,
Calcium:
57
mg
,
Iron:
2
mg
This website provides approximate nutrition information for convenience and as a courtesy only. Nutrition data is gathered primarily from the USDA Food Composition Database, whenever available, or otherwise other online calculators.