Avoid the Thanksgiving last minute rush with make ahead turkey gravy. Rich and flavorful, with plenty of sage, thyme, and parsley, you'll want to pour this gravy over your entire plate.
Recipe Overview
Why you'll love it: Making gravy at the last minute is a hassle with all that stirring and a million other things to do. This recipe can be made ahead and even frozen, if you like.
How long it takes: 30 minutes
Equipment you'll need: large saucepan, whisk
Servings: makes 3½ cups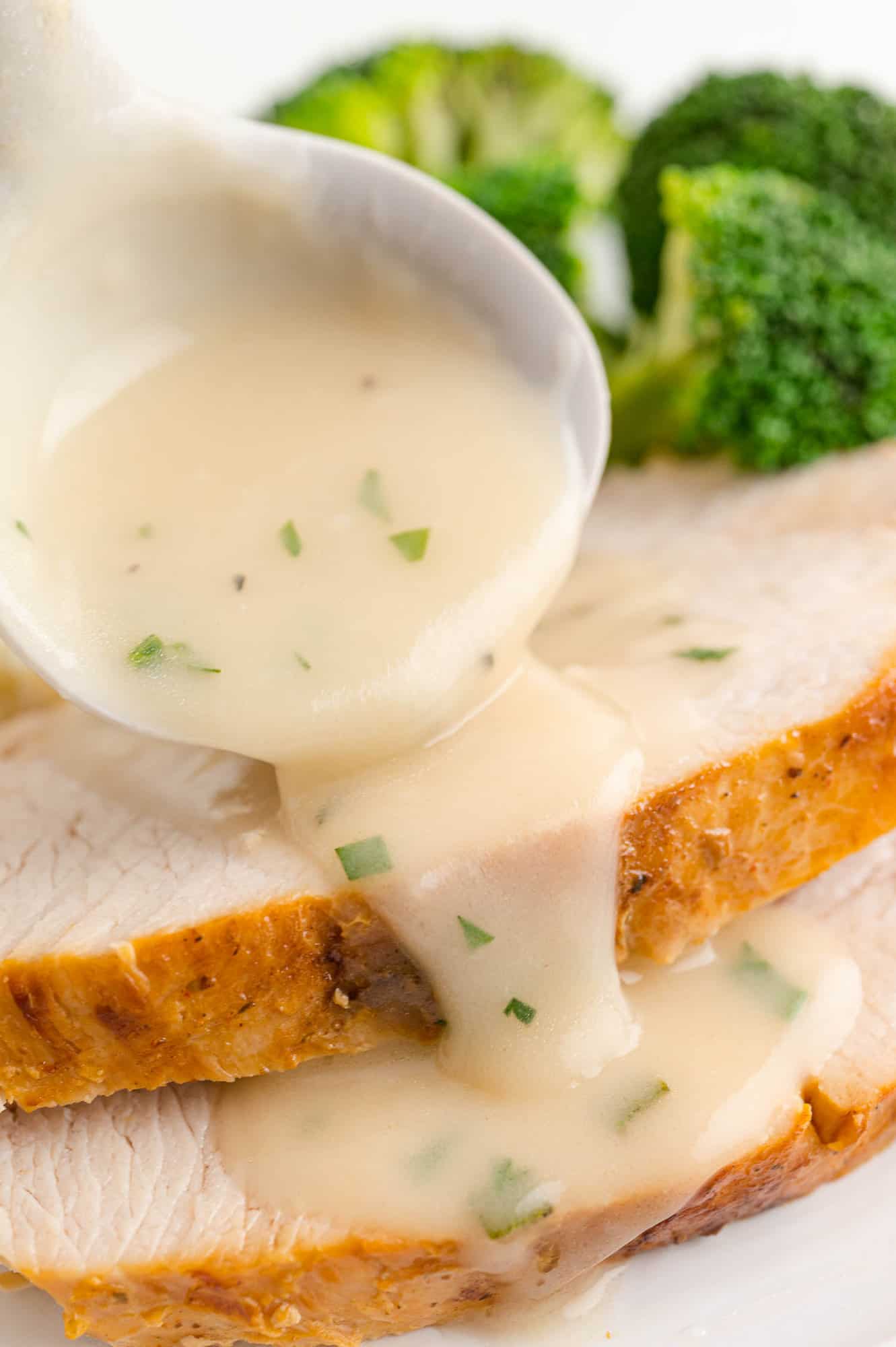 I've hosted quite a few Thanksgiving dinners by now and it's one of my favorite days to cook. I love all the traditional dishes, like homemade stuffing and green bean casserole, but I throw in a few new recipes every year too. As long as I make the basics, my family is willing to try whatever I feel like experimenting with that year.
Often, that new recipe becomes part of our standard repertoire. We loved this roasted cranberry sauce so much that now we can't imagine our Thanksgiving feast without it. The same goes for cheesy Brussels sprouts au gratin, truly a special occasion dish. If we're lucky, my mom will bake yeasty homemade Parker house rolls (which she usually does because my son is crazy about them!).
However, it wouldn't be Thanksgiving without mashed potatoes and gravy, right? In fact, lots of gravy is required! It goes on more than the potatoes. We like to pour it over the stuffing and turkey, as well. I rarely make potatoes and gravy so when I do, you know it's a special occasion.
Make ahead turkey gravy really simplifies things on a busy day. This gravy can be prepped a day or two ahead. You can refrigerate or even freeze it. It's foolproof and so tasty! You'll love that you won't have to mess around with making gravy when there's a lot of other stuff going on.
With your extra time, why not present a charcuterie board? I've found that it's just perfect when guests arrive. They're hungry, dinner's still in the making, and a nibble or two with a festive cocktail (may I recommend an orange gin and tonic, a cranberry margarita, or an apple cider mule?) is just right to put everyone in a thankful mood.
Here's a few tasty ideas for your charcuterie board: spiced pecans, butternut squash crostini, baked brie with cranberries, sugared cranberries, and pickled asparagus.
About This Recipe
Because this gravy is made ahead of time, you won't have turkey drippings to use yet. This isn't really a problem. You can buy good quality turkey stock or chicken stock that is perfectly acceptable for gravy. It's much easier to use, too. Also, when you reheat it, it might need to be thinned a little, and that is the perfect opportunity to add turkey drippings.
The gravy is thickened with flour and derives tons of flavor from fresh herbs: sage, which is a must-have herb for Thanksgiving, thyme, and parsley.
Many of you may not be planning on doing the whole roasted turkey thing especially if you're not expecting a big crowd. Make ahead gravy works for any turkey dinner. Try it with herb roasted turkey breast or Instant Pot turkey breast. We really love this sheet pan turkey dinner, a really delicious dinner completely baked on one sheet pan.
The gravy can accompany chicken dinners, too. Plenty of folks prefer to make a roasted chicken instead of a turkey and roasted bone in chicken breasts are another great option.
Even if you don't want to make the gravy ahead, this is a great-tasting foolproof gravy recipe!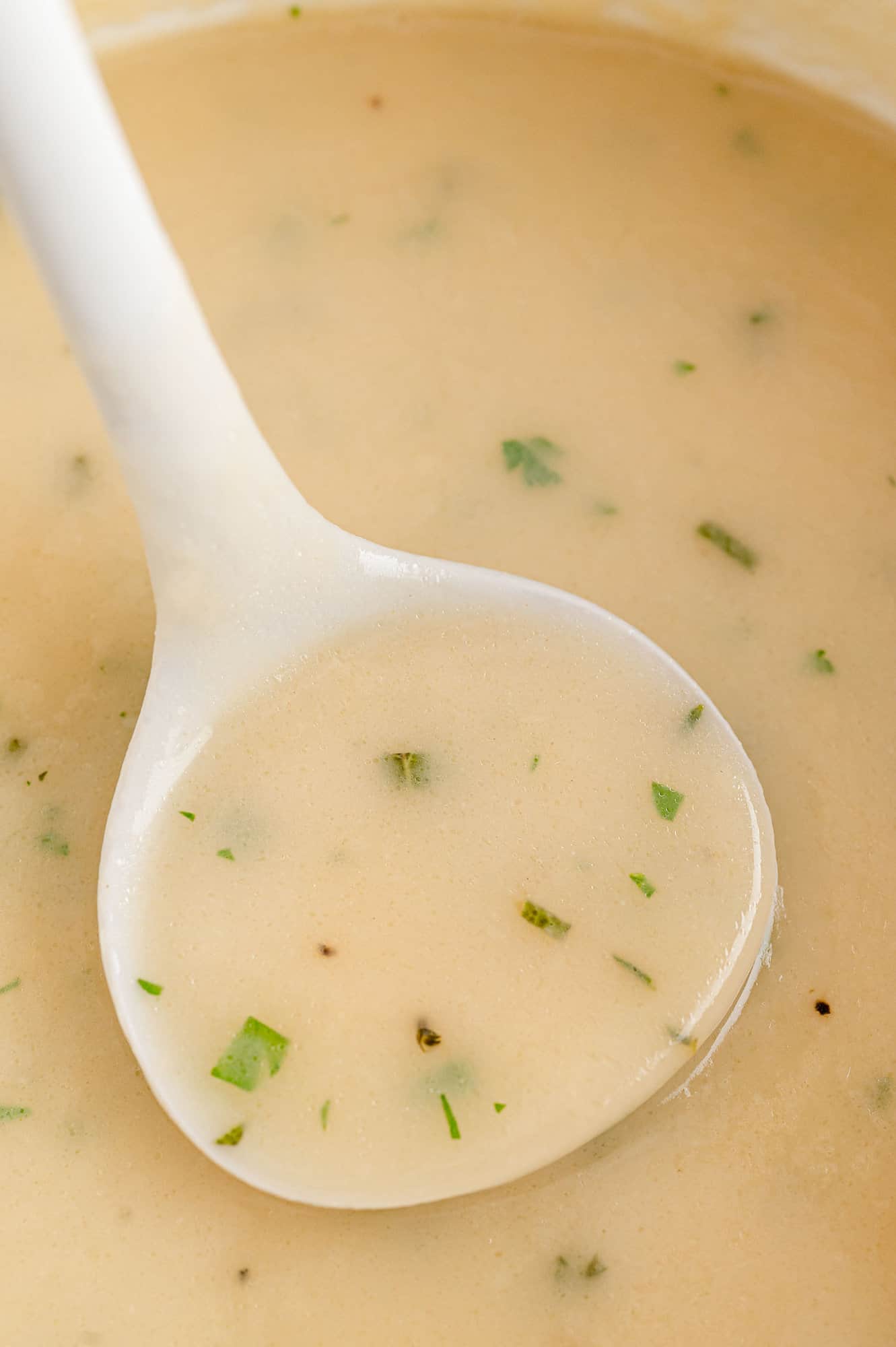 I'll walk you through the basics here and give you a few helpful tips to get you started. As always, look for the recipe card for complete instructions, specific measurements, and nutrition information.
What you'll need
Turkey Stock: Since this is a make-ahead recipe, you won't have pan drippings to use for stock. Instead, buy a carton of good-quality turkey stock. You can substitute chicken stock or vegetable broth, if you prefer, or if you can't find turkey stock.
Butter: Butter makes this gravy taste rich since purchased turkey stock has very little or no fat.
All-Purpose Flour: Flour is used as a thickening agent in the gravy.
Fresh Herbs: Thyme, sage, and parsley give this gravy plenty of fragrant flavor. You'll love the herbal bouquet of the fresh herbs. If you use dried herbs, use less, about half as much.
Salt & Pepper: Freshly cracked black pepper and kosher salt are added to taste.
How to make it
Are you ready to make your homemade gravy? Let's get started.
You'll want to prep the herbs first. Remove the thyme leaves from the stems and chop them finely. Mince 2 to 3 sage leaves, along with a good handful of parsley. Small stems are okay with the parsley but the larger stems tend to be bitter.
Melt the butter in a large saucepan over medium heat. Add the flour and whisk it into the butter until the mixture is smooth and bubbly.
Continue to cook this mixture, stirring constantly, until it's lightly browned, about five to seven minutes. Don't hurry it along too much. This process browns the butter and will give your gravy great flavor.
Gradually whisk in the broth. Add the sage and thyme (don't they smell great?).
Turn the heat up to medium high and bring the mixture to a low boil. Once it's boiling, reduce the heat to medium and continue cooking the gravy for ten minutes or so. Give it a stir occasionally.
The gravy will thicken slightly. It thickens quite a lot more as it cools so don't worry if it looks a little thin at first. Once the gravy is done, stir in the parsley.
Before you serve the gravy, taste it! I can't emphasize this enough. The saltiness of broth varies so much. I purposely didn't specify an amount of added salt and pepper because of this fact. Remove a spoonful or two from the pan and let it cool a minute. Taste the gravy and decide how much salt it needs.
After you add some salt, taste the gravy again to make sure it's just right. Be sure to add a few grinds of pepper, too.
Serve the gravy on creamy mashed potatoes. Try Instant Pot mashed potatoes. You can cook five pounds of potatoes at once and they turn out great! Mash them right in the Instant Pot and then turn it on Warm to keep the potatoes nice and hot until dinner is ready.
You can also make crockpot mashed potatoes or stovetop mashed red potatoes.
FAQs
How do you reheat frozen turkey gravy?
It's difficult to reheat a huge chunk of frozen gravy so it's best to thaw it overnight in the refrigerator. To reheat, put the gravy into a saucepan on the stove. Warm it over low heat, whisking as necessary to smooth it out. If it seems too thick, whisk in a bit of broth, turkey drippings, or water until it's the right consistency.
Can you freeze turkey drippings for gravy?
Turkey drippings can be frozen for up to six months. Strain the drippings in the pan through a fine mesh strainer, discarding the solids. Remove the fat using the method described below. Store the drippings in freezer-safe containers. Thaw overnight in the fridge before using.
The flavorful drippings can be used to make gravy or as a broth for soup.
How do you get the fat out of turkey drippings?
If you have a fat separator, which is a measuring cup specially designed for this purpose, simply pour the drippings into the fat separator, and allow them to cool for 5 to 10 minutes. The fat will rise to the top; you'll be able to see two distinct layers. Pour the broth out through the spout and the fat will stay in the cup.
If you don't have a fat separator, pour the drippings into a clear glass container. Allow the broth and fat to separate. Use a turkey baster to "vacuum" up either the broth or the fat. You can also use a spoon or ladle to scoop off the fat layer on top.
If you have time, simply refrigerate the drippings. The fat will rise to the top and harden; it will be very easy to remove.
Make It Your Own
Play around with the seasonings. You may want to add a teaspoon of poultry seasoning or bullion to enrich the gravy. Add more fresh herbs if you like.
Like giblet gravy? Simmer the turkey giblets (heart, liver, neck, etc) in water to cover for an hour, or until tender. Remove the giblets from the water and finely chop before stirring into the gravy.
Vegetarian: Make the gravy with vegetable broth.
Make-Ahead Ideas
This is a make-ahead recipe. It will save you time and effort on busy days. If your family loves potatoes and gravy, prep this gravy ahead and keep it in your freezer.
It's a great time-saver. Even if you're making a batch of instant potatoes with air fryer chicken, you can add your homemade gravy and it will seem like you slaved all afternoon in the kitchen.
I often freeze in it silicone ice cube trays before transferring to a freezer bag. They reheat faster and you can just get out what you need. Gravy any time!
Storage & Reheating Tips
Refrigerate turkey gravy for up to three or four days. This flour-based gravy can also be frozen for up to four months. Freeze it in freezer-safe storage containers, freezer bags, or ice cube trays (remove from trays when frozen and put into a freezer bag).
To reheat, thaw frozen gravy overnight in the refrigerator. Put it into a saucepan and heat over low heat, whisking to combine. If it seems too thick, add a bit of broth, turkey drippings, or water. Heat until the gravy is piping hot.
Leftover Love
Have lots of leftover gravy? Make an open-face hot turkey sandwich. Arrange leftover turkey on sliced bread and pour hot gravy over it. I like to add a spoonful of stuffing to the sandwich, too.
Leftover gravy can be used to top pasta, as a sauce for meatballs, or to enrich soups and stews.
Did you make this? Be sure to leave a review below and tag me @rachelcooksblog on Facebook, Instagram, or Pinterest!
Avoid the Thanksgiving last minute rush with make ahead turkey gravy. It's rich and flavorful, with plenty of sage, thyme, and parsley.
Ingredients
8

tablespoons

butter

½

cup

all-purpose flour

4

cups

turkey stock

(chicken stock or vegetable broth can be substituted)

½

teaspoon

chopped fresh thyme

1

teaspoon

chopped fresh sage

(

2

to

3

fresh sage leaves)

1

tablespoon

chopped fresh parsley

Kosher salt and freshly ground black pepper, to taste
Instructions
Melt butter in a large pan over medium heat. Whisk in flour and continue to cook, whisking constantly, until lightly browned, 5 to 7 minutes.

Gradually whisk in broth. Add thyme and sage. Increase heat to medium high, bring to a boil.

Reduce heat to medium and continue to cook until thickened, about 10 minutes, stirring frequently. Gravy will thicken significantly as it cools.

Stir in parsley, taste and season with salt and pepper.
Notes
Recipe makes

3½ cups gravy. Nutrition information is calculated for a serving size of ⅓ cup gravy.

The saltiness of broth or stock can vary widely so I suggest tasting the gravy before adding salt.
For meatier flavor, add 1 teaspoon bouillon or use homemade stock.
Storage Suggestions: Cool to room temperature and refrigerate in a covered container for 3 to 4 days. Gravy can be frozen for up to 4 months.
To Reheat: In a saucepan, warm the gravy over low heat, whisking until smooth and hot. Add broth, turkey drippings, or water if gravy seems too thick. If the gravy is frozen, thaw overnight in the refrigerator before reheating.
Nutrition Information
Serving:
0.33
cup
,
Calories:
59
kcal
,
Carbohydrates:
8
g
,
Protein:
3
g
,
Fat:
1
g
,
Saturated Fat:
0.5
g
,
Polyunsaturated Fat:
0.2
g
,
Monounsaturated Fat:
1
g
,
Cholesterol:
4
mg
,
Sodium:
135
mg
,
Potassium:
114
mg
,
Fiber:
0.2
g
,
Sugar:
2
g
,
Vitamin A:
56
IU
,
Vitamin C:
1
mg
,
Calcium:
18
mg
,
Iron:
1
mg
This website provides approximate nutrition information for convenience and as a courtesy only. Nutrition data is gathered primarily from the USDA Food Composition Database, whenever available, or otherwise other online calculators.