Crispy, tender, and perfectly seasoned, chicken bites will be an instant hit. My family loves them and the bonus? They are so easy to make.
Recipe Overview
Why you'll love it: Crispy chicken bites are so versatile. Serve them just as they are or add them to a bowl, salad, rice or pasta.
How long it takes: 25 minutes, tops
Equipment you'll need: mixing bowl, skillet
Servings: 4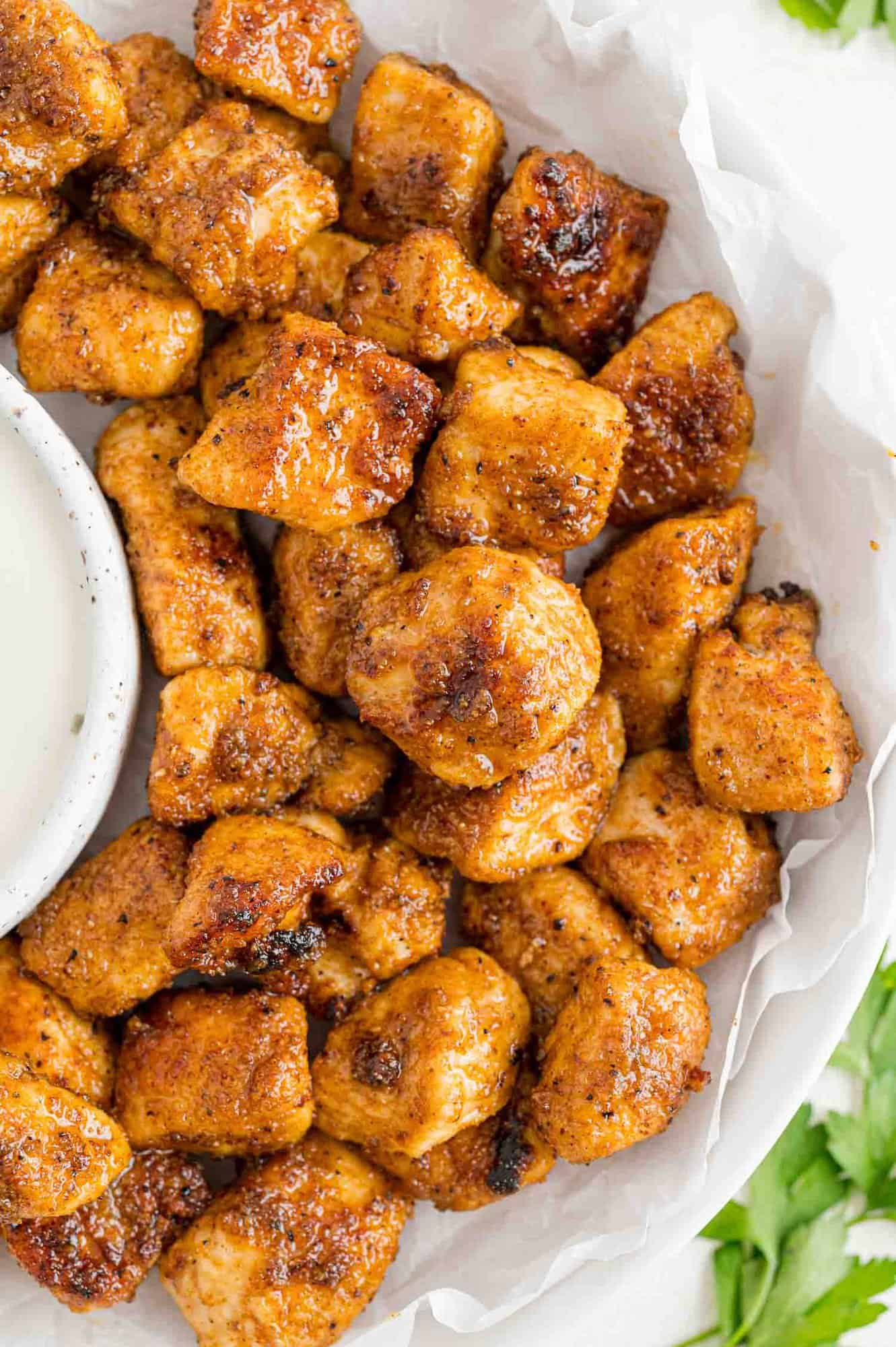 I'm always searching for new ways to cook chicken, aren't you? Boneless skinless chicken breasts are handy and they are a great source of low-fat protein. The only problem is they can be a bit boring. No skin, no bones, no excitement.
They really don't even have all that much flavor unless you sauce them up, soak them in a marinade, or add a crispy coating. Air fryer chicken nuggets and air fryer chicken tenders boast that crispy coating and I make them often. But face it, it is a bit of a process.
That's why I'm so excited about this recipe (and so are you judging from the response when I shared a teaser on social media). It's fast and easy. Don't you love those two words when it comes to meal prep? I know I do. And the chicken bites are pretty irresistible. I can never stop nibbling on them, and my family loves them, to the point where I have to make a double batch sometimes.
We like them just plain; the kids like to dip the chicken bits in BBQ sauce. I love to drizzle them with chimichurri or ranch dressing. We add them to pasta (mac and cheese!) or Mexican rice. You can make any salad a main course salad with crispy chicken bites and some honey mustard vinaigrette.
Crispy chicken bites are here to stay. They aren't a flash in the pan, momentary celebrity, here today and gone tomorrow. These guys will be sticking around and you need to get to know them.
About This Recipe
What's the big deal about this chicken recipe? What makes it so great? I'd say there are two things that really make this recipe a win.
First, the chicken is cut into half inch pieces, which is pretty small. This ensures that the chicken bits cook really quickly and that there's a lot of surface to get crispy. Crisp on the outside, juicy on the inside makes a flavorful little bite of chicken.
The second "secret" is cornstarch. The bits of chicken are tossed in a seasoned cornstarch mixture. When the chicken is added to the hot oil, the cornstarch seals the juices in and crisps up the outer surface. It's almost magical.
The chicken bites are healthy, too. They aren't deep fried. You'll use only a couple tablespoons of healthy olive oil. Each 4 oz. serving has just 214 calories, 24 grams of protein, and very little saturated fat.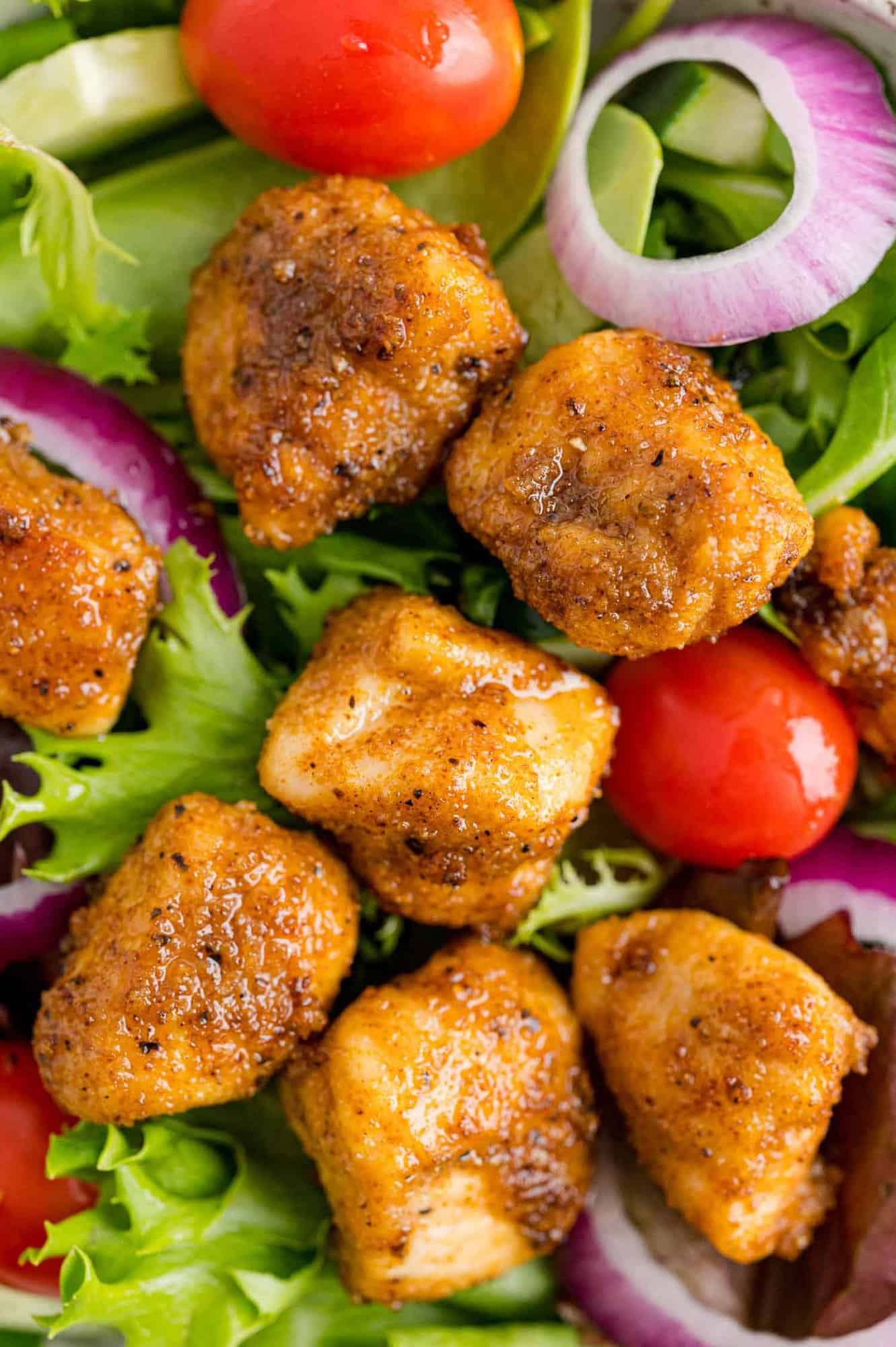 Ready to try crispy chicken bites? I'll run through the recipe here to get you started and give you a bunch of helpful tips. The recipe card below has specific measurements, instructions, and nutrition information.
What You'll Need
Boneless Skinless Chicken Breasts: The recipe calls for 1 pound (16 ounces). That could be anywhere from 1 to 3 chicken breasts, depending on the size. Boneless chicken breasts are easy to cut which makes them a natural choice for this recipe. Boneless skinless thighs can be substituted if you prefer dark meat.
Cornstarch: Coating the chicken in cornstarch ensures that each piece will be nice and crispy. You can use the same technique with stir fries.
Paprika: This bright red spice is made from sweet red peppers that are dried and finely ground. Paprika adds color and a light flavor but isn't spicy at all.
Garlic Powder: Pure garlic in a powdered form, garlic powder is an easy way to add plenty of savory oomph to any dish. Adjust the amount to fit your own personal preferences.
Onion Powder: Since chopped onion would scorch in the hot oil, onion powder is a great vehicle for adding onion flavor without having bits and pieces of chopped onion mixed in with the chicken bites.
Salt & Pepper: Choose coarse salt (kosher) and coarsely ground black pepper for the best flavor.
Olive Oil: You need an oil with a relatively high smoke point. Olive oil is one choice but there are others that work well too, such as canola, sunflower, peanut, avocado.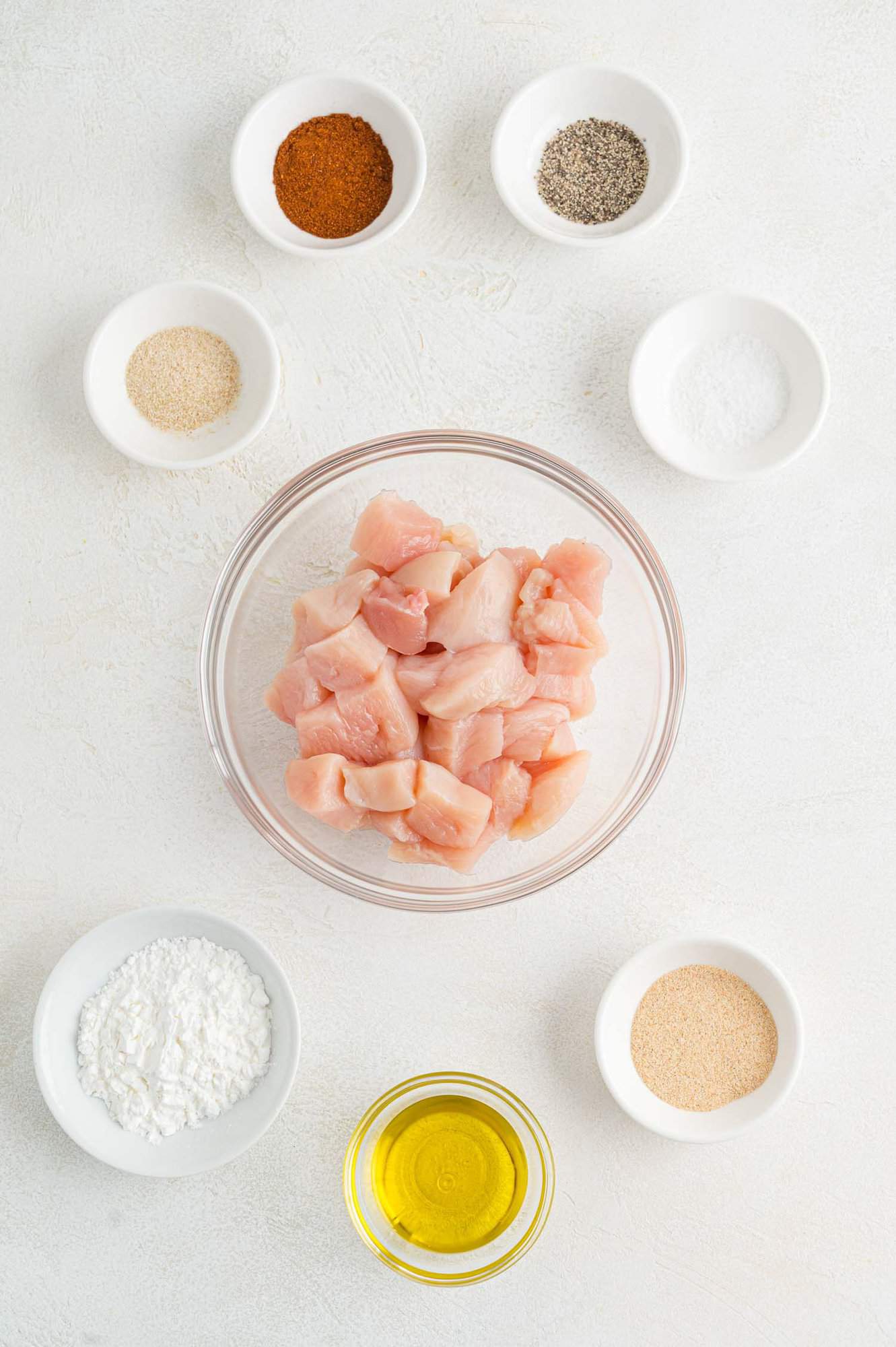 How To Make This Recipe
You'll need a mixing bowl that's large enough to toss the chicken with the seasonings. Measure out the cornstarch, paprika, garlic powder, onion powder, salt and pepper. Put it all into the bowl and stir to combine. Set that aside for now.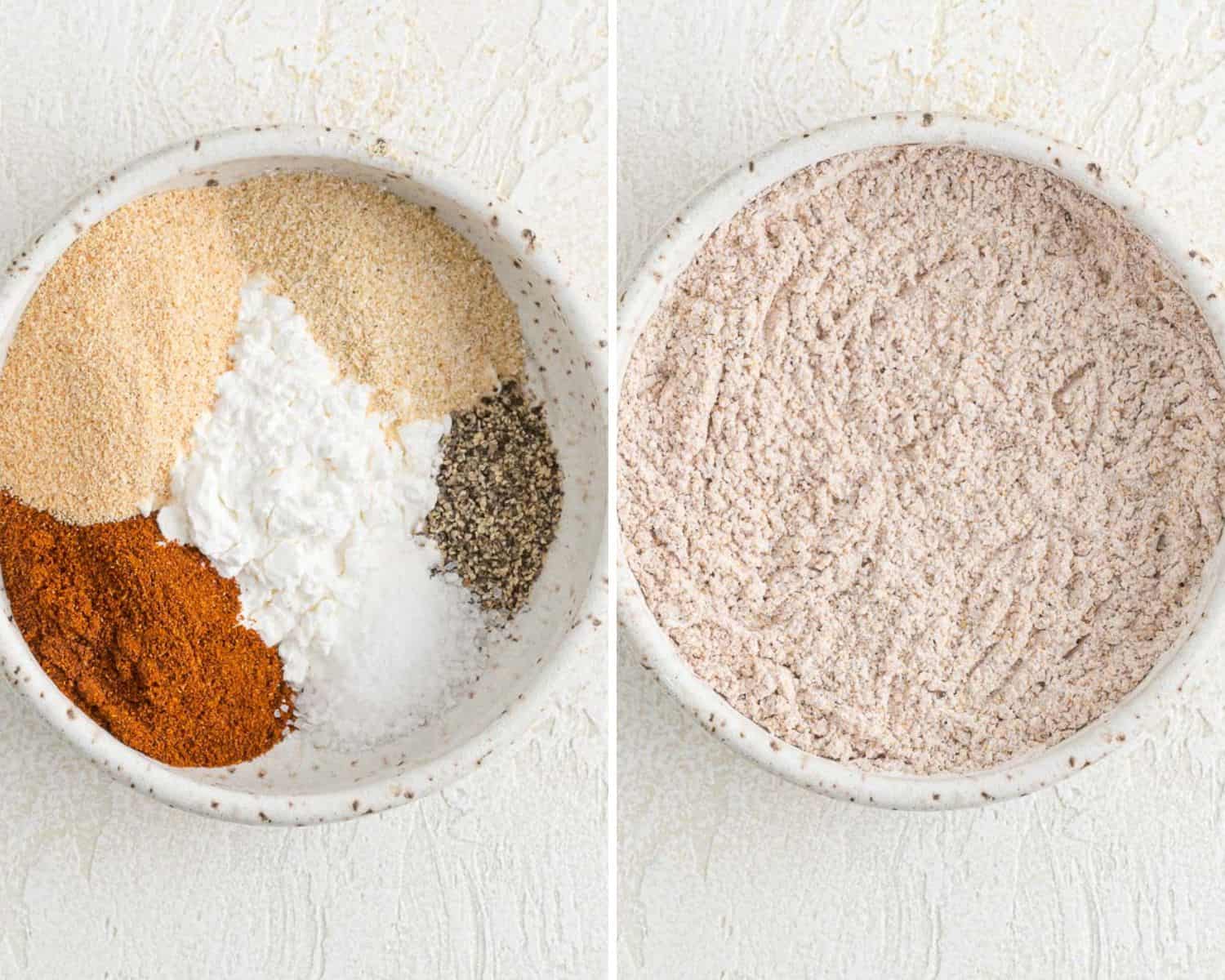 Now it's time to prep the chicken. It needs to be diced into half inch pieces. That may seem kinda small but smaller pieces work better for this recipe. They cook more quickly and get crispier.
Cut the chicken into long vertical strips. The thicker strips can be cut in half again vertically if they're thicker than a half inch. Next, make horizontal cuts across the long strips, about a half inch apart.
Now, I'm not saying you have to stand by the cutting board measuring each piece with a ruler. It's not an exact science but try to get the pieces fairly even. Tiny pieces will cook very quickly; large pieces would take longer. Our goal is to have them all cooked at the same time!
Cooking Tip
Use a very sharp knife. Chicken that is ultra chilled, even to the point of having a bit of frost in it, will cut more easily. If you think of it, put the chicken in the freezer for a half hour or so before you cut it.
Put the diced chicken in the bowl with seasoned cornstarch and toss it around so that the cornstarch evenly coats each piece. If there's excess cornstarch in the bowl, don't worry, you can throw that in the pan when you cook the chicken.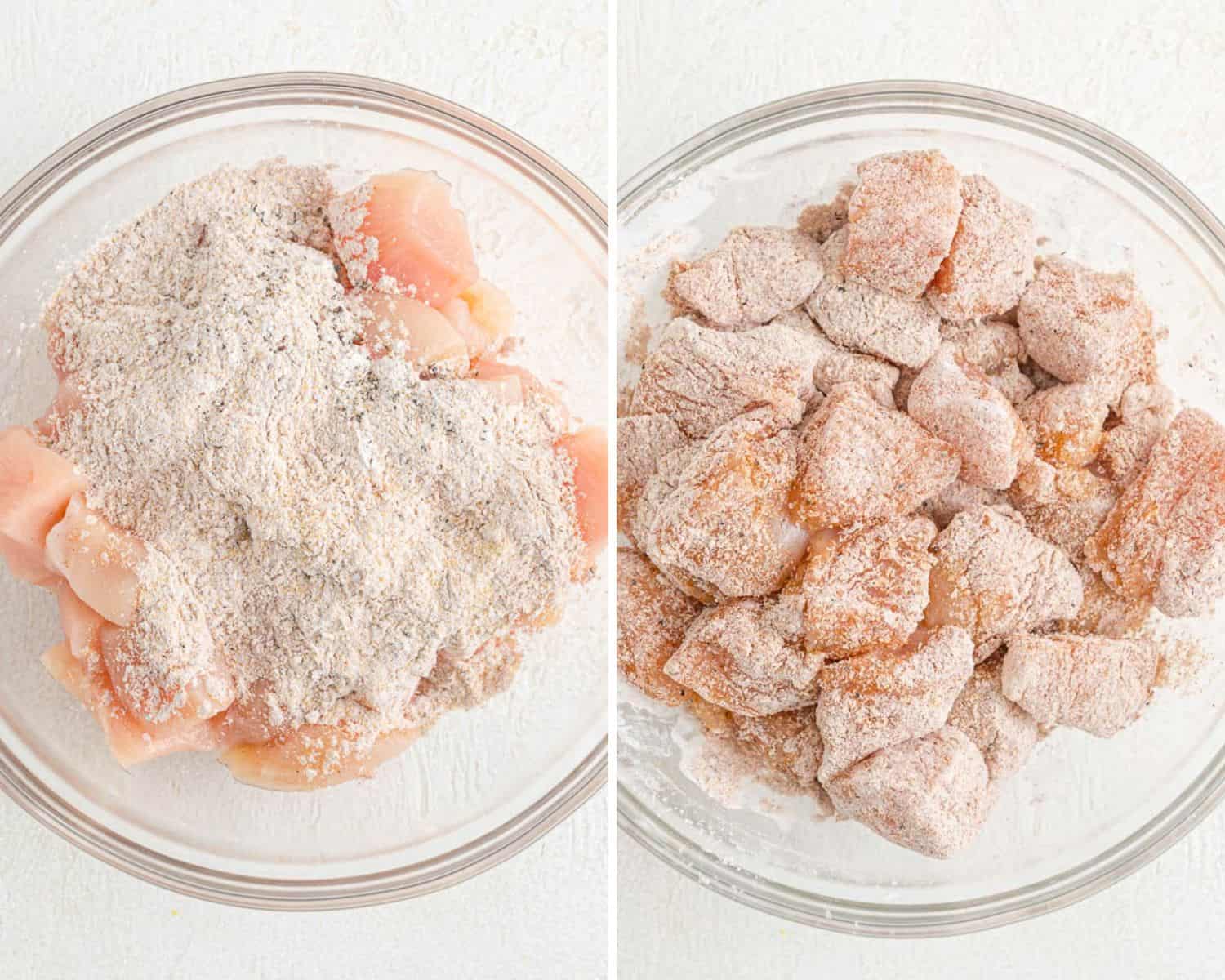 Put a large skillet on the stove over medium high heat. After it's heated up, add a couple tablespoons of olive oil. When the oil shimmers, the pan is ready for the chicken.
If you're not sure whether the pan is hot enough, throw one piece of chicken in there. It should make a nice sizzle.
Add all the chicken at once, along with any remaining cornstarch mixture. Stir it once so it's in an even layer in the pan. Let it fry undisturbed for 4 minutes. You should hear quite a bit of sizzling.
Stir the chicken and continue to cook for 5 to 10 minutes. It should be browned, crispy, and cooked all the way through. Once it's done, remove the chicken from the hot pan so it doesn't continue cooking.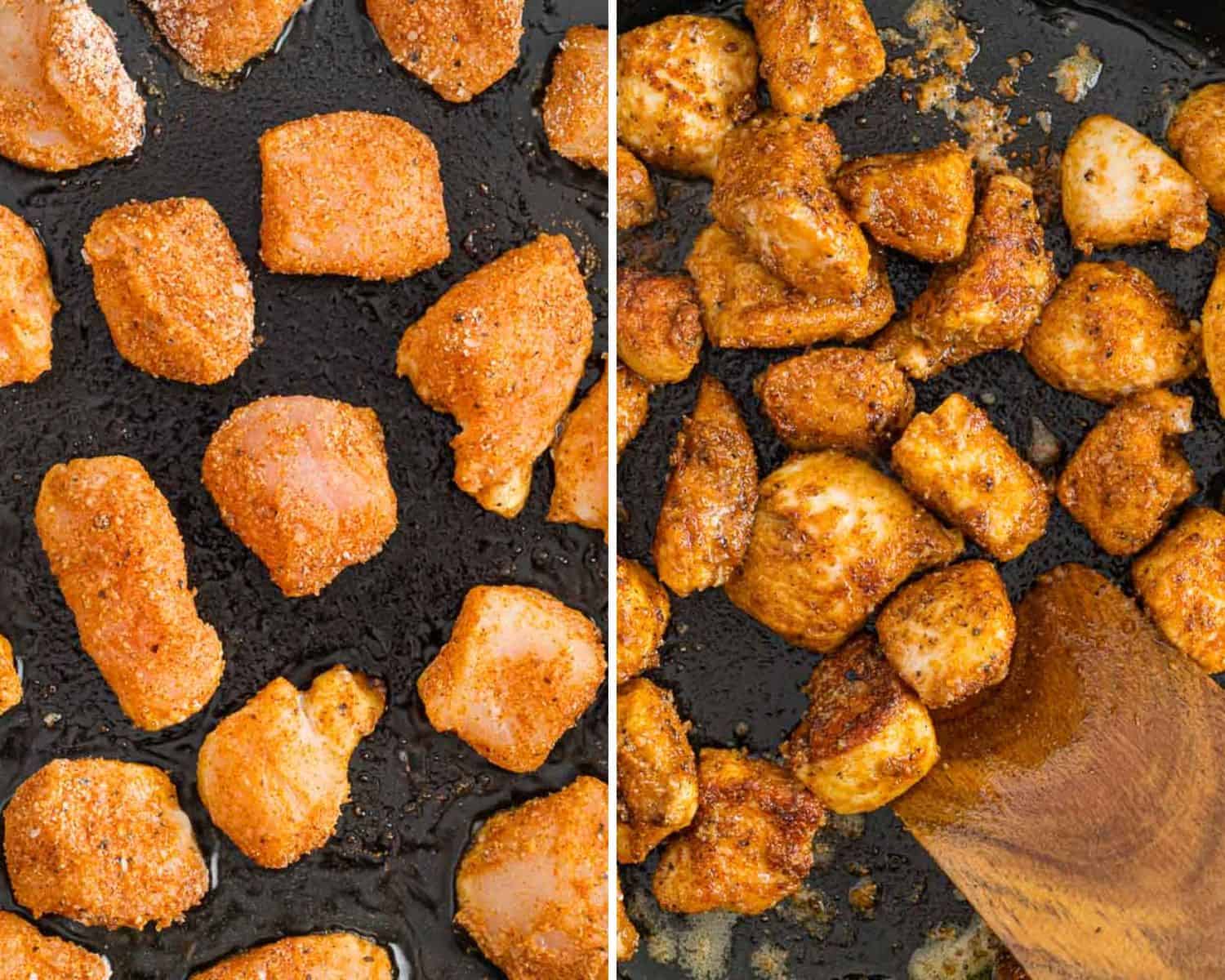 That's it! Your crispy chicken bites are ready to serve. Eat them just as they are or top your favorite salad or bowl. Add them to creamy pasta or cooked rice.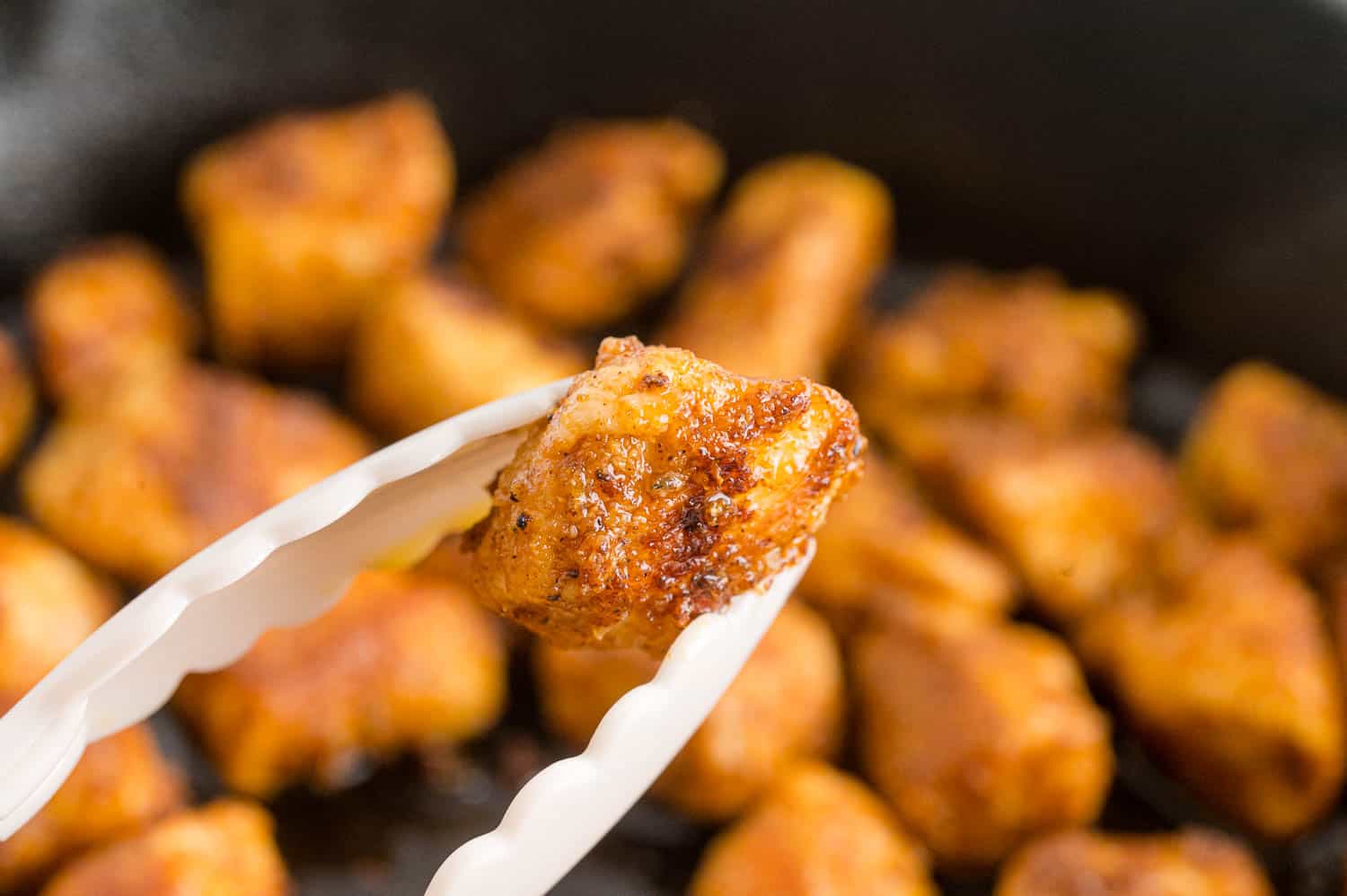 Make It Your Own
Rather have dark meat? Substitute boneless skinless chicken thighs.
Substitute boneless skinless turkey breast or cutlets, if you like. You might also like our turkey tenders!
Play around with the seasoning. Use more or less garlic powder. Try smoked paprika instead of regular paprika (use less). Add a pinch of cayenne. Try my homemade Cajun seasoning.
Air Fryer: We would like to say that you can make these in your air fryer, with no added oil, but they really don't turn out well. So while you can do it, we really don't recommend it. They're just not the same in this case.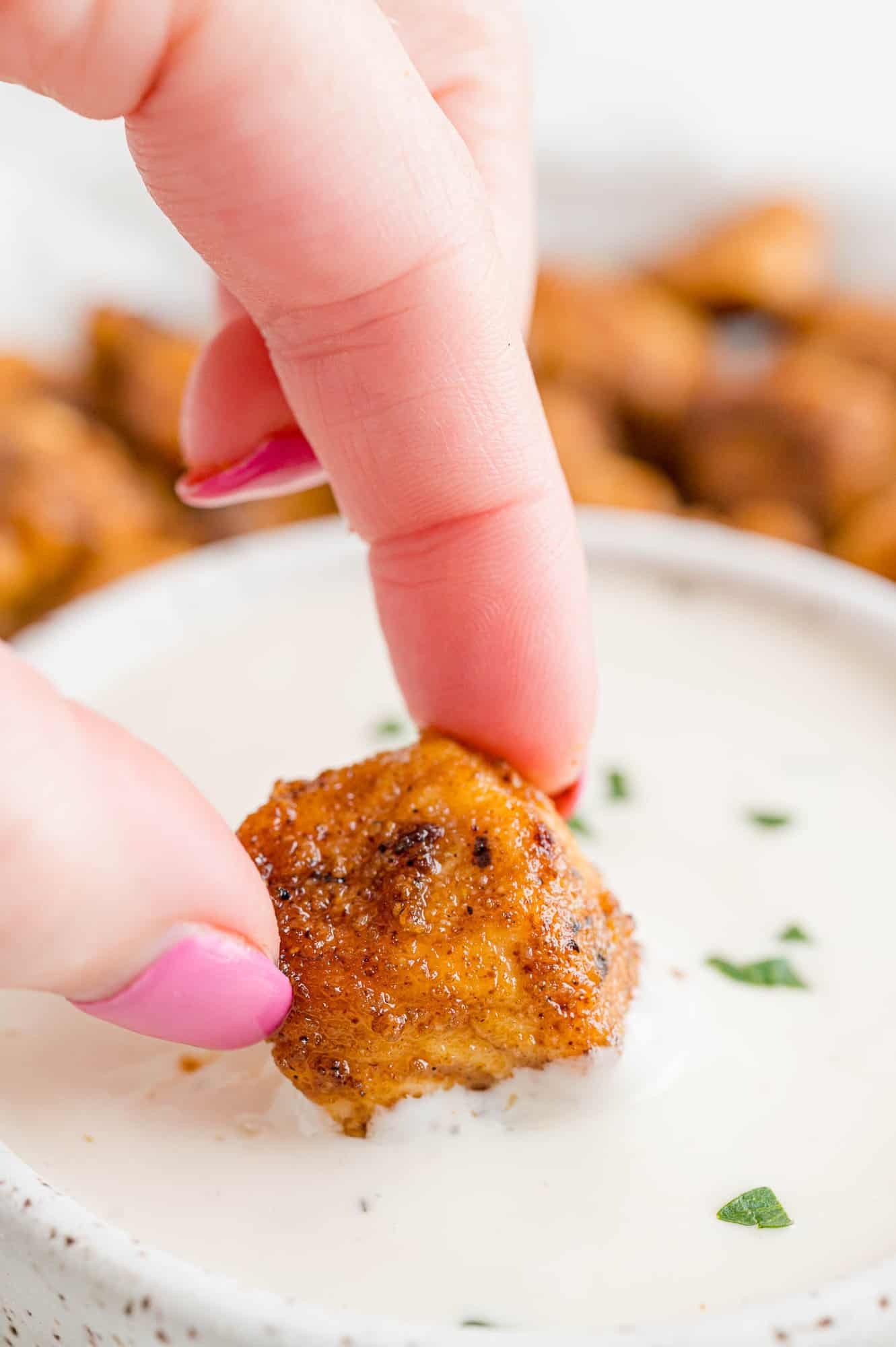 Make-Ahead Ideas
This is a really fast recipe but if you want to do a little prep work ahead of time, you can mix the cornstarch and seasonings. Put the mixture into a small covered container; it will keep indefinitely.
The chicken can be cut a day in advance and refrigerated. I wouldn't advise mixing it with the cornstarch mixture ahead of time.
If you do both of those steps ahead of time, you can pretty much start right in with heating the pan, mixing the chicken with the cornstarch and frying it. You could probably whip that out in 15 minutes.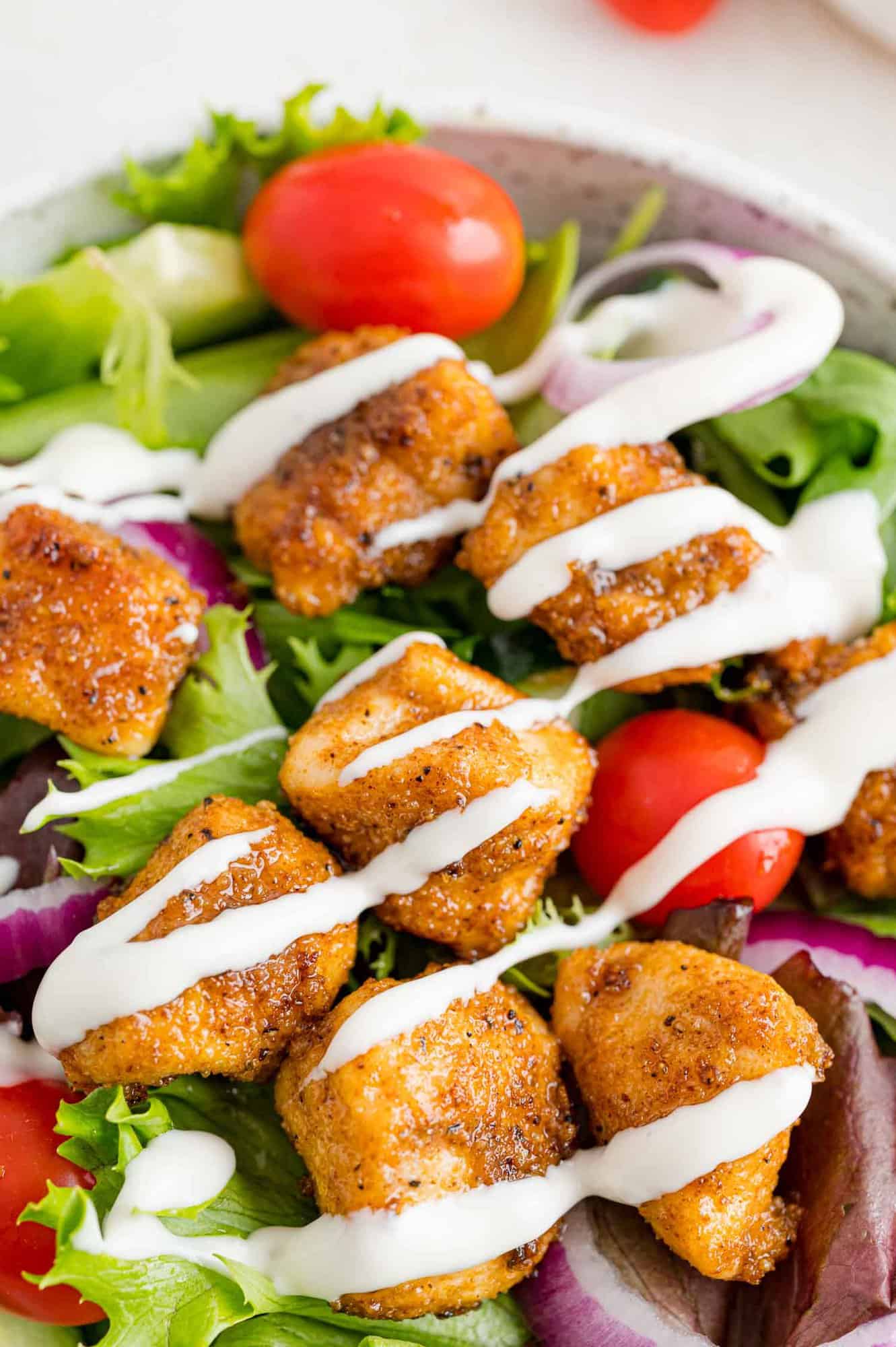 Storage & Reheating Tips
Refrigerate leftover chicken bites in a covered container for up to four days. They can be frozen for up to 3 months.
The chicken won't be as crispy when you reheat it, especially if you use the microwave. To get them crispy again, reheat quickly in a hot skillet. You may want to add just a bit of oil. An air fryer works well for reheating, too.
Remember, it won't take long to heat them. The pieces are small and they'll reheat quickly. Avoid overheating them because they will dry out.
Leftover Love
Since these chicken bites are so versatile, I almost hate to call them leftovers. I call them treasures. Add them your salad or bowl tomorrow to boost the protein. Make a quick veggie hash with crispy chicken bits. Roll them up in a tortilla with shredded lettuce, guacamole or sliced avocado, and salsa or pico de gallo. Mix them into beans and rice.
Interested in a weekly meal plan (it's free!) that includes this easy chicken recipe? Take a look at my Meal Plan (#2) or Meal Plan #28. You'll find a wholesome recipe for each weekday plus a categorized grocery list. Let me do the planning for you this week!
We'll be adding a new meal plan weekly. If you're interested, browse all of our meal plans.
Did you make this? Be sure to leave a review below and tag me @rachelcooksblog on Facebook, Instagram, or Pinterest!
Crispy, tender, and perfectly seasoned, chicken bites will be an instant hit. My family loves them and the bonus? They are easy to make.
Instructions
In a small bowl, combine cornstarch, paprika, garlic powder, onion powder, salt, and pepper.

Dice chicken evenly into small pieces, about ½ inch. I like to cut it into long strips, about ½ inch wide, and then make horizontal cuts, about ½ inch apart.

Toss the diced chicken with spice and cornstarch mixture until it's coated. It's okay if there is a little extra in the bowl that doesn't attach to the chicken.

Heat a large frying pan over medium high heat. Add oil. When oil is shimmering, add chicken in a single layer (and any leftover spice mixture). Cook without stirring for 4 minutes.

Stir and continue to cook, stirring occasionally, for 5 to 10 minutes or until browned, crispy, and cooked through.
Notes
Serving suggestions: rice bowl, salad, veggie hash, wrap, taco, rice and beans, etc.
Leftover chicken will keep for 4 days in the refrigerator or up to 3 months in the freezer.
We tested these in an air fryer and they don't turn out as well. They can be reheated successfully in the air fryer.
Nutrition Information
Serving:
4
oz.
,
Calories:
214
kcal
,
Carbohydrates:
5
g
,
Protein:
24
g
,
Fat:
10
g
,
Saturated Fat:
2
g
,
Polyunsaturated Fat:
1
g
,
Monounsaturated Fat:
6
g
,
Trans Fat:
0.01
g
,
Cholesterol:
73
mg
,
Sodium:
424
mg
,
Potassium:
451
mg
,
Fiber:
0.4
g
,
Sugar:
0.2
g
,
Vitamin A:
113
IU
,
Vitamin C:
5
mg
,
Calcium:
10
mg
,
Iron:
1
mg
This website provides approximate nutrition information for convenience and as a courtesy only. Nutrition data is gathered primarily from the USDA Food Composition Database, whenever available, or otherwise other online calculators.