Turkey Tenders with Cranberry Barbecue Dipping Sauce
These turkey tenders are coated in crispy potato chips and fresh sage for a fun take on Thanksgiving turkey. Complete this meal with cranberry barbecue dipping sauce.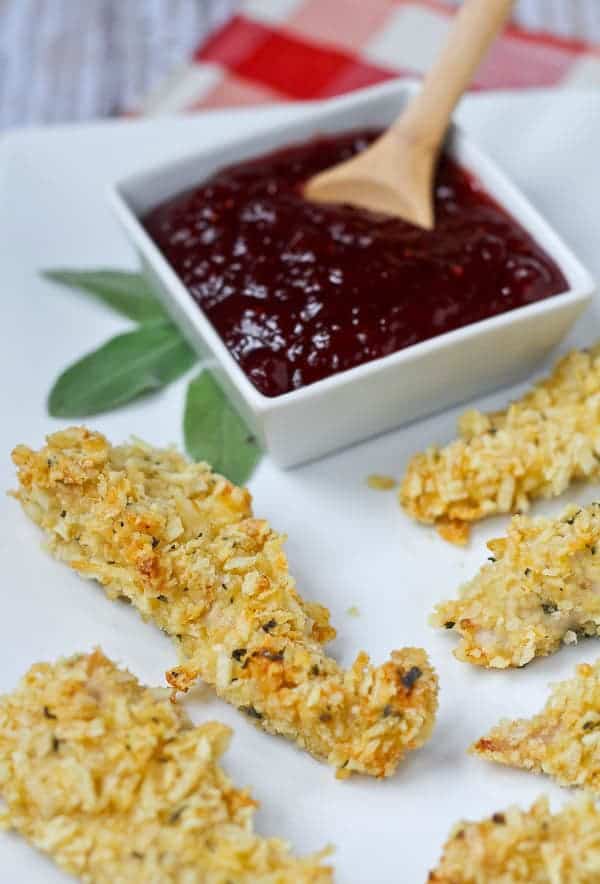 Ben and I live over 2 hours away from both sets of our parents. We're able to see them a lot, but not having them right next door has presented me with the opportunity to really grow friendships in the area of Michigan where we live. I'm so thankful to have developed some amazing friendships with other stay-at-home moms and their families.
Frito-Lay** has inspired me this year to bring friends together with a progressive virtual dinner party where everyone contributes a different dish. Before I bring this fun idea to life in real life, I got together with It's A Lovely Life and Crazy for Crust to put a spin on traditional recipes for a fun-filled virtual #FritoFriendsgiving menu. I hope you use some of these great recipe ideas to host your own progressive Friendsgiving meal.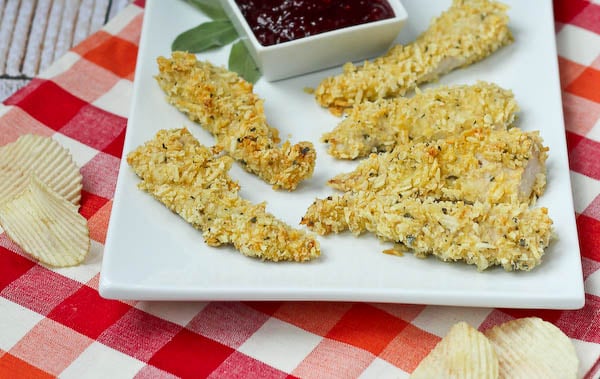 I was asked to bring the main course to the Frito-Lay Friendsgiving Virtual Progressive Dinner Party. I wanted to make a recipe that would absolutely, 100% taste like Thanksgiving, but I wanted to also make sure that men, women and children would love the recipe I created. These turkey tenders are finger food – just so happens to be perfect for watching a football game!
To make the turkey tenders, I bread turkey tenderloins in crushed RUFFLES® Original Potato Chips. RUFFLES Original Potato Chips are not only perfect for snacking on at parties, but they also make fantastic breading for these turkey tenders I created.
The crushed chips cling perfectly to the turkey tenders thanks to a quick dip in flour first and then beaten eggs. Turkey tenders are really easy to make and so much fun to eat!
I mix a bit of fresh sage into the crushed potato chips to really drive home the Thanksgiving – or in this case, Friendsgiving – flavor. But what's turkey without cranberry sauce?
For these turkey tenders, I make a cranberry-raspberry barbecue sauce. The sauce is heavy on cranberries, which makes it perfect for turkey tender dunking. Everyone at your party will love dipping these crunchy turkey tenders into the cranberry barbecue sauce. Ben and the kids love this recipe.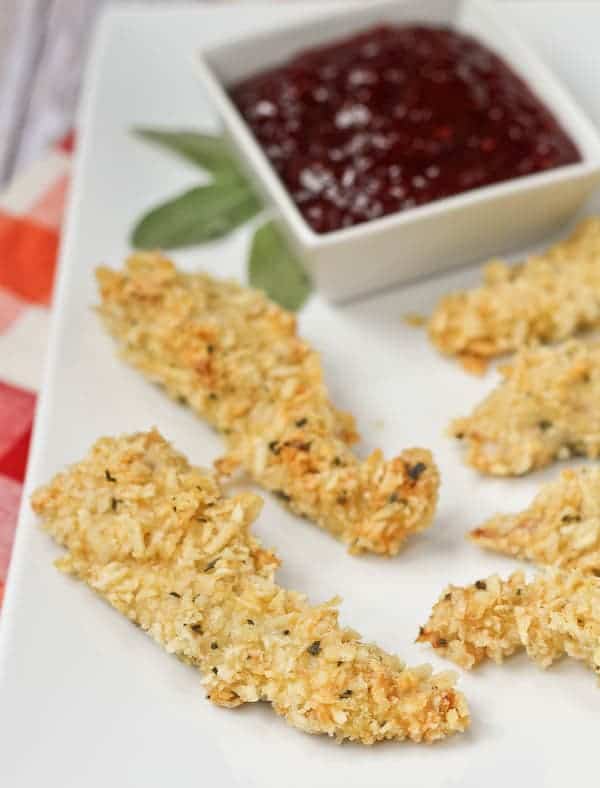 And with a satisfying recipe like this, I don't want to keep it to myself. I'm already starting to plan Friendsgiving at my house!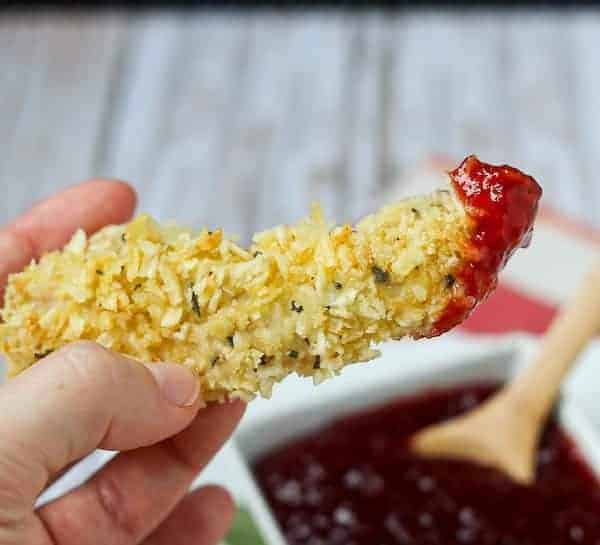 Alternative dipping sauces:

If it's not Thanksgiving and you're looking for a no-cranberry sauce to dip these turkey tenders into. I have a few ideas for you:
Turkey Tenders with Cranberry Barbecue Dipping Sauce
Yield: 4-6 servings (about 16 tenders)
Prep Time: 20 minutes
Cook Time: 20 minutes
Total Time: 40 minutes
These turkey tenders are coated in crispy potato chips and fresh sage for a fun take on Thanksgiving turkey. Complete this meal with cranberry barbecue dipping sauce.
Ingredients
For the turkey tenders:
20 ounces boneless turkey breast tenderloins cut into tender size pieces (I cut mine into quarters)
1 cup flour
1/4 teaspoon freshly ground pepper
2 large eggs
2 cups finely crushed RUFFLES® Original Potato Chips
1 tablespoon chopped fresh sage
For the Dipping Sauce:
1/2 cup jellied cranberry sauce
1 tablespoon raspberry preserves
2 tablespoons barbecue sauce
Brown sugar to taste, optional (I didn't find it necessary, but it was slightly tart)
Instructions
Preheat oven to 400°F. Spray a large sheet pan with non-stick cooking spray or line with a Silpat baking sheet.
Place flour in one shallow bowl and mix in pepper. In another shallow bowl, add eggs and beat. In a third shallow bowl, add the crushed RUFFLES Original Potato Chips and the chopped sage.
Coat each turkey strip in flour mixture, dip them in eggs (let excess drip off), and then the crushed potato chips. Place turkey tender on the prepared sheet tray and repeat this process until all the turkey tenders are "breaded" — or should I say "chipped?"
Bake for 20 minutes or until cooked through (165°F internal temperature).
Meanwhile, prepare dipping sauce by whisking all ingredients together in a bowl until combined. Taste and if desired, add brown sugar for added sweetness. Serve tenders hot with cranberry barbecue dipping sauce.
Notes
Note: I use a zip-top bag and a rolling pin to finely crush the potato chips.
Nutrition Information:
Yield: 6
Serving Size: 1/6 of recipe
Amount Per Serving:
Calories: 294
Total Fat: 10g
Saturated Fat: 1g
Trans Fat: 0g
Cholesterol: 112mg
Sodium: 460mg
Carbohydrates: 28g
Fiber: 1g
Sugar: 13g
Protein: 22g
Verdict
: I love these. They turned out even better than I had imagined them in my head.
Husband's take:
He really enjoys these too and took leftovers in his lunch the next day. My daughter was over-the-moon about this meal. She ate better that night than ever! As you all know, my son doesn't eat much of anything at all.
Changes I would make:
None!!
Difficulty:
Easy!
** This post was sponsored by Frito-Lay in conjunction with their #FritoFriendsgiving Virtual Progressive Dinner Party. I was compensated for my time, recipe and photos but as always, all opinions are my own.