Pasta with Grapes and Creamy Dijon Sauce
With a tangy and rich creamy Dijon sauce, this unique pasta dish will delight everyone when they find sweet red California grapes alongside chicken and arugula.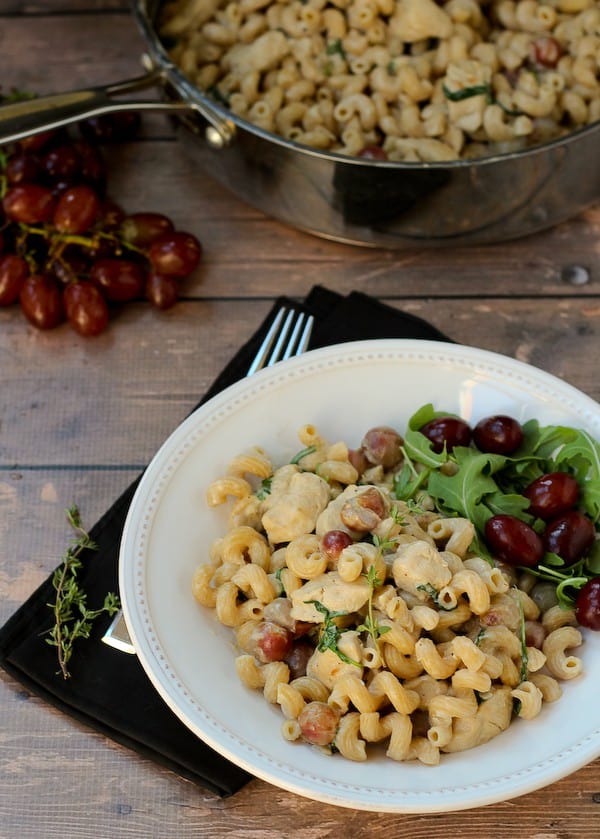 When Grapes from California (sponsor) asked me to fall in love with grapes by creating a fall-inspired entree recipe using grapes, I immediately thought of this pasta with a creamy Dijon white wine sauce, juicy red grapes and healthy lean chicken.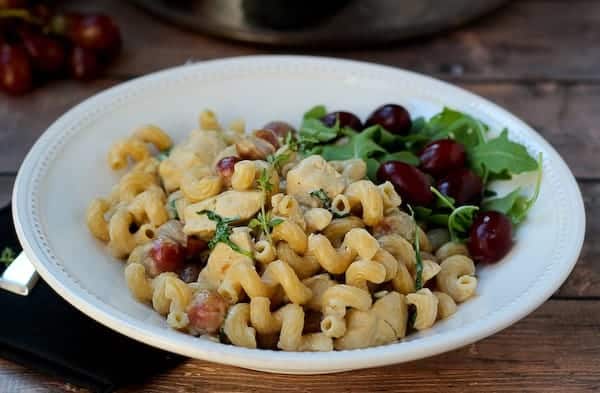 Going into the Thanksgiving season, I'd like to take a minute to talk about thankfulness.
One thing I'm thankful for is the opportunity to sit down with my family nearly every night and have dinner together. Of course, sometimes it's meeting Ben at a restaurant before he jets off to a football game. And sometimes it involves toddlers whining. And there's often food on the floor. And sometimes the kids don't want to eat anything I make. But in spite of all that, I am so grateful that I get to sit down with my husband, son, and daughter and enjoy a meal together.
We give thanks for our food. My daughter E (she's four years old now if you lost track, I practically have) loves to pray before dinner. She always thanks God for rainbows, butterflies, and flowers. Always. If she forgets to say one of those things, she makes us stop eating while she prays again. I'm so happy that even at a young age she has an attitude of thankfulness and joy. I hope and pray that never changes.
Going into the Thanksgiving season, be especially mindful of thankfulness. Whatever it is that you're thankful for, take some time to really enjoy it. Maybe it's that shiny new car you have in your driveway. Go for a drive and look at the fall leaves while you bask in the smell of your leather seats. Or maybe it's that a friend or family member has been declared cancer-free. Now that is something to be thankful for. Or maybe it's something as small as the flowers and butterflies — the little things that make life a little brighter. Celebrate them as a child does.
One recent meal that my family and I sat down and enjoyed together (after giving thanks for the food, butterflies, rainbows and flowers of course), was this pasta with California grapes, chicken and a creamy Dijon sauce.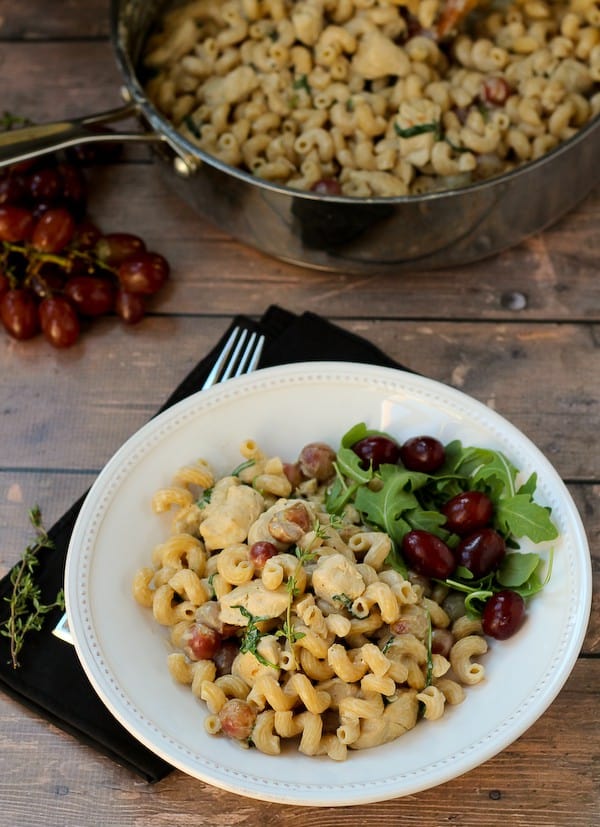 You might be raising your eyebrows at the thought of mixing red grapes with chicken and pasta but I'm telling you, it works. The sweetness of the grapes is such a terrific contrast against the richness of this dish and the tangy spiciness of the Dijon mustard. The grapes brighten the dish and are an unexpected pleasant surprise.
Pasta with creamy Dijon sauce makes a great weeknight meal but it would also be a pretty impressive meal to serve to guests. It's easy to make and completely manageable.
Believe it or not, about 99 percent of the commercially grown table grapes produced in the United States are in California. Here are some some quick grape-buying tips to make sure you have the most delicious grapes possible in your pasta:
Look for plump grapes with pliable green stems.
Keep grapes unwashed and refrigerated until ready to use, then rinse with cold water and serve or add to recipes.
If you're thinking, "Why grapes?" here are just a few reasons:
Grapes from California are in-season May through January—perfect for mixing into all of your favorite snack and recipes throughout the year.
Grapes of all colors – red, black and green – are a natural source of beneficial antioxidants and other polyphenols. Polyphenols are natural plant nutrients that help promote antioxidant activity and may help promote overall health by helping maintain the health and function of our cells. Research shows that grape polyphenols may help maintain a healthy heart.
Grapes and grape products may contribute to a healthy heart by promoting the relaxation of blood vessels to help maintain healthy blood flow and pressure.
One serving of grapes (3/4 cup) contains: Just 90 calories, no fat, no cholesterol and virtually no sodium.
Grapes are also an excellent source of vitamin K which plays a key role in helping blood to clot in order to prevent excessive bleeding, and may also be important in bone health.
Plus, they taste awesome!
Pasta with Grapes and Creamy Dijon Sauce
Yield: 6 servings
Prep Time: 10 minutes
Cook Time: 30 minutes
Total Time: 40 minutes
With a tangy and rich creamy Dijon sauce, this unique pasta dish will delight everyone when they find sweet red California grapes alongside chicken and arugula.
Ingredients
3/4 pound pasta (I used whole wheat Fusilli Bucati)
1 tablespoon unsalted butter
1 tablespoon olive oil
2 large shallots, thinly sliced (about 1/2 cup)
1 1/2 to 2 pounds chicken breasts or tenderloins, cut into bite-sized pieces
2 cups whole red grapes from California, washed and stems removed
1 tablespoon fresh thyme leaves
1/2 cup dry white wine
1 cup chicken broth
2 tablespoons Dijon mustard
3/4 cup heavy cream
1 1/2 teaspoons cornstarch
2 tablespoons water
1 1/2 cups lightly packed fresh baby arugula
Instructions
Heat the oil and butter over medium-high heat. Add shallots and chicken, season with salt and pepper. Cook (stirring only a couple times) for about 5 minutes or until golden brown. Add grapes and thyme and continue to cook for 3 minutes or until grapes are beginning to split open.
Add wine, scrape bottom of pan and continue to cook for about 3 minutes or until wine is reduced.
Add chicken broth, Dijon mustard, and heavy cream. Stir to combine. Once simmering, reduce heat to medium-low and continue to cook for 10-15 minutes or until liquid is reduced slightly.
Meanwhile, cook pasta according to package directions.
In a small bowl, use a fork to mix together cornstarch and water. While stirring chicken and sauce, pour in cornstarch mixture and cook for another 3-4 minutes or until thickened. Remove from heat and stir in arugula and cooked pasta.
Serve immediately, with additional arugula and fresh grapes if desired.
Nutrition Information:
Yield: 6
Serving Size: 1 of 6
Amount Per Serving:
Calories: 593
Total Fat: 25g
Saturated Fat: 11g
Trans Fat: 0g
Unsaturated Fat: 11g
Cholesterol: 180mg
Sodium: 423mg
Carbohydrates: 32g
Fiber: 2g
Sugar: 11g
Protein: 56g
RachelCooks.com sometimes provides nutritional information, but these figures should be considered estimates, as they are not calculated by a registered dietitian. Please consult a medical professional for any specific nutrition, diet, or allergy advice.
Verdict:
Love the sweet pops of grapes in this decadent and flavorful pasta.
Husband's take:
He was a little on the skeptical side but we had this two nights in a row and I heard no complaints. E ate it too! N doesn't eat anything.
Changes I would make:
None are necessary.
Difficulty:
Easy.
*Disclosure: I was compensated for my time to develop this recipe and to participate in the Twitter party. All opinions are as always, my own. When they are in season, we nearly always have a bag of Grapes from California in our fridge. Kids love them, I love them. Thanks for supporting my blog by reading about brands I love!